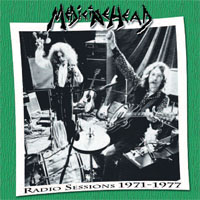 Medicine Head: Radio Sessions 1971-1977
One And One Is One charted at number 3 in the UK in 1973 and a 1973 BBC live recording appears here from the same year and their other hit single Rising Sun is also here. These recordings span 6 years from '71-'77 and suffer some EQ inconsistency as a consequence. What they don't suffer is any loss of that live atmosphere the BBC have been so effective at capturing. In 1988 Radio 1 moved to FM so all these recordings would have their first airings on AM 247metres Medium Wave! They were one of the few bands to have recorded for John Peel's label Dandelion Records and were championed by him as well as fellow musicians and DJs. Regular readers will know I owe over half my record collection to Peelie's influence who spotted them at Club Lafayette in Wolverhampton where legend has it they hadn't even been booked to play, and where years later I vaguely recall I walked out of a Pistols gig there.
"The old scribe's nailing his colours to the mast today!" observe plebs, stage left.
Indeed this old hippie music is right up my street and I dearly wish I'd seen them live myself. However there's every chance that your teenage scribe actually heard the roiginal broadcasts on the BBC, intruduced by whispering Bob or Peelie. Having critiqued the original EQ, I have to praise the transfer for preserving the unique charatcter of this duo fronted band, that ES330 and Vox combo sounding much as my mate's 330 through his Tweed which is as good a compliment as a music fan can pay to a recording. A "rare treat" as Peelie called them.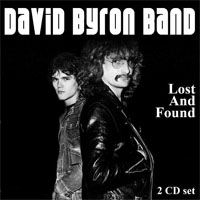 David Byron: Lost & Found
Most recent of the three solo cds sounds like it could have been recorded earlier. The former front man for prog rockers Uriah Heap, David Byron was embarking on a solo career when he died from the allegedly alcohol related illnesses, epilepsy and/or liver and/or heart disease (different reports offer different versions). Whichever is true, it's very rock'n'roll.
Recorded '80-'82, released in 1983 and 2003 and rereleased at the tail end of the noughties, Lost & Found does reclaim Byron's Uriah Heap capacity for vocal dynamics and rock sensibilities, the usual themes of liquor, love and lust dominate these songs by Byron & co-writer Robin George, who also features on guitar. You'll remember Robin George is one third of Damage Control, whose cd RAW was recently reviewed here.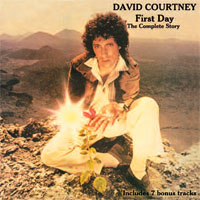 David Courtney: First Day

Courtney shared not only a hairstyle with his 70's protegé Leo Sayer but elements of songwriting and performance style too. However, before we can get to the songs we must endure an over the top overture more suited to a Broadway musical. It is followed by a selection of tracks that wouldn't have been out of place in the UK singles Top 20 in the early 70s. Courtney's chameleon production abilities render some tracks convincing homage to Phil Spector at his best and others that would have scored high chart positions had he fronted them with pretty boy bands in '72. However, as well as co-producing Adam Faith's cd on this page, David Courtney and Robin George put together these slick pop gems.
There is some superb playing by session players who are well known and established in their own right. No expense has been spared with lavish budgets for studio time, armies of excellent musicians from individuals to an orchestra on David Courtney's opus. The artist and the photographer were flown to Lanzarote for the cover shot; how come just a few years later after the punk revolution my music photography bookings were more like the sweaty box of CBGBs on the Bowery and my expense account amounted to a bar tab - in credit crunch 2010 I'm envious of those early 70s values! The music, for all its competence missed its opportunity and sounds too much like dated pop, which seems innappropriately too harsh 35 years later.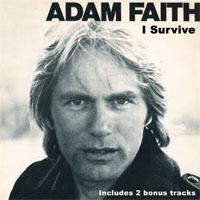 Adam Faith: I Survive

This 1974 return to the studio by crooner turned thespian saw the 34 year old in the capable production hands of the aforementioned Dave Courtney. The material will appeal to those who had aged more than their their teen idol, being more gentler and more sentimental in nature, some being concerned with mortlity. The lyrics concern issues of more concern to mature listeners than teenage eyes meeting accross an early 50s esspresso bar. There are a couple of bewildering moments of production lapse when the reverb machine was inadvertantly left switched to large underground public toilet acoustic setting for the response in a call-&-response. While the crash knocked out the power and energy of Adam's tennage voice (on hits like What Do You Want and Someone Else's Baby, it is replaced by a wistful quality way beyond his 34 years and to 2010 ears it is still better than some being touted today by the major record companies and reality shows.
Adam Faith's respect for theatre, musicals and stagecraft become evident at moments is less Buddy Holly inspired rock&roll and more Alfie. Not once does he indulge in his 50s emphatic pronounciation of "bey-beh" at the start of a string of chart hits that petered out in '66.
Adam Faith died in 2003, his notorious final words "Channel 5 [TV], it's all shit, isn't it? Christ, the crap they put on there. It's a waste of space" being better than any pretentious pseudo-poignant cr*p and worthy of a working class hero. This 1974 outing at the time he co-managed Leo Sayer with David Courtney, who Produced I Survive, was aptly titled after his TV acting career (Budgie) was interrupted by a serious motor accident in which he nearly lost a leg. It coincided with his appearance as a manipulative impressario in the hit 1974 movie Stardust so he was busy relaunching two careers at once. Three, as it happens, because earlier forays into financial management led to financial journalism too; maybe being injured so seriously left him feeling he had to prove himself too much. That he concentrated on other avenues demonstrates his astuteness. This is as unlikely to attract any new fans now as it was in '74, but that's not the point of Angel Air. This is competent stuff and if your thing is well crafted songs and you still have a soft spot for Adam Faith it'll hit the spot for completists.
Conclusion
If your heart is in a genre as represented by these 70s style outings then you won't be disappointed, but they're not going to attract new audiences. Whether it's Adam faith's latterday wistful peaen to survival after trauma or ultra-tight fusion coursing through a high energy funk set list the Angel Air commitment to heriatage recordings works. The genre choice is a matter of taste but the production decisions epitomise form following function.
The last three are re-releases spanning the decade from Adam Faith's '74 comeback and David Courtney's '74 solo debut recordings through to David Byron's 1983 swansong, and mainly of interest to completists and collectors.
"Why is the old fool droning on about these 6 cds?" complain plebs, stage left.
The only rational reason to own audio high resolution systems is to play music. The generation most likely to be interested in real stereo and wish to buy cds, probably cut their teeth on 70s, 80s and 90s music so these forgotten recordings re-released are just what they might be listening for.
Music enjoyed while writing this review
Consortium 13th Hour, release date 8th February 2010
Zzebra Zzebra/Panic, release date 8th February 2010
Medicine Head: Radio Sessions 1971-1977, release date 8th February 2010
David Byron: Lost & Found Angel Air Records
David Courtney: First Day Angel Air Records
Adam Faith: I Survive Angel Air Records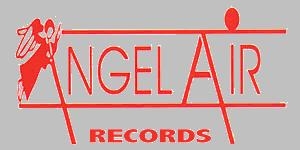 if your recordings, cds, lps or hi-res downloads demonstrate above average sound quality or interesting performances,
Whether you're a recording studio, label or artist,
I promise I will plug your recordings mercilessly.
Audio is pointless without great music!
© 2010 Mark Wheeler - www.tnt-audio.com
[ Home | Staff & Contacts | DIY & Tweaks | Listening tests | HiFi Playground | Music & Books ]