[ Home | Staff & Contacts | DIY & Tweaks | Listening tests | HiFi Playground | Music & Books ]
Mooning in June?
Tunes in June - Angel Air Records
[Italian version]
June CD releases
Artist: Rob Thompson: Dust, It's all been said, it's all been done
Artist: Storys: Luck
Artist: Chris Spedding: Just Plug Him In old cassettes never die, they just drop out
Artist: compilation Do You Dream: UK Pop and Psychedelia 1965-1970, old psychedelic bands tune in, turn on and also drop out
Label: Angel Air Records
Reviewer: Mark Wheeler - TNT UK
Reviewed: June 2010

June's bursting out all over
"Names of months punned with women and references to horticultural fertility punned with animal fecundity? It's all too much for the typical audiophile" chorus plebs, stage left,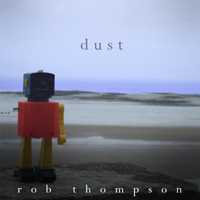 Rob Thompson: Dust
Subtitled on the disc label itself "it's all been said, it's all been done", this disc confounds that sentiment by being extra curricular to his work with the Storys where he clearly hadn't finished saying and doing it all. Recorded in South Wales and France and features fellow "Storys", Andy Collins on Bass and Harmonies and Alan Thomas on Piano and Hammond, whether this represents a future direction or a tying of loose ends is not clear from the sleeve notes or the press release. Given the old pals present we might not expect too much of a departure.

The first five tracks sound like Pink Floyd circa Division Bell; the production values, the pace, the song construction, so much so that your old scribe checks the labels of both for production credits. From some that'd be a criticism but for your old scribe Floyds 1994 album was a return to form after years in the wilderness. Less indie and more lavish then than we might expect from the presence of three Storys' stooges.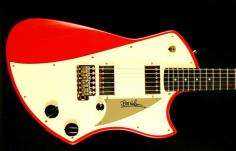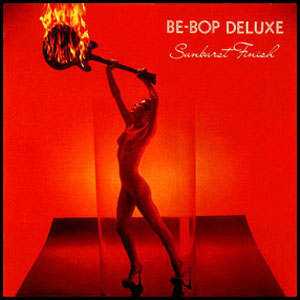 Rob plays Campbell American Guitars and endorses them (plus Faith acoustics and Orange amps who now do valve ECC83 pre-amps with class D/SMPS power amps) on the Dust sleeve, which implies an obsession with tone beyond the easy options implying a commitment to sound quality TNT-audio.com readers would support. The Campbell American Guitars are sold in only 3 dealers in the UK and 2 of those are near Rob's place, one right in Llanelli. Being an equipment junkie your old scribe wants to know this and so will the plebs chorus. Campbell guitars are a modern take on classic designs with such features as PAF (like 50's Gibson) pickups on bodies as modernist as Danelectro. Rob's Campbell Nelsonic Transitone is a Bill Nelson tribute model, quite a contrast with the flaming Yamaha SG on Be Bop Deluxe's Sunburst Finish and even weirder that Bill himself seems to play plays a different Campbell, such is the weirdness of product endorsement. Ho hum.
So this explicit statement of guitar and amp choice tells us that Rob has an obsession with tone and thinking outside the box rather than slavish devotion to the first axe he lusted after in a store window as a youth; no mid life crisis Strat on this CD. Blokey equipment diversions aside (and this is an audio webzine so it's sort of expected), sound quality might be guessed from the opening Floydy comparison; it's safe, it's immaculate. Rob Thompson's Dust won't stretch system dynamics and nor will it be used to demonstrate those final nuances of information retrieval to reveal subtleties buried deep in the mix ('inner detail' in the mangled syntax of audio reviewers, and given that our bowels are our inner details, who'd want them revealed?) so Dust will sound fine on any competent system.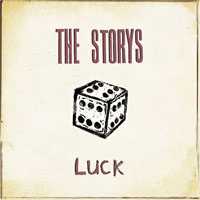 Storys: Luck
It's a busy month for Monsieur Thompson as he is a Storys' lynchpin, writing **** of the tracks on this CD. This bands skill posting the question, 'how come some get all the luck?'. Luck is billed as their "third and final album",
Apparently undamaged by being named Elton John's favourite Welsh band, The Storys may be splitting up but they plan to go out with a bang in an emotional June 19 farewell gig. Formed in 2003, the Storys supported Van Morrison, Santana and Katie Melua but split for other projects after Luck. Lead singer Steve Balsamo says, "We've had a great six years together and have memories that will be with us for the rest of our lives. However, we all think the time's right to try something new. We all have our own projects to take forward and we're eager to support each other. Our big hometown gig in the summer will be an end to The Storys at this stage but we'll leave the door open to possibly getting back together in future years. We thank our fans from the bottom of our hearts and look forward to a fantastic final live show."
They're final gig is appropriately at Swansea Grand, 19th June 2010. Tickets £17.50, on sale now, from (+44)1792 475715, so there you have it. Last chance to see...
So The Storys album "Luck" is the bands third and possibly final album and features new member Rosalie Deighton sharing vocals duties with Steve Balsamo, Rob Thompson and Andy Collins. The aforementioned luck clearly having run out for Rosalie, finding herself among this talented bunch just as they unbunch. Sadly, despite the established proven fact that only the elderly still buy CDs, the writing is too small to read the special thanks to a list so long that none are any more special than the names in the Philadelphia phone book read out by buccaneering Senators when indulging in a Phillibuster, thus piratically fillibustering legislation in a trick first practiced by Roman senators. Your old scribe therefore cannot decifer any more nuggets.
Tim Hamill, percussionist on Rob's solo album (reviewed above) even appears as a guitarist armed with a Dobro (that classic blues stainless steel resonator guitar later taken over by rival guitar tinsmith National guitars - namechecked by Paul Simon) such are the rock family tree connections this month. Paul Simon's 80's productions might even offer a clue to production style on this Story's outing, along with Caillat & Dashut's productions for Fleetwood Mac. The initial impression of slick transatlantic gloss is misleading as this is a 11 track CD of Welsh songwriting. Almost an outing of journeyman progress, Luck has wistful ballad qualities unique to the British singer-songwriter tradition while avoiding trad Welsh cliches and simultaneously embracing contemporary South Wales zeitegist. Wistful without being poncey, a difficult line to maintain but lovely with a Welsh accent.
Sound quality and production values as reminiscent of Tom Petty as Rob Thompson's solo effort, but overlaid with the restrained power of The travelling Willburys. Indeed, The Storys are fit to be included in the same sentence as the Big 'O' and his Bobness. Rosalie Deighton survives comparison with other eighties phenomena like Helen Watson, so listen out for Rosalie in future too.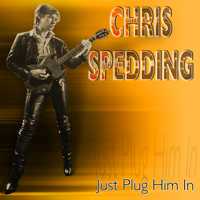 Chris Spedding: Just Plug Him In
Readers with long memories will have filed speeding Chris Spedding under one hit wonder for his seminal Motorbikin back in '77. Pub rock at its best, regular touring and respect for fellow craftsmen characterise his oeuvre, hence this CD.
Gig regulars who like to sit or stand near the mixing desk halfway back down the hall, anticipating the best sound will be had there will have noticed in the seventies and eighties that a cassette recorder seems to be built in to one end of the console. Anyone that observant will also have wondered why pros would be using a medium of such execrable quality. While trying to steal said cassette some acquaintances of mine were told by the soundman that it was the tape carrying the lighting sequence for the second half; given the use in those days, of cassette tapes to programme their Sinclair ZX80, Acorn BBC B (forerunner of the ipad), Apricot, or Commadore VIC20, this might have convinced more naive fourteen year olds, but hey! Here are the results of such excerpt in self assessment and quality monitoring, exhumed from shoe boxes in the darkest corner's of Chris's pokey old NYC appartment and flung into the light of day by the modern miracle of digital remastering...lol.
"Digital Remastering?" squeak plebs chorus, stage left, "The b*llsh*t panacea to everything, but the solution to nothing."
There are times when it is simpler to rescue damaged material after digitally sampling and working directly on the files, replieth ye olde scribe, perhaps in some need of digital restoration too.
"Does the rescue of an old 1 7/8ips 1/8" cassette (whose imperial standard dates its technology) really require some kind of miracle only available in the digital domain. Is not the miracle of the juniper bushes enough?" demand pythonesque plebs chorus, stage left,
"Juniper bushes? They were my juniper bushes...", argues old hermit stage right.
"Once the oxide is fixed well enough for one play through, most cassettes would probably get close to this with ancient analogue gadgets like a DBX compander and a notch filter for the hiss," argue plebs chorus, stage left, unabashed.
"Probably right", agrees the old scribe, "but folks today demand that digital is done or they won't believe its good enough."
Like photography in the nineteenth century, which was extensively sold on its veracity and explicitness, digital remastering techniques have achieved a status completely undeserved. Indeed, it is easy to hear when substandard old analogue recordings have been digitally reprocessed, like processed cheese the product becomes consistent but loses all its original flavour. Spedding addresses the issue early in the sleeve notes.
Chris set about "Cherry picking what I thought were good examples of my live playing, based more on musical performance than sound quality. That now-obsolete audio cassette technology was really low-fiance - thankfully we don't see much of that format around today," says Chris, summing up the problem with any such release. Let's face it, the reason CD was greeted with such open arms is that most early adopters were comparing it with compact cassette, a format developed by Philips for dictaphones. "You can't shine sh*t", opined my old New Jersey boss and the UK equivalent "You can't polish a turd" sums up perfectly any attempt to rescue a compact cassette master. Does digital technology make miracles possible?
No.
So the sound quality is excusably excremental, the performances come from the '77 tour, '79 tour (including the track 1 opening announcement by vocalist Robert Gordon), '81 NYC gigs, '89 Berlin and Baltimore gigs. So sound quality would be variable if it weren't for being squeezed through the medium of cassette to the same polished turd standard. Fortunately the playing and energy make up for this. The crowd pleasing Guitar Jamboree is a dish best served live hot, but is best skipped on cold CD. The opener Gunfight sets the tone. I'd just developed my interest in motorbikes and bought an ancient Honda so I loved Motorbikin first time round, especially as it came from this side of the Atlantic and referenced the urban UK biker experience rather than wide open roads we'd never seen.
Ironically, the sound quality dictates that this is best enjoyed in the car where the up tempo delivery makes speeding tickets likely with Spedding.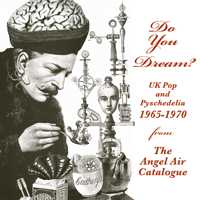 Various Artists: Do You Dream: UK Pop and Psychedelia 1965-1970
Your old scribe frequently buys, at about a fiver or so a pop, the new generation of monthly glossy music comics mostly authored by the old hacks of the 70s and 80s and your skinflint old scribe mainly buys them for the free sampler CD glued (with rubber solution glue much easier to remove than those old this sticker is removable, contains hit single stickers on LP covers that left a furry blank area of paper where they used to be) to the front cover. These samplers are great, especially in the car, and listened at home while reading the accompanying rock anecdotes in the pages of the rag, are a great way to re-acquaint us with forgotten glories or introduce us to material we missed first time around. I have long been a fan of samplers, having bought many on spec introducing me to the genres, bands and tunes that John peel didn't.
Those stickers may have left blank furry ares on the covers of of vinyl LP's in those days when the glossy writers of today were having their youthful heyday, but covers of Dylan songs are often enhanced by the extra dimensions that a new take offers on Dylan's basic structure of word and tune. If any readers do not know that Hendrix's cover of Dylan's All Along The Watchtower sheds new light on its possibilities to the extent that Dylans later performances of his own song are closer to the Hendrix version than Dylan's earlier recorded version. So to hear a version by Jeff Bown that owes nothing to the hendrix cover (it was written and performed in '68) that goes its own way will be a revelation to any music head.
The Outer Limits (UK screened 1963-5 US ABC network rival to 1959-64 CBS TV show The Twilight Zone in much the way that ABC's The Addams Family was rival to Universal Studios' The Munsters) track 6 Epitaph to a Non Entity manages to sound so like The Beatles' Eleanor Rigby in atmosphere, sentiment, production values and pathos that it is a wonder that they didn't top the charts in '67. Other moments on this disc are reminiscent of Haight Asbury interbred with Hemel Hempstead, if The Great Society had variously attended grammar school or the Church of England on Sundays they would have written material like 15 of the 21 tracks on this bowl of mixed fruit. Affinity's Night Flight encapsulates this perfectly. If bands like The Move, Curved Air, Manfredd Mann and Gong were on the Angel Air Roster a double CD with that extra material would effectively describe the British contribution to 60's psychedelia along with the obvious outings from The Beatles and even Status Quo and The Faces spoof efforts.
Closing with Atomic Rooster's Devil's Answer is inspired enough, but using the original demo rather than the all-too-familiar radio edit single (7 inch vinyl natch) means that the CD doesn't leave the drawer until several repeats have irritated the neighbours. Compared to the original 7 inch, Carl Palmer's drums on the demo are less compressed and more convincing, the pace is much faster (but I was enjoying it too much to check bpm against metronome), the brass on vinyl adds bollox, the guitar solo's wilder and the vinyl still has the run in swish from back cueing and the sticker showing it was 13th on the playlist last time yer old scribe rock deejayed in '85. The demo also has more bandwidth than the old single; take your choice - your old scribe plays both.
The raw, relatively uncompressed, sound of the Atomic Rooster demo is like eating food straight from the pan rather than waiting until its served on a plate at table. mmmm...
Sound quality on this CD is obviously really inconsistent, varying between appalling to adequate, but a various artists compilation spanning '65-70 including ancient tapes from AM radio is hardly going to in be Mercury Living Presence historical recording domain. For about double the price of a glossy retro music comic with a free sampler attached, this compilation is well worth the admission, if only for the car; and then it'll creep into the high-end system and pollute the hardware with lo-fi fun!
Conclusion
Do you hear subliminal messages from your tweeters that say "Go out and buy more records now"?
It is because your collection of certified audiophile recordings need an injection of vitality. Sometimes we must be pragmatic and realise that our hand wound all silver output transformers driving vintage Voice of the Theatres can't only play only first generation all valve mastertape, all valve cutting head, 200gm virgin vinyl recordings of mountain top dwelling virtuoso gurus; sometimes we just have to play it dirty and loud. Then sometimes theres a middle ground between our worn out copies of adolescent favourites and the audiophile approved pomposity beloved of hifi shows. June's crop of heritage releases zig-zags across this middle ground from rescued remastered compact cassettes and first demos to highly produced opuses (opii?) that are the anathema of audiophilic crossed pair simplicity.
Go on, enjoy!
Music enjoyed while writing this review
Rob Thompson: Dust release 6th June 2010
Storys: *****, release 6th June 2010
Chris Spedding:, ****,
Various Artists: Do You Dream: UK Pop and Psychedelia 1965-1970, release 6th June 2010
Helen Watson: Blue slipper, for comparison
The Travelling Willburys: The Travelling Willburys, another questionable apostrophe from Otis & Wilbur
Atomic Rooster: Devil's Answer, 7" single
"When are we going to hear about some minimalist audiophile recordings?", complain plebs, stage left
When some appear with some great music. If you're making them, then submit them for review, clearly some labels don't have the chutzpah to submit their releases to this scrutiny, offers the old one in reply from his lofty mountaintop.
if your recordings, cds, lps or hi-res downloads demonstrate above average sound quality or interesting performances,
Whether you're a recording studio, label or artist,
this page will plug good recordings mercilessly.
Great audio is pointless without great music!
Copyright © 2010 Mark Wheeler - www.tnt-audio.com
[ Home | Staff & Contacts | DIY & Tweaks | Listening tests | HiFi Playground | Music & Books ]