[ Home | Staff & Contacts | HiFi Playground | Listening tests | DIY & Tweakings | Music & Books ]
Keb Mo
Keb's Debut Album Re-Issued on 180 Gram Vinyl
[Italian version]
Record: Keb Mo - Debut Album
Label: Absolute Analogue 478173 1
Year Released: 2000 AA, 1994 OKeh/Epic
Medium: Vinyl
Genre: Blues
Suggested Retail Price: $30.00 US
Reviewer: Geoff Husband and Scott Faller
Reviewed: September, 2001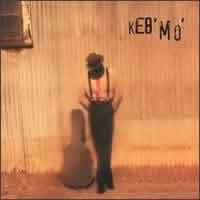 Keb Mo
This is going to be a bit different music review for us here at TNT. I just happened to talking to Geoff about something (I don't really remember actually) and he had mentioned that he was doing a review of a Keb Mo release on vinyl. It just so happened, I was going to do a review of the same piece. We thought it might be a good read if we co-wrote the review. So here it is, Geoff and I comparing notes on the same piece of music.
Trivial Bits
Keb Mo has been kicking around the for years now. Born Kevin Moore, he picked up this stage name from the way people pronounced his name back in Compton, California (South Central Los Angeles). Moore began playing the guitar at the age of twelve. Taught by his Uncle, he not only played the guitar as a youngster but he also played the trumpet, French horn, upright bass and steel drums.
Through his adolescent years he played with a top 40 group until he hooked up in 1973 with the late violinist Papa John Creech who recorded with Jefferson Starship and Hot Tuna. Moore played guitar on three of his albums. After that, he joined the A&M writing crew and also filled in as a session guitarist and arranger.
In 1980 Moore released his first solo album called Rainmaker on the Chocolate City record label. After the failings of that release he returned to the Los Angeles club scene. Though not initially into the blues, after gigging with the likes of Albert Collins and Big Joe Turner, Moore began developing his affinity for the blues.
During the early 1990's, Moore played a Delta bluesman on stage with the Los Angeles Theater in a play called Rabbit Foot and later portrayed Robert Johnson in a docudrama called Can't You Hear the Wind Howl? Enamored with this style of music, Moore went to Mississippi and spent time with Delta bluesman Eugene Powell further learning the nuances of the acoustic blues.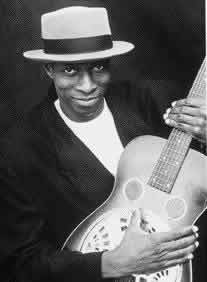 Keb and his Composite Resonator
Originally released on June 7th, 1994, this self titled album earned Keb Mo a W.C. Handy Award for Best Acoustic Blues Album of the Year. Of the thirteen songs on this album, 6 of them are acoustic. Either recorded on his Martin or Epiphone Flattop or the very distinctive Beltona resonator guitar. On the other songs he uses a variety of accompaniment from a full band to just a piano.
Enough Already, Get On With It
SF
When I found the Keb Mo debut release in the Red Trumpet catalog online, I couldn't wait to get it. Here it is on 180 grams of virgin vinyl, one of my all time favorite acoustic blues albums. I actually called and talked to Tom the owner of Red Trumpet and he had said that he would try to get me an autographed copy from ol' Keb himself. Tom was going to the CES 01 show where Keb Mo was going to perform as a headliner at the show.
From what I can tell, I think this is an analog master. The reason I say that is when I play the CD I can hear a faint tape hiss, I think. Who knows, maybe I'm hallucinating again.
After I got the vinyl immediately went to my listening room and turned on the stereo to let it warm up. I dropped the needle and cranked the volume up to give a look at my woofers. That's one of the ways I tell the quality of the cutting. I didn't notice a lot of movement which is a good thing. Next I stepped back and listened for surface noise. Nice and low, another good thing.
GH
Well not on my copy! When I dropped the needle in the groove I was greeted by a mains frequency (I guess) hum. I lifted the needle and it stopped. Tried putting the stylus as far to the beginning of the lead in groove and still a hum. OK so out with another disc in case my Orbe has developed a motor fault - nope silent... Back to the Keb Mo - Hummmmmmmmmmmm.... Hm... Now I've heard this sort of thing on re-mastered stuff, often CD, where a hummy old analogue master is used, but it usually cuts in after a few seconds as the master tape kicks in. But this is a recent recording, there shouldn't be any hum either with an analogue or digital master.
But I've also heard it on some of my old pre '60 classical and jazz records, in this case it's in all of the lead in groove and is at least partly explained by the valve amps of the cutting lathe.
So either this has been mastered using a noisy valve powered lathe (which nowadays there's no excuse for) or someone's screwed up.
I don't want to overplay this but at moderate listening levels it's audible from the normal listening position between tracks and I suspect it adds a little warmth at times. And Scott, if you can't hear it you ain't got the same record...
SF
I listened to the first track on side one, Every Morning. It's one of the acoustic selections. Very nice. Crisp, clean, lots of detail. Plenty of depth to his voice and guitar. I'm impressed.
GH
Yea real hi-fi stuff, I can just see the hi-fi dealers slapping it on.
SF
Rutro Reorge (a Jetsons reference), I'm playing the second track and I hear something different. That detail I just talked about is all but gone. They clipped the highs too. Ick
GH
I don't have the advantage of the CD (yuck) for comparisons, so I just took the difference to be the different set-up for a studio full of musicians (obviously different takes), however having said that there's a lot of high frequency information there, it doesn't sound too 'slugged' to me?
SF
Oh, there it is. I'm playing track three, Love Blues. Nice and crisp again. Wait a minute, I'm hearing some sibilants there. Not too bad though. Are you hearing the same thing?
GH
I was actually thinking how good and natural the sibilants were - in fact I used it to torture a couple of phono stages - one sounded tizzy the other perfect.
SF
YIKES! I'm listening to Angelina, track 5, and this sounds awful. I just did the a/b flip with the CD and you wouldn't believe the loss of depth. The soundstage isn't too bad but it's almost as if they compressed the heck out of some of the songs just to fit this all on one piece of vinyl.
GH
You have the advantage on me there:-) I'm going to express a prejudice here anyway, I think the 'man and guitar' tracks better musically too - the others sound a bit to slick and processed. 'Am I Wrong' is the most gorgeous percussive blues guitar/vocal - my stand out track... Good test record too with all those fast transients.
SF
I just listened to side two. I heard pretty much of the same thing. Most of the acoustic tracks were decent but the songs like the funked up version of Robert Johnson's Come On In My Kitchen, lack the depth and detail of the CD.
GH
I'm just not sure I'm getting such a difference, as I said I just took it as different sessions, it is different but concentrating on the voice not too different.
SF
Actually, I bet that's just what they did. I just looked at the total track time of the CD, it's right at 44 minutes. That's 22 minutes a side. Pretty much, the accepted maximum side length should be between 15 and 17 minutes with an absolute maximum of 20 minutes.
GH
There's no doubt the old grooves go right to the very centre and if I'm being picky the last track (City Boy) is wearing unusually fast, it's starting to sound fluffy after about 30 plays (I like the record a lot...).
SF
One other thing, again it's the accepted norm in the vinyl cutting industry that you save the lighter (acoustic) tracks for the last songs on the side. These guys put She Just Wants To Dance as the last song on side one. This is one of the hottest tracks on the CD. I don't get it.
GH
Yea... the great story of the recording engineer telling Jimmy Page that they'd never cut Led Zep 4 with 'Stairway to Heaven' at the end of side one, still the acoustic bits helped. Mind you some of the acoustic stuff on the Keb Mo is hugely dynamic if not so bassy, the aforementioned 'Am I Wrong' being the prime example...
SF
I'm not trying to be too harsh here, really I'm not. It just chaps my butt when I plop down $30 (plus shipping) for a piece of vinyl that is targeted at the "audiophile" market and it sounds like this one does.
GH
Should have got a review copy like me :-) But you know what I think? I think that if you don't hear hum then we've got two totally different cuts! They must be different masters, so how many of each (both flawed) are out there, and how do you know if your getting hum or slug? And what does that say about Absolutely Analogues's quality control. I have to say I'm not happy with this - I've other AA releases, like the recently reviewed 'Highway 61' and there ain't no hum... The Keb Mo I have sounds very good apart from the hum though.
SF
I wonder, know how you here the low level hummmm at moderate listening levels and I hear sibilants, no hum and what sounds like compression and loss of depth? I bet you're right. Either there are two masters or my copy was made just before the Stamper or Mother gave up the ghost. That would explain a lot.
So..........
SF
Well, I'm not making any friends at the vinyl companies am I?
GH
And my supply of review discs is probably at risk.
SF
Damn the bad luck. Just my opinion but I don't think they did a very good job when they re-mastered this for vinyl, dead Stamper or not. Hate to say that, but it's what I hear.
GH
Re-mastered twice you mean?
SF
Lets talk about something positive (that will keep me from griping :-) What did you think about the music? Isn't he great?
GH
I can see why you like him - this guy has a real 'Blues' voice. It's a rare quality and you've either got it or not. BB King has it, Eric Clapton hasn't (though bless him, he tries), Muddy Waters has it, Robert Cray hasn't - and before anyone starts on the "can white men sing the blues?" debate - Robert Plant has it and Rod Stewart doesn't (compare and contrast 'Led Zep 1' and Jeff Becks 'Truth').
SF
This is his first of five releases (that thing on Chocolate City doesn't count :-). His next album, Just Like You, is just as good, if not probably better.
GH
Well I'll be looking out for it...
SF
One of my favorite things about Keb Mo is he seems so well balanced. He grew up in Compton California at the height of the riots and civil unrest of the 60's here in the states. Compton seemed to be the epicentre of it all. Even with his history, he really has some good things to say with his songs.
GH
Just so long as he keeps the blues raw and exciting and isn't tempted into too much slush like 'Don't Try to Explain' - my least favourite bit ('City Boy' isn't much better). But out of the 12 tracks on the album four or five are brilliant, a half dozen good and a couple could be cut out quite happily. That's a pretty stunning average.
SF
His most recent release is a kids album, believe it or not. It's called Big Wide Grin. It's an album of remakes, everything from Love Train (who did that originally?) to Sly and the Family Stone's, Family Affair. Kind of a fun album, all around.
GH
Do us a tape for the kids willya :-)
SF
As usual, I'm getting way too far off the subject. I guess I'd better shut up now.
GH
Hey when are you coming over for a visit?
I'll be knee deep in turntables so you can see what you'd like to shell out on to replace that old wind-up one you use ;-P
SF
Hopefully soon!
Wind up!!!??? You must be talking about Nels' Rega Planar :-)))
(Boy, am I going to get a phone call after Nels reads this !!! :-))))



Dateline: September 28, 2001, St Louis, Missouri
This evening me and about 1000 of my closest friends were treated to something very special. Keb Mo made his first visit to St Louis. Keb was winding down his Big Wide Grin tour and made a stop here in town. The venue was the Pageant Theatre, a small, intimate setting.
It seems, Keb Mo does some of his tour with a full band and some acoustic with just him and one or two other accompanists and minimal mic'ing. That was the case this evening. Keb had with him Clayton Gibb, playing acoustic guitar and one of our local musicians (made good) and acquaintance, Lavelle Belle on a three piece drum kit. No one this evening knew what we were in store for, including Kevin Moore.
With most bands, it takes three or four songs to warmed up and get the audience involved. Not this evening. There was magic in the air.
This evening was a first for me. I've been going to live shows for a long, long time but I've never been to a show that had taken on this type of emotion before. I'm not talking about me being emotional, I'm talking about the audience feeding off of the performer and the performer feeding from the audiences reactions. I've read about these and even listened to a few that were lucky enough to be recorded. BB Kings Live at the Regal coming to mind. I don't mean to minimise BB's performance, but it pales in comparison to what we all experienced.
One of the first things Keb noticed was the audience singing. Not only the words to the songs but singing backups vocals in unison, improvising by filling in with choral vocals at all the right places where a dramatic pause normally would take place. It was almost eerie. At first he seemed a bit shocked, you could see it on his face and his body language, but that's exactly what artists feed on, people getting into their music.
It's more than a little strange that this would happen here in St Louis. See, we don't have a Blues radio station here in town. Most performers book gigs based on two things, airtime for their songs and record sales in an area. Here he only had record sales to go on, so I'm sure he didn't expect what was happening. This was the fuel that Kevin's fire needed. After playing thirty or forty dates, coming down to his second to last gig and having this happen. What an experience. For all of us.

Any more, most headline performers give you somewhere between 60 and 90 minute shows, not this evening. Keb played for almost two and one half hours. It was obvious he was reaching back, playing songs he hadn't played, possibly in years. Since he was changing the song sets on the fly, he would pause between songs explaining to Clayton and Lavelle how to play the next song. It was all they could do to keep up. It was actually kind of funny. Keb even made fun of it on occasion. He had a REAL rapport going with the audience, totally connecting. That's extremely rare, ask any musician. Several times through the evening, he'd stop playing in the middle of a song, and begin improvising lyrics, then blast back into the music, restarting with some huge bent note. It was an emotional feeding frenzy for all who were lucky enough to be in attendance.
Just to make sure my view wasn't jaded, I asked a friend of mine, in a round about manor, what he thought about the concert, and he was flat stunned. Jim (and the rest of our group of eight) had never even listened to Keb Mo before. They were only came on my recommendation. I did a quick check with my wife, who isn't a big music fan, and she felt it too.
Just another way to make sure this really happened, many of the Blues and Jazz performers stay around after the show and sign autographs. They usually allot between 10 and 20 minutes and then the security folks whisk them away. Not this evening. I'd bet half of the people there were in line. When it was my turn I happened to overhear one of the staff say that the 20 minutes were up. Kevin looked up and asked how long the line was. "It's all the way around the corner" and Kevins reply was, "That's OK" and just smiled at the guard, then signed my CD. Awesome.
So what's the point of all this? I'm not sure other than to say,
GO OUT.
SEE LIVE SHOWS.
Don't just sit with your systems and listen to what you think sounds like music. Go experience it. Who knows, maybe you'll be as fortunate as we were and get to experience something special.
We've also reviewed another album by Keb'Mo': "Just Like You" (1996)
Geoff's system used
Scott's Main System Used
Turntable – Systemdek 2x2, Rega RB 250, Expressimo Mods, Rega Elys
CD Player – Arcam Alpha 8se, HDCD
Pre-Amp – Lazarus Cascade (tubed and hot-rodded)
Tri-Amped with Spectro Acoustics gear
- Tweeter Amp – 200sr, 100 wpc @ 8ohm, (heavily modded)
- Mid Range Amp – 202, 100 wpc @ 8ohm, (heavily modded)
- Woofer Amp – 500r, 250 wpc @ 8 ohm, (heavily modded)
Active Crossover – Sony 4300 (discrete)
Interconnects and Cables,
- DIY, silver plated copper with teflon insulation,
- TNT Bullet Spikes
Geoff's record was provided by Cherished Record Company
Scott's record was purchased from Red Trumpet Records
© Copyright 2001 Geoff Husband and Scott Faller - http://www.tnt-audio.com
[ Home | Staff & Contacts | HiFi Playground | Listening tests | DIY & Tweakings | Music & Books ]