[ Home | Staff & Contacts | HiFi Playground | Listening tests | DIY & Tweakings | Music & Books ]
State Cows - The second one
West Coast sound at its best!
[Italian version]
Artist/band: State Cows - Sweden
Album details: CD "The second one" - 2013 - Avenue 13 04 0052 on Avenue of Allies Music
Test sample: Made in the EU
Genre: Westcoast/AOR
Price: 15€ [CD + download] - 7€ [FLAC, MP3 etc. download only]
Reviewer: Lucio Cadeddu - TNT Italy
Reviewed: July, 2013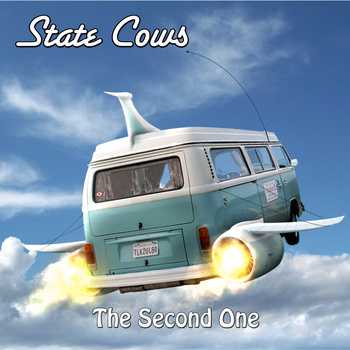 State Cows - The second one (2013)
Foreword
Two years ago I reviewed State Cows' debut album and it was a revelation! This Swedish duo was able to take me back to the good old days of AOR/West Coast sound, of glorious albums from Chicago, Toto, Hall & Oates and many others. State Cows' strongest inspiration, however, was a band which released some of the best pop-rock albums of the last 40 years, namely my beloved Steely Dan. This The second one, just released two years after their debut album, is a second attempt to make the dream survive.
For more infos on the band I recommend you read the aforementioned review or browse their official website.
West Coast sound at its best!
If you've read my previous review you might know that album was, for me, a real shock: a new disc from my beloved Steely Dan was there, but it wasn't the Becker & Fagen duo to play and sing, rather this new Swedish band! Just the classical beginner's luck scenario, I thought. How many times this happened before! A great debut album from an unknown band, then nothing or a disappointing sequel of mediocre albums.
These guys, disregarding the usual rules of show biz, decided to take their time and, after two years, released a new album. Well, let me say their first effort wasn't the classical beginner's luck. Indeed, this The second one is even better than the debut album. Just ten tracks (how many tracks should a good record contain after all?), of pure, brilliant, mature West Coast oriented songwriting. Perhaps not the most original and innovative sound out there but, hey!, these guys know how to write good songs! They give you that strange deja-vu feeling, not just because they recall memories of other songs! Do you know the feeling of listening to a song for the first time and feeling like you already know it? This happens with melodies that stick inside your head and repeat endlessly after the first time you happen to listen to them. Such an amazing sensation!
Examples? Plenty of them. Take the single that anticipated the album: Hard goodbye. It conquered my daughter's ears after 20 seconds, so much that she decided to publish it on her Silvia's Corner on our TNT-Audio Facebook page. And it has been a success, getting many likes.
What does this mean? Simply put, that this album can even conquer listeners who are very far from this particular musical genre. The hypnotic intro of Hard goodbye is something that penetrates under your skin within seconds, no matter what your musical preferences might be!
Other songs are no different. Take In the city, for example, there you can hear echoes of the best Hall & Oates tunes while the piano intro of I got myself together is undoubtedly Toto-like. And how could I avoid mentioning the sweet California Sun? Each and every track - and especially this one - is pervaded by an American atmosphere which continues to surprise me, considering these guys are from Sweden...
Even the quality of the lyrics seems improved, as some are amazingly poetic.
The production of this album is entirely home-made, in the sense that the State Cows took complete control over the entire recording process, succeeding in building the album exactly the way they intended.
For this reason I was curious to analyze the recording via the DR software, which gives an average measurement of dynamic levels. For more details please refer to our list of records analyzed via this software.

----------------------------------------------------------------------------------------------
 DR   	   Peak     	   RMS      	 Filename
----------------------------------------------------------------------------------------------

 DR11	  -0.92 dB	 -14.00 dB	 Track01.wav
 DR12	  -0.93 dB	 -14.95 dB	 Track02.wav
 DR12	  -0.93 dB	 -15.84 dB	 Track03.wav
 DR12	  -0.82 dB	 -15.61 dB	 Track04.wav
 DR14	  -0.98 dB	 -16.44 dB	 Track05.wav
 DR12	  -0.93 dB	 -15.17 dB	 Track06.wav
 DR13	  -0.94 dB	 -16.89 dB	 Track07.wav
 DR12	  -0.87 dB	 -15.36 dB	 Track08.wav
 DR13	  -0.85 dB	 -16.83 dB	 Track09.wav
 DR12	  -0.86 dB	 -15.09 dB	 Track10.wav
----------------------------------------------------------------------------------------------

 Number of files:    10
 Official DR value:  DR12 
----------------------------------------------------------------------------------------------

The debut album reached DR10 average level, which wasn't bad, particularly for a modern rock recording. Many commercial albums can't reach DR6! I think State Cows pay special attention to this particular aspect since good music deserves good dynamics. Music without dynamics is lifeless. Apparently, they do their homework. The average DR level of this new album is DR12 with one track that reaches DR14 and two tracks DR13. This is an amazingly good result, especially if you consider that it is the same dynamic level as a famous audiophiles recording like Forcione's "Tears of joy" on the Naim Audio label! This proves that...it can be done! Yes, even without zillionaire's budgets, expert sound engineers or expensive equipment and sophisticated recording studios one can preserve the real dynamic content of a performance. It is simple: just avoid compression! Dynamic content doesn't guarantee the quality of the recording, but it is a necessary condition for quality and fidelity.
Actually, the sound of this recording is tonally correct as well, crisp and precise when needed, with a deep, powerful and articulated bass range. This allows the listener to follow - quite easily - electric bass and drums patterns. Distortion levels are very low, so the listener is strongly encouraged to turn the volume up! :-)
Vocals (lead and choruses) takes are excellent as well, as are guitars and keyboards.
As you can see from the pic below, the artwork of the CD shows a tape reel, perhaps a reminder of the good old days of reel-to-reel tape recorders! Moreover, it can't be a coincidence that the CD appears close to an audiophile Burson amplifier (pic taken from the State Cows' Facebook page).


Conclusions
I was prepared for a flop, a second album without the freshness and the genuine impact of the debut album. For this reason, this The second one has been a pleasant surprise as it appears even more mature and sophisticated than their first.
West Coast sound and AOR fans can't avoid falling in love with this album, but there's more! When quality is so high it is obvious that even new generations could find these tunes entertaining. After all, aren't we always searching for simple, good repeat-in-your-mind songs?
You can enjoy State Cows' live (and studio) performance directly on their YouTube channel. Let me suggest you to start with the single Hard goodbye. As one of the comments states: "You know this song is gold within the first 15 seconds!". How true!

© Copyright 2013 Lucio Cadeddu - direttore@tnt-audio.com - www.tnt-audio.com
[ Home | Staff & Contacts | HiFi Playground | Listening tests | DIY & Tweakings | Music & Books ]