[ Home | Staff & Contacts | HiFi Playground | Listening tests | DIY & Tweakings | Music & Books ]
In Memoriam
Alvin Lee
guitar hero of
TEN YEARS AFTER
bringers of
Rock & Roll Music to the World
[Italian version]
Artist: Ten Years After: Rock & Roll Music to the World
Album details: Audio Fidelity 24kt Gold HDCD reissue
Price: $24.99US (YMMV)
Reviewer: Mark Wheeler - TNT UK
Reviewed: May, 2013
Untimely death before International Record Shop Day
Alvin Lee, lead guitarist and singer with Woodstock luminaries, Ten Years After died on 6 March 2013 aged just 68. Like so many heavy rock heroes, he emerged from the industrial English midlands (from the Nottingham-Mansfield area rather than the Black Country of Sabbath et al) and played on a world stage unimaginable to most. Owners of the triple vinyl Woodstock soundtrack will be familiar with Ten Years After's blistering performance of I'm Going Home. Their history dates back to the early 60s but the Ten Years After name and line up were consolidated in Nottingham 1966, and the band were nationally active from 1967-1974, then got back together from 1988 onwards. Their name comes from their homage to Elvis Presley's peak year of 1956 and its relationship to their 1966 formation.
This HDCD features 9 tracks put together as an album by Alvin in 1972 for the Chrysalis division of Columbia. Lacking the vinyl original, all comments apply to the HDCD. The sound is lively, dynamic and nuanced. This album finds them maturing musically, which makes this an ideal audiophile outing. Audio Fidelity have been reviewed positively on TNT-audio before. Their limited edition CD's, HDCD's and SACD's often sell out soon. With International Record Shop Day just behind us, it is encouraging to be reminded that physical formats still have a place in music dissemination. Holding these 24kt gold discs is a delight.
"Holding them?" exclaim plebs chorus, stage left, "What about playing them?"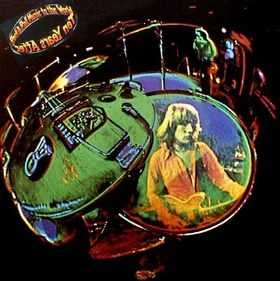 Sound Quality
Seeing the HDCD logo on the outer packaging, your Old Scribe ripped into the protective Cellophane with enthusiasm. Your old scribe loves the HDCD format. It doesn't need the compromise of dual layers like DVDA or SACD, it is fully back-compatible and it does usually sound equal or better. Most HDCD capable players automatically select HDCD when one is detected, but it is possible to select CD red book resolution manually on most. HDCD play perfectly well on CD portable and car players. SO WHY does it sound like a good CD transfer, rather than a great HDCD? The telltale blue HDCD LED failed to light up on the first transport into which I loaded Rock & Roll Music to the World. Attempts to force HDCD using the remote control failed to provoke the HDCD LED. The same happened in a second transport. Another Audio Fidelity of HDCD worked fine in both, prompting blue LEDness as soon as a disc was loaded, before play. The HDCD, by Joe WAlsh, from Audio Fidelity works fine. Is a conspiracy against a great British blues guitarist like Alvin Lee, as one might suspect against rarely rereleased Rory Gallagher too or just a misprinted outer sleeve? Closer inspection shows there to be NO HDCD logo on the disc itself, merely on the outer packaging. This would seem to be a lost opportunity. However, Ten Years After are (or were) a raw blues rock outfit, whose energy would carry through a scruffy PA, a set of overdriven valve Quads or valve Radford, or under the covers through headphones driven by your old Dad's valve radio speaker output. The extra refinement and resolution of HDCD is missed, but the music and the CD transfer quality more than makes up for it.
Conclusion
This is a great transfer and a perfect tribute to a much lauded and influential musician who seems rarely to be properly acknowledged, except by other musicians. If you are already a fan, this will not disappoint. If you love rock guitar music this would be a worthy introduction to Alvin Lee and Ten years After.
Music enjoyed while writing this review
Ten Years After: Rock & Roll Music to the World
Go to online retailers and buy more records now.
Go out of your house/apartment/yurt and buy more vinyl/CD's/hi-res downloads NOW!
Don't waste my time, or yours, thinking about it. Just buy more stuff to play on your hifi NOW!!!
Go to a gig this week, especially if you've never heard of the artist/composer/ensemble.
if your recordings, cds, lps or hi-res downloads demonstrate above average sound quality or interesting performances,
Whether you're a recording studio, label or artist,
this page will plug good recordings mercilessly.
Great audio is pointless without great music!

Share this article with your friends on Facebook Facebook!

Copyright © 2013 The Old Scribe - www.tnt-audio.com

[ Home | Staff & Contacts | DIY & Tweaks | Listening tests | HiFi Playground | Music & Books ]