[ Home | Staff & Contacts | HiFi Playground | Listening tests | DIY & Tweakings | Music & Books ]
Amy Winehouse 'Lioness - Hidden Treasures'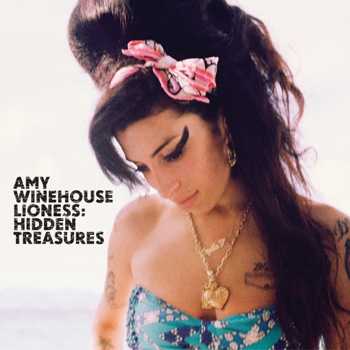 [Italian version]
A parting gift
Product name: Amy Winehouse Lioness - Hidden Treasures CD (also available on vinyl).
Cost: 7 UK pounds. (YMMV)


Reviewer: Nick Whetstone - TNT UK
Reviewed: April, 2012
I recently got hold of the CD 'Lioness - Hidden Treasures', a posthumous album of previously unreleased tracks by Amy Winehouse who tragically died last year. As I was listening to it, it occurred to me that we at TNT hadn't commented on the passing of such a great musical talent, and checking back I noticed that we had just broken up for our long summer break when the news of Amy's death was announced last July.
Now I begin this review by wondering how many of you knew of Amy Winehouse because although she was famous in the UK and USA, I really don't know where else she was popular. So I will say that if you haven't come across Amy Winehouse's music before, you really should check out her short discography: 'Frank', 'Back to Black', and the album released after her death, 'Lioness - Hidden Treasures'. Like many blessed with true genius, Amy Winehouse also had more than her fair share of troubles resulting in her problem with drug addiction. She had apparently overcome that addiction, and her future was looking brighter, when she was discovered dead at her home on July 23rd 2011 at the age of just 28. If you aren't familiar with this artist, I can recommend the Wikipedia entry about her.
Amy Winehouse was perhaps best known for her distinctive voice (and her well publicised lifestyle, and relationship problems). Her style of music was a mixture of soul, jazz, blues and R&B. The 'Lioness' album showcases her voice in a collection of songs that had not been previously released, and different versions of some that had been. With a comparatively short career that focussed on quality over quantity, the producers of this album had to work hard to give us around 45 minutes of material, and 'Lioness' won't be remembered as such a great work as 'Frank' or 'Back to Back'. But for Winehouse fans, that probably won't matter at all as just to here her voice again will be well worth the cost of the CD.
For the money we get Amy's covers of old favourites like 'Our Day Will Come', 'Will You Still Love Me Tomorrow', and 'The Girl From Ipanema'. You get the impression that these were sung for her own amusement (possibly while she was warming up her voice) rather that to be released, and probably may never have been released if she had remained alive. But as with just about everything that Amy Winehouse did, the results are quite memorable because she stamped her own personality on those songs. There are guest artists brought in to help polish up some of the tracks, and no doubt pay their tribute to her as well. Nas adds a great rap on the track 'Like Smoke'. And giving just a hint of how widely she was admired in her profession, she duets with Tony Bennet on the track 'Body And Soul'.
Most of the material on 'Lioness' comes from her early years between 2002 and 2004. She apparently produced comparatively little material in her later years although she was said to be working on a third album. Of the later stuff on this album there's a cover of Leon Russell's 'A Song for You', apparently recorded in the attic where she was living at the time.
What this collection of songs does do is take the listener on a journey through Amy's career, and on that journey from her early material to what was sadly to become her last, it is interesting to observe the change in her voice from the young girl carefully enunciating her lyrics to the much more mature, (some may say world-weary) and almost ragged vocals that were, in part at least, put down to her lifestyle.
The versions of 'Valerie' and 'Tears Dry On Their Own' were both released on her previous albums, and were obviously judged not to be as good as the ones that got included on those albums. However, I think it is good for fans to be able to hear these alternatives, and I certainly didn't feel as though I was being served up something substandard just to fill up an album.
This is a melancholy album, not just because it comes after Amy's passing away, but because much of her music and life was melancholy. It manages to be a worthy memorial to her and her work, and while I would urge anybody who hasn't got her earlier albums to buy those before 'Lioness', I would still recommend this album as a thoroughly enjoyable 45 minutes of entertainment.
We live in a world of hype that appears to get more ridiculous every year. In the 'west' we also seem to live in a world of mass hysteria where (egged on by the media) people shed tears simply because everybody else is doing so. The same media make and break heroes on a regular basis with little regard to their talent or any other redeeming quality, and then shed crocodile tears when one of them passes away. But when Amy Winehouse sadly left this world last July, all of us who truly love music really did lose one of our greatest treasures. We can now only imagine what Amy could have gone on to produce, and instead will have to make to with the meagre consolation of 'Lioness - Hidden Treasures'. But I for one am gratful for small mercies, and recommend the album nearly as strongly as 'Frank' and 'Back to Black'! Rather belatedly, RIP Amy Winehouse.
© Copyright 2012 Nick Whetstone - nick@tnt-audio.com - www.tnt-audio.com
[ Home | Staff & Contacts | HiFi Playground | Listening tests | DIY & Tweakings | Music & Books ]