[ Home | Staff & Contacts | DIY & Tweaks | Listening tests | HiFi Playground | Music & Books ]
Winter Warmers
Hot Stuff for Cold Winter Nights
Artist: Mick Byrd: Around
Artist: Notorious: Radio Silence
Artist: Magna Carta: Midnight Blue b/w Live and Let Livedouble CD including live and studio discs
Artist: Bullet: The Entrance To Hell

Reviewer: Mark Wheeler - TNT UK
Reviewed: Winter 2010-11

Something to spend that Christmas record token on...
"record tokens?!?," exclaim plebs chorus, stage left, "the old scribe's living in the 1970s"
Ah yes, replieth the old one, "this month I'm reminded of the best of that decade"

But first, something more timeless that weaves together strands of disparate traditions with contemporary delivery.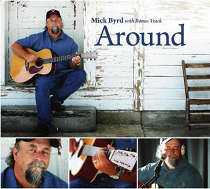 Mick Byrd & Bonus Track: Around
"Bonus Track after the artist's name?" accuse plebs, stage left, "surely bonus tracks are what are added to rereleased CDs? The fool's late night editing is surely affected by his consumption of 12 year old single malt whisky!"
'BONUS TRACK' is the band name of the ensemble with whom Mick plays, corrects the old scribe.
With a musical style described on his website as Americana, your old scribe wasn't expecting Mick Byrd's opening track on Around to sound so British! With vocal harmonies uncannily reminiscent of Bad Company on this opener and guitar so redolent of the late Paul Kossoff (Free and Back Street Crawler) on the penultimate tune, that the rootsy American feel of intervening tracks' travels around the musical world of the North American landmass feels at times like a journey from the old world, through the New World and back again. The nation that spawned the Gran Ole Opry at Nashville is honoured (Nota Bene English spelling) in some blatant tearjerkers that surprisingly moved my partner to tears on a car journey. Her tastes are usually more Pogues than Parton so this emphasises the emotional power of this material and its performance.
Mick is joined on vocal by Kristan Hassler and it is her haunting tones that most pull at the heartstrings. At times Mick's guitar reminds of the folk roots of Garcia or Thompson. Production is slick without becoming shiny and dynamics are about average for good roots recordings and thus far better than most country or rock. The CD sleeve is a beautifully produced resin coated cardboard gatefold of the kind loved by your old scribe in preference to the foul fragile 'jewel cases' that have plagued the CD since the days of the 'Compact Cassette'. The sleeve notes invite loyalty and interest from the listener and handwritten touches from Mick and Debbie Byrd remind us of wholesome friendliness, which is such a change from relentless commercialism. Without a Gran Ole Audio system most of us would never get to hear this stunning performer which is why hifi is good fer yer health.
Mick's statement, "It's a joyful experience to write a song. it's a neat thing. It's fulfilling." is obvious from this CD.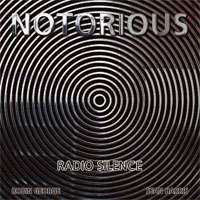 Notorious: Radio Silence
"Wha-a-at?!?" scream plebs chorus, stage left, "The Old Scribe's plugging his fellow Wulfrunian AGAIN!?!"
Well if Robin George continues to be a one-man remaster industry and Angel Air continue to ship 'em, your old scribe will continue reviewing them as long as the quality holds up. The quality does indeed hold up on Radio Silence , quality that would be described as mint minus on a camera collectors website. "Why mint?" demand plebs chorus, stage left, "and why minus?"
Mint because Robin's guitar work is as faultless as ever, at once reminiscent of Paul Kossoff, for the second time on this page, but there are also moments of other first call greats, but this is getting ahead of ourselves.
The title track begins like Golden Earring and ends with an almost Dylanesque monologue. By Better The Devil You Know (track 5) the listener is unsurprised by Hendrix style fills and Do Like a Man vocals (track 6) could be equally well delivered by Grace Jones over the Sly & Robbie riddim stylee. Vocalist Sean Harris (previously heard in Diamond Head) delivers with power and subtlety captured in this surprisingly good 1985 recording. Notorious arose from the ashes of Diamond Head (produced by the irrepressible Robin George) and some record company failures and was a labour of love for both participants that then gathered dust for years despite obvious commercial potential. The secret to great rock is a healthy dose of funk (Great British rock like Free, Led Zep, Zombies, Rooster etc all owe their success to a funky rhythm section meeting blues lyrics and edgy rock guitar) and Radio Silence is elevated above the morass of turgid 80s rock by this attention to the beat. All music is credited to Robin, as is guitar playing so the listener has no idea who banged them skins. Mint.
"OK, so why minus?"
There are a few infractions of the never ever repeat the production mistakes of the eighties rule. A little too much percussion reverb for modern tastes, but actually this is a good a rock production as you're likely to hear short of a deliberately analogue audiophile effort cut straight to vinyl. This is perfectionism applied to rock in playing, performance and production resulting in polish and power. Hear a brief excerpt of track 3 Arrianne here.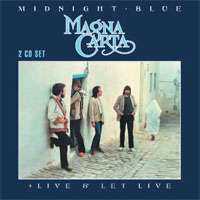 Magna Carta: Midnight Blue b/w Live and Let Live double CD
One studio disc and one live disc, both over ** minutes long, is this a case of "never mind the quality, feel the length?"
"What is this? Pornography on TNT-audio?" challenge plebs chorus, stage left, "Feel the length? What is he on about? Popular meds advertised in unsuspecting inboxes?"
Running time, replieth ye olde scribe, ignoring the deliberate misunderstanding.
Magna Carta manage to sound at different times on the studio disc, variously like early (and therefore OK) Dire Straits,
A short sample of Midnight Blue track 6 Wind on the Water is available here.
Your old scribe loves these repackaged CD's with one studio and one live disc. At best they offer the listener a real measure of a band at a particular moment in their development, including how they then perform their older material. The Magna carta Live and Let Live disc is of more interest to TNT-audio readers than the polished studio disc, which would sound fine on any reasonable audio system. The live disc sounds like a direct feed from the desk, diverted from the PA to an ADC and hard drive. The EQ emulates the close mike character of stage set up and the dynamic range is typical of a live feed.
The sound would be right if heard while lying on the grass in front of a stage on a Summer day as light falls, beer and samosa in hand. At times reminiscent of Brit folk-rockers of the Tull/Albion/Fairport/Steeleye ilk. The tracks offer insight into the personnel changes' effect on material and are joined up in a semblance of order, despite one lapse into pretentious rambling, and a premature thank you and good night moment. The live quality is more fun than audiophile, and therefore more worthy of hi-res audiophilia than slick studio production, despite the fact it is assembled from several concerts over a long period the quality is extraordinarily consistent.
Best of all it comes in a satin finish card gatefold sleeve with a lyric and picture book. ALL CD's should be packaged this way, rather than the spawn of compact cassette plastic coffin, gatefold cardboard with LP style inserts is what makes it so much more worthwhile to buy than a download.
"hooray for gatefold sleeves!" chorus plebs, stage left.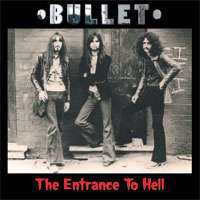 Bullet: The entrance To hell
This trio formed from half Atomic Rooster with added Merseybeat John Gustafson, but halfway through releasing their first album an American band of the same name threatened legal proceedings and their (now infamous) label Purple Records insisted on renaming them Hard Stuff. While this might have led to a series of punning LP titles, like "A Drop of the Hard Stuff", it caused rerecordings and other hassles. This material has lain dormant since 70/71 and on first hearing they're so reminiscent of early Led Zep that my 17 year old son's comment is "They could have been massive".
What sets Bullet apart from the also rans is that same blend of funk (prescient of various later 70s US funksters), but managing to combine a lightness of bass touch with a heaviness of bass presentation. At the other end of the spectrum, who can resist an almost on-beat cowbell to keep setting the pace? These masters have been (presumably carefully) stored 40 years by ex-Rooster John Du Cann.
All the hallmarks are here from the Rooster's funk fuelled psychedelia built on John Du Cann's freak-beat outfit, the Attack, to which he was recruited after being spotted jamming with Jimmy Page, no less. Sadly Decca declined to release their best efforts as "Too heavy" and John's guitar then provided the signature to Andromeda's sound leading to the guitar seat in Atomic Rooster. That rock family tree is so evident in this album, as is Gustavsen's bass drive that also powered Roxy Music's first four albums, that catchy bass riff on Love Is The Drug is his. Whatever, dear reader, you imagine a successful melding of those talents might sound like is here on this disc.
This is typical of late 60s/early 70s rock production: very little global compression, natural sounding percussion, soaring vocals, foregrounded guitar and an endearing recording clumsiness that never impedes the musicians. JAM (track 11) is a perfect example of a unique playful take on roots of the familiar Lucille riff recorded without guile or artifice with rough edges intact. Other tunes succeed in equalling the best that Zep and Sabbath were offering that year. Monster in Paradise (co-written by Gustafson, with fellow Purple Records artistes Gillan and Glover - well, it was their label) followed by Du Cann penned Jay Time and then Gustafson's opus, Mr Longevity, a hat-trick of three of the funkiest rock goals ever scored in the stadium (old theatre more like) of 70s British rock.
Then they're followed by a track that just goes that little bit further and the tragedy is that Bullet's career was prematurely crushed by a car crash seriously injuring the two Roosters (Gustafson was travelling separately) when their car was struck by a speeding Merc on the autobahn. Readers can hear an excerpt from track 2 Millionaire here.
Conclusion
Music is the good stuff to buy to play on your TNT-audio inspired audiophile playback system. The joy of owning such gear is when it enables you to hear something you could not hear live because they never tour your country or because they've formed different bands or died. Alternatively go to a live music pub (well in Winter a festival is a bit raw) and hear a band you've never heard before and maybe buy a CD at the stage side.
The voices really are telling you: Go to online retailers and buy more records right now.
Go out of your house/appartment/tent and buy more vinyl/CD's/hi-res downloads NOW!
Don't waste my time, or yours, thinking about it. Just buy more stuff to play on your hifi NOW!!!
Go to a gig this week, especially if you've never heard of the artist/composer/ensemble.
At the risk of repeating myself, buy new recordings and enjoy! That's what you own audio for. If, in the last 6 months, you have spent more money on audio accessories (including cables and feet) go and get therapy until your priorities have been repaired.
Music enjoyed while writing this review
Mick Byrd & Bonus Track: Around,
Notorious: Radio Silence,
Magna Carta: Midnight Blue b/w Live and Let Live ,
Bullet: The Entrance To Hell,
if your recordings, cds, lps or hi-res downloads demonstrate above average sound quality or interesting performances,
Whether you're a recording studio, label or artist,
this page will plug good recordings mercilessly.
Great audio is pointless without great music!
Copyright © 2011 Mark Wheeler - mark@tnt-audio.com - www.tnt-audio.com
[ Home | Staff & Contacts | DIY & Tweaks | Listening tests | HiFi Playground | Music & Books ]