[ Home | Staff & Contacts | DIY & Tweaks | Listening tests | HiFi Playground | Music & Books ]
A visit to the Meridian factory
[Italian version]
Manufacturer: Meridian - UK
Reporter: Maarten van Casteren - TNT UK
Published: February, 2007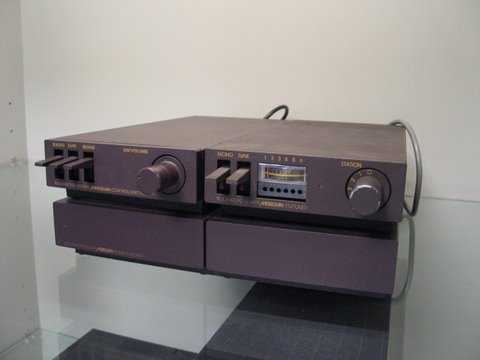 Meridian is one of those companies that seem to go their own way in audio land, not following others but choosing their own destiny. Meridian has done more than most to shape the way hifi is at the moment, and they are still very much at it, continuing to develop new products and new approaches to existing products. Meridian is best known for their excellent CD players and DSP loudspeakers. It is also one of only a few high end companies that can demonstrate a complete system, from source to speakers, and impress with the results.
So, I was delighted when my friend and I were able to visit the factory. The lovely new building not only houses the production facilities, but also the head office and the R&D department. In other words, the whole of Meridian, with exception of the (much smaller) office representing Meridian in the US.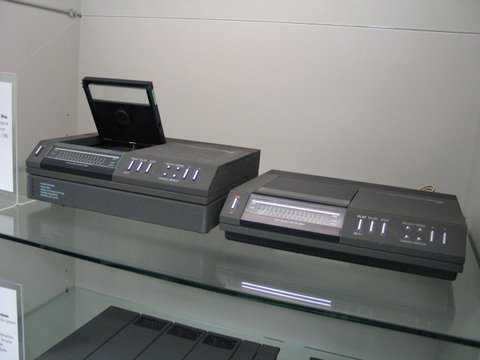 We were welcomed by John Bamford, product manager and former editor of Hifi Choice. John delegated the factory tour to Desmond Ford and promised to meet us again later. Desmond has been with the company for a long time and started by showing us the little museum of Meridian products near the entrance. This immediately made clear that quality and design have always been of great importance to Meridian. The company was founded by Bob Stuart, an electronics engineer and Alan Boothroyd, and industrial designer. And it shows. Every single product, from the very first one, could be re-released tomorrow and would still look modern and fashionable. Even the revolutionary Lecson amplifier that was designed by Stuart and Boothroyd before they founded Meridian is a small work of art in itself. At the same time it is also clear that quality has always been of foremost importance to Meridian. It is very much a case of form following function. We were fascinated and increasingly looking forward to seeing the rest of the premises after this.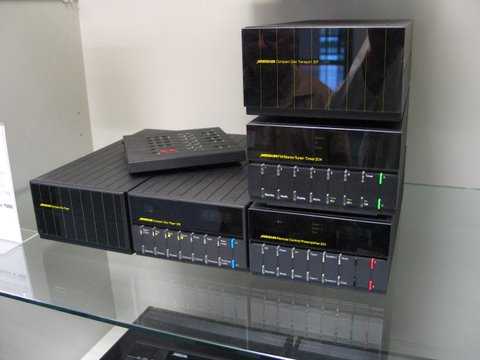 Next stop is the production floor. Enormous, very clean and very organised is the first impression. Nobody is in a hurry, and everybody seems concentrated and relaxed at the same time. There's also a lot going on, as Meridian actually produce their own circuit boards. That means that there's a machine putting surface mount components on a PCB on one side of the floor, while someone is testing finished units at the other end. 'In this way we stay in control', Desmond explains, 'and errors will be detected very quickly'. Strict and intensive testing is therefore part of every step.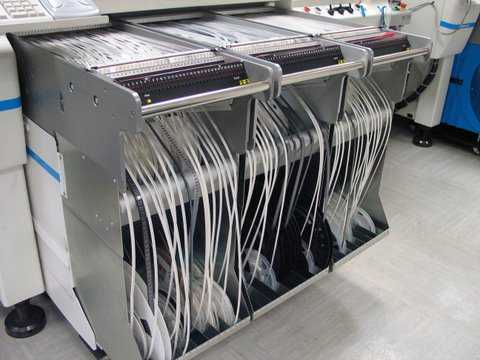 We had never seen the creation of a circuit board before and I was fascinated by the whole process. First a sort of silk-screen printing machine puts tiny amounts of special solder paste with extreme precision on all necessary places of a PCB. Then a robot places minuscule surface mount components on the PCB, by just pressing them into the little blobs of paste. The machine is working at an incredible speed, making it almost impossible to see what is actually going on. All components come in reels, a bit like 16 mm film, and the reels are mounted in trolleys. In that way you can switch from producing one PCB to another very quickly. After this the PCB's go straight into an oven, where the tiny blobs of solder paste melt and connect the components to the PCB.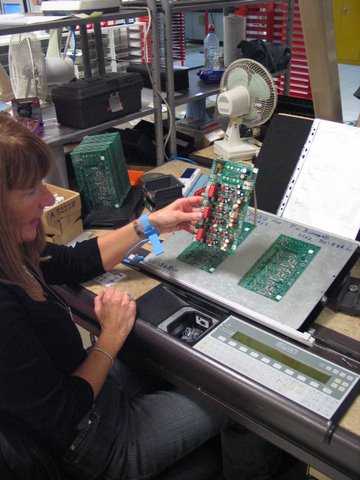 But this is not the end of it. Some components still have leads, so cannot be soldered in this way. On a special workstation all leaded components are put on the PCB by hand. The specialised workstation makes this very easy as it presents the correct component to the person, as well as indicating where it has to be inserted by shining two small spots of light on the PCB. After this all excess leads are cut off and the PCB goes through a wave soldering machine.
Finally, there are certain components that cannot withstand the heating required by the previous steps. This includes connectors and delicate audiophile capacitors. These are soldered on by hand. At last the board is ready. Now follows a rigorous testing phase. The board is either inserted in a special test bed, with a large number of springed contacts positioned carefully to measure every necessary location on the pcb, or the board is inserted in a machine that contains a measurement robot, which puts test probes onto the board at a speed that makes you wonder how it is possible to be so fast and precise at the same time. We watched in awe.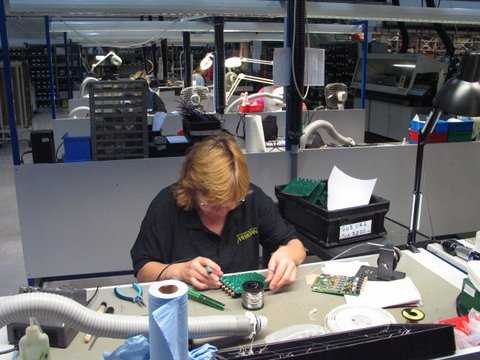 Desmond also shows us that most Meridian products nowadays do not resemble classic audio components anymore, when you look inside. A power amp still looks reasonably familiar, but most source and control units are more like computers. There's a power supply and a few common components, like a DVD-drive or a display, but for the rest functionality can be added by inserting boards. The bigger cases have a large number of slots and can be anything from a simple preamp to a complicated surround-sound processor with room correction and all. All players use CD-ROM or DVD-ROM drives. Desmond explains that jitter can now be removed by clever buffering of the digital signal, making the player completely immune to any influence of the transport. And these modern computer drives can even re-read a bit of information if an error has been detected.
We also see the Meridian speakers being built. This is mostly done by hand. The cabinets are made elsewhere, by the way. It is interesting to see the innards of such a high quality speaker. The big ones are constructed from layered wood with a sheet of aluminium in the middle. Meridian has found that this is the most effective way of preventing panel resonances. Meridian speakers just need a digital signal as input and take care of all the necessary filtering and amplification. There is an impressive amount of electronics in the bigger ones, with huge power supplies.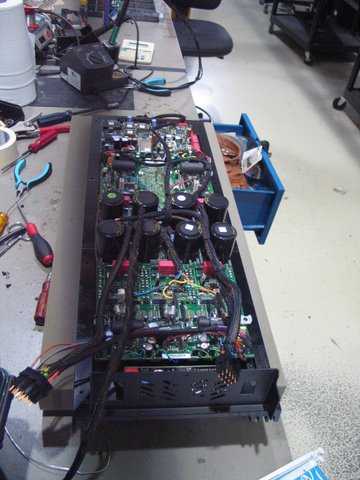 Next, John joins us again and we are shown the R&D department. Meridian has a rather large anechoic room for loudspeaker measurement, and even a special room to measure the EM radiation coming from a component. Very impressive indeed. John shows me the main development area. I expected people with soldering irons surrounded by equipment, but I am astounded when I see about 20 people behind computers in what seems to be a large open office space. 'I'll explain later', John whispers. Some of the other rooms are a bit more as I expected, resembling the technical department at the place where I work. Except that there's Meridian equipment everywhere, and of all sorts and ages. The whole place also seems to be infested with sqeezeboxes, by the way.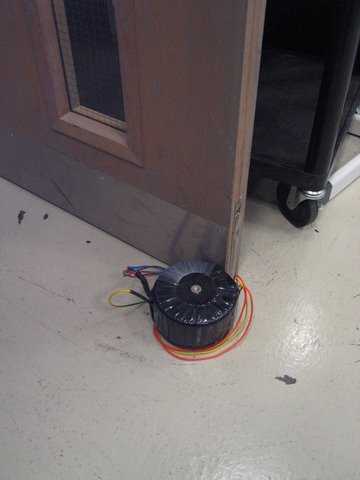 Then we are taken into one of the R&D listening rooms. It has been treated acoustically and very much looks like a place where I would like to spend a substantial part of my working life. On the floor we see an 808i reference CD player with integrated preamp, and a power amp. There's more there, actually, but it has been carefully covered by John to hide it from our inquisitive eyes. Two small loudspeakers are positioned on stands. 'Ignore those', John says 'they're not connected'. So what are we going to listen to then? Well, whatever produces the music, within a few seconds it is clear that it is something very special. John is using an R&D test CD full of short 'torture' tracks, and by accident the first one happens to be a favourite of ours. It's 'Flim and the BBs' and it starts rather quietly, with a very sudden outburst after that. We knew what to expect, but are still almost blown off our seats. This system is seriously dynamic! And no distortion at all, it seems. Music is reproduces with so much energy and liveliness that we soon (almost) forget about the system at all.
But wait a minute. Where are the speakers? John smiles, walks to the wall and pushes a curtain aside. Revealed is an in-wall loudspeaker. Yes, an in-wall loudspeaker! It is a two way system with an additional passive radiator, as there's not enough room in such a flat design to incorporate a real port. The tweeter is a ribbon type and the woofer a 6 or 7 inch metal cone one, with a nice copper phase plug. All very good quality units, by the looks of it, but still an in-wall loudspeaker!
John moves the curtain back, making the speaker invisible again, and tells us, with a big smile: 'Don't tell you wife about this. Once they know this is possible you will never get away with big floorstanders again'. We make a mental note and, even knowing what we are listening to, continue to be amazed by the sound of those speakers. Mind you, the source is pretty special too, as the 808 is one of the best CD players in existence. And the amplification isn't simple either, with active cross-overs and four individual power amps, each connected directly to one of the drivers. The speaker cables are silver, but are connected with a cheap little plastic mains terminal block to compensate for that.
The speed, detail and liveliness of this system is absolutely breathtaking. Then my friend requests some church organ music. 'I think there's some organ on this disk' John replies, and proceeds to search the CD. Soon it is found and he plays it at such a level that the speakers quite clearly are hitting their end stops. We look at each other, and then at John, who is sitting next to us, holding the remote with a big grin on his face. He clearly knows he is driving the system well over its limits, but seems perfectly happy to do so. A bit of fun, the Bamford way! Impressive it still is, as the sound might be distorted from time to time, but is still overpowering. It also shows that you need not fear abusing a Meridian system. It can take it. No delicate salon audio, this equipment, but something that can clearly take a bit of punishment.
We leave the room, our heads still spinning, for a cup of coffee and some much needed rest and relaxation. Now, at this point I have to say that they do know how to make a cup of coffee at Meridian. We were served an excellent cappuccino in stylish English cups on saucers. If you cannot do it well, why try at all, could be the company motto.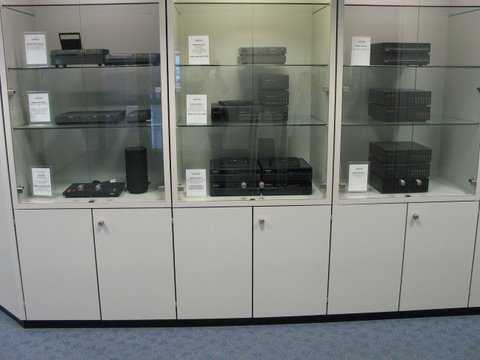 Time for John to tell us a bit more about Meridian. He explains that Meridian has had two major lucky breaks in the last decade. Firstly MLP (Meridian Lossless Packing) was made part of the DVD standard to provide compression for DVD-Audio. And secondly they could take over their current, wonderful building when the previous owner, TAG McLaren, went out of business. Desmond had already told us about the building and both he and John still make the impression that they just cannot believe their luck. We did see more people walking in the corridors with this 'Wow, I can't believe this is happening' expression. And it has to be said that the building is impressive. 'TAG spent millions on it' John says, 'to get their dream building. And now we have it. And MLP more or less paid for it!'
John further explains. 'To be able to do this as a little family business in Huntingdon MLP was sold to Dolby. Not totally, Dolby do licensing. Dolby invent things and then license them. So, Dolby collect all the royalties for MLP. Dolby true HD, and everything that comes with it, everything you need to use it, all that is also made by Meridian. Because Dolby true HD is basically Meridian Lossless Packing with a lot of extra new bells and whistles'. 'Meridian actually is a software company, up to a point, and it makes our surround sound processors very special. It's why they cost what they cost. They do things that other processors can't do. And it's all our own code. A Meridian CD player of DVD player starts life totally naked. Even the navigation software is Meridian's. It's not a Philips chip or a Sony chip. And that I think is quite unique'. 'It's the same with upsampling, it's all done by our own code. We're in total control of it. When you own a Meridian you can sleep at night, because when we make it better it will be a firmware upgrade, free of charge. We're posting it on our website all the time'. John smiles: 'Most of Meridian consumers are just consumers, but a few of them are real techy geeks. They've got their own website: 'The hitchhikers guide to Meridian'. They'll come to a show one day and whisper 'by the way, I'm a hitchhiker'. They are on the website all day and downloading the latest firmware and experimenting with room correction. Serious enthusiasts, I love them!'
To finish off this visit we go to the main demo room. In there is a top of the line 7-channel Meridian system, with a Meridian Faroudja projector. John starts by playing a full movement of the new world symphony by Dvorák in DVD Audio format. It is absolutely stunning. In the R&D room we were still impressed by the system and the way it reproduced music, but here within seconds I am completely absorbed by the performance. There is no system really, just music. It is as close as I've ever come to a real live performance when listening to a hifi system. And it is loud too. I would guess almost realistic sound levels, actually! Still, no hint of congestions, compression or distortion. It really is like being in a concert hall. Being able to do that with 3 guys playing jazz is one thing, but doing it with a whole symphony orchestra is something else!
Talking about three jazz guys, after this I ask if he can play a few tracks of the Oscar Peterson CD I brought. It's 'We get requests', an old audiophile favourite. Again, the music is reproduced with such authority and ease that I forget all about hifi and just enjoy the presence of three fantastic musicians. All the obligatory details are crystal clear: Ray Brown putting down his bow, and later singing along with the music. I even have the illusion to be able to hear the rivets in Ed Thigpen's cymbal, but that might have been wishful perception.
The only slight disappointment is the new 5 channel mix of Talking Heads 'Remain in light'. It sounds electronic and unnatural. With this recording the system just lets you hear far too much of everything that was done in the studio. It is still impressive, but not completely convincing anymore. A very, very revealing system then, but utterly magical with a good recording.
All in all, this has been a fascinating afternoon. It is not often that we are allowed to see how really great products are designed and build, and meet the people who are responsible. A big thank you to Meridian and to John and Desmond specifically. It almost turned me into a hitchhiker..
© Copyright 2007 Maarten van Casteren - www.tnt-audio.com
[ Home | Staff & Contacts | DIY & Tweaks | Listening tests | HiFi Playground | Music & Books ]