[ Home | Staff & Contacts | DIY & Tweaks | Listening tests | HiFi Playground | Music & Books ]
Dynamat Extreme
Preventing vibrations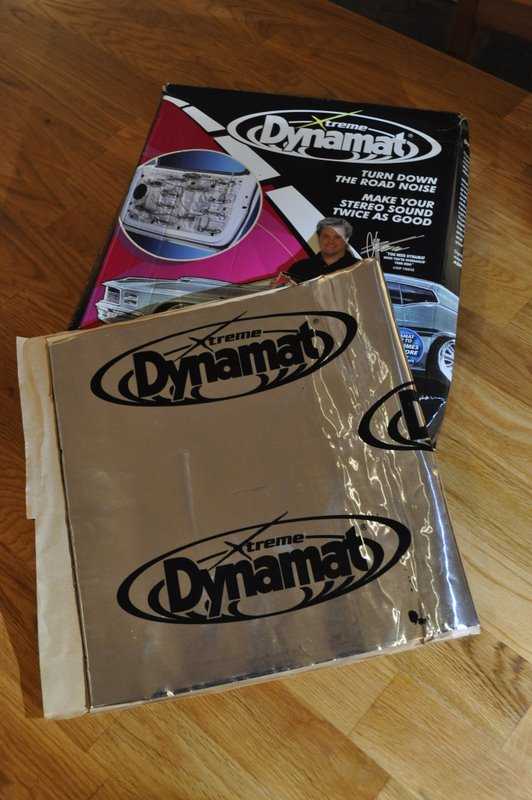 [Italian version]
Product: Dynamat Extreme
Manufacturer: Dynamat - US
Cost: About £50 (YMMV)
Reviewer: Maarten van Casteren - TNT UK
Reviewed: December, 2011
Dynamat Extreme
A lot has been written on vibrations and how to prevent them, here on TNT and elsewhere. Many manufacturers take this issue very seriously and make sure that their components are solidly build and often even dampened and sitting on isolating feet to prevent vibrations having an effect on the sound. In addition there's now a whole range of special accessories to help with this, from simple feet to very expensive racks. And we're not just talking about vinyl replay, which is obviously very sensitive to vibrations, but also about all other components, especially CD players and valve amplifiers.
Vibrations come from several sources. First there's the sound waves coming from your loudspeakers. Not a lot can be done about these, as it is the purpose of your system to produce them, but careful placement of your equipment can have an effect. Secondly there's vibrations coming through the floor and walls of your house. And thirdly there are vibrations created by the equipment itself, like CD transports and mains transformers. All of these have the same effect in the end: they make your sensitive components vibrate, which can deteriorate the sound.
Isolation feet and racks can give some protection against floor vibrations, and prevent internal vibrations from one component reaching another, but sound waves and vibrations from within the component itself will still get through. Some feet, platforms and racks claim they will also tackle these remaining vibrations, by preventing the casework of your components vibrating or even 'sinking' vibrations away. This is not an easy thing to do, and I actually fail to see how a set of feet can prevent the top of a CD player resonating. Clearly there are limits to what can be done with feet and platforms.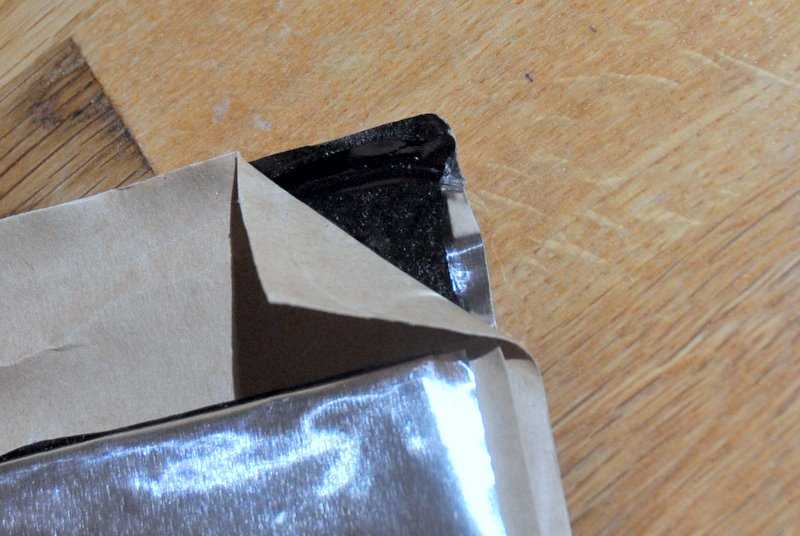 So, why not try to get a bit closer to the problem? We here at TNT are not afraid to open our components up, aren't we? This is where Dynamat Extreme comes in. I have tried a number of damping solutions and I have found Dynamat Extreme to be the most effective. If you are brave enough to admit that you've once watched programmes like 'Pimp my Ride' or 'American Hot Rod' you might have seen this material in action before, because it is actually intended to be used by the automotive industry to dampen panel resonance in cars. Dynamat Extreme consists of two layers: a thick, black, tarry layer of dampening material and a layer of aluminium. The aluminium is just about thin enough to still be flexible. The black layer is self adhesive and when Dynamat Extreme is applied to the metal panel of an audio component the black, tarry layer will then be between two layers of metal, forming a so-called 'constraint layer' damping system. The effect on the top lid of an amp or a CD player is quite dramatic. When you hold an untreated steel lid between two fingers and hit it with a knuckle of the other hand you will hear a loud ringing, like a small gong. Now apply a good piece of Dynamat Extreme and the same knuckle hit will only result in a soft thud.
Obviously, not only the top lid of a component can be treated like this: Dynamat Extreme can be applied to the casing in all places where it doesn't interfere with the normal functioning of the component. When you do this to an amp or a CD player the effect can be felt immediately after you've closed the case again: the component now feels much more solid and much less resonant. I would almost say it feels more expensive. The same can be said of the effect on the sound. It isn't always enormous, but usually quite noticeable and never negative, in my experience. Most of the time the sound is more tight and precise, with more texture in the bass and a calmer, more confident performance overall.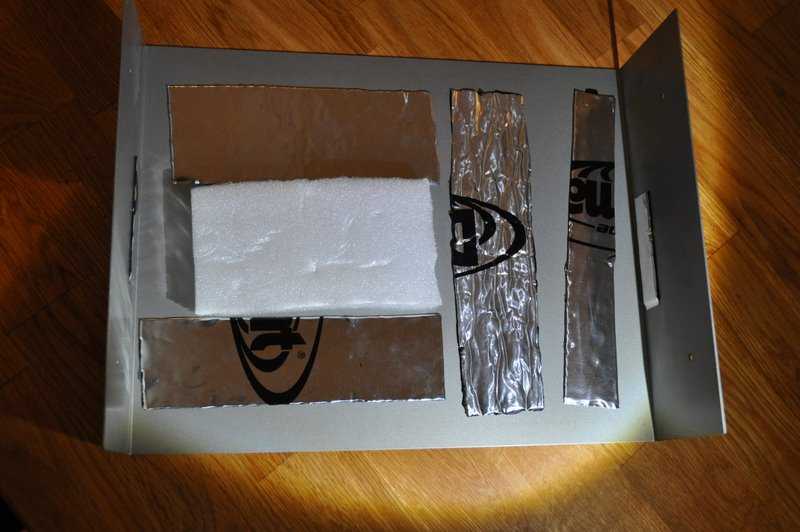 I have found it particularly effective in CD players, where it never failed to make a difference in my experience. I have also successfully used Dynamat Extreme to add weight to a turntable shell, when the resonance frequency of the arm-cartridge combination was slightly too high. Not only is it quite effective for adding mass, as it is relatively dense, it also adds usefull damping which can have a benificial effect on the sound as well.
Dynamat Extreme might seem a bit expensive at first, but you soon find out that it actually is very good value for money. It's certainly extremely cheap compared to some of the aftermarket feet available, and I doubt if it is any less effective. By the way: don't be tempted to buy the normal Dynamat damping material, without the alumiunium: it is more affordable, but much less effective.
Conclusion
Dynamat Extreme is a very worthwhile item in any tweakers toolbox and can give surprising results for a relatively small investment. The upgrade is invisible from the outside, and can be reversed at any time. Highly recommended.
© Copyright 2011 Maarten van Casteren - maarten@tnt-audio.com - www.tnt-audio.com
[ Home | Staff & Contacts | DIY & Tweaks | Listening tests | HiFi Playground | Music & Books ]