[ Home | Staff & Contacts | DIY & Tweaks Listening tests | HiFi Playground | Music & Books ]
Shuguang Treasure 6CA7-Z and KT66-Z - vacuum tubes
From East to West: Solid Quality Tubes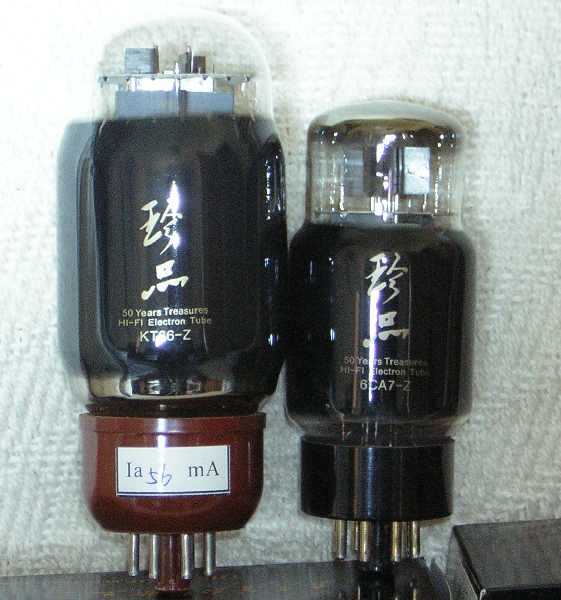 The Shuguang Treasure KT66-Z and the 6CA7-Z stand proud
[Italian version]
Manufacturer: Shuguang
Products: Shuguang Treasures 6CA7-Z and KT66-Z valves
Supplier: Grant Fidelity Price: 6CA7-Z $230, per grade A pair; KT66-Z $280 per grade A pair, YMMV due to currency volatility. Grade B items available at reduced prices.
Reviewer: David Holgate - TNT UK
Reviewed: September 2009

This review has been a long time in coming. Grant Fidelity offered me the chance to review samples from their new Treasure series in late 2008 and after some thought (as I do not have any technical testing equipment) I offered to review samples of their 6CA7-Z (EL34) and KT66-Z valves. I eagerly awaited the shipment which was airmailed very quickly, with tracking, from Canada. Good communication from Grant Fidelity's friendly and helpful representative Rachel meant that I expected to get this review done pretty quickly, as soon as I could honour their request for adequate burn in of the new valves.
Hitch number 1
But, then I hit hitch number 1: problems with import duties at Heathrow. Similar problems are reported by Mark Wheeler in his review of their CV181Z valves. UK customs requested payment of full import duties on these review items, which were accurately described and valued by Grant Fidelity (following Canadian export guidelines) as service replacement items. I received good support from the shipping company, but it took a lot of correspondence between me, them and the customs authorities before the latter accepted that these were review item consumables.
While that story takes a few lines to narrate, it was quite a long saga. So, I repeat Mark's warning that international buyers should look into the customs regulations before placing an international order and ensure that they budget for import duties, if applicable. For EU buyers, it would be ideal if there were a distributor within the EU who could resolve these matters in advance. It would be a pity if extra unexpected charges were to put off buyers of these excellent products.
Mark's review of the CV181Z provides a lot of general information about the Shuguang factory and Grant Fidelity the distributors, which I will not repeat here.
My two quads of matched tubes finally arrived, securely packed and in their individually marked boxes. Since completing this review, I understand that Grant Fidelity have also upgraded this packaging. A quad of four 6CA7-Z tubes now comes in its own presentation box--a nice touch.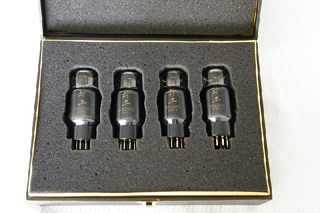 They were in perfect condition despite a journey from Hunan China via Calgary Canada. I looked forward to doing some initial listening tests in my review amplifier, a Dynakit (Dynaco) ST70, with its excellent original A470 output transformers, but otherwise completely rebuilt with new passive components and a new Vacuum Tube Audio (tubes4audio) board. Since the trouble-free VTA upgrade in January 2009 I was using old Mullard EL34s in this amp, with some new Russian 5881 equivalents as backup. I decided to use this as my main test amp for this review because it is a legend, especially in North America. Similarly, despite enjoying these valves with some vintage B&W DM2 monitors which came my way, I decided to focus this review on the sound delivered by my KEF 104/2 speakers, as these are also widely known and liked worldwide.
Hitch number 2
When I started the review, I was still getting used to the VTA upgrade board. To provide a modern point of comparison, I thought I might begin my tests with a modern amp as a point of comparison. I had a sub-$1,000 40wpc integrated running new 5881s to hand. This amp shall remain nameless because of hitch number 4. However, hitch number 2 was that the fat bodies of these Treasure KT66-Zs did not fit into the chassis holes above the octal sockets. Further, because of this same chassis recess, the 6CA7-Zs did fit but were very hard to remove once inserted. Hmm. What to do? Rachel at Grant Fidelity suggested that I might try getting some octal socket savers. After trawling the web, I concluded that they either did not exist, or were no longer being offered for sale. Time for a DIY solution, which I offer here as it might help others who might need octal socket savers. I connected some octal sockets to some octal bases with heavy copper wire, weaving each wire symmetrically into the socket tags before soldering. The resulting socket extensions worked well, and I was able to listen to both the 6CA7-Zs and the KT66-Zs in this amp, with appropriate re-biasing.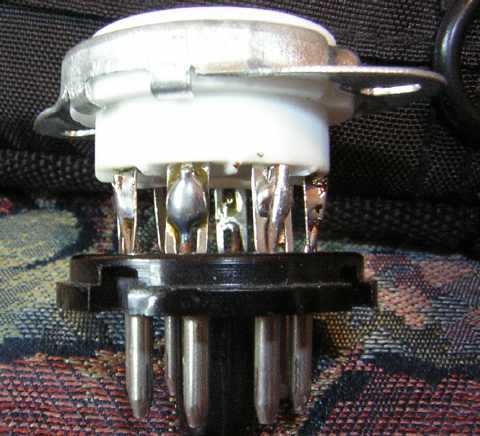 Hitch number 3
The whole review then went on hold, when I skidded off my cycle on some ice in early February 2009, cracking my upper left arm and tearing a shoulder tendon. Pain and immobility followed for some months, then surgery and physiotherapy. Eight months later, I am able to use both arms and resume reviewing. That physical injury has shown me just how physical building and reviewing hi-fi equipment really is. I am more aware of the need to think of those who love music, but live with disabilities. Even such a simple tasks as 'tube rolling' or fitting a turntable belt were almost impossible with one hand.
Hitch number 4
But, hey, with two working hands, I was ready to go at last. Except for hitch number 4. Preparing for critical listening to the KT66-Zs, I decided to check the bias on the modern 5881 amp. The KT66-Zs had been in the amp a while, with light use, as these are often exchanged for 5881s in amplifiers. As the positive multi-meter probe made contact with the positive bias point for one of the four valves, there was loud crack and a flash. Yikes! I powered off the amp and checked the fuses. Both were okay. I restored the valves and began bias checking again. No current discharge this time, but the bias voltage instead of being around 1.15V, rose quickly to over 20V. Maximum adjustment of the bias pots could not lower the voltage any further. There was a parallel problem on the other side with one valve, while the other two valves biased normally. A knowledgeable service tech reading this would probably already be able to diagnose the problem. A component had failed somewhere. Fearing for the KT66-Zs, I replaced them with the original almost new 5881s. Same problem. So, that is why I am not using this modern amp for this review. I am happy to report that the KT66-Zs were then tested in my Dynakit ST70 and performed flawlessly and impressively.
So, on with the review at last
I mention this series of problems simply as a way of making visible the obstacles that often face amateur hi-fi reviewers. I have no service dept to hand to advise on technical problems, nor an office to arrange for a speedy replacement of a faulty review component.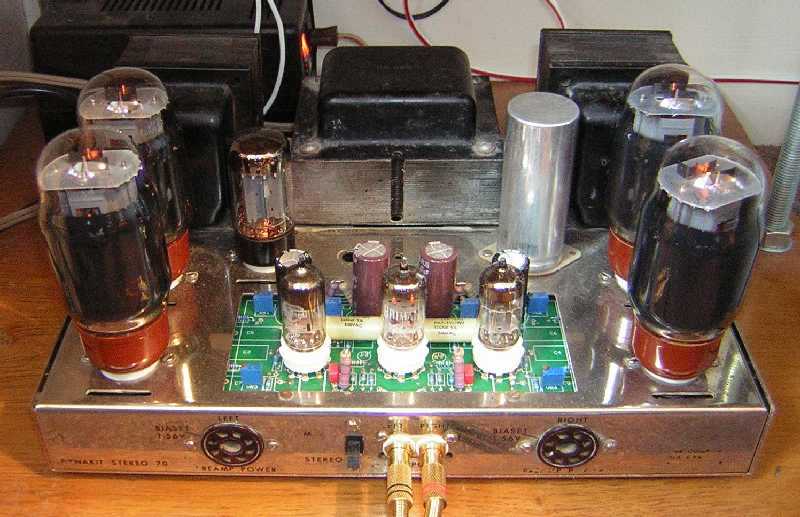 Grant Fidelity recommended 300 hours burn in time. Rachel reported that the KT66-Zs were completely new and the 6CA7-Zs had had 100 hours, so it has been good that both sets have been in regular use in my ST70 over the last months. I have to say that I have some doubts about the importance of burn-in for any equipment, apart from the obvious benefits of warm-up time. Both sets of valves sounded fine from the start and have remained utterly reliable throughout this test period. This is the value of buying quality new components: you don't have to worry about whether they are doing what they are supposed to do. After all, relatively few owners of valve amps have tube testers. Most of us would like to know the condition of the used or 'NOS' tubes we bought at a swapmeet or at auction, but buying, servicing, maintaining and using a tube tester ourselves seems a step too far. And I say that with nine valve amplifiers currently taking up space at home....
Listening results with KT66-Zs
A listening report like this could go on forever, but there is merit in brevity too. I did my final intentional listening with three CDs. The first is an interesting audiophile recording issued by Tone-Pearls Records in Ireland: Chopin and Debussy: Piano Music in a Church performed solo by the Hungarian born musician Endre Hegedus. The recording is special because it is an unprocessed live recording in a church. The analogue input was captured by a single pair of microphones feeding directly into a Nagra IVS reel to reel recorder. The recording was not mixed or manipulated before being converted to digital by the company's 'Almost Analogue' technique. Check out the website for more information. The sound coming from my KEFs was clean, sweet and very realistic. You know the feeling when you want to stop thinking technology and just listen to the music? This was it.
I switched to Paul Simon's underrated 1999 album You're the One because I'd been playing the last track 'Quiet' to some friends the day before on a large portable CD player. This track is also simple, but is interesting because of the clear vocal above some unusual instruments: pump reed organ, vihuela, 96-tone harp, whirly pipe, rubbed steel bowl, upright bass and tromba doo. Simon's music is always good for listening tests because of the care he takes with his recordings. The soft background music began to play, sounding clear and delicate. I was enjoying it, forgetting how soft this was in relation to vocal. Suddenly Paul Simon's voice leaped into the room, shocking me with its clarity. This is a feature of the recording, but these tubes showed it clearly. I turned the volume down and was able to hear the variations in timbre of Simon's voice calling his hearers to head with him for a time of silence. It was like standing very close to him while he was singing live. Amazing.
The third test CD was Ry Cooder's I Flathead. Again, the opening bass drumbeats caught me off-guard with their lifelike force. The KEF 104/2s do not have the greatest tweeters in the world (T33s, if I recall correctly), but the HF was fully there, with all the frequencies below present and correct. Again I wanted to stop writing notes and just sink into listening. I allowed myself the whole of the poignant, melodic 'Filipino Dance Hall Girl' and then moved on.
If I had one critical comment on the sound it was that the bass of the KEFs was too big for my small listening room. This is not the fault of the equipment of course. Despite this, all the instruments sounded so dis-tinc-t and clear. The KT66-Zs deliver a lot of power from the ST70. For quiet evening listening, the volume control was just above the point where all sound cut off. Just for a moment, I turned up the volume pot up a quarter turn and was rewarded by amazing sound. Big speakers working easily within their power range don't distort the sound, just make it bigger! I'm sure the neighbours were enjoying the music too--just for a moment.
Listening results with 6CA7-Zs
After enjoying the KT66s for some time, I replaced them with the 6CA7-Zs. Rebiasing the amp for 0.4V (for the VTA circuit, remember, not the original one) was not a problem--you've gotta love a completely rebuilt Dynakit ST70. As a friend once said, they are built like Land Rovers! No need for my DIY socket extensions either. The Ry Cooder disk was still in the CD player, so listened again to the same tracks. First impressions were: a bit less power and punch than the KT66-Zs, but more finesse and transparency. The sound was clear and direct--slightly different but also instantly enjoyable.
For the critical listening test I switched to vinyl, again playing whatever has been in recent heavy rotation on my Thorens TD135 II with restored TP-14 tonearm coupling, thanks to advice and help from Schopper AG.
First up was Steeleye Span's 'Padstow' from Tested and Tried. In the fullness of the opening thunder, the bass drum and bass guitar were clearly distinguishable. I find it a good test of equipment to see how much of the bass melody I can detect. It was easy here, right to the rolling crunch of the bass at the end of verses. Maddy Prior's voice soared across a wide soundstage. At the a capella cry, 'Oh where is King George?' each voice was distinct and the entry of the percussion gave me a tremble in the gut.
I turned next to an original mono pressing of The Monkees. I could hear the young vocalists' inhale before each new line and the edge of the lead singer's (Davy Jones'?) voice as he sang, '... and I don't know if I'm ever coming home.' No wonder the teens swooned.
Finally, and more seriously, I turned to Jaco Pastorius, accompanied by a quartet on Word of Mouth. The writhing bass of the opening track, 'Crisis,' exploded between lightning percussion and the sounds of horn and reed (trombone and bass clarinet). Pastorius' bass was furious, thunderous and Jack DeJohnette's intense drumming drove the track along. Again, the presence of a spacious soundstage made me wish I were able to listen to this equipment in a bigger, soundproofed, room. As the track progressed, the delicacy of Jaco's bass-playing was evident too, sometimes twisting just below the percussive surface. Track 2, '3 Views of a Secret,' kicks in with Toots Thielemans on harmonica and Jaco's bass making amazing sounds, even as someone has said, like a cello....
Conclusion? Yes, I like them!
The beauty of these quality valves is that they are fit and forget. Once correctly installed, they get on with their job and let you get on with listening. That's as it should be. For those who can afford their premium price, I do recommend them as worthy power components for amplifiers running KT66s or 6CA7s, EL34 or 5881s.
Ancillary Equipment
Dynakit ST70 with Vacuum Tube Audio tubes4hifi upgrade
Upgraded Rotel RCD965BX
Thorens TD135 MkII, with tonearm rear coupling restoration, with the assistance of Schopper AG
Newton preamp
KEF 104/2 loudspeakers
© Copyright 2009 David Holgate - www.tnt-audio.com
[ Home | Staff & Contacts | DIY & Tweaks | Listening tests | HiFi Playground | Music & Books ]