[ Home | Staff & Contacts | HiFi Playground | Listening tests | DIY & Tweakings | Music & Books ]
Four inexpensive preamplifiers comparison test: solid state vs tubes vs passive - Part I
4 below 200
[Italian version here]
Products: Tisbury Mini, BRZHIFI PAP-FV3-2, BRZHIFI VOL-02, Akliam/Domelec - line preamplifiers
Manufacturers: Tisbury Audio (UK), BRZHIFI (China), Akliam/Domelec (China)
Approx. price: from 50 to 200€/$ (see review text)
Reviewer: Lucio Cadeddu - TNT Italy
Reviewed: May, 2022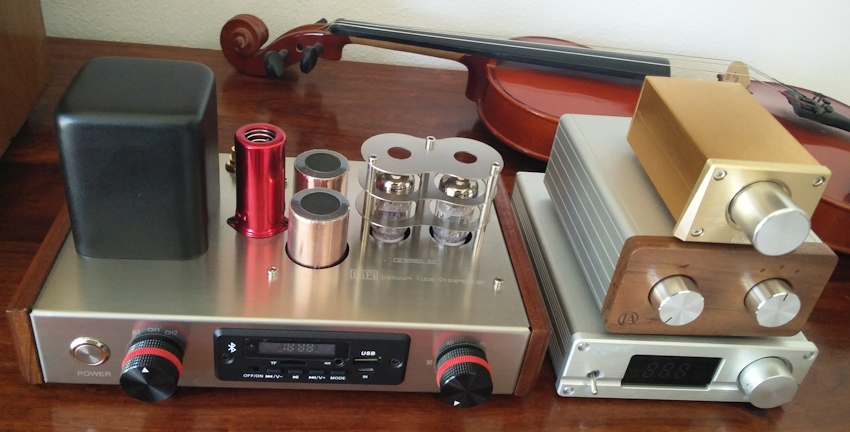 At the left: Akliam/Domelec and at the right, from bottom to top: BRZHIFI VOL-02, Tisbury Mini, BRZHIFI PAP-FV3-2
Introduction
Two weeks after our comparative review of various passive preamps, performed by Paul Hunting, here's another comparative review of four inexpensive preamps, all priced well below 200€. These preamps use different approaches: the Akliam/Domelec is a full tube unit, the BRZHIFI VOL-02 is a solid state unit, the BRZHIFI PAP-FV3-2 is a simple passive preamp, as well as the Tisbury Audio Mini, that we have already reviewed in 2015.
Besides the interest in comparing performance/price ratio of different technical approaches, I was curious to discover an inexpensive good sounding preamp that could be the ideal partner for similarly inexpensive power amps, such as the impressive ZeroZone IRS 2092 I reviewed last year (last week we reviewed the balanced version).
This will be a two parts review. In this first part I will describe the components under review, comparing manufacturing and technical approaches, while in the second part I will concentrate on audio performance only. Ready? Here are the contenders!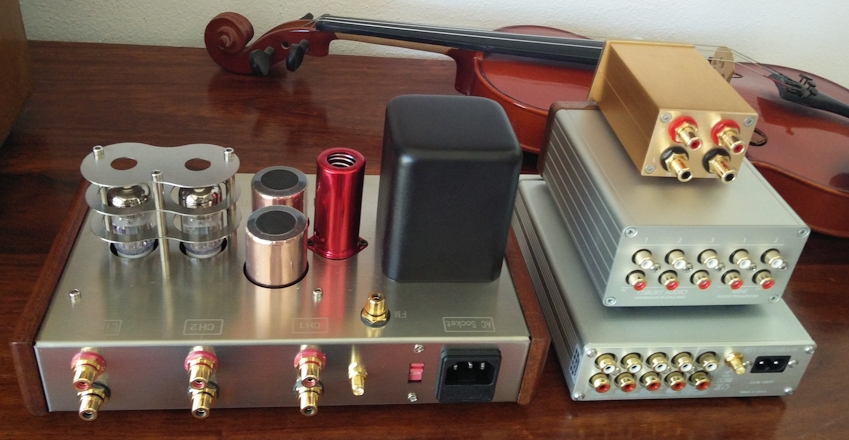 At the left: Akliam/Domelec and from bottom to top: BRZHIFI VOL-02, Tisbury Mini, BRZHIFI PAP-FV3-2
Tisbury Audio Mini
It is a very simple passive preamplifier, with three line inputs and two outputs. Its output level can be attenuated via two switches placed underneath the cabinet (0 dB, -10dB, -20dB) while Output 2 can be configurated as loop (e.g. for a loop to a separate headphone amp), as variable (attenuated by the volume control) or disabled (OFF). The volume control uses a SMD stepped attenuator, with an array of thin film SMD resistors.
The cabinet is a laser engraved walnut + aluminium enclosure, simple but elegant, and extremely well crafted. It has no remote control, which is the usual case as it is a completely passive device. Actually, there are some designs that are passive, and also have a powered remote for volume and/or input switching. It is entirely made in Wiltshire (UK), while the other three preamps under test are made in China. Hence, not surprisingly, it is the most expensive unit of the lot, at 188€/198$ (159UKP). On the other hand, it offers two years of warranty and is shipped worldwide with a 14 days trial policy.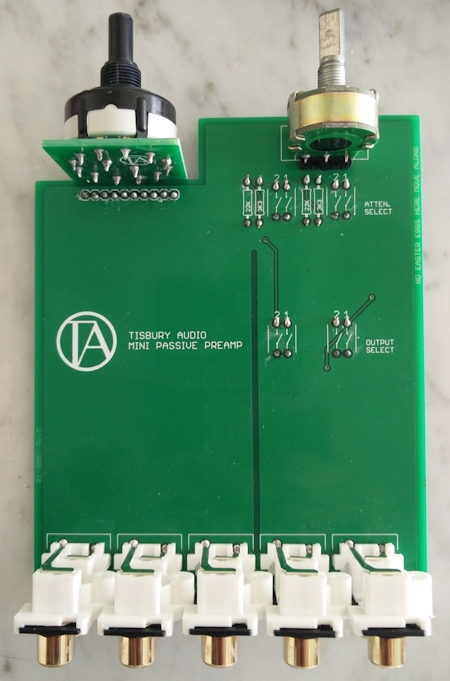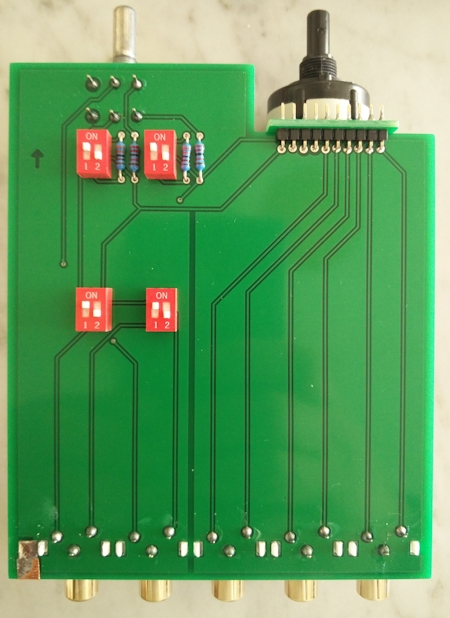 Tisbury Audio Mini Pre - inside view: top and bottom
BRZHIFI VOL-02 and PAP-FV3-2
BRZHIFI is a Chinese HiFi brand with a vast catalogue: integrated amplifiers, power amplifiers, preamps, loudspeakers, DACs, headphone amps etc. They exploit any kind of technology, be it solid state, tubes, hybrid ...you name it. I've chosen two preamps from their catalogue, the VOL-02 and the PAP-FV3-2, the first one is an active solid state unit, while the second is an ultra-minimalist passive unit.
The VOL-02 offers five inputs (four line inputs + 1 Bluetooth) and one line output. For 100€ (depending on stores and special offers) you also get a nicely crafted aluminium cabinet, a complete remote control and a nice display. It is hard to ask for more with such a low price tag. The Bluetooth input is a 5.0 version, with low latency (APT-X LL) and is based on a QCC3008 chipset. The volume potentiometer is a Japanese OMRON 128-level relay unit, while Korea Samsung high precision (0.001%) resistors have been used throughout. Moreover, the input selector uses Japan OMRON audio gold-plated contacts. Finally, you also get a fully linear drive power supply (no switching). It is possible to find this preamp under different brands as well (Douk Audio and Nobsound among others). Here are its claimed tech specs:
Bluetooth chip: QCC3008
Bluetooth support protocol: A2DP, AVRCP, HFP, TWS, AAC, I2S, APTX, APTX-LL, etc., using 16M SPI FLASH memory chip
Distortion: 0.001%
SNR: 128dB
Color: silver
Working voltage: 110V / 220V
Dimensions (W*H*D): 131*43*159mm / 5.16*1.61*6.26in
Net weight: 0.8kg / 1.76lb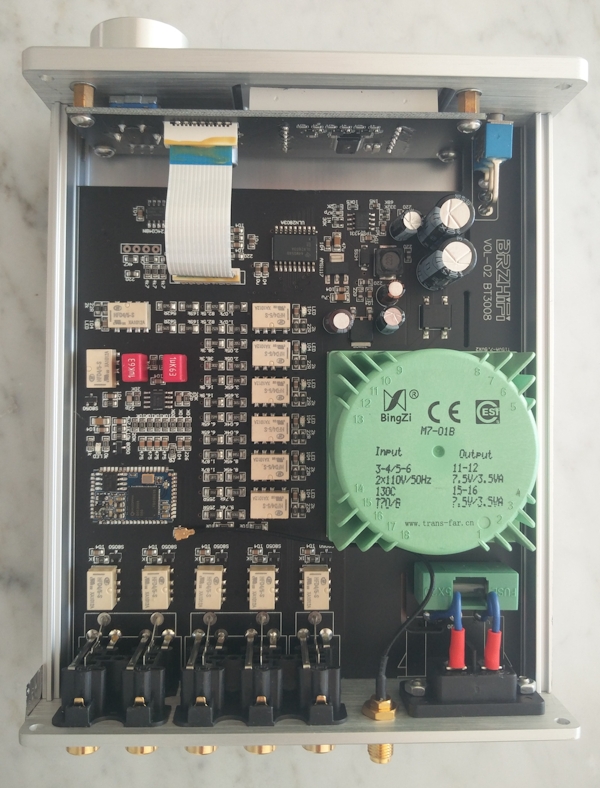 BRZHIFI VOL02 - inside view: crowded, but extremely clean!
The less expensive and simpler brother under test, the PAP-FV3-2 - or FV3 for short - is just a plain passive preamp: one input, one output and the renowned ALPS RK27 high precision potentiometer. The RCA connectors are nice, pure copper plated CMC816 by CMC (Charming Music Conductor) (USA). There's also a lower spec'd brother, the PAP-FV3-1, which uses simpler gold-plated RCA's and an ALPS 16 volume potentiometer. It costs slightly less than the FV3-2 but, for few dollars, it is better to purchase the the FV3-2, because of the nicer connectors and volume pot. It is extremely small (size: 64*93*43mm) and light (280 grams). It is available in gold, silver and black finishes. It costs less than 50€/$, but it is quite easy to find it for 35-40€/$ including shipping (!!!). The volume pot and the CMC connectors alone cost much more than that! Unbelievable.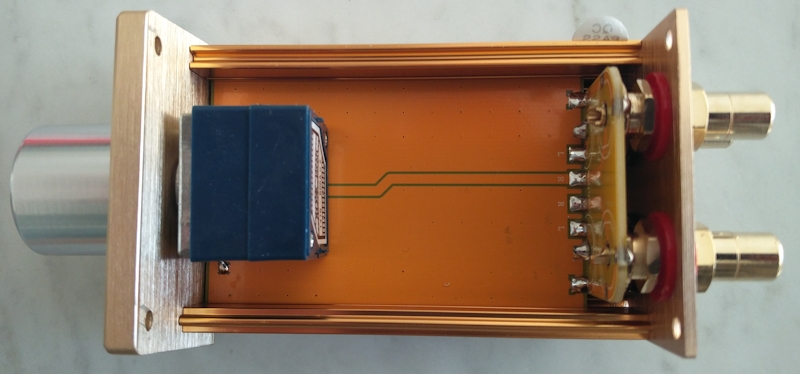 BRZHIFI PAP-FV3-2 - inside view: ALPS RK27 pot and CMC connectors
Akliam/Dorelec tube preamp
This is the weirdest preamp of the lot. It is a tube preamp, equipped with a volume control, Bluetooth input (+ 2 line inputs) and, hear hear!, a fancy module (controlled via remote) that hosts a FM radio, minijack line input, USB input and TF card reader. Actually, I decided to review it because it is one of the best crafted pure tube preamps which are not clones of well-known Western HiFi components. Cloning famous high-end designs is quite a common practice in China, you'll find almost any tube/solid state preamp circuit for few hundred dollars on Aliexpress. This Akliam/Dorelec is an original design, based on what they call a Class A Matisse line bladder scheme: the linear power supply uses a tube rectifier, the GZ4 (brand unknown, perhaps of some Chinese make) and two, apparently Russian, 6H3N. As for passive components: the PSU uses Ruby electrolytic caps, while audio-specific polypropylene CBB caps have been used throughout. Moreover, the tube operating point setting resistance uses VISHAY resistors. For sure, despite being inexpensive (±130€ +40€ for shipping) an extreme care has been taken to ensure this preamp attains audiophile standards. Here are the claimed tech specs:
Audio Input: 2 groups of RCA/Bluetooth 5.0/U-disk/AUX/FM Radio/SD Card
Input Power: AC 220V and 110V (via a rear installed switch)
Bluetooth: Qualcomm 5.0
Audio decoding: MP3 and lossless music formats APE/WAV/WMA/FLAC (support U disk and SD card)
FM radio
Digital clock
Tubes: 2 x 6H3N
Power Consumption: 20W
Input Sensitivity: 25mV
Maximum undistorted output level: 13.5V
SNR: >90dB
Size: 251*172*142mm
Color: Silver, Black, Sapele mahogany wood side panels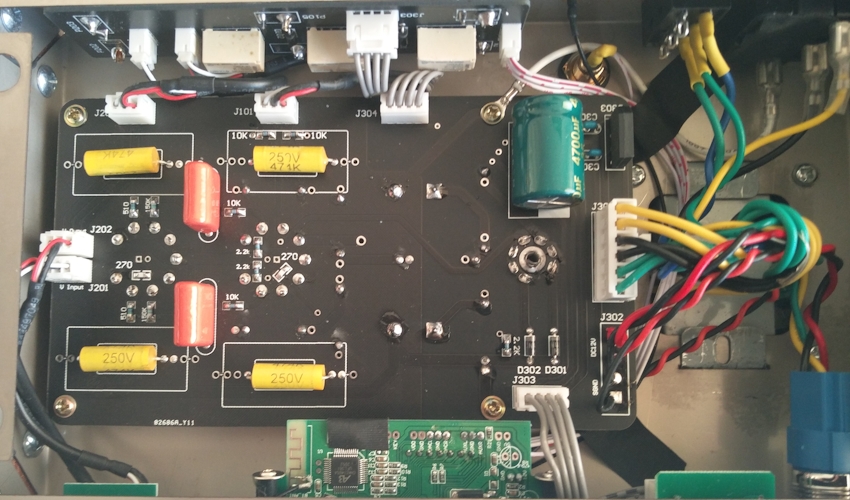 Akliam/Domelec - inside view: good components and clean layout
Manufacturing & finish
Considering the price tag, these preamps are all stunningly well made. It is hard to believe they can be so inexpensive. Even the Tisbury Mini preamp, which is made in the UK, is extremely well made for the price. Of course, the Chinese preamps can exploit the advantage of low manufacturing costs. On the other hand, while the Tisbury Mini is offered with a trial period and two years of warranty, not the same can be said for the Chinese units, especially if purchased directly on Aliexpress. Overall, considering finish, materials, looks and features, the tube preamp is the most astonishing component of the group.
Availability
The BRZHIFI and the Akliam/Dorelec preamps can be easily found on various Aliexpress stores or on Ebay. The Tisbury Audio can also be found on Ebay or directly from the manufacturer. Prices can vary wildly, depending on special offers and shipping costs. Of course, it is highly possible that you have to pay customs fees (remember the UK is no longer part of the EU), hence consider something like +20/30% of extra costs. You might be lucky and pay nothing, but it is better to take into account these extra costs if your budget is tight.
Conclusion
The first thing I noticed is the extremely high quality/price ratio of all these components. They're all well made and nicely finished. Of course, the two passive units offer much less features than the active ones, and this should be taken into proper account when deciding which one to purchase. As for sound, you'll find the results on the second part of this review.
DISCLAIMER. TNT-Audio is a 100% independent magazine that neither accepts advertising from companies nor requires readers to register or pay for subscriptions. After publication of reviews, the authors do not retain samples other than on long-term loan for further evaluation or comparison with later-received gear. Hence, all contents are written free of any editorial or advertising influence, and all reviews in this publication, positive or negative, reflect the independent opinions of their respective authors. TNT-Audio will publish all manufacturer responses, subject to the reviewer's right to reply in turn.

© Copyright 2022 Lucio Cadeddu - editor@tnt-audio.com - www.tnt-audio.com
[ Home | Staff& Contacts | HiFi Playground | Listening tests | DIY & Tweakings | Music& Books ]