[ Home | Staff & Contacts | HiFi Playground | Listening tests | DIY & Tweakings | Music & Books ]
Arcam FMJ A19 - integrated amplifier
An Arcam that can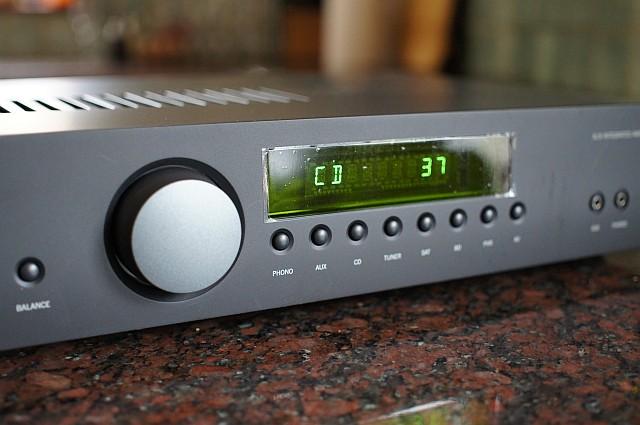 [Italian version]
Product: Arcam FMJ A19 Integrated Amplifier
Manufacturer: Arcam - UK
Cost: 650 UKP (Currency conversion)
Author: Andy Norman - TNT UK
Reviewed: September, 2014
Introduction
Some people are suspicious of larger "mid-market" hi fi companies. But there are advantages to buying the products of such firms. They may not be at the bleeding edge of technology but they do have substantial economies of scale and a (generally) warranted reputation for quality. Some of the most enduring kit I've had in my hi-fi has been from firms like Marantz and Cambridge Audio. And Arcam, where an old Alpha 8 powered my second system until Tripath amps came along. So when Arcam offered TNT-Audio the opportunity to try their FMJ A19 amplifier I was keen to see what they'd been up to in the intervening twenty years.
What You Get

The FMJ A19 is a simple, apparently unassuming, integrated amplifier. It's essentially a very traditional black box. It's a straightforward electrical design too, at least after the volume control (more on which later). The casework is substantial and feels built to last. It has only analogue inputs – it's not trying to be a DAC as well as an amplifier. Output is quoted at 50 watts per channel into an 8 ohms load (90 watts to 4ohms). In many respects it's a straightforward update to the Alpha 8 that served me well for so long. The price, allowing for inflation, probably makes it comparable to the old Alpha 8 too.

The front panel is clean looking, with a simple, dimmable, display, a large rotary volume control and a discrete row of small selector switches. The front facia also has a pair of mini jack sockets – one an auxiliary input for an MP3 player (or similar) and one a headphone output. It offers a comprehensive array of inputs: 6 line level plus a phono stage suitable for moving magnet cartridges. The phono stage is switchable back to a line input if not needed for a record player. Outputs are provided as Record and preamp out. Finally, there are two sets of substantial speaker binding posts either to feed two pairs of speakers or for bi-wiring.

A remote control is supplied. It is small and designed specifically for the amp. This is unusual and welcome. It always irritates me when a full system remote is supplied with a single unit as it makes it unnecessarily large and complicated, so I was glad that was not the case here.
Amplifier Design
The format is a standard Class AB design. It must be remembered in this context that "class" refers to the technical architecture of the amplification electronics – and not a particular standard. There is no necessary correlation between amplification class and sound quality. A well implemented Class A/B amplifier can sound as good as a Class A one, whilst at any given price will be more powerful and will run cooler.

Arcam published a technical note describing the details of the architecture of the FMJ19.. No secrets here! What they claim is: "solid honest engineering, distilled from more than thirty years of audio experience, to deliver simply wonderful music. No more, no less." They are particularly proud of the volume control which is talked about as "the same as Arcam use in their high end amplifiers". Regular readers might recognise the control amplifier chip they use – the PGA2311 - which I have reviewed previously in the context of a high quality budget digital preamplifier.
In Use
Everything works exactly as it should. Set up was easy. The preamp out was welcome as it makes it easy to integrate an active sub-woofer into the system. As I normally do this, but The speaker terminals are substantial, making connection easy. The remote control worked well and was not fussy about reception angle. As someone whose system sees more than its fair share of different components it's nice to have something there that just works.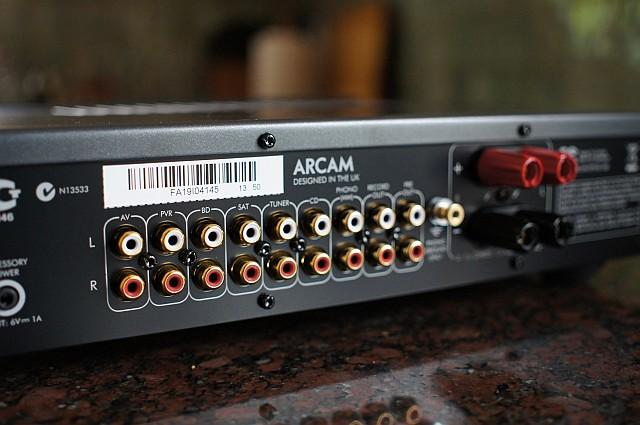 The Sound – Main System
As ever, "the proof of the pudding is in the eating". I'd left the amplifier in my main system for a couple of weeks to let it settle in and noticed it sounding pretty good in casual listening. The main system pairs the amp with Usher Be-718 standmounts and a Marantz SA-KI Lite SACD player/DAC. The speakers are fairly demanding so I wasn't expecting too much from a 50 watt amplifier. But I was pleasantly surprised.

First up in my critical listening session, I played "Ya Moh Be There" by Michael McDonald. The bass came across firmly and with good depth. The stereo image was wide – extending beyond the speakers and filling the room. The sound was quite forward – it was apparent that this amp would be no shrinking violet. Then I moved to a track I enjoy playing to test separation and naturalness - Paul Simon's – "50 Ways to Leave Your Lover". The amp delivered well. The guitar parts were nicely separate, vocals were natural and the sound cohered into a full bodied but well controlled presentation. Bringing things slightly more up to date I played some John Mayer. The track "Gravity" from the album "Continuum" features some of my favourite guitar sounds – and the Arcam rendered the singing Stratocaster very sweetly. I did wonder if the cymbals sounded a bit softer than I'm used to, but the presentation was very pleasing. On another track from the same album, "Slow Dancing in a Burning Room", the softness had more effect on the overall presentation and translated, for want of a better clichι, into a loss of air. The slight softness made the recording seem less distinct and even slightly muddled. I tested this impression further with a high resolution swing jazz recording, Dick Hyman's album "From the Age of Swing". The 24/88 rendering is normally very clear, driven along by a range of different, often metallic, interweaving percussion parts. Listening to this confirmed my impression of the soft top end. A little of the leading edge transients seemed to be missing in action. The effect was that the track lost a bit of swing compared to my normal amplifier (recently changed to a Cambridge Audio 851A. The Cambridge is a much more powerful (and more expensive) amplifier, at 150 watts per channel, so this didn't surprise me. In fact it was more the opposite. The Arcam gave a very good account of itself with the Ushers, much better than I expected. I tried a few more tracks to see how it would perform. The classic test track, "Spanish Harlem" by Rebecca Pidgeon is a typically clear Chesky production. The voice came across as clear and natural, the image hanging beautifully in the air. I thought I detected a little harshness in the treble and shaker seemed a bit less well defined than I know it can be but overall it was a good, non-fatiguing presentation. Having listened to sweet acoustic music for a while I thought I'd better test something a bit louder and played some Joe Satriani at real rock volume levels. I was pleasantly surprised to find that it rocked along nicely with no sign of strain, although the room is pretty small. Whilst in the main system I tried the headphone output. By comparison with loudspeaker listening there was much more detail in the soundstage, the overall impression was lighter, with less bass weight. With the right material it seemed to me it could sound very airy and natural, with others, maybe a bit thin. It was by no means an extensive test of the headphone capability and it's possible that the components weren't well burned in. My initial impression though was that a headphone output is very welcome and that it would be necessary to move up to a good standard separate unit to get a materially better sound. Unfortunately I wasn't able to test the phono stage as I only have a Moving Coil cartridge on my deck and that is not compatible. I have no doubt however that it will work at least as a low cost solution for first time record decks, or those for whom vinyl is not the primary source.
Second System
After giving it a pretty thorough work out in my main hi-fi, I moved the amp into the less hostile environment of my second system. The main difference here is that the room is smaller and the speakers, Acoustic Energy AE509s are much less demanding, being around 90dB efficient. As I expected, this gave the amplifier a better opportunity to shine. It performed much better, maintaining the generally natural sound but gaining depth of image. Image gained dimensionality. Female vocals were detailed, for example Eva Cassidy's rendition of Sting's "Fields of Gold" was spacious and warm. Then I tried the Dick Hyman again. The rhythm had come back. Against my preferred sound the treble maybe still a bit indistinct on the cymbals but much better than with the Ushers. The big band delivered a big image! As a postscript, I also heard the A19 playing in Arcam's demo room at their facility in Cambridge. It was paired there with Kef reference speakers and made a pretty impressive combination despite the difference in price class. Lou Reed's "Walk on the Wild Side" was particularly good. wioth the guitars outlining the sides of the soundstage and the bass suitably full and deep. I took the opportunity to check that these were also relatively high efficiency speakers, supporting my suspicion that this amp can punch above its weight but needs the right speakers to do so.
Conclusion
The Arcam A19 is a very good, real world amplifier. It's the kind of amp that I wouldn't hesitate to recommend to someone who wants a reliable, listenable, amplifier at a decent price. On the right material and with well-matched partnering components it can punch above its weight in terms of transparency and naturalness even though it won't match the best amplifiers for dynamics and transient attack. Build quality is excellent – it feels well put together and it should last for years without any issues. I haven't listened to all of its competitors at the price but I doubt if there are many better.
If you get a chance to compare similarly priced amps from the likes of Creek or Marantz or Cambridge Audio you may find one that fits your taste more precisely. And of course, with enough knowledge and experimentation it is quite possible to beat its absolute performance for less money, with the right Tripath based amps, but these probably won't offer the same degree of facilities or "fit and forget" reliability. But I can say that the Arcam A19 is the type of amp you can't really go wrong with if you have loudspeakers of reasonable sensitivity. In summary, this is the perfect amp for someone who's more interested in music than in hi-fi!

© Copyright 2014 Andy Norman - andy@tnt-audio.com - TNT UK - www.tnt-audio.com
[ Home | Staff & Contacts | HiFi Playground | Listening tests | DIY & Tweakings | Music & Books ]