[ Home | Staff & Contacts | HiFi Playground | Listening tests | DIY & Tweakings | Music & Books ]
Burson Audio Funk
Class A headphone amp and Class AB speakers amp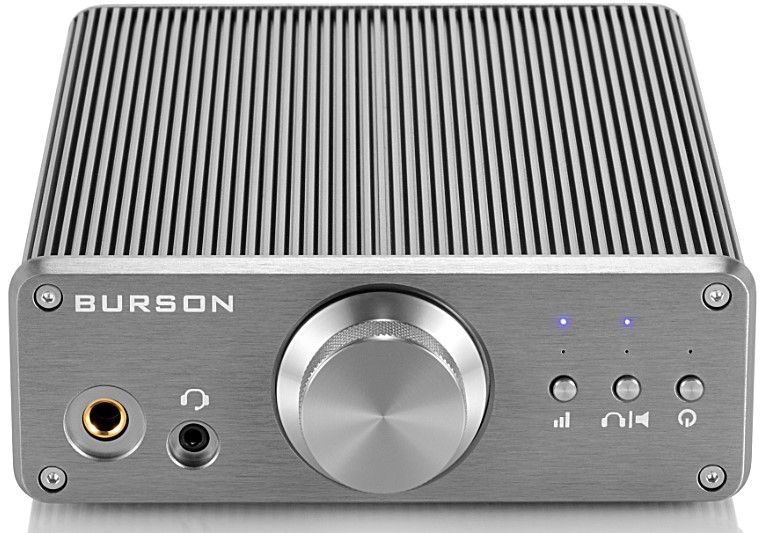 [Italian version here]
Product: Burson Audio Funk
Manufacturer: Burson Audio - Australia
Price: $544.00 with NE5532 IC opamps
$744.00 with V6 Vivid dual opamps (as reviewed)
Reviewer: Bevan Court - TNT USA
Reviewed: September, 2021
Burson Audio is not a new name to me, although this is the first product of their that I have reviewed. My colleague, Roger McCuaig , recently reviewed the Burson Conductor 3 and Mike Cox reviewed their discrete Supreme Sound Op Amps back in 2014 in the Maverick D2 DAC against the Sparkos Labs SS3602. I actually owned that DAC and was impressed by the Sparkos discrete opamps. I never got to try the Burson Audio offering (I found that review after I had already purchased the SS3602), but it gave me respect for the benefit of discrete opamps over integrated opamps and the differences that can be gained by upgrading the IC version to discrete.
Burson Audio is based in Melbourne Australia and is still selling discrete opamps and has a growing line of headphone amplifiers, but has also added DACs, preamps, and now what they describe as a near field Class AB, 45W (into 4 Ohms) speaker amp with a full class A, 3W headphone amp, the Funk.
The Funk
To start, this is a very simple affair. A single analogue input, with both a headphone and speaker outputs and a microphone input for a true computer amp. It doesn't include a DAC, I used the Schiit Modius for my speaker listening, along with my Dynaudio Excite X14 speakers.
No remote is provided, but that makes sense as a desktop amplifier. It does come supplied with some nifty stands allowing it to be mounted vertically, taking up less space.
Headphone listening used a Schiit Modi 2, along with both Meze 99 Classics and B&O H6. There is a high and low gain switch to handle highly efficient IEM's and less efficient headphones like planar magnetics.
Burson Audio also supplied some NE5532 IC opamps, along with their V6 Vivid Dual opamps. Due to me getting an issue with an ear infection, I was not able to get a full comparison done between the less expensive option and the V6 Vivid, with which all listening tests were done.
The Funk also uses the Burson Max Current Power Supply (MCPS). This isn't a traditional power supply, as it has no transformer. It is neither what I would think of as linear or switch mode. Burson Audio claims that this charges capacitors much faster. They also claim that the resulting sound is "holophonic with dynamic, accuracy and details even during the most demanding of music reproduction."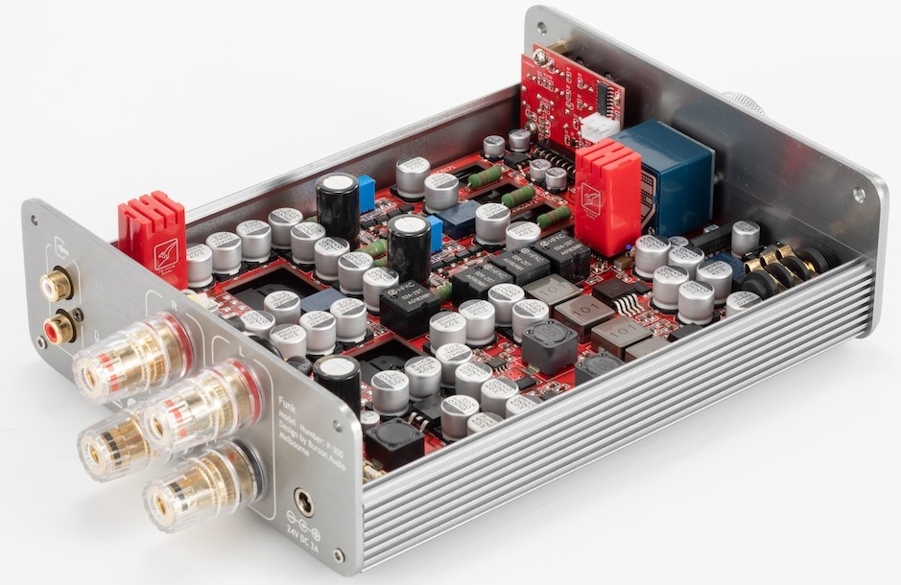 The Speaker Amp
Hooked up to my Dynaudio Excite X14's I basically ran the amp in a regular setup instead of near field. I initially thought to check that everything was OK, before reconfiguring for the near field setup, however the Funk had no issues in my relatively small listening room - it isn't all that far way from being a near field setup. The Funk drove the 8 Ohm/85dB speakers without any issues. It's not always about the watts, but how you use them.
I was immediately impressed with the clarity of the treble. Not too bright, but everything was clearly defined. I noted that it was sparkly, without being harsh. Rhythm and attack was great, the soundstage was wide, though not particularly tall. Listening to "Paris (Ooh La La)" by Grace Potter & the Nocturnals was a joy, with great punch to the percussion and the guitars have bite. Switching up to Thorbjorn Risager & The Black Tornado, it makes the "Last Train" sound great, with the percussion coming through with an almost muscular presentation.
I am comparing this to my current reference amp, the PS Audio Sprout 100. In a lot of ways, this is the competition for the Funk, whilst being conceived with a completely different approach. The Sprout comes with a remote, 100W of Class D amplification into 8 Ohms, an inbuilt DAC, Bluetooth connectivity, a phono preamp and can be configured as a preamp.
The Sprout comes across as slightly clinical in treble presentation, compared with the Funk, which comes across with a sweetness that isn't at the expense of detail. However, that extra power that the Sprout has opens up and gives everything a bit more attack, and opens up the depth and height of the soundstage. Something that is less of an issue in true near field listening and to be honest, neither is a clear winner here and the differences are slight. Ultimately, it will be a question of what you are looking for in terms of functionality.
As a Headphone Amp
In terms of power, the roles are reversed as a headphone amplifier. I love the way the Sprout sounds as a headphone amp, but it puts out 500mW into 32 Ohms, against the Funk's 2.5W. Now the Sprout is respectable as a headphone amp, however, it is completely outgunned here.
Turning to Led Zeppelin's debut album, the Funk drives both the Meze 99 Classics and the B&O H6 with plenty of power in reserve. With the Meze 99 Classics, I could turn the volume up without any trace of distortion and I kept turning until I felt that John Bonham's drums were bouncing off the inside of my eyelids as I listened to "How Many More Times". Time to back that super smooth volume pot down a little.
The presentation is not too dark and matches well with the slightly darker balance of the Meze 99 Classics. The Sprout, whilst still able to drive both headphones really well, has a slightly darker presentation that worked better with the B&O H6.
I will say that the Sprout here is slightly more forgiving of poor recordings, with Kaleo's Surface Sounds being quite dense and muddy through both, but more listenable with the Sprout/B&O setup.
Turning to my JDS Labs O2 amplifier, the dedicated headphone amp is slightly more powerful than the Sprout (613mW into 33 Ohms), but not anywhere close to the Funk. However, here it is much closer in terms of performance, with the O2, having a really clean, uncoloured presentation, whilst still having plenty of power. It just doesn't manage to sound quite as authoritative on the drums of John Bonham.
I listened to the Funk in low gain mode - both my headphones are relatively easy to drive and benefitted from the lower noise floor. I have to imagine that this will drive even inefficient headphones, there is so much power available.
Conclusion
If I were looking for a desktop amp for near field monitors and a headphone amp, the Funk would be a very good choice. Unfortunately, my desk isn't really designed for even the relatively small Dynaudio speakers, but if you have a larger desk and can put some serious speakers on it, I think that you would have a great system.
The issue I see is that a lot of near field and desktop options are going to be supplied with an amplifier as space on the desk is limited. However, in most situations these inbuilt amps will be nowhere near as good as the Funk.
It does however, hold its own as an amp in a smaller room, especially if you pair it up with something a little more efficient than the 85db Dynaudios. You will need to add a DAC, preferably one that can add in preamp functionality and a remote control - maybe the Composer 3XP preamp/DAC that they sell.
There was one issue that I had - a distinct thump as you turned the amp off and you could also hear the noise floor on the higher gain setting with both sets of headphones - but that is something that is to be expected when listening with efficient headphones.
All in all, I think that this is a great product, albeit one with a fairly narrow target audience. But I would also add that it is an excellent headphone amplifier in its own right.
DISCLAIMER. TNT-Audio is a 100% independent magazine that neither accepts advertising from companies nor requires readers to register or pay for subscriptions. After publication of reviews, the authors do not retain samples other than on long-term loan for further evaluation or comparison with later-received gear. Hence, all contents are written free of any "editorial" or "advertising" influence, and all reviews in this publication, positive or negative, reflect the independent opinions of their respective authors. TNT-Audio will publish all manufacturer responses, subject to the reviewer's right to reply in turn.

© Copyright 2021 Bevan Court - bevan@tnt-audio.com - www.tnt-audio.com
[ Home | Staff & Contacts | HiFi Playground | Listening tests | DIY & Tweakings | Music & Books ]