[ Home | Staff & Contacts | HiFi Playground | Listening tests | DIY & Tweakings | Music & Books ]
ECS EA-2 Stereo Power Amplifier
Clean, balanced, satisfying sound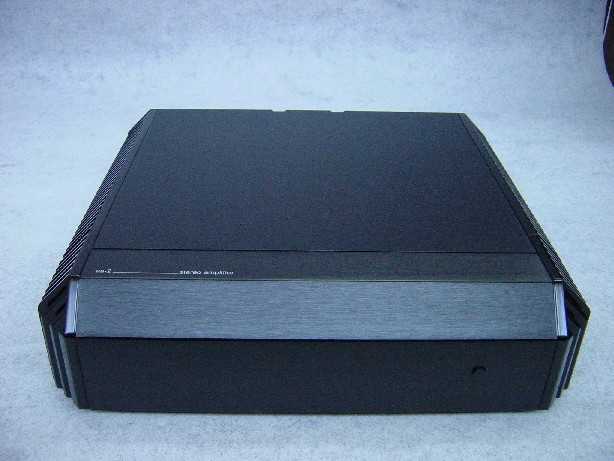 [Italian version]
Product: ECS EA-2 Stereo Power Amplifier
Manufacturer: European Circuit Solutions, Unit 16, Impress House, Mansell Road, Acton, London, W3 7QH
Tel. (44) (0)208 743 8880
Fax. (44) (0)208 740 4200
Web: ecsamplifiers.co.uk
Email: sales@Euro-circuit-solutions.com
Approximate price: 4,000 UKP - 6,000 €
Test sample: Loaned by ECS
Reviewer: David Holgate - TNT UK
Reviewed: October, 2004
HTML: Tom Browne
Where I am listening from
Like all Hi-Fi lovers, I am on a journey of discovery. The direction is determined and limited by my current knowledge and experience. As far as amplification is concerned, my journey is away from solid state to valves. This means that this power amp was tested with my valve preamp, and was compared subjectively with my 80W hybrid amp, built from a kit for less than a tenth of the retail price of this amplifier.
Apart from the cartridge, the rest of my test gear falls into the category of "tweaked classics", so this big new power amp was not being tested with the kind of components that buyers may match it with. (See system details below.) However, placing this amplifier within my system did give me the chance to see what my listening experience would be like if I did bring a large, audiophile-quality, state of the art, solid state amplifier home to stay. I was particularly interested to hear whether it would drive my KEF 104s with greater ease than I was used to. Was I surprised? Read on.
The claims
The unit under test was ECS's EA-2 Stereo Amplifier, a business-like heavyweight with a mass of 22Kg out of the box. From the massive 1500VA transformer onwards, the hand-picked audio-grade components are of the highest quality. ECS claims that that this amp (like its partner the EA-1) has: an ultra low-noise FET input stage, ultra pure copper track on the PCB, zero inductance components in critical paths, ultra low tolerance and inductance components throughout, 8 parameter matched bi-polar output transistors, reservoir capacitors with bypassing totalling 40,000uF, and so on... ECS also claims care with the design: 2 years of R&D, pre-driver, driver and output stage configuration and very short signal paths. The big question is, does this attention to quality and detail result in clean, balanced, satisfying sound? And the simple answer is, yes, though I have some minor reservations.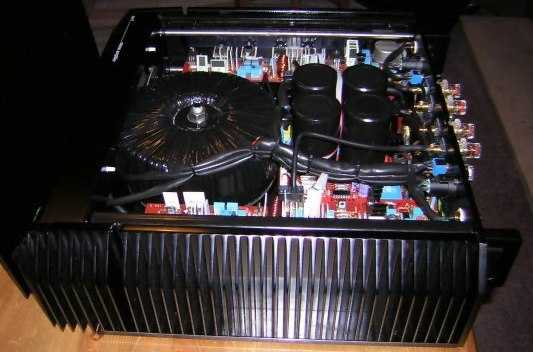 1500 VA toroidal and heatsinks on the ECS EA-2 power amp
The manufacturer
But, before I get onto the sound quality, who is ECS, and what qualifications does it have for entering this select end of the Hi-Fi market? Well, ECS stands for "European Circuit Solutions", a company which specialises in making high quality, hand assembled printed circuit boards. It has been in the business for six years and has now decided to apply its design and manufacturing expertise in the audio arena. A few years back, it made the Stealth amplifier for Mana Acoustics - such direct involvement in Hi-Fi manufacturing by engineering specialists is surely good news.
What you get
While being almost featureless from the front—just one black power-on button—this amp shows itself to be a high quality product. Once safely installed, preferably on a secure and properly isolated stand, there is no danger to fingers from the heat-sink fins on either side. These are pretty sharp, so it is just as well that ECS offers customers a full installation service.
Rear and internal view of the ECS EA-2 power amp
The attention to quality is also evident from the rear. Input is via balanced XLR or unbalanced gold RCA sockets. There are 8 4mm output connectors. Power is supplied by their own audiophile (type 1) power cable. I did not have a suitable length of quality interconnects for this test, but I am sure that users of an amplifier of this quality would want to ensure quality connections with the preamp. ECS recommends that the amp should be at least 12 cm away from other components. So, it is important to note that this amp needs a suitable location. Good isolation, distance from other parts of the system, and space to allow the heat from sides to dissipate. The amp takes 5 minutes to offer its full power capacity and the manufacturers recommend that the amp is left powered up for optimal sound quality ("offering stable sound quality across the audio bandwidth after about a week", says the Owner's Manual).
Teething problem
Well, what of the sound? My overall impression of the sound is that it is well balanced, capable, controlled and smooth. It is a bit like the security of travelling in a quality saloon car: you are aware of enjoying a safe, comfortable ride in a solid, reliable machine. This amp enables the listener to relax and enjoy the music.
Relax? Yes, once this amp is powered up in a suitable place, with suitable partnering equipment, it could offer users a fit and forget solution. However, it is fussy about where it is located and how it is switched on. The Owner's Manual insists that it should be switched on last, after the sources and the pre-amp(s). My first test unit was supplied without the Manual. When I switched it off to change interconnects and switched it on before my preamp it blew a fuse. A number of blown fuses later, I concluded that this must have damaged one of the transistors. So, be warned: get the Manual and read it before you use your amp.
The manufacturers were very helpful in supplying me with a replacement, and observing the correct procedure, this one worked fine. When I switched off my valve preamp between listening sessions there was a sharp crack which my speakers didn't enjoy. Also, it is not the quietest amp around. When left on, you can hear a low-level hum in a quiet room. This seems a shame for a unit of this quality. Finally, the preamp feeding it needs to be separately earthed. Before I did this, on two occasions, it suddenly started humming more loudly. The first time, this stopped when I touched the heatsinks on the side, but earthing the preamp cured this permanently.
Getting down to listening
Returning to the sound quality. Most of the testing was done with vinyl sources. However, I did also test CD sound using my elderly Rotel RCD 865, which I know well. The EA-2 seemed to remove the sibilant edginess of the CDs. Similarly, it seemed to add smoothness to the input from my Garrard/Helius/Music Maker source. However, it did this without removing clarity. For example, on occasion I was able to hear lyrics that I have struggled to identify before. It seemed to enable me to hear detail across the whole audible frequency range.
I settled down to enjoy some vinyl. First I tried a well worn acoustic album from 1970. Tam White's Tam White (Pye 1970 MDLS 304) was presented with controlled crispness. A similar crisp clarity came from a worn copy of Ray Charles' Ingredients in a Recipe for Soul, (HMV 1963 CLP 1678). I don't particularly prefer, or recommend, listening to worn vinyl—these albums were just to hand. Turning to Kevin Coyne's Heartburn (Virgin, 1976 V2047), the amp revealed its ability to distinguish the contributions of the bass, guitars and keyboards within the jam of "Don't Make Waves".
I tried one of my favourite tracks, "Catfish John" from Jerry Garcia's Reflections (Round Records, 1976, RXLA 565-G). This near mint copy revealed some vocal sibilance, but the amp also presented the song with overall clarity, from the lead guitar and the soft tones of Donna Godchaux's vocals to the touch on the cymbals offered by Bill Kreutzmann or Mickey Hart. The bass was deep and distinct, while remaining in support, unlike Phil Lesh's more muddy bass on many Dead recordings!
Was I falling for this amp? Sort of. But when I compared it with my Electronics World hybrid amp, I didn't miss it as much as I thought. The hybrid is a touch harsher in the high frequencies, but it's also more airy and fluid. Yes, yes, it's the valve factor again. The 80W from my hybrid is plenty for my speakers in my small, less than ideal, listening room. I noted that the volume control on my Primary preamp stayed at much the same position for both amps at normal listening levels.
So what does your Ł4000 get you? An amp that makes excellent use of whatever it receives. Despite the quibbles mentioned above, what more do you want? Would I ever seriously consider buying one? Yes, but only in the future when it came within my reach on the second hand market—hopefully by then paired with the matching preamp, which I understand is to be launched later this year.
Oh yes, you also get the Owner's Manual but, as is sometimes the case with specialised products, this is this is very basic and brief. The layout could be better. There are no page numbers on the contents page or on the pages themselves. Each page contains so little information that it is hard to gain an overview of basic operating information at a glance. The information spread out over 11 small ring-bound pages could be replaced with a higher quality A4 sheet, with key information on the cover. Personally, I would suggest that the Manual be more modest in its claims for its special power cord.
I did not do an A/B test of their claim that the supplied ECS cord "can totally improve your entire system's audio quality if used with all your audio electronics" because I did not wish to damage the second review unit by switching on and off too often, mindful of the required interval between powering off and powering on again. ECS kindly allowed me to keep test the power cord on my hybrid for a while after this review. It worked fine, but I could not hear any sound difference in my system.
Conclusion
Overall then, this is a most worthwhile addition to the range of quality amplifiers available to people wanting to opt for high-end solid-state amplification. I wish to thank Reuben Klein for of ECS for kindly delivering and collecting both review amplifiers. His enthusiasm and courtesy suggests to me that anyone opting for one of these amps would be given excellent product support during the 5 year warranty period.
System used:
Garrard 301 Turntable, Helius Aurum Tonearm, Music Maker Cartridge, Gram Amp 2 Phono stage
Primary valve line stage, Rotel RCD-865 CD player, KEF 104 Loudspeakers
Copyright © 2004 David Holgate - www.tnt-audio.com
[ Home | Staff & Contacts | HiFi Playground | Listening tests | DIY & Tweakings | Music & Books ]