[ Home | Staff & Contacts | Listening tests | HiFi Playground | Music & Books ]
Passion &ound PSi15 T-Class Stereo Amplifier
Exotic European T-Class Stereo Amplifier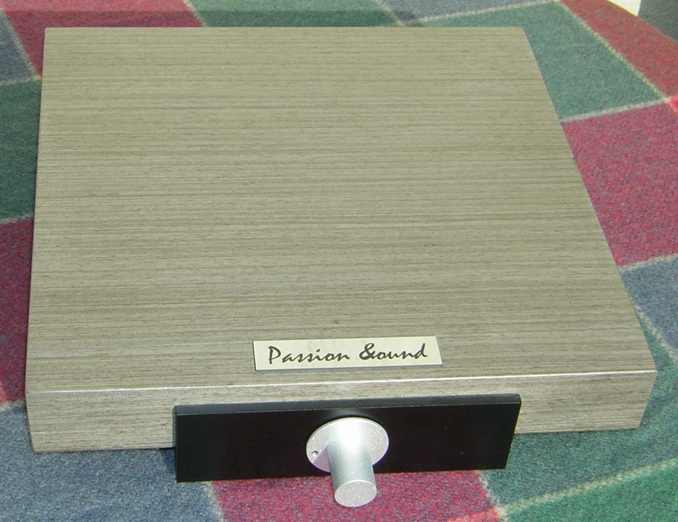 [Italian version]
Product: Passion and Sound PSi15 T-Class Stereo Amplifier
Manufacturer and Distributor: Passion &ound - Spain
Cost: 900 Euros
Reviewer: David Holgate - TNT UK
Reviewed: October, 2008


Technical Specifications:
Output power: 2x14W 4 ohm, 2x9W 8 ohm
Signal to noise ratio SNR: 97dB
Dynamic range: 97dB
T.H.D. (total harmonic distortion) 0.04% @ 8W 4 ohm; 0.1% @5W 8ohm
Power efficiency: 90% @ 9W 8 ohm
Inputs: 1 RCA left/right
Weight: 3.3Kg
Dimensions: 30x30x8 cm (WxDxH)
Internal power supply: 12 V NI NH high capacity battery (should offer best sound)
Recommended power supply: Stabilized 12V external power supply (13.2V max, 3A)
Recommended speakers: 4 ohm or 8 ohm, sensitivity 89db and upwards
Review item: Premium model, finished in Grey Ash, Serial number: H006300M

A stylish impression
When the offer to review another Tripath based amplifier came along, I was initially attracted by the stylish designs offered by the Spanish company Passion &ound (read Passion and Sound). As a regular T-amp user--I have two, and my workplace uses one for playing CDs into B&W DM601 S3s--I have a pretty good idea of the merits of a low-powered T-class amps and was interested to hear this audiophile implementation of a larger chip, which also makes use of a battery power supply.
The Passion &ound website gives little technical information on their products and focuses mostly on their use of relatively unusual shapes and finishes. As the amplifier is sealed, I am unable to offer any pictures or comments on the quality of the internal components. While the User Guide states that "the equipment is sealed to prevent any manipulation," I wonder whether this is also to prevent buyers of the amp seeing how tiny the main chip and central components are. The chassis does have a function though: Passion &ound claims that the use of wood and composite without any metal avoids the risk of the case inducing "adverse magnetic fields."
Appearance
Passion &ound offers these amplifiers in a range of quality hardwood finishes. The review item was the Grey Ash model, which looks and feels solid. I preferred the look of the Ebony unit which I was also able to inspect previously. Given the choice of finishes available, I would advise buyers to ask Passion &ound for some hi-res photos of their chosen unit before placing the order. While the wood finishes are beautiful, the matte finish of the aluminium volume pot knob is not very exciting.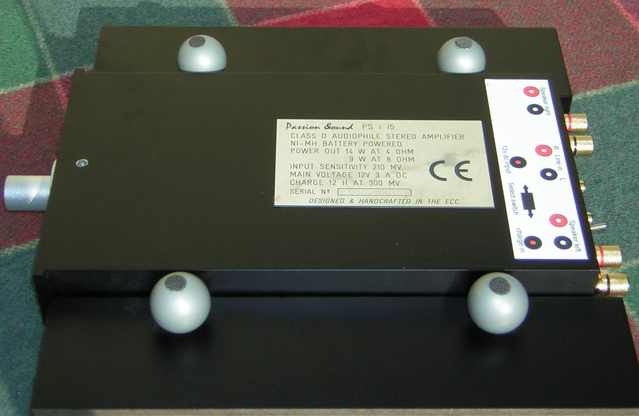 The same goes for the odd round base 'feet'. They are functional, but not particularly attractive. On the other hand, the large plastic model identification plate located underneath is rather elegant!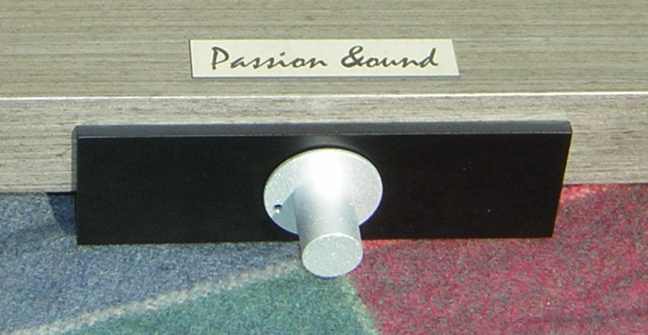 Controls
The controls of this amp are totally minimal: just a volume control and on/off switch (mounted underneath on the front right-hand side). When the unit is on, a blue LED shines from below. As these amps are finished in natural hardwood, I found the choice of a blue LED odd. Orange or yellow would be better. During testing in my living room, my family were confused by the location of the on/off switch.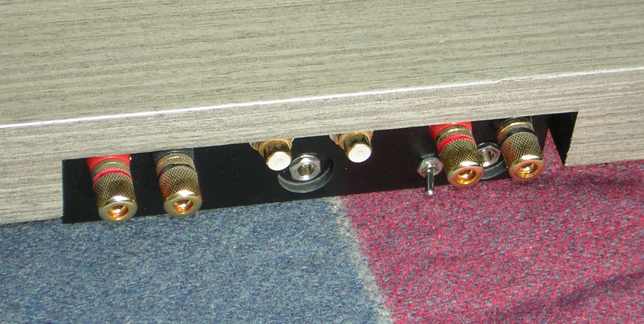 At the rear of the amp is just one set of line-level RCA inputs. This is a pity. Many users might like to switch between an IPod, CD player and maybe input from a TV or computer. The right and left speaker binding posts are of good quality, taking naked cables or banana plugs. There are also inputs for charging the internal batteries and for an external stabilised 12V input.
Why this layout?
This is where I have more questions about the power switch layout. In order to charge the batteries, you have to switch on the charge switch, which is located next to the charge socket just below the left speaker binding posts. Switching the charge switch on disables the on/off switch at the front. Access to the charge switch is very awkward and you have to experiment with which direction is on and which is off, as this is not marked on the back of the amp. To get access to this switch, you have to place the amp in a position where you can regularly reach the back and toggle the charge switch on and off by feel. If the L speaker cable is not securely attached, ideally with a banana plug, there is the danger that this fumbling around could loosen or dislodge it.
I think that some users will not be able to reach the charge switch and will therefore be forced to go for an external power supply. However, this is not supplied with the amp, so sourcing the right supply is left to the user. And the user has to make sure that they wire up the input socket correctly with the centre wired positive. As the User Guide warns, "if reversed, the amplifier may be seriously damaged". This polarity can easily be checked with a multimeter, but how many users are likely to be able to do this?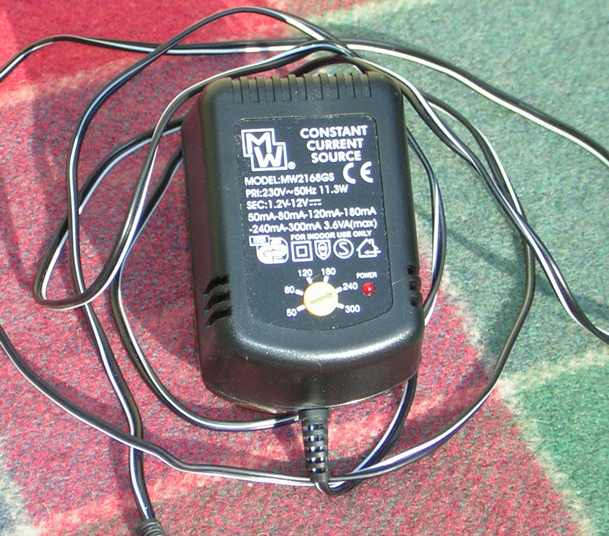 Although the User Guide makes clear that the battery charger is just that (a battery charger and not an external power supply), I wondered if some users might not read the user manual and mistakenly use the charger as an external power supply. This is possible with this review unit. It would be a real problem, as the charger marked 12V actually delivers 26.7V. I am pleased to learn that Passion &ound are now supplying this amplifier with charger and supply input sockets of different sizes to prevent this mistake by users.
Operation
The amplifier is supplied with the batteries charged, so users can enjoy the amp straightaway. Apart from the awkward layout of the switches already mentioned, setup is easy, and users will have the amp playing in minutes. I conducted the listening test in a small living room (5m x 3.5m), using an unmodified NAD 524 CD player and moderately sensitive (86dB) Xavian Mia II speakers. I also tested this amp with Passion &ound's PS3 Premium full range compact monitors (review forthcoming). Basic cables and interconnects were used.
Listening tests
At first I was disappointed with the sound. I normally listen to tube amplifiers and the sound was comparatively thin and flat--at first. But the longer I used this amp, the more I began to like its sound, and enjoy it for what it is. My listening notes over a number of sessions use the words, smooth, clean, clear, precise again and again. I have found that this amp is best suited to playing well-recorded classical or acoustic music, jazz or classic pop at low volumes. It is not suited to modern compressed rock and pop. So, my collection of Alison Krauss and Union Station CDs sounded very satisfying, offering a good spatial sense, good detailed separation between the instruments used, and an enjoyable sense of the whole frequency range of the music. Airto Moreira's I'm Fine, How Are You? and Jelena Ana Milcetic's aka Helen Merrill sounded both lively and intimate. Richard Thompson's Old Kit Bag sounded more polite than I am used to, but introduced more nuance and detail than my current late 50s valve monoblocs. More accuracy, but maybe less emotional punch. The quieter songs on Mary Chapin Carpenter's classic Come On, Come On, were rendered with great delicacy. Again there was good instrumental separation. Even jazz rock can sound good: I was surprised that the second track on Santana's Supernatural was very enjoyable, with deep bass and a wide soundstage. But the the biggest surprise for me was how enjoyable this made classical music for me. I don't listen to much of this genre usually, but I found myself returning again and again to a recording of Bach's Harpsichord Concertos on original instruments, enjoying the balance and clarity of the music. This makes me think that this amp is for those who listen to their music with their minds more than their muscles.
Recommended for ...
So, I would recommend this amp for certain kinds of listeners: * People with a smallish listening space who prefer to listen to music at lower volumes. * People who want a stylish-looking audiophile amplifier which looks different from the usual boxes. * People who want to squeeze more detail out of their quality recordings. * People who want an amp which will make good use of their high quality source and/or loudspeakers. But also: Those who are not put off by the inconvenience of the battery power supply. And those who are green minded: this amp is 90% efficient and could be charged from solar panels!
If this sounds like you, I recommend that you give this amp a try. If you want an amp for loud rock, heavy metal or compressed pop (think Counting Crows!), I suggest you look elsewhere. Also, unless you have very sensitive speakers, such as 105dB Klipsch la Scalas, I doubt if this would be a good 'party amp'. While the 14W is plenty loud enough into sensitive 4 ohm loudspeakers, remember that this goes down to 8W into 8 ohms.
Overall, a simple solution for people who want to enjoy well-recorded music from a single source.
© Copyright 2008 David Holgate - www.tnt-audio.com
[ Home | Staff & Contacts | DIY & Tweaks | Listening tests | HiFi Playground | Music & Books ]