[ Home | Staff & Contacts | HiFi Playground | Listening tests | DIY & Tweakings | Music & Books ]
The Vinyl, dual discrete phono stage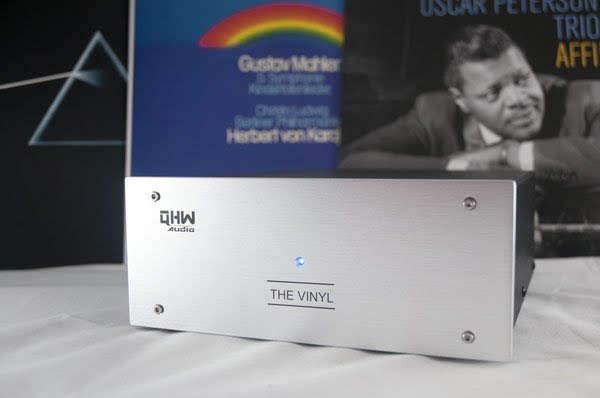 A strong contender for a serious short-list
[Italian version here]
Product: The Vinyl, dual discrete phono stage
Manufacturer: QHW Audio - Spain
Price € 818.20 exc. VAT (outside EU), $ 990 inc. VAT
Reviewer: Richard Varey - TNT New Zealand
Reviewed: October, 2018
Introduction
The previously reviewed, and impressive, The Box continues to enhance my listening pleasure, so the prospect of a phono pre-amplifier using the same proprietary op amp was highly appealing. Now, add that The Vinyl has both moving coil and moving magnet input, and can also deal with low output level moving magnet cartridges, and is offered for high-end analogue playback, and the value proposition had to be examined by auditioning in my system. I am aware that I approached this audition with a certain expectation and anticipation of a wow performance.
The product
The hand-made unit has a quite large black case (218 x 243 x 89 mm) with a brushed metal fascia that carries only a power indicator and the maker's logo. The Vinyl is intended to be on continuously, so no power switch is provided. The back panel carries DIP switches, input and output sockets, a mm<->mc switch, a ground terminal, and the power input. The Vinyl weighs 2 Kg.
The two inputs can be connected to pickup cartridges simultaneously. Setting of capacitance load for mm uses one half of the DIP switches on each channel, and mc gain and impedance setting uses the other half. A very handy adjustment quick reference card is provided. The owner's manual is concise and clear, and provides further guidance on settings for each pickup type. Experimentation with settings and selection by audible quality is also recommended.
The mm stage has a gain (at 1 kHz) of 44dB, and 64/71 dB from the mc stage. The Vinyl can produce an output up to 9.5V rms! THD is 0.004% and 0.007% respectively. Deviation from RIAA from 20 Hz to 20 kHz is less than ± 0.1 dB. Crosstalk is too small to measure, whilst S/N is 96dB and 90 dB or better, respectively.
Inside the case, the phono stage circuits are based around the discrete operational amplifier developed for The Box and subsequent products; named AE2270, it's a small signal Class-A output discrete operational amplifier with high output current capacity and very low distortion. Translating the design to SMD technology (surface-mount device) moved the performance up a step due to shorter signal paths, which is one of the main advantages of this technology applied to analogue audio, and better thermal coupling. The result is a really good compromise between Total Harmonic Distortion, noise, slew rate, and bandwidth, specially for audio.
The Vinyl features two AE2270 devices per channel: one for RIAA curve amplification and one for an additional gain stage at the output that brings the same benefits that users of The Box experience (see my review here). Therefore, RIAA amplification is fully discrete.
An external direct current power supply is used to keep power alternating current away from the audio circuit inside a relatively small chassis. The power supply is oversized, able to supply three times the needed power consumption, thus making sure it will never limit dynamics. To get even lower noise and impedance supply, there is a linear regulation and filtering stage inside The Vinyl and a virtual ground system that provides a steady voltage reference between two symmetrical supply lines which allow a high output voltage (more than 10 V RMS), giving an excellent dynamic range, exceeding the needs of any record and pickup cartridge.
Top component brands, including Nichicon, Kemet, Texas Instruments, Panasonic, Vishay, JRC, and Grayhill are used throughout. Thin-film resistors (0.1% tolerance) are used in the RIAA network, as well as NP0/C0G capacitors in the audio path, except when the value requires polyester, as in stage coupling, or electrolytics specifically designed for audio (Nichicon MUSE).
The enclosure is made of four pieces with a heavy and high-strength bottom piece to avoid, in such a high-gain appliance, adverse microphonic effects. This is connected in a single point to ground to provide excellent protection against stray magnetic radiation. The PCB is also designed with big ground planes. The Vinyl is presented as smart, solid, and sensible in appearance. There's no fleeting fashion or bloated bling, just good honest audio engineering with music in front of mind.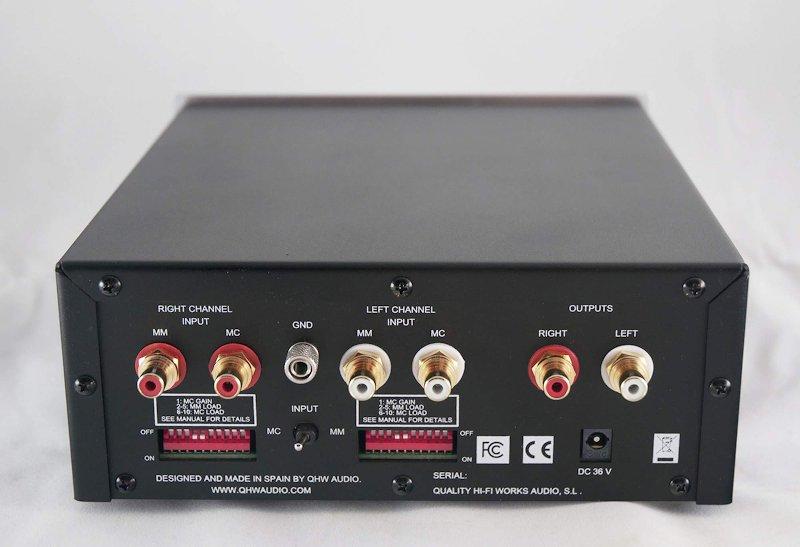 Listening
With little more to be said about the machine, I connected it and played lots of records. What I heard was very listenable. There was a balance that made most records interesting. Take Brand X's Moroccan Roll. Well-balanced, nothing objectionable, dynamics thrilling, and tone enticing.
Then again, on Jacques Loussier's Pulsion, an album of piano backed with drums, it lacked kick and smack. The drums sounded a little flat - skin hits were muffled, like whacking a damp mat - timbre was not fully convincing.
Puzzled, I adjusted the DIP switches to get a different impedance load. My Hana EL requires at least 400 Ω. So, I tried 560 Ω. Bruce Springsteen's Working On a Dream (2-disc version) was listenable, but hardly exhilarating.
Out came some more records from my eclectic collection. I listened with favourite super-sounding discs, and some known dissatisfiers. Here are a few especially notable comments.
The Teardrop Explodes' Kilimanjaro - now the sound was fresh and engaging more so than before. Surface noise interference from this 1980 pressing was minimal. The magic formula? I had changed the loading to 100 Ω. Now the sonic image was more tonally balanced, and I found myself effortlessly shifting from critical listening as a reviewer into pleasurable listening as a music fan, and I wanted, again, to turn it up! Time passed quickly, and it just didn't seem like work.
James Newton Howard & Friends (direct cut by Sheffield Lab) was on the turntable next. A very dynamic recording, this gives the system a bit of a work out, and with The Vinyl the simple instrumentation presented live in the studio was notably present and free-flowing. There was no sense of overload or constriction. The wood, the skin, the metal, and the keys were nuanced and realistic.
I scanned through my collection for a notoriously flat-sounding record. It had to be my copy of The Strawbs' 1972 album Bursting at the Seams. Musically, this is an appealing album, but the sound quality is disappointing. Played with The Vinyl, the sound was richer and less muddled, with considerable atmosphere. In fact, I've avoided this much-played 45-years old 'busy' pressing for some time, yet it was a surprisingly nice presentation.
Another of my most-played and thus most familiar albums, used to soundcheck so many upgrades and review components over the years, is Rush's Moving Pictures, an original 1980 pressing. The aural image is full of unusual sounds from synthesised bass and guitar effects, as well as Neil Peart's unique drumming. It's also quite dynamic with much ambience. If anything was amiss or emergent, that would demonstrate The Vinyl's ability to translate the cartridge's output musically. It was a most impressive experience, reminding me what vinyl playback is capable of musically and emotionally.
As a tonal/timbral test, I turned to Privateering, the 2012 album from Mark Knopfler. His rich voice and mix of acoustic and trademark electric guitar were presented very smoothly, with dynamic contrast very well accomplished. A real aural pleasure for the ears, and the soul.
Another of my tests of timbral authenticity is simple recordings of guitar. I played an old Elektra recording of Juan Serrano entitled !Ole, La Mano! Very nice indeed. The string soundings, distinct percussive strikes, and body thwacks in this flamenco recording were clearly discernible and realistic.
With the settings corresponding to the Hana EL specification, overall sound is pleasing - frequency response extremes are not pronounced. If anything is to be noted, the aural image is a little lacking in weight. On changing the mc settings, I heard a subtly different presentation. With some (easy and quick) experimentation with loading settings, it's possible to get some very enjoyable sound from the Hana with The Vinyl. I didn't rigidly stick with the manufacturers' guidance, and it was my ears that got me to a sound I liked, and rightly so.
Conclusion
With a considerable emotional, time, effort and money investment in collecting records over four decades, I had sometimes felt that my record playing setup was somehow a weak link in my system. It's easy to believe that disappointing sound quality is down to weaknesses or faults in the turntable and/or tonearm and cartridge. What about the vital role of interpreter that falls to the phono preamp? Not that my own equipment is malfunctioning or inadequate. Simply, at heart, I'm an inquirer. I just wondered if QHW Audio's aspiration to make record playing the strong link for the music lover might just be the next step up in music reproduction. Is The Vinyl the missing link? The value proposition is a phono preamp that isn't either the weakest link or simply incompetent at its job. Is that accomplished in The Vinyl?
I conclude that The Vinyl is certainly no incompetent, and will meet the need of many music lovers, even for extended listening sessions without undue fatigue, with ease of use, flexibility, and quiet quality service. I've enjoyed my time with this product, even though it has sat quietly and unassuming, just doing it's job really well. Of course, great records sound great, yet even some I played reluctantly were far from disappointing. A strong contender for a serious short-list.
Stop-press: As I complete my review, I've just heard that a power supply upgrade will be available. So, now I plan to re-audition The Vinyl for a review update soon.
System
Turntable: The Wand Turntable 14-4, New Zealand
Tonearm: The Wand Plus, New Zealand
Cartridges: Hana EL, Japan; Gold Note Vasari Red, Italy
Amplifier: Black Ice Audio FX10 integrated tube, USA
Speakers: Audio Pro Avanti 100DC, Sweden
Cables & Interconnects: Supra Cables Sword and EFF-ISL interconnects, and LoRad power cables and filters, Sweden

© 2018 Richard Varey - richard@tnt-audio.com - www.tnt-audio.com
[ Home | Staff & Contacts | HiFi Playground | Listening tests | DIY & Tweakings | Music & Books ]