[ Home | Staff & Contacts | HiFi Playground | Listening tests | DIY & Tweakings | Music & Books ]
Audio Technology, Music, and Media - book by J. Ashbourn
From Sound Wave to Reproduction
[Italian version]
Product: Audio Technology, Music, and Media - book
Author: J. Ashbourn - UK
Book details: ISBN: 978-3-030-62428-6 - Publ. 2021 by Springer
Price: standard book 57,19€ - eBook 46,00€
Reviewer: Lucio Cadeddu - TNT Italy
Reviewed: June, 2021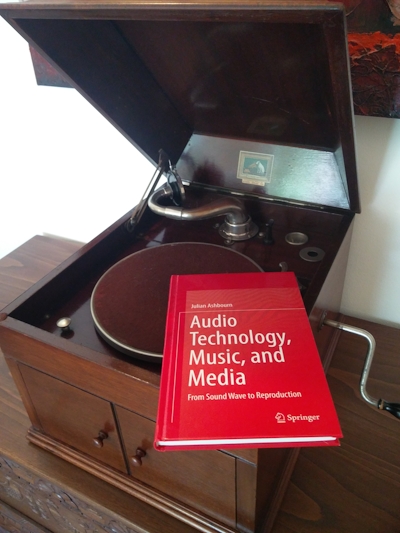 Julian Ashbourn, the author of this book, has been a TNT-Audio reviewer for a while, and he's the one who established our "We Support Real Stereo" campaign. A long time expert in everything related to music, recording and audio, Julian has decided to present his expertise in a book that is aimed to explain everything related to music and its reproduction, starting from the early days of recording media (say, from 1945 WWII).
The book can be regarded as a compendium on the history of recorded sound (from 1945 to the present day)., but, actually, it is much more than that: the 28 chapters touch very different aspects that are related to music. Just to cite a few: Music and Civilization ("why is it important?"), the Future of Audio and the Social Revolution in Consumed Music.
The most fascinating part, in my personal opinion, is the historical one: many of us have certainly missed the early days of recorded music, hence the first 10 chapters of this book can help us understand the evolution of technology during the last 70 years or so. Recently I've purchased a mint His Master's Voice gramophone (the one in the pic here) so my interest in the 78 rpm disc is rapidly growing. Our On an Overgrown Pathé vintage section is the place to start with, but if you prefer a long and detailed history of the various recording and reproducing media this book is almost mandatory.
Being the creator of our We Support Real Stereo campaign, the author couldn't avoid devoting an entire chapter to the birth of stereo recording and to the legacy of its inventor, Alan Blumlein. Then, from Chapter 14 on, the author deals with the birth and the history of digital recording, devoting an entire chapter to the A/D and D/A conversion process, including the compression of data in the digital stream (lossy and lossless audio).
I've found chapter 21 particularly intriguing, since the author proposes some working methodologies to create a good sounding album: recording techniques, microphone techniques and mastering techniques. If you think new recordings sound worse than those of the golden era (50's and 60's) then fast forward to chapter 23, where the author explains why multi-track and multi-microphone techniques have harmed, most of the time, the quality of modern recordings.
The book ends with a bitter note: the final chapter "The Future: Here It Is" deals with the way new generations listen to music (or don't listen at all). According to the author, nowadays nobody seems to care about music and its correct reproduction at home, as everything is quick, plug & play and there's no time devoted to proper, good quality listening. And here I beg to differ: being in constant contact with young people (my daughter, my students at the University) I have a completely different feeling: young generations do listen to a lot of music, certainly more than my friends used to do when we were teens in the Seventies. And young people are falling in love with stereo and vinyl, as well. Moreover, good audio has never been so inexpensive! Even smartphones and earphones are a better sounding combination than the usual cheap, monophonic cassette player we used when we were young. So...there's hope!
Conclusion
This book is a highly informative and entertaining read. The author's writing style is involving, even when he deals with the toughest and more technical topics. It is written in a way that everyone, even without a technical background, can understand almost everything. For this reason I believe this book should be read and held as a reference by anyone interested in music, its correct recording and reproduction at home. Well done, Julian!
Copyright © 2021 Lucio Cadeddu - editor@tnt-audio.com - www.tnt-audio.com
[ Home | Staff & Contacts | DIY & Tweaks | Listening tests | HiFi Playground | Music & Books ]