[ Home | Staff & Contacts | HiFi Playground | Listening tests | DIY & Tweakings | Music & Books]
[Book review]: Bob Dylan in the Big Apple
There was music in the cafes at night
and revolution in the air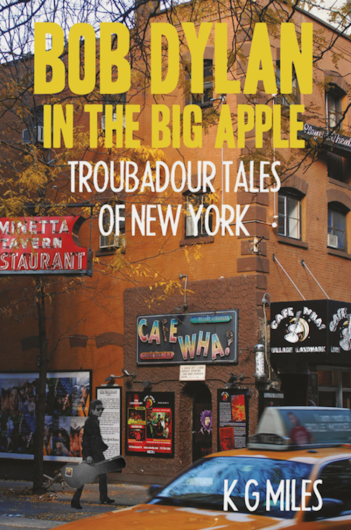 Book: Bob Dylan in The Big Apple
Author: KG Miles, with contributions from those who were there
Publisher: McNidder & Grace
Price: Please buy from an independent bookshop (YMMV)
Author: Mark Wheeler - TNT UK
Reviewed: February, 2022

Another Splendid Dylan Pilgrimage
This time the author is following Bob Dylan's footsteps through the streets of New York City, with a brief diversion upstate.
Is this just another book about Dylan by a dedicated fan?
Or is this a biography of New York City through a particularly Dylanesque lens?
Troubador Tales, KG MIles' previous Dylan Pilgrimage through London reminded your Old Scribe of Peter Ackroyd's biography of London combined with Ackroyd's biography of William Blake.
This is a personal journey, a pilgrimage which the reader may follow on the page or the pavement.
This book is more than another book about his Bobness, KG Miles again engages the reader in a journey, the author invites readers to follow in the author's, and hence the subject's, footsteps. The thorough narrative interweaves Dylan's progress through his city of choice, with his progress through writing and performing.
The Author
In his previous book it felt less like KG Miles was author of his own destiny but that Bob Dylan had taken the Londoner KG Miles on an emotional musical journey, not just through his own city, but a journey which lasted over 50 years. KG Miles was an awestruck child at the Isle of Wight Festival in 1969, one small child with a wayward auntie where he might have seen Bob Dylan but is too young to remember. His journey from there peaked with the honour of addressing the inaugural conference at the Tulsa Dylan Archive in 2019. Now, as co-curator of the Dylan Room at London's Troubadour Club, through writing, podcasts and Dylan tours, KG Miles is able to share his knowledge, enthusiasm & experience with music lovers across the globe.
Pilgrimage
Your Old Scribe loves the concept of a pilgrimage inspired by music and art, having also made similar journeys around streets & locations in NY mentioned in songs or appearing in iconic photos, much to the chagrin of employers who were wondering why tasks took so long.
The Queen of England has 2 birthdays, the one when she emerged from the Queen Mother's womb and the other, her Official Birthday to celebrate the date when she ascended to the throne. His Bobness, like so many musicians before & afterwards, had a rebirth on arrival in NYC, a second birthday. Advised by Suze Rotolo & Dave van Ronk in his early days, Dylan has offered various origin stories involving numerous variations on the journey from Dulloth to NYC.
It was Warhol who pointed out that the great thing about a small town is that it gives us the incentive to get out. Many have followed Warhol's mantra including Lou Reed, Ronk & Rotolo and his Bobness. KG Miles credits the numerous academic authors who have more reliably described Zimmerman's conventional upbringing. Dylan himself has written about this part of his life in his first (and so far only) volume of autobiography: Chronicles.
Autobiography, like autoeroticism, only truly satisfies the auteur and may even leave some unpleasant stains on those nearby. KG Miles politely describes Dylan's autobiography as "fanciful" and sticks to data confidently referenced in this NYC pilgrimage.
Every Journey Begins with the First Step
Dylan's New York journey begins at the Cafe Wha?
This book's journey starts for KG Miles also at the Cafe Wha? as it has for so many music fans visiting the city.
It is said, notes Miles, that the 20-year-old Dylan approached Hugh Romney (known later and known more widely as Wavy Gravy) who hosted the hootenanny nights to ask whether he could perform. Romney wasted no time, going to the mic and saying, "there he is, a legend in his own lifetime ... uh ... what's your name, kid?" Dylan made $75/week. The Gaslight has apartments above with air shafts down to the club below and at some point the police stopped the nuisance of the sound of applause filtering up. From then on, those performers who did well were greeted with approving clicks of the fingers, a habit to pass into hipster legend. The artistes would play poker upstairs. KG Miles paints colourful mental pictures of the venues and the occassions.
Tom Paxton recalled in 2000: "There was a hideout room above the Gaslight where we could hang out. Once, Dylan was out banging this poem on Wavy Gravy's typewriter. He showed me the poem and I asked, "Is this a song?"
He said, "No, it's a poem."
I said, "All this work and you're not going to add a melody?"
He did. It was A Hard Rain's a-Gonna Fall"
The Gaslight
The Gaslight would not only be an important venue for Dylan to hone his stage craft; in 1963 it was where he met Johnny Cash. As Barbara said in 1961,"In came this funny looking kid one night, dressed as if he had just spent a year riding freight trains and playing songs in a style that you could tap your feet to" Logan English was impressed by the scruffy youngster providing Sunday entertainment to Woody Guthrie. "I'm working at Gerde's. I'm the MC. We'll get you to play there"
"Dylan knew Gerde's was the place he needed to play, and it was to become a venue that accelerated his career. Logan put in a good word for Dylan but it was the perseverance of Terri Thal that secured the historic booking"
Dylan played his first major gig there, opening for John Lee Hooker on 13 February 1961, according to New York magazine, whose review that really launched Dylan's career. That alone would be enough for Gerde's Folk City to hold a special place in Dylan history. However, it is another moment, on 29 September 1961 when Dylan was reviewed by Robert Shelton for the New York Times, that gets Gerde's a place in musical folklore. Shelton said very little about the main act, the Greenbriar Boys, instead focusing on a "bright new face in folk music who was appearing at Gerde's Folk City". Shelton said that Dylan resembled a "Cross between a choirboy and a beatnik" and had a "Searing intensity pervades his songs". Shelton concludes that "His music making has the mark of originality and inspiration, all the more noteworthy for his youth."
KG Miles Dylan History
Miles succeeds in adding social & historical context the story of the early Dylan years. Readers might imagine that we are familiar with the early Bob Dylan story, from numerous bankable books & films, but KG Miles introduces us to the cauldron of activity from which Dylan emerged, partially formed. Dylan was busy creating his own mythology, with contradictory or enigmatic answers to questions about himself, but it was all in context. The contexts may have been documented elsewhere, indeed in other contexts, which JG Miles' thorough research encounters & presents to us.
Integration
Dylan wrote a song about the Beatnik Riot of 1961 and in 1963, as the battle continued, he was said to have written a song for the Joint Committee to Stop Lower Manhattan Expressway. For those who've seen the documentaries and read the biographies of early 60s Greenwich Village life, and Bob Dylan in particular, the cast of characters will seem eerily familiar. It's almost as if we know Dave van Ronk, Terri Thal and Suze Rotolo, as if we'd read their biographies, rather than familiarity through their relationships with Village landmarks and his Bobness himself. JG Miles' book succeeds in revealing more as it meanders through the streets of Lower Manhattan.
The narrative briefly wanders further upstate to the Caffe Lena in Saratoga Springs (more famous for a battle & a racecourse namechecked in Carly Simon's You're So Vain) which is still going as the "oldest continuously running folk coffee house in the country".
Dylan played there in July 1961. As Terri Thal recalls, "Lena Spencer was always asking for acts to book. When I asked her to book Bob, she objected because he was too new and unknown. [I told her] Every time you need a new act at the last minute, I find one for you, now I want a favor. Bob played there and bombed; the audience talked throughout his performance. At the end of the weekend, Lena called and told me never again to ask her to book Bob Dylan in the club".
It is this level of detailed research thick with quotations that characterises KG MIles' book.
Back in the City
As the story unfolds back in NYC the catalysts to key shifts in Dylan's outlook (chapters 9 & 10 for example) are neatly unfolded by Miles in his retracing journey through times and spaces, but you'll have to read the book as this paragraph is a spoiler avoider.
JG Miles' book is essentially another pilgrimage, like his Troubador Tales Dylan in London book. This is another pilgrimage whose steps retrace those of its subject and whose steps you too, dear reader can retrace too complete with map references.
"The Hotel Earle situated at 103 Waverly Place alongside Washington Square Park, was built in 1908 as a small eight-storey residential hotel. It became popular and kept growing, nine storeys by 1910 and a further three added in 1917. In April 1918, Ernest Hemingway arrived in Greenwich Village and stayed there for three weeks prior to serving in the First World War as an ambulance driver.
As was often the case, by staying at the Hotel Earle, Bob was following in the footsteps of the other Dylan, Dylan Thomas. I n the 1950s, Dylan Thomas and wife Caitlin were evicted from the Beekman Hotel.
Dylan stayed in Room 305, and it was here that pretty much all of his relationship with Joan Baez took place. Joan gives a good reason for largely staying at the Hotel Earle with him - "yeah, he was a 20-year-old guy and you didn't go to a 20-year-old guy's apartment 'cause they were nasty".
Travelogue, pilgrimage or hotel reviewer?
Miles at times turns travelogue and then reviewer "It is hard to overstate our enthusiasm for the Washington Square Hotel. So many New York hotels tend toward Williams Sonoma opulence and corporate sterility - '80s business grays and someone else's creepy idea of luxury. This is a family hotel and it shows. The Washington Square can feel like a patchwork of compromises that don't quite satisfy or unify. But that's its charm, the sort of messy compacts that only make sense in a family. Here the joy is in the quirk: the déco'rs quirky, eclectic, sometimes kitschy, but offset by the unexpected. The common areas are festooned with a warmth of baubles and hidden ceramic mosaics, peculiar decorative flourishes and sometimes gauche afterthoughts - I love it".
"To stay in these rooms is at the very least to inhabit the precise square footage, bounded by the same walls, the same windows, as their previous occupants. Open the curtains and turn off all the lights. Now stand and breathe deep, in and out, full deep breaths. Wait for your eyes to adjust, stare out your window at the brick wall across the shaft. You may no longer find the Village peopled by a fury of young artists creating themselves before your eyes in bursts of wonder, but if you listen closely you can just make out the echo of chatter, a thrumming guitar and a song in the distance... As a guest you are not confined to a bubble of tourists. You are enmeshed in the life blood of the Village. The water pressure, I'm told, is excellent".
And NOW...in FULL COLOR
The centre of the book containes a series of worthwhile colour plates. After the colour plates section, from chapter 11 Dylan in the Big Apple becomes part gazetteer, part pilgrimage, part travelogue and a series of hooks from which to hang anecdotes and analysis. This begins with a chapter by Bret Johnson, who has no rose tinted spectacles though, and who chronicles the decline of a venue's authenticity as much as celebrating the preservation of another's atmosphere.
Later NYC meetings are chronicled, among legendary performances and pivotal plans attaching Dylan to NY premises as Dylan returns from his later home in Malibu to the stimulating hubbub of NYC
Chapter 12 is ghosted with the aforementioned Terri Thal and 16 is ghosted with Scarlet Rivera "I was on a mission to break the violin into popular music. I used the phrase, 'Black Panthers of string players'" Scarlet Rivera Went on to play & sing with Bob after their fateful meeting on 30 June 1975: "Manhattan is full of determined-looking, skinny limbed young women striding along carrying violins or saxophones, but they don't usually have hair three foot long swinging down behind them"
A car stopped by this determined young woman. The woman was Scarlet Rivera. In the car was Bob Dylan. Chapter 16 is her New York account told to KG and subsequent recording of Desire and the Rolling Thunder Revue tour. It is such a perfect encapsulation of the co-creative process that the book is worth it for this insight alone.
Chapters 13 & 14 covers the curious case of A J Weberman, an obsessive fan; Chapter 15 the making of Desire; Chapter 17 is the first coherent hypothesis your Old Scribe has read of Dylan's recovery from his creative hiatus, some might say creative nadir, of the early 80s. Chapter 17 contains some 24ct Dylan anecdotes, mostly previously unfamiliar.
Neat Conceit
Chapter 18 rounds out with a visit to the Beacon Theatre where Dylan has often rounded out his tours; a neat structural conceit. Minor celebrity contributions might seem a bit 21st century, but are inevitable in this story. It includes the planning for episodes from The Rolling Thunder Review, as documented on film by Martin Scorsese.
Conclusion
The whole book is shot through with humour rare among the more typically earnest Dylan devotees. KG Miles has an accessible writing style that leaves this reader wanting to carry this tome around the streets of Lower Manhattan, checking in to bars, standing on corners and soaking up the atmosphere.
How thorough is this book? Here's the list of NY sites covered:
Grossman's apartment* 4 Grammercy The home of Dylan's manager Al Grossman. Dylan sat on the front stoop for the cover of Highway 61 Revisited. Allan Block Sandal Shop 171 W 4th Street
Site of many an impromptu folk jam although Dave Van Ronk commented: 'God help you if you wanted to buy a pair of sandals!'.
Allen Ginsberg's apartment 206 E 7th Street Often a stop-off for Dylan in the early Village days.
Almanac House 130 W 10th Street
In the late 1950s a song factory that once housed the Almanac Singers, a left-leaning group that included Woody Guthrie, Pete Seeger and Sis Cunningham.
Americana Hotel 811 7th Avenue Venue of a rather grudging acceptance by Dylan of a Tom Paine Award.

The Beacon Theatre, 2124 Broadway The venue that Dylan has played most. Musical home from home (see page 129).
Belasco Theater* 111 W 44th Street
Broadway home of the Conor McPherson play Girl From The North Country, which began in London in 2017. Production reopened in June 2021.
Big Pink 56 Parnassus Lane, West Saugerties, New York, 12477
The Band's infamous upstate refuge, a creative play space where The Basement Tapes were recorded in 1967, and the Band's Music from Big Pink in 1968. The homeowners, we're told, are friendly - but don't knock, be courteous, and whatever you do, don't wander. The neighbours are wary.
The Bitter End/The Other End 147 Bleecker Street
It may have been renamed (in 1975), but this venue's the rare entry to remain essentially unchanged. It's still a rollicking music venue and bar. Dylan hung here well into the '70s, where management helped shield him from the public. He shot pool with Kris Kristofferson, etc. (see page 97).
Bottom Line 15 W 4th Street Important Greenwich Village venue.
Sis Cunningham's apartment/ 104th Street Brooks
Broadside magazine
Broadside magazine (very influential in the folk-revival) was the first time Dylan's work was in print and the magazine was the first to publish 'Blowin' in the Wind' in 1962. Contributors met monthly at the apartment.
Cafe Bizarre 106 W 3rd Street Folk Club opened in1957. Now an NYU Law School Building.
Cafe Figaro 184 Bleecker Street
Originally called Le Figaro Cafe. Closed since 2008. In January 2021, it was announced that the cafe would be reopening in the same location sometime in the spring or summer as Figaro Cafe.
Cafe Wha?* 115 MacDougal Street Legendary music venue (see page 9).
Caffé Dante* 79-81 MacDougal Street
Now Dante NYC. Originally opened in 1915, when Greenwich Village was called 'South Village\94 and was primarily Italian.
Caffé Lena* 47 Phila Street, Saratoga Springs, NY
Early music venue for Dylan and still going (see page 47).
Caffe Reggio* 119 MacDougal Street Cosy cafe and restaurant. May or may not have intro- duced cappuccino to New York City.
Carnegie Chapter Hall 881 7th Ave Location of Dylan's first concert, for which 53 tickets were sold.
Chip Monck's basement apartment Underneath the Village Gate
At the corner of Thompson and Bleecker Streets. The location for Dylan's sofa surfing location and important for the loan of Chip's typewriter (see page 53).
Columbia's Studio A 799 7th Ave
Dylan recorded many albums here through the 1960s, including The Freewheelin' Bob Dylan, Highway 61 Revisited and Blonde on Blonde. Another Side of Bob Dylan was recorded here on one day, on 8 August 1964. In December 1964, 'according to Sound Engineer Jim Reeves, with producer Tom Wilson, he experimented with a Fats Domino early rock n roll thing over 'House of the Rising Sun'. It was discarded.
On 29 September 1961, this was the location of Dylan's first professional recording on an album with Carolyn Hester.
The Commons/105 MacDougal Street
Fat Black Pussycat
Here, we are told, Dylan wrote 'Blowin' in the Wind'. The space changed hands and became Fat Black Pussycat (now located at 130 W 3rd Street, and still featuring a performance space). 105 MacDougal's been a Mexican restaurant for years now, Panchito's Mexican Cantina. The food's okay.
Dave Van Ronk and 190 Waverly Place Terri Thal's apartment Location of important evenings with Bob, Suze, Dave and Terri (see page 47).
Delmonico Hotel*(now renamed) 502 Park Avenue
Host to the first meeting between Dylan and the Beatles in 1964 (see page 55). Donald Trump acquired the prop- erty in 2001 and renamed it the Trump Park Avenue. It's still a hotel, so maybe ... get a drink at the bar.
Dylan Liberation Front Offices E 12th Street Headquarters for A.J. Weberman's campaign.
Dylan townhouse, 265 W 139th Street.
'Strivers' Row', Harlem: A Dylan residence for 14 years, finally sold in the year 2000.
Dylan's apartment with Suze 161 W 4th Street Important early home for Dylan (see page 36).
Dylan's home with Sara and family 94 MacDougal Street
Dylan's Recording Studio 124 W Houston Street
Between Sullivan and Thompson. Dylan rented out the ground floor as a studio from conceptual artists Arakawa and Madeline Gins. There are two entrances, the right-hand door was Dylan's. Back in 2013, a tenant discovered in an upstairs closet 146 acetate records from the studio sessions for Nashville Skyline, New Morning and Self-Portrait.
A.J. Eighth Street Bookshop 32 W 8th Street, 17 8th Street
Closed since '79. Now a coffee shop, Stumptown Coffee Roasters. But if you're looking for a Village bookstore, check out Three Lives & Company at 154 W 10th Street, a favourite of Allen Ginsberg's. Don't let the size of the shop fool you: they have one of the most thoughtfully curated fiction collections in the city.
The Factory 231 E 47th Street Andy Warhol's studio, the site of his creative HQ.
The Five Spot St Mark's Place & 3rd Ave
Originally at 5 Cooper Square (now a bank), then at 2 St Mark's Place. Pioneering Jazz Club where Dylan saw Thelonius Monk. He said of Monk that he 'summoned magic shadows into being'.
Folklore Center 110 MacDougal Street Focal point of the Village. Established by Izzy Young
Folkways Records: Important folk music publishers.
The Freewheelin' Bob Dylan 165 W 46th Street
Jones Street facing North between Bleecker and W 4th
Site of the famous album cover for The Freewheelin' Bob Dylan, photographed by Don Hunstein (see page 43).
Gaslight Cafe 116 MacDougal Street
Coffeehouse opened in 1958. Also known as the Village Gaslight and fictionalised in the TV series The Marvelous Mrs Maisel. It closed in 1971.
Live at The Gaslight 1962 is an album of Dylan performances here in October 1962.
Gerde's Folk City 11 W 4th Street Gramercy Park One of the most important Village Folk clubs (see page 19).
Lexington Ave Groove, 125 MacDougal Street Mural of famous artists associated with the Village.
Hotel Chelsea, 222 W 23rd Street Famous hotel and occasional Dylan bed (see page 53).
Hotel Earle now renamed 103 Waverly Place Washington Square Hotel
Important location for both the Dylan and the Greenwich Village story.
Kettle of Fish, 59 Christopher Street
Originally at 114 MacDougal Street, above the Gaslight, then at 130 W 3rd Street, now at 59 Christopher Street.
Leeds Music Publishing Upper West Side, Site of Dylan's first publishing contract.
Madison Square Garden, 4 Penn Plaza Famous concert hall and venue for Night of The Hurricane.
Marlton Hotel 5 W 8th Street
This former flophouse is now a posh hotel: they've gone to great lengths to memorialise the building's history. Besides Dylan, there's a long list of literary regulars. Kerouac wrote Subterraneans and Tristessa here.
Mell and Lilian Bailey's 183 East 3rd Street apartment
Sofa surfing location (see page 137).
Minetta Tavern, 113 MacDougal Street This Italian restaurant is a legendary Greenwich Village watering hole (see page 56).
Music Inn, 169 W 4th Street
Next door to the apartment Dylan shared with Suze Rotolo. It still hosts open mic nights every Thursday. Or it did ... and surely will again.
New York Public Library, 5th Ave at 42nd Street Early Dylan educational location.
Newspaper Kiosk on Sheridan Square
Located on the far West side of Christopher Street Park, above the Christopher Street subway station, on Seventh Avenue South. Bob and Suze rushed here to get the early editions of the career-changing Robert Shelton New York Times review.
People's Songs office 130 W 42nd Street Peter Seeger's HQ (see page 30).
Philharmonic Hall 132 W 65th Street Music venue, Dylan played here on 31 October 1964.
VPower Station, 441 W 53rd Street
Opened in 1977. Dylan recorded the Infidels album here and outtakes which include the classic 'Blind Willie McTell'.
Riverside Church, 490 Riverside Drive The Hootenanny where Bob met Suze (see page 41).
Sheridan Square Playhouse, 99 7th Ave S the Garage Restaurant & Cafe
Location were Dylan saw rehearsals for the George Tabori play Brecht on Brecht in 1962. Suze Rotolo was working as the Production Designer on the play.
Sis Cunningham and Gordon W 104th Street Friesen's apartment
Founders in 1962 of Broadside magazine. The words of "Blowin' in the Wind" were published with a picture of Dylan on the cover, May 1962.

Sony Music Studios, 460 W 54th Street Studio 50
Recording studios, location for MTV Unplugged in November 1994.
Ed Sullivan Theater, 1697-99 Broadway Venue for Dylan TV performance.
Supper Club, Hotel Edison* 228 W 47th Street
On 16-17 November 1983, Dylan played four inti- mate concerts, considered by many to be among his finest live performances.
Suze and Carla Rotolo's apartment 106 Ave B & E 7th Street
Early and very important sofa surfing location. Theater de Lys (renamed 121 Christopher Street Lucille Lortel Theater)
A 1926 Theater distinguished for remaining unstained by the generations of ambitious renovators with more money than taste.
Dylan said in Chronicles Vol. 1: In a few years' time, I'd write and sing songs like "It's Alright Ma (I'm Only Bleeding)", "Mr Tambourine Man" ... "Hard Rain's a-Gonna Fall" and some others like that. If I hadn't gone to the Theater De Lys and heard the (Brecht) ballad "Pirate Jenny" it might not have dawned on me to write them, that songs like this could even be written.
Town Hall 123 W 43rd Street A mainstay for intimate shows whenever Dylan tours through town. Next door, at 101 W 43rd Street, stood the Hanover House Hotel, another tenant hotel long since demolished and where Woody Guthrie first stayed after he hitchhiked to Manhattan in 1940. In his room here he wrote "This Land Is Your Land".
Tuscarora Reservation* 2006 Mt Hope Road, Lewistown, NY State
Stopping point on the Rolling Thunder Revue.
Village Gate 158 Bleeker Street
Closed since 1994. The building retains the Gate's orig- inal street sign. The upstairs Theater now houses (Le) Poisson Rouge, a music venue and performance space. Downstairs there's another pharmacy.
Village Vanguard* 178 7th Ave A Greenwich Village mainstay since 1935.
Still a great place for jazz in the city. Intimate and alive.
Washington Square Park: The beating heart of Greenwich Village (see page 61).
White Horse Tavern* 567 Hudson Street Legendary Greenwich Village bar (see page 63).
Whitmark & Sons 488 Madison Ave
Publishing company and location for early Dylan demo recordings between 1962-64 (later released as a Bootleg Series album).

Woody Guthrie Foundation 125-31 E Main St, Mount Kisco NY
The site of the Woodie Guthrie archives.
Woody Guthrie House 3520 Mermaid Ave on Coney Island, Brooklyn NY
Location for many a folk pilgrimage in the early '60s.

Copyright © 2022 Mark Wheeler - mark@tnt-audio.com - www.tnt-audio.com
[ Home | Staff & Contacts | HiFi Playground | Listening tests | DIY & Tweakings | Music & Books ]