[ Home | Staff & Contacts | HiFi Playground | Listening tests | DIY & Tweakings | Music & Books ]
Three under fifty - shootout test - Part I
Lonpoo LP42, Fenton SHFB55B, McGrey BSS-265, three speakers around 50€...and the winner is...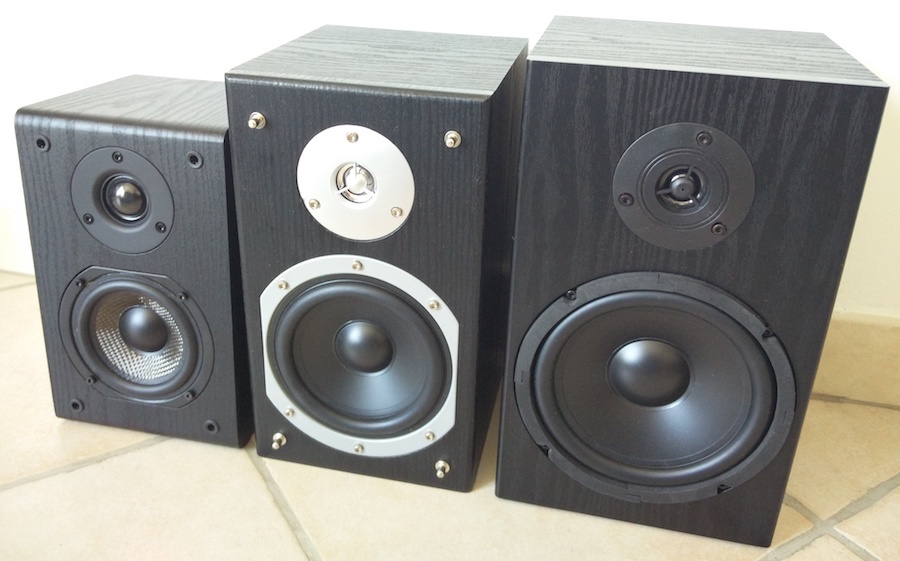 From left to right: Lonpoo LP42, Fenton SHFB55B, McGrey BSS-265
Products: Fenton SHFB55B, Lonpoo LP42, McGrey BSS-265 - bookshelf loudspeakers
Manufacturers: Fenton/Skytronic, Lonpoo, McGrey
Approx. price: around 50€/pair, depending on sites, offers and local shipping costs
Reviewer: Lucio Cadeddu - TNT Italy
Reviewed: March, 2020
Foreword
Finding a good sounding and extremely inexpensive amplifier is not difficult nowadays. After the T-Amp a huge number of small, inexpensive and good sounding amplifiers has flooded the market. Last, but not least, there's the surprising TPA 3116-based amp sold under different brands I reviewed last year. At 30€, an unbelievable bargain by any measure.
It is more difficult to find similarly good sounding and inexpensive loudspeakers. Ten years ago, in 2010, I reviewed the surprising Scythe KroCraft, a minuscule bookshelf loudspeaker that, for just 50 €, delivered a sound that was unbelievable, at that time.
Ten years have passed and many things have changed since then. Time has come to verify which kind of sound quality can be achieved with the lowest budget possible, i.e. 50 €($)/pair. I've taken a look at the market and, among others, I've picked up three bookshelf loudspeakers that can be purchased for around that amount of money. Considering different special offers and shipping costs, I've allowed a gross total of 60€ per pair, which is still a ridiculously low amount of money (it's the price of a high-quality pressing vinyl album). All these speakers are available on Amazon, Ebay or other online platforms.
The chosen candidates are: Lonpoo LP42, McGrey BSS-265 and Fenton/Skytronic SHFB55B. These speakers are made in China, of course, though the McGrey ones do not claim this exactly.
The first part of this review will examine the candidates, their tech specs and inner secrets. The upcoming second part will be devoted to analyze the differences in sound quality.
Lonpoo LP42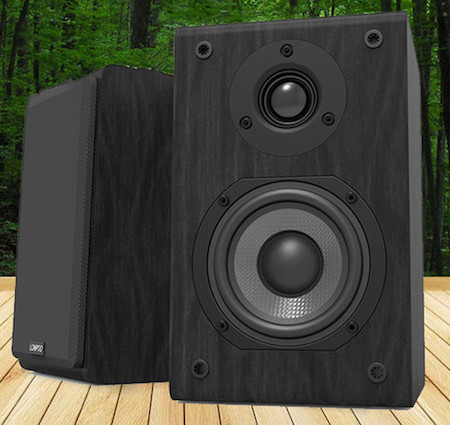 Who is Lonpoo? It is a Chinese brand, by Shenzhen Lonping Electronics co., Ltd. They make a wide range of audio devices, but these LP42 seem to be quite different from the rest of their production (which is consumer-oriented). Actually, these are the most surprising speakers of the lot. Labelled as "Reference bookshelf monitors" by the manufacturer, their construction and finish are vastly superior when compared to the other contenders. Equipped with a small 10 cm/4" carbon fiber midwoofer and a 1" silk dome tweeter, these speakers offer an attention to small details that is quite uncommon, even among higher priced competitors.
The cabinet is stiff and solid, with rounded edges, while the front baffle is slightly inclined backwards so to correct the phase error of the drivers' emission (call it a kind of "phase coherent" trick, a la Thiel). The binding posts are of good quality and allow any kind of wire connection, bananas included. The reflex port fires backwards and its surround is perfectly aligned with the cabinet, and the edges of the port are smooth and rounded. A nice touch. Inside, you discover the same level of care to details: good section wires, wrapped in an anti-resonant foam, good size driver magnets and a good quality absorbing foam everywhere. There's no crossover, just a cap to filter the tweeter (3.3 uF/100V, bipolar). Even this cap is wrapped in anti-resonant foam (unwrapped in the picture below). The midwoofer is unfiltered. This feature is quite common on similarly priced loudspeakers (a complex crossover is expensive). Another nice feature is the use of a seal between the binding posts plate and the cabinet (see pic below).
The Lonpoo LP42 also comes with a quite complete English user manual (with many useful "audiophile" suggestions on installation, cabling, amplifier choice etc.) and tech specs. Also available are some graphs of impedance and frequency response. Amazing, to say the least. The strange thing is that I haven't been able to find these speakers on the Lonpoo website, a mistery indeed. At my last check their lowest price is 58€ shipping included!
Lonpoo LP42 claimed tech specs
Woofer: 10cm/4" carbon fiber cone with rubber surround
Tweeter: 1" silk dome
Frequency response: (in room) 60-20 kHz
Impedance: 4-8 ohm
Sensitivity: 85 dB/w/m
Power handling: 75 watts
Dimensions [mm]: 241 (H) x 147 (W) x 165 (D)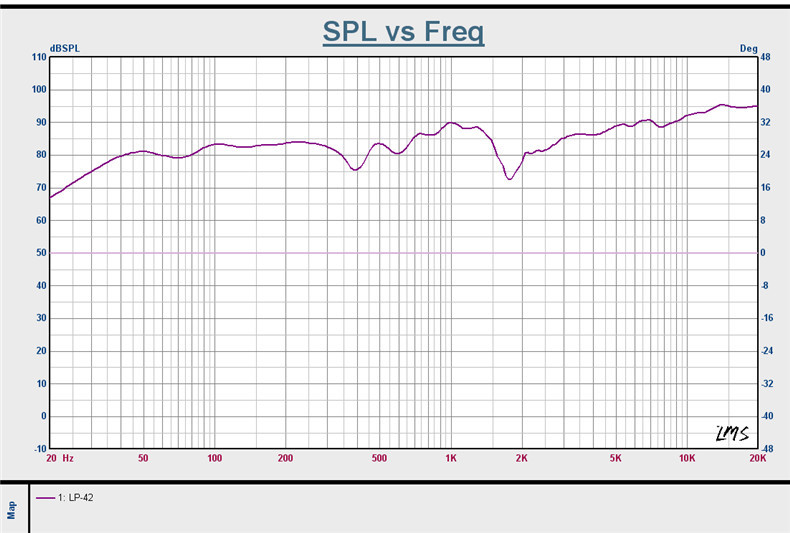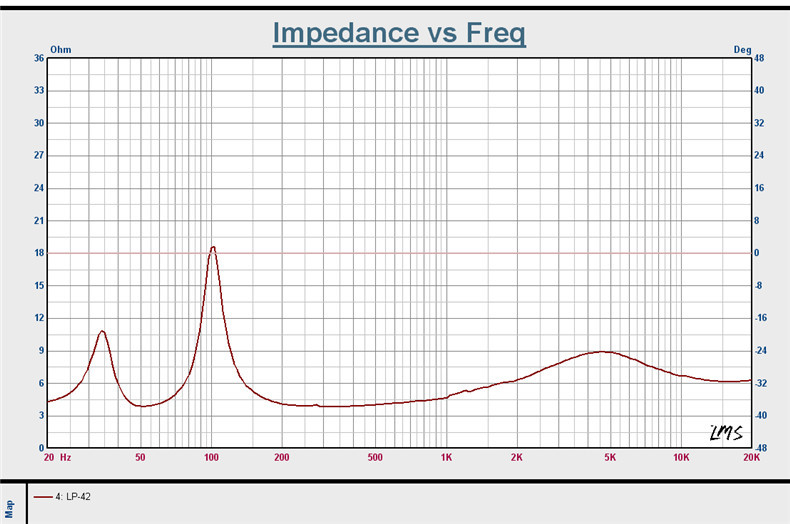 McGrey BSS-265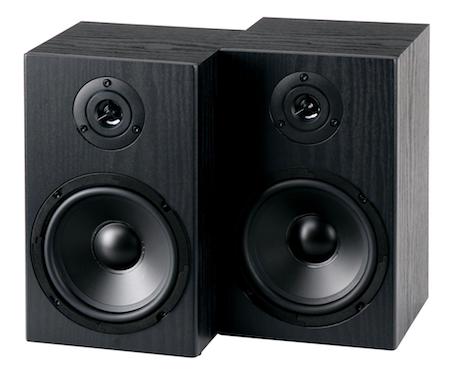 McGrey appears to be a brand of (or sold by) Musichaus Kirstein GmbH, a distributor in Germany. In my opinion the speakers are actually made in China, but I have no proof of this statement. The BSS-265 is a rather interesting loudspeaker, because of the type of enclosure (sealed, acoustic suspension, no bass reflex) and of the size of the woofer (16 cm/6.5"!!!). The construction reflects the selling price, with a cabinet that's pretty resonant and light, just graced by a pair of good quality binding posts, similar to those found on the Lonpoo LP42. The finish is the ubiquitous, cheap, black vinyl. The tweeter is a small 1.5cm/0.625" unit, filtered by a non-polarized 2.2 uF/50V cap. The woofer remains unfiltered. In the rear you can find a keyhole mounting bracket for easy wall installation.
A look at the inside reveals the designers' most relevant cutting corners: internal cabling is by thin wires, driver magnets are not impressive and the internal structure is less elaborated than the one found on the Lonpoo LP42. A complete user manual (in English and German) is available. On some forum and websites you can find audiophiles who claim these speakers are identical to the Dayton B652s. This is false. They are very similar, but they use entirely different drivers, for example. The woofer is a 6.5" unit as well, but it is not the same driver. At my last check their lowest price is 64€ shipping included!
McGrey BSS265 claimed tech specs
Woofer: 16 cm/6.5" driver
Tweeter: 1.5 cm/0.625" driver
Frequency response: 70-20 kHz
Power handling: 40 watt (RMS) / 75 watt (peak)
Dimensions [mm]: 330 (W) x 370 (H) x 270 (D)
Weight: 5.5 kg/pair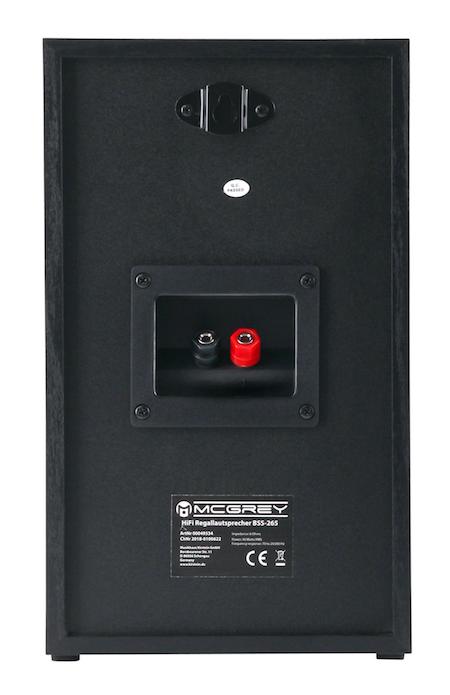 Fenton/Skytronic SHFB55B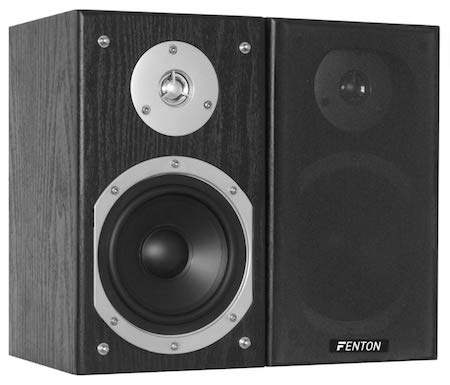 These SHFB55B can be found under the Fenton or Skytronic brand. They are distributed by the Tronios Group (located in Almelo, The Netherlands), which derives from the SkyTronic group (founded in 1998). Their brands are, among others, BeamZ, Fenton, Skytec, Skytronic and Vonyx. These speakers use a 5" woofer and a 1" tweeter, in a rear firing bass reflex enclosure. Despite the high-tech looks, their construction is clearly low budget-class, with flimsy spring-clip binding posts and a lightweight, resonant cabinet. The finish is cheap, the usual black vinyl. The drivers are extremely basic, the woofer has an extremely lightweight basket and a minuscule magnet. There's the usual filtering cap on the tweeter. Internal cabling is extremely thin and there's no trace of acoustic foam inside the cabinet. The cabinet has a keyhole mounting bracket in the rear, but this kind of wall installation will completely close the reflex port!
Despite being the less expensive of the lot the package includes a set of speaker cables and a complete user manual, written in six different languages. Unfortunately, the manual is a very generic one and not specifically referred to the speakers. Only the tech specs are referred to the speakers. The package suggests to visit the official website Fentoaudio.com which appears to be unavailable. At my last check their lowest price is 44€ shipping included!
Fenton/Skytronic SHFB55B
Woofer: 13 cm/5" driver
Tweeter: 2.5 cm/1" driver
Impedance: 6 ohm
Frequency response: 20-20kHz
Sensitivity: 88 dB
Power handling: 140 watt
Dimensions [mm]: 280 (H) x 190 (W) x 160 (D)
Weight: 3.8 kg/pair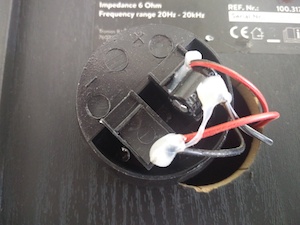 Conclusions
These speakers are quite different one from the other: different sizes, different drivers, different enclosures (two bass reflex, one acoustic suspension), different finishes and care of details. Undoubtedly, the most audiophile ones appear to be the Lonpoo LP42, with no-nonsense claimed tech specs, an incredibly well written user manual and, last but not least - a very sturdy and solid appearance. But the proof is in the pudding, as they say!
Generally, all the models under test appear much more expensive than their extremely low price tag would suggest. To me, it is unbelievable they can sell such speakers at this low price. My main questions are: 1) will they sound better than the old Scythe KroCraft? 2) Will they sound horrible when compared to the Elac Debut B5, which are, in my opinion, some of the best budget-class loudspeakers (if not the best overall!) in the market, though at 5 times the price of the speakers under test? And 3) Do they deliver audiophile quality sound? We will unveil the naked truth in the upcoming face to face listening test!
DISCLAIMER. TNT-Audio is a 100% independent magazine that neither accepts advertising from companies nor requires readers to register or pay for subscriptions. After publication of reviews, the authors do not retain samples other than on long-term loan for further evaluation or comparison with later-received gear. Hence, all contents are written free of any "editorial" or "advertising" influence, and all reviews in this publication, positive or negative, reflect the independent opinions of their respective authors. TNT-Audio will publish all manufacturer responses, subject to the reviewer's right to reply in turn.

© Copyright 2020 Lucio Cadeddu - direttore@tnt-audio.com - www.tnt-audio.com
[ Home | Staff & Contacts | HiFi Playground | Listening tests | DIY & Tweakings | Music & Books ]