[ Home | Staff & Contacts | HiFi Playground | Listening tests | DIY & Tweakings | Music & Books ]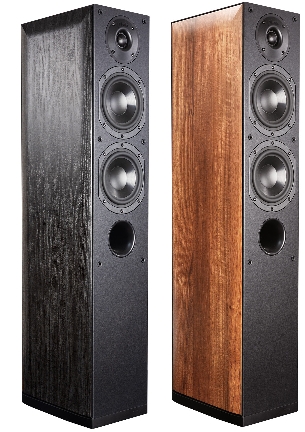 Let's take note...
[Italian version here]
Product: Indiana Line Nota 550X - floorstanding loudspeakers
Manufacturer: Indiana Line - Italy/Poland
Approx. price: 400-500€/pair
Reviewer: Lucio Cadeddu - TNT Italy
Reviewed: January, 2023
Indiana Line is an Italian company, established in 1977, which started operations as Selectra (then Alcor) by assembling in Italy US-made Utah loudspeakers. When Utah closed production, Indiana Line started to design and build their own speakers. For a complete history of the brand, please visit the official webpage (the link points directly to the history page).
Their HiFi production line is divided into three series: Nota, Tesi and Diva (from bottom to top). Then there's a series called DJ, which is a semi-pro line. Thanks to Marco Visonà, of ASM Distribution, I've received a pair of Nota 550X to review: this is the floorstanding model of their entry-level line Nota.
A closer look
These Nota 550X are slim floorstanders (880 x 175 x 275 mm), available in black oak and walnut finish. They are equipped with two 13.5cm midwoofers in a 2.5 way configuration. One of the drivers acts as a pure woofer (up to 250 Hz) while the second one crosses, at 2.8 kHz, with the 1" dome tweeter. The drivers are apparently made/assembled by the Chinese company Tekzone. The crossover network is rather crowded, with three coils (one winded in air, the others on a nucleus), three caps (two electrolytic and one MKP) and two resistors. The company claims the coils to be air-wound and the caps of the MKP kind, which is incorrect. Perhaps they refer to the rest of the models in the same series.
The tweeter and the crossover (mounted behind the binding posts) are installed with air seals, so to ensure leak-proof interface with the cabinet, while the midwoofers do not use seals of any kind. This is quite bizarre, considering the air seals are more useful with woofers (as they vibrate a lot).
The cabinet is well made for the price, with 1.2cm-thick MDF, and two internal braces to improve rigidity, a pretty unusual feature for such inexpensive loudspeakers. There's a lot of sound absorbing lining inside the cabinet and, globally, it seems the designer has taken care of the most relevant aspects. The mono-wiring binding posts accept bananas, forks and bare wire. The owner's manual gives useful suggestions for a proper installation, and refers to foam caps to be used - if necessary - to fine-tune the reflex port. Perhaps these foam caps are included in the package of the other speakers of this series, because they were absent in the package of these 550X. Eight adhesive pads are included and they should be used as the interface with the floor. We'll see that these soft pads heavily affect performance and should not be used (spikes are mandatory, in my opinion).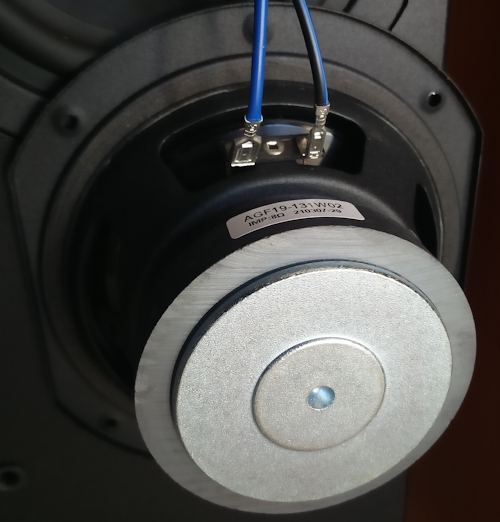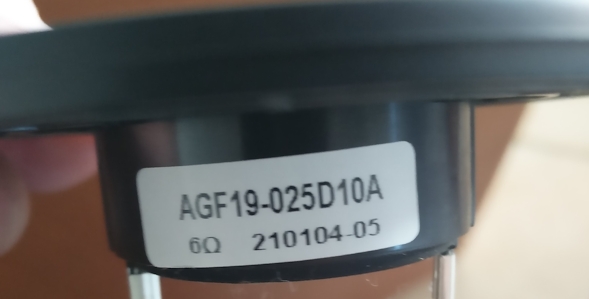 Claimed tech specs
2.5 ways floorstanding loudspeaker
Crossover frequency: 250 Hz & 2,8 kHz
Woofer: 135 mm
Midwoofer: 135 mm
1" dome tweeter
Nominal impedance: 4 - 8 ohm
Front firing bass reflex enclosure
Frequency response: 38 Hz - 22 kHz
Finish: black oak or light walnut
Amp recommended power: 30 - 130 W
Sensitivity: 91 dB (2,8 V / 1 m)
Size (H x W x D): 880 x 175 x 275 mm
Weight: 11,4 kg each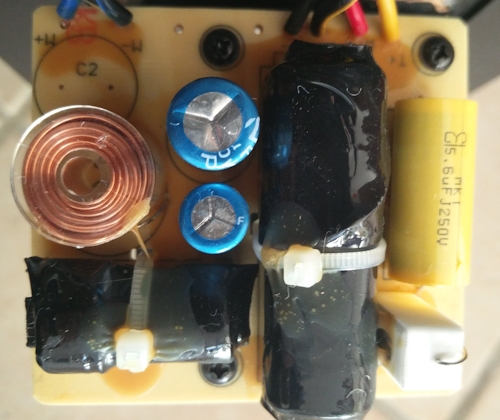 The pretty crowded crossover network
Let's take note...
The Nota series has been probably designed having in mind neophytes and young customers in general, since the tonal balance seems tuned to suit their taste: a good, powerful and deep bass range, paired with a not too aggressive mid-high range. Such a balance helps when the speakers are paired with entry-level amps and sources, and also with less-than-audiophile recordings.
The two midwoofers move large amounts of air, and are capable of reproducing quite deep frequencies: the claimed datum (at -3dB, I guess) is 38Hz, which seems a bit optimistic. Certainly, the bass range reminds you of much larger woofers and speakers. The bass is powerful, though not extremely fast and controlled, but it can manage large amounts of power with ease. With bass-heavy tracks it might sound, from time to time, a bit gummy and slow, perhaps the cabinet adds some extra resonance that affects the performance of the drivers.
The mid-high range performance is a consequence of the designer's choice to cut the tweeters at a rather low frequency for a 1" unit: 2.8 kHz. This choice has some pros and some cons, perhaps the midwoofer isn't able to reproduce mid frequencies above 2.8 kHz or perhaps the designer wanted to give the speaker a certain coherence in the mid-high range. As a result, this range isn't exactly crystal-clear and as rich in harmonic content as desirable. It is not exactly tight as it should be. Transient attacks aren't fast and well defined, especially with string instruments and percussion. Voices, on the other hand, flow quite naturally, with a clear preference for vowels. Consonants, on the other hand, needing a certain transient response, appear somehow less defined.
In the high range, more or less, you encounter the same scenario. After all, the driver is the same, no surprise! High frequencies do not sound aggressive, perhaps a bit dry, I'd say. The harmonic content, again, might be better but, overall, the performance seems adequate for the target customer: thanks to this behaviour, even lesser recordings sound bearable, as sibilants and metallic sounds do not sound aggressive.
Overall, the sound is a mix of powerful bass and somehow inoffensive mids and highs. Sometimes, the entry-level Indiana Line loudspeakers have been referred to having a kind of loudness tonal balance (=boosted bass and highs) but I believe this is just another of the usual audiophile-myths. Yes, the bass is powerful, but the highs do not suffer from any kind of boost.
In the dynamics department the performance is very good for the price, these speakers can sound extremely loud (it's easy to reach 100dB peaks at the listening seat) and can manage complex tracks with ease, be it classical or rock. Of course, sometimes they tend to amalgamate different sounds, generating traces of confusion especially at high listening levels, but one shouldn't forget the price tag!
A highly unexpected surprise comes from the soundstaging performance: these speakers can create a realistic 3D stage, that is particularly deep, especially if one considers that, at this price, it is already a miracle if one can detect different horizontal planes in the virtual stage. Even the focus on singers and instruments is very good, perhaps the choice to devote the tweeter to the whole range from 2.8 kHz up pays its dividends here. A big plus for such an inexpensive loudspeaker.
Since the recently reviewed Argon Audio Alto55 mk2 were still sitting in my listening room, and considering how extraordinary those Danish loudspeakers are, I decided for a comparison test. The two pairs of speakers are very similar (tall floorstanders, 2.5 way reflex design, with two 13.5 cm midwoofers), but the Argon's are slightly more expensive (600€/pair as of today). Frankly, the almost 200€ difference is clearly audible, and it seems even larger than that. The sound is tighter, faster, harmonically richer and even bigger. This confirms that the Alto55's belong to a league of their own, punching way, way above their weight. The Nota 550X's are good speakers, with sound performance aligned with their price tag.
Complaints & advices
Manufacturing, finish and use.
Considering their price, these speakers are well made, though not perfect: tweeters and reflex ports aren't perfectly aligned with the cabinet baffle, for example. The curved sides, instead, add a touch of luxury that is certainly welcomed. The supplied damping disks, to be used as the floor interface, should be avoided like the plague, as they heavily affect the speaker's performance. With spikes, that in this case are mandatory - in my opinion - the speakers sound tighter, more controlled and with a more detailed bass and mid-high range. The difference is not subtle. The foam rubber disks, paired with the low weight of the speakers, make the cabinets oscillate and vibrate. If you can't use spikes, use firmer disk/pads.
You should experiment with different distances from the rear wall. The front firing reflex port doesn't imply that you can place the speakers close to the wall, as the bass and the mid-bass range certainly do not need a boost. The claimed sensitivity of the speakers is highly optimistic: the 87dB Argon Alto55 do sound louder, with the volume knob in the same position. It is true that the Alto55 have a claimed impedance of 4 ohm and the Nota 550X are between 4 and 8 ohm, but the difference is not subtle. In any case, these Nota 550X are an easy load, and even inexpensive 20-30 watt Class D amps can get the job done.
Sound.
As mentioned, the sound lacks some harmonic content in the mid-high range, and is certainly less tight and crisp than desirable. This helps a bit with lesser recordings and entry-level set-ups, but is somehow a limit for accurate audiophile listening and high quality recordings. As for the bass range: I'd have traded some power in favour of better articulation and control.
Conclusions
Indiana Line is a company with a long tradition in the field of high quality/price ratio loudspeakers. These inexpensive Nota 550X are no expeception to this rule. Their sound is a savvy compromise, with some unexptected and welcomed surprises. If you are in the market for a speaker that can sound entertaining with most musical genres and recordings, and that will not make you experience those typical audiophile worries, the Nota 550X should score high in your wish list. Moreover, their long and well established presence in the market is a warranty that is highly desirable, in case you need spares, service etc. Audiophiles...let's take note!
Thanks to the official distributor, ASM, and to Marco Visonà, this pair under review has been donated to the Conservatory of Music of Cagliari, which will use them in the mixing room.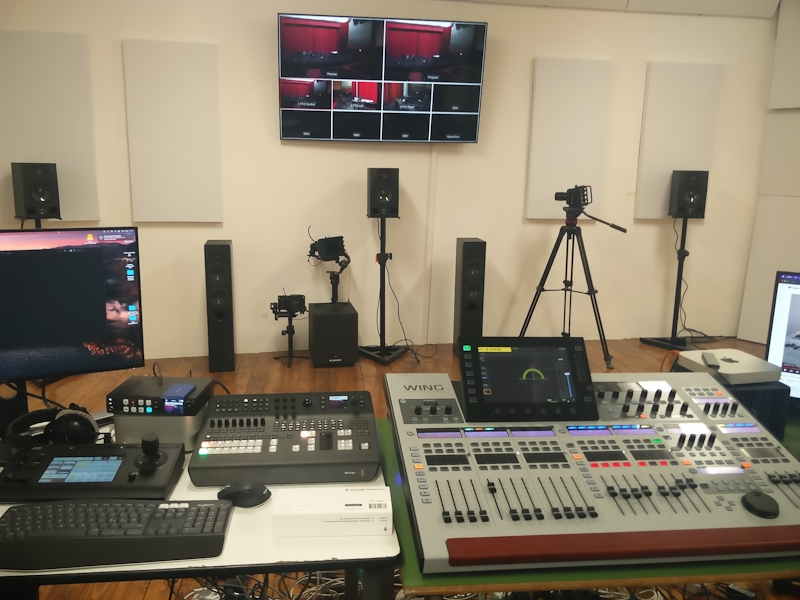 DISCLAIMER. TNT-Audio is a 100% independent magazine that neither accepts advertising from companies nor requires readers to register or pay for subscriptions. If you wish, you can support our independent reviews via a PayPal donation. After publication of reviews, the authors do not retain samples other than on long-term loan for further evaluation or comparison with later-received gear. Hence, all contents are written free of any "editorial" or "advertising" influence, and all reviews in this publication, positive or negative, reflect the independent opinions of their respective authors. TNT-Audio will publish all manufacturer responses, subject to the reviewer's right to reply in turn.


© Copyright 2023 Lucio Cadeddu - editor@tnt-audio.com - www.tnt-audio.com
[ Home | Staff & Contacts | HiFi Playground | Listening tests | DIY & Tweakings | Music & Books ]