[ Home | Staff & Contacts | HiFi Playground | Listening tests | DIY & Tweakings | Music & Books ]
Lonpoo LP42X - active loudspeakers
Never rest on your laurels!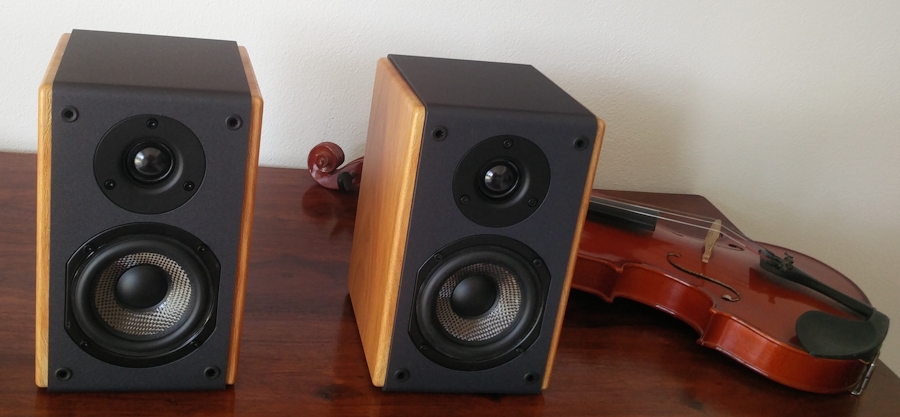 Product: Lonpoo LP42X - active bookshelf loudspeakers
Manufacturer: Lonpoo - China
Approx. price: around 90€/pair, depending on sites, offers and local shipping costs
Reviewer: Lucio Cadeddu - TNT Italy
Reviewed: October, 2021
In my recent shootout test of three bookshelf loudspeakers under 50$/€/pair, the Lonpoo LP42's were a clear winner, and by a huge margin, despite being the smallest of the group. As a consequence, the LP42's are - at this moment - the best selling bookshelf loudspeakers on Amazon.
What's next then?
Not satisfied by this impressive achievement, the Lonpoo designers have decided to release an active version of these loudspeakers. Not only, they have also modified the cabinet, which is sturdier, heavier (+16%) and cooler looking. Inside one of the speakers, a TPA3116 Class D chipset equipped amp board provides the power for both speakers. The passive speaker must be connected with the supplied 99.99% pure OFC cable. A good minijack-RCA interconnect, with gold plated connectors, is supplied as well. The external PSU is a 21 volts/2A unit (earlier versions have been equipped with a 18 volts unit). The volume can be adjusted via a potentiometer placed in the rear, while a bright red led indicates power on status (that is achieved via a switch).
The speakers accept just line level analogue signal input (via RCA o minijack), so no Bluetooth connectivity is available. According to Lonpoo, this has been done to avoid signal degradation. Moreover, no remote control is available, so you have to adjust volume from the rear placed knob or via the source volume level, putting the volume setting of the speakers to its max. A complete, well written, multi-language owner's manual, with good advices on speaker placement and use, is a welcomed gift.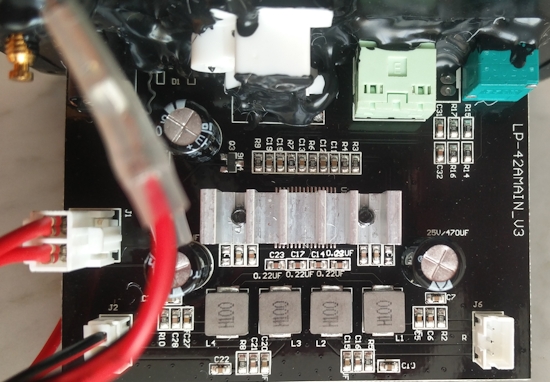 Two words about the new cabinets: the difference in weight is impressive: 1,958 kg instead of 1,688 kg (I've compared the passive speaker of a pair of LP42X to a standard passive LP42). That's a +16% boost! The level of finish is higher, as well: the sides of the cabinet appear to be made of solid wood (or a very good imitation of it) and gone are the cheaply glued vinyl veneers of the LP42's. The drivers, the binding posts, the simple crossover (actually, the very same cap on the tweeter!) are exactly the same, so the weight increase is clearly due to the sturdier cabinet only. Knocking the sides of the cabinet delivers a solid sound, while it was a bit resonant in the passive version LP42.
The internal amplifier, based on the ubiquitous TPA3116 Class D chipset (the same found, for example, in the Nobsound F900S amplifier we reviewed some time ago), supplies, with the 21 volt PSU, nearly 30 watts per channel, more than enough to make the speakers sound quite loud.
In other words, the guys at Lonpoo seem to have done their homework: not only the LP42X's are active, but also offer a better cabinet. The price difference is negligible (say, 10-15€ more). How can they do this is impossible to understand to me.
I've tested the speakers in two different ways, to understand which was the real influence of the new cabinet. I took another pair of LP42X's so to get two passive speakers, in order to be able to compare with the previous LP42. All things being equal, the only difference in performance had to be referred to the new cabinet. Secondly, I've tested the LP42X's against a World reference in the field of active monitors, the M-Audio BX8 D3 (my review here on TNT-Audio refers to the D2 older version).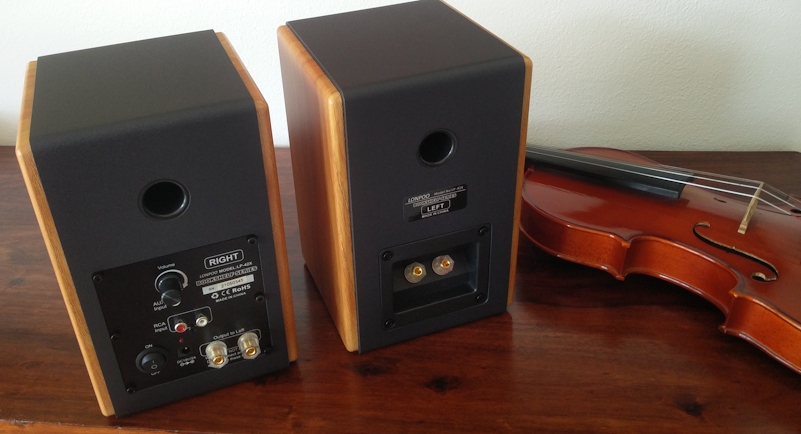 Never rest on your laurels!
I didn't expect a huge difference when comparing the two passive versions of these speakers. It is true that the cabinet influence is never negligible, but sometimes is hard to detect. Instead, the new LP42X sound a bit different, in a way that I didn't expect. A sturdier and heavier cabinet should just improve bass performance and decrease midrange colouration, because of less vibrations. Well, actually, the LP42X seem to have a more lively sound overall, with a slight tendency to a loundness-like effect: more bass and more highs. This is certainly welcomed with lesser recordings, that benefit from a slight injection of liveliness but, sometimes, it appears to be too much of a good thing on better recordings. In this case, indeed, the previous LP42, though less spectacular, sound more evenly balanced and musical. Not a night/day difference, but certainly audible. It is the high range that appears to be more pronounced. This adds some spark to the sound, but sometimes it can be excessive and makes certain recordings too bright to my taste.
Summarizing, I certainly preferred the new cabinets on lesser recordings, and the old ones on good recordings. Strange as it may sound, but this is my verdict.
When used as standard active loudspeakers, these LP42X are simply stunnning. Let's say unbelievable, for the price. I was expecting the bigger and much more expensive M-Audio BX8 to trash them in every area and...no, quite the contrary happened! The small LP42X deliver a sound that is faster, better articulated, cleaner, more controlled and with a presence effect in the midrange (voices and strings) that is simply unreachable by the M-Audio BX8's.
You might expect the bass to be vastly better with the bigger M-Audio's, but this isn't exactly the case. Oh yes, the bass is more powerful and slightly more extended, but it lacks speed and control, when compared to the LP42X's (provided these are installed close to the rear wall).
Even recordings of double-bass solos are much more realistic, involving, thumping. The bass of the M-Audio's is bigger, but definitely slower and out of control. Without a direct comparison this is hardly noticeable, but I can't avoid underlining this unexpected difference in performance. The friend who loaned his BX8's for the comparison test was highly upset and planning to sell his speakers.
Especially in small rooms, the LP42X's beat the BX8's by a good margin. As per power output (SPL) clearly the BX8's can sound louder, but the SPL the LP42X's can produce is completely sufficient for a standard room or for near field applications. All of this at a fraction of the price (and of the size). Impressive, to say the least.
Considering these speakers can be held in the palm of your hand, cost less than 100€/pair and deliver a sound that can embarass bigger and more expensive loudspeakers, I can say these are an insane bargain, just too good to be true. For anyone who wishes to build an inexpensive and good sounding home studio, or an entry-level HiFi system using just a PC or smartphone as source, the Lonpooo LP42X's are some of the wisest and smartest choices that can be made. The competition will have a very hard time trying to beat these babies.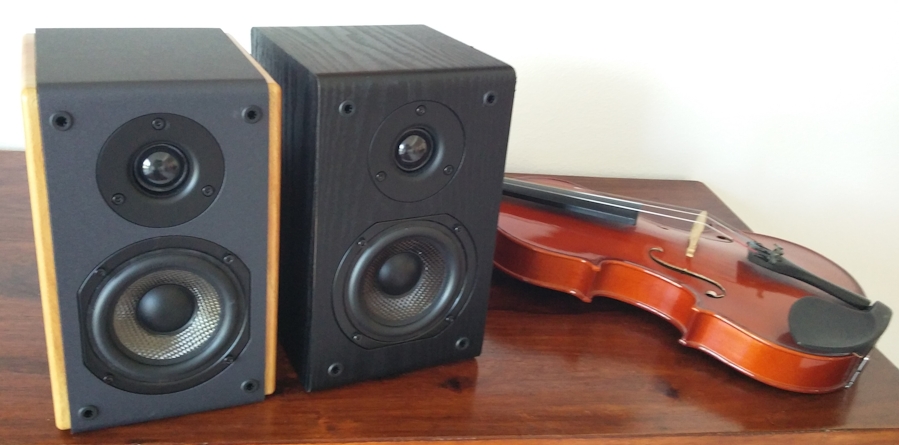 Lonpoo LP42X (left) and LP42 (right)
Some advice/tweaking
You might try a beefier external PSU, the TPA3116 can be powered up to 24 volts (to get some extra watts of power output), though Lonpoo hasn't tested the board for this voltage. You might use a PSU with 21 volt and more amperes of current output. Do not expect a huge improvement though, as I've tested the pair of passive LP42X's with external amplifiers and yes, the sound gets better, but not as one might expect. The max SPL, of course, is mainly limited by the size of the drivers, not by the power of the internal amplifier board.
The supplied 2 meters of speaker cable that connects the active speaker to the passive companion is of very good quality but, of course, you can try something better, if you wish to experiment. Even the supplied minijack/RCA interconnect can be improved. Some audiophiles have tried better caps on the tweeter, I'll eventually update you in a upcoming follow-up review. Feel free to experiment and report your results. Adding a small resistor to the tweeter might tame the high range a little bit.
Complaints
Manufacturing & finish. It's hard to complain, considering the performance/price ratio. The cabinet has been improved, indeed, and the price has remained the same, if you consider the extra cost of the internal amp, the supplied cables and the external PSU. Unfortunately, these speakers lack Bluetooth connectivity and a remote control to be just perfect. Lonpoo, please add these features, eventually a slight price increase would not affect the stellar quality/price ratio of these babies.
Sound. A bit more lively than the previous LP42's, these speakers can sound too bright with certain musical programs. If that's the case, put them closer to the rear wall to get a more evenly balanced sound.
Conclusions
When all's been said and done, I can't imagine a better, easier and less expensive way to build a good sounding system: just add any line level source and you're done. These speakers can give you a hint of audiophile sound at a price that's too low to be true. I'm open to change my mind, so I expect competitors to do something better, sooner or later. I'm here to listen to your proposals :-)
DISCLAIMER. TNT-Audio is a 100% independent magazine that neither accepts advertising from companies nor requires readers to register or pay for subscriptions. After publication of reviews, the authors do not retain samples other than on long-term loan for further evaluation or comparison with later-received gear. Hence, all contents are written free of any "editorial" or "advertising" influence, and all reviews in this publication, positive or negative, reflect the independent opinions of their respective authors. TNT-Audio will publish all manufacturer responses, subject to the reviewer's right to reply in turn.

© Copyright 2021 Lucio Cadeddu - direttore@tnt-audio.com - www.tnt-audio.com
[ Home | Staff & Contacts | HiFi Playground | Listening tests | DIY & Tweakings | Music & Books ]