[ Home | Staff & Contacts | HiFi Playground | Listening tests | DIY & Tweakings | Music & Books ]
Halloween HiFi - trick or threat?
Building a perfect Halloween night HiFi system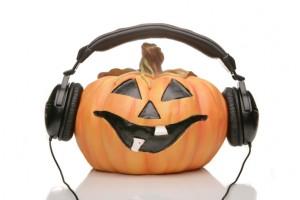 Author: Lucio Cadeddu
Written: October 31, 2014
Choosing the right HiFi system might be difficult, considering how many components and brands are available in the overcrowded HiFi market. Things become easier if you decide to build something really special purpose, for example the perfect HiFi system for Halloween. Here's, just for you, a brief guide on few brands that can be perfect for this special event.
First of all, if funk is what you're all about for Halloween, you can't even start building such a bizarre HiFi system without some component from The Funk Firm. Based in Denton Island, Newhaven, UK, the Company makes some very good sounding turntables, tonearms and accessories, such as the brillant Achromat turntable mat we reviewed in 2007. If your Halloween system has to play black vinyl you can't go wrong with a Funk turntable and tonearm combo.
You might then add a Transfiguration cartridge, made in Japan by Mr. Seiji Yoshioka of Immutable Music and distributed in the US by (hear hear!) BlackBird Audio!
Any good analogue replay systems needs a good phono preamplifier. For your special Halloween night set-up you can choose from a variety of different solutions: Primaluna (First Moon!) make some fine tube preamplifiers with phono boards. Based in Vlijmen (The Netherlands), Herman van den Dungen's Company has earned a very good reputation among audiophiles for their fine and affordable tube components. You might even pick up an evanescent and elusive Audible Illusions preamplifier, equipped with their famous phono boards.
Otherwise, can you imagine a Halloween night without ...bats? Get real and choose a BAT phono preamplifier or full line preamp. This US Company, based in Wilmington, makes some very nice preamps and amps, all based on their credo: Balanced Audio Technology!
If you don't like bats, what about a Spectral apparition instead? You might choose one of their fine solid-state preamp and power amp combo to give voice to your favourite Nick Cave and the Bad Seeds album.

Perhaps you might consider throwing in some mysterious amplification as well, if so, look no further than Mystère tube amplifiers, again from The Netherlands (Vlijmen, again). Integrated amps, preamps and power amps, all equipped with the finest tubes around.
If you're looking for a digital threat you should look no further than Moon or BlackNote or, again, Spectral DACs and CD players.

Finally you need speakers, headphones and cables. As for speakers, you can consider purchasing a pair of Magico floorstanders. Built in Hayward, California, these no-compromise loudspeakers will certainly terrify your bank account. To connect all these components together let me suggest you look for a complete set of, guess what?, Voodoo cables, possibly equipped with Vampire Wire connectors and bananas. Finally, for some private listening during this deep Halloween night, let me suggest you find a pair of Abyss headphones.
As for music to play, you have such a vast choice but may I suggest a real classic? Here's Black Sabbath performed by the band itself!!! Or, if you wish, Sonic Youth's full album titled "Bad moon rising" (it includes a song titled "Halloween").

© Copyright 2014 Lucio Cadeddu - editor@tnt-audio.com - www.tnt-audio.com
[ Home | Staff & Contacts | HiFi Playground | Listening tests | DIY & Tweakings | Music & Books ]