[ Home | Staff & Contacts | HiFi Playground | Listening tests | DIY & Tweakings | Music & Books ]
October 2021 editorial
Sonova acquires Sennheiser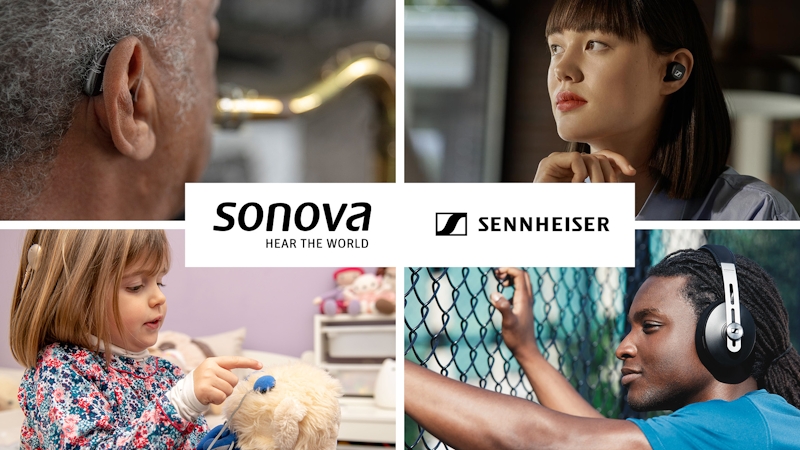 Author: Lucio Cadeddu - TNT Italy
Published: November, 2021
By the end of 2021 the transfer of the Sennheiser Consumer business to Sonova will be complete. It had been announced by May 7, 2021 and everything will be completed in a couple of months. For the ∼600 employees who will transfer to Sonova, the move to the internationally operating and well-positioned company, headquartered in Stäfa, Switzerland, should open new opportunities.
We audiophiles know Sennheiser for being a leading HiFi Company which specializes in high quality headphones, renowned for first-class sound and excellent product quality for over 75 years. But, wait, who is Sonova??? Certainly it is not a HiFi company! If you have hearing problems, you might already know Sonova. Indeed, they are a global provider of medical hearing solutions.
Funny as it might seem, with the takeover of the Sennheiser Consumer business, Sonova will be adding headphones and soundbars to its hearing care catalogue. Does this mean we audiophiles are growing old and going to need medical hearing aids in the near future? :-)
Let's imagine the scenario: looking for upgrading your Sennheiser headphones? Buy some Sonova hearing aid device instead. Sounds like a plan.
More seriously, does this imply Sennheiser is quitting high quality audio business? Co-CEO Dr. Andreas Sennheiser tries to explain the decision: "The combination of our strengths provides a very good starting point for future growth. We are convinced that Sonova will strengthen the Sennheiser Consumer Business in the long term and capture the major growth opportunities".
This doesn't explain much, actually. The main point is that the guys at Sennheiser are aiming to concentrate efforts and resources on three different areas only: Pro Audio, Business Communications and Neumann business, with a focus on digital services. What will happen to Sennheiser high quality headphones then? Accordingly, Sonova will also take over the development and production areas of the Sennheiser Consumer division. The hope is that the legendary audio quality of Sennheiser headphones will be preserved, as it would be a waste to see such a musical and technical heritage getting lost.
Meanwhile, you might wish to read our reviews of some Sennheiser headphones: HD600, HD650 vs HD497 and HD800s.

Copyright © 2021 Lucio Cadeddu - editor@tnt-audio.com - www.tnt-audio.com
[ Home | Staff & Contacts | HiFi Playground | Listening tests | DIY & Tweakings | Music & Books ]