[ TNT | Who we are | HiFi Shows | Listening tests | HiFi Topics | Tweakings | Inter.Views ]
Lucio Cadeddu - Editor-in-chief
[Italian version]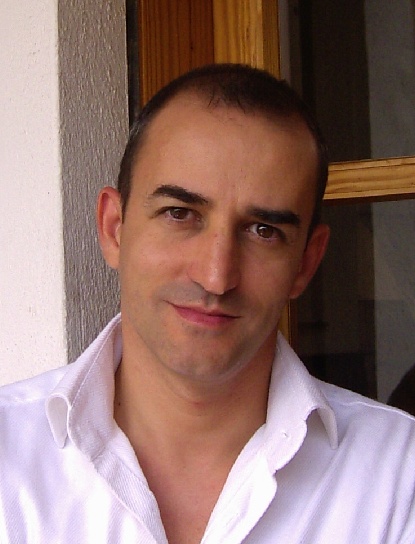 Since many of you asked for more infos about the man behind TNT-Audio here's a short resumee of my various activities. For a larger view :-) click on the image at your left.
I was born the 5th of December of a cold 1965.
I live in Italy, well, actually in Sardinia, the big island in the Mediterranean Sea below Corsica, a land of palm trees, windsurfers and mild weather.
My career as an hifi-addict started when I was 13, reading some HiFi magazines of the time. Though I was a student I worked hard to earn a little amount of money in order to buy my first HiFi system.
I needed a good HiFi to listen to my fav Music: rock, new-wave and heavy metal (hey I was 13, after all :-) ).
Serious job
Then I upgraded from student to professor when I was 26 and now I teach Mathematics at the Dept. of Mathematics of the University of Cagliari. I love my work and it keeps me busy 10 hours a day, five days a week.
I'm a researcher in the field of partial differential equations, mainly with strongly singular initial data. I've published some paper in various international math reviews.
I work also as a System Administrator of a Linux Web server in our Dept and also administrate an internal mailing list with majordomo. I work also as Internet responsible for the Dept., being the Webmaster of our official site. Take a look at it HERE.
My interests in Music brought me to study the relations between Maths, Fractal Geometry and Music. Some weeks ago I held a seminar on these topics for a broad audience, a sort of multimedia happening where I have shown some computer-generated fractal images and listened to some fractal Music, including some Goldberg Variation from J.S.Bach.
I've learned my little English mostly thanks to the Internet. I also speak French and can read Spanish.
Serious Fun - Audio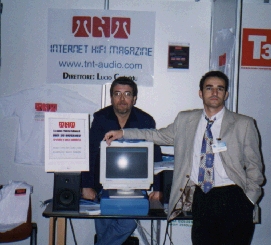 Well, first of all there's Music (I own a quite good LP and CD collection) then, as a logical consequence, there's HiFi Audio. Any Music lover should own a decent HiFi system, in my opinion.
Here you can see me at the TNT-Audio booth during the Top Audio Show in Milan (1997). I'm the guy on the right with the funny tie :-) while the guy behind the table is Daniele Sabiu.
As an audio-addict some years ago I decided it was time for setting up a brand new concept of HiFi magazine: totally non-profit, banner-less and no-advertising. And this is TNT-Audio, the mag you're reading right now.
Here I act as Webmaster, Editor, Director, graphic-designer and translator. Recently several TNT readers have joined us and are now lending a precious hand to edit HTML files, make and supervise/proof-read translations.
If you want to know more how all this is possible without advertising and money from HiFi Companies and/or subscribers, please read our articles Who pays for this? and What's TNT-Audio, actually?.




Serious Fun - Fast Italian cars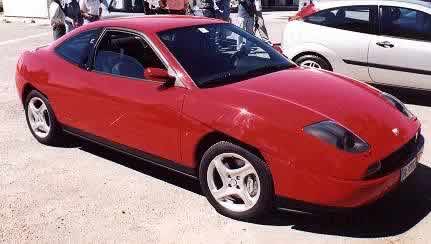 Then I'm very fond of Italian cars, especially Alfa Romeos: I manage a web site dedicated to my fav Alfa Romeo, you can visit it HERE (in English only).
From time to time I write articles for some US car magazines/newsletters, for example you can find something from me on Alfa Owner, Overheard Cams and La Pilota.
Recently I've bought a new, scary fast car. It is a Fiat Coupé 2.0 Turbo 20V 5 cylinders with only 220 HP and 310 Nm of torque.
Top speed 252 km/h (tested) and 0-100 km/h in just 6 seconds.
Speedline rims, Pirelli P-Zero Asimmetrico tires, Brembo discs and calipers. And a beautiful HiFi set :-)
Isn't SHE lovely? :-)
Serious Fun - Cycling
I'm very fond of cycling too: I've created and now manage the one and only mailing list devoted to European cycling, Eurobike@yahoogroups.com
This mailing list has now more than 300 members worldwide and managing it is becoming quite time-consuming.
I've also been the Webmaster of the Eurobike official site.
I'm an amateur bike racer and train a couple of times a week, both on-road and off-road. I'm the 2001 Provincial mountain bike Champion, cross-country, UDACE federation.
I also manage another web site dedicated to Cycling in Sardinia. This website includes some tour reports, trip proposals and every other precious info for the biker willing to have a cycling holiday in this wonderful island of sun.
I think this is enough for a day with just 24 hours :-)
More infos (Italian language required) can be found on my personal website www.luciocadeddu.com
© Copyright 1998-2001 Lucio Cadeddu - www.tnt-audio.com
[ TNT | Who we are | HiFi Shows | Listening tests | HiFi Topics | Tweakings | Inter.Views ]