[ Home | Staff & Contacts | HiFi Playground | Listening tests | DIY & Tweakings | Music & Books ]
The 2018 Audio Show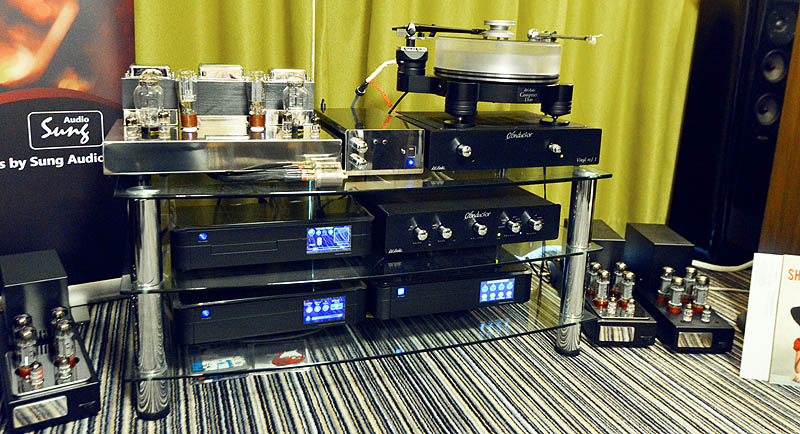 Chester Group Show Lands in Leamington Spa
Some UK premiers, some good chat and some good sounds
[Italian version here]
Event: The Audio Show 2018
Organiser: The Chester Group
Ticket Price: £15
Author: Mark Wheeler - TNT UK
Visited: September 2018

Falling for Autumn Audio
The hotel venue, set in beautiful countryside close to the motorway network means that the Woodland Grange is reasonably central for all of England and Wales and the central belt of Scotland. The area is sufficiently attractive to tourists, that a weekend away with non-audiophile relatives and friends would be splendid, in Shakespeare's own county.
"Enough of the tourism plug; tell us about the show," demand the Plebs' Chorus, stage left
It is worth repeating that with HiFi shops no longer open on every high street in the UK, that audio shows are an essential place for enthusiasts, who are, after all, customers, to see and hear equipment in the flesh. When most of the show-goers were young first home purchasers, most towns in the land boasted competing audio outlets competing for business and offering different ranges. Now very few cities in the UK, let alone modest market towns boast a dedicated store. The purchase of a first serious audio system used to be a rite of passage like the purchase of the first motorcycle or car, but is now confined to the hardcore enthusiast, while in other countries just developing such levels of disposable income, the markets are growing. This is why this show, dedicated purely to stereo, is important to Real Stereo enthusiasts.
Organiser: The Chester Group
have experience organising high-end stereo shows in the UK, USA and Australia for years. Their abilities are obvious when they quickly and unobtrusively resolved arrangements problems for exhibitors, your Old Scribe and public alike. The venue is designed for hosting conferences and trade shows as well as providing accommodation. These factors must be a boon to those new to the business or to the UK. This helps ensure the appearance of products and exhibitors previously unseen on thse shores.
The upside and equally the downside of this is that the room sizes, shapes and construction varies considerably, so comparing sounds from room to room is impossible. Therefore there will be no comment on the sounds...
"No comments on the sounds?" challenge the Plebs' Chorus, stage left, "What kind of an audio report is this?"
The kind that will not judge out of context, in order to avoid misleading readers. There were some tiny rooms with solid construction, some big rooms, square rooms with suspended ceilings (causing one exhibitor to trawl every shop in the vicinity for Blu-tack to stop the ceiling tiles resonating along with the music. There were over 70 manufacturers represented, and your Old Scribe found them all to be so affable and informative that time ran out before 5 of the 32 rooms had been visited. The missed rooms included Audio Note UK who are great audio show supporters and usually have something of a party atmosphere towards the end of the day, hence being planned for a late visit and Audio-Technica with their recently launched their improved classic designs.
In the exhibitor rooms
There were new manufacturers launching brand new products. One of the first rooms reached from the foyer featured loudspeaker newcomer Node Audio who tick your Old Scribe's speaker boxes, with 3 points of support, transmission lines and curved cabinets.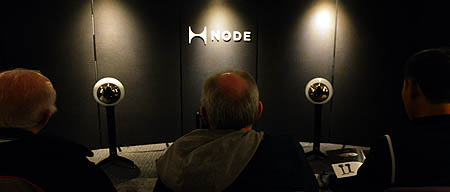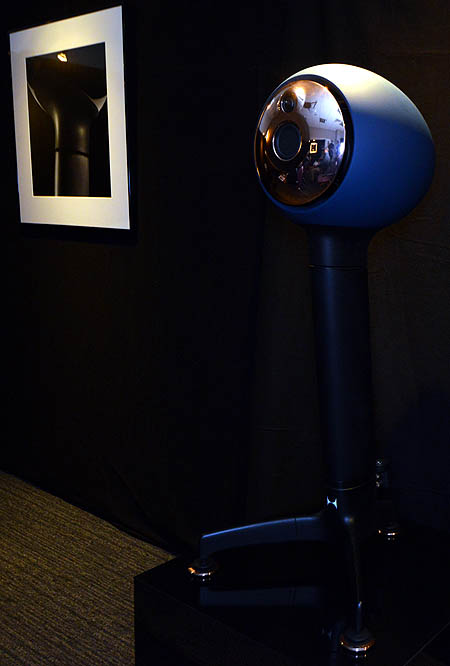 Another innovative loudspeaker making it's show debut is the Mellow Audio FrontRo electrostatic hybrid. Mellow is a state of mind advocated by the Merry Pranksters, but is also the name of the designer of these unusual transducers, Tim Mellow. This bijou circular electrostatic panel with annular rings, arranged differently from Quad's ESL63 et al, covers 600Hz-20kHz. A modest 135mm bass unit takes over below 600Hz to cover down to 40Hz in room, necessitating an even more modest 84dB from the first 2.83VRMS.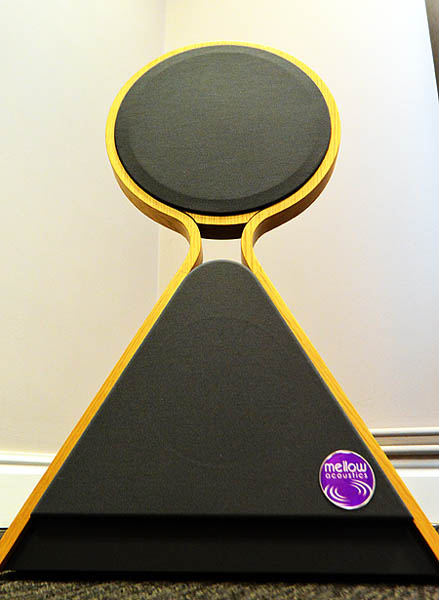 Another innovative loudspeaker concept, building on a previously unique British loudspeaker concept, is that of MARKAUDIO-sota. Designer Mark Fenlon draws on the famous research and production model experience of former Googmans employees, Ted Jordan and Doreen Bance, who developed the pioneering Jordan 50mm module (foil skinned full range driver), the Jordan-Watts satellites and the Bandor (from BANce, DOReen) aluminium driver ranges. Mark adds his own twist (actually compound curves) to take the almost full-range concept further and includes some custom machining in the cabinet technology too.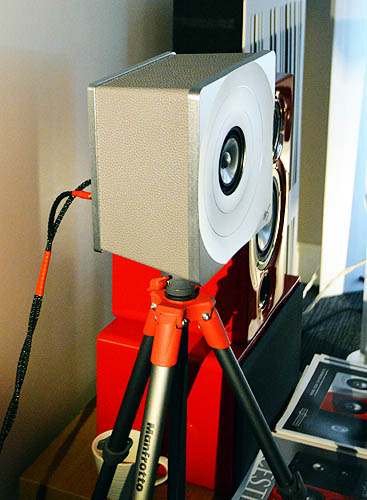 In conversation about the great audio pioneers of Yorkshire, on my mentioning Richard Allen, Jim Szemeti of Arcaydis told me the story of how he came to be making and marketing designs by the still sprightly Richard Allen. Still made in Yorkshire, with spectacularly complex inert Arcolam cabinet construction (including your Old Scribe's favourite birch ply and real wood veneer) the larger EB2S model are available at a wallet friendly £799 for a classic British two-way of impeccable pedigree. These are the latest incarnations of a line that Richard Allen created from 1997 until production volume problems led to closure in 2013. Richard Allen also marketed electronics, back in the day, and this system was controlled by the tiny valve hybrid Aeron C-101 DAC/pre-amplifier/headphone amp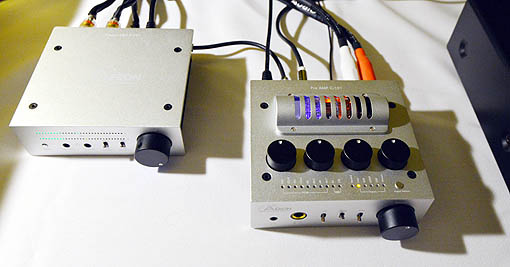 Established, but still original and innovative, are Waterfall loudspeakers. The choice of glass makes these both less resonant and less obtrusive than veneered boxes.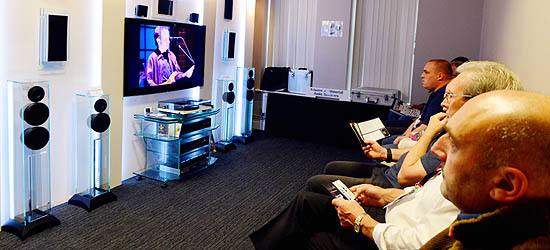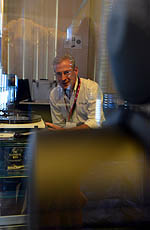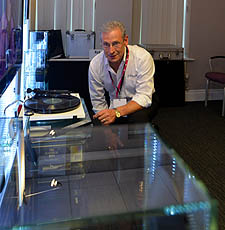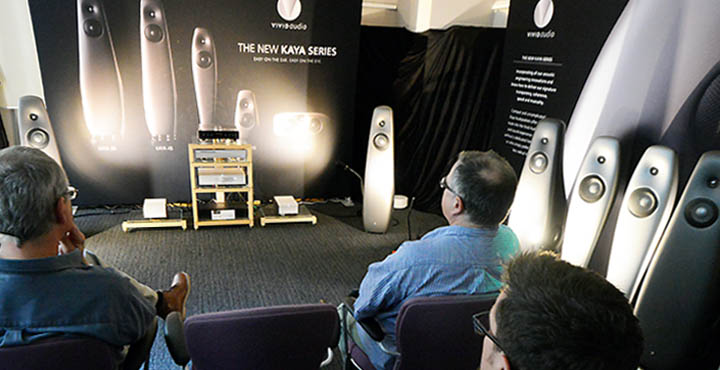 Vivid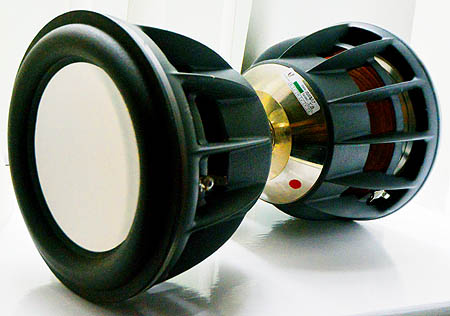 Music First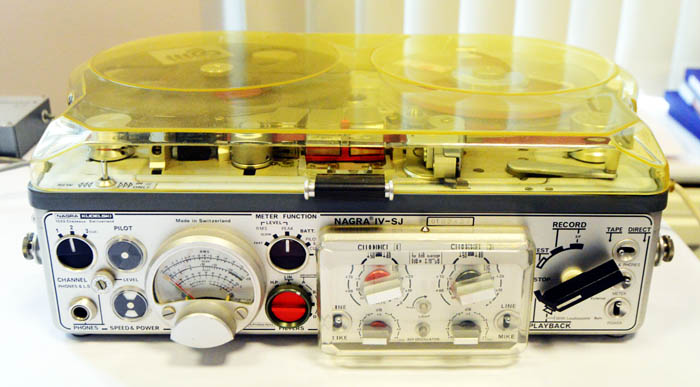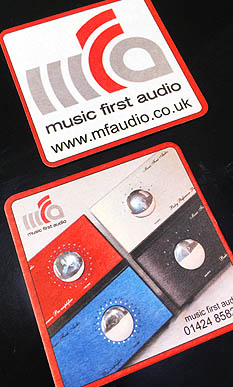 and there's more...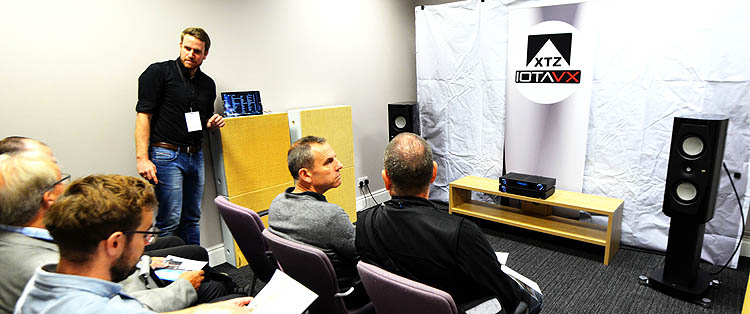 Kerr doing sterling service for MCRU (another of the Yorkshire HiFi posse)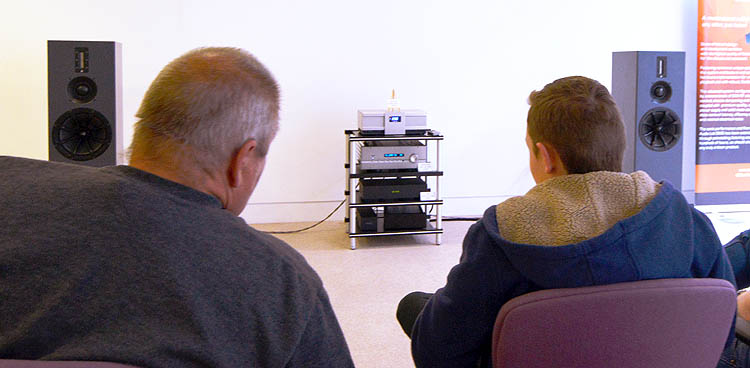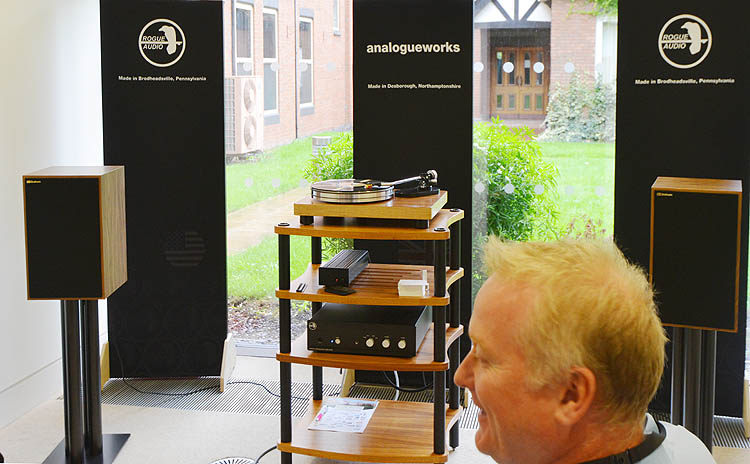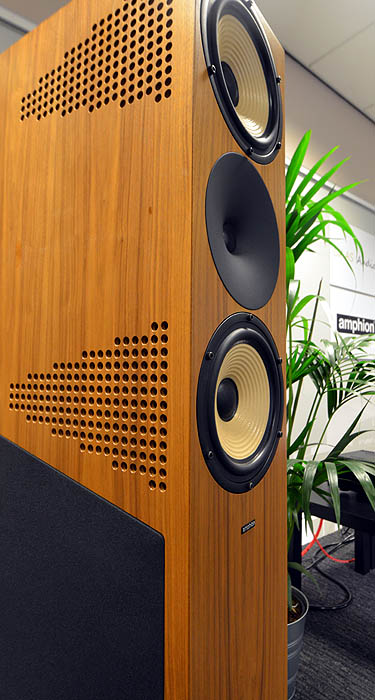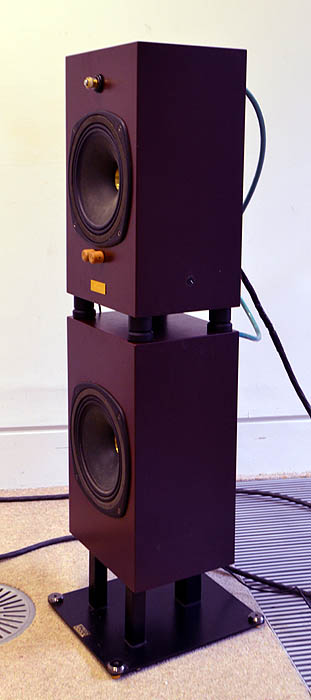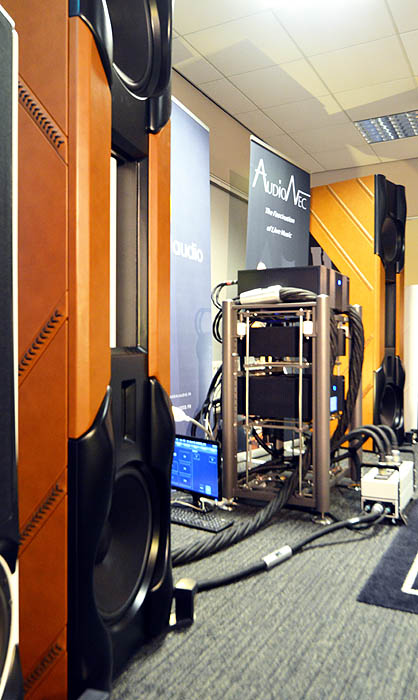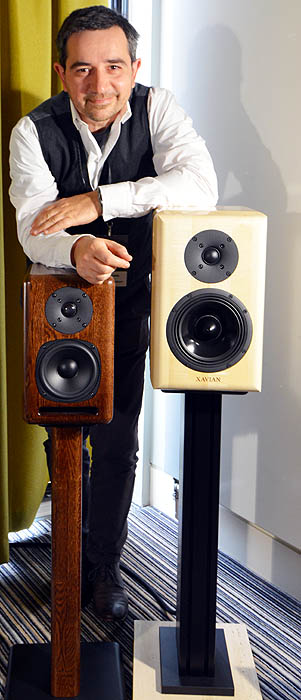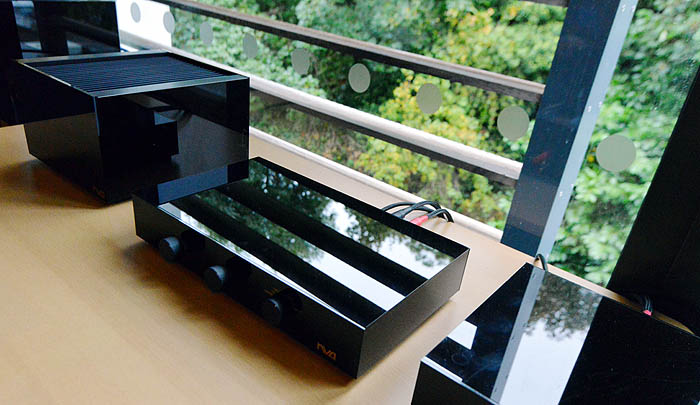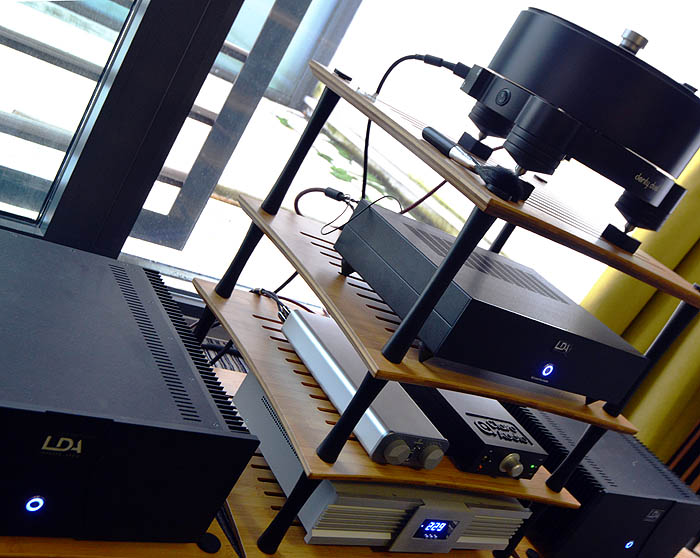 Conclusion
If you're in England, Wales or Central Scotland for the 2019 show, it is worth the effort to get there for a whole day to relax and chat with the makers and importers and listen to what they have to offer. If 2019 is anything like 2018, there will be new faces and new products.
If you're an exhibitor, please avoid HiFi show clichés. The ageing population of audio aficionados will gradually go deaf and eventually die and there won't be any younger recruits if all that's heard at audio shows is their Dad's or Grandad's music.
On gender: the only words I heard from a female visitor were, "Well you're not bringing those things into the house!".
If anything, there are fewer womnen interested in audio than in the past, possibly put off by petty factional squabbling displayed online in discussions. Regardless of gender, socio-economic status, sexual orientation, race or musical tastes, audio shows need to attract those casually interested in hearing more from their music at home. Shows like The Audio Show 2018, where everyone seems friendly, chatty and open, are the perfect introduction to the splendours of good sounds at home, where young and old can gather round the turntable, bathed in thermionic warmth, wreathed in joyful mutual audio experiences.

Copyright © 2018 Mark Wheeler - The Old Scribe - www.tnt-audio.com
[ Home | Staff &Contacts | DIY & Tweaks | Listening tests | HiFi Playground | Music & Books ]