[ Home | Staff & Contacts | DIY & Tweaks | Listening tests | HiFi Playground | Music & Books ]
Spending a Weekend in Guitar Heaven
Part One
[Italian version]
Event Coverage by Scott Faller - TNT USA
Published - July, 2004


Trivial Bits
For about the past three or four tours (might be five now, I've lost count), my lovely wife and I have flown to Dallas Texas to see Eric Clapton do his opening show for his North American tour. My brother Billy has lived in and around the Dallas area for about the past twenty years or so. Billy is a Methodist preacher. The absolute last profession you would have expected him to settle in, especially if you knew him back in the mid 60's and early 70's. I guess a low number in the draft can have that effect on people.
Billy actually recieved his calling when he was in the service and has been spreading the good word to all ever since. If ever you are in the Dallas area on a Sunday, drive on down to Joshua Texas just outside of Fort Worth. There you will find peace and salvation served up by my big brother. He's actually a really good preacher.........for a Methodist.......(oh I'll see some time in Purgatory for that one).
Both of us being a product of the 60's and 70's, Billy and I grew up listening to radio in its prime. For us it was KSHE 95 in St Louis. They boast being the oldest, continuous rock station in America. Back then they called it AOR (album oriented rock). Once upon a time, this radio station kicked some serious booty. They played anything and everything that was good. Programming was left up to the disc jockeys. Anything they found that sounded good got played. Back then the corporations hadn't taken over. Advertising was sparse. About the only advertisers on the station were the local head shops, the occasional pizza parlor and the then fledgling concert promoters. In turn, the music was raw and fresh. It wasn't this over-hyped, homogenized putrescence we hear on the radio today. KSHE 95 was where we both fell in love with Eric Clapton.
Billy has gone off the deep end with Clapton. He has a database that he keeps track of the all Clapton memorabilia he has. From bootleg recordings to cameo appearances on stage or in studio with other groups, he has it all. A couple of years ago I bought him an original concert promotion poster for Christmas. It featured Cream, Taj Mahal and the James Cotton Blues Band from some obscure venue in 1967.
To Billy, Clapton is God.....like (remember he's a preacher).
OK, I'm Back on Track Now
Going back a few months, Billy is sitting in his Texas Sports Car (a short bed pick up truck) listening to Sirius (one of the two satellite based, subscription radio stations here in the States) and they announce that Clapton is going to be hosting a major event in Dallas Texas. It's the Eric Clapton Crossroads Guitar Festival. It's going to be three days of concerts, workshops, displays and general mayhem in the Texas summer heat. Needless to say, before the promo is finished, he's spun my number up on the cell phone.
If you all remember, EC supposedly retired from touring about two years ago. The Reptile Tour was supposed to be his finale. Oh well, somewhere in the back of my mind I knew retirement from the road wouldn't last. Major stars, heck even local performers, can't stand to be without an audience for more than a few months. They thrive on the energy that an audience gives them. I know from personal experience living with a performer, things like mini-depressions can set in if you spend too much time away from the stage. So EC's return to touring was welcomed, at least by us.
Back to the phone call. I've got brother Billy on the other end of the phone sounding like a giddy school girl saying Eric's coming, Eric's coming, we've got to get tickets. Then he proceeds to tell me about the event. As he walks in his office, we both dial up the Sirius website at the same time and look at who all is going to be there.
Here is a copy of the final lineup for the talent.
This is going to be a once in a lifetime event. Well, maybe not a lifetime, but damned close. Almost anybody that's anybody is going to be there. Needless to say, when I got home from work that night, I told my lovely wife that we were going on a road trip.
With an event like this, Clapton needed a large venue to pull it off. Fair Park in Dallas was a logical pick. You've got the Cotton Bowl that seats about 70,000, plus they've got large ancillary buildings to hold all kinds of other smaller stages and vendors. Other than the fact that the Cotton Bowl (proper) is a bit knackered and it sits in a not-so-nice part of town, it's a good choice. Fortunately it's completely surrounded by cast iron fencing and was well guarded, making it a small island fortress in a sea of transgression.
This event being put on by EC is actually a benefit to support Eric Clapton's Crossroads Centre located on the island of Antigua. The Crossroads Centre is a drug and alcohol rehab center for those who can't kick the habit on their own. As part of the fundraiser the best part of a dozen well-known guitars are being auctioned at Christies in New York. They estimate the auction sale to bring in between 1-2 million USD. A tidy sum to say the least. Couple that with the proceeds of the weekend events and Eric should have a very successful fundraiser on his hands.
A few months later when tickets actually went on sale for the event, we logged onto Ticketmaster and ordered up four for all three days. Rumor has it that the Sunday Grande Finale sold out in three hours. Thankfully we were online ordering tickets right at 10am the morning they went on sale.
As the days passed, I starting thinking to myself, Hey, I'm a member of the press, why can't I apply for press credentials and cover the event for TNT? So that's just what I did. I tracked down the concert promoter who also happens to be Clapton's publicists. One of the guys there sent me a form to fill out. A few weeks later they contacted me saying that my application for press credentials had been approved. Extremely Cool. This means I'll have access to places and people we normal people never get.
I called Billy and let him know and he almost had a coronary on the spot. See, I told him that for the weekend I was going to make him an honorary reporter for TNT (shhhhh, don't tell the boss). That means he gets to go backstage and all the other places with me to do interviews (hopefully), legally take pictures of the concert and just hang out with all of the other press geeks. I think that made his decade.
In planning for the trip, I spent loads of time coming up with tons of interesting questions for all of the big artists. If you read the lineup again, there were over 25 separate events featuring over 50 performing artists. There was no way of knowing exactly who (or if) we were going to be able to interview so I narrowed my questions to the guys that interested me.
As fate would have it, all of the major stars (with the exception of a very few) didn't make themselves available for an interview (at least to us and the other press guys I met). We did get to sit down with Tommy Shaw and James Young (JY) of Styx (look for an upcoming article). A few guys Like Steve Vai and Vince Gill made themselves available for brief interviews after coming offstage Sunday but I was busy trying to track down Pat Metheny's publicist for an interview (which I did, TYVM). With some luck, I've got a phone interview with Pat as soon as he comes out of the studio from finishing his upcoming release. I love this job!
So lets get on with the event coverage.
Over the course of the weekend I snapped the best part of 500 pictures. If you've ever played photographer, you know that not every shot you take ends up worthy of publication. Of those 500 shots, I ended up with about 100 or so worthy of reproducing. Of those there are usually only four or five jewels. Over the years I've learned to dislike flash pods for cameras. They tend to wash out the subject you are shooting, even with the proper lighting and filters. Somehow they look un-natural. In turn all of my pics are taken without the aid of a flash. I used only the natural and stage lighting provided. In some of the stage shots taken, you may see some minor motion (trails), but to me, it just adds to the effect of the subject. Although I shot these in 1600 x 1200 mode and the originals kick butt, I had to reduce their size and compress them pretty heavy to save space and bandwidth for this series of articles.
Friday June 4th, 2004
On Friday the press got an early entrance to Fair Park. Everybody got a preview of the weekend's events. As you might expect (if you know me), we were late for the tour but that is par for the course. So we just spent the time roaming around looking at the venue.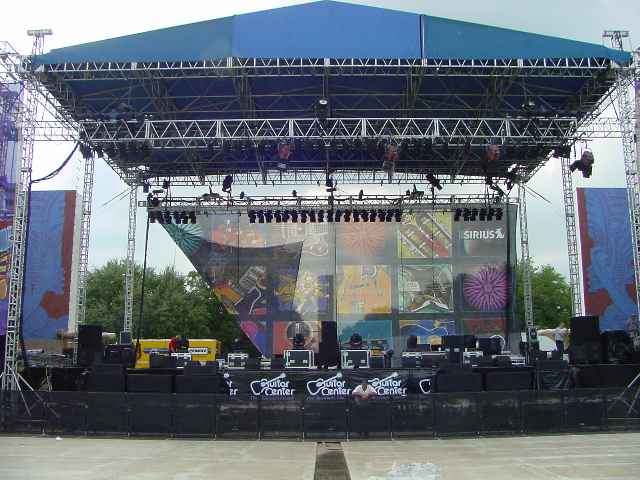 The Guitar Center Stage
Between the two exhibit buildings was a courtyard that housed the main Guitar Center stage. This is where the main concerts were held on Saturday. The sound system was provided by EC and is part of his Me and Mr. Johnson tour. The main monitors were Meyer Sound. There were two stacks of nine monitors flywired on each side of the stage. Two groups of eighteen, 24" subs were in front of the stage (right where I was standing for most of the pics, more on that later).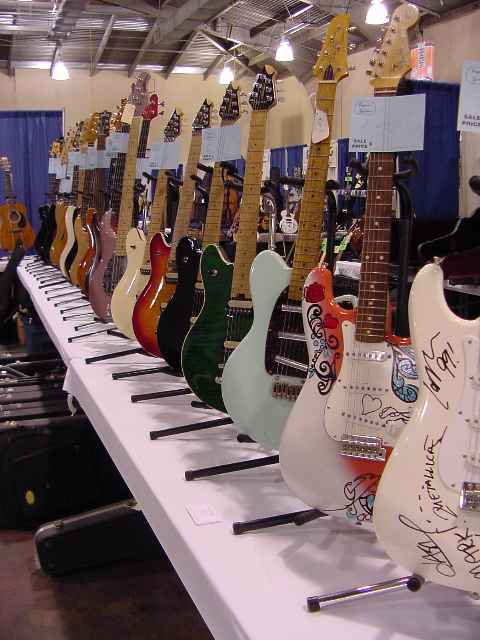 Just a Small Sample of the Guitars For Sale
In the building to the left of the stage, a dozen or so independent vendors showed up selling new and used guitars, amps, keyboards to memorabilia. Talking to one of the vendors, he said that sales were booming. So much so that he had to go out and bring back more stock to sell.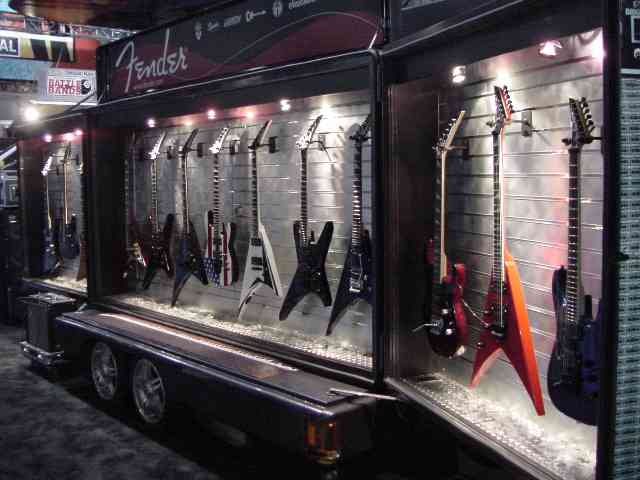 The Fender Wagon
In the building to the right of the Guitar Center stage housed all of the major manufacturers like Fender, Ibenez, Crate, Martin and Yamaha (only to mention a few). There were two more music stages (the Sirius Stage and the Ernie Ball Stage). Segregated by themselves in a separate part of the building were about twenty of the guitars up for auction at Christies. The most collectable of the 80 plus guitars up for grabs, were displayed like pieces of fine art in a museum. Each one was set on it's own podium with velvet ropes surrounding it and a small placard in front of the display that told you a bit about the guitar.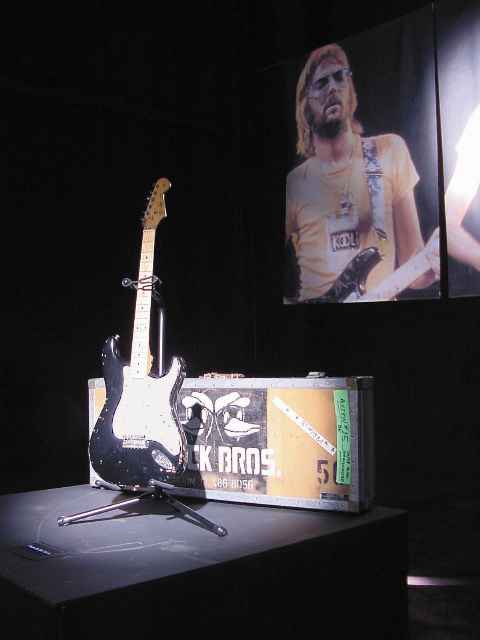 and now for your viewing pleasure.....Blackie
The star of the auction is Eric Clapton's composite 1957 and 1958 Fender Stratocaster that he calls Blackie. This is the guitar that EC used through all of the 70's and half of the 80's for both his studio recordings and tours. Songs like After Midnight, Cocaine, Blues Power and Lay Down Sally were either recorded or composed on this guitar. The auction estimate for this guitar is between 100,000 - 150,000 U.S. dollars.


Standard Crash 3 pic
EC was playing Crash at the festival so it was't on display
Another one of EC's more famous guitars (in recent years) up for auction is the latest Stratocaster incarnation that boasts a unique paint job by New York City Graffiti artist named Crash. The guitar nicknamed Crash3 has seen a lot of action in recent years and has been EC's primary stage guitar.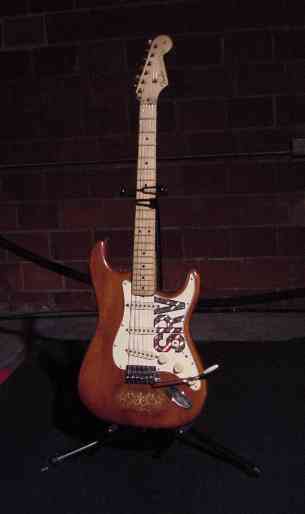 Some damned fine music was made on this guitar.
Another one of the more collectable guitars up for auction is Stevie Ray Vaughn's 1965 Strat that he called Lenny. This particular guitar was used throughout Stevie's life. It first appeared on Texas Flood where Stevie dedicated a song called Lenny to his first wife. Stevie continued to use this guitar on the rest of his albums and when he performed live. Jimmie Vaughn very graciously donated this guitar to the Crossroads Antigua auction.
The guitars being auctioned off aren't just limited to Eric's personal collection. Pete Townsend, Roger Waters, Larry Carlton, Pat Metheny, Carlos Santana, Jimmy Vaughn, Hubert Sumlin, Steve Vai, Robert Cray, Doyle Bramhall II, JJ Cale, and Jimmy Page have donated guitars for the cause. Oh by the way, EC even has his old Fender Tweed Twin amp up for auction.
For those of you that can't afford between 3,000 and 150,000 for a guitar, fear not. Eric has included a few lots of signed posters and guitar straps that should sell for around $400 to $600. Don't want a poster, how about something to wear. Versace maybe? Yep that's right, EC is auctioning off several pieces of his Versace, stage worn collection.
Over to the Sirius Stage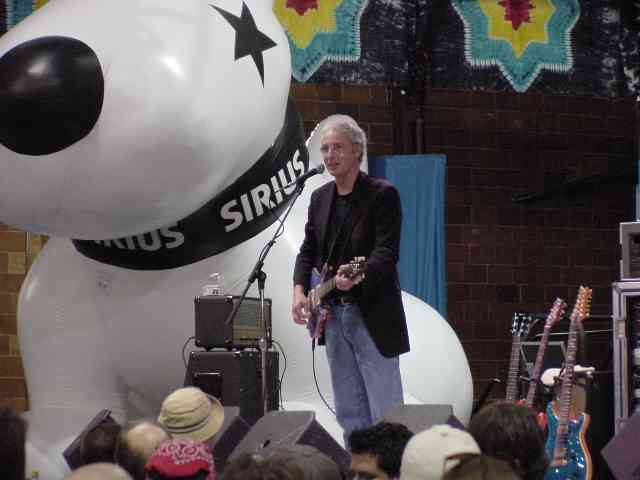 Paul is a Household Name Amongst Guitar Players
Friday night Paul Reed Smith of PRS Guitars opened the event with a guitar clinic and a Q&A session.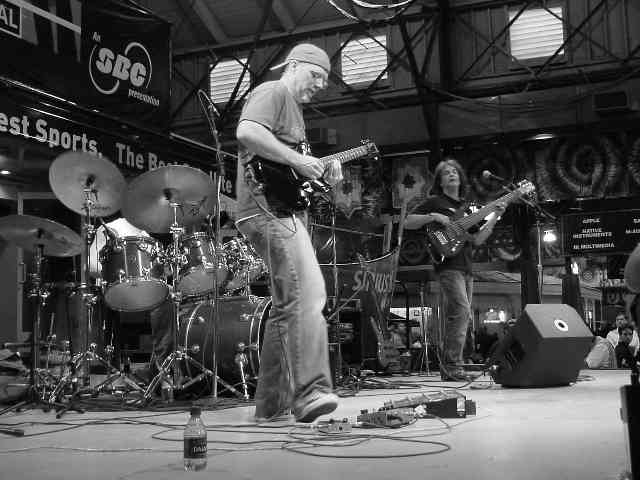 Chris Poland and Ohm
This is my one contribution to the art world. I call it Rock Noir
Chris Poland (ex-axemaster of Megadeath) and Ohm followed up Paul and blew the roof off the house. Chris' bass player Robby Pagliari (I think he's Irish) was flat smokin' that evening. Little did I realize but Chris' drummer (hiding behind the cymbals) is none other than Ginger Baker's son Kofi. If your favorite music is high energy, in yer face rock and roll, these guys deliver it in spades.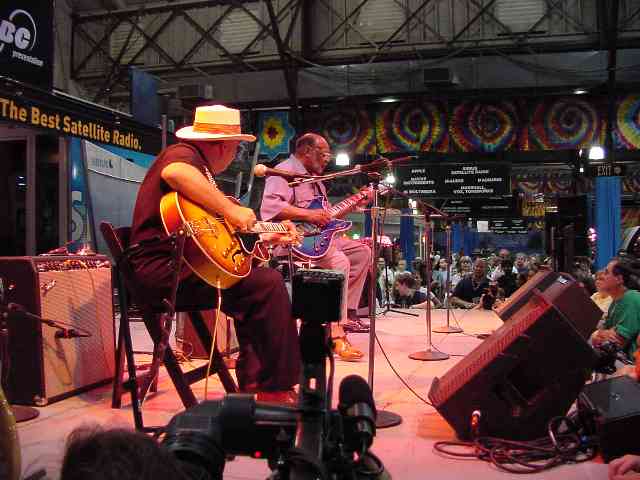 Duke and Robert Lockwood Jr.
Next up for us was some of the best music all weekend. Duke Robillard, Honey Boy Williams and Robert Lockwood Jr. (Robert Johnson's Nephew).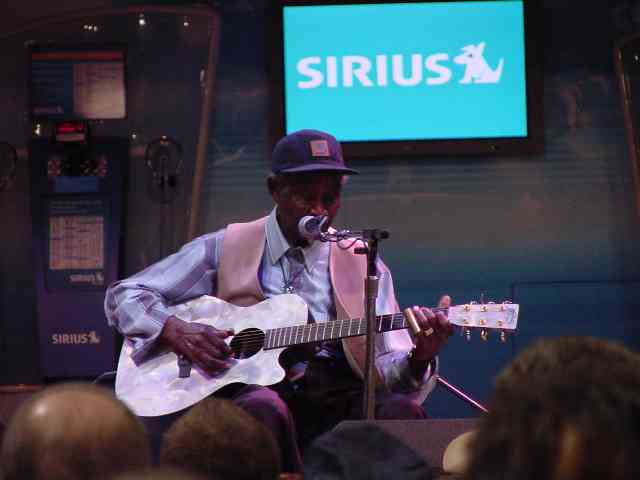 Honey Boy Williams was a Real Treat
Of the three Honey Boy Edwards was my fav. He plays the purest form of the Delta Blues and at age 93 this guy is still going strong.
Friday Comes to a Close
Well, that brings us to the end of Friday's events. Part two will cover Saturday and the Grand Finale, Sunday.
[Click here for Part II] | [Click here for Part III]
© Copyright 2004 Scott Faller - https://www.tnt-audio.com
[ Home | Staff & Contacts | DIY & Tweaks | Listening tests | HiFi Playground | Music & Books ]