[ Home | Staff & Contacts | DIY & Tweaks | Listening tests | HiFi Playground | Music & Books ]
Spending a Weekend in Guitar Heaven
Part Two
[Italian version]
Event Coverage by Scott Faller - TNT USA
Published - July, 2004


Somebody Call the Waaaaambulance
After all of the excitement and great tunes on Friday, Saturday hit with kind of a dull thud. Let me explain. For the best part of two months prior to the Festival, I've been preparing to not only take still photos of as many events as I could, I'd also been preparing to sit down with as many artists as possible and do video taped interviews. I had reams of questions, three hard cases filled with brand spanking new audio and videotaping gear. I was my own production crew. I was armed to the teeth with all the stuff you see your local television news crew carrying to some hot news story.
When we hit the press area Saturday morning asking who was available for interviews, we got zip. The word was 'All of the artists were hiding in their trailers and weren't doing interviews'. Oh well, I guess that's the gamble you take. I had high hopes of being lucky enough to sit down with some our (my) personal idols. I suppose needed a new video camera anyway. Maybe I'll start my own porn site to help pay for it.
I guess shouldn't whine too much. We did get to sit down with Tommy Shaw and James Young of Styx for almost a half hour. It turned out to be a pretty good interview even though I hadn't prepared any questions specifically for these guys. I need to figure out how to transcribe 28 minutes of conversation without having my fingers fall off in the process. Tommy Shaw was very cool. He's a very likeable guy.
Saturday
Anyway, after we got over the disappointment that interviews would be sparse (if at all), we went out to capture as much of the event on film as we could. Along the way, I made a few good contacts that will help in some upcoming articles about the music industry. I got to talk to several of the executives with Sirius Radio along with a couple of on-air and programming guys. They had some interesting things to say about the radio and music industry. One of these days really soon, I'll be doing an article that covers tons of stuff that you may not realize.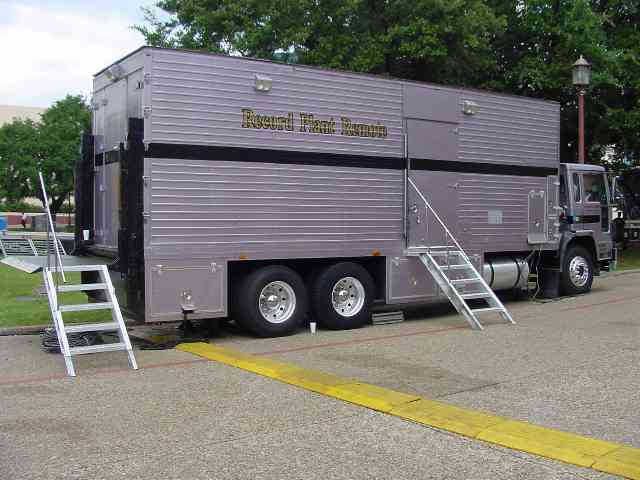 The Recording Van
This fall PBS will be airing their coverage of the Festival. They got tons of great footage of the event. It's supposed to run in October as part of their yearly fund raising drive. Crowd pic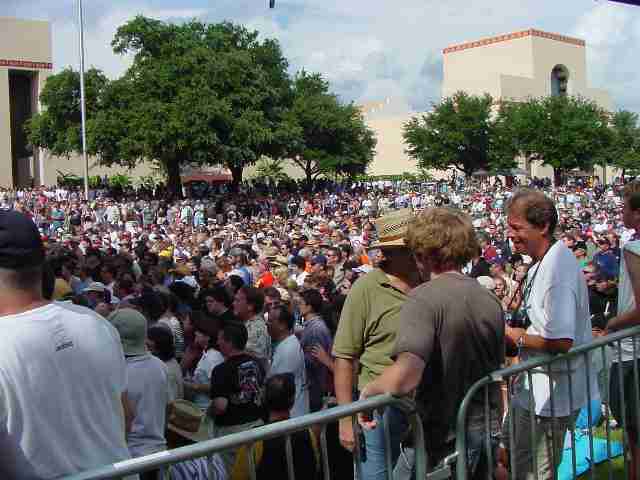 Concert goers
As you can see, the people were out in force for the event. I'd estimate for the Saturday night Main Event, there were about 10,000 to 12,000 people at the Guitar Center Stage.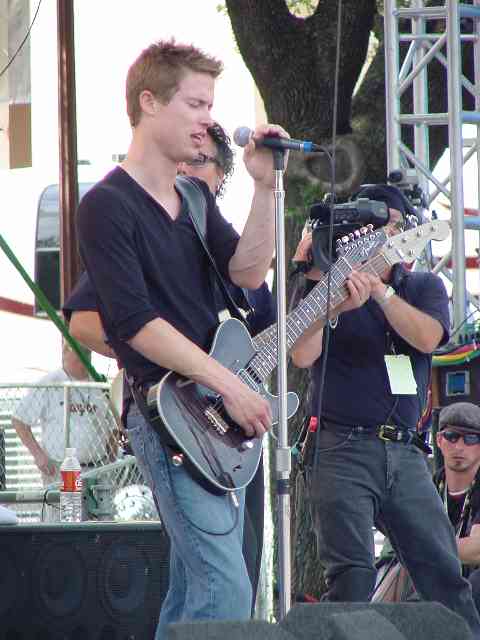 Jonny Lang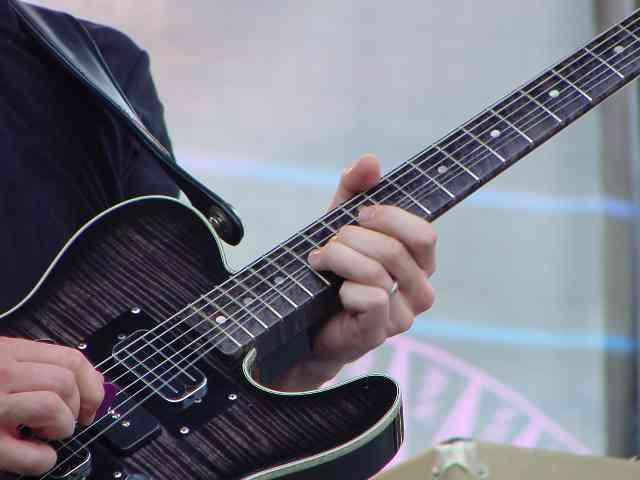 fingering
This boy just flat cooks. For somebody his age to be this good and play with that much emotion, it's truly amazing.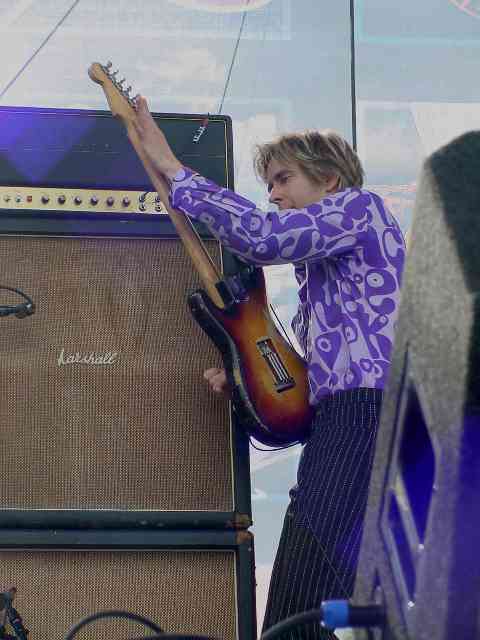 Eric Johnson
Or as I call him, the King of Tone. Eric Johnson is one of my favs. As you can see, Eric plays a Strat piped through Marshall stack. Here he's playing with feedback ala Jimi Hendrix. Speaking of Jimi, Eric played a killer version of The Wind Cries Mary for the crowd.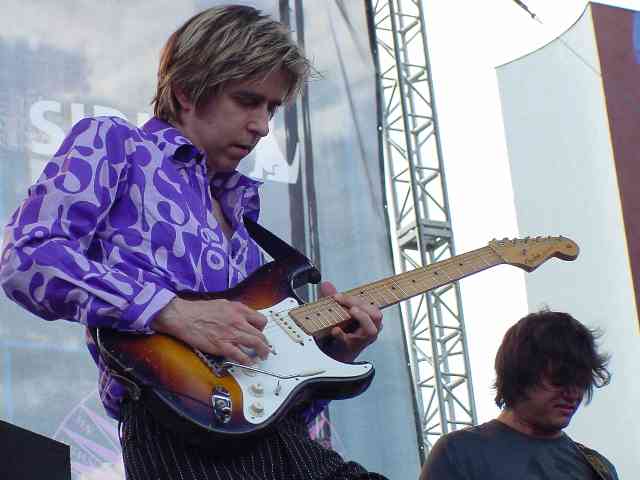 EJ and his bass player
If you haven't checked out Eric's music, let me suggest Venus Isle or Alien Love Child. Both were mastered by Bernie Grundman and are well worthy to be used as reference recordings.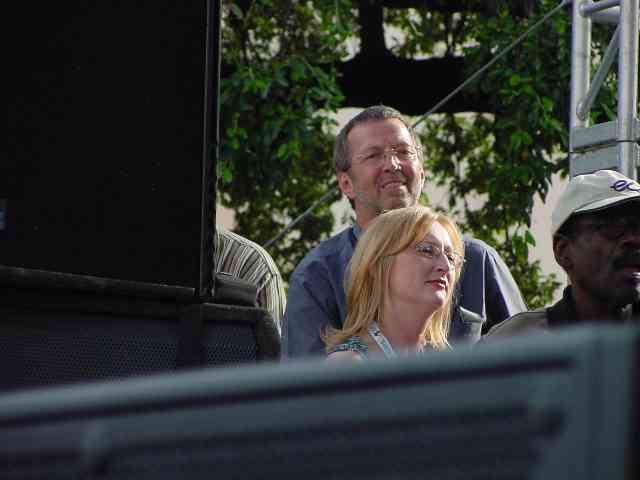 EC checking out EJ at the ECCGF
Noticing EC's expressions while EJ was playing, I think EC is a major fan too.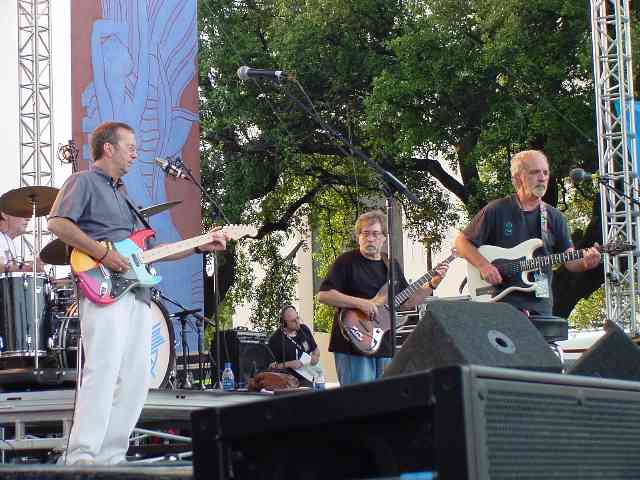 Clapton and JJ Cale
For those of you too young to realize who JJ Cale is, EC has done numerous cover versions of JJ's songs.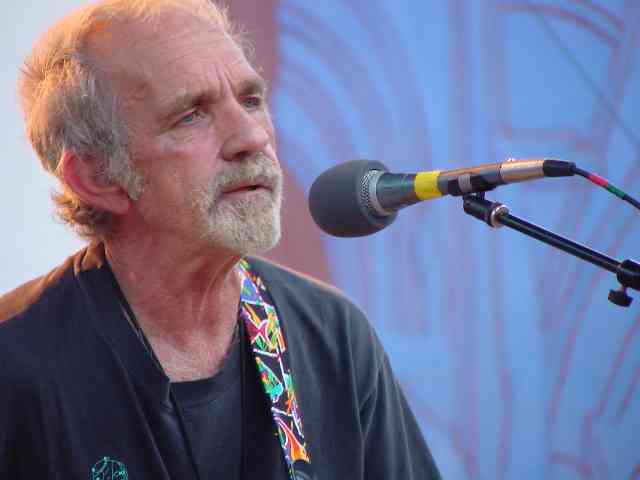 JJ Cale
In fact, two of JJ's compositions are a couple of EC's most successful songs, After Midnight and Cocaine.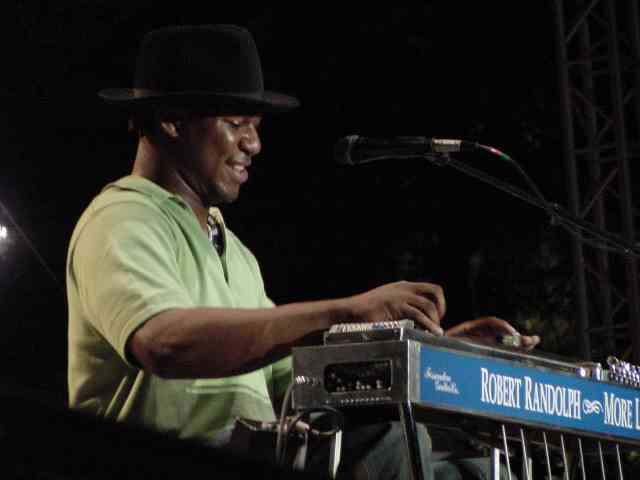 Robert Randolph and the Family Band

Family pictures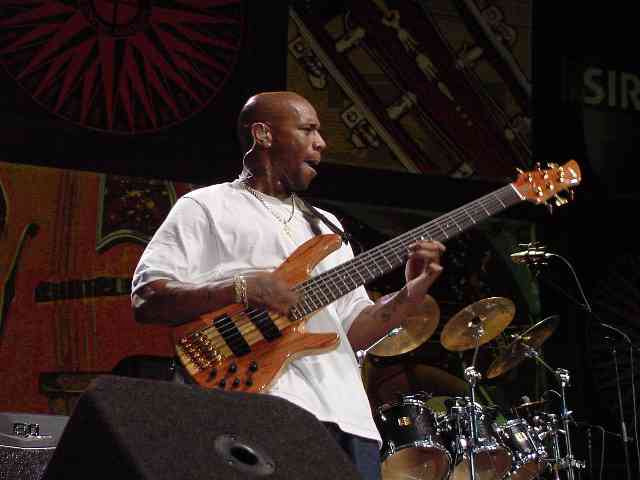 more Family pictures
These guys were an absolute surprise. In preparation for some of the interviews that never happened, I bought their latest CD Unclassified. Although I can't recommend the disc purely for the reason of sound quality (it's compressed to death), the music on it is just short of phenomenal. These guys deliver high energy, in yer face R&B played on a Steel Guitar. If they happen by your town, go and see these guys. They are worth every penny of the meager ticket costs. In fact, these guys were so good, they almost stole the Saturday show. Don't believe me, click here and go watch their streaming video of Goin in the Right Direction.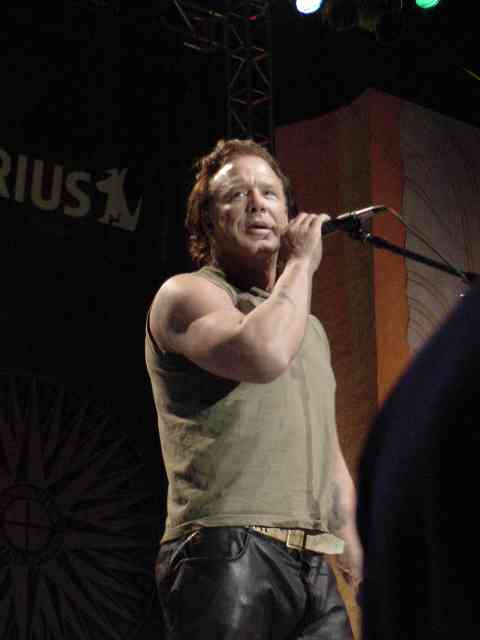 Mickey Rourke
Now here's an interesting connection, Mickey Rourke and Eric Clapton. The two of these guys met when Eric was scoring Mickey Rourke's movies Homeboy and Rush. In turn, Mickey showed up for this event and introduced the beginning of the All Star Blues Jam to the audience.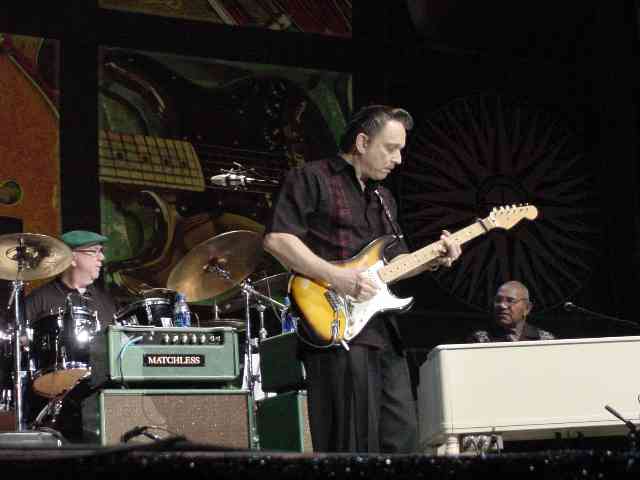 Jimmie Vaughan and Tilt-a-Whirl
This weekend when Jimmie was jamming with all of the other guitar greats, Jimmie changed his playing style. If you are familiar with how Jimmie plays, you'd have never known it was him on stage. He blended seamlessly with all of the other guys that were about to appear on stage. Now, if you haven't checked out Jimmie's latest release, well shame on you. You have no idea what you are missing. Highly recommended, plus the sound quality is top notch.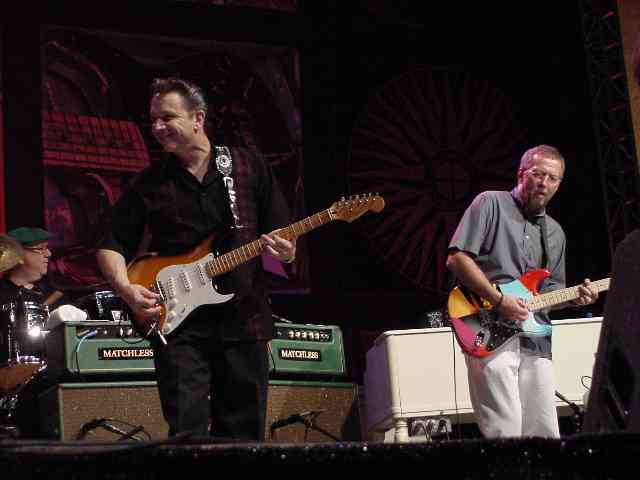 Eric Clapton Joins in
Of course, the star of the show with Crash 3 in hand. Eric and Jimmy put on one heck of a show for the crowd.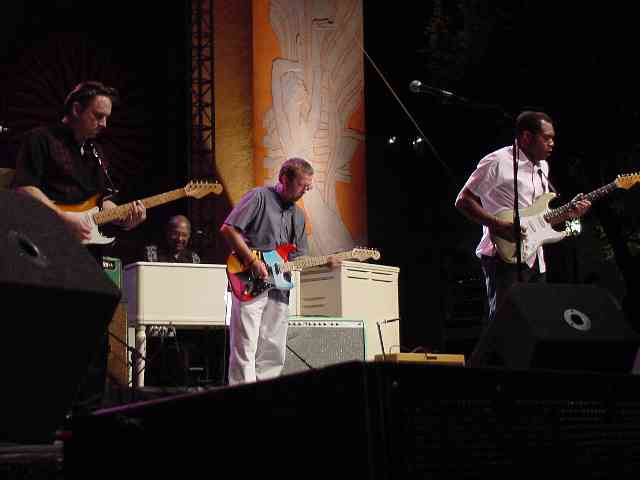 Enter Robert Cray
Robert came on and did a few of his signature numbers.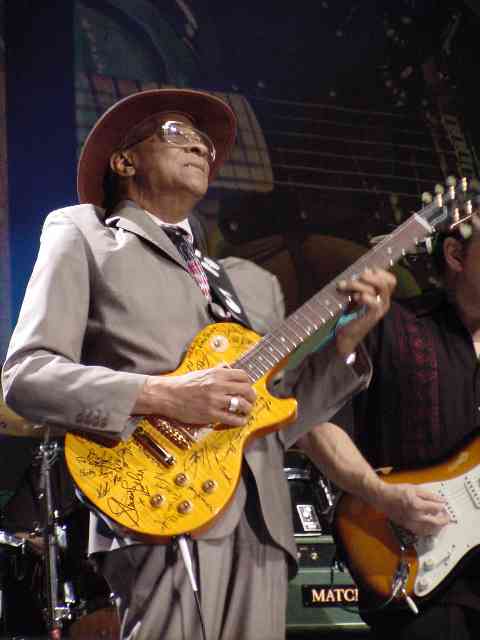 Then add in Hubert Sumlin
Hubert isn't very well known but the musicians love him.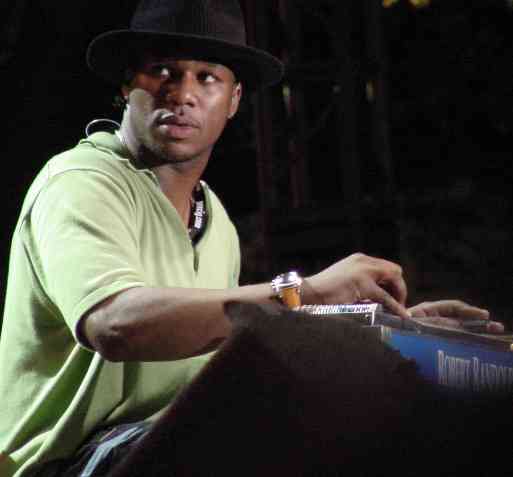 Now Toss Back in Robert Randolph
Robert came out and did a great job jamming with some of the best that's ever been.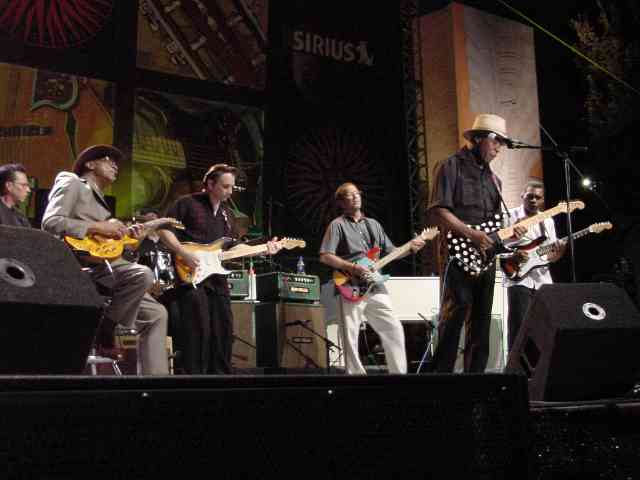 Lets add Buddy Guy into the mix
And if Robert Randolph wasn't enough for this jam, lets invite in the master showman, Mr. Buddy Guy. If you've never made it to see Buddy live, you are missing one of the best shows out there. Buddy works his butt off to entertain you. Not only do you get an evenings worth of great Blues, Buddy's stage show is second to none.
With the five of these guys on stage, the performance just went up a notch or two. For the best part of 45 minutes these guys cut heads. They traded bent note after bent note. We were in Blues heaven and these guys were gods.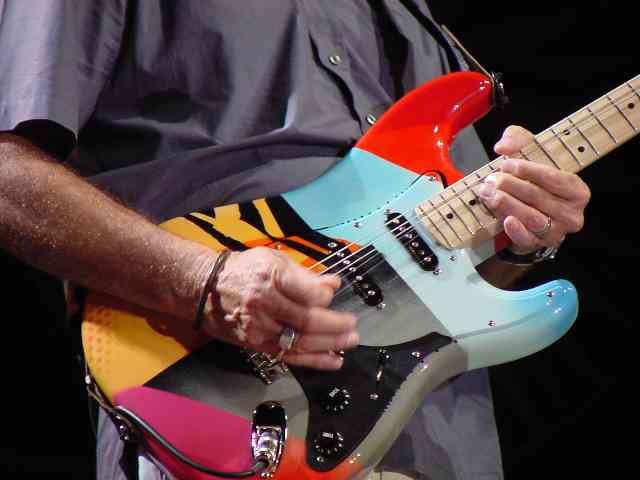 EC, Crash and a big ole bent note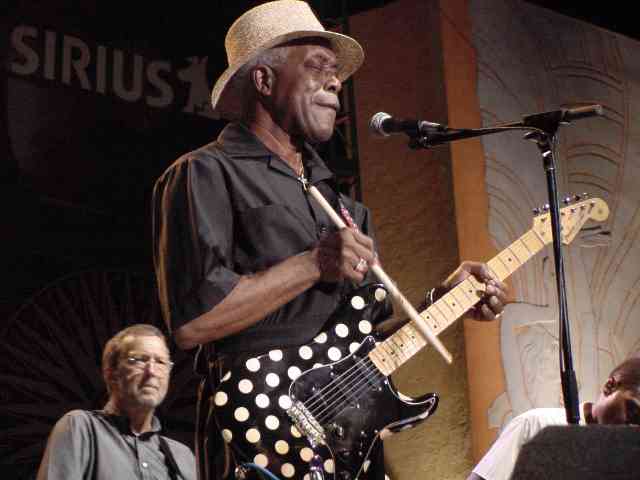 Gotta love Buddy
As you can see, Buddy was up to his old tricks again.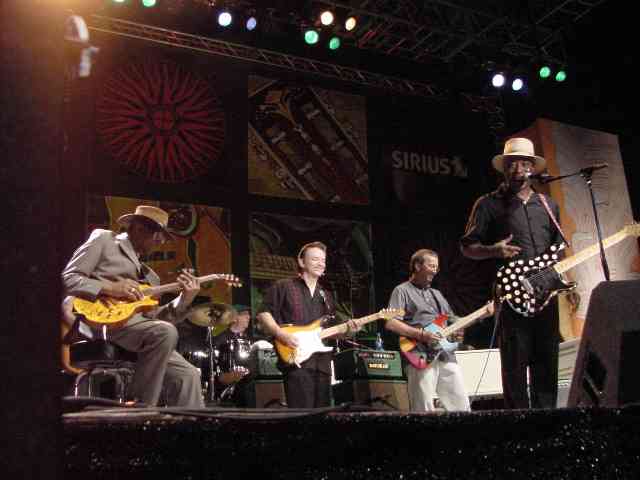 this Guy knows how to work a crowd
This Guy is just a pleasure to watch. In this picture you can see him playing right into the camera.




That brings Saturday to a close
There were loads more performances that I wished we were able to experience but alas, all that we saw were great.
[Click here for Part I] | [Click here for Part III]
© Copyright 2004 Scott Faller - https://www.tnt-audio.com
[ Home | Staff & Contacts | DIY & Tweaks | Listening tests | HiFi Playground | Music & Books ]