A Visit to the High End 2018 show in Munich - Part III
Visitor: Carlo Iaccarino
The show took place from May, 10th through May, 13th, 2018 at the M.O.C. facilities, in Munich, Germany
Originally written: August, 2018
Website with plenty of resources: High End Society

A picture is worth one thousand words...
After two parts of my report, I don't want it to become too.... wordy.
So, I'm going to give you just some visual glimpses of my German stay. Rest assured, though, that there are still lots of things I've left unexplored.
Here we go with other exhibitor's gear, which I'd like to show you.
FINK TEAM
This is a firm led by Karl-Heinz Fink, who specializes in designing audio gear. Something that they do for other producers, like Q-Acoustics, as well as for themselves. This year, they exhibited the somewhat alarmingly looking (and named - at least for this ST:TNG fan) Borg, a two-way floorstander sporting an AMT tweeter. This loudspeaker has also rear positioned switches, so the owner can fine-regulate not only frequency, but also damping, which is very unusual: this should allow for a better interface with the technology of the amplifier that is going to drive those loudspeakers, due to the different behaviour solid-state and vacuum-tube power stages have in dealing with the load they must drive. Borgs sell for Eur 24.000 per pair.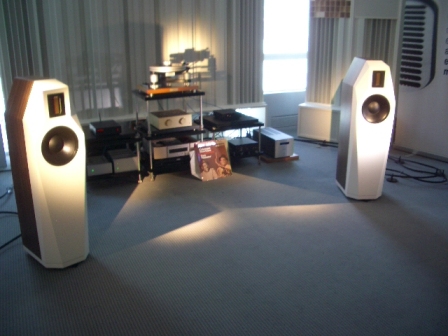 JOSEPH AUDIO
As usual for him, Jeff Joseph exhibited a good-sounding system, this year voiced by his new Perspective two-way floorstanders, selling for about Eur 16.000. The rest of the system included a streamer and an integrated amplifier, both by Alluxity, for a total price of about Eur 17.000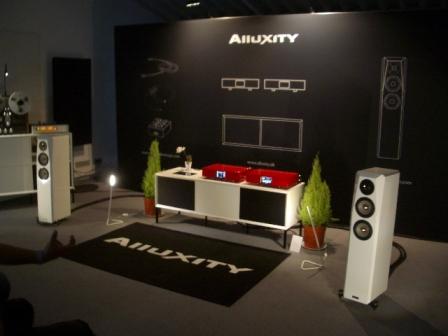 Not only digital sources were used, as you may have guessed by the glorious open-reel tape machine pictured here just behind the left channel Perspective.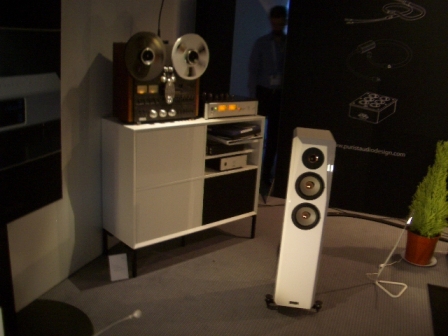 X-ODOS
Speaking of music file playback, here's another firm that was much talked about among showgoers: X-Odos.
They produce two machines. The Stream, which is a... streamer and a network player (but it can also play files from a local USB-attached drive), that can play web radio stations and high resolution tunes from Tidal, Qobuz and Highresaudio. It sells for about Eur 3.000. Then, there's the One, a music server with internal SSD storage (plus an USB-A port for external drives), a CD drive to rip your own music, the ability to play files from web radio stations and from the aforementioned high resolution providers, like the Stream model does; it costs EUR 7.450 (19% VAT included). New for this year is the One + version, with internal DAC, for about EUR 10.000 (19% VAT included). Both machines can be controlled by X-Odos' own iOS app.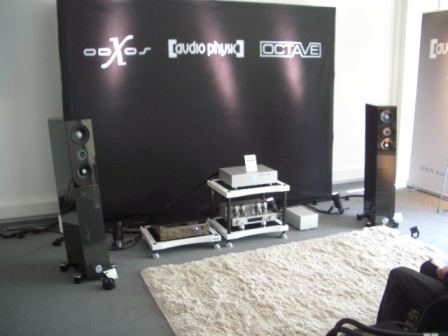 NAD
Yes, I know: we old farts read NAD and think 3020 and audio frugality. But this firm has long gone past this, and at the High End they showed gear that does lots more than just "play music"; more precisely, gear that accomplish this task (also) in the more complicated modern way.
Here is an example: they showed a source-amplifier combo.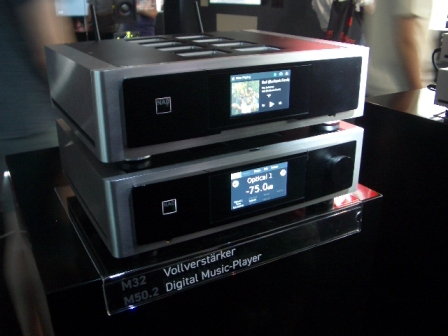 The M50.2 is a music file player, that can also rip your discs into its internal Hard Disks (up to 2 x 2 TB); it can also manage MQA encoded files and is a "Roon-ready" machine. In a word, it's a contemporary source of music. This source was intended to feed the M32 digital integrated stereo (2 x 180 W) amplifier, wich sports a good measure of digital inputs (it, too, can manage high-resolution and MQA-encoded files, plus is a "Roon ready" machine); it's scheduled to hit the shelves on December 2018 at EUR 4.000, and can be fitted with optional modules to give it HDMI 4k inputs or Blu-OS multiroom and network functions.
To have an idea of how different today such a simple thing as a source/amplifier combo is, look at their rear panels ;-)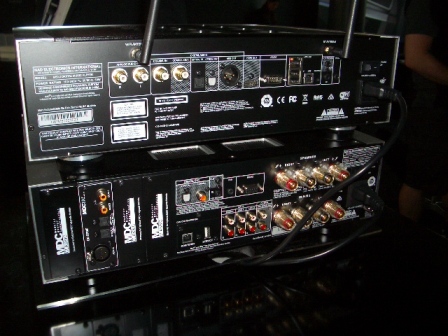 And things can be really more complicated if you decide to go multichannel, as you may see looking at the rear view of the M17V2/M27 combo :-)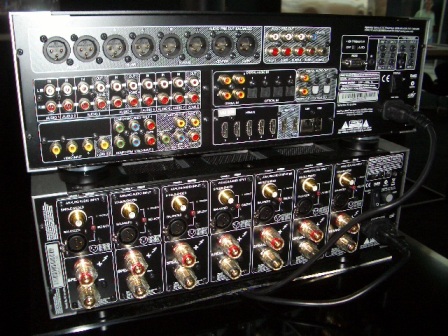 LINDEMANN
This was the 25th year in business for this Bavarian producer, who recently distinguished itself for being a proud DSD supporter. It produces a whole line of gear, with distinctive solutions for music file playing.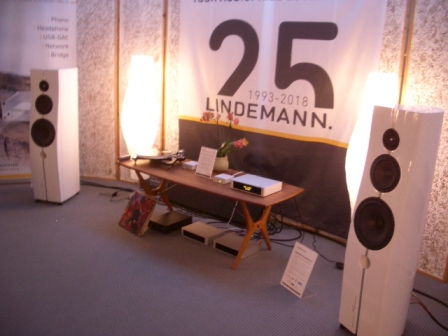 Above all, I liked very much that, in order to celebrate its 25th birthday, this company choosed not to go over-the-top. Instead, they introduced a complete line of affordable gear housed in little, no-fuss yet attractive boxes, but full of content.
It's the Limetree line, consisting of a Phono preamplifier (MM-MC), a can amp/preamplifier (three inputs), an USB-DAC (up to 24bits/348 kHz or DSD 256; AK 4493 DAC chip) and a network bridge (all with a projected price of EUR 595,00), plus a network player with internal DAC and headphone and line outputs (this for EUR 795); the last two machines are also Roon-ready and can stream from web radio stations or TIDAL, Spotify, Qobuz, Deezer and Highresaudio.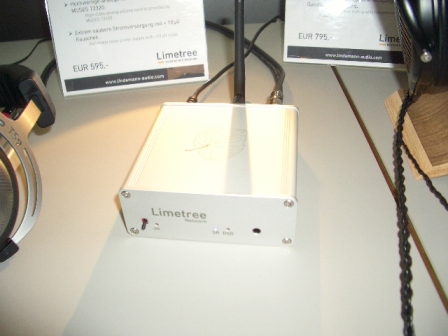 The whole line should be available from September; at the show they had already available the Phono and the Headphone models.
INNUOS
This Anglo-Portuguese company specialises in music file playback. At the show they exhibited a system whose source was their latest music server, the Statement.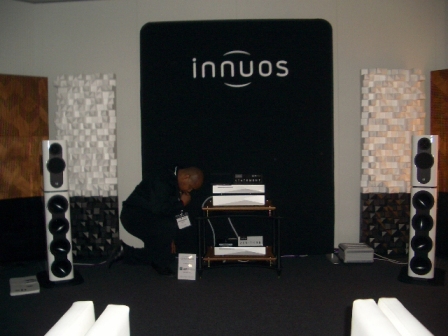 The Statement is a two-box machine, one housing the disc drive for ripping purposes and the network/storage board, the other to separately accommodate the power supply, the AC/DC conversion and the 8-rail power lines to feed the different sections housed in the former box. I forgot to scribble down prices, but I remember they were hefty.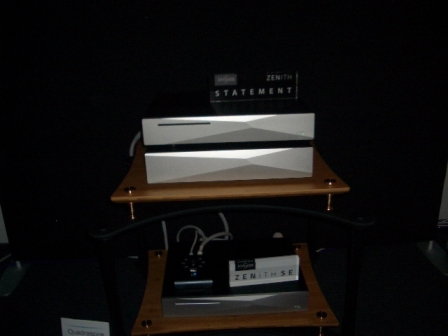 JBL
Actually, this was the Harman luxury audio group room. I was eager to listen to the JBLs, since I had an unusually bad impression last year. This year, I wasn't disappointed. A very good sound (at least to my incompetent ears) came from a system at whose end could be seen a pair of new L-100 Classic loudspeakers, playing with a "familiar" sound; the projected price should be EUR 10.000 per pair.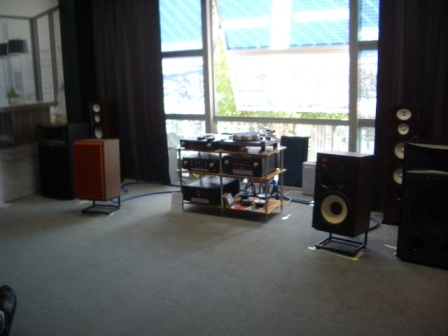 In the ugly picture above, you can see, besides the L-100s, the system consisting of Mark Levinson gear. In that room a complete line of ML new machines was exhibited: source was the ML 519 (disc player, DAC, streamer, etc.) for EUR 20.000; amplification was provided either by the 585.5 integrated amplifier with DAC, for EUR 14.000, either by the 533 preamplifier, for EUR 16.000, and the 534 stereo power amplifier, for EUR 21.000. The ML system, in turn was used also to drive a pair of big floorstanders by Revel, whose moniker I was unable to scribble down and that, anyway, I had no chance to listen to. Great sound, as I wrote, and wonderful gear, too, but with too steep prices, at least for my pockets: the least expensive system was priced slightly less than EUR 45.000...
LIVING VOICE
I thank Daniele Sabiu, a good old friend of ours, who urged me to visit the Living Voice room at the show. Of course, he pointed me to their humongous horn speakers. Yet, I was really intrigued by the sound of the system while driving their OBX-RW3 three-way floorstanders: they claim an higher than average 94 dB sensitivity and sport an external crossover. They looked also very nice, sleek and slender, in their gorgeous Santos Rosewood veneer (other veneers are available). Their price is EUR 13.500 (19% VAT included).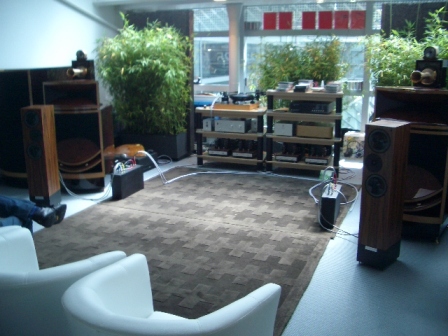 SONUS FABER
Usual big exhibition area for Sonus Faber; among other things, they exhibited their new Sonetto line of loudspeakers, consisting of three floorstanding models, two bookshelf models, two center channel models and one on-wall model. All with the usually stunning Italian look.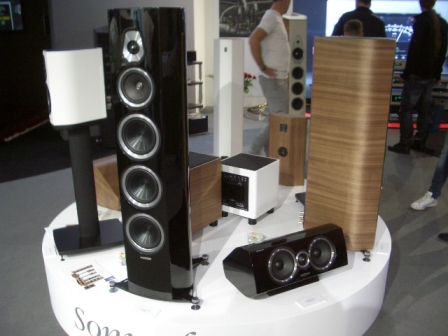 The same German SF's distributor carried also several big names in hi-fi, whose gear was also exhibited in the same large rooms. For instance, I could see the new EAT turntables, one of them showed in a very elegant leather covering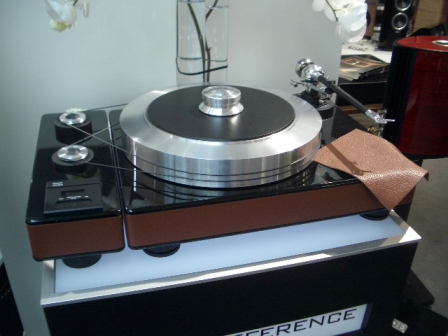 There, DAN D'AGOSTINO showed also his products, like his new masterpiece, the Relentless mono power amplifier.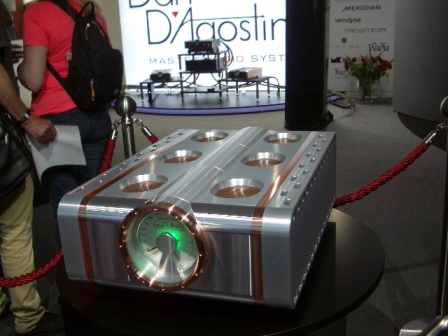 And then?...
There was, as always, an overwhelming abundance of things to see and to listen to.
Products for personal listening, like the headphone amplifiers US 4 and US 4+, for EUR 4.000 and 5.000, respectively, by NIIMBUS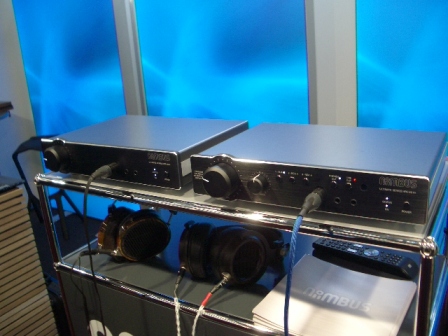 or the headphone amplifiers, with or without internal DAC, by LAKE PEOPLE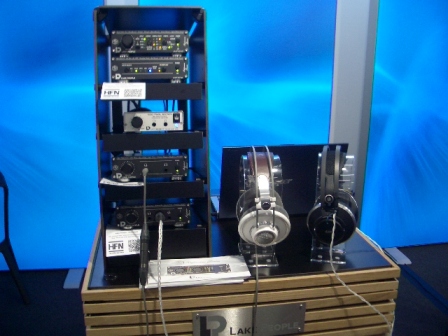 .

There was the usual Vinyl Square by PRO-JECT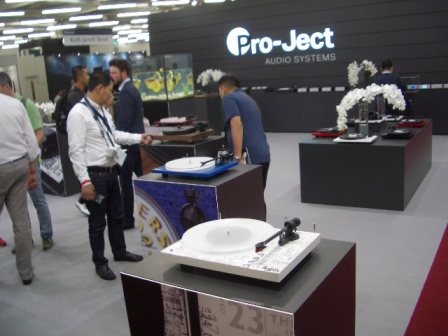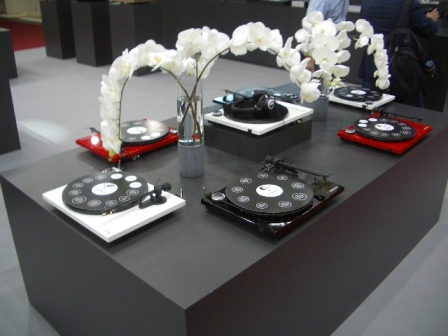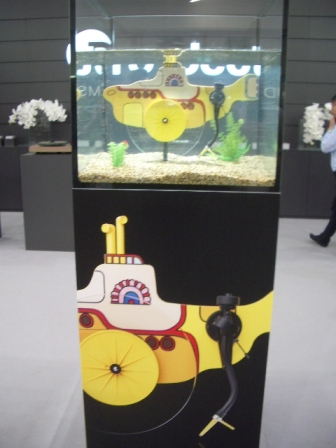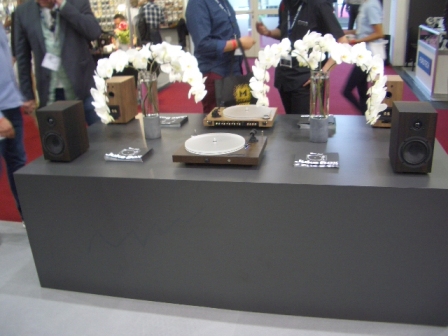 You could stumble upon loudspeakers with very personal aesthetics, like the ones made by Canadian Firm ART VIBES, who exhibited their DALÌ model sold for EUR 25.000.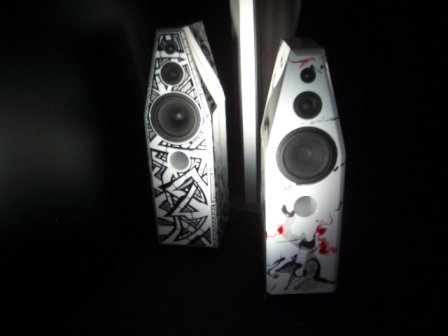 Or meeting with the familiar and comfortable design and sound by the FRANCO SERBLIN company, who exhibited a system with Accuphase gear that drove their Ktema floorstanders.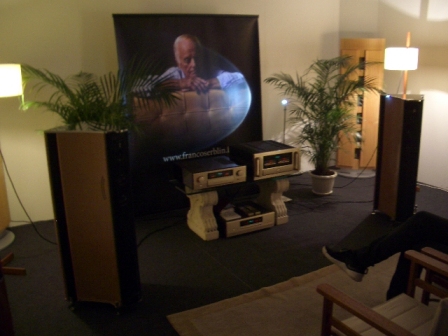 This year, too, AUDIOQUEST exhibited all their cables, and their AC cleaning and conditioning devices. Here are two pictures of the innards of their Niagara devices.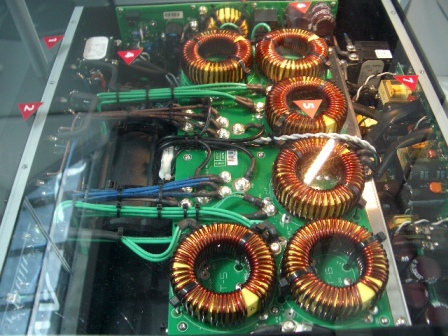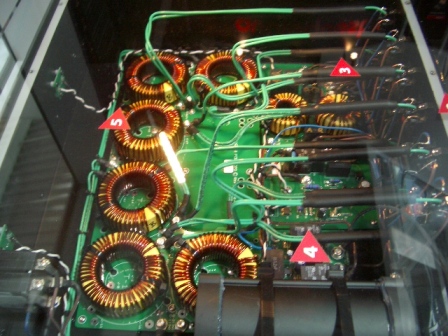 And here is a picture showing Audioquest's idea of correct placement of system cabling.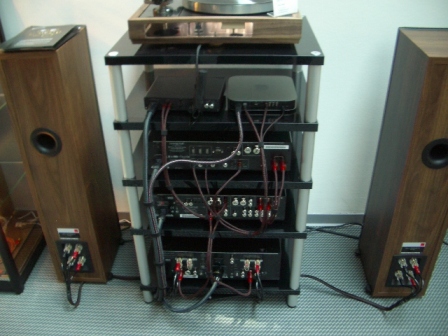 That made me smile, taking me back to the 90s, when our own Italian Audio Review magazine published a series of articles by Eng. Fabrizio Montanucci about the "weak interactions", showing instrumental evidence of the interference that signal, power and AC cables could pickup (or generate). So, they showed and, above all, quantified a phenomenon until then left in the subjectivists realm. They showed the results of their studies during one of the Milan's Top Audio show (the now defunct best Italian audio show), where they brought their analyzers and pictured two systems, one wired with the usual cable mess and the other wired according to their findings, and guess what? The neat system was very similar to the one showed 25 years later in Munich. Maybe Italians don't always do it better, but, in this case, they certainly did it before :-)
Usual big rigs by
CONSTELLATION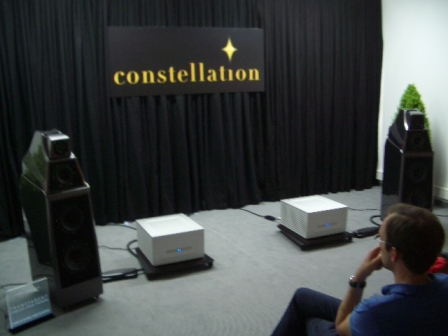 KHARMA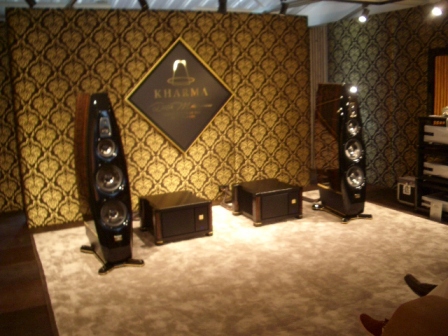 NAGRA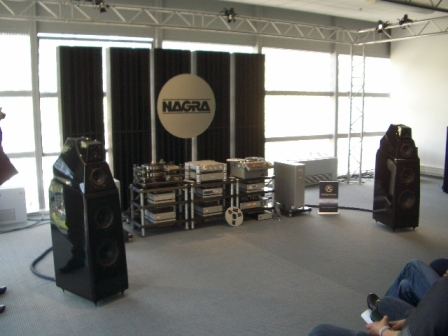 SOULUTION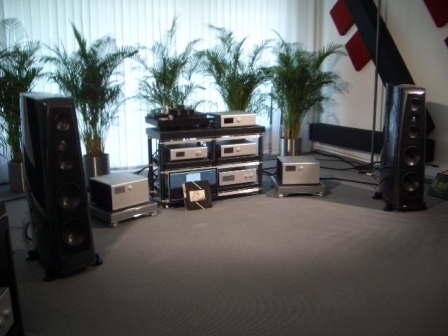 MAGICO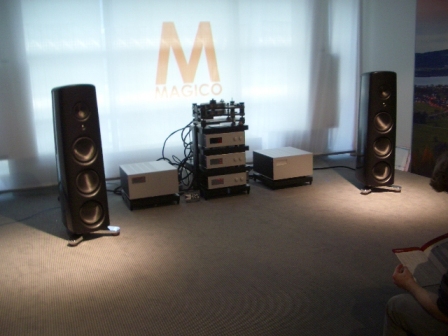 EMM LABS, this year exhibiting with LANSCHE AUDIO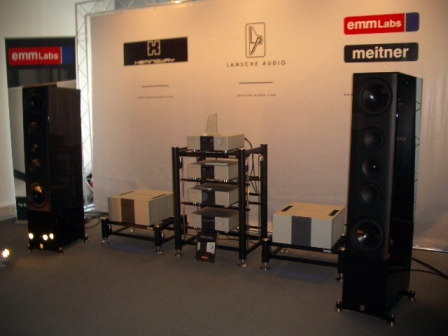 VALVE AMPLIFICATION COMPANY, this year exhibiting with VON SCHWEIKERT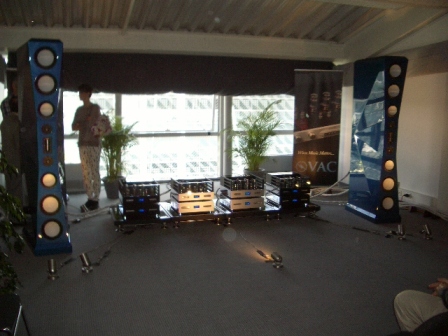 Finally...
I would have much more to tell you about: CHORD's Rob Watts and his interesting (and complicated) lecture about DACs and filtering (one thing above all: pre-ringing is not bad, but essential for an exact reconstruction of the signal coming from an ADC - so long, MQA...); AURENDER's first foray into powered wireless (uncompressed digital signal 16/44.1) speakers with their cute and good sounding S5W model; GENUIN AUDIO and its proprietary (and expensive) solution for music file playing, with their Tars music server (EUR 12.500) that can drive their Neo active floorstander loudspeakers with internal DSP (EUR 17.500 per pair); OCEAN WAY bookshelf (I'd rather write mixing desk) loudspeakers (EUR 7.000) driven by VIOLA preamplifier with separated power supply (EUR 32.500) and monophonic power amplifiers (EUR 22.000 each), for a real studio monitor sound...

Yet, there's one thing that you shouldn't miss, should you plan (and you should...) a visit to the High End Show in Munich: the MUSIC. There you can find nice street musicians, like the unusually composed band pictured here (and whose CDs I also bought...)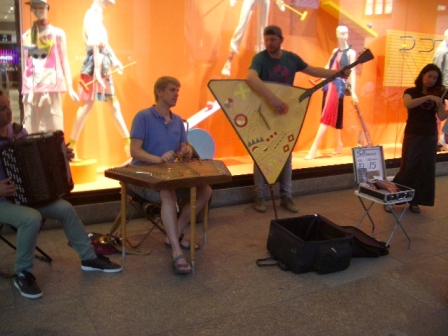 But, above all, there's a place you MUST include in your Munich visit: the LUDWIG BECK department store, whose top floor is completely dedicated to the music. It is, in a few words, a huge record store, where you can flip your fingers through not only lots of CDs, but - hear this! - LPs. There's also a DEVIALET insulated space! The record store is open until 8 PM, so you can enjoy the show until its closing time AND have still time to visit this store, located in the very central Marienplatz, where the subway coming from the MOC stops... Actually, it's not unusual to see there show visitors drooling over bins of LPs ;-)
Here are some pictures I shot inside that venue, that was a real pleasure to visit, especially considering how rare record shops have become, nowadays.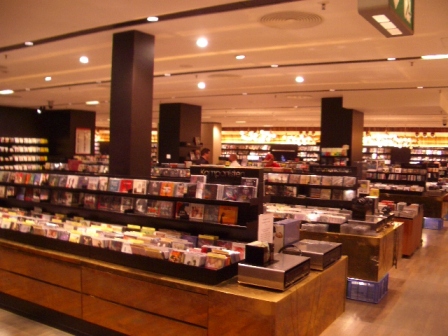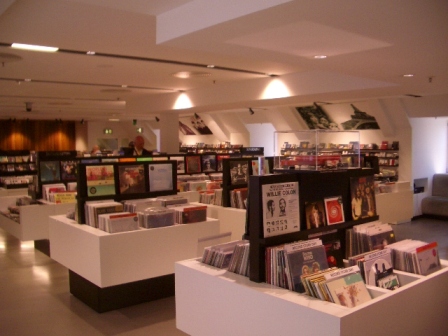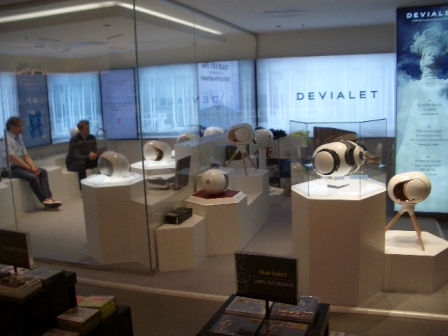 Th-th-that's all, folks!
As you may have guessed by (all) my words, High End confirms itself as a very entertaining audio show. I really insist that you should plan a visit to the High End show if you want to understand what serious audio playback is and what is likely to be in the near future. Yes, there you find lots of extremely high-priced gear, but that's normal in a show that's entitled "High End". Anyway, among the exhibitors you will find lots of producers who don't stick on unarrivable objects, who don't aim only to Arab Sheiks or Russian oligarchs, who don't strive only to stretch the limit of what can be done in audio. There, you find also lots of companies that produce gear at different price levels, that can even be defined affordable. What you won't find (or, at least, what you'll likely not find) there, are people who offer you low quality gear. Whether in the rarified skies of the cost no object machines, or in the humble territories of the more "human" objects, I saw only quality gear, and spoke with people really committed to provide quality gear. I may have been deceived by the exterior appearance of the exhibited gear, but I cannot tell you that I have seen there anything subpar or cheesy or any way "cheap"; rather, I saw mainly objects of which you can legitimately feel a proud owner.
This, and the usually vibrant attitude of both showgoers and exhibitors makes High End always a joy to visit. I hope I can repeat this experience next year, from May, 9th, through May, 12th, 2019.

Back to [Part I]
Back to [Part II]

© Copyright 2018 Carlo Iaccarino - www.tnt-audio.com
[ Home | Staff & Contacts | HiFi Playground | Listening tests | DIY & Tweakings | Music & Books ]