A Visit to the High End 2019 show in Munich
Visitor: Carlo Iaccarino
The show took place from May, 9th through May, 12th, 2019 at the M.O.C. facilities, in Munich, Germany
Originally written: May, 2019
Website with plenty of resources: High End Society
Foreword
Here I am, again, enjoying my annual escape to the High End Show in Munich.
Once again, let me point you to the forewords of my 2014, 2016, 2017 and 2018 pieces.
This year, I immediately noticed a change in pace, starting from the press conference.
The presentations were shorter, more informal. Everyone spoke standing, not seated behind a long table, and made a quick keynote showing just data that demonstrated growing trends in exhibitors (551, against 530 in 2018) and exhibition spaces (223 closed spaces against 198 in 2018). They also insisted that they won't move from the M.O.C., with which they signed an agreement also for next years. Yet, they also said that they were looking forward to the completion of the automotive exposition spaces in front of the buildings presently used, whose construction works, unlike what I previously thought, were still in progress.
Much emphasis was given, instead, to the collateral projects held by the H.E.S.
One was the education and formation program for certified dealers/installators, albeit aimed only at the internal German market.
Another one was their co-operation with Dynaudio for the UNheard project.
Selected independent and not (yet) famous artists (30, for now) were granted the possibility to record their performance in a real recording studio, with top-notch gear and highly qualified sound technician; moreover, the total ownership of the rights from the resulting records belonged only to the recorded artists.
H.E.S. and Dynaudio used a mobile recording studio built inside a container, with one transparent side wall, so that people from outside can watch the recording sessions and enjoy the music of those unfamiliar artists. During the show, this mobile studio was up and running, parked in the MOC's inner area where the biergarten is - it can't have been an easy task to squeeze it in. Unfortunately, the rainy weather prevented a packed audience from attending the performances... Anyway, on the web you can find a collection of videos illustrating the project and the recordings.
This year, H.E.S. has chosen Steven Wilson as the show's testimonial, or brand ambassador, as they say.
He is a talented and worldwide appreciated prog-rock musician, although he told us he hates this label, mainly because he hates to label the music by genre.
He also recently gained fame as a re-mixer of iconic albums by King Crimson, Yes, Jethro Tull and others.
He underlined that his work, in this case, was to re-mix, not to re-master, the old tapes. He pays a lot of attenton to not applying a global EQ or to play with the record's dynamic. He, rather, works on the raw multitrack tape and, with the latest technology he has access to, mixes the tracks again, trying to bring to light some particulars that were not so illuminated in the previous versions. He added also that he hates the present way of thinking in the mastering business, where the master is produced aimed at a particular user (a master for a piece of music thought to be mainly heard in cars, another one for music whose producer think will mainly be heard by internet, and so on). He said that when he's done a remix, there's almost never a mastering process and the final mix, being what he likes to hear, is the final version that you will find on CDs or as a file to download, and that will also be the version that, for instance, the radio will play (albeit radios usually apply their own eq and compression, but this remained untold...).
Another very interesting piece of news came from the "S ounds Clever" project.
H.E.S. challenged exhibitors to setup well sounding systems for under Eur 5.000, clearly to attract more people and convince them that they don't have to spend a fortune to take home the real HiFi experience. It's not a brand new idea - I remember something similar made years ago during a USA audio show, RMAF, if I'm not goofing - but I think it's something worth pursuing and a good signal from an industry usually seen aimed just at bored rich (male) adults.
Now, I know that this is a sum that many of us find already intimidating, but consider a couple of things.
First, 5K is the UPPER limit of the system cost, and several of the suggested systems were actually under this price point.
Second, there were 18 (19, according the website) systems proposed by different exhibitors (mainly distributors, easily the ones most able to conceive a bundle offer with gear from different brands), and some of them were, in a sense, modular, so that you could start with the essential pieces you mainly like (e.g., a simple headphones and can amp combo) and eventually add later the other pieces (turntables, digital file players, etc.).
Finally, although 5K isn't exactly cheap, the idea was to show that a high level of QUALITY could be within reach - not an easily affordable commodity, but something reachable, with the effort that good things often ask (and deserve).
And then... hey, the show itself is called High End :-)
The last thing from which I felt this new shift in the show's organization was the advertising campaign.
This year I saw advertisement of the show in much more places, and with an effective appearance.
Here's what could be seen at no less than the airport!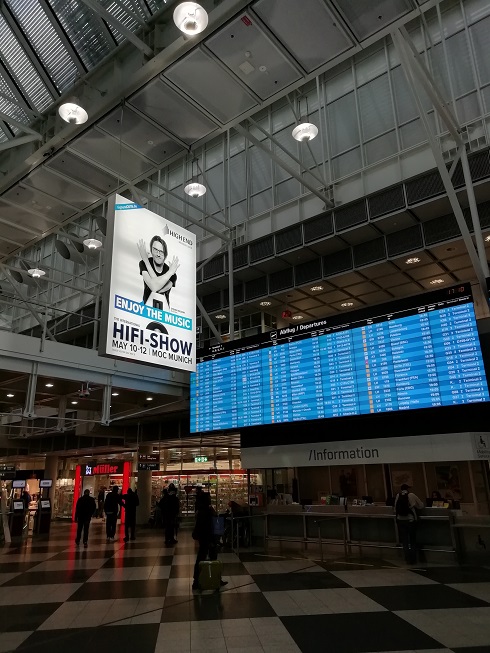 And that is a summary of the several visual advertising for this year, placed on the streets, highways, railways, etc.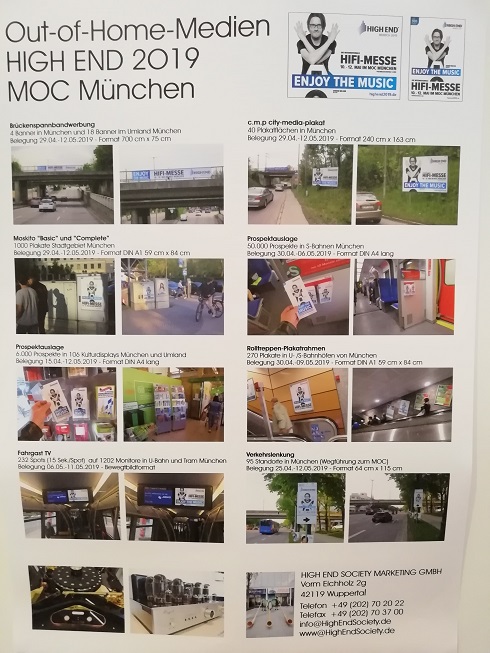 All in all, a very effective campaign. I really had the feeling of a stronger visibility, this year; and closer to the common people rather than to us - I may be wrong, but I think this is the first year that there is a big "hi fi show" moniker, clearly responding to the question: "High End: what's that?" that people could ask themselves when reading the ads and not previously knowing anything about it.
Lastly, let me repeat my usual, but always necessary, remark.
As I always stated clear, I'm not a professional journalist, and what I write are simply my thoughts, my attempt to get you to stroll with me along the shows aisles, halls and booths, like friends attending the show together. For your (our) luck, there were many, many real journalists from every corner of the world at the show, and you can find lots of very professional and complete real reports on the various magazines and websites, with lots of professional photos and even with lots of video footages. I think that those reports deserve great respect, since I saw the hard work with which they were being made, and, as you, I'm looking forward to reading and watching them.
Is there life under 5K?
As I said, I think that one major feature of this year's show was the Sounds Clever suggestion of sub-5.000 Euro systems ready to produce good quality music.
Therefore, here is what I could find about it. It's not a complete review of all the systems. For some exhibitors didn't take it that seriously, and appeared on the group with the list of the gear composing the proposed system, but didn't have those systems ready and playing; others, I simply didn't have the time to find them or to listen to them, since I could not manage to arrive during the limited time when they demonstrated their systems. Anyway, here's what I've seen.
This was the system proposed by The High End Company, distributor of Totem Acoustics, for EUR 2.129 (I'll generally show all prices with 19% German VAT).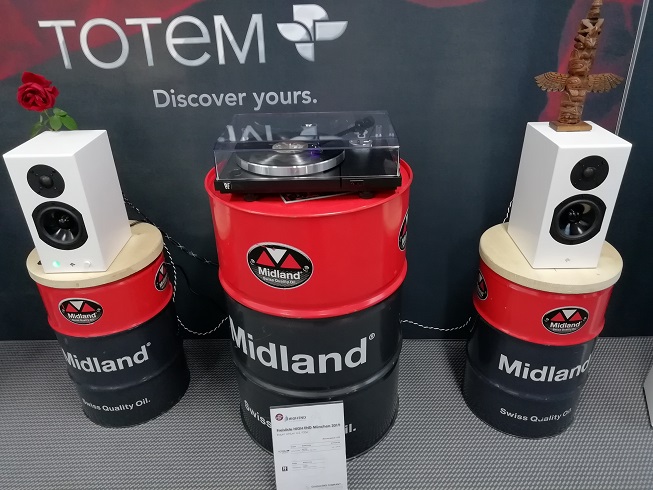 The system consisted of the new KIN PLAY active loudspeakers, that can accept analog input signals (RCA or 3.5 mm jack) and digital input signals, either wired (optical - up to 24/192) and wireless (Bluetooth Apt-X); completed with the KIN SUB subwoofer; plus accessories (power cord for one loudspeaker, speaker cable to connect it to the other loudspeaker, optical cable, remote control, rubber feet). You can start playing music from your smartphone streaming from a web service, like Tidal, and from the TV connected via optical cable (consider that many modern smart TV sets can actually play files from your home network...), and then add an analogue source (in that case, a turntable with built-in pre-phono).
A different approach come from Naim, that, for Eur 1.199, proposed its acclaimed all-in-one streamer/player mu-so (albeit not the newer version... maybe that is the price "until current stock sold", although it didn't seem exactly a bargain).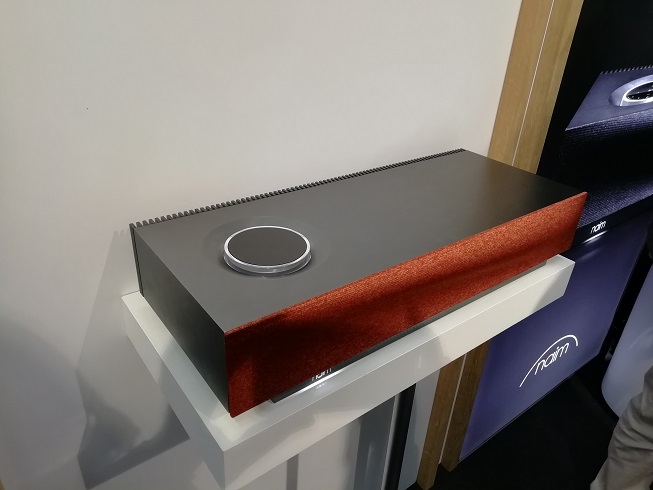 Maybe more interesting was the system proposed by Reson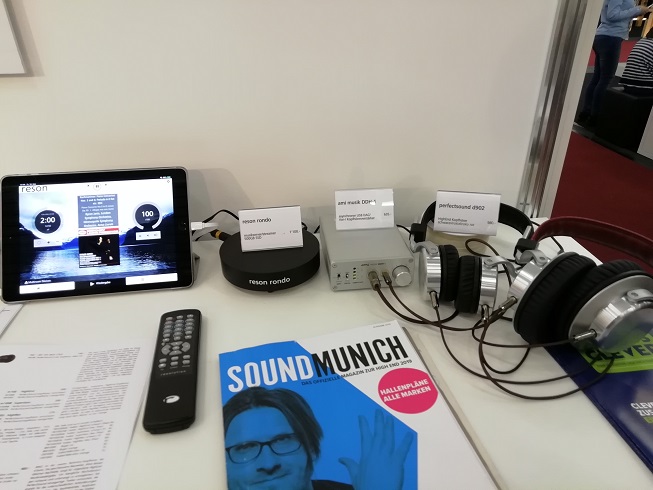 For Eur 2.715, it included their little Rondo music server/streamer (the... round puck you see near the tablet on which its commanding proprietary app is running), the AMI DDH-1 DAC/can amp/preamplifier and the PerfectSound d902 headphones (in my photo you see two of them, simply because this model comes with TWO interchangeable pair of ear-pieces for different usage). This was a system that, for me, gave a good sense of value, and a fair amount of contemporary quality audio technology. This, too, was a system that could be easily upgraded, since the DDH-1 sports also an analogue input (3.5 stereo jack) and an analogue output to which you can connect a pair of active loudspeakers, or a stereo power amp or an integrated amplifier (the output can be set to fixed level) to drive a pair of passive speakers).
A much more traditional proposal by the Polish manufacturer Taga Harmony. For Eur 3.591 they proposed their HTA-1200 hybrid (12AX7/12AU7) stereo (80 W/ch/8 Ohm) integrated amplifier, with phono (MM/MC) and digital (coax/optical, up to 24/192) inputs and headphone output, plus the DA-300 PCM and DSD USB DAC (Sabre ES9018K2M), and the Platinum B.40 bookshelf loudspeakers; the price included the cabling (USB, interconnects and loudspeaker cable, power cable with filter) and, to make things more unusual and interesting, the sound diffuser that you see in my picture.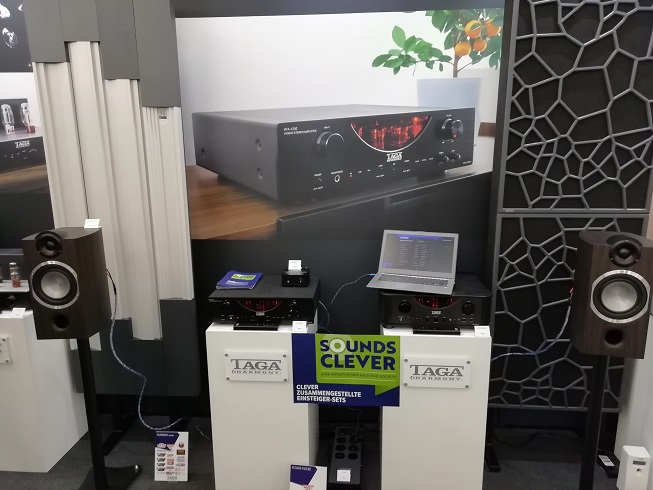 Another traditional proposal came from SVS, an USA brand that gained popularity with their subwoofers and now known also for their loudspeakers.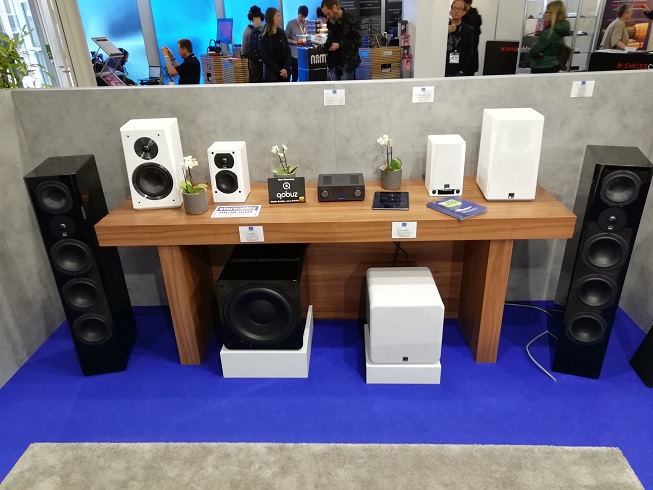 For Eur 4.624, the system consisted of the Prime Pinnacle floorstanding loudspeakers and the little but powerful (800 W) SB-3000 active subwoofer (the black one in the picture) regulated by an internal DSP commanded by an app to download onto your smartphone.
All this was driven by the Prime wireless SoundBase, a device (in my picture, the two-knobbed box between the flowers on the table) that includes a stereo amplifier (300 W/ch), a DAC (192/24), with analog inputs (RCA and 3.5 stereo jack), digital input either wired (optical, ethernet) and wireless (WiFi, Bluetooth Apt-x), a line level, a subwoofer output and a headphones output.
I heard the system playing songs streamed from Qobuz and, considering the open and busy space, it was promising. More interesting, I think that they included the subwoofer more as a tribute to their fame than as a required component, since the sound was good even with the sub turned off, a switch that can save you Eur 1.500; and in time, you can add the sub next Christmas ;-).
Half-way between tradition and modernity, the system proposed by PRO-JECT consisted of an X2 (their website lists only an X 1 model...) belt driven turntable, with pre-mounted Ortofon-derived MM cartridge and a DS2T stream box. Those sources fed a Maia DS2 >100 W/ch stereo integrated amplifier with MM/MC phono input, analogue inputs, wired and wireless digital inputs (up to 24/192 PCM and DSD 256) that, in turn, drove a pair of 15DS2, floorstanding loudspeakers. All this stuff, cabling included, was proposed for Eur 4.650; of course, also with this system you can start just with your smartphone connected via Bluetooth Apt-X (or your PC connected via USB) to the amplifier and the loudspeakers, for about half that price; or even less, if you happen to have a spare pair of headphones :-) And then add more year after year...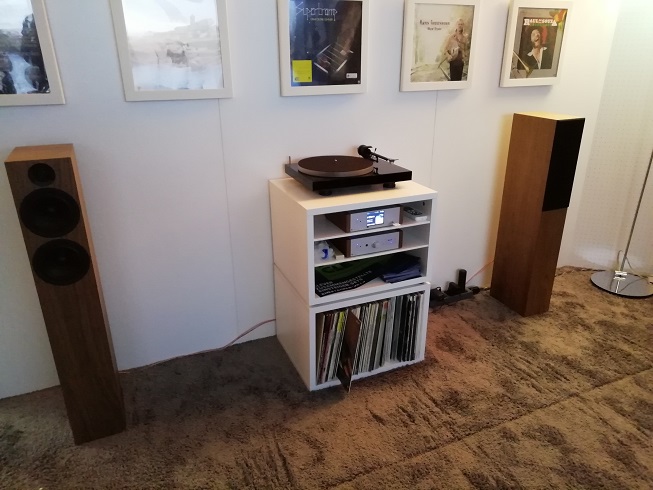 I want to express my appreciation for this proposal. It showed the exhibitor really cared about the task, and hadn't just filled a list of its less expensive components. The system was properly setup into the same closed space into which big and powerful Cabasse loudspeakers were also demoed, thus maximizing the efforts to set up a good environment. Moreover, the sound was pleasant and, if something needed improvement, it would have been on the turntable/cartridge side, whose sound was strangely not as good as the digital playback in that system. Finally, there were scheduled times to audition the system and they were respected, no matter how many people were coming to the booth just to listen to the bigger and better Cabasse system... and these people ended up listening also to that (much) less expensive combo.
Another traditional system, but much less expensive, was proposed by Indiana Line's German distributor. For Eur 1.800 the system consisted of CD-Player and integrated amplifier (2 x 50 W, Bluetooth and USB digital inputs) by Vieta from Spain and a pair of 3-way Tesi 561 floorstanding loudspeakers by Indiana Line.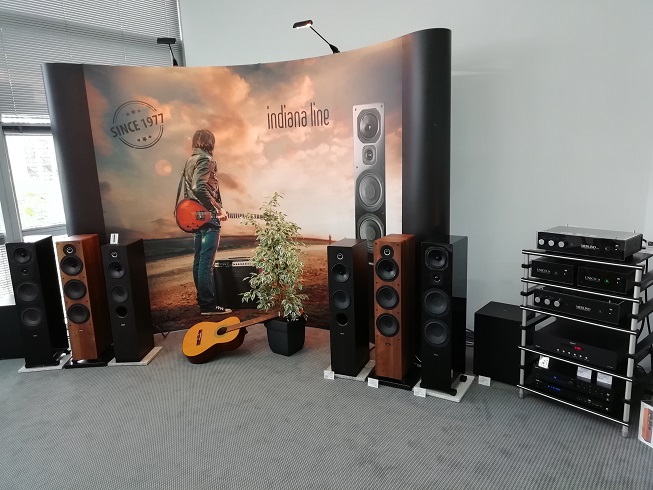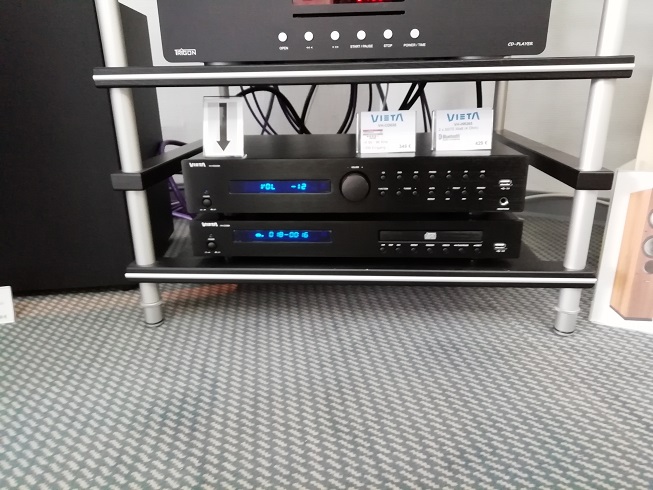 The sound of this system seemed to me a little "loudness-like", yet I must admit it was pleasant to listen to and, above all, catching, toe tapping. Maybe it was also a matter of the music played, but I had the impression that this system worked as it should have: an attraction for those who may be interested in domestic music playback but cannot count on big finances, like we all were during our youth... ;-)
The system proposed by the Japanese STAX for Eur 2.700 consisted of their SR-L 700 Pro electrostatic headphones driven by their SRM-D10 portable DAC/amplifier. I quite couldn't get the sense of providing a mobile amplifier, since this combo dimensions and weight didn't seem to me the most comfortable to carry with you while strolling around. Yet, its sound was really pleasant to these incompetent ears, so maybe it can be a neat music-relief provider to pack in your suitcase for your next business travel - you surely must be a busy and successful businessman to conceive such a personal stereo ;-)


The amplifiers were connected to a streamer, commanded via a touchpad; actually, each of the headphones/amplifier combos exhibited in Stax's booth was connected to a streamer, each connected to the same network and pointing to the same music server, commanded by that same touchpad, so that you could switch between headphones while listening to the exact same song. A nice way to make you taste the differences among the models, and a very confident move - they are not afraid that people could perceive little or no difference to justify the more expensive models.
The anglo-portuguese Innuos exhibited a more expensive, but also more contemporary system, consisting of their ZEN Mk3 1Tb server/streamer and a pair of the acclaimed LS 50 wireless active loudspeakers by KEF that, unlike their diminutiive size could tell, easy filled the room with sound. Power, USB and network cabling was included in the price of Eur 4.811.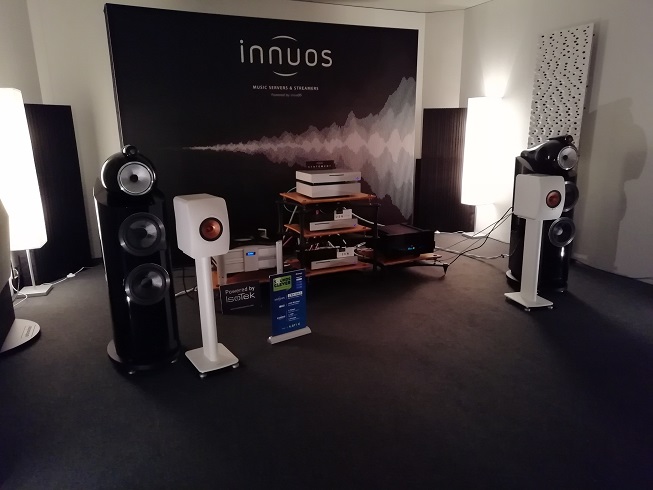 DALI assembled a system for Eur 4.376, consisting of their Oberon 7 2-way floorstanding loudspeakers driven by the newest M10 BluOS streaming amplifier by sibling company NAD, plus Dali's basic RM 230 C loudspeaker cable. Stylish, compact and technologically updated. I cannot tell you much about its sound, due to a noisy room, but, as far as I could tell from such a listening experience, its sound seemed to me quite balanced, sometimes a little harsh, but, again, I couldn't tell what files were being played, and people around were far from silent.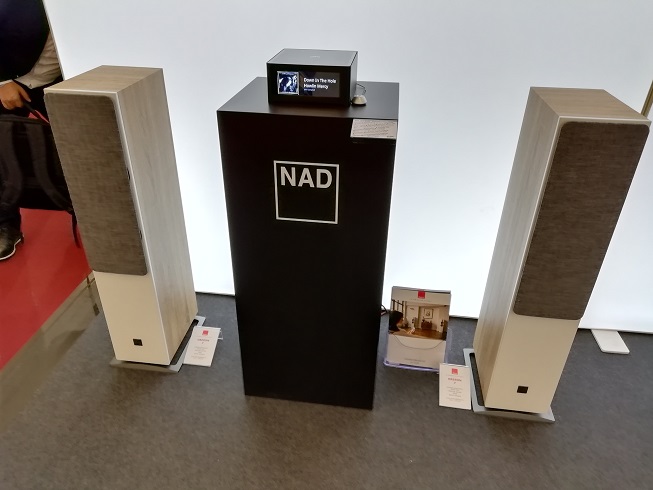 Cocktail Audio proposed a system consisting of just its X-45 1 TB ripper/server/streamer (it also sports MM phono input, line input, RCA and XLR audio output, features a double Sabre ES 9018QM DAC, and so on...) and Nubert's nuPro X-6000 active floorstander loudspeakers. All this, plus XLR cables and a power bar, both by German manufacturer In-Akustik, for Eur 4.780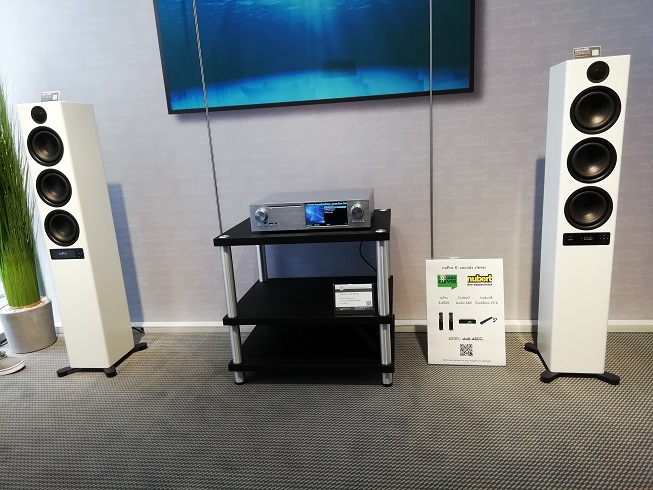 Other musings and ramblings
I noticed a flourishing of "all-in-one" solutions that squeeze lots of functions directly in the loudspeakers, once thought as the system's last end and now including the whole system in it. I saw several of them around the show, but I was particularly intrigued by KEF's deminutive LSX active (DSP-driven) loudspeakers that can accept digital input signals either wired (ethernet, toslink), or wireless (Bluetooth Apt-X, Airplay2), can stream music from the web (Spotify and Tidal) or from your local storage (DLNA), can work with Roon, etc. During the demo, Kef's Johan Coorg commanded the loudspeakers via its smartwatch, and showed me that the whole system included also another pair of LSXs in the adjacent room that could also play the same music and still be perfectly synced, although being completely wirelessly connected: no latency (actually, a bunch of microseconds, Coorg said - I guess well under my ears and brain resolution abilities). As usual, Kef's exhibited system consisted also of one of their big traditional passive tower models, yet the little LSXes still managed to fill the room with sound, albeit, of course, not as full and extended.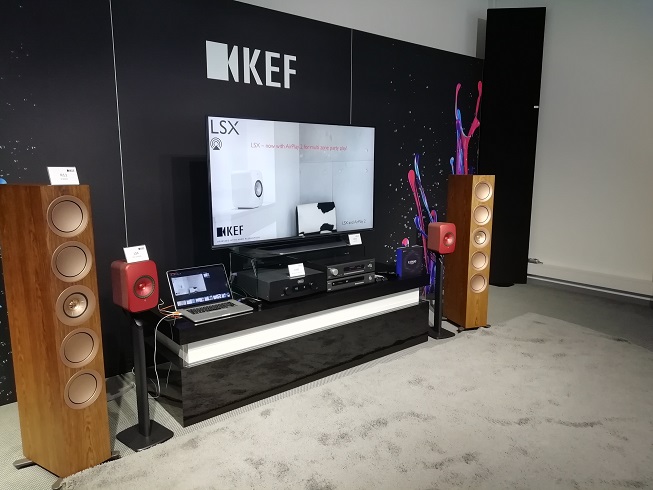 Another thing I noticed this year was that the exhibitors proposed lots of theme-based features, especially tightly scheduled illustrated demos of their products, with people not just playing music, but also illustrating how the products have been thought, designed and made, what were the consumer needs the company aimed at, etc. I think this is a great way to go, because it can engage the show attendee more than a simple product showcase. Yet, many (almost all) of those interesting demonstrations were held in German, and only when I could make a direct and personal conversation with the - always very kind - brand reps I could speak English and understand what was being said before; but it was not so effective and, above all, it was time consuming for both of us.
Now, I understand that it is my fault not to know my guest's own language.
But, being this show the world reference for the industry, I anyway expected some (okay, most) of the demos to be held at least alternating those in German with those in English. It surely would have helped visitors coming from the USA or the UK, and from all of those places where international business are usually conducted in English, like eastern countries. This is something I noticed only this year, since in my past visits to the show, I could easily follow lots of demos, held in English.
Of course, exhibitors must have thought carefully about also this aspect of their presence at the show, and it's natural that they want to satisfy their more direct consumers, their internal market. Yet, I think that this aspect was one of the very few - the only one, I'd say - that I would have changed. I'm writing this mainly because it was something that dimmed from the inside the international relevance of the show, something really contrastating with the role of this show as the international reference for this specialist industry. It's like we wanted to put up an international show in Italy and held the demos only in Italian: everybody would notice how incongruent this behaviour would be, since or language is very little known and used outside our peninsula and your opera houses :-)

Pit stop
Well, I think that this can be enough for a "first part". As usual, other part(s) will follow, with less chatter and more pictures.


© Copyright 2019 Carlo Iaccarino - www.tnt-audio.com
[ Home | Staff & Contacts | HiFi Playground | Listening tests | DIY & Tweakings | Music & Books ]