A Visit to the High End 2023 show in Munich
Reporter: Carlo Iaccarino
The show took place from May, 18th through May, 21st 2023 at the M.O.C. facilities, in Munich, Germany
Originally written: May, 2023
Website with plenty of resources: High End Society

Happy birthday to you, happy birthday to you...
Several celebrations occurred at the show, this year.

Let's start with the landlords, of course. And let's do it with one of their own images, luckily available for download to help this reporter, too dumb to shoot a proper picture himself.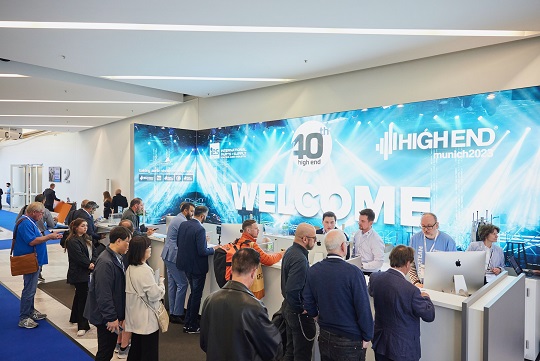 During the press conference we were reminded that this was the 40th show organized by the H.E.S. It grew up from the original small event in 1982 with 20 associated exhibitors: now the H.E.S. has 69 members.
During this growth they moved from the romantic Kempinsky hotel, in the woods near Frankfurt, to the present M.O.C., a huge exhibition facility in Munich, that they "fill up" more and more every year.
Since last year, admission tickets can only be purchased in advance and are personalized, so there are already exact data as soon as the show closes its gates.
This year's official data describe a show with 550 exhibitors from 54 Countries, and 22.137 visitors from 100 Countries - the visitors' figure was given as the highest ever.
The visitors were equally split between the general public (10.860), admitted only on Saturday and Sunday, and trade visitors (10.784); besides 529 media members from 49 countries (amongst them, your humble writer).
This year, too, they again organized the SOUNDS CLEVER section, asking the exhibitors to show systems whose price was constrained to EUR 5.000, and ideally even less than that.
This initiative had the objective to promote human solutions for home audio.
This is an attempt to demonstrate that there exists something different to the unobtainable expensive systems that usually are exhibited here - although I keep on thinking that it is something you should expect when visiting a show with "HIGH END" in its title.
Yet, this year they put an emphasis on it because they listened to a growing demand from the public.
So, they decided they had to allow visitors to literally touch "real" affordable systems, actually switched on and playing music. The organizers thought it was something good for both the public and businesses alike.
this year this part of the show was, in my opinion, really well done.
Besides the usual arrangement that every exhibitor set up in his own exhibition spaces, the H.E.S. gave a huge hall at floor level - so, immediately accessible, even BEFORE entering the actual show's halls - to four well known audio magazines in Germany: the very traditional STEREO, the newer LOW BEATS, and two webzines: HIFI.DE and HIFI PIG MAGAZINE.
On each wall of this hall, every magazine set up a system demonstrating it and making it play the music they brought along - the system shifts were one-hour long. In the middle of the hall were a group of seats arranged in a square for the listening public such that they could easily seat in front of each playing system without moving chairs between sessions. Here is an hopefully explanatory picture I shot from one of the hall's corners.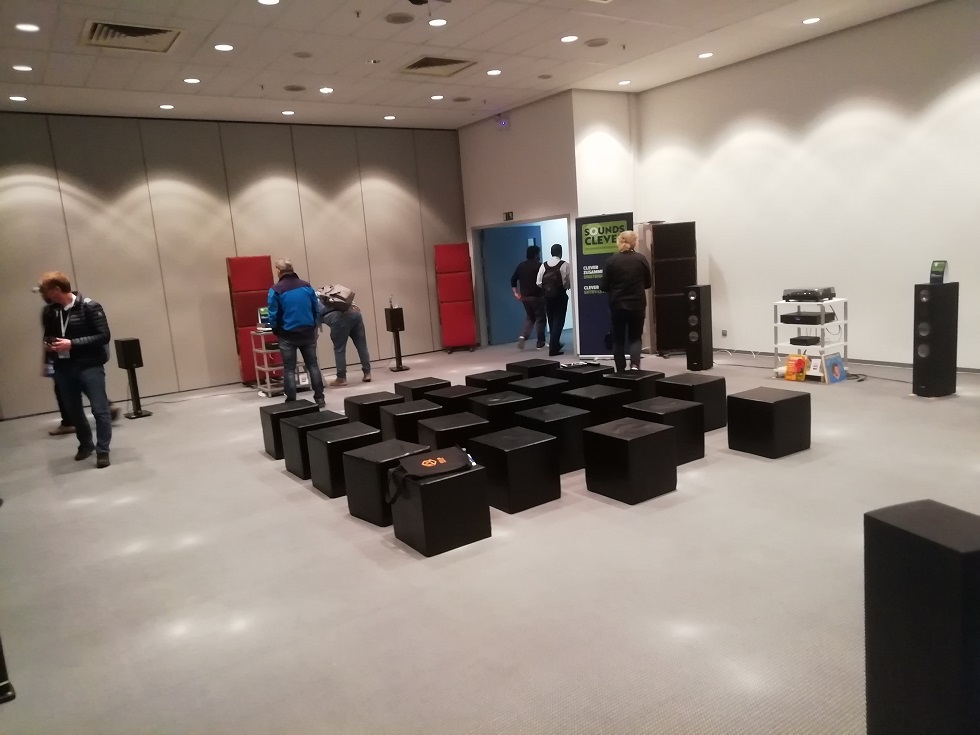 I think it's an excellent idea, because the systems were organized with more freedom than those from a single exhibitor, who naturally is limited to his or his distributor's gear.
I promise I'll dedicate a future article to all those Sounds Clever systems.
Actually, this year there were many of them, and many were good and had been assembled with care. For some proposals, there even was a special reduced showtime price, to better encourage the visitor to proceed to a real purchase.
I'd like to take this occasion to say that, this year, the Sounds Clever systems were much more visible than last year.
Besides, much of the demos were held in English.
Have they actually listened to us? :-)
This year, the musical celebrity they chose as the show's testimonial was Al Di Meola, who greeted us upon arrival at the airport,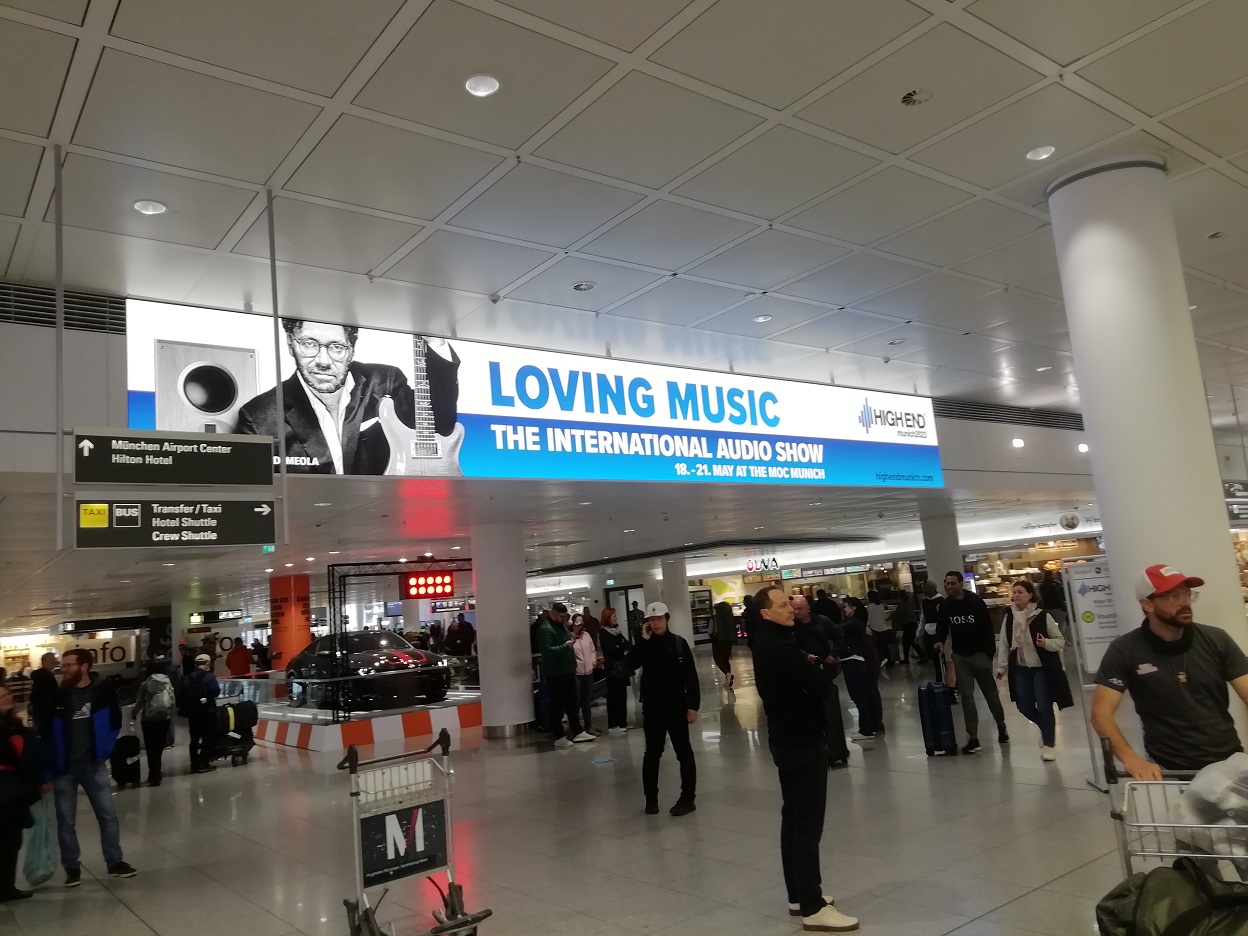 and didn't leave us, even in the subway :-)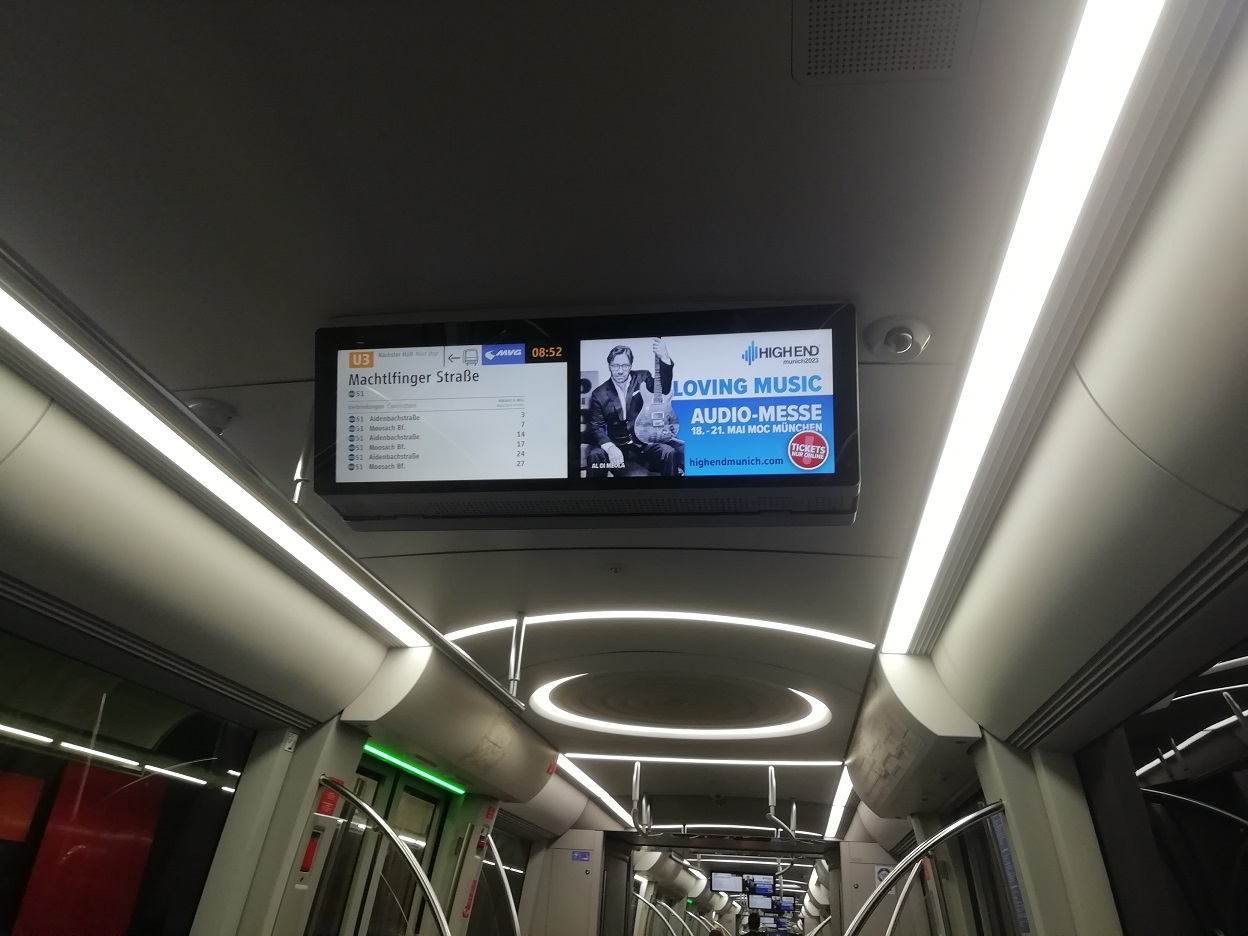 Mr. Di Meola, for those two or three desert-island refugees who don't know him, is a World-class guitarist - born percussionist - very famous for his collaborations, for example, with Chick Corea (I see a patriotic connection, here...?)
Yet in this world of ours as audiophiles (and not only), he is mainly connected with the exceptional live performance Friday Night in San Francisco, a "three-soloist concert" by guitar virtuosos Di Meola, John McLaughlin and Paco de Lucia.
This record has such a deserved fame that also the tapes from the show held the next day have been recovered. So, a "sequel" record was made, whose title is - you guessed - Saturday Night in San Francisco :-).
To celebrate its 40th show, H.E.S. donated samples of the vinyl (of the highest quality, obviously) record pressed from those recovered analogue tapes.
During the press conference at the beginning of the show, Mr. Di Meola underwent a short but intense Q&A with some of the assembled journalists.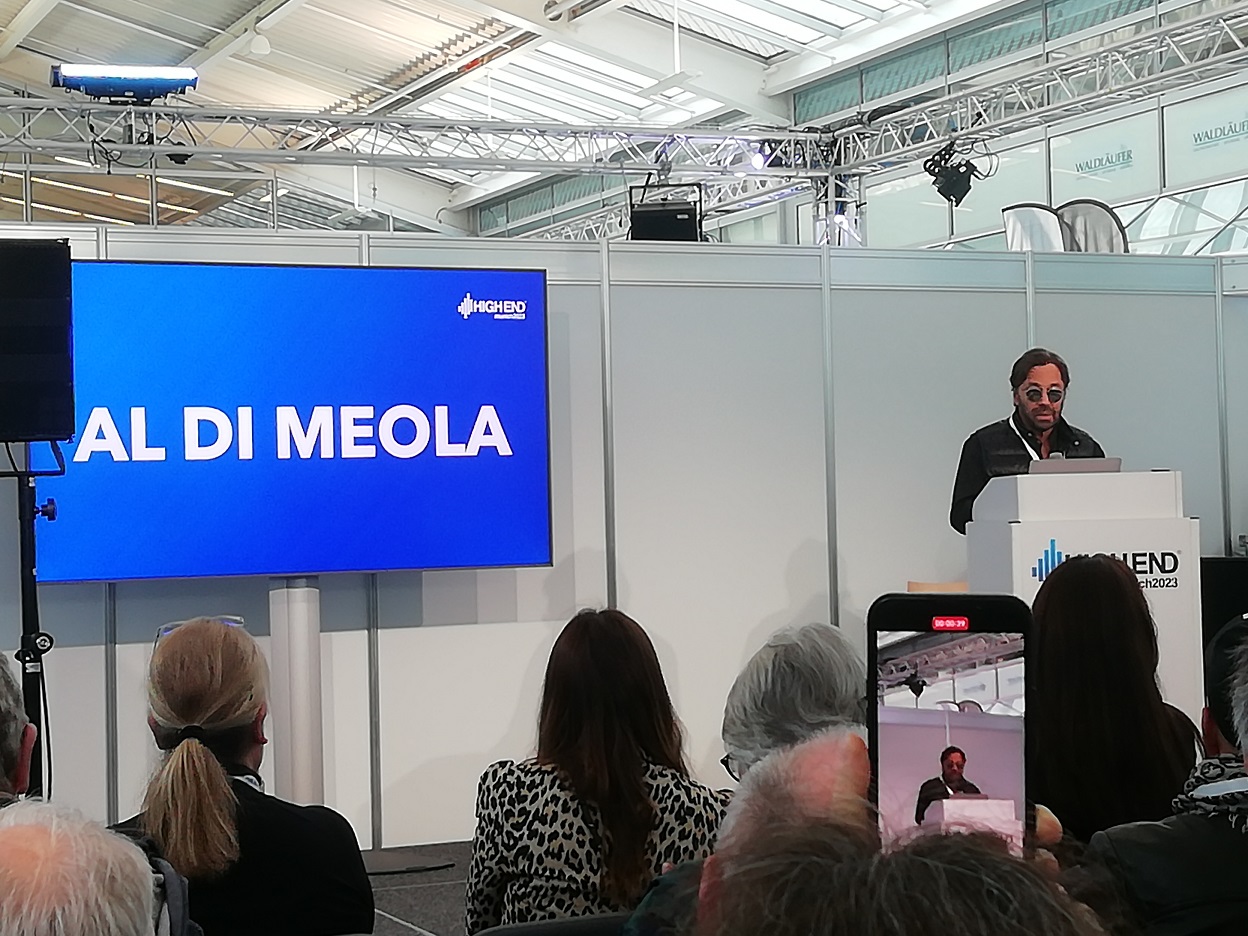 There, he "confessed" he uses the most common equipment to listen to the music everywhere (e.g. battery-operated wireless amplified little speakers). For him, they are capable of a surprising listening quality, especially if related to their handy usability.
Another surprise for the audience was to discover that he uses his iPhone's voice memo app to record musical ideas that he comes up with, and then he sends the resulting digital file to his colleagues for future recordings or even to his sound engineer...and this seems to be a common habit amongst musicians...
Lastly, he, too, took part in the artists' plea against present music distribution system through streaming platforms.
According to Mr. Di Meola, it's also a commercially arguable model, because only major artists generate significant money from streaming.
This means not only that record companies are "losing" regarding the ample catalogue they include as a bundle to the platforms, but also that, as we already know, so-called "lesser" artists can't make sufficient revenue from that and consequently struggle to make a living from their artistry.
More celebrations now.
It's LINN's turn. To celebrate their half century,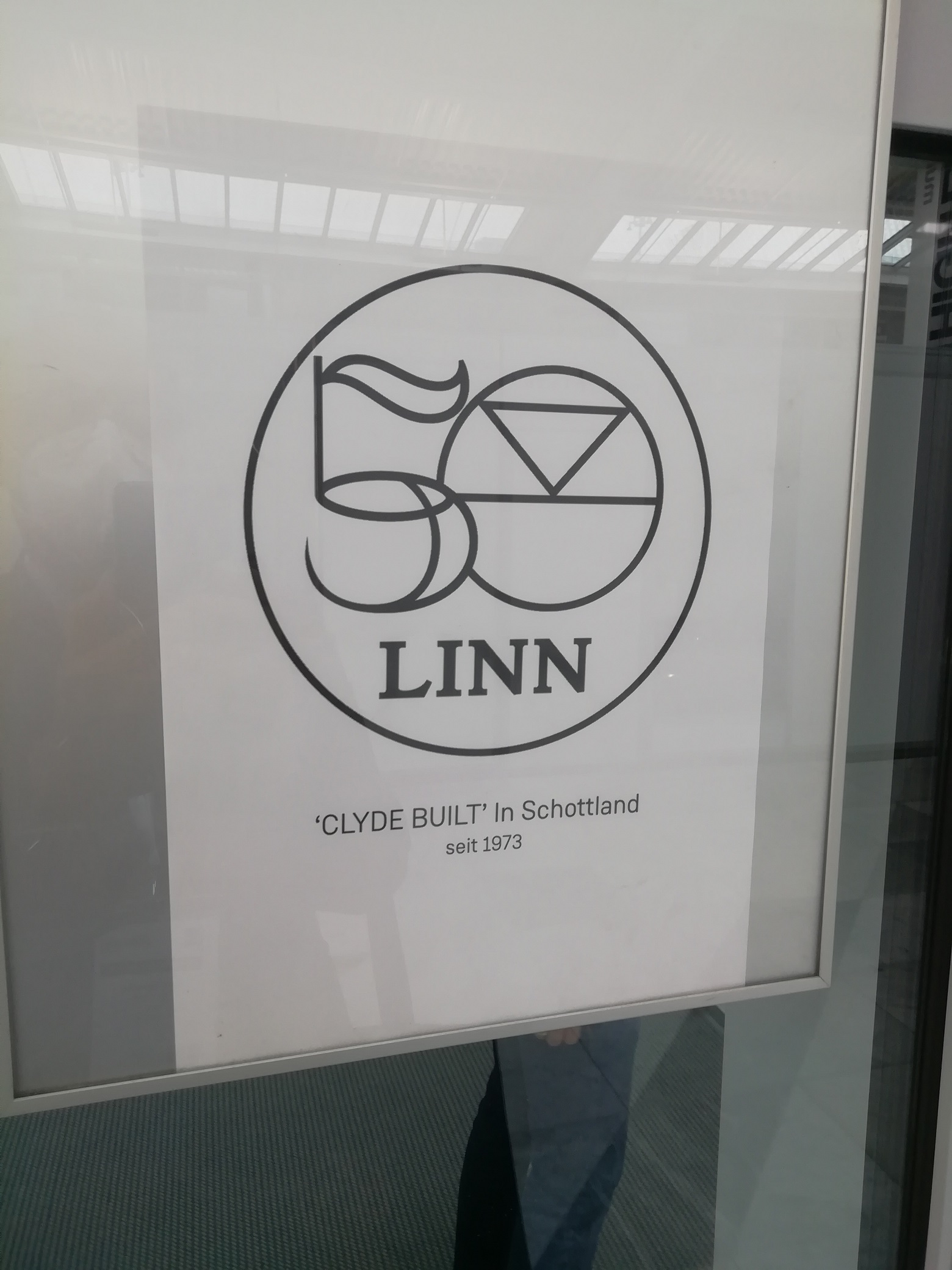 they brought to the show their new flagship loudspeakers (with so many construction innovations that I must forward you to their website).
Here is the passive version with amplified bass section, the 360 Passive with Aktiv Bass model;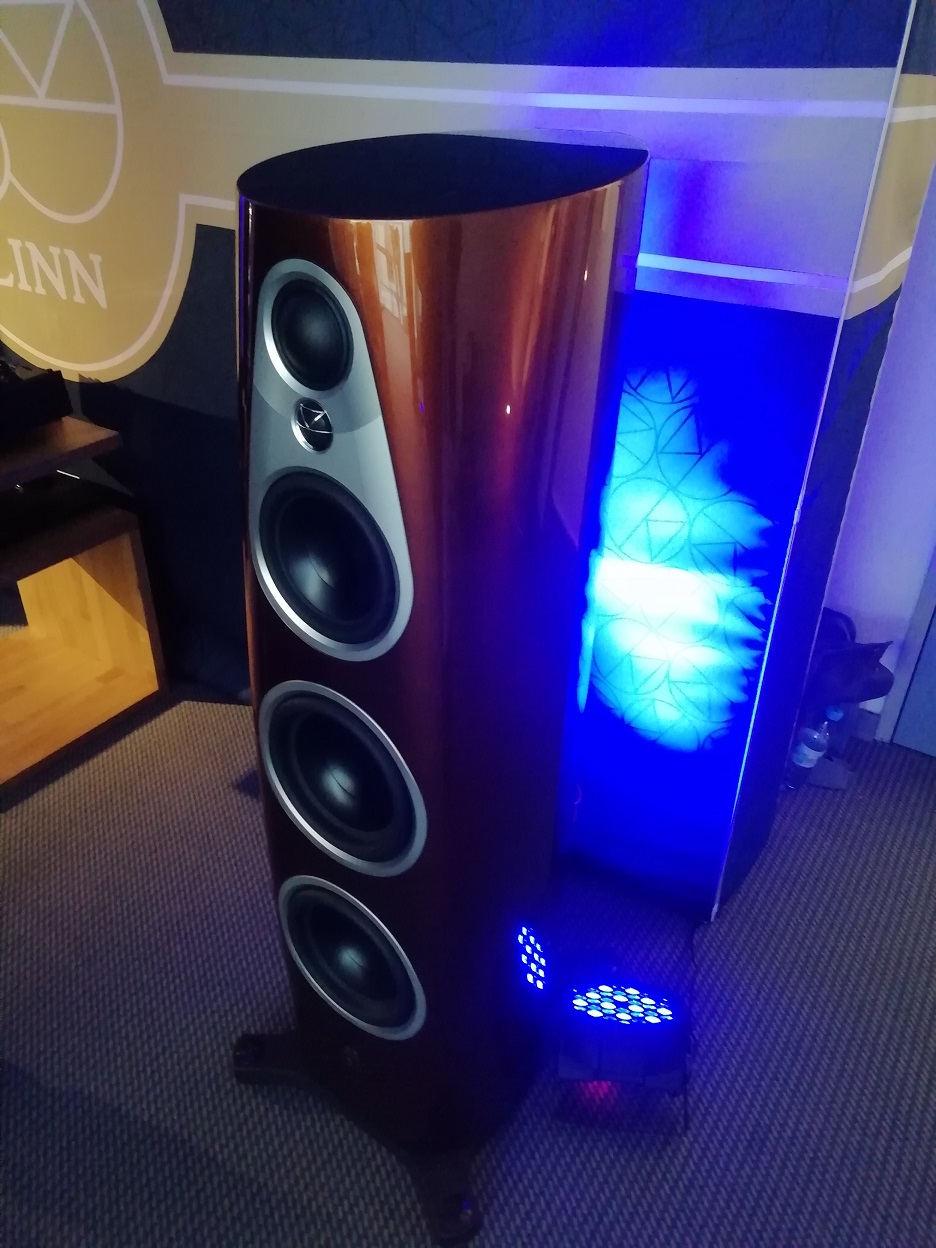 and this is the top version, with internal (multi)amplifiers and digital signal processing, the 360 Exakt Integrated model, for EUR 105.000. It finds its ideal mate in their music player Klimax DSM that, in its System Hub version, comes with the loudspeakers - and, last but not least, their control app - a complete whole Linn system,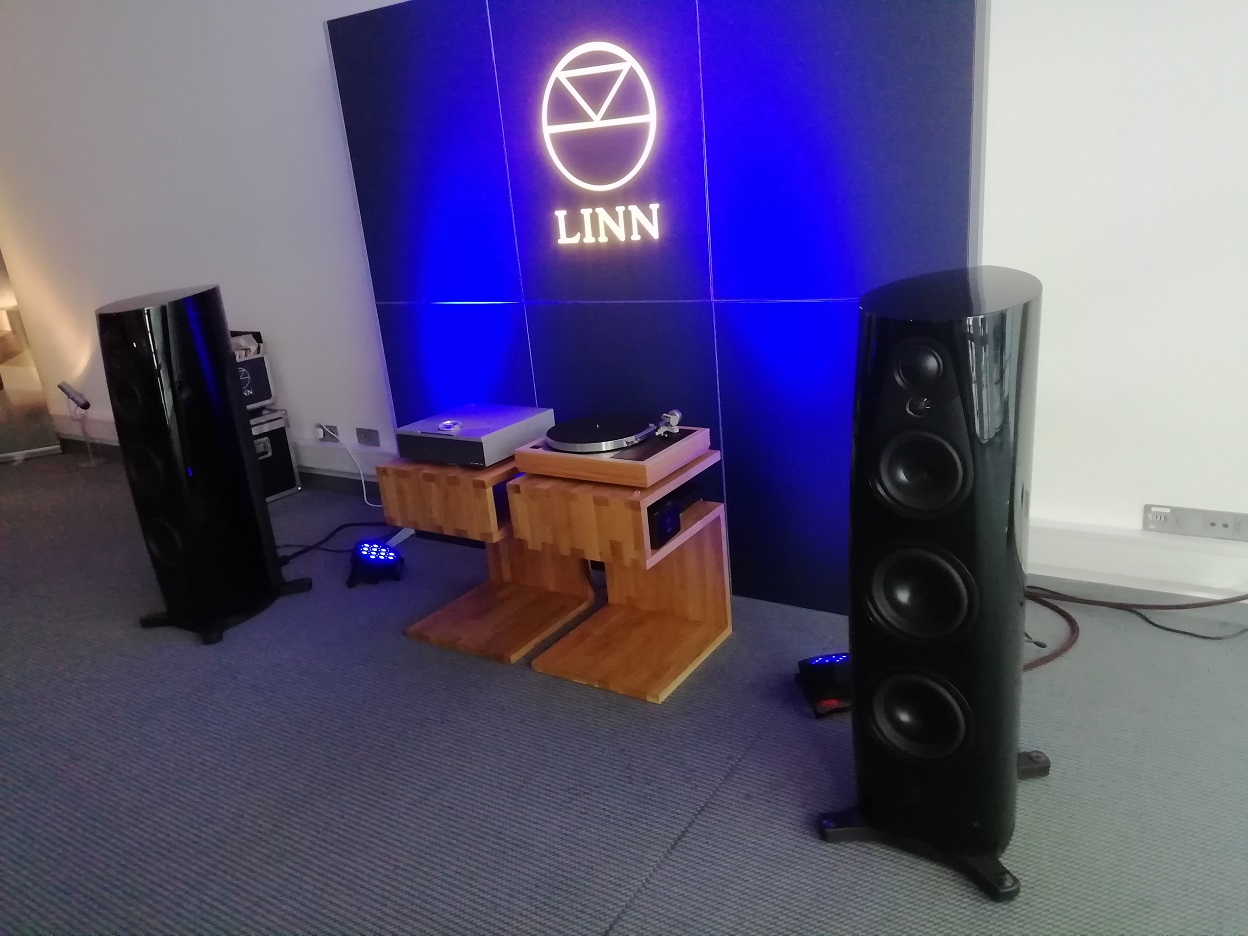 in which the signal travels only in digital form, between player and loudspeaker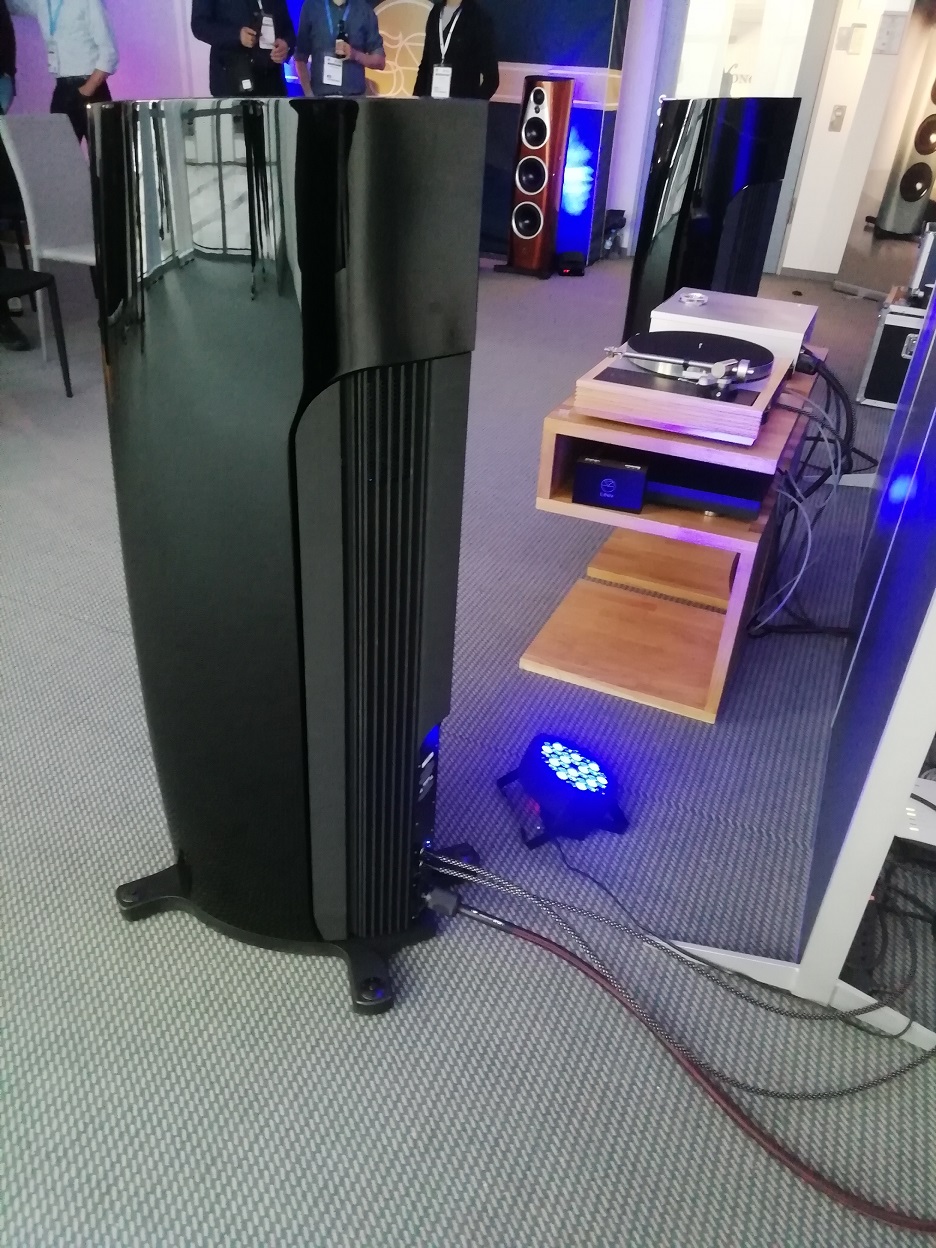 and between one loudspeaker and the other.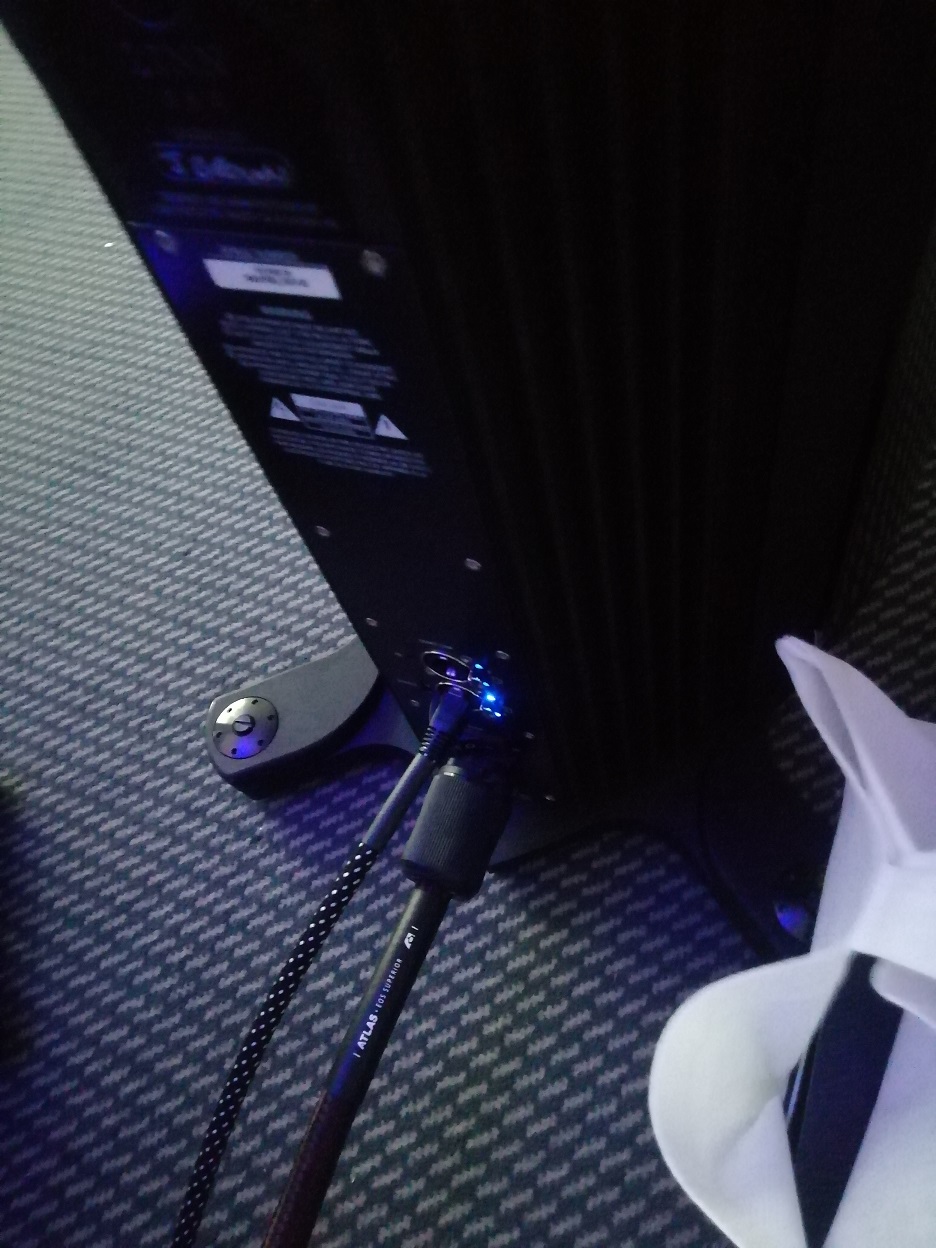 Also Linn's old road companion, NAIM, celebrates their first 50 years. And they did it presenting the NAIT 50, a special edition of their famous NAIT 1 integrated amplifier, now re-issued in a limited edition of... yes, you guessed it: 1973 examples, all hand built in their original Salisbury premises.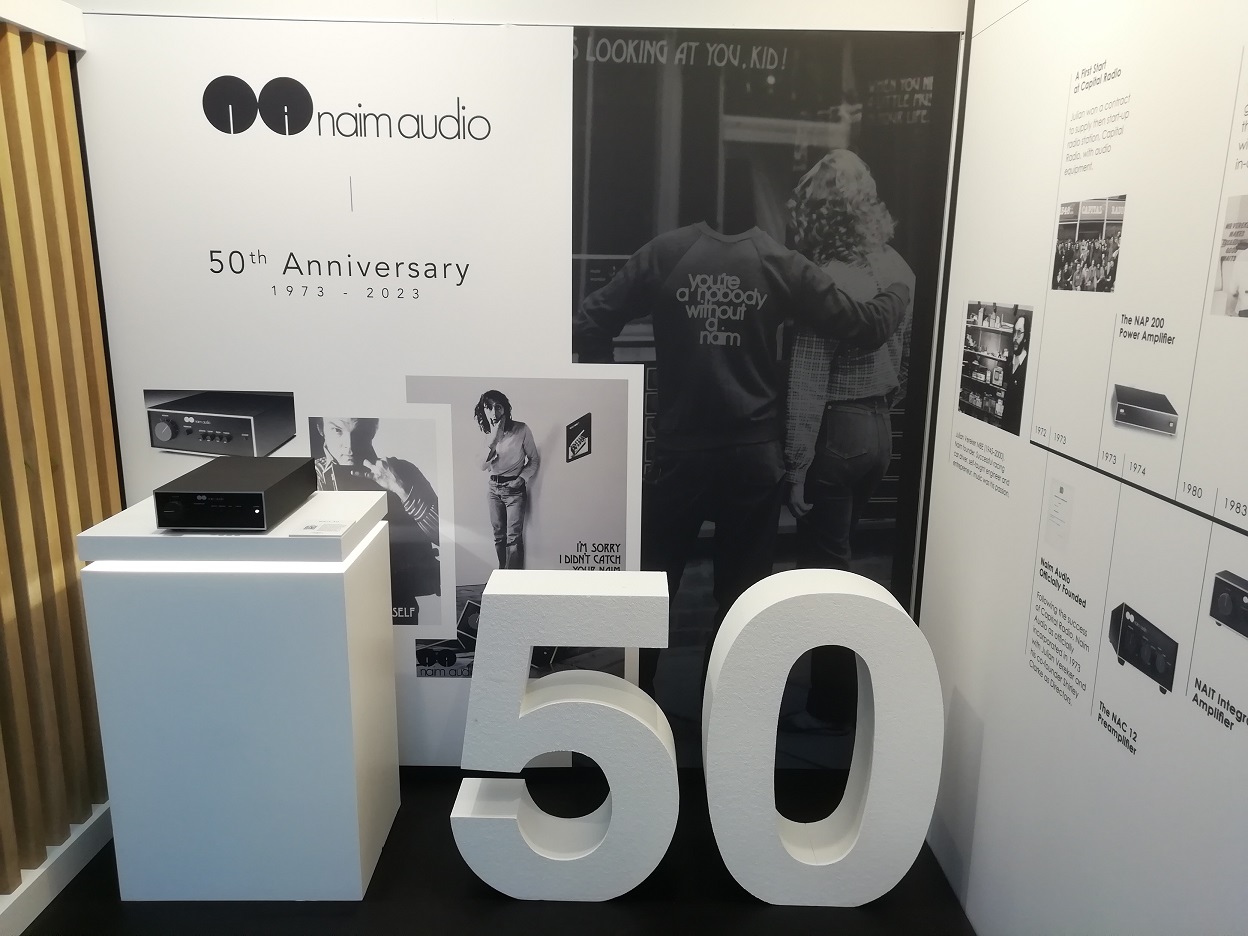 The aesthetics chosen for this celebrative model is the so-called "chrome bumper".
They assured us that, if the outside is a calligraphic homage paid to nostalgia, its innards are technologically updated; it also innovates with a headphone output socket.
The specified power is only 25 W/ch but, as this brand's fans well know, the NAIT is capable of much bigger dynamic power.
Its controls are limited to the 4 push-buttons for input selection and the volume knob. It's an evident homage to the pragmatic utilitarianism which the rigidly British-school Hi-Fi was famous for (but forgetting its other characteristic: the economic accessibility, as our Editor recently underlined).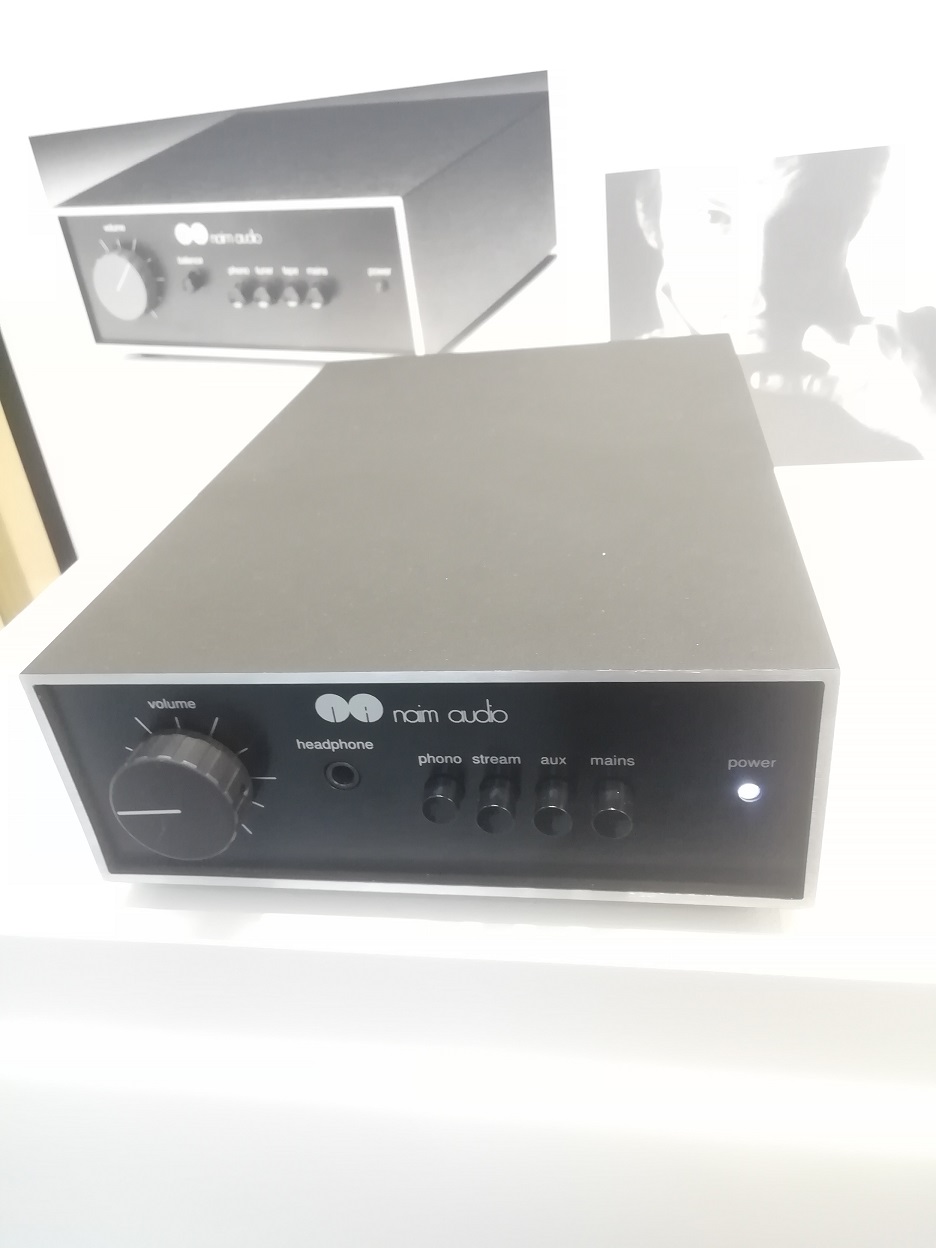 Remaining in the Albionic domains, also REGA this year celebrates their first half century, with a special offer: a "bundle" of its Planar 3 turntable with external power supply and pre-mounted cartridge: if my scribbled notes don't betray me, it should be the first on the left in the following picture.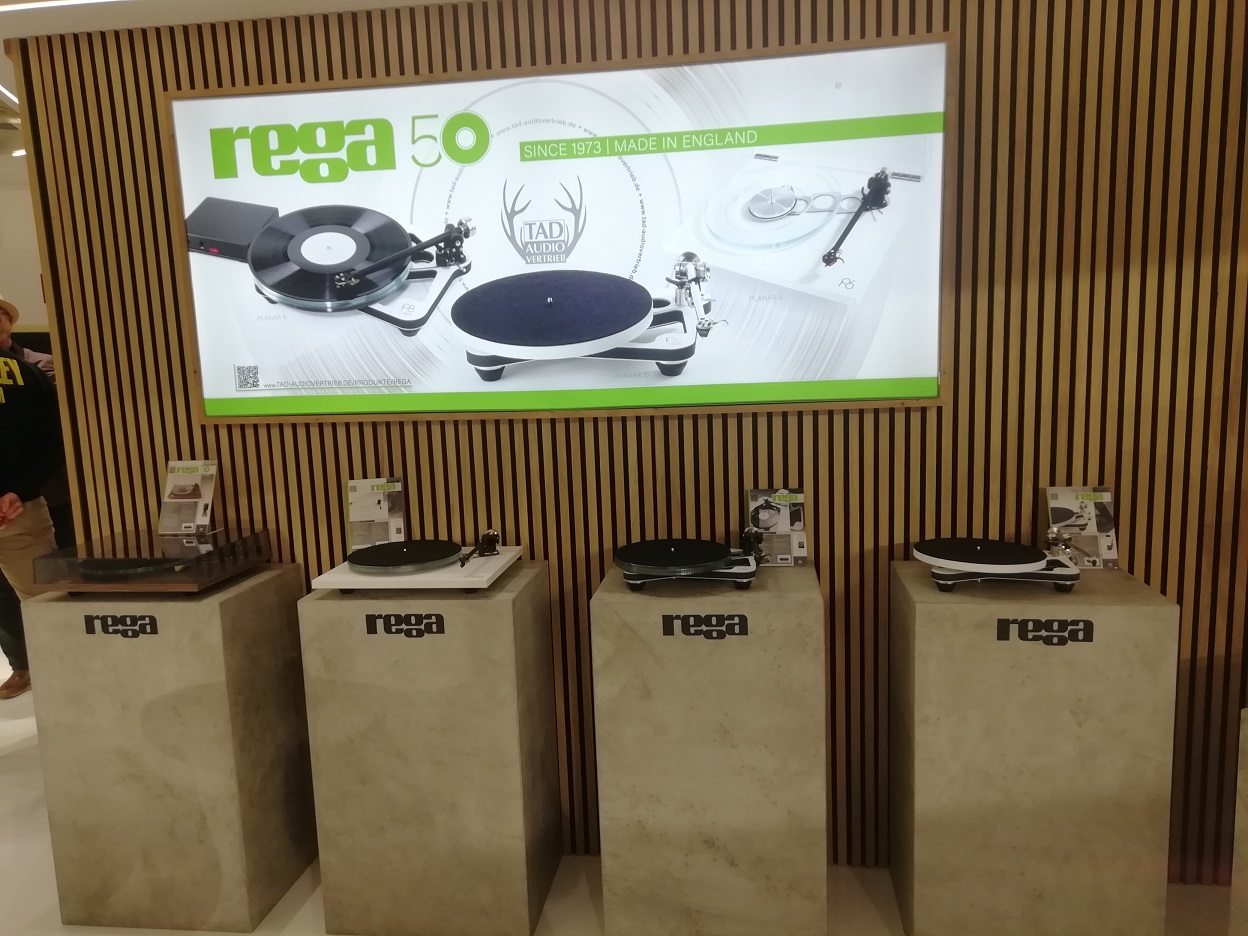 More birthdays
TEAC celebrates SEVENTY (!) years; but - as usual for an old, and Japanese, gentleman - without clamor and with modesty, as you can see in the following picture.
I think this image well represents the variety of the public attending the show, that actually includes - now hear this! - also people different than the usual over-fifties males.
I didn't take pictures, but I also saw families bravely pushing their baby carriage (!) - this is probably still too unsuitable for the crowded aisles and rooms, which are even more packed due to the concentration of the general public over the weekend...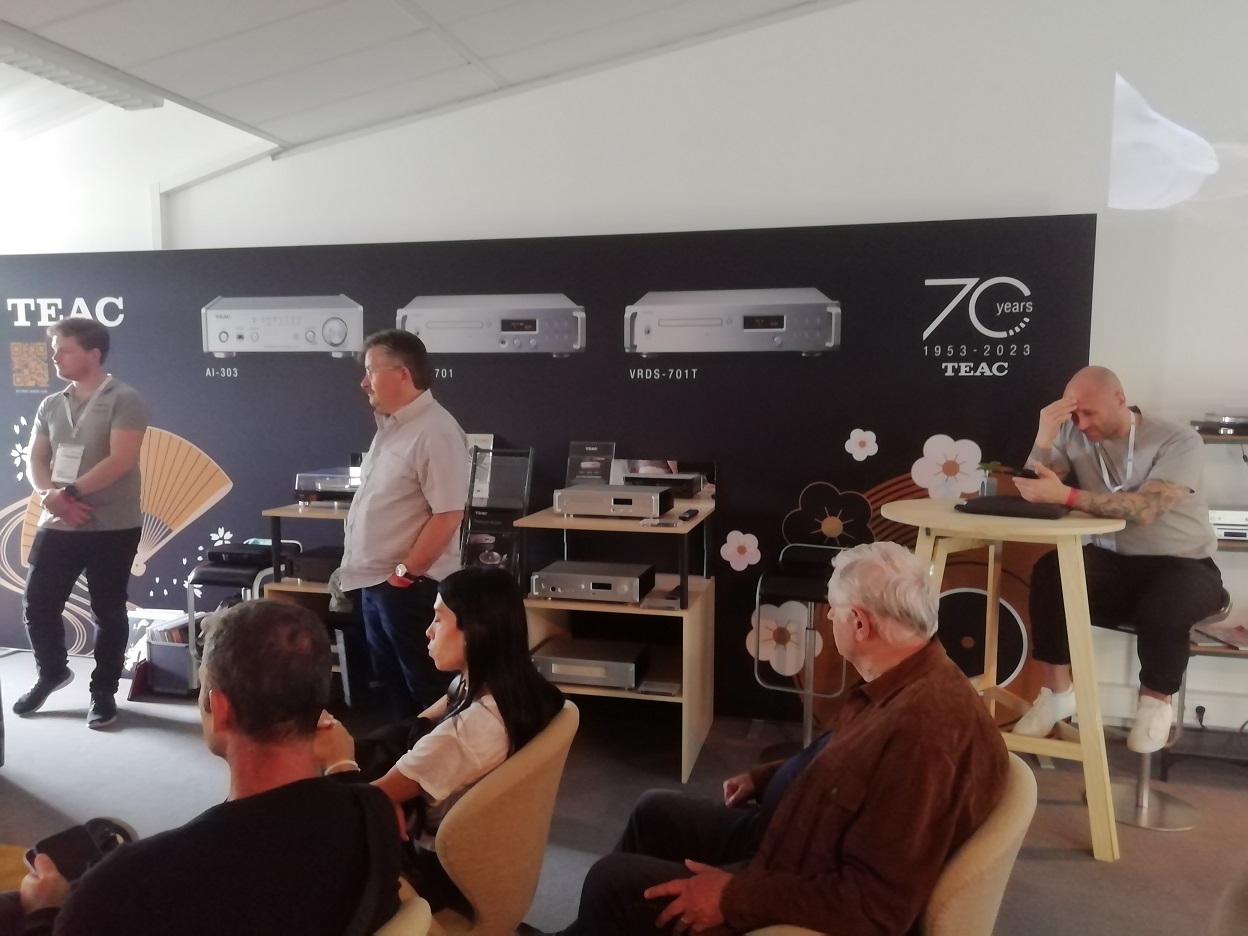 For this occasion, TEAC exhibited their new models from the 701 range, characterized by a reduced dimension compared to the traditional "rack standard".
Let's start with the VRDS-701 CD player, for a projected price of around EUR 2.500.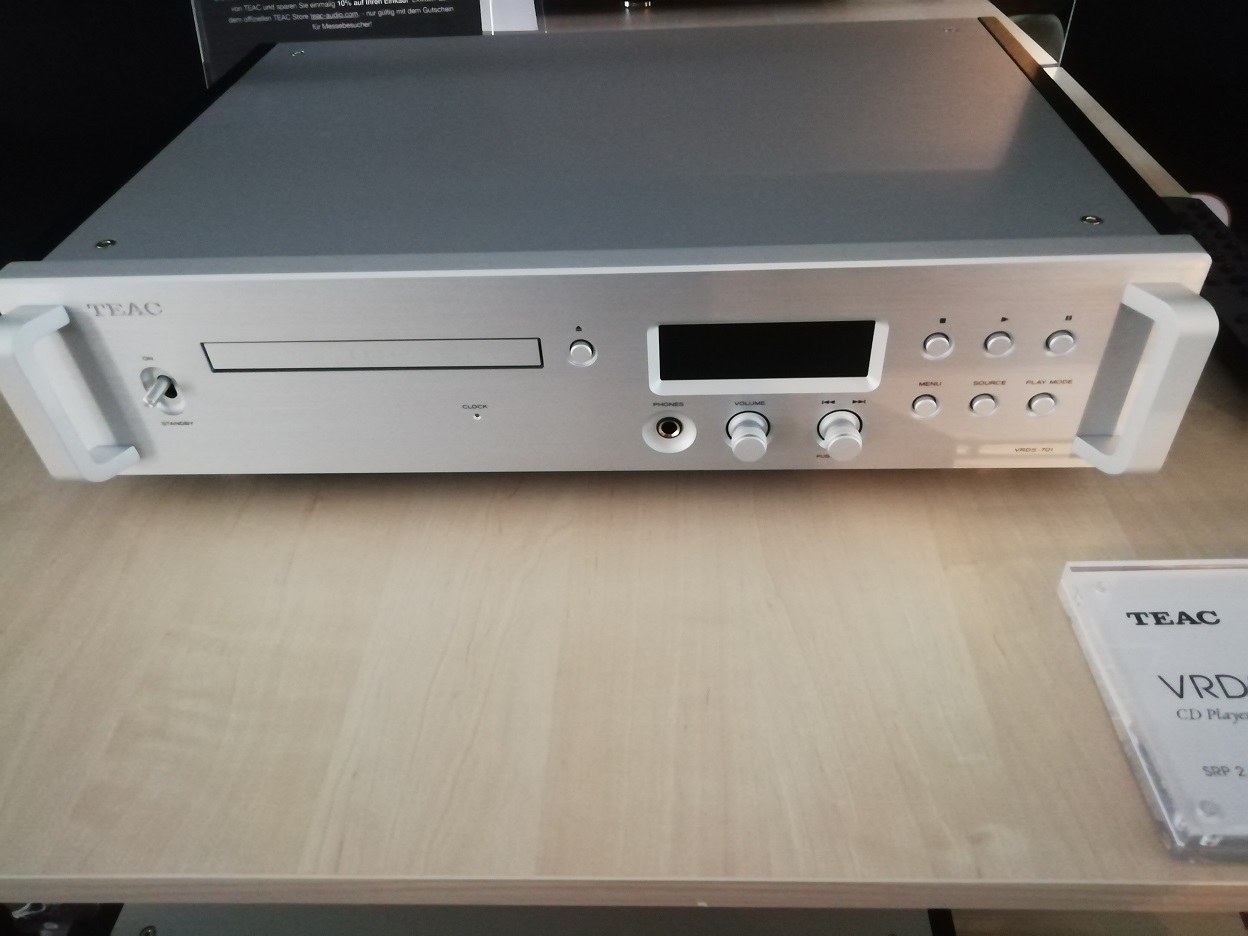 As suggested by its moniker, it uses a refined VRDS mechanism for disc reading developed by TEAC. It has unbalanced RCA and balanced XLR analog outputs; it also has digital inputs and outputs (optical and coaxial), and an input for an external clock signal.
They provide also a transport version, imaginatively named VRDS-701 T, that has only the digital outputs and the external clock input, for the slightly lesser price of about EUR 2.000.
The 701 range comprises also the UD-701 N, for about EUR 3.000, something that works as a network player, a DAC and a preamplifier; and the AP-701, for about EUR 2.700, a 170 W/ch stereo power amplifier with two Hypex Ncore modules. Both models have unbalanced and balanced inputs (and the outputs, for the preamplifier). Their construction is of the dual mono type; the power amplifier can be bridged, thus becoming a more powerful monoblock.
Here we have my badly executed family portrait that doesn't give justice to the pleasant aesthetics of this gear. It was exhibited in the silver version, but it's available also in black; the latter, for me, is slightly more retró, it reminds me of the '70s nipponic invasion, and I don't exclude that it can stimulate teenage nostalgia in the public, considering what is now its predominant demographics.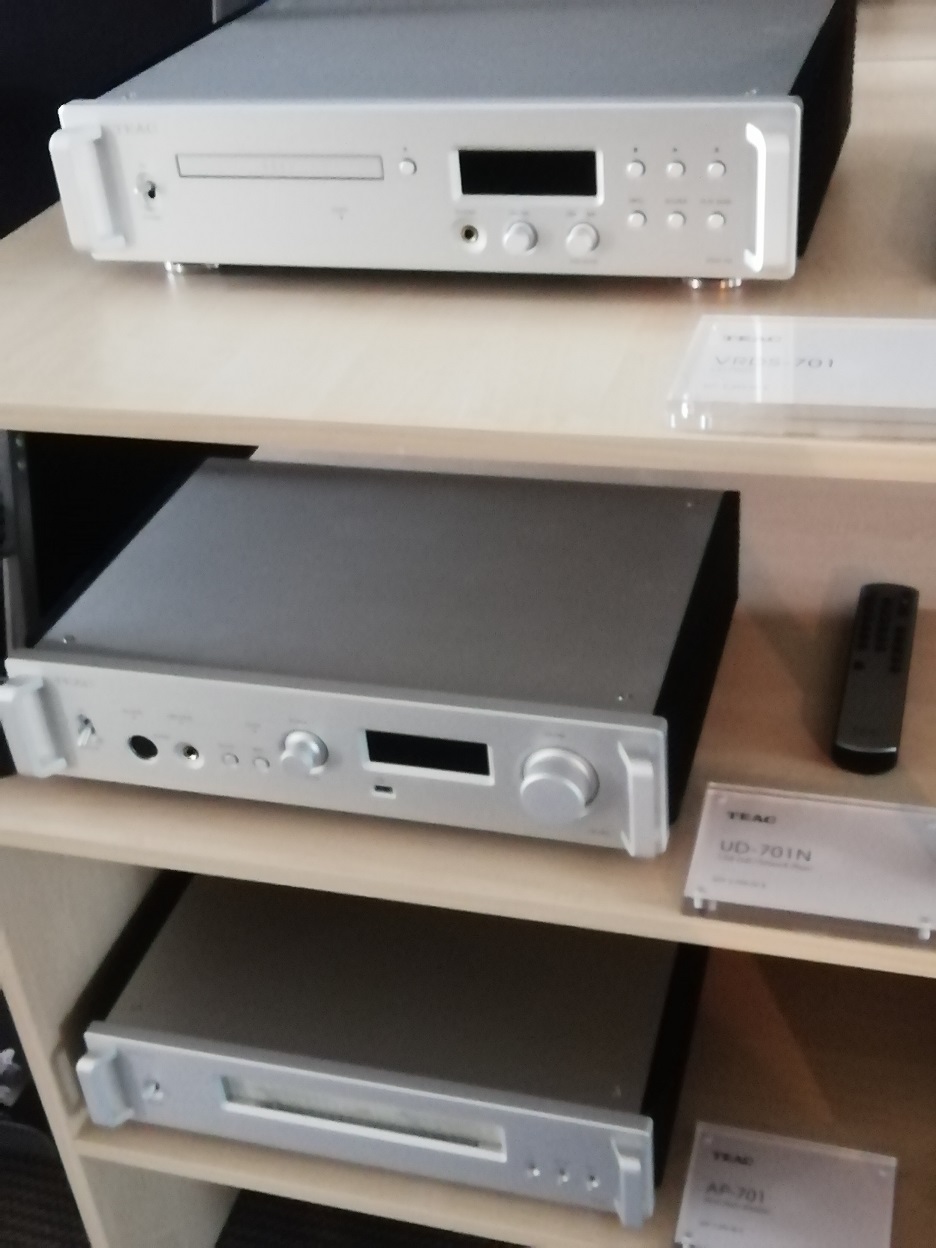 DALI, too, is celebrating this year: it's their 40th birthday.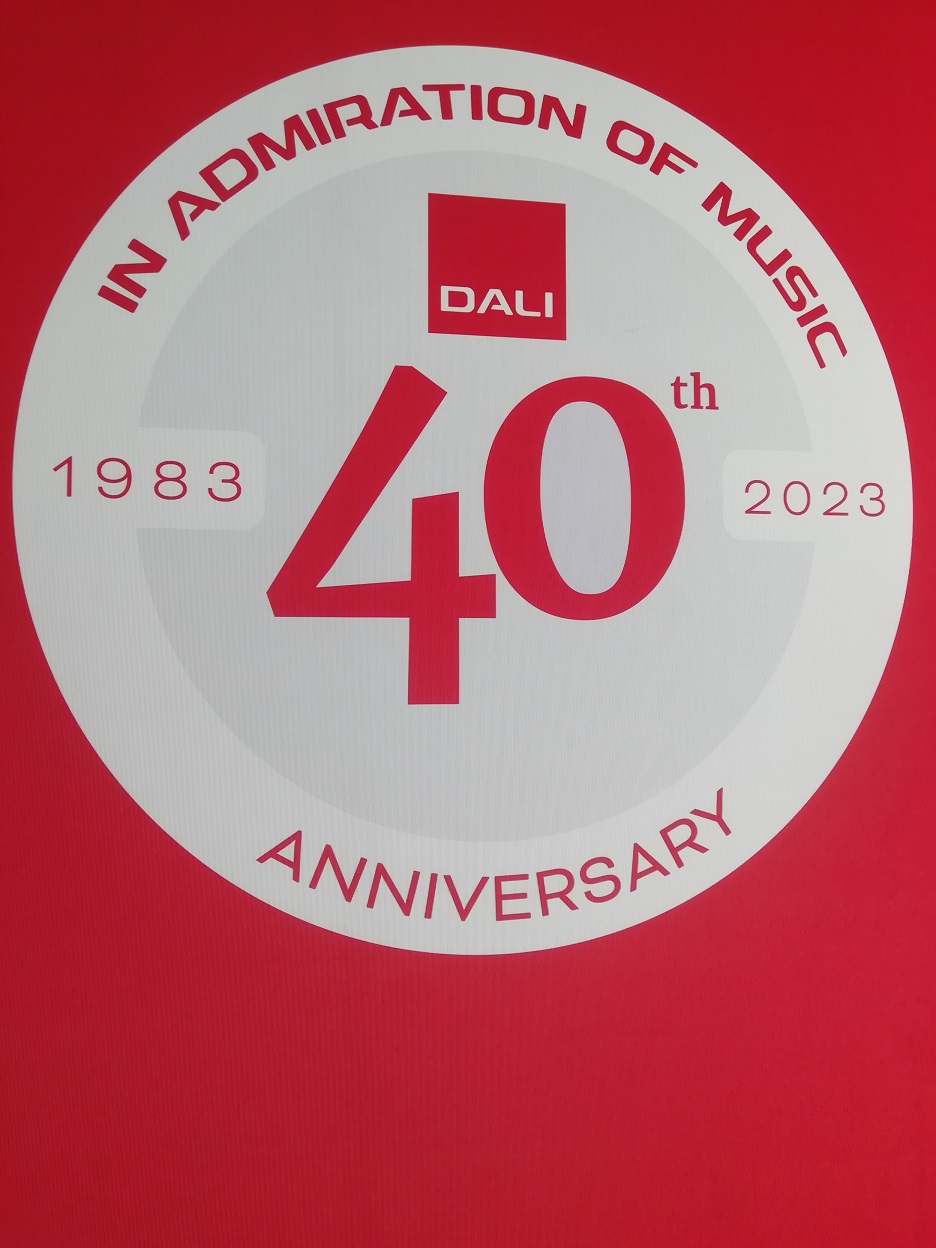 For this occasion, they setup a nice system with their new EPIKORE 11 loudspeakers, for EUR 40.000/pair, clearly a trickled-down version from last year's flagship KORE, but with decidedly reduced dimensions and price.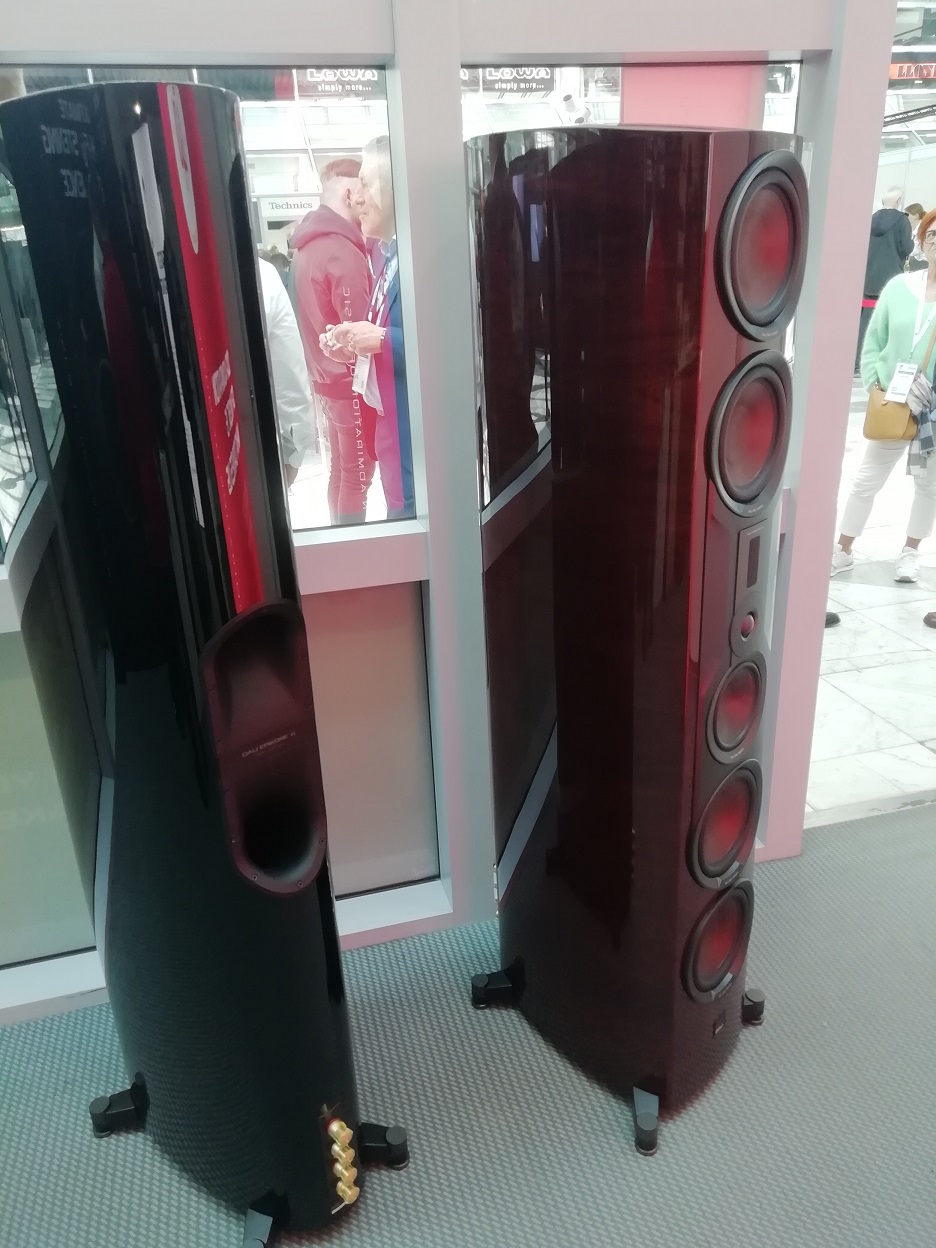 Electronics were provided by their cousins of NAD, from their Masters range.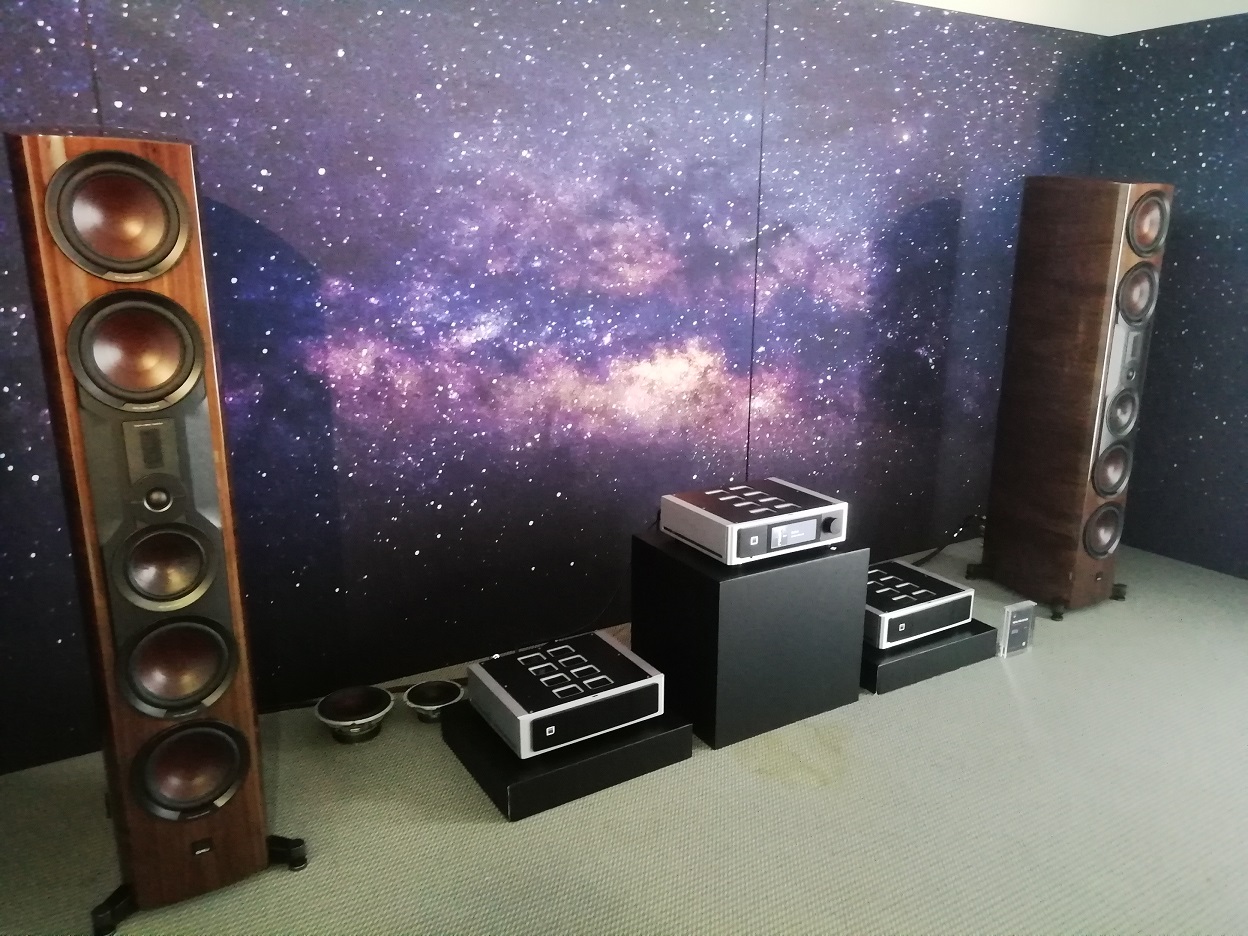 They were the M 66 pre/streamer/network player, rich with updated features (like, for instance, the DIRAC Live system for room acoustics correction), whose introduction is scheduled after this summer for a projected price of about EUR 6.000; and two M23, stereo power amplifiers of 200 w/ch or 700 W in mono when bridged (like they were, there). The latter use the Eigentakt D Class amplification modules and are already available for about EUR 4.300 (each...).
We couldn't miss out our friends from Greece: LAB 12.
They, too, are celebrating a birthday, but they are little children :-), they are only ten years old.
Besides the jokes, I think it is good for a company that is so little and that operates in a country whose economic and social conditions are not exactly relaxed.
Here we have the now traditional group photo. Let me still hope they return to the muuuuuch better aesthetics, as enjoyed during their previous exhibition :-)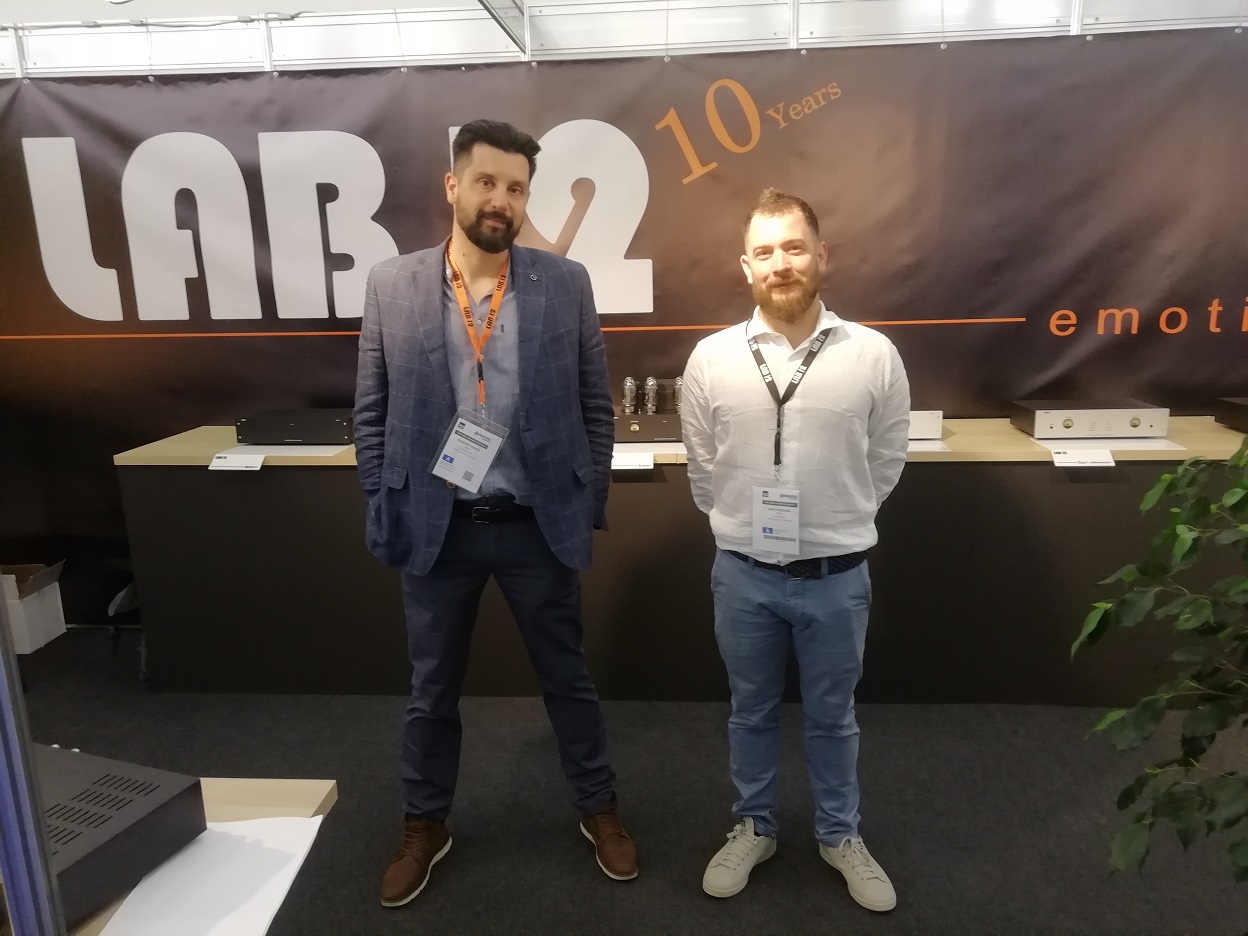 This year their mighty power amplifier IRAMA, that they exhibited last year as a prototype, has become available, for EUR 10.000.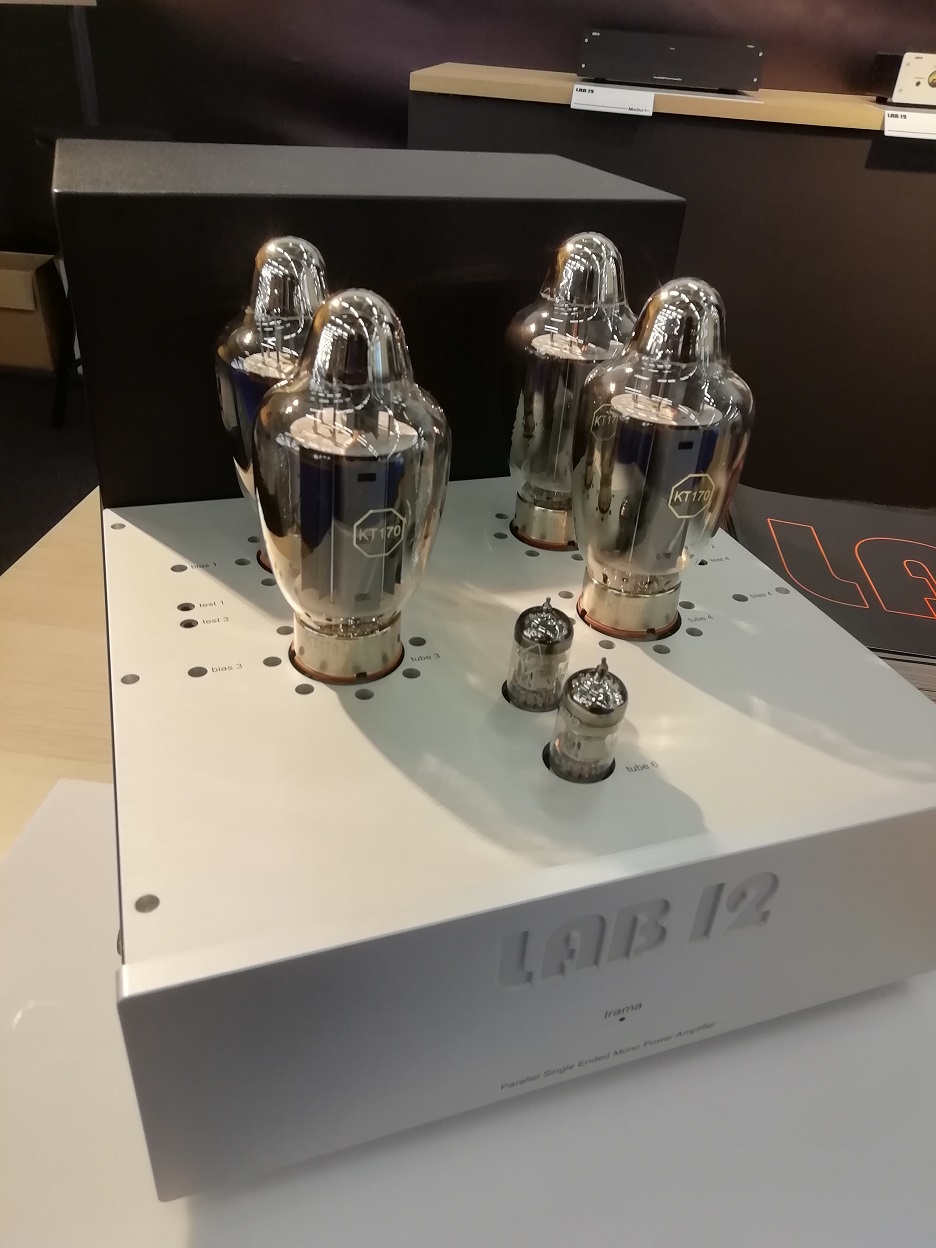 But, for me, their bigger piece of news is their integrated amplifier, the NAYA, so named after the daughter of Mr. Vichos, the firm's boss, who described her as "little, but with a powerful voice" :-)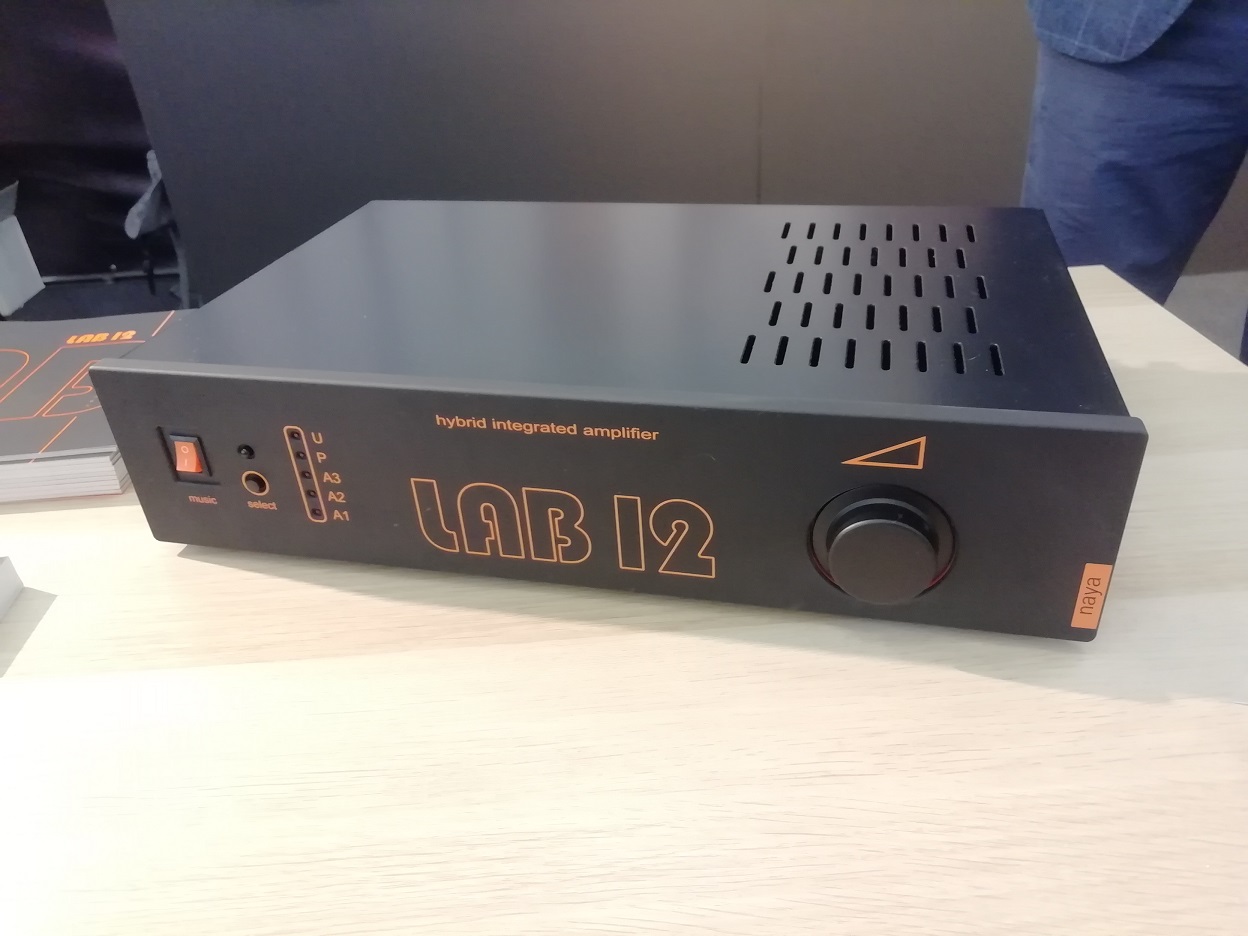 As you can see, it is a machine which is very different to the rest of LAB 12 gear.
It has Spartan aesthetics (and that, from a company based in Athens...), almost "laboratory-style" (actually, it displays LAB 12).
The amplification circuits use tubes only in the preamplifier section. The power amplification section is designed to provide 100 W/ch using two Hypex boards, whose working parameters are set up well under their limits.
It has a British minimalist functionality - the volume knob, just one push-button for the sequential selection of the inputs, and the power switch, labeled not with the usual "ON/OFF", but with an ironic "Music". An (also Spartan...) remote control is supplied.
Yet, it has four analogue inputs, one of which can be also used for an MM/MC phono cartridge, and one USB digital input. The latter accepts only PCM digital files: I asked the reasons for this limitation, and Mr. Vichos told me the he doesn't like DSD, although his own words were more colorful.
So, a machine made looking at the way young people now listen to their music, via musical files or vinyl records.
This, considering the savings possible from the sober cabinet and the hybrid circuit, allowed the company to ask about EUR 3.500 for this amplifier. It is a price reduced with respect to the rest of their catalogue, but I think it is still not so popular, even considering that you have to add also source and loudspeakers.
But it clearly shows the company's intention to target - maintaining their high production quality - a wider audience than its usual customers and, possibly, younger, as the amplifier's name implies ;-)
And even just for this, I think they deserve a sincere appreciation.
Lastly, I must give my public thanks to the people of KÁCSA AUDIO: I can't imagine how I could have made my reportage without them.
It's a Hungarian company that makes a wide range of connections - cables, plugs, sockets - for every necessity.
They traditionally exhibit at audio shows splitting their booth between an exhibition space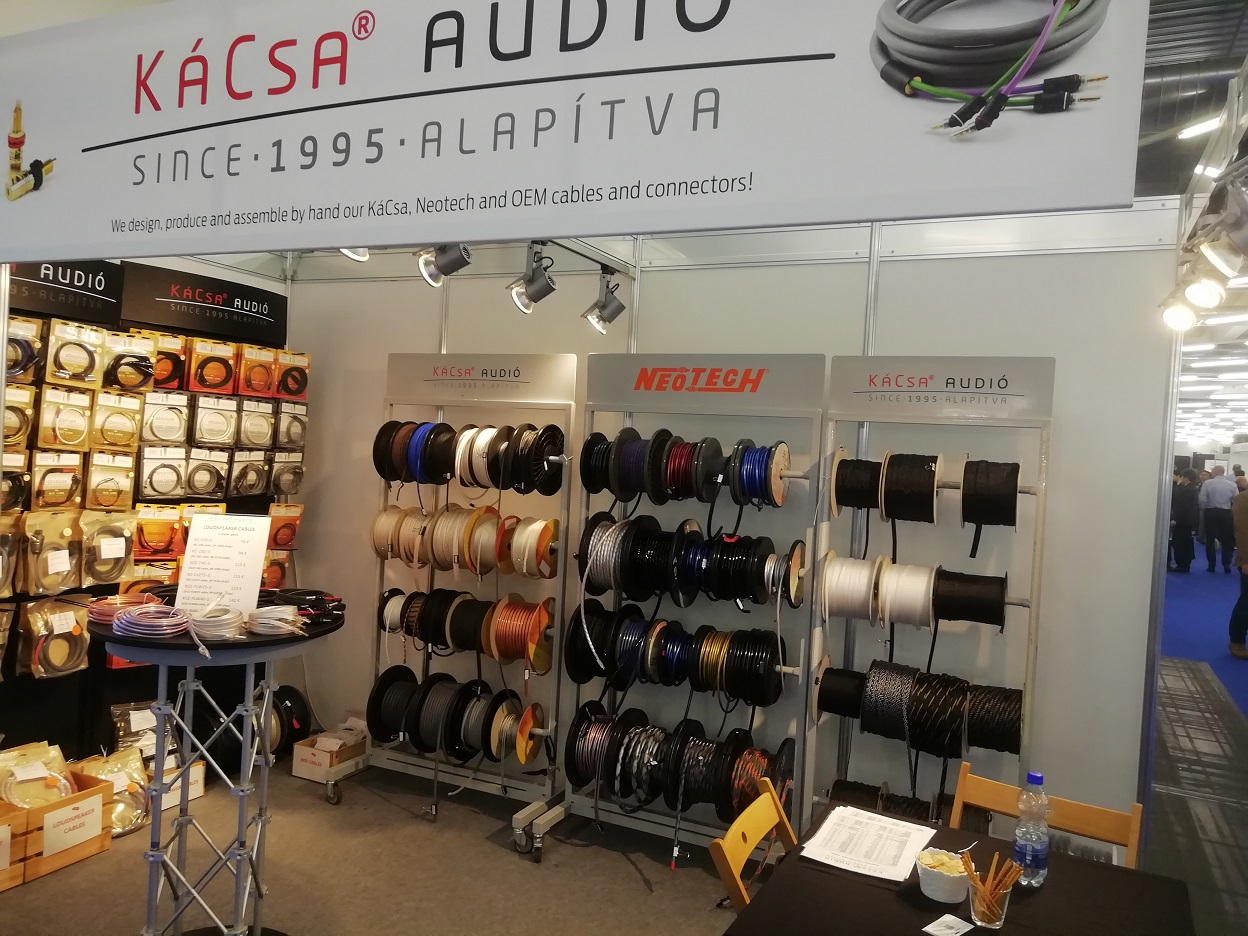 and a mini-laboratory where they assemble bespoke cables on site.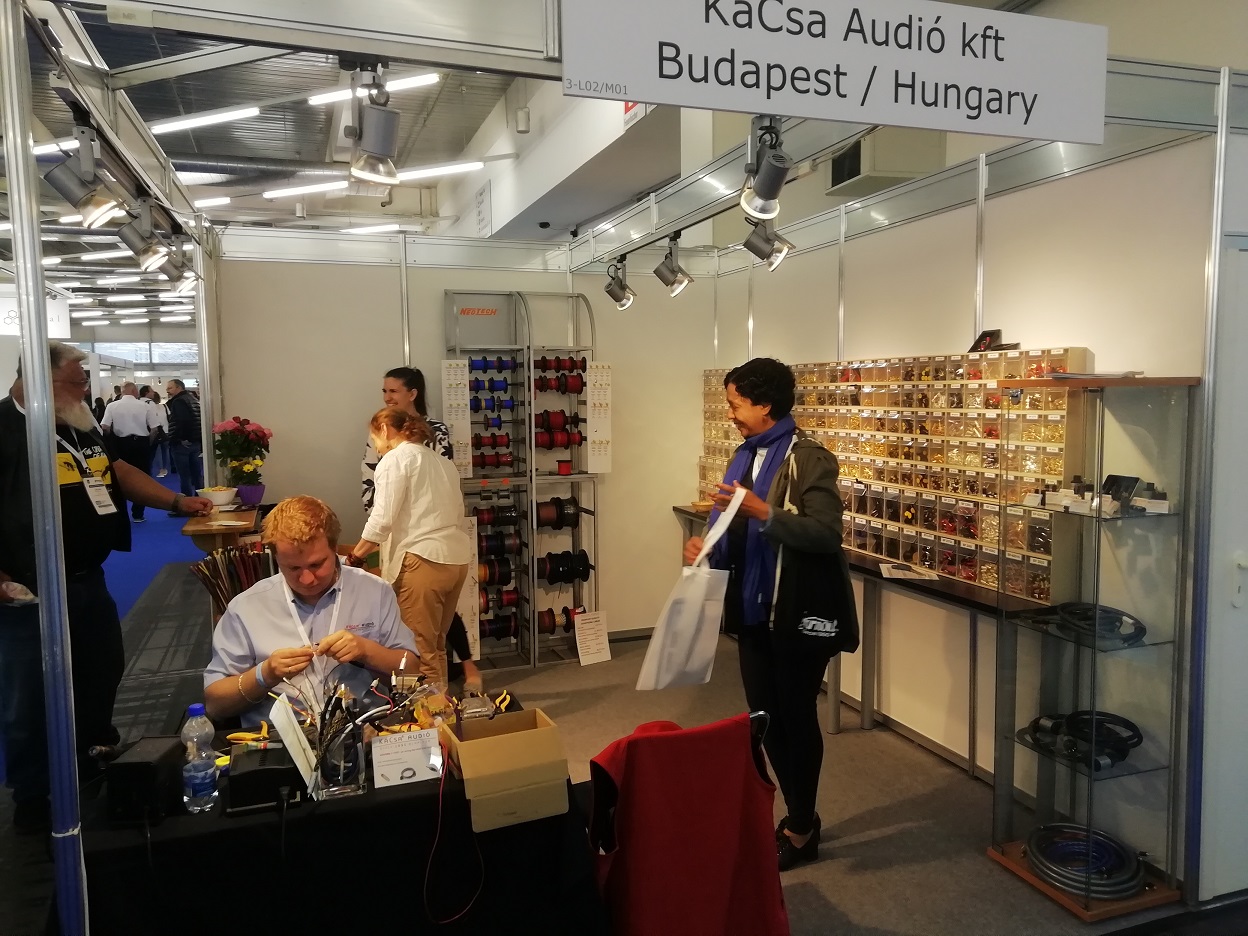 During the old times of the Italian Top Audio Video Show, I, too, had them build me a signal cable of the specific length that I needed (and that is still installed and happily on duty).
On the first day of the show, right before the entrance, I broke the hinge of my glasses, which are indispensible for compensation of my ever increasing presbyopia.
Looking for some temporary replacement for the lost little screw, I spotted their exhibition stand, luckily placed right after the door of one of the floor level halls.
So, thinking that maybe a little copper strand from one of their cables might be usable as a provisional screw, I unashamedly asked for help, asking if they had a wire thin enough and if they could gave me a couple of centimeters of it.
After a brief period of head scratching, they quickly found a suitable wire and, with a competent manual intervention, they succeeded in installing an orthopedic prosthesis for my eyeglass hinge. It worked flawlessly until I arrived back home. It was so well done that it also gave a hard time to the optician that this morning removed the temporary repair to substitute it with a proper screw!
So, I must and want again thank the willingness and the ability of the people at KÁCSA AUDIO, and most of all their surgeon, seen here working on a more traditional patient.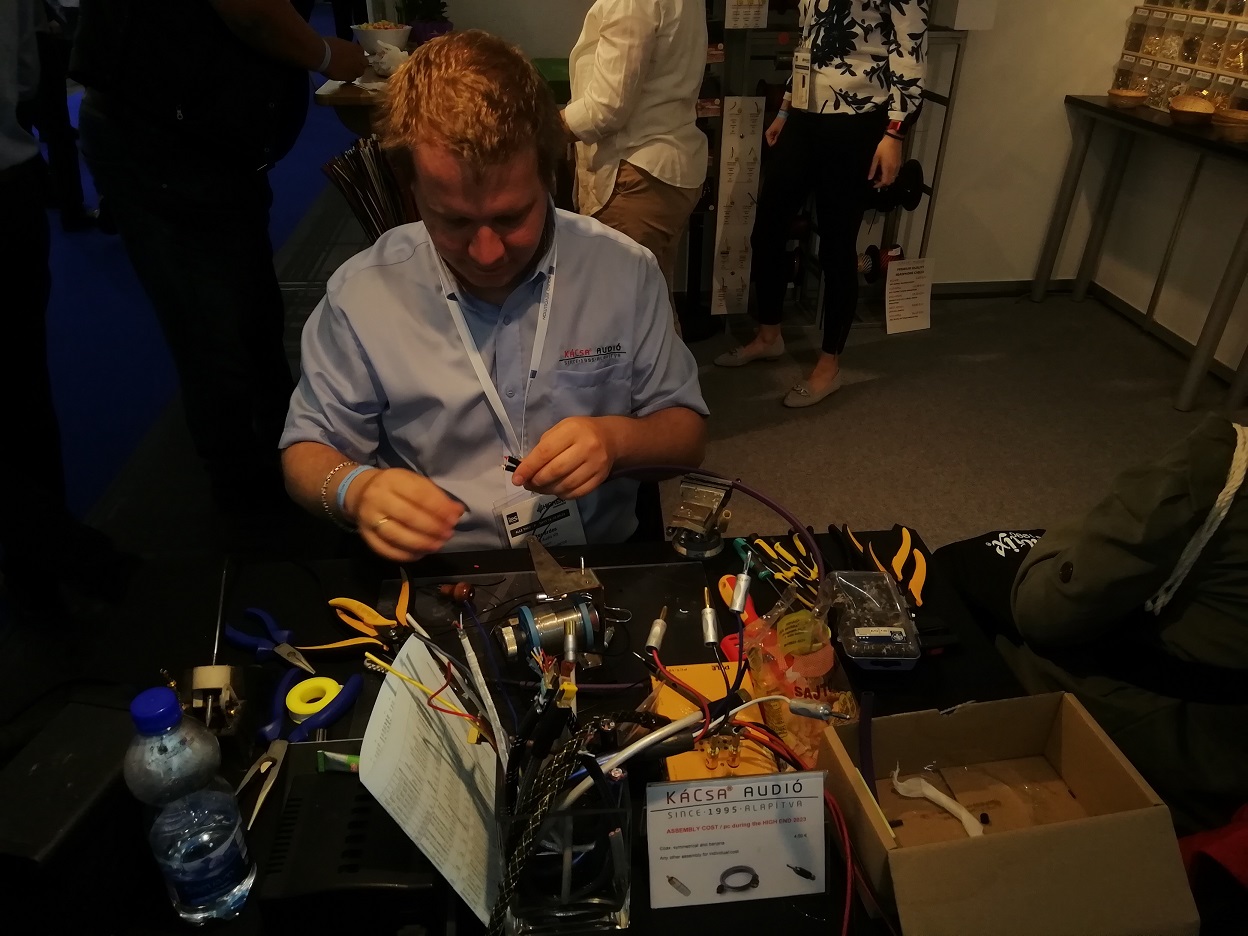 Pit stop
I'm stopping here, for now. I think that it is enough as a first part, and I don't want to repeat last year's delays ;-)
Fast forward to Part II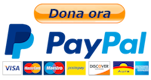 DISCLAIMERTNT-Audio is a 100% independent magazine that neither accepts advertising from companies nor requires readers to register or pay for subscriptions. If you wish, you can support our independent reviews via a PayPal donation. After publication of reviews, the authors do not retain samples other than on long-term loan for further evaluation or comparison with later-received gear. Hence, all contents are written free of any "editorial" or "advertising" influence, and all reviews in this publication, positive or negative, reflect the independent opinions of their respective authors. TNT-Audio will publish all manufacturer responses, subject to the reviewer's right to reply in turn.

Copyright © 2023 Carlo Iaccarino - www.tnt-audio.com
[ Home TNT-Audio | Staff & Contacts | HiFi Playground | Listening tests | DIY & Tweakings | Music & Books ]