A Visit to the High End 2023 show in Munich - Part II
Reporter: Carlo Iaccarino
The show took place from May, 18th through May, 21st 2023 at the M.O.C. facilities, in Munich, Germany
Originally written: Jul-Aug, 2023
Website with plenty of resources: High End Society

SOUNDS CLEVER
As promised in the First part, here we go with many affordable systems for quality listening.
For this, H.E.S. gave exhibitors no limits in assembling their systems, except for the max price of EUR 5.000. The systems were easily identified with the following logo, that I downloaded from the show website.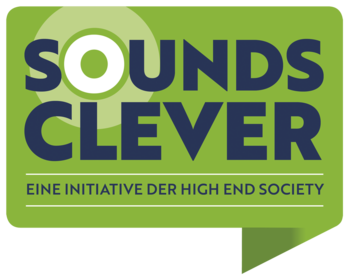 Well, it's true that, for "the others", even just one thousand of Euro is an important expenditure, let alone one dedicated to "play some record", but I think that a couple of things help to better understand this feature of the show.
First, an obvious consideration. The same amount of money has different buying power in the pockets of, let's say, a Dutch audiophile rather than an Italian one; and not counting eastern pockets...
Secondly, H.E.S. want to promote (not only with the Sounds Clever, but with the whole show) the business of little companies producing objects for high(est) quality domestic audio reproduction. It IS NOT and CAN'T BE the business of the consumer electronics industry, that the average Joe normally looks at for the perceived value of domestic entertainment technology.
Like it or not, the show is called HIGH END, and I can't see how you can legitimately expect to find common objects priced like the equivalent ones that you can find at your local electronics retail chain. But, then, what can be considered equivalent to a tubed preamplifier, or a ladder DAC, or a panel loudspeaker?
Here lies the effort made by the H.E.S.: to provide gear of the highest possible quality, for a price that can be considered affordable, at least for the (not so sparse) crowd that can and want to spend their money for quality listening to the music. People for whom listening to the music is an important part of their lives - and in this aspect, they aren't different from the retail chain normal customers - and who are also available to invest their personal resources (not only money, but also time, organization, etc.) to get a better quality of that experience.
Keeping in mind those two elements, I think this feature of the show can be better understood and appreciated. It is certainly not something new, nor this show's exclusive; I remember something similar at an old NYC Sterophile show, where the limit was USD 10.000. But this is surely its best exploitation because, being at the world's biggest show, it engages ALL this business' players and grants the widest range of choices.
Let's start with this year's novelty: four systems for four magazines.
As I already wrote, in a huge hall on the ground floor, in front of the Halles, just next to one of the external gates and before the access to the show, four magazines - STEREO, LOW BEATS, HIFI.DE e HIFI PIG MAGAZINE - setup four systems, each placed along one of the hall's sides. In the middle of the hall a group of backrestless seats was placed, so people could seat in front of each system without moving anything.
Let me show you again the explicative photo I showed you in the first part.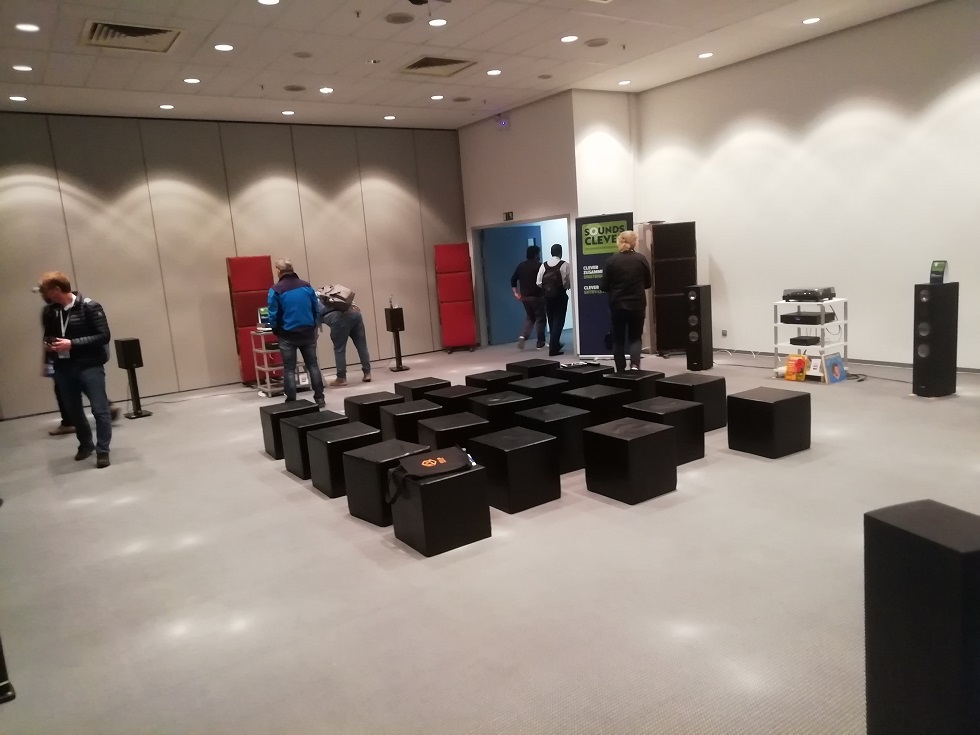 It was a very good way to realize the idea illustrated by H.E.S. during the press conference: to give people hands-on contact with a real system, make them perceive the high quality attainable with the exhibited gear. Pragmatically, place people in front of a real, buyable system, to intercept those that may even already have the idea of improving their audio reproduction tools, but still don't know where and how to navigate the many available proposals, an even harder task now that real (as opposite to virtual, web-only) shops are disappearing.
The exhibited systems were wisely diversified: two alternatives for the maximum price, another one for slightly less than the maximum, and the last one for half the maximum budget allowed.

Here is the proposal by STEREO magazine.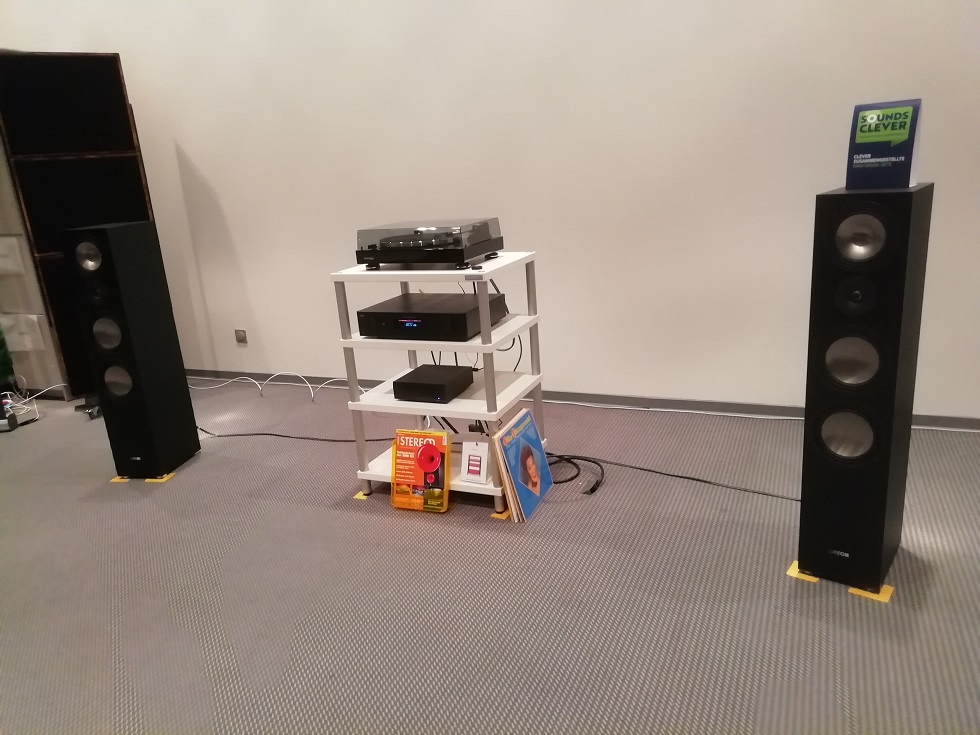 A very traditional and reassuring system: Thorens TD 204 turntable, NAD 368 integrated amplifier and Canton GLE 90 loudspeakers, for a total of EUR 3.616, loudspeaker cable and power distributor included. Here we have a picture of the Canton floorstanding loudspeakers.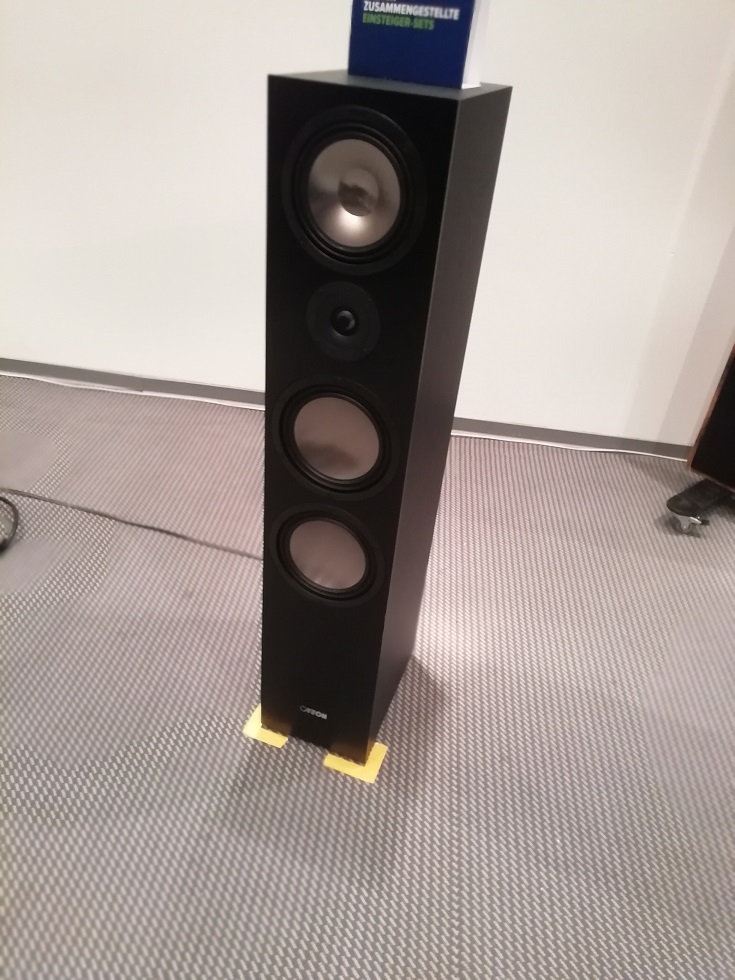 Using the digital capabilities of the NAD amplifier, you could complete the system by adding the Innuos Zen Mini MkII streamer.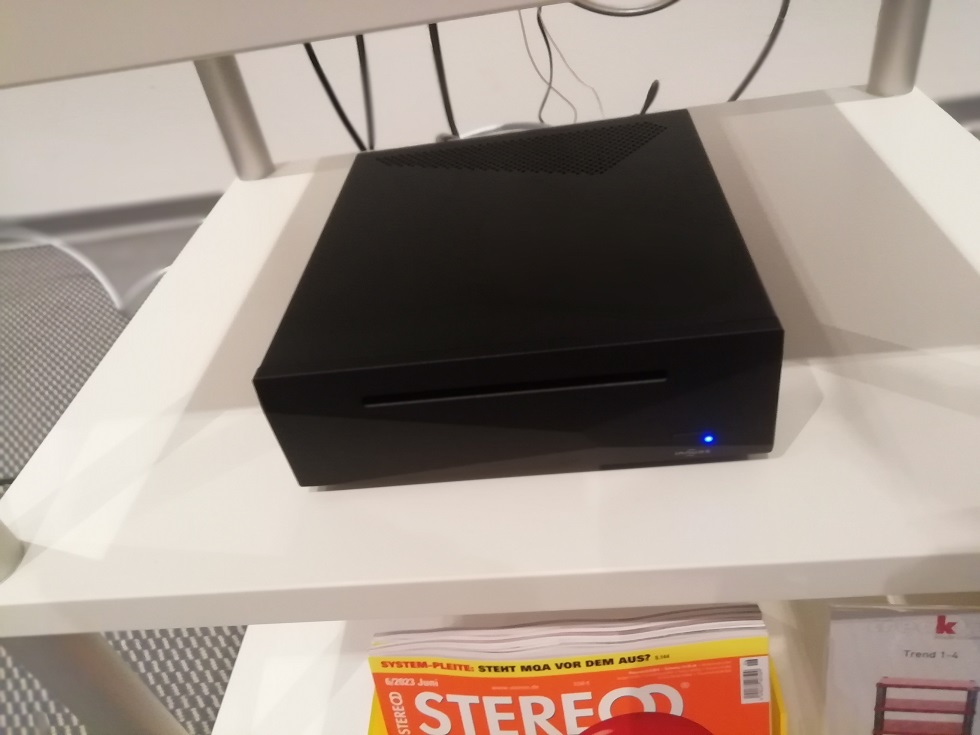 This raises the total price, included the digital cable to connect the streamer and the amplifier, to EUR 4.950, still within the limit.
Let's move towards the proposal by LOW BEATS magazine, decidedly more updated, starting form its aesthetics, and more open to evolutions.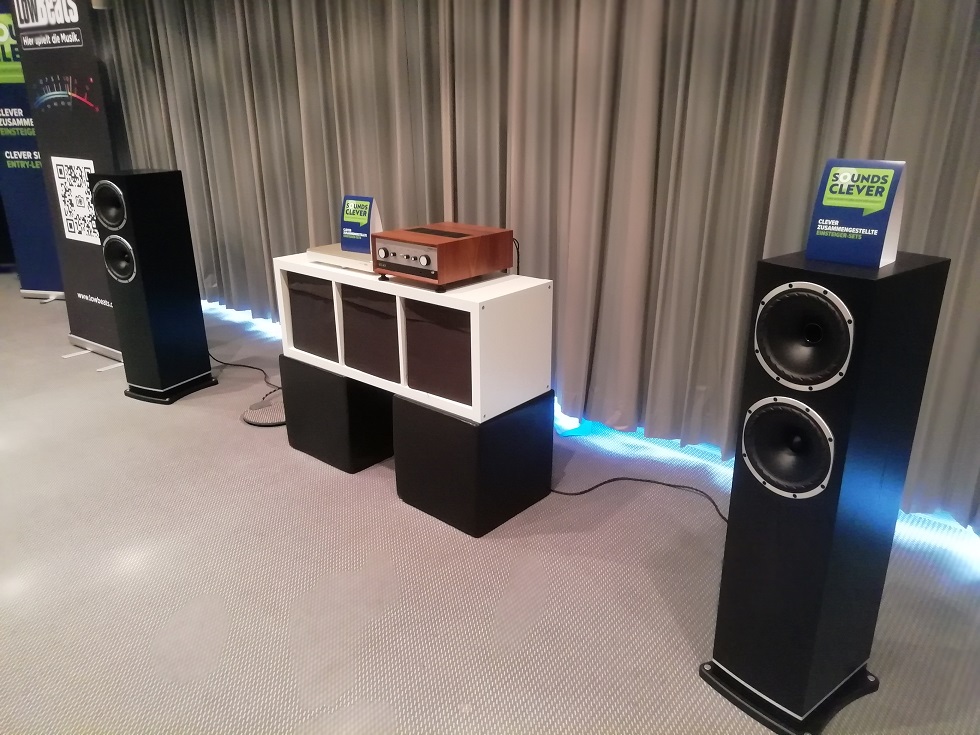 A pivotal role was held by the LEAK 230 integrated amplifier, with lots of inputs and outputs, digital and analogue.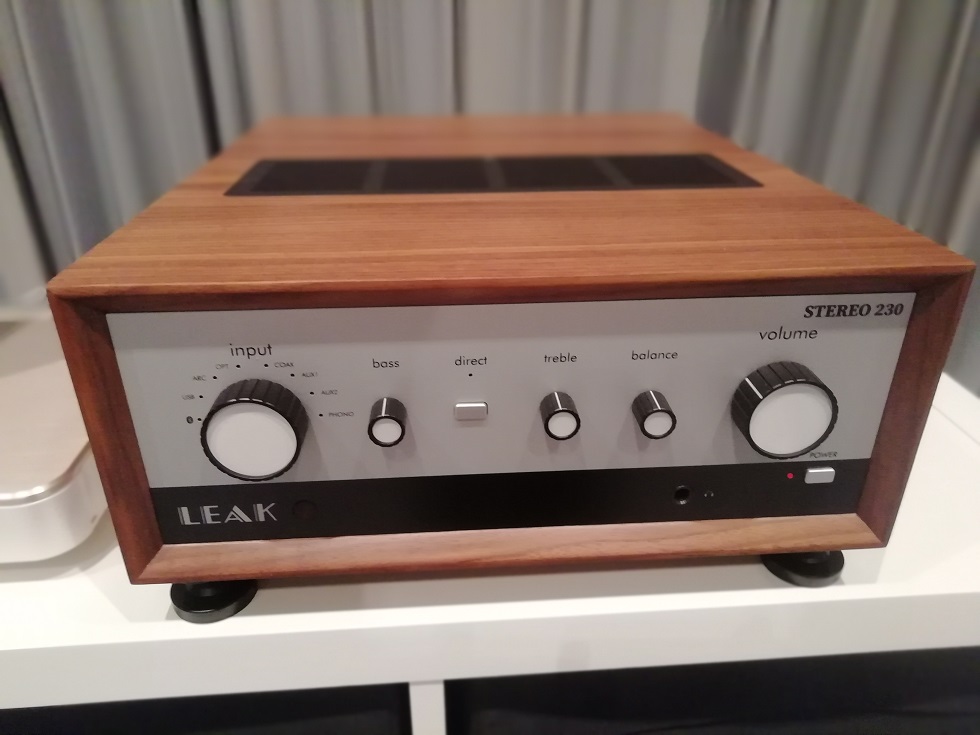 To it a QNAP 453 DX NAS is digitally connected. It is a fanless-cooled NAS, so very quiet, in which - if I didn't misunderstand - Roon was installed.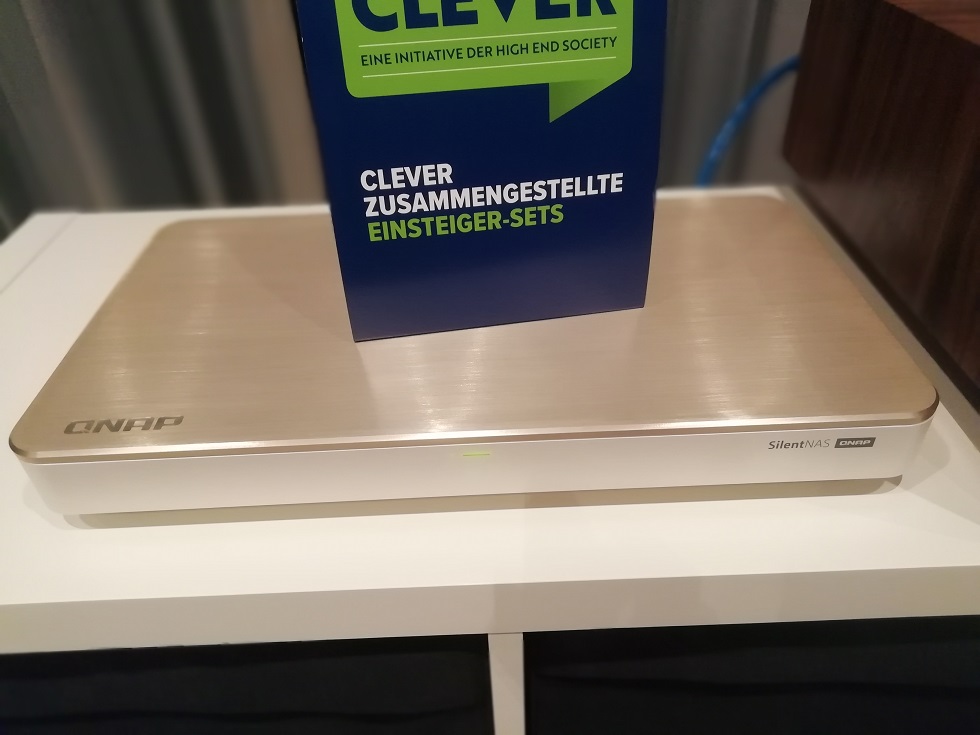 The loudspeakers are two Fyne Audio F502 floorstanders; they, too, an updated version of the very traditional English concentric driver type of loudspeakers (this company was founded by former Tannoy workers).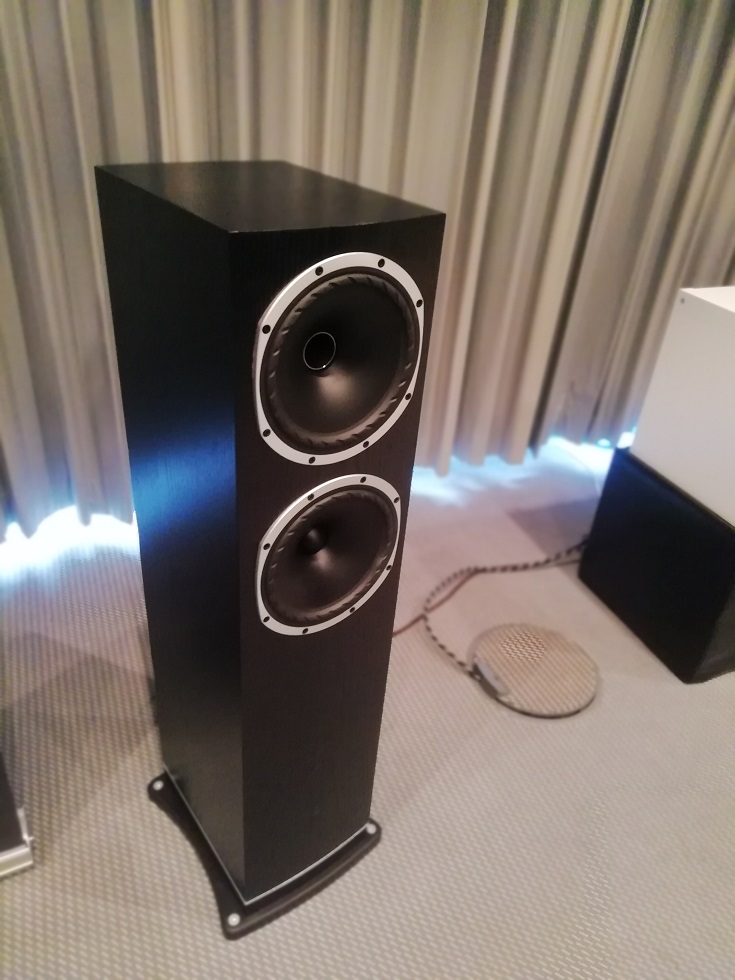 Total price, included loudspeaker cable and power distributor, tops at EUR 4.950, again strictly into the limit. But I suspect here someone cheated, not including the price for subscribing to Roon... that, anyway, is dispensable, if you use the NAS with its own O.S. to listen to your own records you ripped into it (or your own movies, using its HDMI 4K capable output...) and commanding it with its unavoidable app.
Here we have the system by HIFI PIG webzine. This system, too, is conceived for future expansions; yet, it maintains a "retr&oacute" flavour.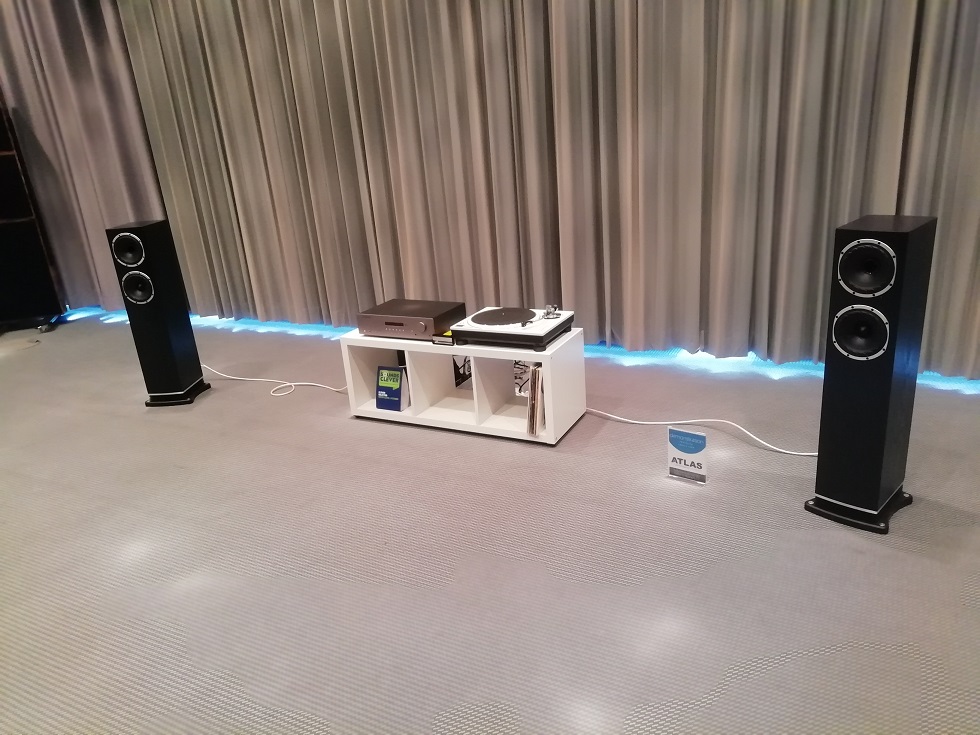 The source was an ancient turntable, but in its very updated version: the Technics SL 1500. I don't appreciate this deck in its normal silver version, because it looks to me like a twelvehundred stripped off of its pitch control slider, its stylus placement light and its 7-inch adapter in the upper left corner.
Yet, HIFI PIG chose its white lacquer version, which I think makes really pleasant this turntable's look and sets it apart from its more famous ancestor.
Moreover, instead of the usual Audio-Technica 2Mred MM cartridge, they mounted a HANA EH. It is a high output MC cartridge that its own maker describes as the ideal first upgrade from the basic MMs usually provided by default with turntables, since its high output values makes it compatibile with most of the the amplifiers' and receivers' MM phono inputs.
Thus, the deck was connected to a Cambridge AXR 100 100 W/ch stereo receiver, which has a RDS tuner, analogue inputs (one a MM phono), digital inputs and Bluetooth inputs; it also has a subwoofer line output.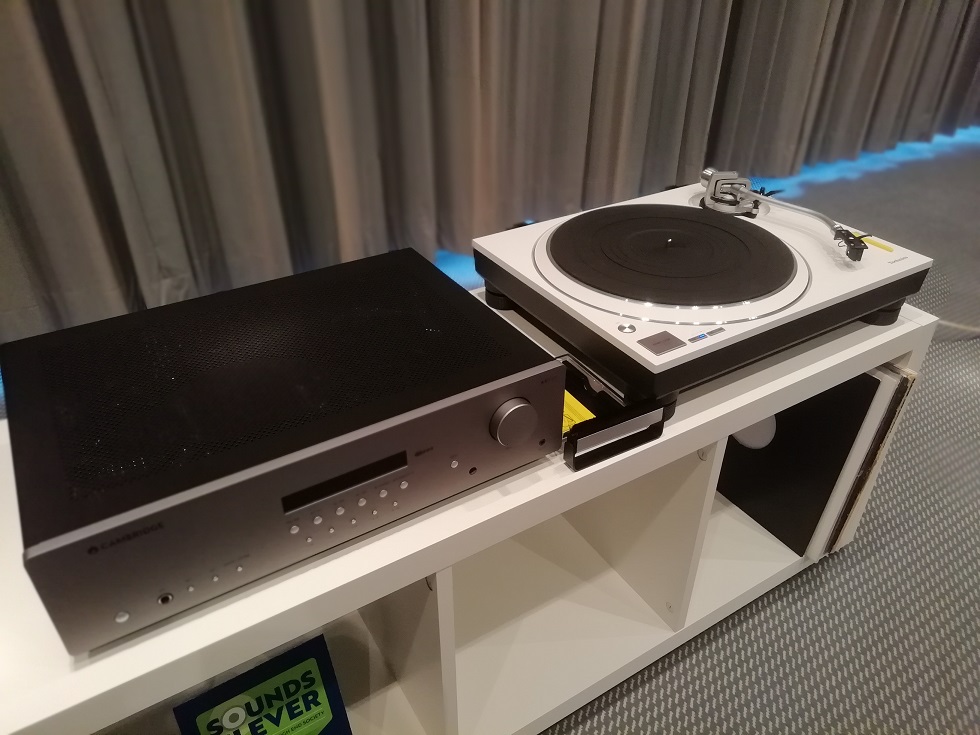 The chain ends with a pair of Fyne Audio F 501 floorstanders, the little brothers of those used for the Low Beats' system.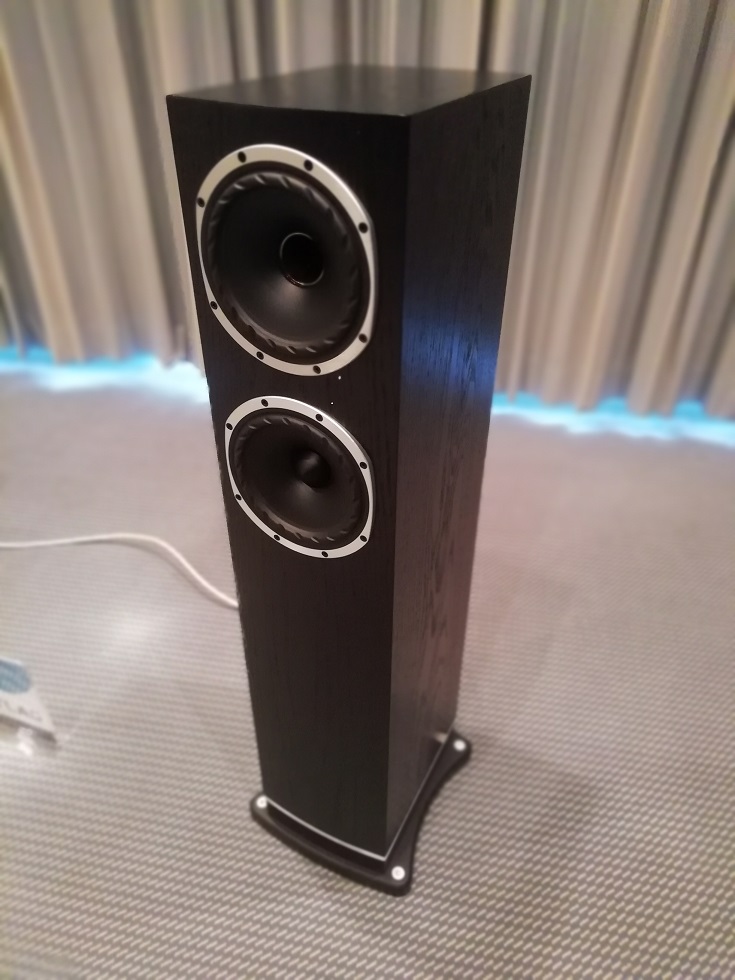 All for a total price of EUR 4.250, cables included. This proposal, too, was conceived to give it an "identity": a frugal listening via the old and trusted radio as an alternative to the modern streaming services, and the old and trusted vinyl records as an alternative to digital files. Yet, it is anyway possible to expand towards more modern and consumeristic sources, using both the digital inputs for a streamer (or for a TV, better if a smart one) and the Bluetooth input for a cell phone. And keep in mind that, if you went for the upper loudspeaker model, the price would anyway stay within the maximum admitted budget of EUR 5.000.
Lastly, the proposal by HIFI.DE, maybe the simplest of all.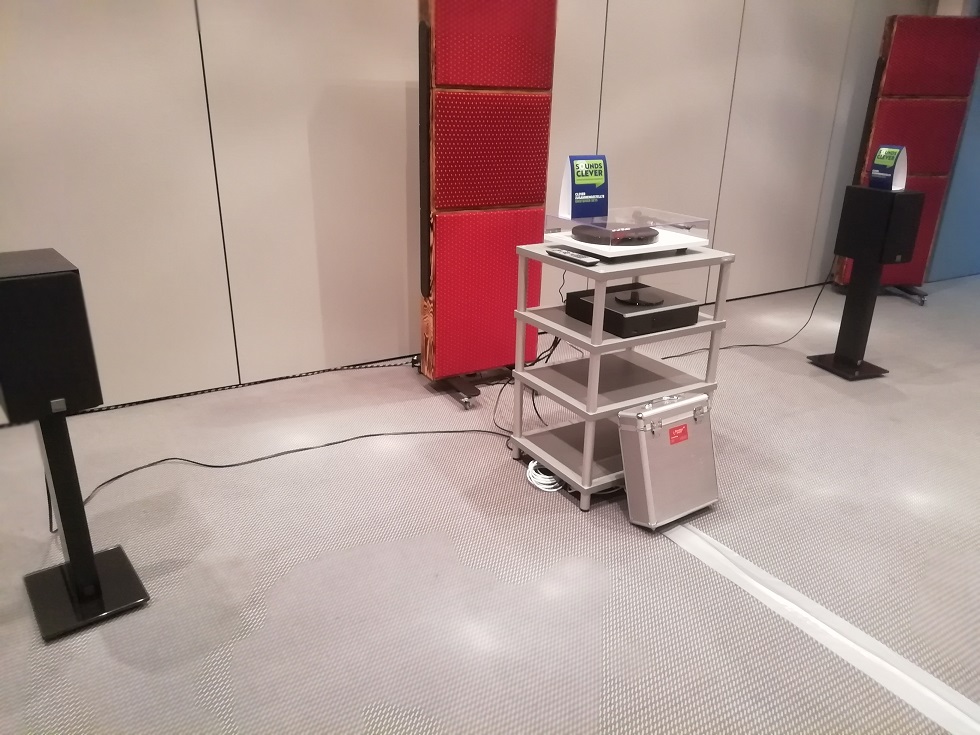 A basic belt-driven turntable with a factory-mounted MM cartridge - here we have a Rega P1 in its contemporary white suit,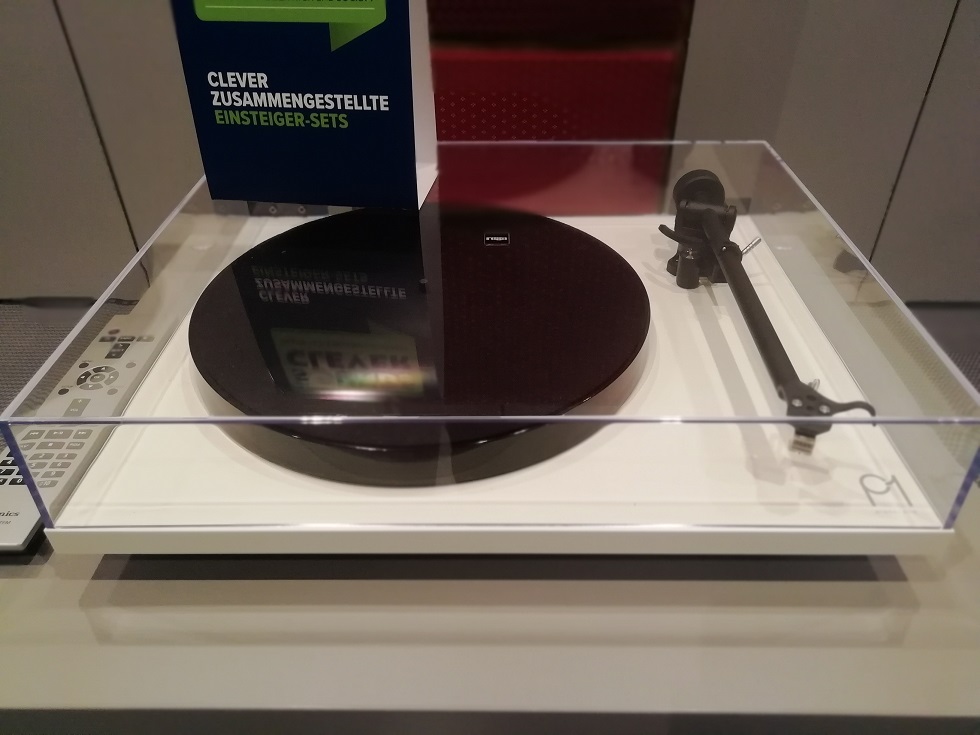 connected to an all-in-one Technics SA-C600, with all the updated digital bells and whistles, so ready for streaming,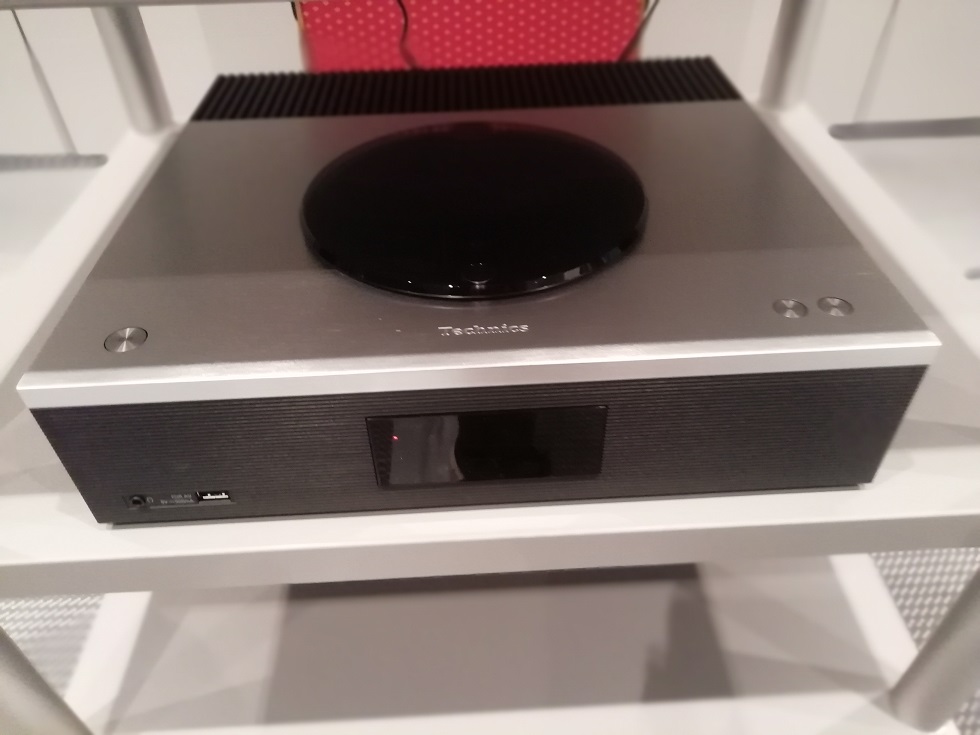 that, in turn, drove a pair of little two-way standmounters by DALI, of which I unfortunately haven't shot a proper closeup photo.
All for the total price of EUR 2.483, stands and cables included. Here, too, I see a precise identity in this proposal: more than saving money, easiness of use - you can even start with just the Technics to be able to listen to some music, and then you can (if you want) add the EUR 400 for the turntable...
And now, the proposals by each single exhibitor
Let's start with something, to me, really atypical.
XTONEBOX, from Spain, started their business as a company that serviced and restored Dual turntables. They brought to the show a decidedly old style system, yet with modern features, for a total price, cables included, of Eur 4.830 (but if you happen to already have your loudspeakers, you can save Eur 3.000...).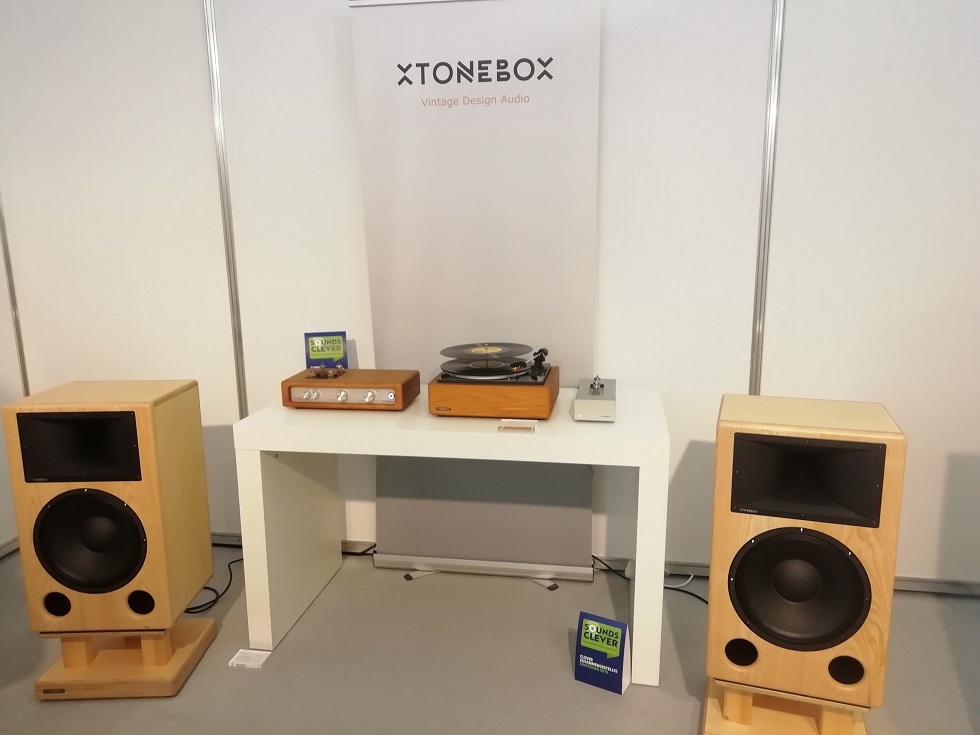 Source was a 121ST Limited Edition turntable, connected to a Silver 6011 integrated amplifier that, in turn, drove a pair of S 12 C loudspeakers. The turntable is realized upon a (you guess) Dual base, mounted on a massive (and pretty) wooden plinth. The deck has both a factory-mounted MM cartridge and a - gosh! - record changer levarage, the latter contributing to the "antique" look of the system. The loudspeakers, too, have a very traditional look: two-way, with a big bass-reflex bass driver and a horn-loaded tweeter; their appearance suggests their makers' intention, to build a high-efficiency loudspeaker, so you are not forced to choose powerful amplifiers.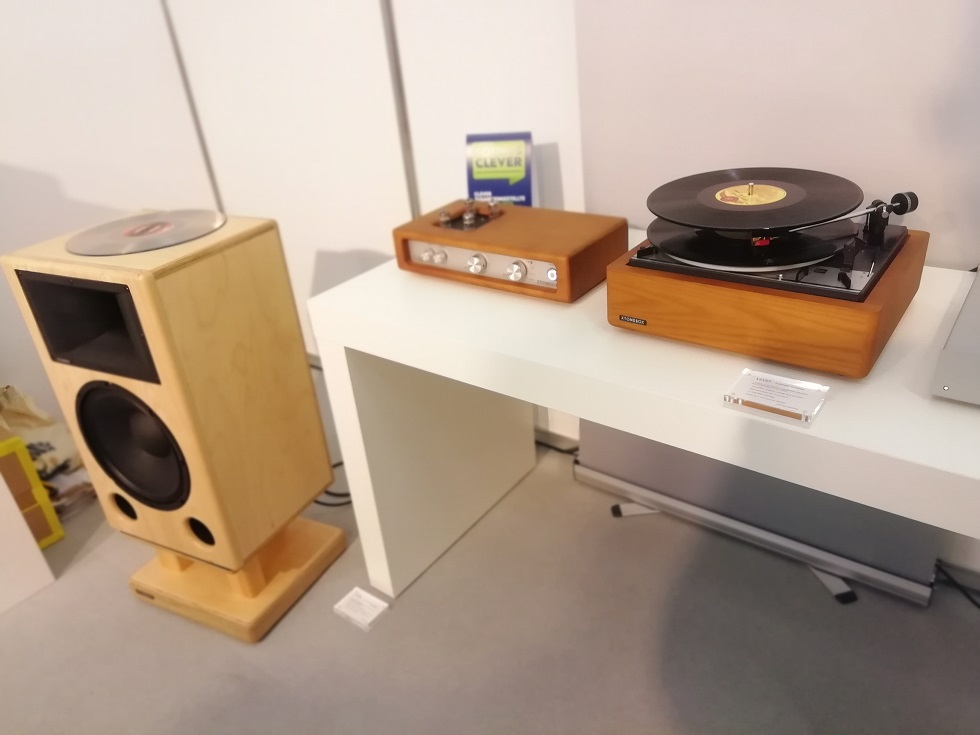 And, in fact, the integrated amplifier is rated at just 60W. From the inside some valves emerge, in full coherence with the "old-style" choices.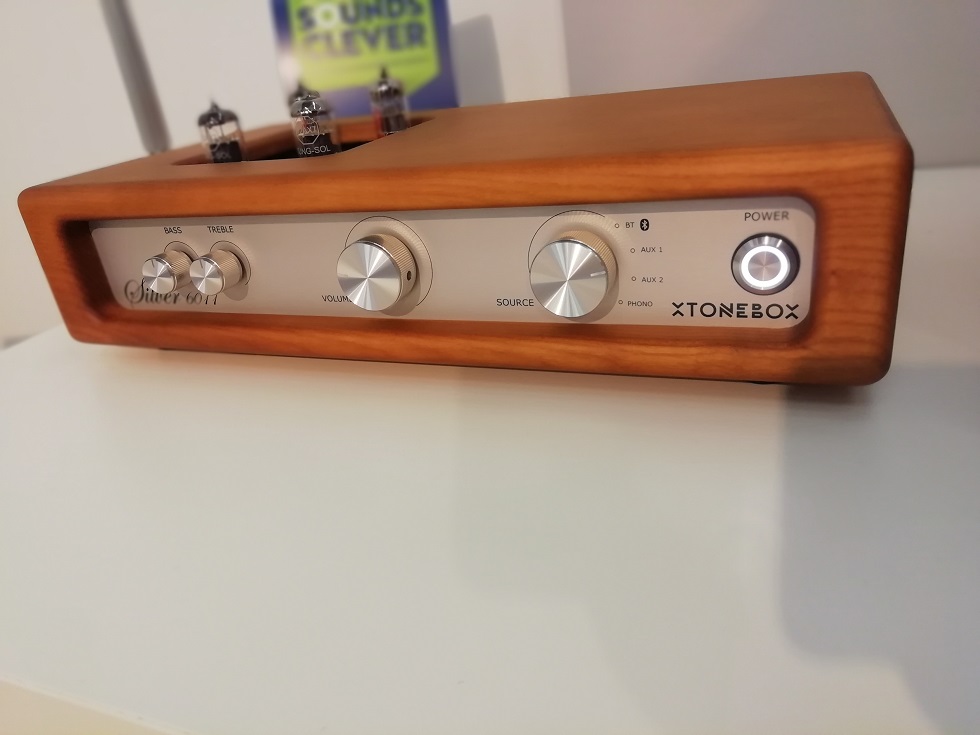 But the appearance is misleading, because those vacuum tubes belong to the preamplifier section, while the power section is based on a class-D chip; moreover, a Bluetooth input is provided.
This company was also exhibiting other gear, amongst which I point you to this anonymous box.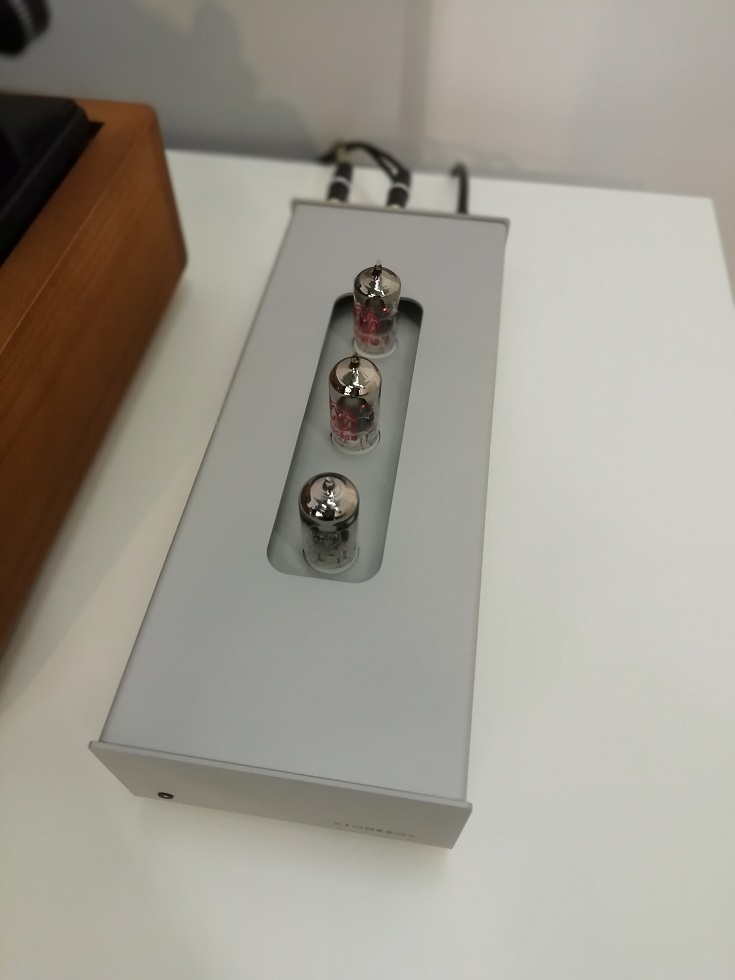 It's the prototype of their new pre-phono; it's a tubed one, as you see from the picture. Unfortunately, I cannot tell you how much of the pleasant sound I heard was due also to this piece, because I forgot to note if it was working (as I suspect...) or not

ELAC has setup a simple as well as unusual and interesting system, for a price of EUR 1.417.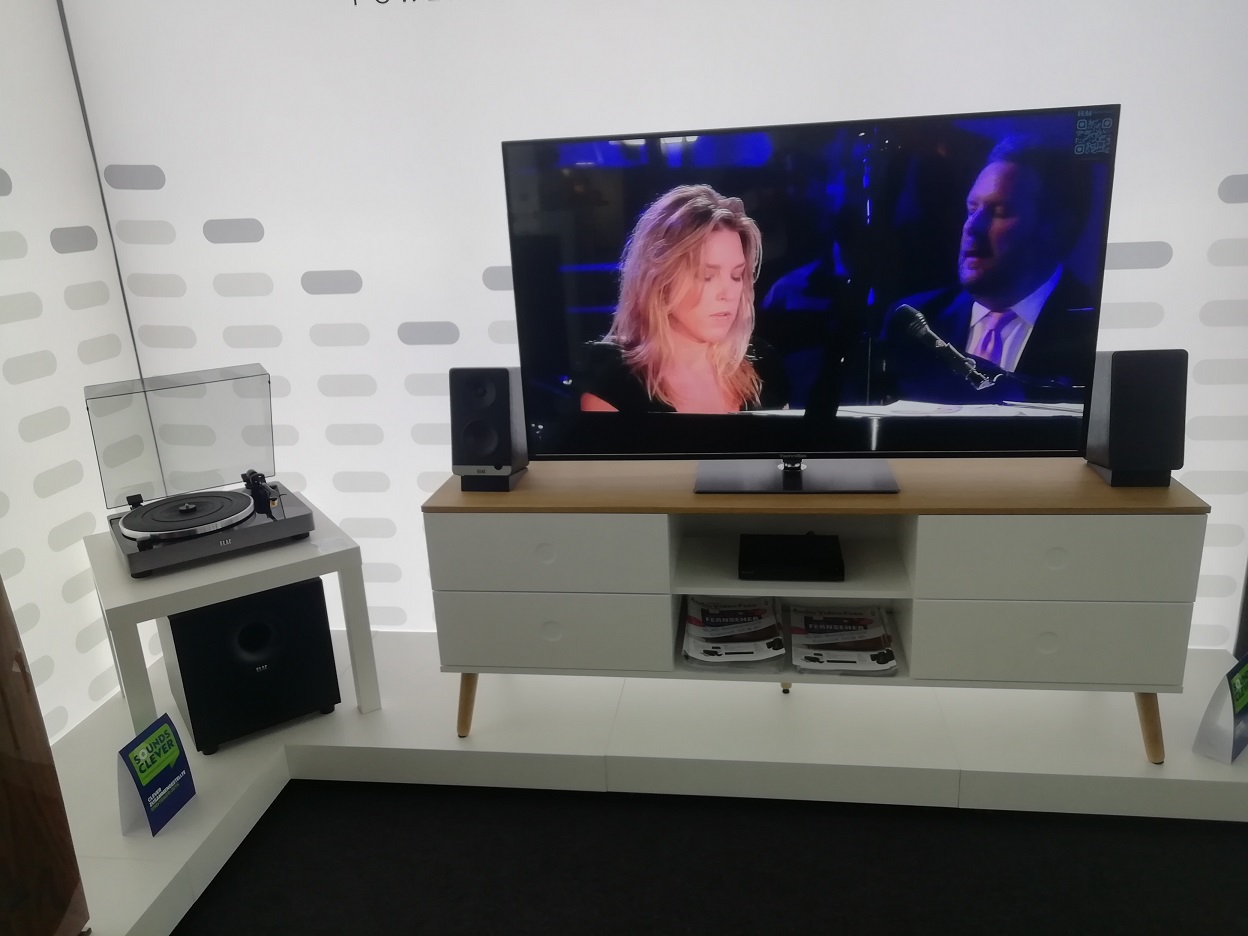 The heart of the system were their Debut ConneX DCB41 active loudspeakers,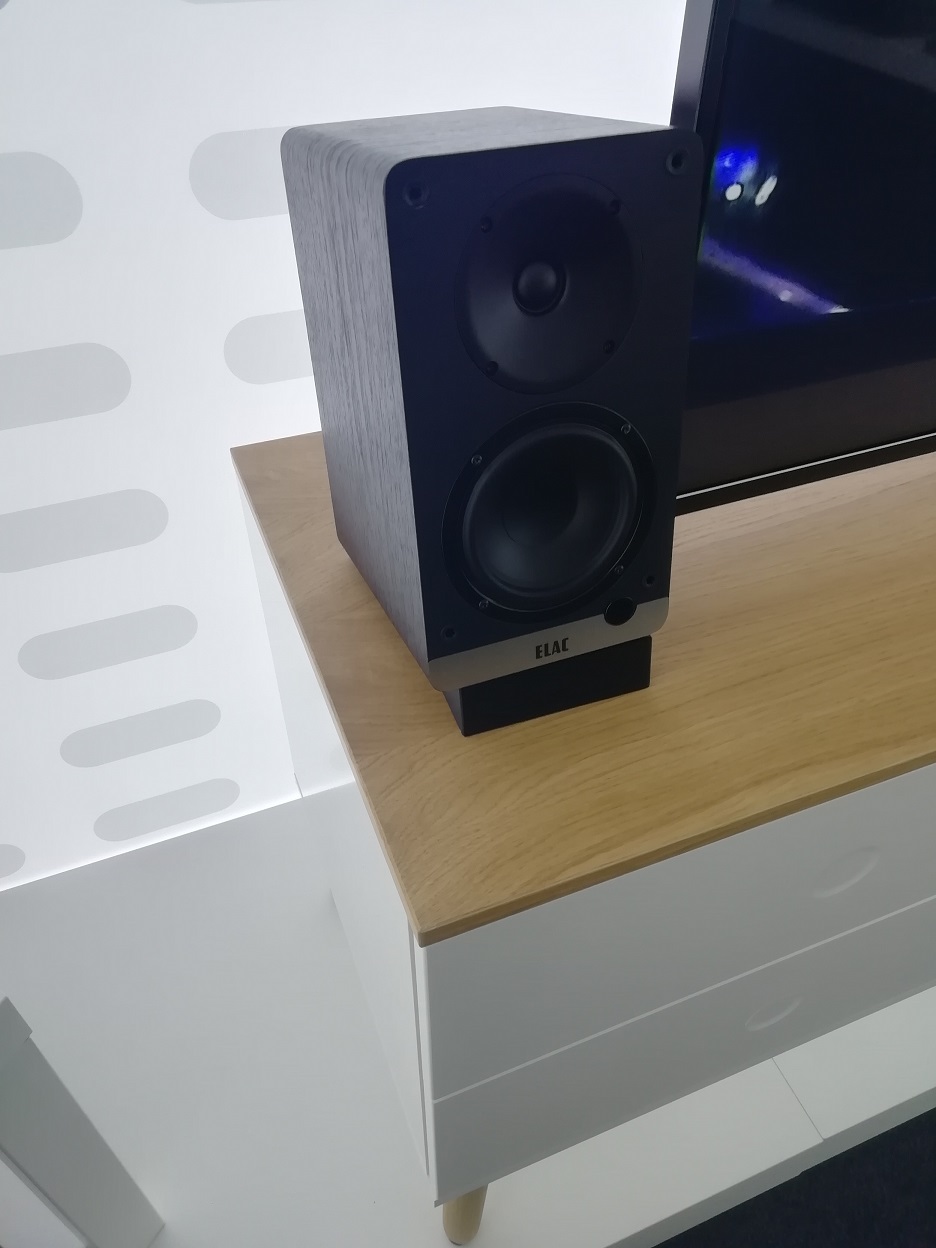 with an analogue input selectable between line and phono (the pre-phobno is switched off when line is selected...) and several digital inputs: one USB accepting signals up to PCM 96kHz/24bit, one optical, one HDMI ARC (so you can hook your TV and command the volume via its remote control...), and one Bluetooth (Apt-X).
The sources connected to them were the TV you see in the picture (obviously not included, yet likely already present in every home) and a Miracord 50 belt-driven turntable, with a factory-mounted MM cartridge and internal (excludible) pre-phono; if you don't need to play LPs, you save EUR 500.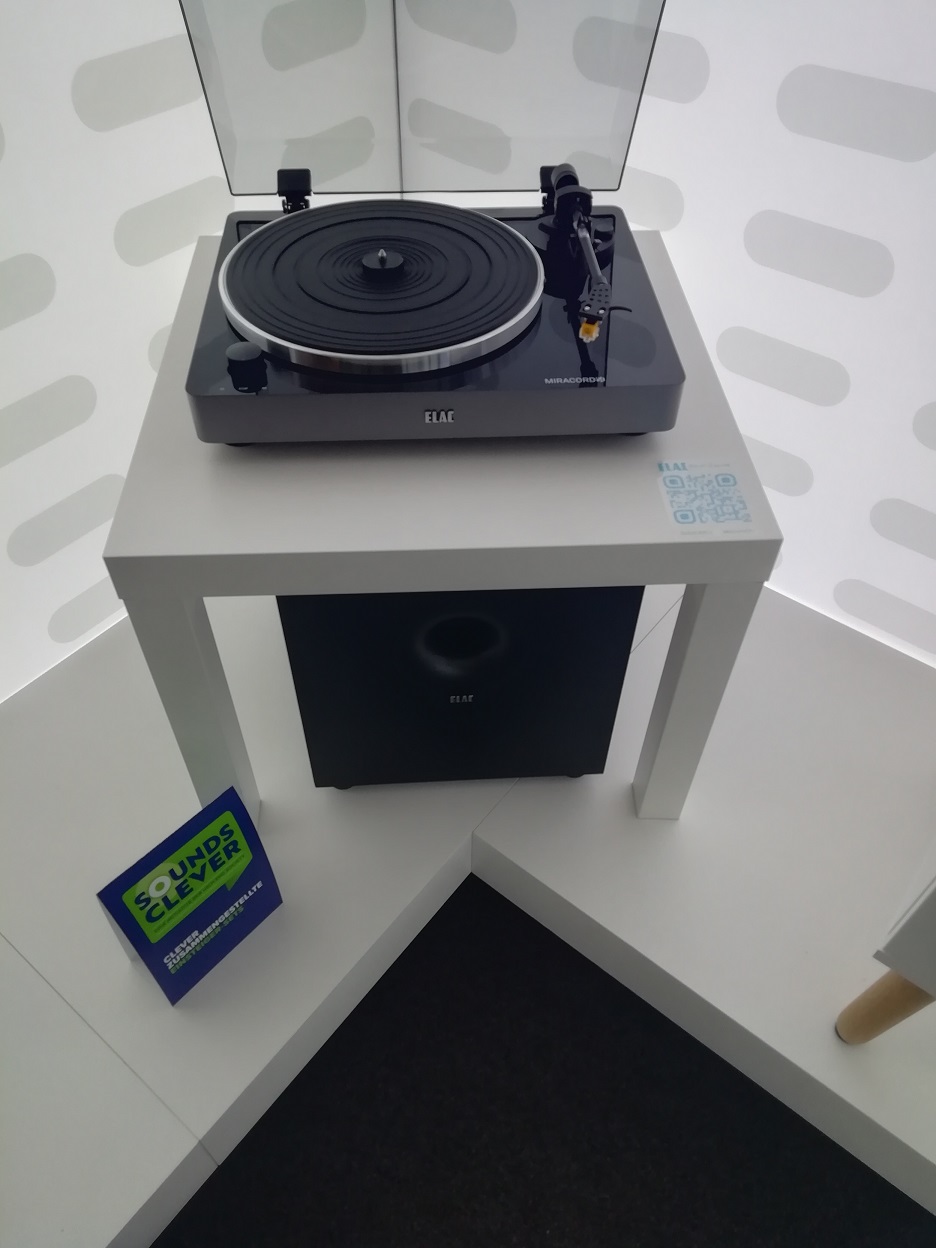 Because the loudspeakers also have a subwoofer line output, the system was completed with the Debut S 10 2 active subwoofer, that was placed - maybe not too correctly - under the (Ikea?) turntable support; if you want, you can add it later on, thus reducing the initial expenditure of almost Eur 400.
At the end of the day, a not-so-bad proposal, scalable and configured thinking of the potential customer, considering what he already has (the TV set, even a smart one; and a cellular phone). All for a price that even "the others" could accept. So, also with a potential to attract new customers. Elac answered H.E.S.'s request with typical teutonic efficiency.
SONORO, too set up a well-sorted, updated and well-sounding system.


It is also available in black.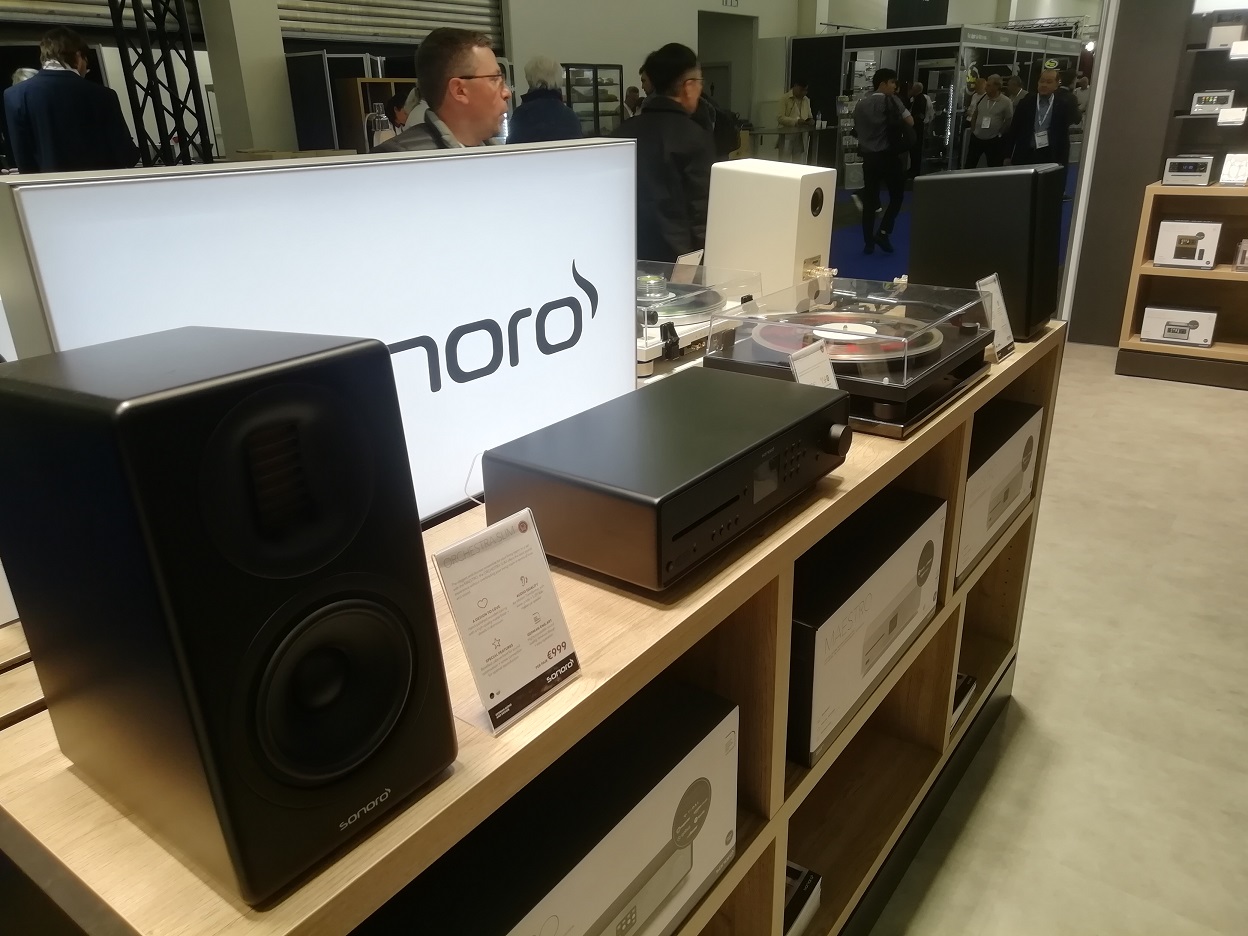 Here, too, the heart is a multifunctional gear; the MAESTRO, a modern receiver, with a slot to read CDs, and with streaming functions (Spotify Connect, ecc.); it can also play radio, both DAB and web. It also has DRC, digital inputs, Bluetooth... A versatile all-in-one, in a word. The 2 x 100 W switching power amplification section is based on Hypex modules.
It was paired to the ORCHESTRA SLIM two-way standmounters, with AMT tweeter and reflex-loaded midwoofer.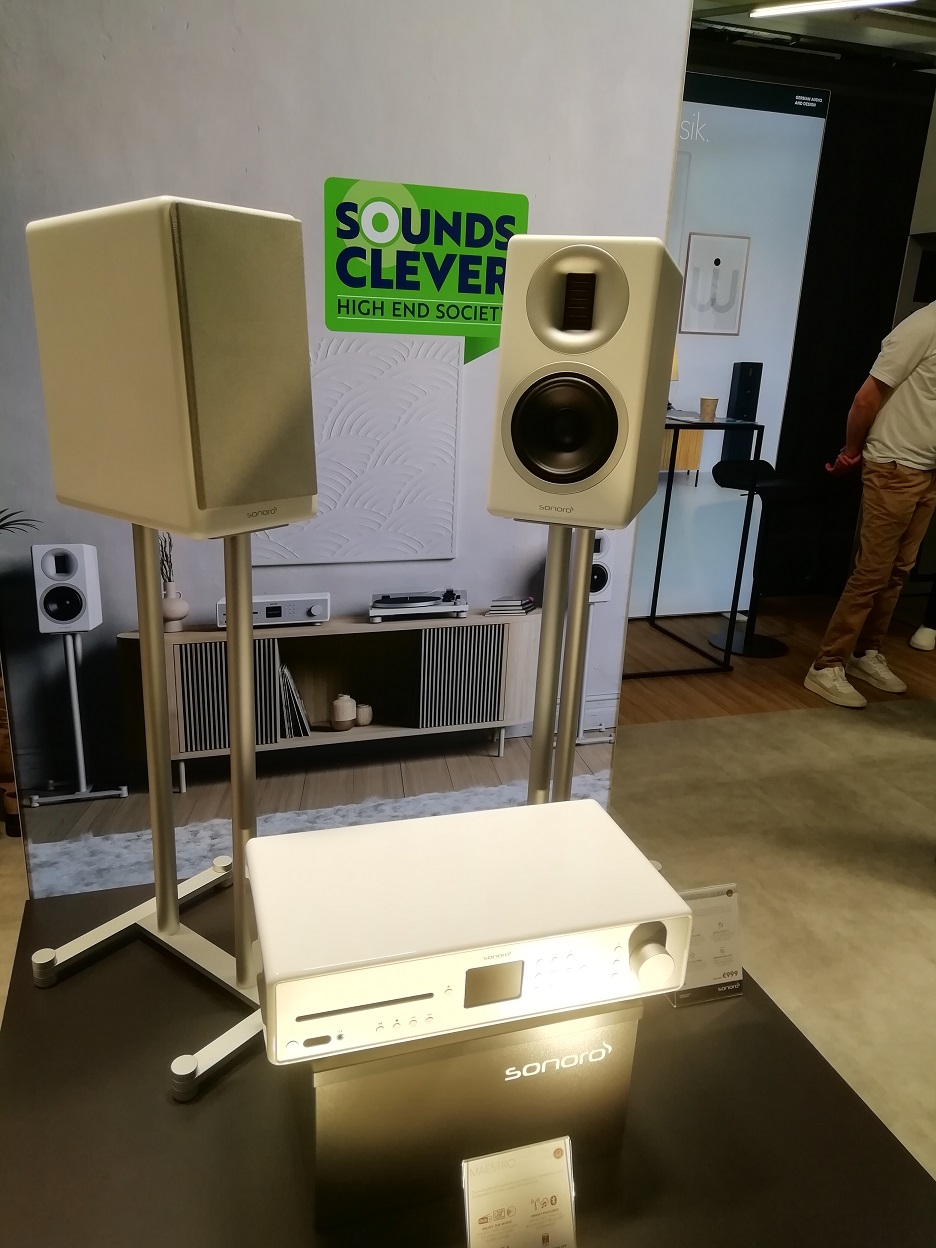 The system is completed with the PLATINUM belt-driven turntable, with a factory-mounted Ortofon 2M cartridge, excludible internal pre-phono, digital outputs, both Bluetooth and USB - here it is in its white finish; behind it you can see its black version.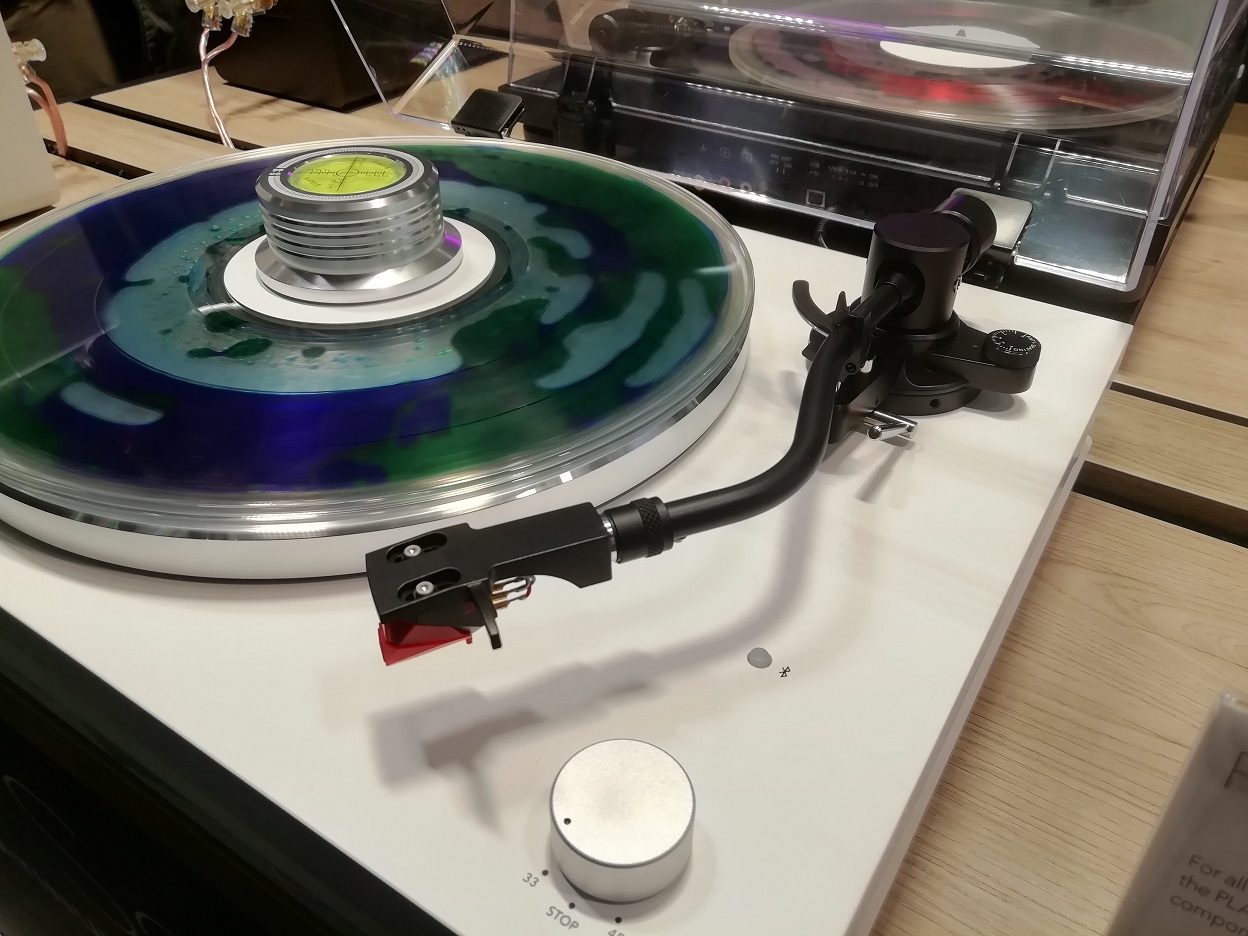 All for the price of about EUR 3.400, stands included. Here too, if LPs are not your thing, you can avoid the turntable and save about EUR 600. Anyway, I suggest you visit this company's website, because it has many proposals that could meet your needs - yet, I think that the one they exhibited is the sloution that better suits H.E.S.'s invitation to set up a complete system.
Scandinavian PRIMARE, Danish AUDIOVECTOR and German IN-AKUSTIK setup a minimalist system: Primare I15 Prisma MkII integrated amplifier Audiovector QR 3 floorstander loudspeakers, connected via In-Akustik Reference LS-104 micro AIR cable, for a total price of EUR 5.000, but with a special show discounted price - only for Germany and allegedly limited to May - of about EUR 4.000.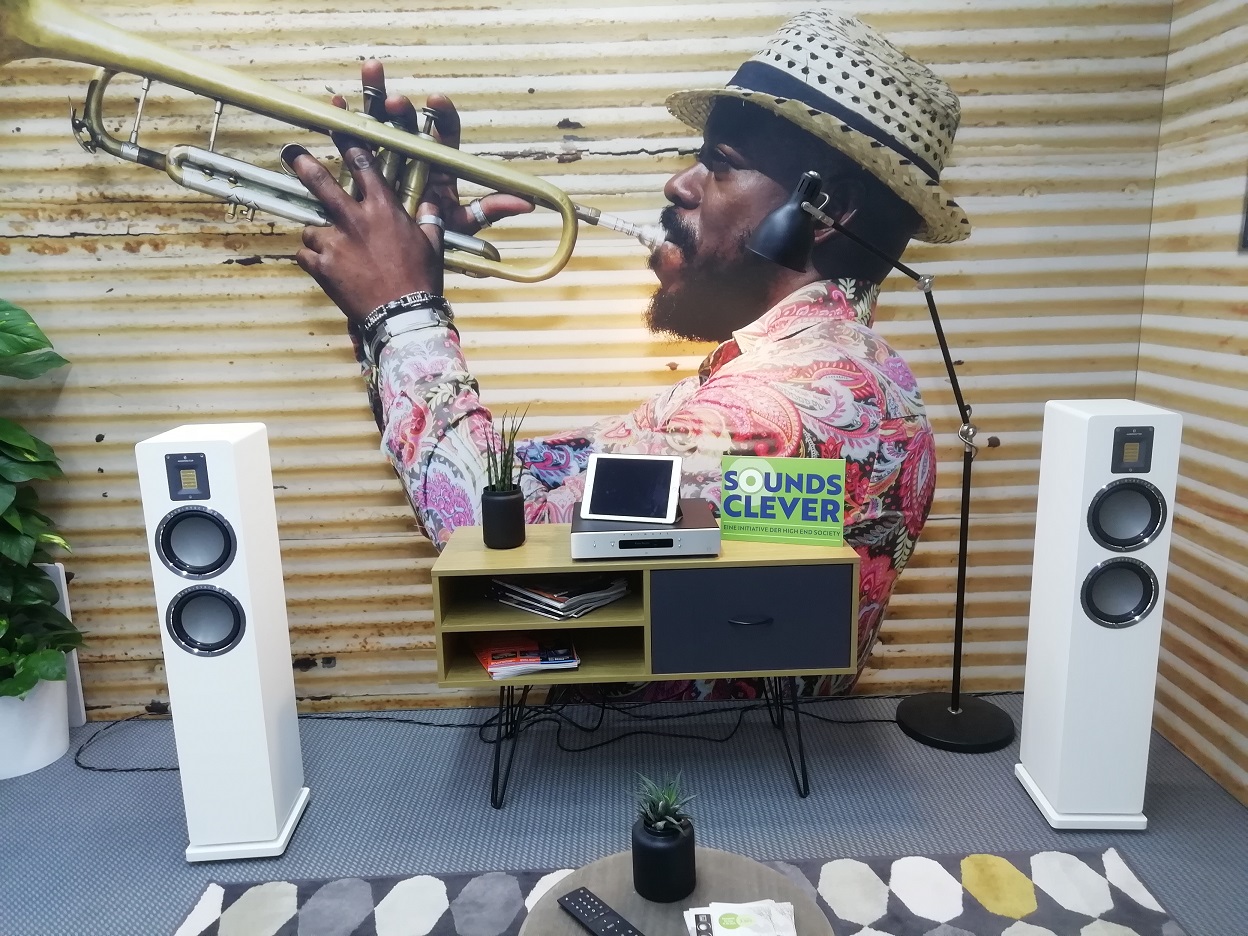 This system, too, follows the common habit of omitting the source, implying that the customer relies on what is normally used to listen to the music, i.e. a PC/tablet/smartphone with a subscription to a streaming service.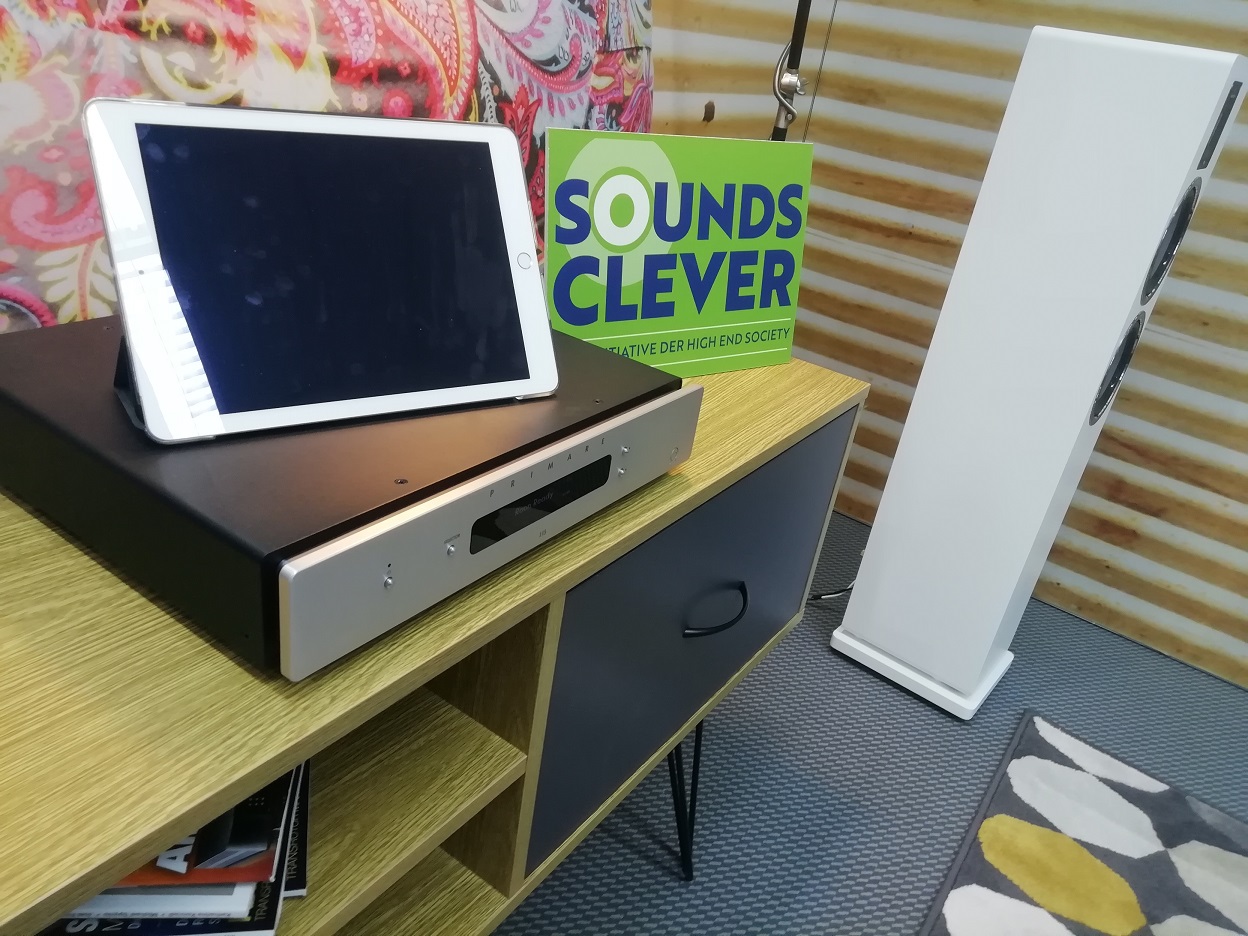 Yet, this was made possible thanks to the many features of the integrated amplifier, which mounts both a streaming module and a DAC module, with the ability to connect to your LAN, both cabled and over WiFi.
But wait, there's more!
Those exhibitors had another system, not officially listed among the SOUNDSCLEVER ones, made of the Primare I 15 integrated amplifier, driving the Audiovector QR 1 standmounter loudspeakers. This time, a source was present: the Primare CD 15 Prisma CD player that, as its moniker suggests, mounts the streaming module and works also as a DAC. Cables, obviously, by Inakustik: Premium NF signal and LS 40 loudspeaker. The price for this system was similar to the other one.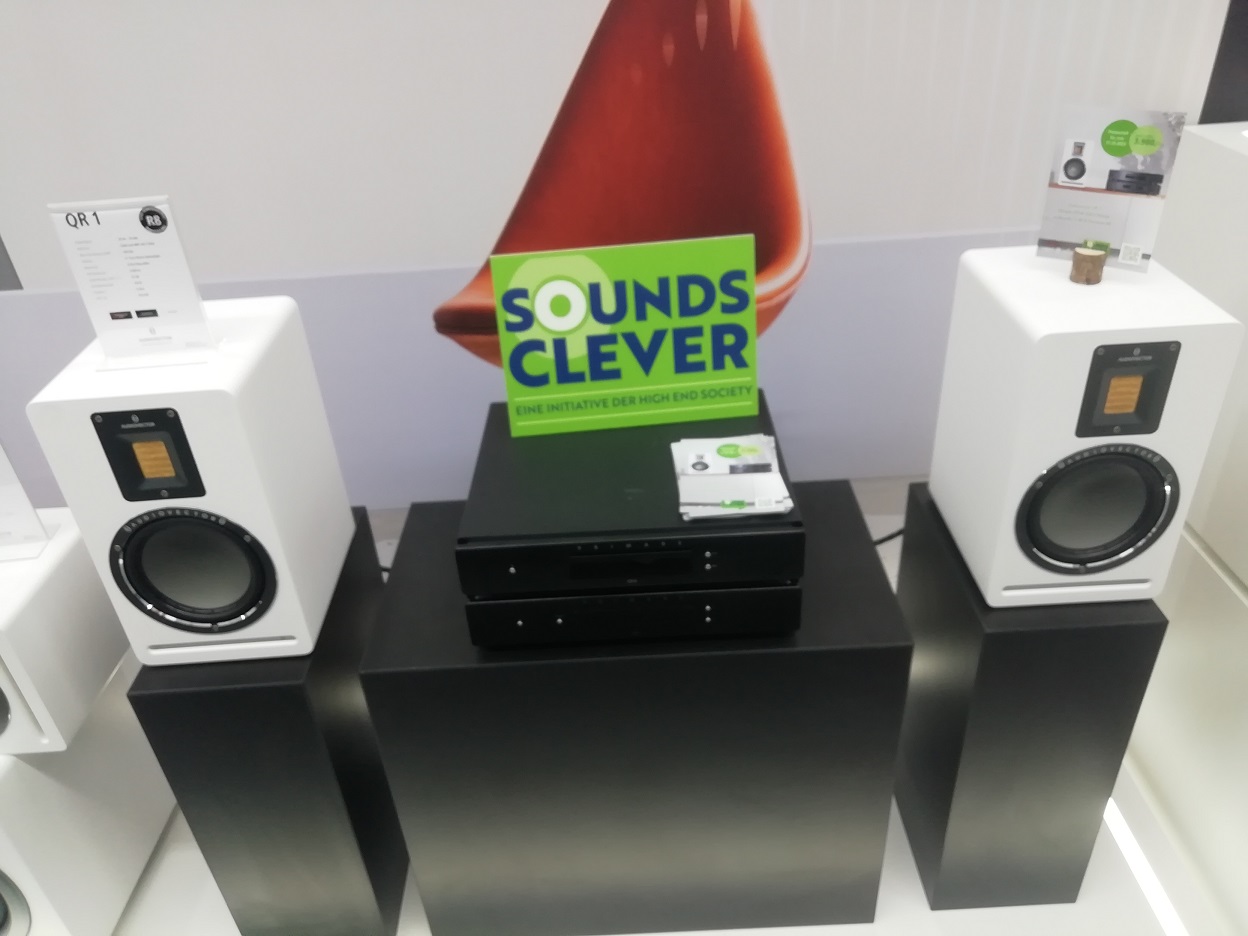 I think that both proposals were very well done, also because they cared for the aesthetics of things that invade our domestic environment: regarding this aspect, Primare's and Audiovector's nordic minimalism surely helped. I think the second system was the more interesting one, because it mates, if not today with tomorrow, at least yesterday with today. It allows us to play our now big CD collections, and to benefit from modern ways of using dematerialized music: streaming (even from you local files) and multiroom (with other gear compatible with Primare's Prisma ecosystem).
Maybe prices are a bit stiff, but you can always start, for instance, with the default cables, delaying the - not irrelevant - expenditure to upgrade with the In-Akustik cables.
Here are two more proposals that both used loudspeakers by Italian INDIANA LINE.
The bigger system had electronics by PIER AUDIO, a company that, like many, designs in Europe, in this case France, and builds in China.
The source was the CD-880 SE top-loader CD player,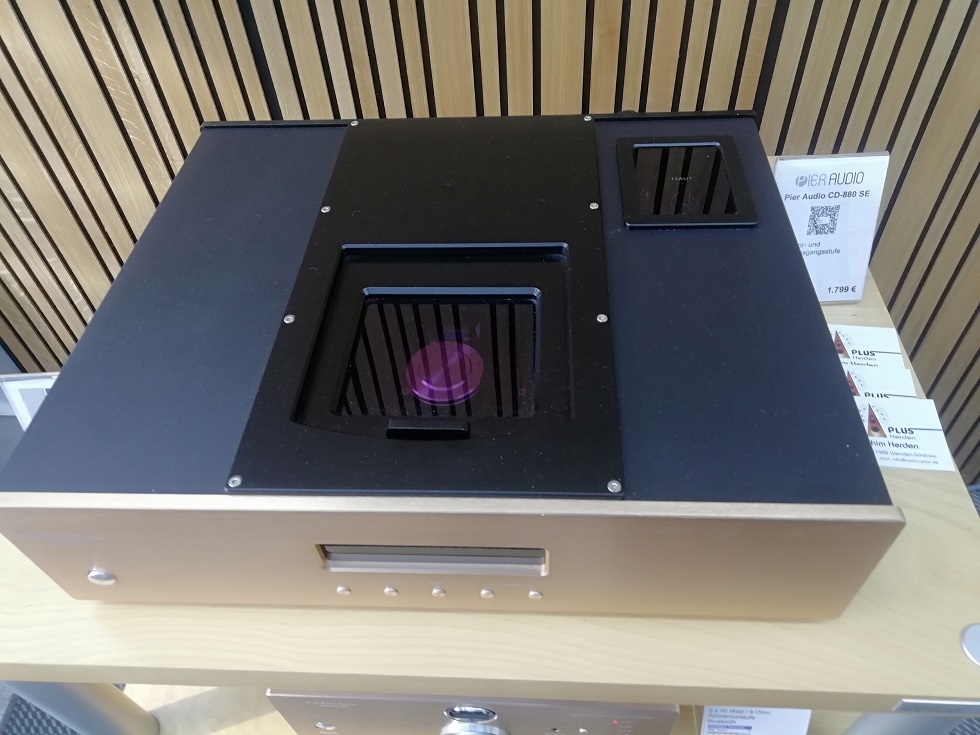 that features two autonomous output stages, one solid state and one powered by the 12AU7 vacuum tube that you see through a little window opening on its top side.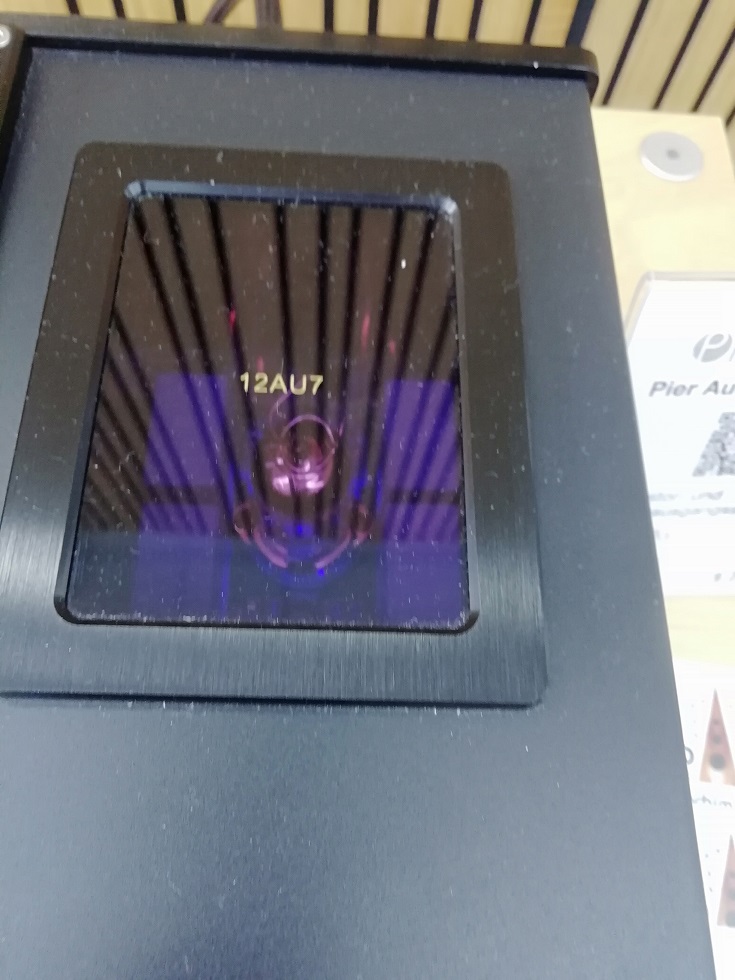 It was connected to the MS-580 SE hybrid integrated amplifier, with a tubed preamplifier section and an AB-class transistor power section.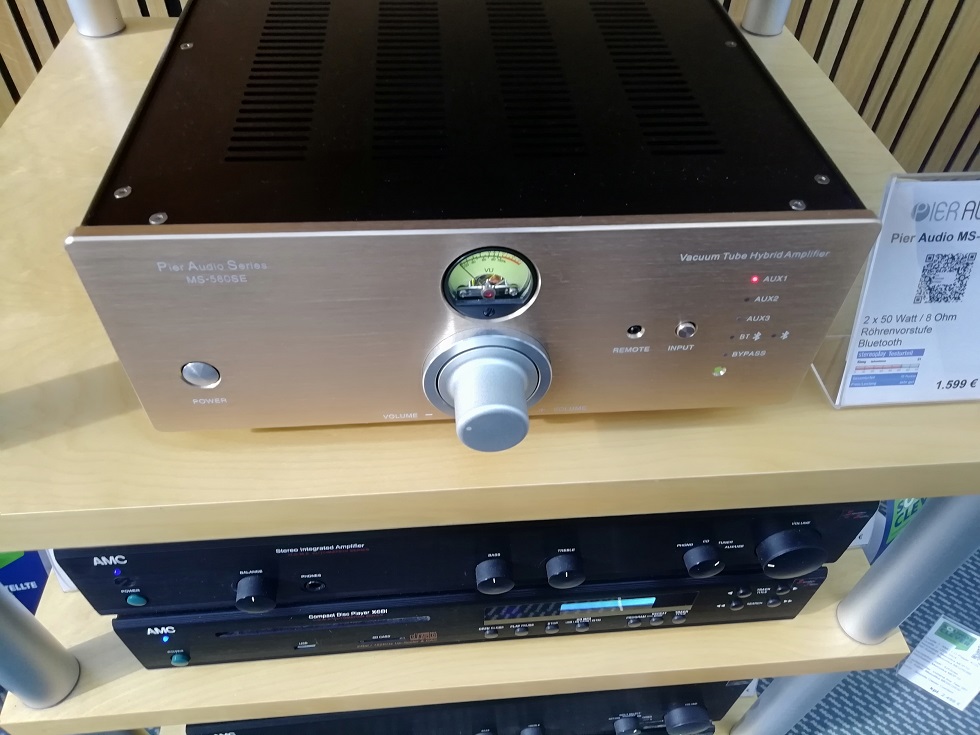 As loudspeakers, a couple of nice Indiana Line Tesi 561 two-and a half way (that is, with different crossover frequencies for the two woofers) bass reflex floorstanders were used.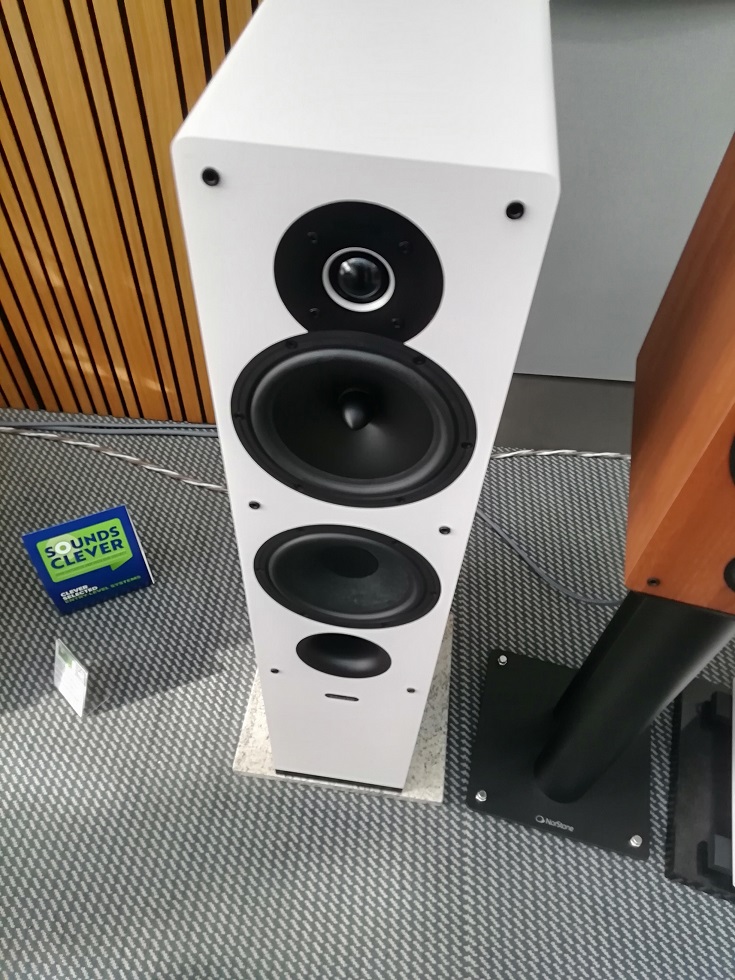 All, cables included, for EUR 4.699.
The little system was made of AMC electronics, the XCDise CD player that can also read USB external memory, and the XIA50se integrated amplifier, featuring a phono input,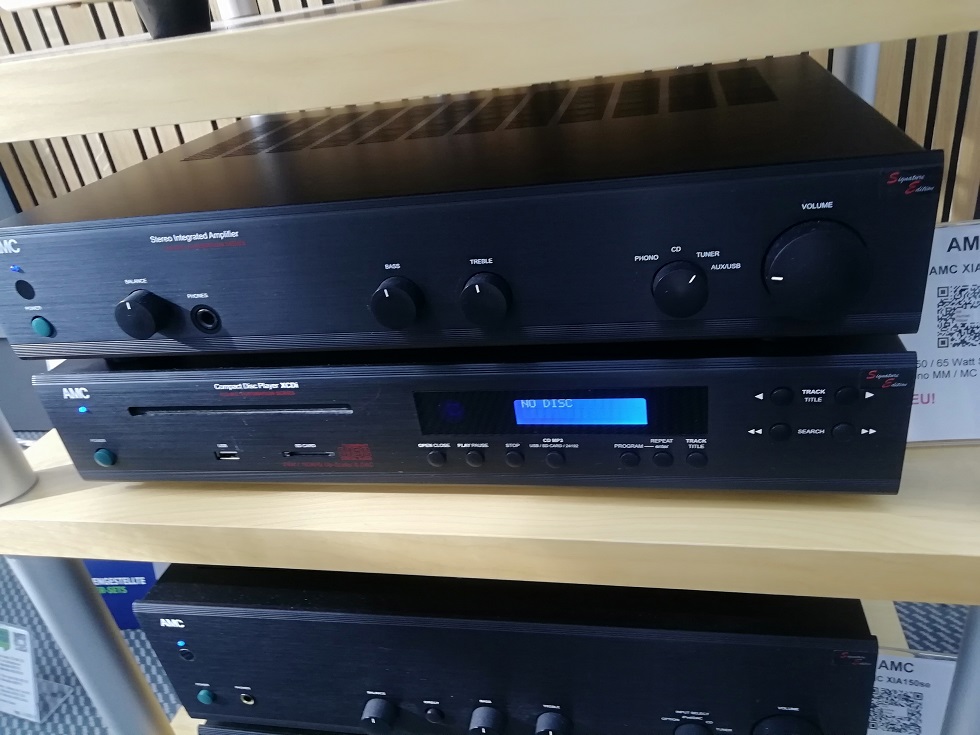 and by the Indiana Line Tesi 261 standmount two-way loudspeakers.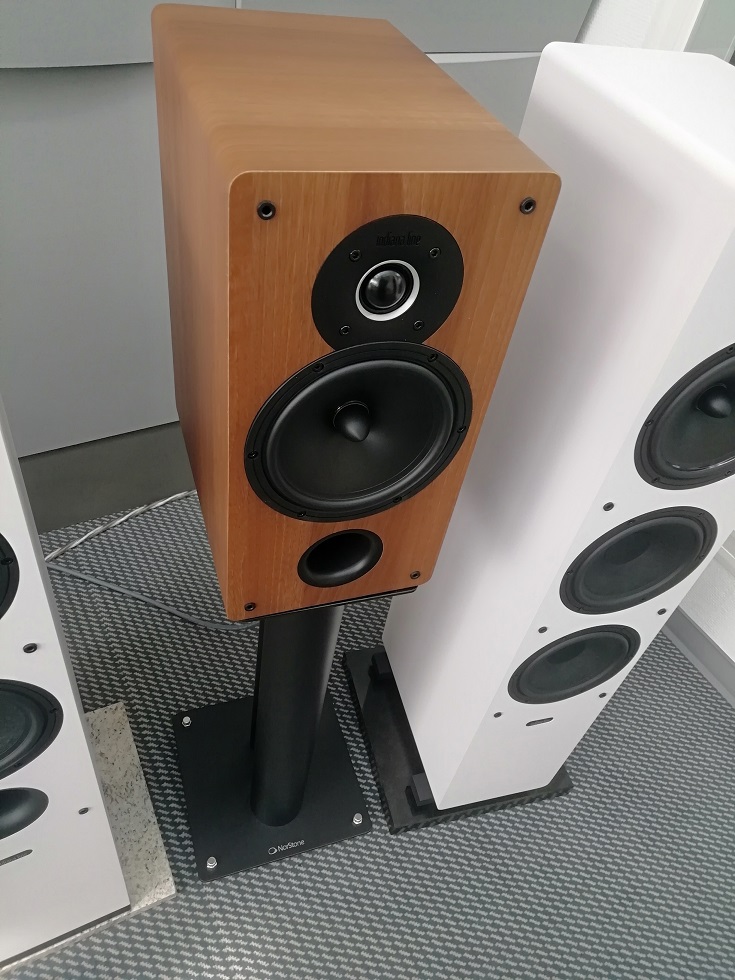 All, cables included, for EUR 2.499.
Canadian TOTEM also dedicated a corner of their room to the Soundsclever system, evidentiating their new Bison Monitor two-way standmount loudspeaker (EUR 2.790), proudly not only designed but also made in Canada, with proprietary drivers;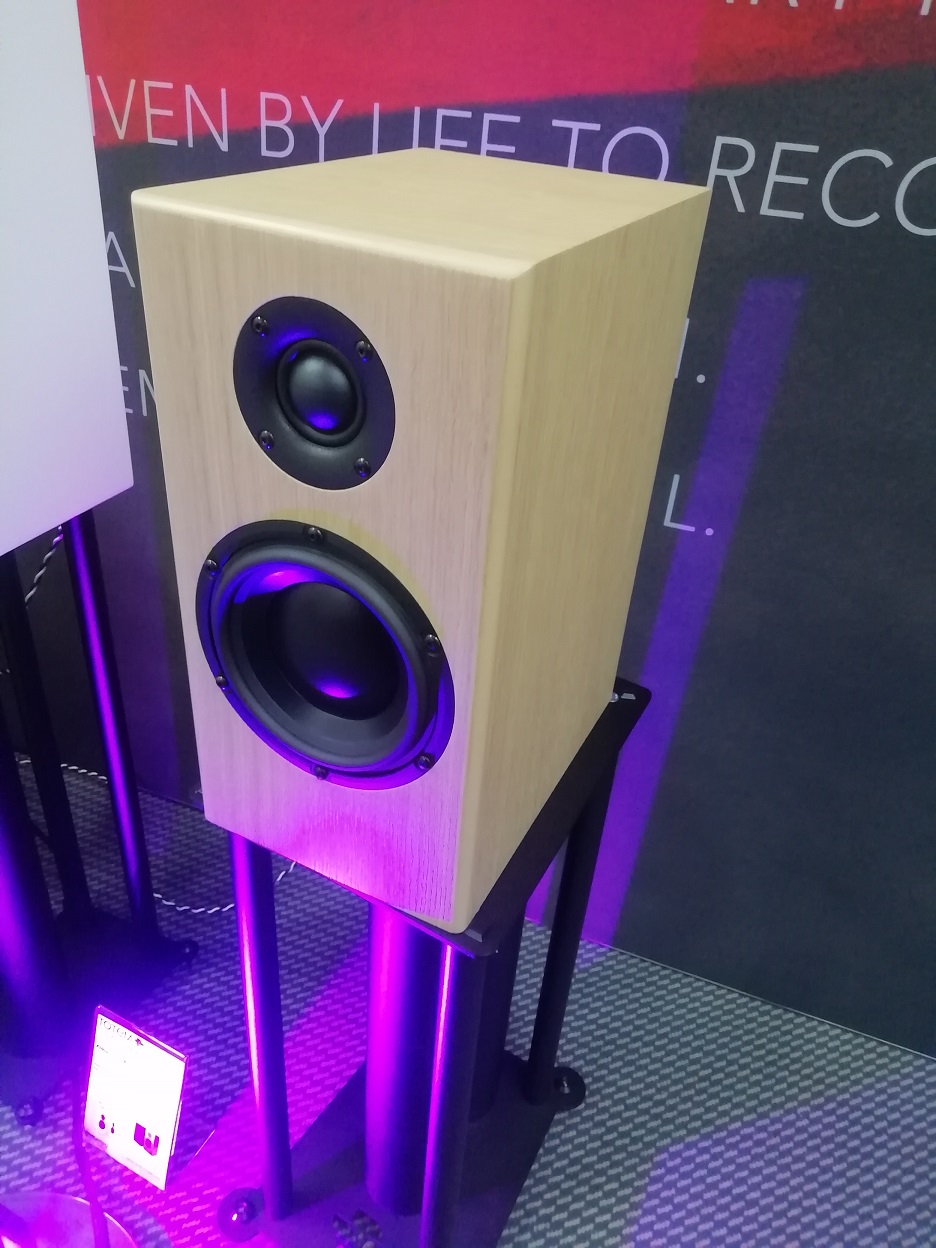 this, in turn, driven by the Kin Amp II, the new version of their trusted little integrated amplifier, featuring one analogue input (selectable between line or phono), one optical digital input (up to 24 bit / 48 kHz) and one Bluetooth (Apt-X HD) input. For a total, cables included, of EUR 3.740.
More interesting, and up-to-date, was their other Sounds Clever proposal, their active loudspeaker Kin Play Active.
It is one more specimen of the all-in-one loudspeakers, that inside have all the system: inputs, both analogue (here, too, selectable between line and phono) and digital (like the Kin Amp: optical 24/48 and Bluetooth Apt-X HD); amplification (the loudspeaker with the inputs has also the amplified outputs to drive the other one); and a subwoofer line output. For the friendly amount of EUR 1.300.
None of Totem's proposals includes a source, assuming customers use something they already have, like a smartphone or a tablet with a subscription to a streaming service, or a streamer (even one of the basic ones featured by modern smart TVs...).
This leads us to two proposals of the same kind, in that both omit a physical source, and are dedicated to dematerialized music.
German distributor Audionext exhibited a "system" made of the Volumio Integro, by Italian company VOLUMIO. It is an integrated amplifier featuring Class-D loudspeaker amplifier and class-AB headphone amplifier and it has also the electornics dedicated to run the Volumio software, conceived by this florentine company for managing music files, be they on our personal archive, or coming they from one of the online streaming providers, for which this machine is already set.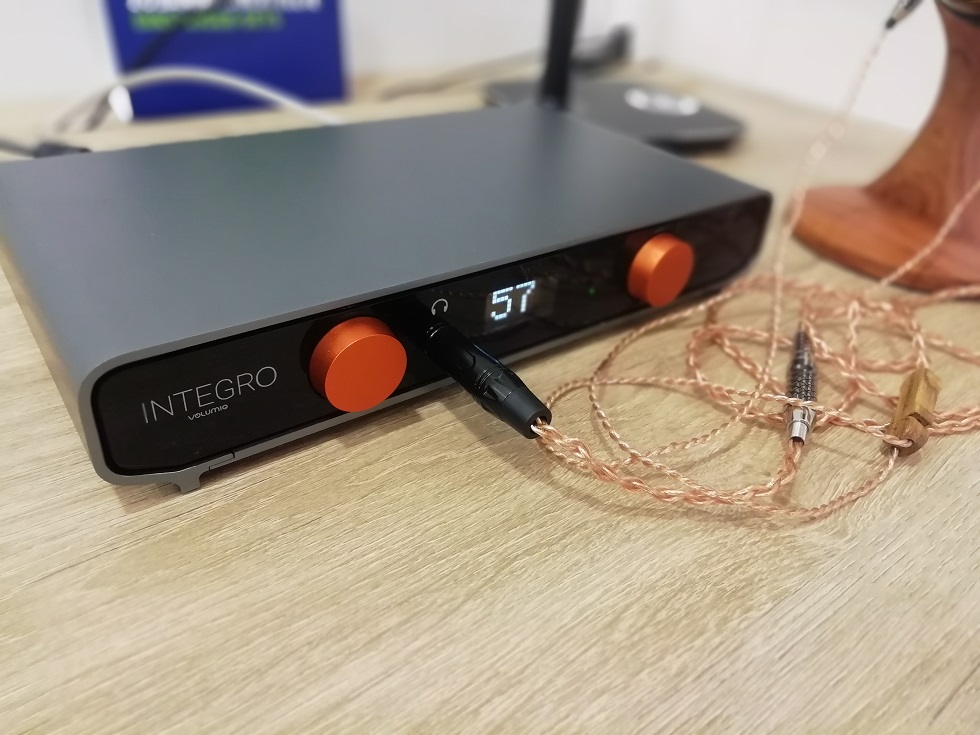 As I wrote, Integro features also an autonomous headphone amplifier; thus this Sounds Clever system was completed by a nice AIVA magnetoplanar headphone by SENDY AUDIO, a brand of a bigger Chinese company.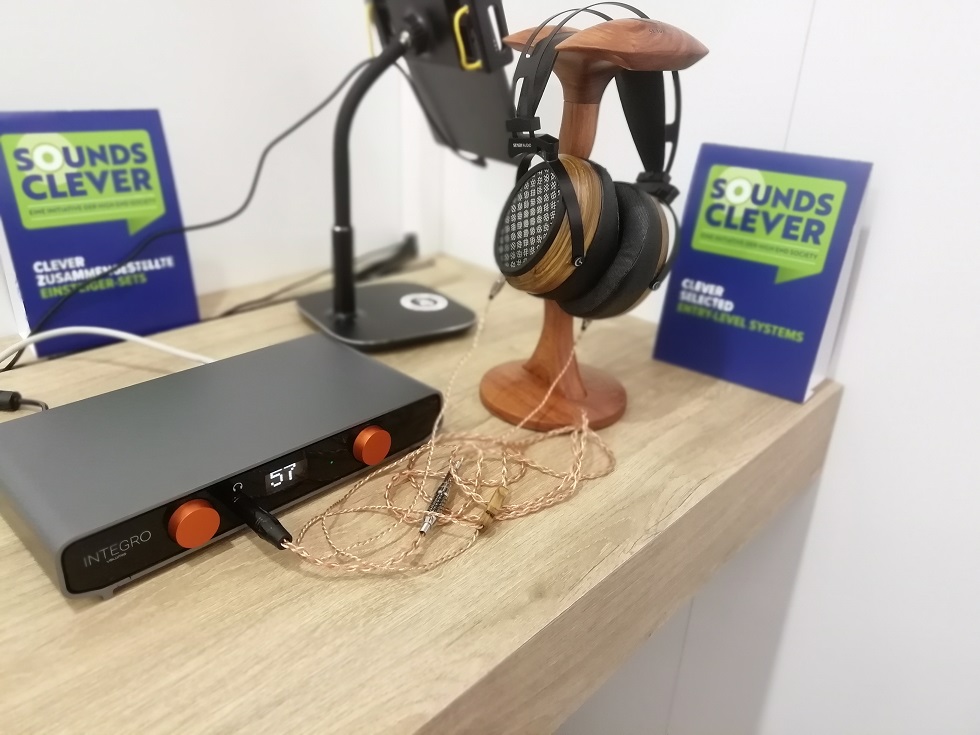 All for a total price of EUR 1.858.
The second proposal came from the German company ULTRASONE, specialized in high-end headphones - I think they were the only ones offering a top-level Soundsclever solution for mobile listening.
They exhibited their new Edition 8 PRO headphone, in which they poured all their building techniques to improve your music's spatial rendition (with a non-axial mounting of the driver) and "body" (with their SLS system for the low range).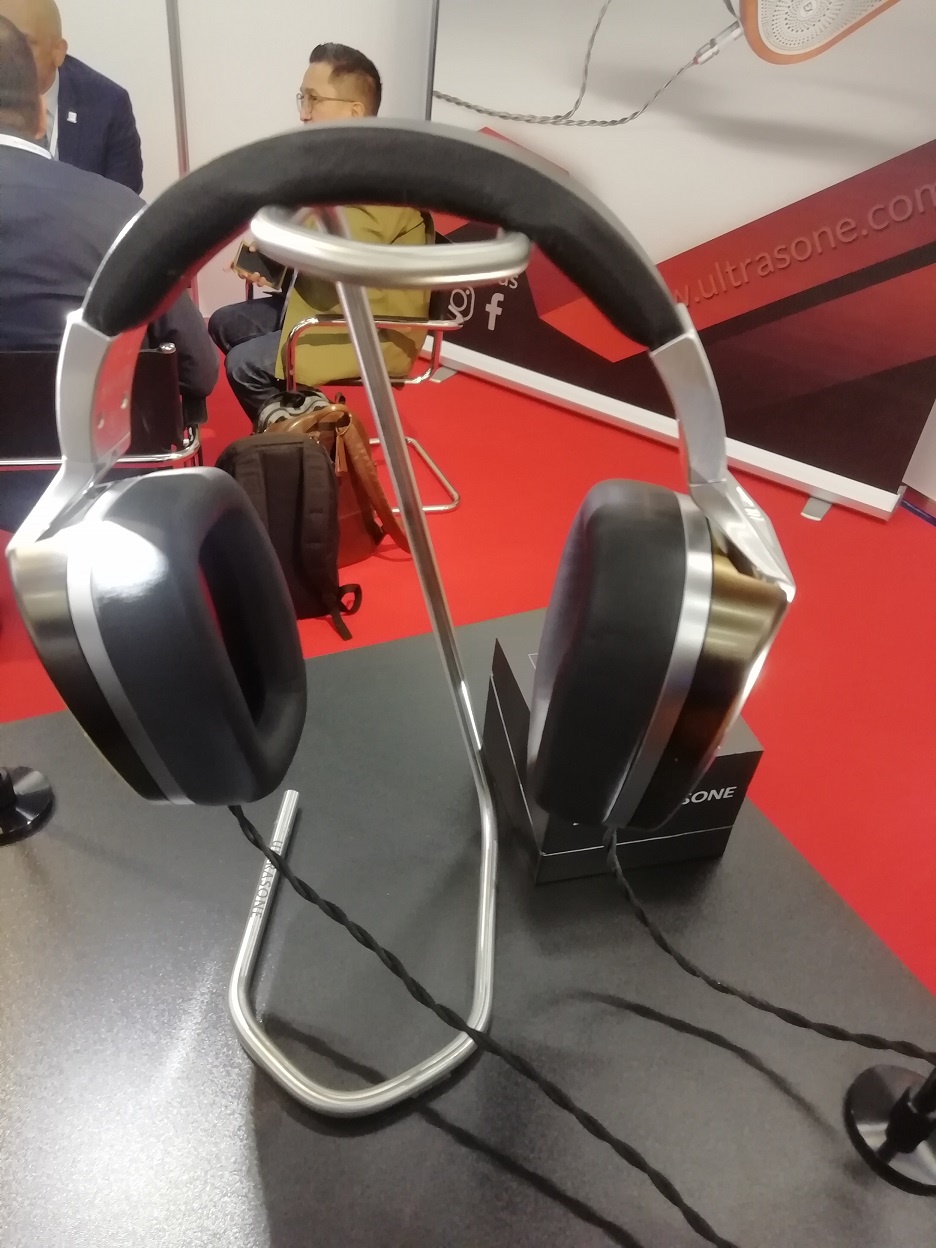 Not less interesting was the amplifier that drove this headphone, and that was the remaining part of the exhibited "system": it's the Naos PRO, a little thing capable of processing incoming digital files both PCM and DSD. It can decode MQA files (until you will find such an encoded file...) and has output connections both unbalanced, with the usual 3,5 mm socket, and balanced, with a Pentaconn socket. Here you have a photo that shows them under the heavy cover under which they were exhibited.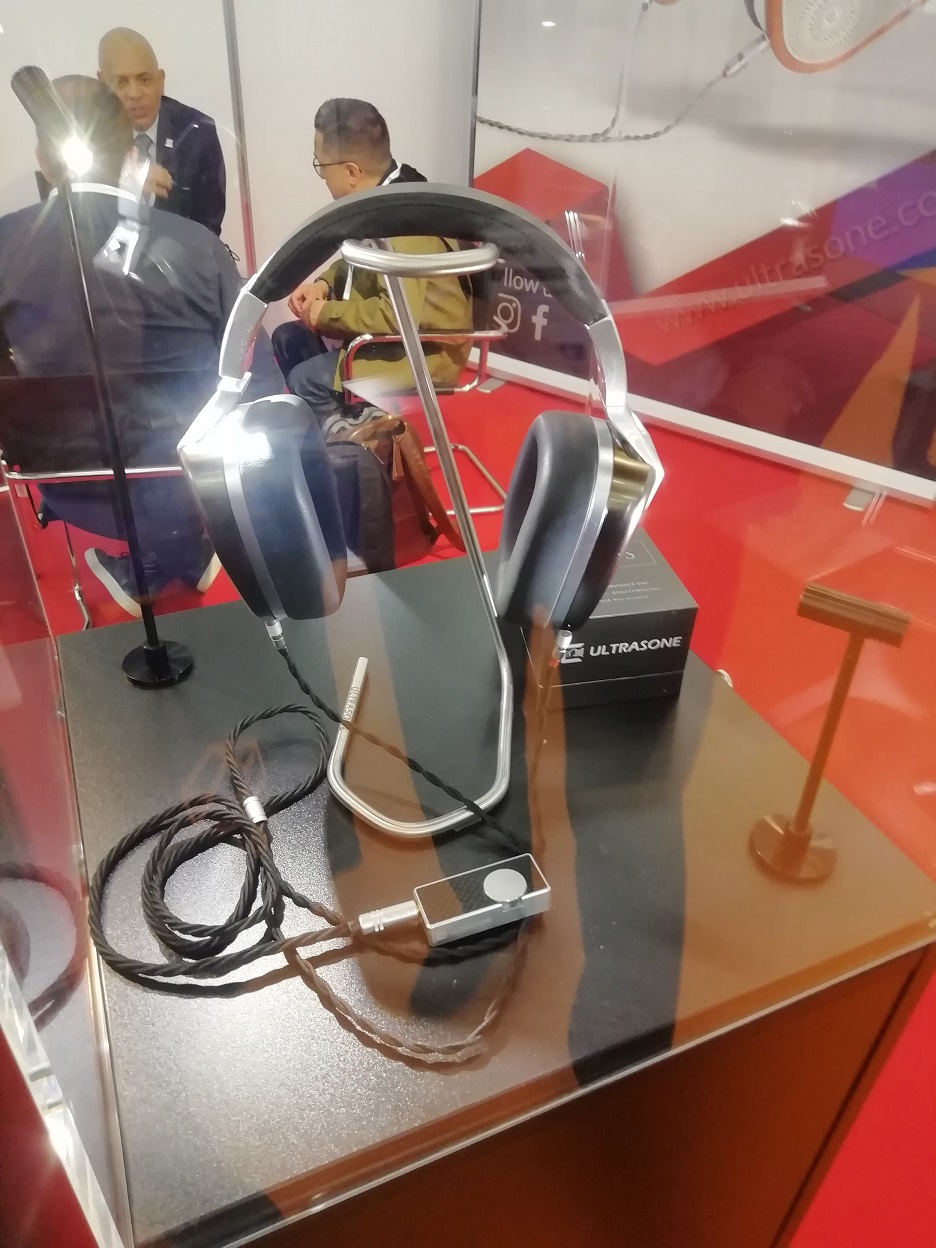 The total price for this "system", cables included, was EUR 2.667. But, if you, too, have been intrigued by the little amplifier/DAC and you already have a good headphone, you can limit your budget to EUR 180...
A somewhat different proposal came from the Swiss company PIEGA.
The system is made of the ACE 30 Wireless active loudspeaker, a two-way standmounter, featuring their traditional AMT tweeter. This loudspeaker joins the club of the "system-inside" ones, because, besides the amplification, it also contains all the electronics needed for their multiple features. It has DSP signal processing, it can stream music from the web or your LAN (Air Play 2, Chromecast, Spotify Connect, Roon Ready), and it can wirelessly connect using the WISA standard. Here you have a self-explaining picture of the rear side of the main loudspeaker, called "TX", id est transmitting, that wirelessly drives its mate, called "RX", id est receiving, that contains only the internal amplification and the module for wireless receiving.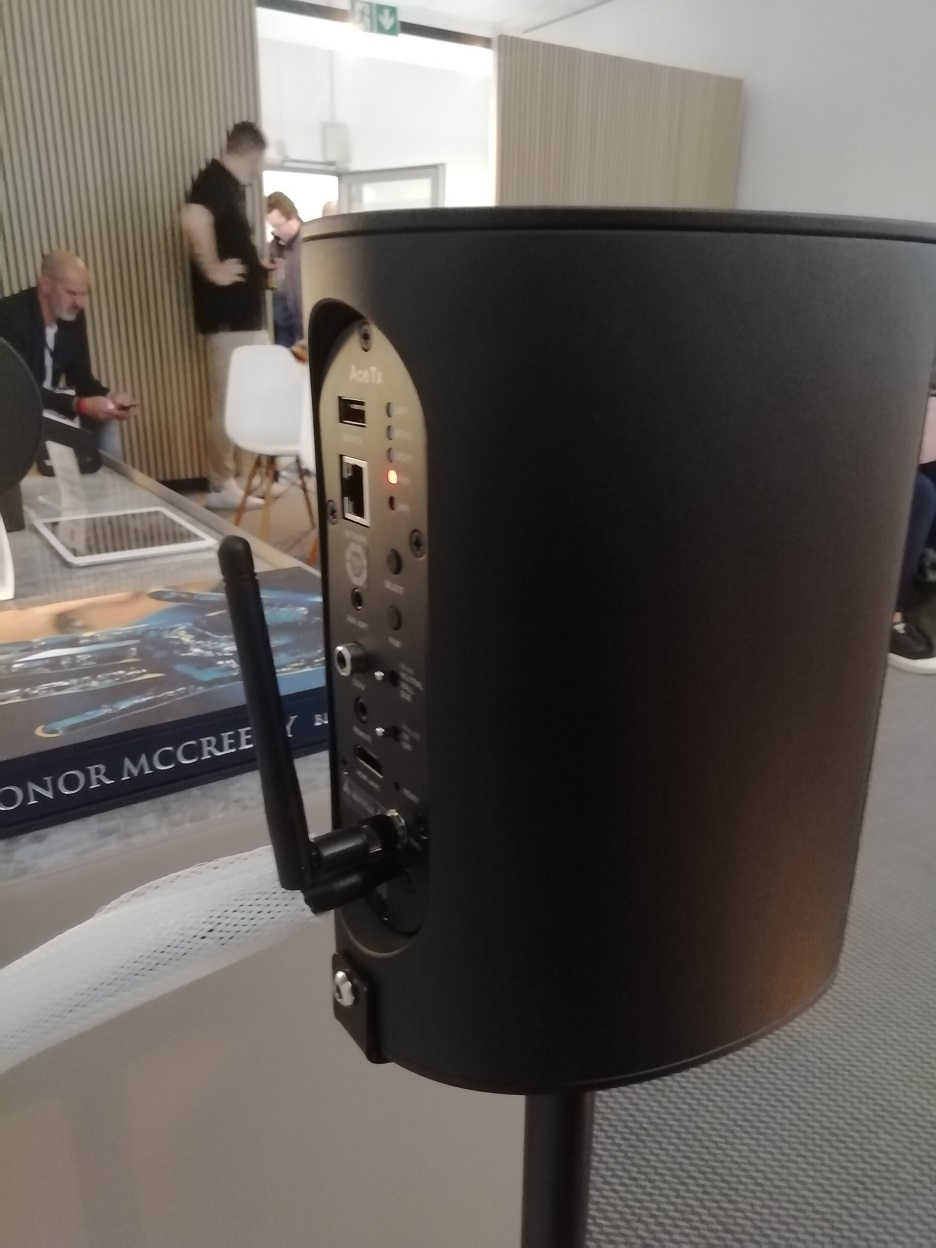 The system was completed with the Sub Medium subwoofer. It, too, can connect wirelessly according to the WISA standard, and features digital filters compatible with the DSP elaboration of the aforementioned "satellites".
Here you go with a group portrait - the subwoofer is, obviously, the little cylinder on the table.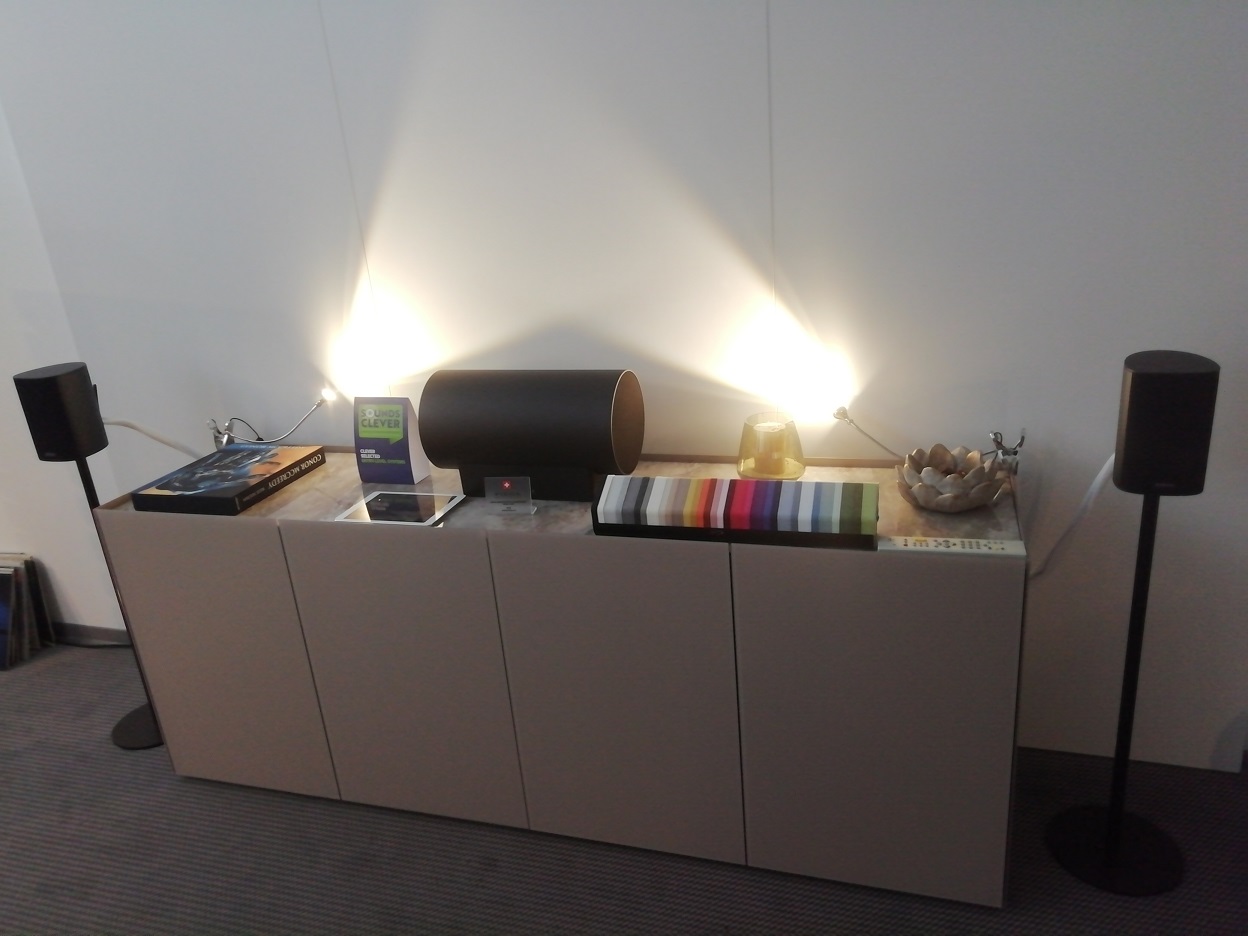 Prices: EUR 1.140 for the TX loudspeaker, EUR 950 per the RX one (you can place several of them, also for a multiroom installation...), EUR 360 for the stands, and EUR 2.190 for the subwoofer, for a total of EUR 4.640. Yet, you can start from about EUR 2.000 for an initial stereo pair, placed on your table or on a shelf...
Don't ask me how they sounded - I entered their room while the show was closing, and their personnel was "cooked" and I didn't feel I wanted to bother them with my late requests. But we all know that Piega is famous for the quality of their loudspeakers.
This year, Arthur Khoubesserian, boss of The Funk Firm, exhibited in a closed room, where he was able to make people listen to the real effects of his theories about the right way to play LPs.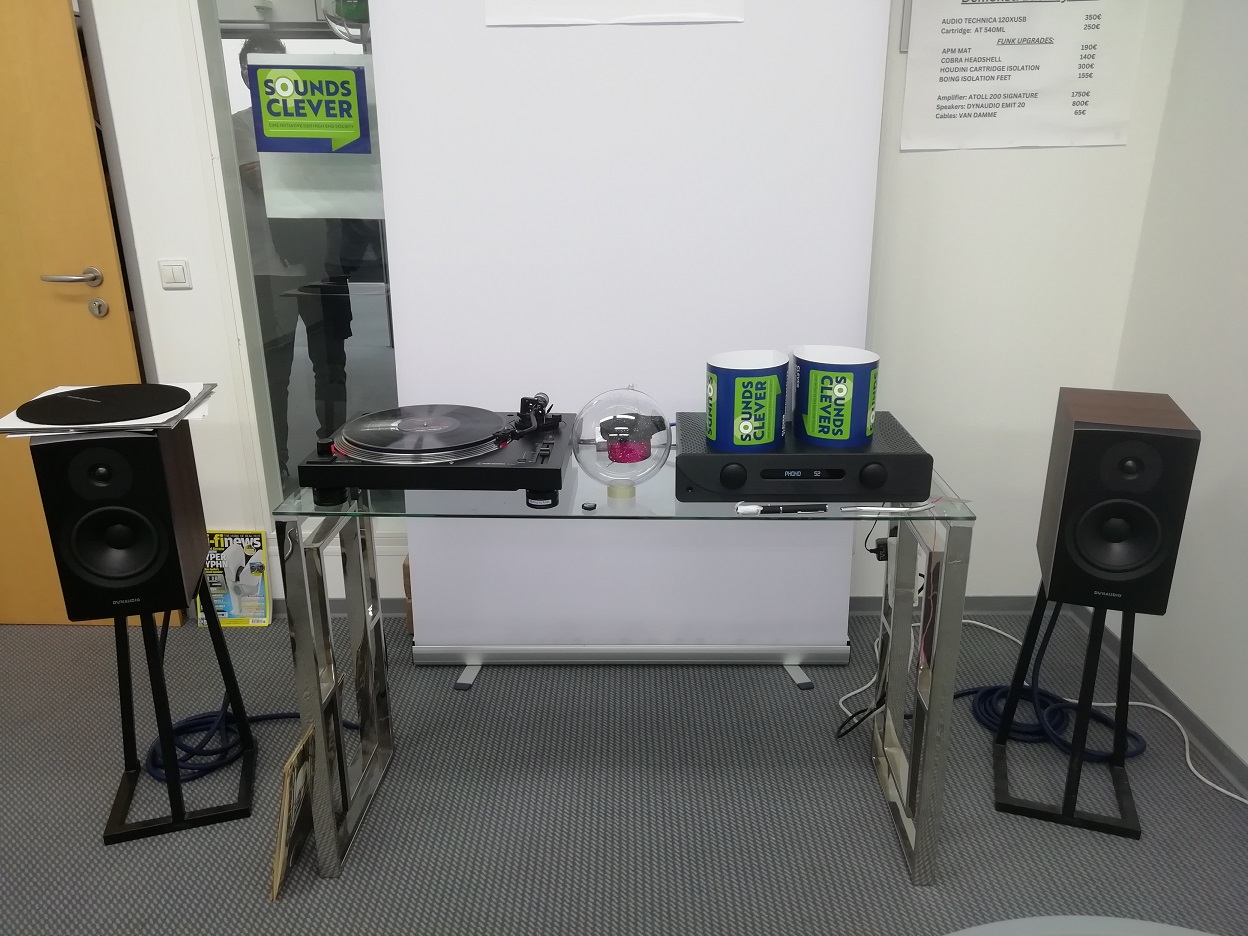 He setup a system with a normal front-end by Audio-Technica, made of a 120X USB turntable, clearly derived from Technics' twelvehundred, with an AT-540ML cartridge, for a total of EUR 600. On it, he installed an Upgrade Kit with his improvements to obtain the isolation bubble. This aims to avoid undue vibrations arriving on the cartridge, that, in turn, would read them and translate them into an unwanted signal, adding to the good one coming from the vibration induced on the stylus by the grooves of the spinning record.
This improvement package, for a total price of EUR 785, was made of:
- APM mat (it made a noticeable difference on the sound, even from the bump of the cartridge lowered in the outer groove: much more damped and meatier than with the factory-provided mat),
- Houdini interface, to be placed between headshell and cartridge. If I didn't misunderstand, it blocks the cartridge except then in the sense of the stylus reading, and allows you to have a cartridge really suspended, hangin' from the arm, and so independent from it and its intrinsic vibrations and resonances,
- Cobra headshell, that, among its other features, allows to rise and lower its top side respect to the collar, thus making for a VTA adjustment (using the Houdini interface, the cartridge's height increases anyway...),
- BOiNG insulating feet.
The remaining components of the system, to stay within the EUR 5.000 limit and so being included in the Sounds Clever list, were an ATOLL 200 Signature integrated amplifier (EUR 1.750), a pair of DYNAUDIO EMIT 20 bookshelf loudspeakers (EUR 800) and Van Damme cables (EUR 65).
As always, chatting with Mr. Khoubesserian was instructive and, this time, the practical aspects were also interesting. Once again, I can't avoid tributing him my thanks.
OUTSIDERS
As you have seen, many Soundsclever proposals were based upon an all-in-one kind of gear that, sparsely appearing last year, this year seemed to be more present.
I was particularly interested in the loudspeakers that integrate all the electronics needed to perform the several required functions (streamer, Dac, preamplifier, also phono, DSP), just like Dynaudio georgeously did last year.
You can shrink the electronic parts and put them in any-kind-of-shape cabinet, long gone are the days of the boxes. Yet we still can't avoid the physical space occupied by the final transducers, the ones that move the air to generate sound. Loudspeakers are still a kind of "furniture" and, since we (still?) can't help putting them into our living rooms, I think it's a good idea to take advantage of their volume. With the side - but not lesser - effect of reducing the system's wires just to the power cords, as acceptable as the ones powering the several lamps that also furnish our homes.
If, then, this happens at human prices, we can even increase the official Soundsclever proposal. Remember, also, that those proposals often lended the streaming functions to something external, like the smart TVs we have in most homes.
The first example I can think of is one of the loudspeakers that Q ACOUSTICS exhibited, the M20s.


It's a two-way bookshelf amplified loudspeaker, with line analogue inputs and digital inputs, also Bluetooth, plus a subwoofer line output, It can also shape its response according to its placement (if next to the side wall or also to the rear wall).
Its' true that it doesn't have streaming functions, but it has an USB input, for the connection to a PC, that can perform also this task.
The price is about EUR 450.
JBL, too, exhibited a couple of all-in-one loudspeakers; here I point you towards the 4305 P model, a two-way (sturdy)stand-mounter for about EUR 2.300. It has more or less the same features of the M20, but, obviously, with more power and with the sound you expect from something bearing the JBL tag. It also has "pro" connections for balanced inputs and includes Chromecast and Airplay2. Unlike last year, this year they were exhibited in white finish, more lifestyle :-)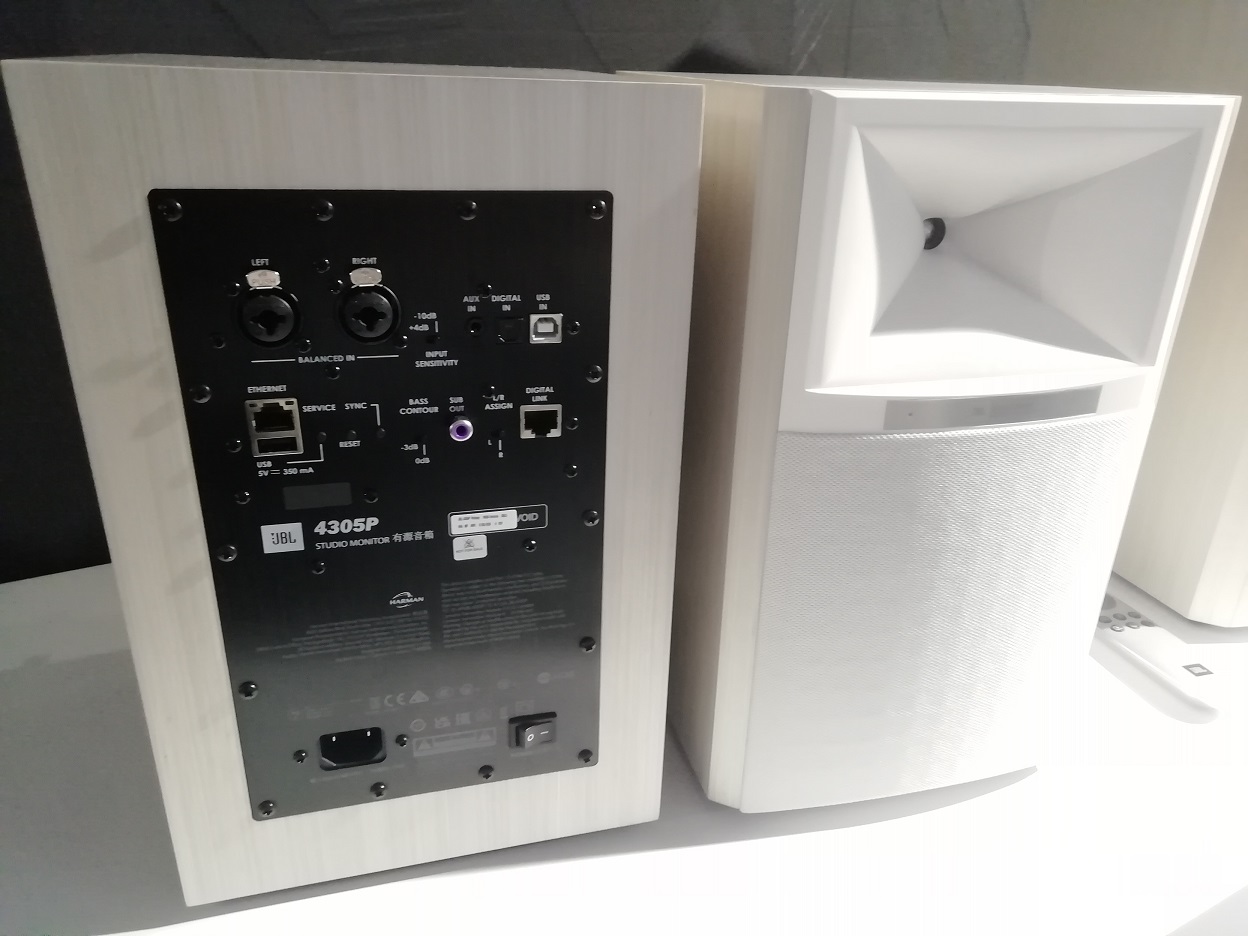 Danish System Audio had many wireless loudspeakers, also of a high level. I'd like to point you at the SA Air 9 model, a two-way standmounter with features similar to the ones above; in addition, we have a phono input and a HDMI ARC socket, for a bidirectional connection with your TV.
All with a cured and clean aesthetics; scandinavian, that is. And for the friendly price of EUR 950.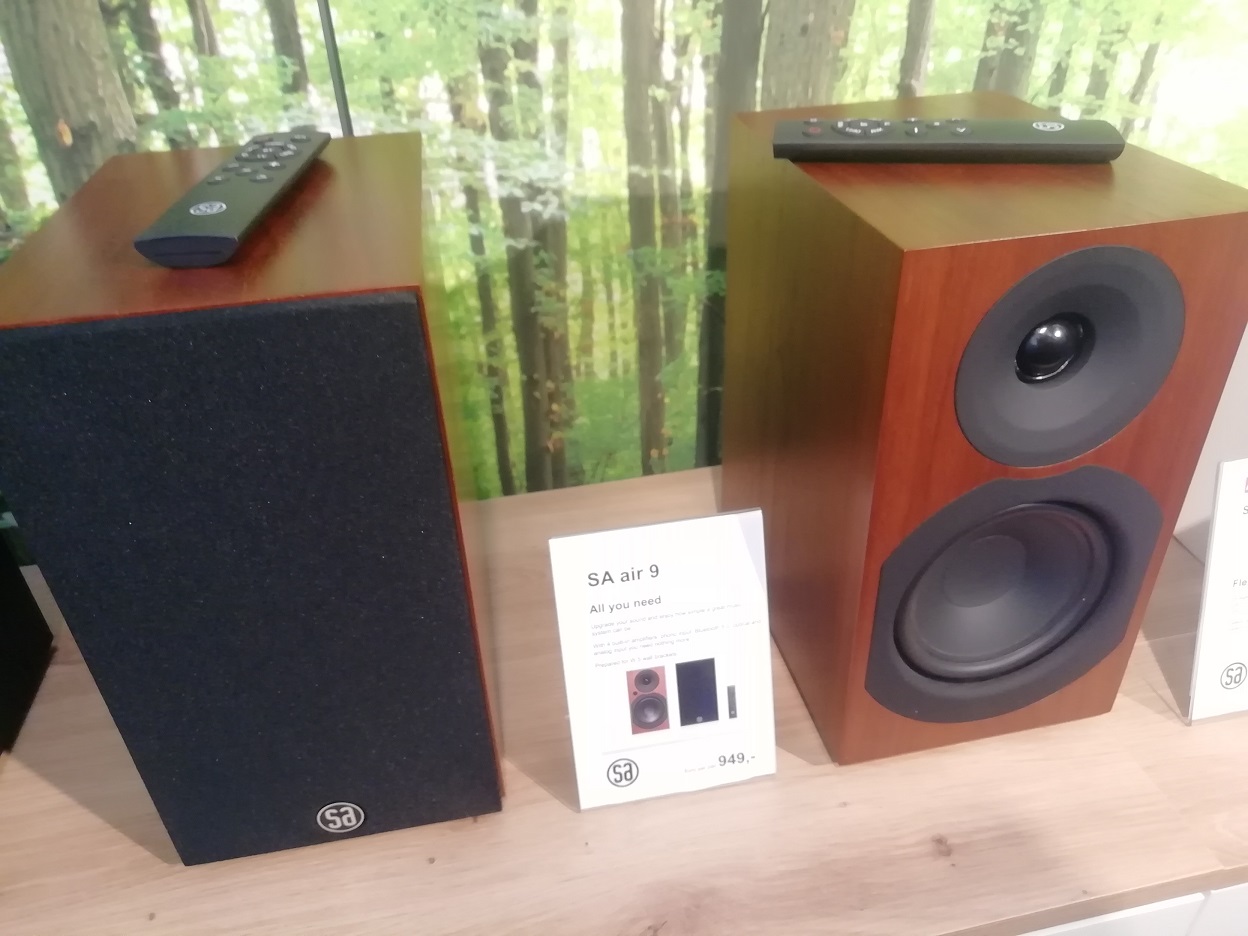 From Canada, PSB exhibited a loudspeaker that get closer to the idea of having everything inside, the Alpha iQ model, a two-way standmounter for EUR 1.400.
Its connectivity is of the likes of the aforementioned loudspeakers. It adds Spotify Connect and Tidal Connect and, above all, the ability to be part of the BluOS ecosystem, supported by NAD and by the other Lenbrook brands.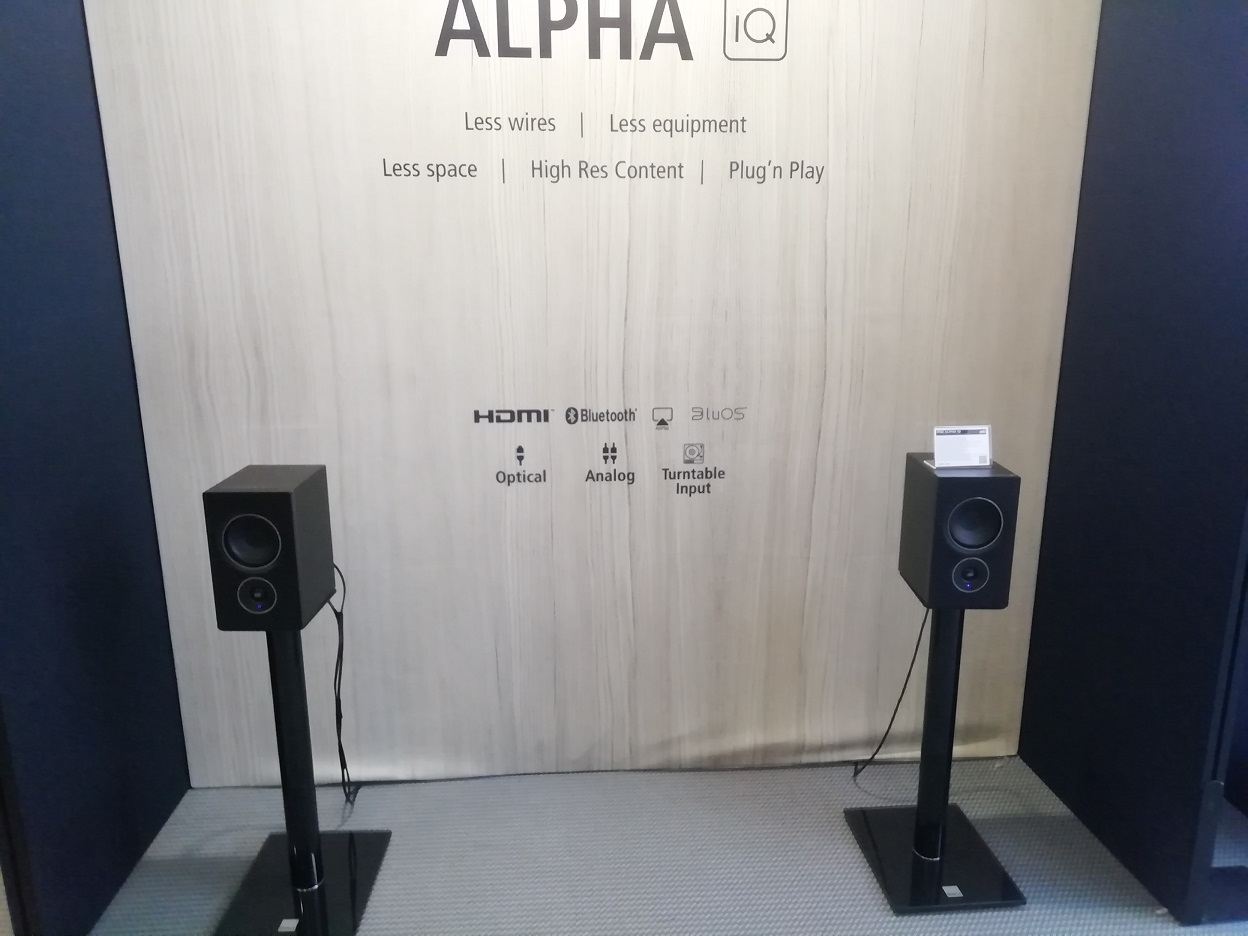 Let me close with the loudspeaker "with the system inside" by VIENNA ACOUSTICS, a world premiere for the show: the Mozart Infinity model.
Let's be immediately clear: this proposal leaves the lands of the affordable. Yet, it doesn't reach the coasts of the unobtainable.
The price is EUR 12.000. The system was proudly exhibited in a big room, and it didn't sound any bad, notwithstanding the wide space and its naked walls. Moreover, the enthusiastic and nice brand representative was contagious, and showed sincere satisfaction with the results they obtained.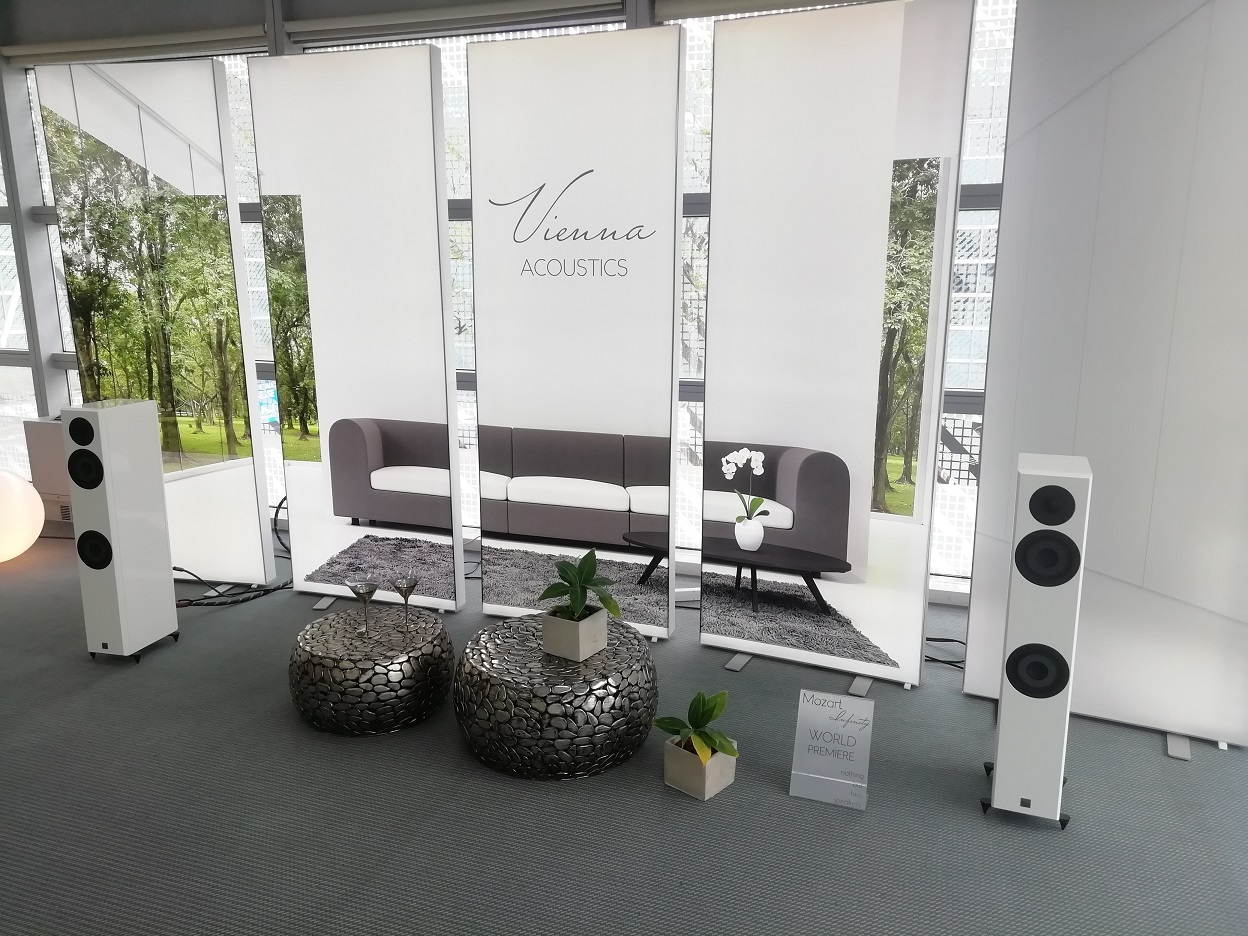 It is a two-and-a-half-way bass-reflex floorstanding loudspeaker, with internal amplification based upon Hypex modules, DAC based on the ESS 9838Q2M chip, and streaming module developed with another austrian company (I understood that this was the harder part of that project).
In addition to the features seen in the models mentioned above, here we have the Roon Ready status and the native connection to Qobuz (yet, they still have to release the needed software update).
Here we have a picture that shows front and back of this loudspeaker (the primary loudspeaker has all the connections and drives the other one, totally passive).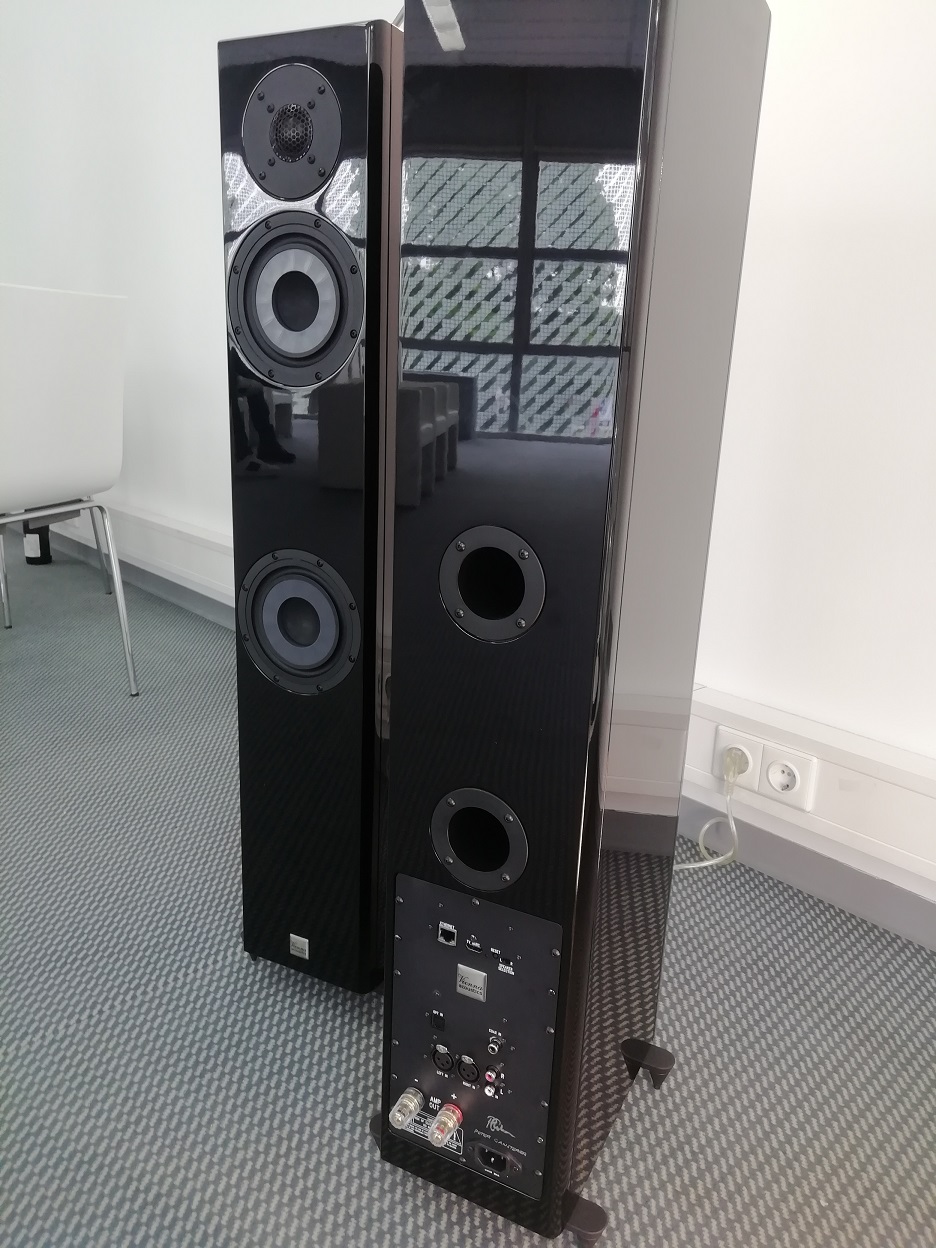 Pit stop
I'm stopping again, here: I think that it can be enough as a second part ;-)
Here is the link to the first part.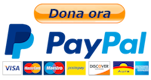 DISCLAIMERTNT-Audio is a 100% independent magazine that neither accepts advertising from companies nor requires readers to register or pay for subscriptions. If you wish, you can support our independent reviews via a PayPal donation. After publication of reviews, the authors do not retain samples other than on long-term loan for further evaluation or comparison with later-received gear. Hence, all contents are written free of any "editorial" or "advertising" influence, and all reviews in this publication, positive or negative, reflect the independent opinions of their respective authors. TNT-Audio will publish all manufacturer responses, subject to the reviewer's right to reply in turn.

Copyright © 2023 Carlo Iaccarino - www.tnt-audio.com
[ Home TNT-Audio | Staff & Contacts | HiFi Playground | Listening tests | DIY & Tweakings | Music & Books ]