[ Home | Staff & Contacts | HiFi Playground | Listening tests | DIY & Tweakings | Music & Books ]
Arcam irDAC Digital to Analogue Converter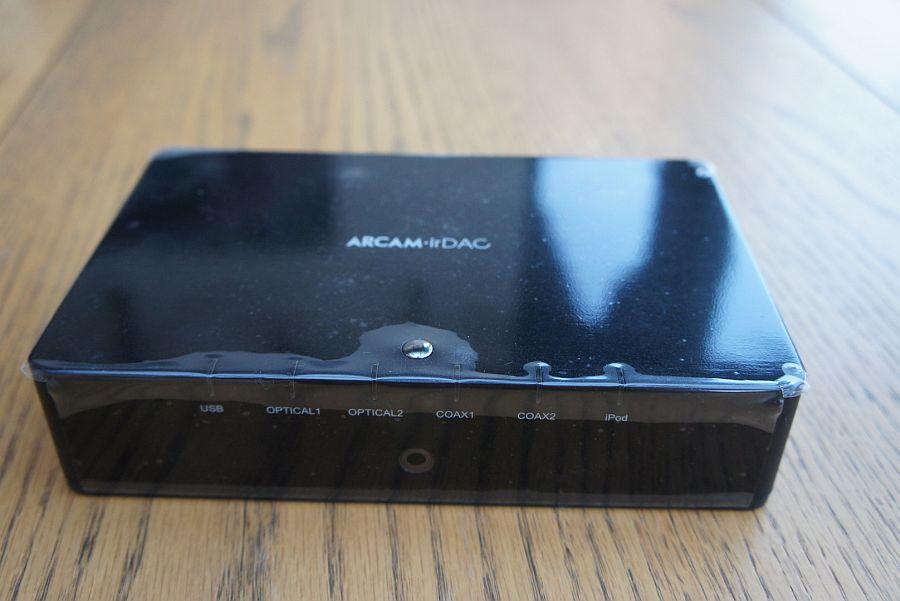 DACs'n'Sax
[Italian version]
Product name: irDAC
Manufacturer: Arcam - UK
Cost: UKP400. (Currency conversion)
(YMMV)
Reviewer: Andy Norman - TNT UK
Reviewed: November, 2014
Introduction
For many people a DAC is nowadays the hub of their hi-fi system. With digital audio streams available from TVs, DVD players, network streamers, portable devices and computers a single, well specified DAC can operate as the main switching centre as well as providing consistently good conversion across all media. The Arcam irDAC is designed for such use. It is a pure DAC (no preamp facility) offering a fairly comprehensive range of remotely switchable connections and conversion of data rates up to 192kHz. Its predecessor from Arcam, the rDAC, was highly regarded as a budget to mid-price DAC and this model claims to be significantly improved through trickle down of technologies used in their "money no object" D33 DAC. So letís see what we think!
What You Get
What you get for your £400 is a small but solid and weighty black metal box with lights along the top edge and connections at the back. It couldnít really look less exciting if it tried, although the sturdy construction gives it an air of quiet confidence. Connectivity is very good. Two each of coaxial and optical digital inputs are provided, along with USB inputs for PC and Apple i-devices. The ipod connection allows direct data transmission from an ipod, giving a much improved sound compared to the ipodís own converters. Outputs consist of a digital co-axial output for onward connection to, for example, a digital headphone amplifier and a regular pair of phono outputs. Although well specified for a consumer device, the unit lacks the connections often used in professional studios Ė AES/BEU for digital and balanced XLR for audio and there is no provision for it to be controlled by an external clock. There is no wireless access but a separate version, the airDAC, is available with Bluetooth connectivity.

The DAC is powered by a wall wart transformer or a specialised power connection from Arcamís A19 integrated amplifier. Power from this is divided into eight separate supplies within the unit itself to provide isolation between different internal functions. Performance improvements are claimed when used with the A19 power supply but I wasnít able to test this as, although I have reviewed the A19, I didnít have that and the irDAC available at the same time.

Unusually for a pure DAC this one comes with a remote control. The infrared of the remote gives rise to the "ir" prefix in the productís name. The remote is a small plastic device that is pretty basic but works well. Its main use is to switch between the inputs which it does capably enough although it can also control basic functions on an i-pod. The remote, which is also supplied with the D33, has provision for switching filters and controlling DAC volume but these facilities are not available from the irDAC. The volume control however uses a widely implemented ir code and so will control the volume on many other amplifiers. The remote also has a mute function that cuts the output completely and can be handy when the phone goes.

Inside, at the heart of the unit, is a Texas Instruments "Burr Brown" 1796 chip (the D33 uses two of these). The software control for this is based on the D33 model and claims to deliver a signal that is "very nearly jitter free". Signal to noise and distortion figures are respectable, if unexciting, at 112dB and 0.002% respectively.

Arcam is very proud of the jitter performance of the irDAC. There was certainly no evidence of the deficiencies associated with jitter, which normally include a harsh digital "edge" and shortcomings with the detail (and hence the soundstage). And there was virtually no difference listening to the coaxial or the USB inputs. If anything, I had a slight preference for the USB sound, which is the opposite of what I usually find.
In Use
The USB input is asynchronous (meaning it controls the flow of data from the originating computer). Like most DACs, it works natively with Windows PCs at data rates up to 96 kHz then needs a driver for speeds above that, to its maximum of 192kHz. Curiously, 176.4kHz files are not listed amongst the supported data rates although I didnít have one on hand to test this. The driver downloaded and installed very smoothly. Some potential customers may look for higher data rates and DSD capability but these remain pretty niche capabilities at the moment and this DAC does not offer them.
In practical terms, as youíd expect, the DAC did everything it was supposed to without fuss. Higher data rates caused no issues and seemed to offer slightly improved sound quality on some material. The DAC sat in my system for a couple of weeks handling all DAC duties so was well burned in when I sat down to listen more critically.
Listening
I thought Iíd take some different byways through my music collection this week, leaving aside some of the more obvious hi-fi and hi-res contenders.

First up was the album Pure Heroine by the young New Zealand pop singer Lorde. Itís unusually spacious for a modern recording and features multi tracked vocals and stereo phasing effects along with deep synthesised bass and powerful drums. All in all a good workout for the system! The Arcam did well with all the elements. On the stand-out track "Royals", for example, bass was deep and full but well controlled. The different strands of multi-tracked vocals were clearly delivered. A good coherent presentation.

Then, since it was the bi-centenary of the birth of Adolphe Sax on the day I did my formal listening I thought Iíd best listen to a couple of my favourite saxophone players. Iíd discovered Bendik Hofseth playing with Steps Ahead but enjoy his playing just as much on his solo albums. Metamorphoses from 1995 is very much in the Steps Ahead vein (with Michael Manieri on vibraphone) although the playing leans towards the spacious Nordic jazz of Jan Garbarek. Itís a naturalistic recording and the Arcam did fine with it. Every nuance of the saxophone seemed to be articulated and the wide soundstage presented the drifting vibraphone lines very naturally.

Along similar lines I listened to the album "Deep River", a piano and sax duet with Joanna Macgregor on piano and Andy Sheppard on sax. Although the album is, to me, a bit mixed in musical quality, some of the playing is sublime. The opening track, for example, is a rendition of "Sometimes I Feel Like a Motherless Child". The saxophone, which starts intimately but with a gritty edge, then soars away, harking back very much to the famous Arne Domerus version (recorded in a church in Sweden). The Macgregor album is also a spacious recording. The Arcam delivered the spaciousness and dynamics most effectively without obvious deficiencies.

Sticking with jazz I switched to some busier material Ė listening to a couple of Joe Zawinul albums. Although best known for his work with Weather Report, Zawinul produced many albums in World/Jazz fusion style featuring complex percussion, fast bass and wonderful improvised keyboard lines. Once again the DAC delivered, separating the complex strands of the music and delivering plenty of dynamics to keep the percussion exciting.

Of course I couldnít resist one audiophile classic Ė The Blue Nileís "I Would Never" from the 2004 album "High". The sound was strikingly clear and transparent with a good upfront presentation of the vocals. The formal listening confirmed the impression Iíd gained during the couple of weeks the DAC was in the system. Itís very even handed, and particularly good with vocals.
Conclusions
Comparing the sound quality of DACs nowadays is difficult. Once you reach a certain level the differences are very small. The irDAC on its own account was an easy DAC to listen to. It did nothing wrong and plenty right. Iíd go so far as to suggest the overall transparency and stability of image put it on a par with DACs costing two or three times the money just three or four years ago, especially considering the USB performance. And you still have to step up substantially to find DACs that give the last ounce of realism to a presentation.
In terms of direct competition I felt it had a slight edge over the Cambridge Audio DACMagic (although that is cheaper) but, frankly, most of the time youíd be hard pressed to tell the difference without the most revealing system. There are plenty of other DACs in this price range worth considering but I doubt if any actually sound better than this. Decisions are likely to be made on the basis of availability, facilities, reputation and style. The Arcam is well specified, and sounds good but itís not the type of device youíll be showing off to your friends for its fantastic visual style or for outlandish sonic fireworks. Some potential audiophile purchasers may want a DAC that will handle 384kHz files and DSD as well Ė they will need to look elsewhere.
Whatís not to like? Itís a very good DAC that just settles down and does the job. Given that the unit is remote controlled it would have been nice to see an attenuator added to the output to enable it easily to control volume as well but this is hardly a killer issue. Similarly, Iíd have liked XLR outputs but then I have one of the relatively few consumer amplifiers that uses that connection. And Iím not honestly sure it would make a lot of (if any) difference as the cable runs in domestic hi-fi are trivial compared to the studios for which the better noise performance of XLR is essential. Lack of 384kHz capability means the unitís not wholly future proof for the committed computer audiophile but, apart from that, the bottom line is that this is a DAC that you canít really go wrong with and that Iíd be happy to recommend.

© Copyright 2014 Andy Norman - andy@tnt-audio.com - www.tnt-audio.com
[ Home | Staff & Contacts | HiFi Playground | Listening tests | DIY & Tweakings | Music & Books ]