[ Home | Staff & Contacts | HiFi Playground | Listening tests | DIY & Tweakings | Music & Books ]
Atoll DAC300 - DAC/preamp
Digital Swiss Army knife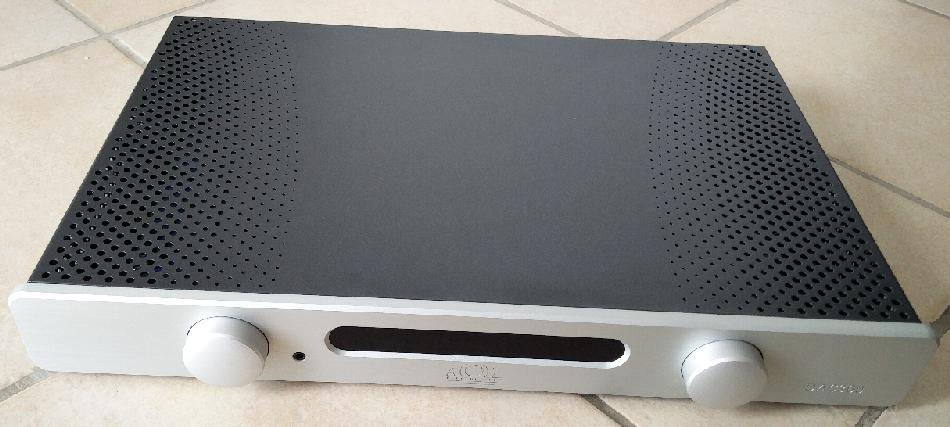 Product: Atoll DAC300 - DAC/preamp
Manufacturer: Atoll Electronique - France
Sample kindly supplied by: AudioGraffiti
Approx. price: 2500€
Reviewer: Lucio Cadeddu - TNT Italy
Reviewed: April, 2019
Foreword
This is not the first time we review an Atoll product, indeed we tested - many years ago - the CD100 CD player, as well as the IN50 and the IN80 integrated amplifiers. These products are still made nowadays, as upgraded "SE" versions of those we reviewed almost 20 years ago.
The Atoll Electronique company was founded in September 1997 by Stéphane and Emmanuel Dubreuil. Their aim was to build affordable, budget-conscious high-end components. Everything is still designed and manufactured in Brecey, France.
A closer look
The DAC300 is the flagship D/A converter of this French company. It relies on the virtues of the acclaimed ESS SABRE ES9038PRO D/A chipset which is also used in the Cocktail Audio X45Pro, the Matrix X-SABRE Pro DAC, the Oppo Sonica DAC, the Matrix X-SABRE Pro, the L.K.S Audio MH-DA004 DAC and many other digital components. The DAC300 is also a minimalist preamplifier (which can be bypassed), with nine digital inputs (and no analog inputs, unfortunately). It can decode digital data coming from Bluetooth and USB as well. Balanced inputs/outputs are also available.
It offers several digital filters from which you can choose: standard (fast roll-off, minimum phase filter); Fast Lin. (fast roll-off, linear phase filter); Slow min. (soft roll-off, minimum phase filter); slow lin. (soft roll-off, linear phase filter); Apodizing (fast roll-off by apodizing, linear phase filter) and hybrid (fast roll-off and minimum phase filter). Puzzled? Don't be, you can select any of these settings during listening but let me tell you it will be very, very hard to detect differences.
The remote control is universal, in the sense that it can be used with many other Atoll components. You can switch the unit on/off, adjust volume and select different inputs. And no, the filter settings can't be managed via remote, for this you need to use the volume knob in the front panel. The DAC300 comes equipped with a good interconnect cable.
The PSU uses three Talema toroids while high quality Clarity Caps are used in the audio path.
Atoll DAC300 massive PSU section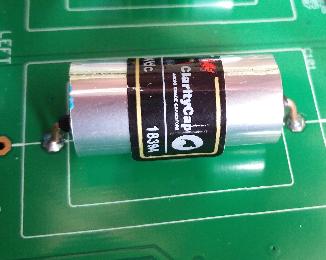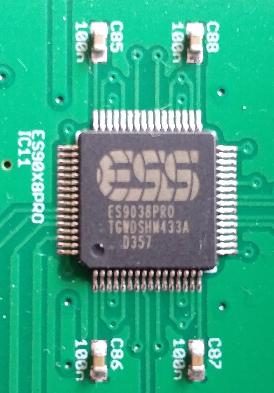 Atoll DAC300 - Clarity Caps and Sabre ESS ES9038PRO chipset
Tech specs
SABRE ES9038PRO D/A chipset (32 bits/768kHz) [137dB dynamic range; THD+N -122dB]
Ultra low jitter clock oscillator
Symmetrical voltage outputs
SABRE ES9311EQ Ultra-Low Noise supply (<1uVrms output noise)
Symmetrical power transformers for output stages (low noise transformers)
Output stages with discrete components and no-feedback
High technology MKP capacitors
Readable files:

The S/PDIF inputs may playback up to PCM 192kHz.
USB-B input plays up to PCM 768kHz & DSD64, 128, 256 and 512.

Inputs: 3 coaxial, 3 optical, Bluetooth, 1 AES/EBU, 1 USB-B
Outputs (digital): coaxial and optical
Outputs (analog): RCA unbalanced stereo, XLR balanced stereo, headphone jack 3,5mm
Available in black or silver
Size: 440x280x60 mm
Weight: 4kg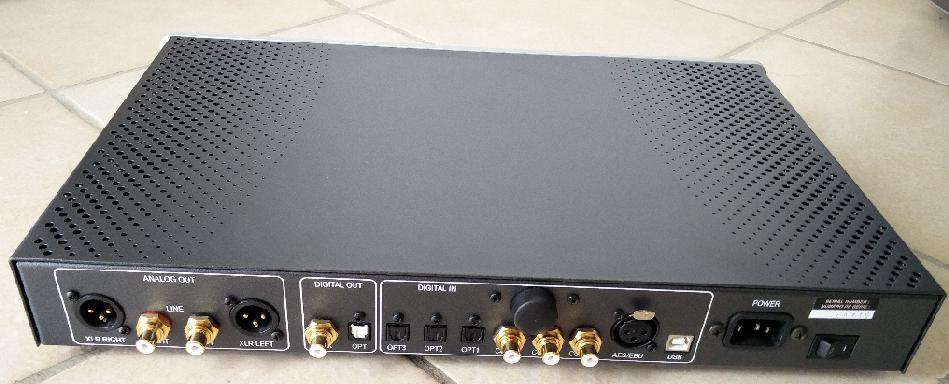 Atoll DAC300 rear view
Digital Swiss Army knife
Remark. Considering the DAC300 sounds slightly better in by-pass mode (excluding the volume control, that is) the following notes refer to that setting.
First of all, this is the Atoll flagship DAC, so it represents the highest expression of the French firm in terms of digital conversion. It is not exactly inexpensive, at 2500€, but it is based on one of the most acclaimed chipsets in the market and offers many interesting features, including Bluetooth input and a minimalist preamp section.
After 18 years I didn't know what to expect: will it have the same sonic signature I described in the reviews of the CD100, IN50 and IN80 components? The answer was clear after the first minutes of listening: the usual Atoll sound was still there: punchy, dynamic, lively and precise.
The tonal balance is mostly on the neutral side and certainly the sound isn't warm or euphonic. It is precise, transparent and solid. The bass range is spectacular, both for its depth and its control. Bass lines, kick drum and organ pedals have a solid presence that makes the DAC300 performance emotionally and physically involving. It doesn't matter if you play symphonic pieces or seismic bass lines from trip-hop tracks, this DAC300 powerful bass will drive your woofers up to their limits and above. It is not an overblown and uncontrolled bass: quite the contrary, it has slam, depth and control in spades.
The mid range is gifted by an extremely low level of distortion, that helps rendering clear vocals, both on solo singers or big choirs. This extreme precision is slightly affected by a monitor effect, in the sense that - from time to time - voices appear a bit forward in the soundstage. Considering they are not affected by sibilants or traces of harshness, it is not an unpleasant effect, quite the contrary. The same happens with strings, for example.
The high range is precise and transparent, though not as forward as I expected it to be. Cymbals are precisely metallic, splashy as they should be, but they never sound fatiguing or excessive. Considering the slightly forward monitor character, a more pronounced high range would have be excessive. In a word, it perfectly balances the mid range.
The amount of details this DAC300 retrieves from the tracks is excellent, but never in your face. Someone might think the DAC300 has a roll-off in the upper high range but I don't think this is the case. It is smooth, not warm. On the other hand, it is amazing the way it lets you follow each and every single instrument and voice, while painting a completely coherent musical image. If you wish to concentrate on a single instrument or voice, you can do that easily, even in the midst of the most complex musical texture. At the same time, you can just enjoy the whole picture.
When compared to the last DAC I reviewed, the DAC9 by Nuprime, this DAC300 - while sharing a similar tonal balance - appears to be more involving and precise. Of course, one shouldn't forget the DAC9 is a 850€ component! As I always say, differences between digital sources (be it CD players or DACs) are subtle and it takes a trained ear (and an extremely revealing system) to detect them all and put everything in the right perspective.
Micro & macro dynamics
The sound of the DAC300 is dynamic exactly like you'd expect from an Atoll component. This is/was a signature of the CD player and of the integrated amplifiers I tested years ago. Punchy and lively, this DAC300 lets the music flow effortlessly, with the right amount of impact. Perhaps it won't give you goosebumps, but its dynamic performance won't let you wanting for something more. Music possesses its natural breath and this is exactly what a good HiFi component should do. It never underlines dynamic jumps, as everything flows in a natural way. Again, the ability to separate instruments and singers plays a role here: no instruments will be dynamically "masked" by others. Even male and female voices in big choirs find their right "level".
Even the most energetic musical genres are reproduced with a good sense of realism. On some of the most complex tracks I've detected, from time to time, a negligible trace of confusion.
3D soundstage
This DAC builds a very large soundstage, as it develops outside the space between the loudspeakers, at both sides. The width of the virtual scene is amazing! Unfortunately, the height and the depth aren't at the same excellent level, though I'd rate them very good. Especially singers (don't ask me why) appear less tall than they should be, and also positioned a bit "forward" in the scene. Anyway, the virtual stage is extremely well defined and luminous, you can easily detect the position of instruments and singers, which remain stable and well focused.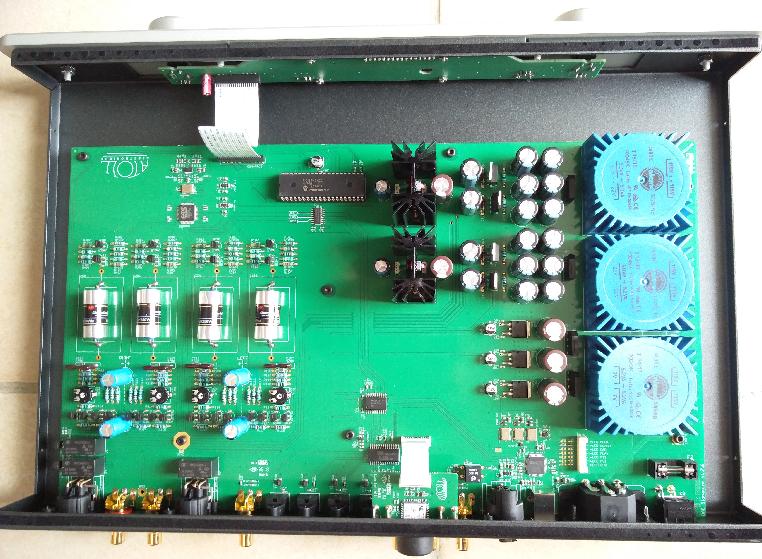 Atoll DAC300 - inside view
Complaints
Manufacturing & finish.
The DAC300 is well enginereed and built, a look at the inside is worth more than thousands words. Just three small remarks: the top cover is solid but is bolted to the chassis with just four small screws. Hence it resonates, more than one would expect from a product in this price range. Secondly, the remote doesn't control all the functions of the unit. By-pass mode and filter setting can be operated via the front panel knobs only. An analog input could have been useful, for those who have an analog source and wish to use the DAC300 as a simple preamp.
Sound.
Extremely convincing and solid, this unit does nothing wrong. I'd have preferred a slightly less forward sound in the mid range and a soundstage with better height and depth. If you're looking for a DAC with a mellow, warm, tube-like sound, you'd better look elsewhere.
Some advice
Feel free to experiment with the various filters, but you'll have a hard time in deciding which one sounds best, as differences are negligible (if any). As usual, different mains cables and damping feet can help "tuning" the sound to your taste.
Conclusions
A very serious DAC, which decodes the digital stream without trying to manipulate it, making it sound analog (whatever this might mean), warm or euphonic. An authoritative sound, with plenty of bass slam, articulation and life-like dynamics, paired with extremely low distortion levels and a trace of "monitor/studio" character that makes music sound realistic and involving. There are so many DACs out there, but if you're in the market for a serious and neutral performer you can't miss auditioning this Atoll DAC300.
DISCLAIMER. TNT-Audio is a 100% independent magazine that neither accepts advertising from companies nor requires readers to register or pay for subscriptions. After publication of reviews, the authors do not retain samples other than on long-term loan for further evaluation or comparison with later-received gear. Hence, all contents are written free of any "editorial" or "advertising" influence, and all reviews in this publication, positive or negative, reflect the independent opinions of their respective authors. TNT-Audio will publish all manufacturer responses, subject to the reviewer's right to reply in turn.

© Copyright 2019 Lucio Cadeddu - direttore@tnt-audio.com - www.tnt-audio.com

[ Home | Staff & Contacts | HiFi Playground | Listening tests | DIY & Tweakings | Music & Books ]