[ Home | Staff & Contacts | HiFi Playground | Listening tests | DIY & Tweakings | Music & Books ]
Atoll Electronique All in One SDA200 Signature
Back to the Future?

Product: All in One (Streamer + DAC + Amplifier) Atoll SDA200 Signature
Manufacturer: Atoll Electronique - France
Test sample kindly supplied by: Audio Graffiti
Recommended Retail Price: 2450€ + local VAT
Reviewer: Piero Canova - TNT Italy
Reviewed: November, 2020
Foreword
For a moment, think back to the mid seventies or, if you weren't born then, find somebody who can tell you about it. Most people were listening to music through radio, vinyl records, audio-cassettes and, in some cars, Stereo 8; a few very lucky serious people had open reel tape recorders. In most homes in the living room or dining room was a stereo set: many were made by separate components, but several people preferred integrated systems that had a built-in turntable, phono stage, amplifier and some times a tuner or tape recorder. My father-in-law had one from B&O that is still in his living room. Supporters of these solutions argued that they were easy to install and all the components had been designed to work together at their best; opponents instead often were of the view that no manufacturer was equally good in every component thus systems built with separate components were much better. Problems related with cables and their quality, and costs were still further issues and the influence of professional equipment was strong. So we all know how it ended: all in one systems almost disappeared and for about 30 years a stereo hifi equipment meant several components needed to be bought according to your taste.
At the beginning of this century, the Internet became a big source of music; computing power and data transmission speed grew exponentially to the point that Liquid Music is today a very credible alternative to other formats. Just think about your mobile phone which has become more and more a network music controller and music processor.
In short, today it is very easy to get audio files of good quality and/or of historic relevance without any physical copy and since all the above happens in the digital domain all systems performing these operations are usually small and of low energy consumption. The next step was obvious: take a good streamer, add a good DAC and put everything inside the box of an integrated amplifier. The result is a complete system to get your music in one single piece of equipment: in short, the all in one system of the seventies with 2020 technology.
When, in mid October, I received the All in One SDA 200 Signature to review, the first question was, "Where was it better to begin the test?": it isn't a typical component to install in an existing system since it is a system itself. I wanted to listen to it as one so I thought it was better to take it with me to in my office. Some time ago I installed a Nobsound F900S amplifier and two monitor speakers, the JBL 4408A; I bought a nice 24V power supply, had a spare power cable from Burmester and two speaker cables, the VacuumState Copperfoil. Normally my mobile phone is the source, in Bluetooth mode, and normally, after 6pm when everybody is out, I can do the most important things of my working day with, in the background, some good music. I took the Atoll with me, connected the power cable (the good one, not the computer grade one they supply) and the speakers and everything was ready. So easy it sounds almost unbelievable.
A closer look
The packaging is a brown cardboard box of good quality. Opening it you find inside a rectangular component (440 mm wide x 320mm deep x 90mm high), quite heavy (11Kg), a remote, two small antennas for WiFi and Bluetooth connection and a very light instruction manual in English. The front panel has a 5" color display with two large knobs on either side; the right one is for on/off and volume while turning the left one allows you to navigate the menus while, with a push, you confirm the choice. We have on the front also a USB-A port and the infrared receiver for the remote. The display isn't touch screen: it seems a cost cutting choice since nowadays most automotive and several appliances have TFT displays and already some have touchless displays with cameras.

The backpanel has, at the two extremes, speaker terminals and, from the left, one pair of pre-out phonos that allow you to skip the amplifier stage, two for analog line in, one digital out, both coax or optical SPDIF, two SPDIF input both optical and coaxial, one network ethernet socket, a second USB_A port and two threaded connections for the small wifi antennas. Lastly, one standard IEC socket for mains power.
The look is very much in line with current taste: the cover panel, sides and rear are epoxy powder painted in black, while the front panel is in brushed aluminium. The front panel is 10mm thick and quite stiff while the top cover is very thin and resonating. I like the front panel which is very clean with no visible labels, very much Bauhaus style. The manufacturer logo and model name are engraved and almost invisible. For my taste the whole is a bit too flat without much creativity; since it is a system by itself perhaps it might have been possible to risk a little more with materials or design. It comes from a country that has a very strong tradition in industrial design and that has left us many products that are design icons today (Concorde or TGV are the first to come to my mind) and since this streamer isn't supercheap a more imaginative case design would have been perfect.
Inside there is a lot of everything; as you can see in the image below. All components are assembled on a large PCB of good quality; controls and display are on a secondary board housed vertically behind the front aluminium panel. The digital processor is in the middle, below the red cables. Communication with the front panel is through the white flat cable. Construction is almost symmetrical for the preamp stages and power amplifier. The only thing I don't like is the construction of the housing: 1mm thick steel plate is perhaps OK for a washing machine, but definitely not in line with a High End product.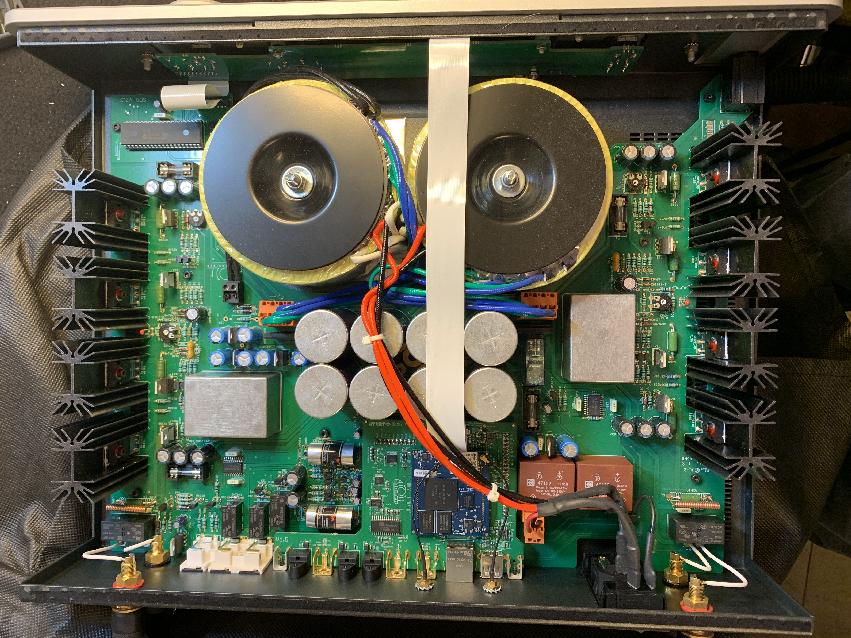 Performance-wise, here is what you get:
Amplifier
Preamplifier stage with discrete components and zero feedback in pure A class
Analog volume control through resistors that can be bypassed
Dedicated power supply with toroidal transformer
High quality MKP capacitors.
Streamer
Plays network audio files (compatible with DLNA and UPnP) using both WiFi or wired RJ45 connection.
Displays names, tags, resolution and covers of the album played.
"Gapless" system (no interruptions between songs). It is possible to create playlists.
It is possible to have an external control (of Qobuz, Audirvana,....) through RTSP protocol.
From Atoll app you can enter into streaming sites: Qobuz, Tidal, Deezer.
Wifi or RJ45 connection; internet radio access through Airable system in high definition. Choice between more than 100.000 radio stations and podcasts.
Information on radio tuned, title, artist, resolution on display.

Possibility to add chosen radio stations to a preferred menu.
DAC
Burr-Brown converter PCM1792.
It is possible to reproduce files in the following formats: DSF, LPCM, FLAC, ALAC, AIFF, WMA, OGG, WAV, AAC, MP3.

Resolution accepted: PCM up to 24 bit / 192 kHz and DSD64/DSD128.

File system USB-A: FAT32, NTFS, EXT2 / 3/4.
As you see, many things from a piece of equipment which is three components in a single box. You can use it as a digital stereo set and then connect a CD player and a phono stage for a complete system. Or you can use it as a Streamer and a DAC or just the DAC. In short, in HiEnd world. It is, for me, the closest thing to an audio Swiss Army knife.
Listening Test
With so many things to listen to I have decided to split the test into two; the first part is for the system as is, so using it as All-in-One using the different digital sources available. Connection with my phone through Bluetooth was immediate, and the same with WiFi so, from the connectivity standpoint, we are really close to plug&play. I did test some web radio stations and again everything was easy and immediate. The Atoll app is fast to download and allows you to control of the streamer from your mobile, which I found very convenient since you never know where is the remote, but we always have a mobile to hand. Furthermore, the remote supplied is an infra-red type so it works properly only at short distances and you must point it directly at the receiver to have any effect. On top of that, the remote control unit supplied doesn't match completely the picture in the instruction manual, which is quite a nuisance so the app sorts out all these problems.
During the first 50 hours please don't listen to the Atoll. It sounds terrible, no bass range, the highs are sharp and annoying, and there's no soundstage. Ok, in this burning in period, just put in a USB key with some music and let it play on repeat; the wait goes by quickly. Very useful and convenient is the volume control from the remote: it is in steps, but they are very close together so at minimum level it is slightly more than a whisper. You can use it then as background music in a working environment without anybody coming to see you noticing there is some music being played.
To make a serious acoustic test I needed some good files so I use some lossless Flac files and some CDs ripped in-house. In short, I liked it very much. The sound is very pleasant and well balanced across all frequencies. Bass is fast, solid, tense, midrange and voices are of the right size and tonally correct. Perhaps highs are a bit sharp and in your face, but I can't say if it is an Atoll fault or it is due to the titanium tweeters of the JBLs, which are notoriously a bit "unpolite" or if it is due to the big glass table sitting in the middle of the room and acting as an acoustic mirror. The most impressive thing, for me, was the scene I manage to get. Listening to Calexico's "Algiers" album (which I do accept it isn't their best, but it has some wonderful songs like "Fortune Teller", in my view of absolute reference level), the stage was wide and credibly deep. In the picture below I have tried to outline in blue where the soundstage was; the leading voice was well separated from the back wall and the width as you see is almost that of the room. Considering that the speakers are definitely not in the best possible positioning it seems to me an excellent result.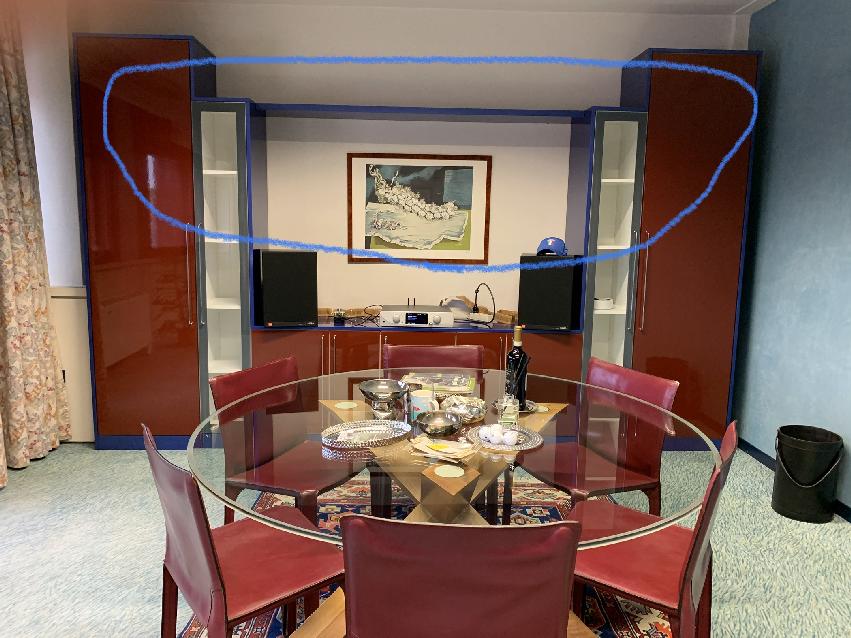 It has a nice PRAT, a good separation between instruments, with a floor noise almost non-existent. Don't get confused, I have listened to several systems with digital sources that did sound better, but they were also much more expensive and had several components, while here, as you see, it's just streamer and speakers.
The second part of the test was to try to understand how each section works. I took the SDA200 back home and connected it to my system. The impressions I had were the following:
DAC: I fed the DAC from my CD player through coaxial cable and I took the analog signal from analog outputs to my system. In this way, the DAC was isolated from the other sections. I did compare it with my current DAC (Forté DAC50) and it was better in almost every parameter.
Streamer: I used the digital coaxial output to feed my current DAC. I compared this configuration (Atoll Streamer with Forté DAC) with Atoll Streamer + DAC. In short, the all Atoll solution was better than Atoll + Forté by a small amount.
My final impression is that the best section is the DAC followed at a short distance by the Streamer. The amplifier, being an AB class and having to pack plenty of power in a small space sacrificed some finesse in favor of the punch.
Conclusions
Atoll SDA200 Signature is a faithful listening companion that sounds well, easy to use with an understated design that can offer many pleasant listening hours. For me, it is perfect in my office, but I can see it working well in a holiday home or as a starting point for a more comprehensive system. If you want to improve it, a must is a good power cable, some soft feet and something to avoid upper cover resonances.
My only doubt is in relation to a trivial aspect: the price. Since it was installed in my office it has been seen by at least 100 people and several have also listened to it. While everybody was impressed by the quality of the sound, when they did ask me the price and I replied it was worth 3000€ with VAT nobody told me they would have bought it. The truth is that it costs like a medium/high level component to be inserted in an existing system so it might appeal to an experienced audiophile, but it doubles many already existing components. A non-audiophile customer is likely to be impressed by the performance, but they may judge it too expensive. I feel that many could like it, but few will buy it.
DISCLAIMER. TNT-Audio is a 100% independent magazine that neither accepts advertising from companies nor requires readers to register or pay for subscriptions. After publication of reviews, the authors do not retain samples other than on long-term loan for further evaluation or comparison with later-received gear. Hence, all contents are written free of any "editorial" or "advertising" influence, and all reviews in this publication, positive or negative, reflect the independent opinions of their respective authors. TNT-Audio will publish all manufacturer responses, subject to the reviewer's right to reply in turn.
Atoll official distributor's comments (Audio Graffiti)
Thank you for the thorough review. We would like to add one consideration. The article does not talk about the maximum power available that is more than good: it is 120 watts at 8 ohms per channel in class ab, basically the same power as the Atoll IN200 integrated amplifier costing € 1.670,00.
This all-in-one has an excellent power supply with double transformers and is able to impress with its dynamics. The SDA200, in some ways, combines the advantages of the IN200 integrated amplifier, the Atoll DAC200 dac and the Atoll ST200 streamer.
It is well known that Atoll has always produced with an excellent quality / price ratio. Even the cost of this SDA200 of € 3.000,00 euros, although not low, in our opinion is more than justified.
Only considering the prices of the IN200 and the ST200 streamer-dac is € 3.860,00 euros, plus the costs of a power and signal cable. Ultimately it is a high-level device, since, as stated in the article, it has the advantages of containing a converter with very high performance.

© Copyright 2020 Piero Canova - piero@tnt-audio.com - www.tnt-audio.com
[ Home | Staff & Contacts | HiFi Playground | Listening tests | DIY & Tweakings | Music & Books ]