[ Home | Staff & Contacts | HiFi Playground | Listening tests | DIY & Tweakings | Music & Books ]
Cambridge Audio Stream Magic 6 V2

A Many Featured Thing
[Italian version here]
Product name: Cambridge Audio Stream Magic 6 V2
Manufacturer: Cambridge Audio - UK
Device Type: Network Music Player/Preamplifier/DAC
Approx. price: 900€
Input: Ethernet, USB (Type B for Audio), USB (Type A for USB storage device), S/PDIF Coax,
Toslink, RCA Control Bus for use with other Cambridge Audio components, Wi-Fi Aerial
Output: 1 pair RCA, 1 pair XLR, S/PDIF Coax, Toslink
Dimensions (H x W x D): 86 x 430 x 310 mm.
Weight: 4 Kg.

Reviewer: Chris Templer - TNT South Africa
Reviewed: May, 2015
Introduction
The Cambridge Stream Magic 6 V2 is a combination of the DacMagic and the NP30 network music player and gives you most of what you'd want from a network player including the ability to play up to 24/96 music from Network Attached Storage (NAS), USB-based storage, the Internet, and it throws in a 24/192-capable USB DAC to boot. The Stream Magic 6 V2 can handle WAV, FLAC, AIFF, WMA, MP3, AAC, Ogg Vorbis, and ALAC file formats and its Dual Wolfson WM8740 24-bit DACs can accept 24/192 data through the USB and Coax S/PDIF inputs. The Toslink, Network/Ethernet, and USB inputs handle up to 24/96 data.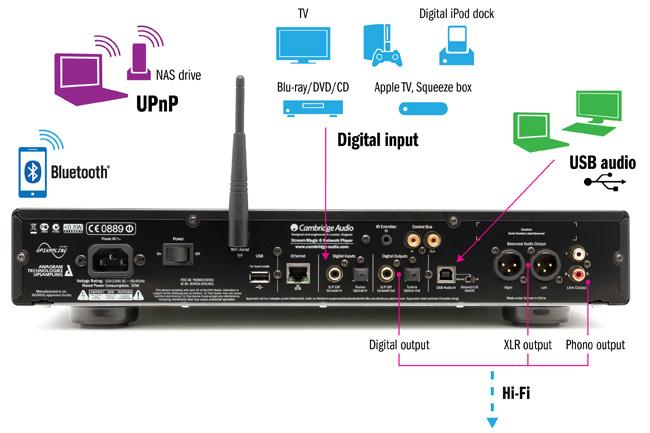 From the Cambridge web site:

EVERY CONNECTION COVERED
USB: Instantly upgrade the audio of your PC or Mac, desktop or laptop. Even streaming music services such as Spotify, Rhapsody or Napster sent via your computer can be improved by Stream Magic 6's upsampling – delivering audiophile detail to your hi-fi. USB connection supports up to 24-bit/192kHz transfer with both "kernel streaming" and "ASIO" support to cut out Windows default sound processing methods, further improving quality.
Digital audio connections:
Stream Magic 6 is compatible with both S/PDIF and optical digital connections – as seen in most Blu-ray players, media streamers and games consoles. Bypassing the built-in audio components of these devices and using the Stream Magic 6 brings spectacular levels of detail, breathing life into the audio from movies, games and more.
Further if you have the need, you can purchase a Bluetooth BT100 device so you can playback to your cell phone, tablet or outer Bluetooth enabled devices. If some esoteric connection has been left out I can't find it! Furthermore there is a full Digital audio preamp featuring optional digital volume and channel balance control.

More from the Cambridge site: "UPSAMPLING AUDIO MAGIC. Everything that passes through the Stream Magic 6 is up-sampled, using our unique ATF2 (Adaptive Time Filtering) process, developed in conjunction with Anagram Technologies of Switzerland, through a high-end Analog Devices DSP (Digital Signal Processor), to ultra-high detail 24-bit 384kHz output. As well as dragging extra detail from every source (even CD, Blu-ray and "Lossless" digital files), ATF2 virtually eliminates "jitter" common in playing digital audio files – which can lead to a flatter, lifeless sound with tinnier bass response. Those problems vanish when digital audio's put through Stream Magic 6."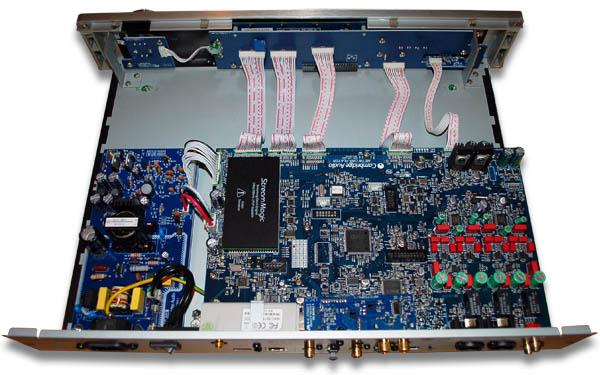 The Stream Magic 6 features built-in support for the latest in high-quality digital audio streaming services including BBC iPlayer Radio, Aupeo and Rhapsody. And, of course, even high-quality 320kbps streams still benefit from Stream Magic 6's ATF2 up-sampling. It also supports the best in podcast streams such as Podcast.com, Blog TalkRadio and BBC Podcasts. And then there's the Remote App for iPhone, iPad and Android devices. In actuality there are three Apps. Stream Magic Lite, Stream Magic and Cambridge Connect. These allow access to music stored across your home network and gain full and instant control of all supported streaming services and internet radio platforms, with track information and album art displayed on your device. Deep-level control means you can also edit favourite stations and streams and queue up playlists that will continue to play even if the device you queued it up on isn't present. Cambridge claim that the Stream Magic can access and play over 20,000 internet radio stations and stream from music services such as BBC iPlayer radio, Aupro, Pandora and Spotify. This review does not cover these services.
The list goes on, gapless playback supported for seamless playback of albums, up-sampling digital to analogue converter featuring S/PDIF and TosLink digital inputs and USB audio input (all 24-bit compatible), twin Wolfson WM8740 DACs ATF2 audio upsampling to 24-bit/384kHz, USB audio input allowing streaming of up to 24-bit/192kHz audio from computer, selectable digital filters – Linear Phase, Minimum phase and Steep. Balanced and unbalanced analogue audio outputs for superior connectivity, full metal casework design with thick brushed aluminium front panel and dual layer damped feet, giving enhanced resonance control, Eco-friendly <0.5W Standby power consumption and Azur Navigator remote control with Cambridge Audio amplifier control.
Presentation and setup
Packaging is everything one would want down to the unit being packed in moulded foam plus a really nicely made sleeve with good branding.

The Remote is quite big at 235 X 48 mm with an Aluminium top plate the rest of it plastic. The worst thing about the remote is that the back is curved with stabilizer bars at the top and nothing at the other end which means that it tends to rock when buttons are pushed needing one button pushing finger and another to hold the thing down. Manufacturers perhaps should take a leaf out of the Jolida book when designing remotes.
Setup was easy as the Stream Magic found my network by itself and when an external Hard Drive is connected via USB, that too.
Use and listening
Control of the Stream Magic from the front panel is easy the only caveat being the size of the in-built screen which is a bit on the small size and the text could be a bit smaller to allow more information to be shown at one time. Selection is a breeze, from choosing the input device to navigating down the directory (folder) tree, to selection of the bit of music you want. One useful and appreciated feature is that the streamer will play from the selection point to the end of the directory listing. Should you want to play a complete album select the first listed and sit back and listen - play lists are not required but making one is easy if that is how you opperate. It is possible to control the Stream Magic from the Remote but it's much easier to use the front panel controls. As my listening position is five meters back from the equipment cabinet the screen is a bit pointless normally as binoculars would be needed to see it. Stop, start, pause and filter selection via the remote is useful from the listening position. The Remote action takes a second or two to actuate the command which at first fooled me into double pressing but something that I soon became accustomed to. The three way filter, Linear Phase, Minimum Phase or Steep allows some control and the effects are very subtle. Cycling through whilst listening over and over I always seem to end up on the Steep setting.

In normal use I employ an Android Tablet with a dedicated app (just to prove a point an app on my Android cell phone also works). The apps are, if there is to be a complaint about the Stream Magic, a bit steam driven. The main App which to me has the best graphic interface (text listing) is wanting in stability. It also has a pretty poor picture rendition of the cover art. I note all reviews and blurb by Cambridge use the Apple iPad app. Both the SM Lite and Cambridge Connect app display only in Landscape mode, the main App will do both. I use the main app only and it works most of the time.

All music listened to has been either ripped to the server or downloaded from the usual websites. The downloads are in some cases hi res files but as the Stream Magic up-converts everything to 24 Bit 385 kHz this is a bit academic. Before howls set in might I point out that the majority of the music I listen to was recorded originally on tape and up-converting does not make those recordings hi res, just up-converted. For true hi res have a look at iTrax and the daily newsletter from Dr Mark Waldrep.

Now to the sound. Having been very disappointed in the Schitt Bifrost I was very alert when I connected up the Cambridge. I went through all the usual music I use for testing the sound (a CD I compiled years ago and I keep a copy on the Server) and found that in every case the Stream Magic bettered what I was used to. One of the problems with digital reproduction is that "glare" and "hardness" are all to easy to achieve and resolution can also be problematic with very fine detail lacking especially in orchestral recordings. The Stream Magic betters anything and everything I have so far heard including some big and expensive name brands. After about a month of listening I went to a series of classical concerts, Oboe and Piano, Chamber Orchestra (with and without Sir James Galway on flute) and full Orchestra. When I returned home and started listening again I really began to appreciate just how good the Stream Magic is. Listening now is more of a pleasure than BC (Before Cambridge), a lot more detail (and I'm not talking about gasps from the performer or clicks from the valves on a flute or cars driving past or the NYSO subway rumbles) and correct timber which to me is most important and so very hard to get right.
The recording of Jean Guillou at the van den Heuvel organ at St Eustache, Dorian DOR-90134, it is possible to hear the change in the 32' bass from open to closed wood also the 10 2/3' Grand Quint to 16' SouBasse giving 32' acoustic bass quite clearly with the change in harmonic structure well defined. Another Dorian recording, this time of the Reubke Sonata on the 94th Psalm on the Aeolian Skinner organ of Trinity Church, New York has a really loud reed stop which should stand out well and the Stream Magic brings this out with gusto. Going to an old Bernstein recording of Tchaikovsky's rather sedate Serenade for Strings, the sound of multiple strings sounds as good as it did in the live performance above. The rather over the top DG recording, DG429 984-2 of the 1812 Overture with the Gothenberg Orchestra, Symphony Brass Band, Artillery Division and Church Bells comes through in thunderous sound spoilt only by the compression on the recording at one point.
One hoary old favorite, Dark Side of the Moon (the fairly recent CD), reproduces well with all the things it seems people want to hear such as the electronically altered kick drum "heartbeat", the heavily processed sound and tape loop "jingles". I honestly prefer the ripped CD over the recent LP pressing. Many years ago I recorded to tape (and subsequently digitized) a friend playing a Hammond A110 organ with PR40 Tone Cabinet and accompanied by a drummer and this sounds as good as the original tape, perhaps because no processing or mastering as such was done. Just digitizing at 24 Bit 96 kHz. This through the Stream Magic is very, very close to the original sound of a Hammond organ with Tone Cabinet and is a reflection of just how close to original sound it is possible to get.
Likewise recordings of a trumpet and violin done in my room sound as they should. The recording of the Bernstein / Berloiz Symphonie Fantastique is truly fantastic, the bells ring out and fine detail in the resonance is really good. One other recording, that of the Auditorium Organ in the Atlantic City Convention Hall (ACCHOS/CD01) has on one track a demonstration of the 64" Diaphone Dulcian stop with bottom C at 8 Hz. This tone can clearly be heard amongst the clattering of the mechanical reed so the Cambridge is no slouch in the bass department either.

Conclusion
The Cambridge is a very versatile streamer and also a pre-amp which I did not test. It's playback of digital files surpasses that of anything I have ever had in my system or so far listened to and I include CD's, SACD's and Server based and also via some very sophisticated and very expensive equipment. It is probably not the last word, but at the price I think it is unbeatable.
Equipment used
Server as detailed here
CD player: Jolida CD100
Turntable: EMT 948 - Various cartridges
Phono Stage: Jolida JD9
Tape: Otari MTR90 2" X 24 track - Otari MX5050 BII 1/4" X 2 track - Akai M9 1/4" X 4 track plus others.
Amplifier: TacT/Lyngdorf 2175 SADI, SE Triode Parallel 300B mono blocks
Room Correction: TacT RCS 2.0 with upgrades. NOT used in this review
Speakers: Double Tannoy Dual Concentric drivers in Autograph type horn loaded cabinets with additional ribbon drivers. Sensitivity 100 dB/1 Watt @ 1 Meter. NOS Goodmans Axiom 201 in reflex cabinets Sensitivity slightly less. Sub woofer as detailed here
The system as set up allows the use of either the Tact/Tannoy, the Triodes/Goodmans or both at the same time.
© Copyright 2015 Chris Templer - chris@tnt-audio.com - www.tnt-audio.com
[ Home | Staff & Contacts | HiFi Playground | Listening tests | DIY & Tweakings | Music & Books ]