[ Home | Staff & Contacts | HiFi Playground | Listening tests | DIY & Tweakings | Music & Books ]
Cocktail Audio X10 - CD player/music server/streamer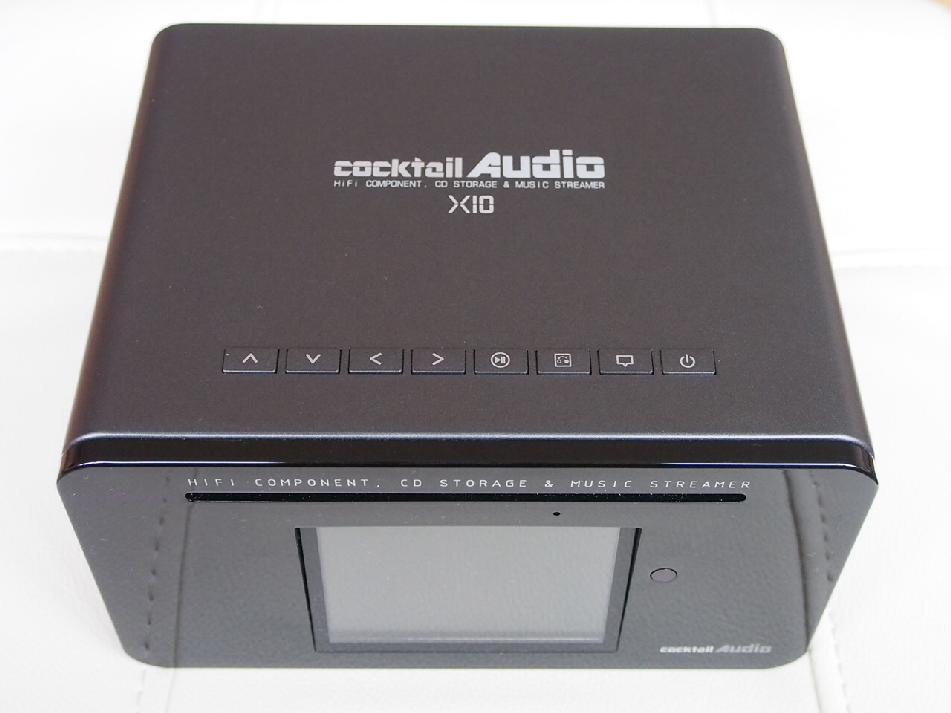 The Columbus's Egg!
[Italian version]
Product: Cocktail Audio X10 music server/streamer/player
Manufacturer: Novatron - Korea
Approx. price: 350€
Reviewer: Lucio Cadeddu - TNT Italy
Published: November, 2014

Foreword
Following the exponential growth of the online music sales (often referred as liquid music) HiFi companies have started designing new products that should replace PCs as primary sources for digital reproduction. All-inclusive music servers, that can rip CDs, store them into hard disks, play music via wifi streaming, reproduce internet radio etc. are replacing standard CD players and DACs. Normally, these digital music players are quite expensive and being complicated it can be difficult to get the best out of them.
For audiophiles on a budget or for those who don't want to deal with sophisticated components, there's a simple solution and it's called Cocktail Audio X10. It is made by Novatron, a consumer electronics Company located in Paldal-gu, the central district of the city of Suwon, in South Korea. This is their entry-level music center, followed by the more sophisticated (and expensive) X12 and X30 models.
Factotum
It is not easy to summarize all the features of this stunning magic box. Nevertheless, let me try :-)
First of all, it is a CD-player (compatible with CD, CD-R, CD-RW & DVD-R/RW) with a stereo line output and optical TosLink digital output (up to 24bit/96kHz). Moreover, it can rip a CD while it's playing it and then store its content into a hard disk drive. This is not supplied by default, but the X10 has an empty slot for installing 3.5" HDDs. Just connect two cables and you're done. If you don't already own a hard disk and feel to be unable to install it you can purchase an X10 with an on-board HDD. There's a reason why this isn't installed by default: you might already have your own music files stored into a HDD and hence you might not want to pay for something you don't really need.
Of course, you can connect an external hard disk drive to one of the USB ports in the rear panel. There you can even connect a flash drive (USB pen) and play your music directly from there. Once the X10 rips your CD you can use its integrated database (freedb) for supplying all the tags for the album (cover, artist etc.). The unit can be connected (via Ethernet cable or WiFi) to your home LAN/WiFi and then act as music streamer and Internet radio. You can even record Internet Radio tracks directly on the hard disk!
Thanks to the LAN/WiFi connectivity you can play music files stored on a NAS, on your remote PC on somewhere on the Web. The Cocktail Audio X10 can play almost any kind of music format: Hi-Res WAV, Hi-Res FLAC, MP3, FLAC, WAV, WMA, AAC, M4A, PCM, OGG, M3U, PLS, AIFF, AIF, Apple Lossless Audio Codec (ALAC) etc. up to 24 bit/192 kHz.
The human interface is a screen with menus and icons that you can browse very easily thanks to the remote control. You don't need an external screen to manage the unit! If you wish, you can control the whole unit via a web interface or a smartphone (Android or iOS). You can even rip your vinyl, just hook up the phono preamp output to the LINE IN connector of the X10. Way easy. You can transfer your LPs into a hard disk and play them wherever you go.
If all of the above doesn't seem enough for you, consider the Cocktail X10 also includes an internal amplifier with 30+30 watts (@ 8 Ohm, 1 kHz & 1% THD). Hence it can autonomously drive a pair of speakers, provided these aren't a killer load. Realistically, the internal amplifier can deliver undistorted power of 15/20 watts per channel, which is more than enough for most situations.
In other words, the X10 can be used as the heart of a minimalist HiFi system that can virtually play and record any digital files stored anywhere. For 300€ it is hard to ask for more. Add 50/60€ for the hard disk drive and 25€ for the WiFi dongle. Other add-ons are a small Toslink-S/PDIF converter (25€) and a minijack/RCA OFC cable (15€).
As you can imagine, the rear panel is quite crowded: two USB sockets, LINE IN and LINE OUT (minijack standard), a TosLink digital socket, speakers binding posts (spring-clip kind), headphones output (minijack), LAN Ethernet port and a third USB port devoted to connect the unit to a PC. There's also a small cooling fan, a socket for the external 24V power supply and a ON/OFF switch.
The cabinet is essentially an ugly plastic box. The front panel hosts just the 3.5" LCD TFT screen and the CD loading slot (slot, not drawer). The top cover hosts a series of essential switches, which can be found on the remote control as well. It is rather small (180x98x147mm) and light (1,4 kg, 3 lbs). The owner's manual is complete and well written in English and German.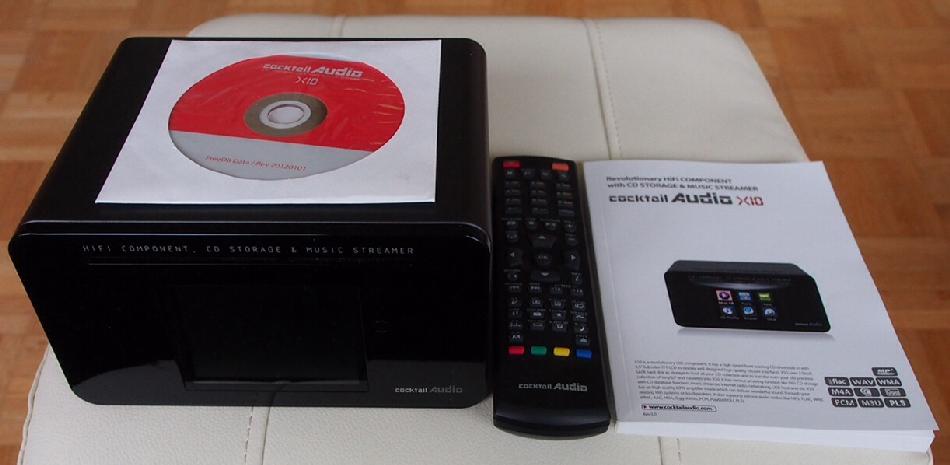 Tech specs
Output power: 30+30 watt (8 Ohm, 1 kHz, 1% THD)
Compatible with: MP3, FLAC, WAV, WMA, M4A, AAC, Ogg Vorbis, PCM, PLS, M3U
Compatible hard disk drives: SATA (1/2) 3.5" up to 2 TB
Line output level: 2V @ 1kHz, 0.1% THD
Digital output: TosLink optical (up to 24/96)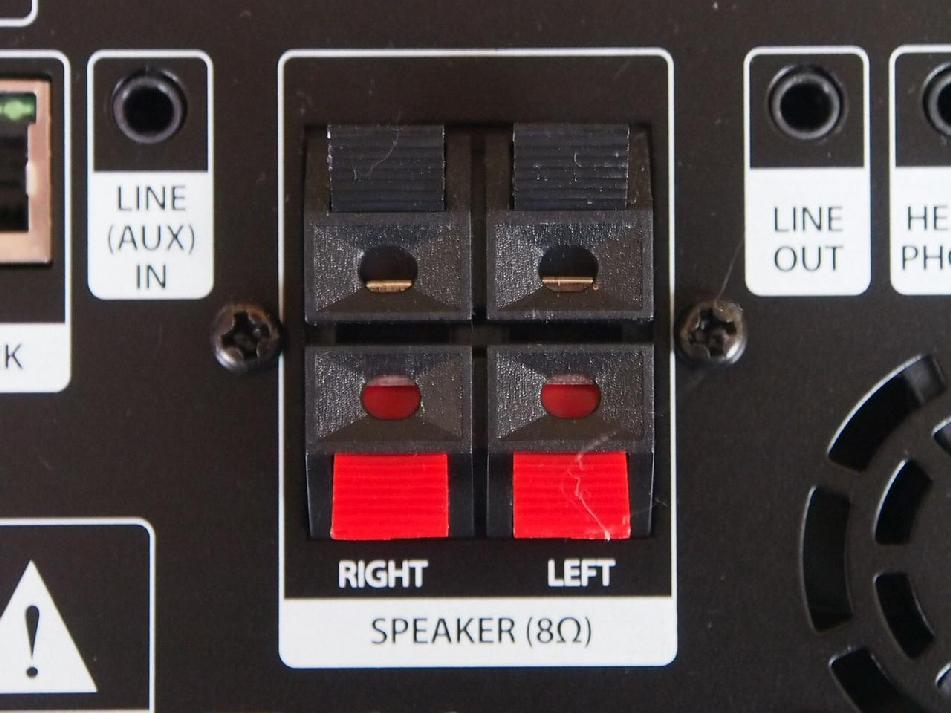 Speaker binding posts...definitely not user-friendly!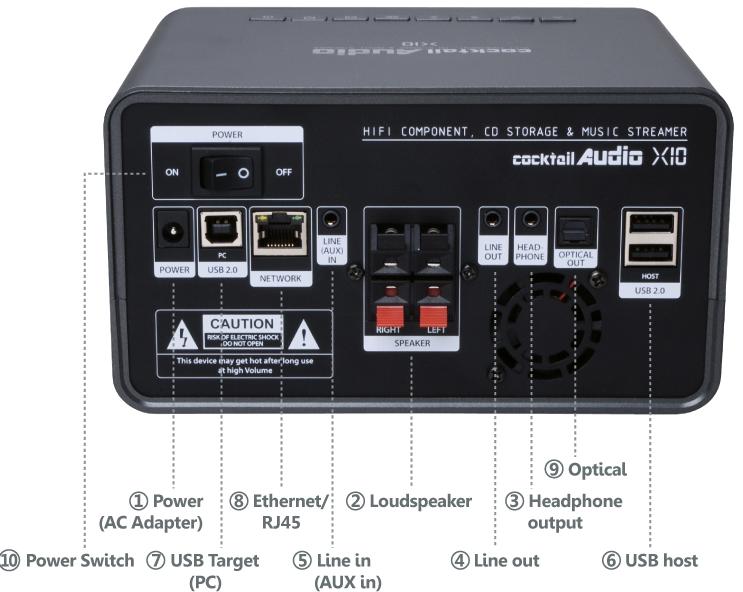 The crowded rear panel of the Cocktail Audio X10
The Columbus's Egg!
It is always surprising to discover how much audio quality is available today for such a low price. Once, to get the same level of good sound, one had to invest some real cash. Though this unit hasn't been designed with the audiophile target in mind, it offers a sound that is stunningly good for the price (and features!). It delivers plenty of good bass and reproduces a clean and open mid range, with a good presence effect on voices. Thanks to a low level of distortion, it is easy to enjoy its sound without experiencing listening fatigue.
Its tonal balance is on the neutral side, just slightly open and lively in the mid-high range. Certainly it is very far from the classical euphonic sound of some audiophile-oriented product, but it is a pleasant sound nevertheless. Listening directly to the CD or to the hard disk drive its performance appears to be solid, reliable and generally surprisingly good for the price. Somehow it seems that hard disk reproduction is slightly better and certainly it is less noisy, since there is no CD spinning. Of course, since the X10 can play also high-resolution files, I've hooked up a hard disk with such data. File access is fast and the sound is stunning, clear and weighty. It is very easy to compare, quickly, a 16/44 track stored into the CD and its high-resolution version on the hard disk.
The Cocktail X10 is also capable of reproducing a realistic 3D soundstage, that is, wide and rather stable as well. There's also some sense of depth. It is not a high-end digital player, of course, but it is a pleasant surprise.
Overall dynamic performance is good and gets better if one connects an external DAC, instead of using the internal D/A conversion. For this reason it seems the perfect machine that can follow your upgrade needs. It is adequate as a stand alone machine , but it can be upgraded by first being connected to an external amplifier and finally to an external DAC and amplifier. It will improve at each step.
Of course, as a completely stand-alone unit, connected directly to the speakers, its sound is at its worst, being rather dull and flat, lacking detail, precision, dynamics and weight. Even the tonal balance sounds warm and soft (because of the lack of precision). The 3D virtual image is flatter and out of focus. I really hoped its internal amplification to be good enough, but my optimistic expectations were in vain. Even the output power of 30 watts per channel is optimistic. As said, it should be closer to 15/20 watts per channel. You don't need to break the bank to get a better sound: any conveniently powered inexpensive Class D amplifier (for example, the Dayton DTA100/120) is enough to transform the sound of this unit. I'd say that as a stand-alone music center the X10 is still good enough for a novice audiophile but certainly this unit deserves a better amplification.
Complaints
Manufacturing & finish
Undoubtedly, this is a no-frills piece of gear, hence you won't find gold-plated connectors, thick aluminium panels or oversized components. It is built in a simple and inexpensive way, just to work flawless and be easy to use. Of course, the minijack sockets and the spring-clip binding posts are horrible and unwelcomed in a strictly audiophile environment, but the rear panel is small and crowded, consequently adding bigger audiophile sockets was impossible. A small and unobtrusive coaxial digital output would have been welcomed, though. The cooling fan is just slightly audible and can be detected if the unit is placed close to the listening seat and if the listening level is low, otherwise it is unnoticeable. Perhaps it can be disabled (search on HiFi forums to see how) but this would void the warranty. The TFT screen is rather good, but a touch screen would have been better. A touch-remote control could have been a nice feature as well, but one can still use a smartphone to control the unit.
The lack of a hard disk drive might be a nuisance if you don't own one but you can purchase the X10 with the hard disk included, if necessary. In any case, I've connected my 3.5 WD Caviar Green hard disk and everything went well.
The Cocktail X10 can play many digital formats, but, as far as I know, it can't rip CDs in Apple Lossless format, though it can still play them.
Finally, two words on the remote: it is complete but not exactly intuitive to use.
Some of these issues (connections, enclosure quality and cooling fan, for example) have been solved with the new X12, but unfortunately the price has gone up wildly (close to 600€!).
Sound.
When used with its LINE OUT outputs or, better, via TosLink, the Cocktail Audio X10 is very hard to criticize, if one takes into account its low price. It can be compared to plain and simple CD players that cost twice its price. As an all-in-one unit, connected directly to the speakers, it is a good starting point but overall sound quality is seriously compromised.
Comparisons
While I was reviewing the Cocktail X10, I had under test an entry-level CD player, the Vela CD, of Audio Analogue audiophile heritage. This CD player costs 500€, hence it is almost twice as expensive as the small X10 (which is much more than a pure CD player!).
As I wrote in that review, the two digital players are very different: the Vela CD was warm, soft and euphonic while the X10 sounded crisp, lively and sparky. The fact that one can compare these two units without the price difference being obvious, should suggest how good the X10 sound is. In certain situations one might even prefer the X10 over the Vela! If one considers that reading CDs is just one of the many features of this small magic box...
Some advice
When choosing the hard disk, one should be aware that the distributor of Cocktail Audio suggests using Western Digital Caviar Green series HDDs (which is the one I purchased). Of course a SSD hard disk would be faster and completely silent, but, for a given storage capacity, price will be way higher.
During use I'd suggest to leave some fresh air surrounding the unit so that the cooling fan can perform at its best. Under the unit I'd place four soft rubber feet, to dampen vibrations. Being a completely closed component I don't suggest internal modifications. If you are unsatisfied with the internal D/A conversion, hook up a better external DAC (with optical input!). I'd rather prefer to use the X10 as is, in a minimal environment, for example connected to a pair of good active loudspeakers such as the M-Audio BX-8 I reviewed some time ago. You can adjust the listening level via the X10 remote volume control so you don't need to use the line level potentiometers of the active speakers. This way, for less than 700€, you'd build a complete HiFi system with CD player, CD recorder, streamer, Internet radio tuner etc.
Conclusions
This is a really smart device. It certainly can be bettered, but even "as is", the Cocktail Audio X10 is the perfect Columbus's Egg of digital audio. If you're afraid to join the mainstream of liquid music because you don't want to be involved in complicated OS settings for your PC or if you hate powering on a PC just to play some music, look no further, this is THE solution: affordable, one box, good sounding and extremely intuitive to use. If you wish to build a really portable HiFi system, again, this is THE smartest solution. Add a pair of active speakers and you're done. Looking for a secondary system for your daughter/son(s)? Grab it while supplies last! At this price, honestly, one can't ask for more.

© Copyright 2014 Lucio Cadeddu - direttore@tnt-audio.com - www.tnt-audio.com
[ Home | Redazione | FAQ | HiFi Shows | Ampli | Diffusori | Sorgenti | Tweakings | Inter.Viste ]