[ Home | Staff & Contacts | HiFi Playground | Listening tests | DIY & Tweakings | Music & Books ]
Vela Audio - CD player

Crisis? What crisis?
[Italian version]
Product: Vela CD player
Manufacturer: Vela Audio - Italy
Approx. price: 499€
Reviewer: Lucio Cadeddu - TNT Italy
Published: March, 2014

Foreword
Vela Audio is a new HiFi brand belonging to the Italian group AFGroup srl and uses the know-how and expertise of the well known Audio Analogue firm. The aim of this new brand is to design a limited number of components in the budget-class area. Already an integrated amp and a CD player are available, sold for less than 500€ each, including shipping costs within Italy. At this moment the Vela components can be purchased online only, to save middle-men costs.
Despite the fact these products are oriented to young audiophiles on a budget, there's an attention to detail that goes way beyond the traditional idea of budget class components. The quality of manufacturing and finish, the care for details and the technical solutions are similar to mid-class gear. The two units (amp and CD) have been designed to work as a team but I've tested each one as a standalone unit and finally as a combo.
A look at the inside
This CD player is rather solid and impressive, its size and weight speak for themselves: 43 x 28 x 8 cm (W x D x H) and 5,5 kg (>12 lbs). The power supply section appears to be extremely well made and uses a toroidal transformer (supplied by the Italian Company Elettromeccanica Taddei) with separate windings for the analogue and the digital sections of the CD player. The transport is a Teac CD-5010B, an audio-oriented CD-Rom unit, used on every Audio Analogue CD player and on some professional CD players from Tascam.
The D/A section is based on a low-jitter (50 ps) Burr Brown 192kHz/24bit receiver and a 24/192 DAC, the famous Enhanced Multilevel Delta Sigma PCM1781 also from Burr Brown. The wiring between the transport and the motherboard makes use of an OCC 7N cryo AIRTECH EVO copper wire. The internal layout appears clean and well designed.
The front fascia is made out of solid aluminium while the whole cabinet is rather sturdy, heavy and well isolated from the outside world thanks to four, stiff, pyramidal rubber feet. In the rear there's the usual IEC mains socket and the gold-plated RCA connectors for the analogue and the digital S/PDIF outputs. The display uses a nice electric-blue light and delivers the standard information on the CD which is playing. A complete remote allows to control the partner integrated amplifier as well. The Vela CD comes in any colour you like, as long as it's black :-)

Claimed tech specs
THD @ 1KHz 0dBFs: <0,003 %
THD @ 1KHz -10dBFs: <0,005 %
Dynamic range: 97 dB
Noise floor: -120 dBV
Output level: 2V
Digital output: coaxial
CD trasport: TEAC CD-5010B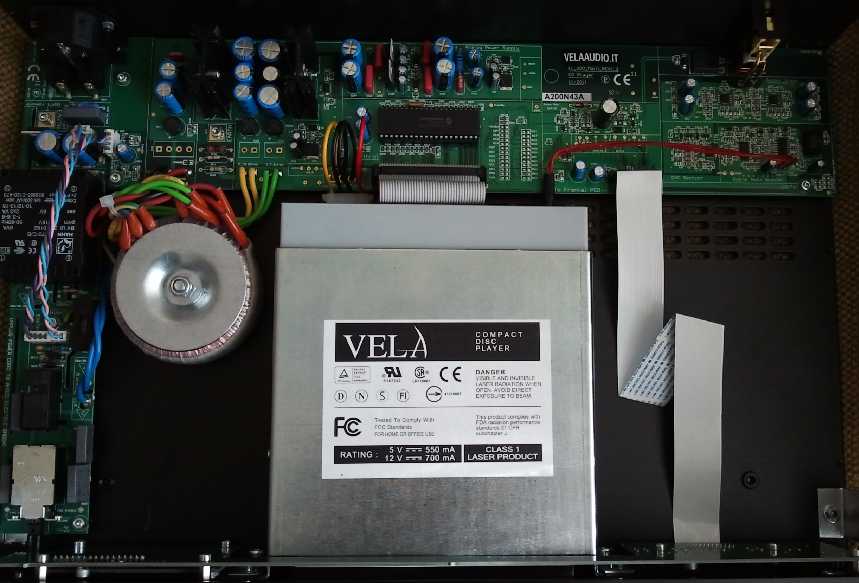 Law and order, that's the Vela CD!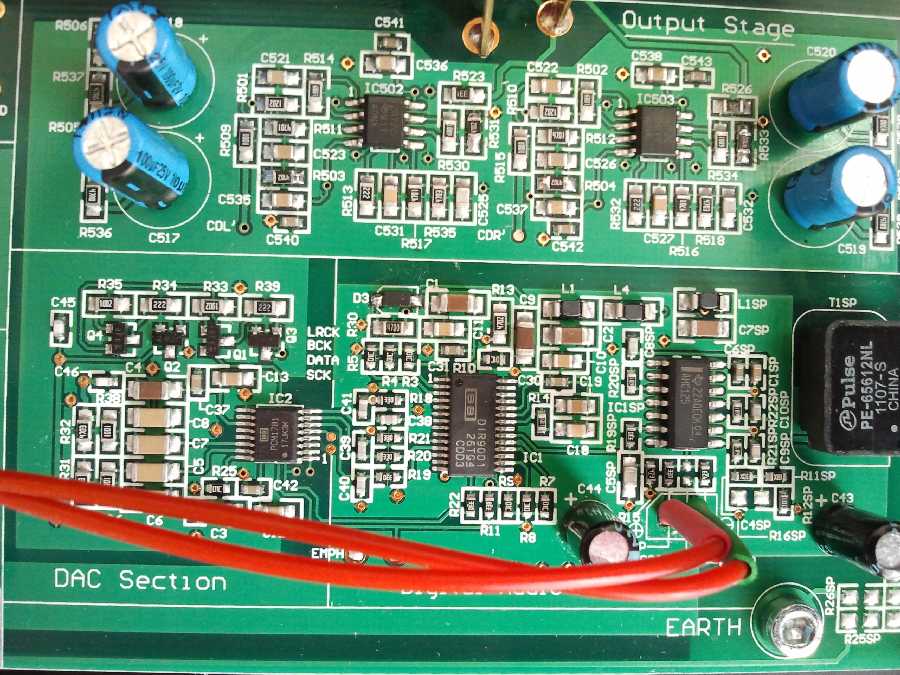 D/A stage and analogue output stage
Crisis? What crisis?
This Vela is a CD player with plenty of personality and, as I expected, it reminds me the classical Audio Analogue family sound. This is not a surprise, considering that Vela is a kind of an Audio Analogue spin off!
Considering the target (young audiophiles on a budget) one might expect a crisp and lively sound to please novices' taste. On the contrary, the Vela CD sounds relaxed and tendentially warm, Even bad recordings are reproduced with a kind of a forgiving approach that might be welcomed most of the time. There's no portion of the audio spectrum that overtakes the others but the general feeling is that of a relaxed and laid-back behavior. This CD player is gentle and doesn't annoy the listener with ear fatiguing details or harsh highs. Even the bass range isn't exactly walls-shaking. From a certain point of view its sound can be considered mature, maybe not exactly exciting, but always very easy on the ears. Indeed, seasoned audiophiles might be impressed much more than neophytes.
Voices have a certain velvet note that makes them bearable even when they should sound aggressive. The same happens with string instruments and percussions. In other words, what can be considered one of its strong pluses might turn out to be one of the worst weaknesses. It lacks energy and authority, moreover, the harmonic content of the reproduced sound could (should) be better. Of course, one shouldn't forget this is an entry-level component that dares to be different. Actually, competitors in the same price range tend to be more lively and sparky, so to impress the listener during quick A-B comparisons. The Vela CD doesn't impress at a first glance but it tries to conquer the listener in the long run, after hours and hours of relaxed listening.
As you might expect, this CD player isn't exactly a champion in terms of transparency and details retrieval, especially in the high frequency range. On the other hand this helps when listening to poorly recorded and overbright discs. While evaluating this CD player I couldn't help but notice it sounds very, very close to a competitor that I auditioned many years ago, the Arcam Alpha 5! Despite new high resolution DACs it is surprising to find such similarities in products that are more than ten years apart! This confirms that the sound of a CD player heavily relies on its output stage and that D/A chips have very little influence.
Micro & macrodynamics
From a tonally relaxed CD player would you expect a walls-shaking dynamic performance? I wouldn't! Indeed, the Vela CD doesn't underline dynamic variations: its sound is still of the easy going style, though this lack of sheer energy doesn't generate annoying dynamic compressions. There's no trace of distortion, the unit just offers the music to the listener without particular urgency.
Of course, there's a price to pay for this: rock, electronic pop, dance, hip hop and metal tracks don't impress the listener and sound generally unoffensive - the elderly might approve. The Vela CD is more at home with classical, light pop, jazz and folk music.
Attacks and decays aren't lightning fast as they should be, hence its performance in the PRaT department is just average. For this reason, many listeners might find its pace quite slow. As said, on the other hand, this makes the music flow effortlessly.
3D Soundstage
For less than 500€ you can't expect an impressive performance in terms of 3D soundstaging. All you should expect is that the geometric proportions of the stage (width, height and depth) are preserved and that the virtual image doesn't fluctuate wildly between the speakers. I'd rate the performance of the Vela CD as perfectly adequate for its price range. It should be remarked that the typical customer (say, a neophyte) is not excessively interested in proper 3D imaging because on a low-budget HiFi set-up there are other aspects that are much more relevant (tonal balance, musicality etc.). Anyway, this CD player will let anyone discover what a proportionally correct and focused soundstage is, and this makes it a reasonably good first step in the audiophile learning curve.
Complaints
Manufacturing & finish
For the asking price there's no room for serious complaints: there's almost everything you might need (even a digital output) and craftsmanship is very good for the price. Solid, classy looking and nicely finished, these three aspects can briefly describe the Vela CD. What's missing? An USB port, to read files from a USB pen or to convert digital audio from, say, an external source (PC, notebook etc.). It should be remarked that many competitors in the same price range are starting to offer these useful features. There's no headphone output and the line level is fixed, there's no possibility to adjust it via remote. This is a useful feature when one wants to build a minimal HiFi system with active loudspeakers, for example.
A silver finish option would make this CD player more universal: many customers (and their wives) don't like full-black HiFi components. Personally, considering its target, I believe a multi-color option should be considered by the Company. Red, blue, green cabinets might be more attractive to young customers (see, for example, Rega and ProJect turntables).
In my test sample, while in use, I noticed a slight hum coming from the power supply transformer, but only at a very short distance from the unit.
Sound.
Its pluses might be considered its cons, it all depends on the listener's personal taste. He who searches for a lively, crisp and dynamic sound might be disappointed by the relaxed performance of this CD player. On the ther hand, he who wishes a CD player that's easy on the ears and that can be listened for hours and hours, might find the Vela CD a friendly companion to live with.
Comparisons
I've had the chance to test this player against an entry-level music server, the Cocktail Audio X10 (review due soon), a small magic box that for a negligible amount of money (300€) does almost everything: plays CDs, rips them while playing, stores them on hard disk, searches for album infos and covers on the Web, plays internet radio and streams music from almost any external device, even via Wifi. Moreover, it can also be connected directly to the speakers!
These two digital players have very little in common: the Cocktail X10 is lively, sparky and dynamically aggressive, while the Vela is relaxed, warm and laid-back. It is hard to say which one is better as they are really very different one from the other. Personally, I tend to prefer a component that takes its risks and plays without hiding itself. Hence my personal vote goes to the Cocktail Audio X10. Of course, your mileage may vary and heavily depends on sparring partners.
Some advice
The usual ones apply: break-in, better vibration isolation via softer rubber feet and a better mains cord. As for partnership, the natural companion is the Vela amp but any budget-class integrated amp will work fine. If you wish to counterbalance the character of the Vela CD you should choose something open and lively, like Rotel and Cambridge Audio. Conversely, if you wish to reinforce its character, choose NAD or Arcam, just to name the first ones that come to mind.
Conclusions
This listening test confirmed my suspicions: there's a close relationship with the usual Audio Analogue type of sound. It's a mix of warmth and relaxed aplomb that makes many modern recordings more bearable than usual in this price range, if this is what you're looking for. If, however, if you're in the market for a component that can reveal everything that's hidden in your discs (the good, the bad and the ugly) you'd better look elsewhere.

© Copyright 2014 Lucio Cadeddu - direttore@tnt-audio.com - www.tnt-audio.com
[ Home | Staff & Contacts | HiFi Playground | Listening tests | DIY & Tweakings | Music & Books ]