[ Home | Staff & Contacts | HiFi Playground | Listening tests | DIY & Tweakings | Music & Books ]
The Gold Note record life support system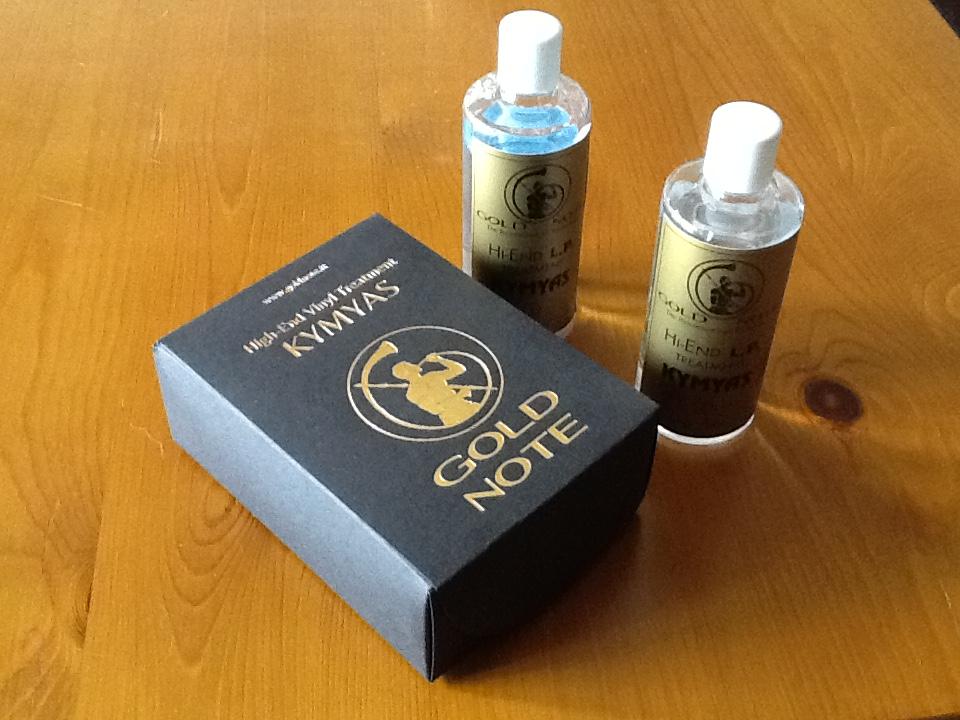 "The Renaissance of Technology"
[Italian version here]
Products: Kymyas Series record treatment - Vasari Red MC cartridge - Gold Note Records
Manufacturer: Gold Note - Gold Note/Akamai Audio, Firenze (Italy)
Prices: € 50, € 195, € 39.50 vinyl, € 25 SACD respectively - (Currency conversion)
Reviewer: Richard Varey - TNT New Zealand
Reviewed: December, 2016

Introduction
Gold Note was a name I was not familiar with, and they have an extensive range of very nice looking audiophile products. Could the Gold Note brand be a one-stop full range of products to reinvigorate music pleasure from vinyl records? So that I could find out for myself, the kind folks sent me a 'kit' I selected consisting of a vinyl record from their catalogue of titles (GN Records), a record scratch treatment, and a recommended pickup cartridge.
The restoration kit
Looking at the Kymyas vinyl restoration treatment first, it was packaged in a very alluring matt black folded card carton, rather like an expensive aftershave. The disc groove restructuring kit consists of two bottles of fluid for a two-step process: 100 ml of each of a blue Ammonia-based cleaning detergent and a clear odourless and non-toxic liquid treatment wax that deposits a micro thin film coating, which has a symmetric molecular structure claimed to «completely restore the record's micro-grooves, rendering the record's surface completely static-free». These liquids are applied in turn using soft cotton balls to clean and then coat the record surface.
The cleaning fluid does a very effective job of removing dirt and other contaminant deposits, and the makers tell me it doesn't leave any residue or damage the disc. A very dirty record may need more than one treatment. A small amount on a cotton ball (the kind used to remove makeup) wiped around the groove, and a second ball used to dry and buff the surface, produces a visually gleaming clean record that is silent on playback. For some time I've been wet washing my records with the GEM Dandy apparatus (see my review), and I wasn't expecting a simple cleaner to give the same kind of result, but it does, and much quicker and less effort needed! I selected one particularly grubby record that I had already washed, and it looked quite clean, but it was really crackly when played. I cleaned it again with the Kymyas cleaner and was gobsmacked to see how much further dirt was removed (it looked like Nicotine deposit, so the previous owner was probably a cigarette smoker). When played it sounded better, but was obviously in need of the restoration treatment, which I tried.
If a record is worn or superficially marked, it's recommended that you use the renovation fluid to combat clicks and pops. It is supposed to «restore the record's micro-grooves». Some of my crate digging and charity shop finds are basically in good condition but dusty, grimy, finger-marked, and sometimes with fungal deposit. Thorough cleaning and restoration is a very attractive proposition, if it is relatively easy and not messy, not overly time-consuming, and cost-effective.
The effectiveness of the wax renovator application is dependent on mastering the technique. It seems crucial to not over-apply and thus clog the groove, thus allowing the diamond stylus tip to glide, reducing static, wear, and annoyance from clicks and pops. Following the groove to ensure a very thin and consistent coverage proved to be successful in placing a thin uniform coating onto the record surface, using a very small amount. Too much fluid used shows up on playing as the stylus tip gathers excess wax and dust and lint very quickly making playing the record almost impossible. Just like polishing my shoes, a very good buffing is also needed before playing the record. Tommaso Dolfi at Gold Note likened this renovator to a beauty cream for records.
The cartridge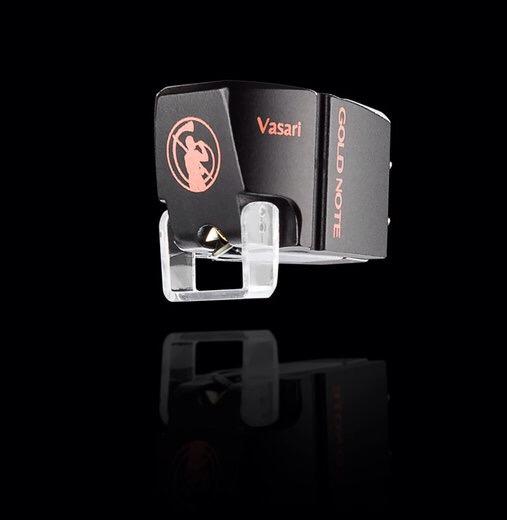 Then I turned my attention to the next component in the phono process, the pickup cartridge. The Vasari Red moving magnet phono cartridge has a machined body made of Delrin (a synthetic polymer characterised by high strength, hardness and rigidity, thus high stiffness, low friction and excellent dimensional stability) and bears the red logo and brand name, and a unique serial number. The aluminium cantilever carries a custom conical diamond tip. The company describes the body design as unique and innovative, and the Vasari as the first step for audiophiles. The Vasari looks great on my The Wand Plus tonearm, with its matt black body and stamped red logo. It was very easy to mount with its tapped holes and supplied 2.5 mm bolts. All I needed was a 2 mm Allen Wrench.
Even on first playing the quality of sound was evident - full-bodied, rich, detailed, balanced - and accompanied by great suppression of surface noise. During hours of record playing, the sound clearly exhibited nice musical definition of instruments, notable musical balance, with fine natural presence. How would it do with some old favourites that are not the quietest records in my collection? Well, a not so perfect copy of Back Home, a 1979 live recording of the Dave Brubeck Quartet, sounded rather splendid despite obvious wear, even without the Kymyas renovation treatment. I'm very pleasantly surprised for a $ 1 charity shop rescue. For a well-played, abandoned, 37-year old, live-recorded plastic disc, it sure sounded good. My reference system cartridge is a Hana EL moving coil, itself an outstanding performer (see my earlier cartridge comparison review). The Vasari Red at € 195 stands up to a comparison surprisingly well (and the Hana retails at NZ$ 595). When I played new pressings, the background was silent, and I sensed the stylus gliding effortlessly through the groove. This enhanced my listening pleasure from very dynamic records, giving a very satisfying presentation of everything I brought to the table (pun alert!).
The records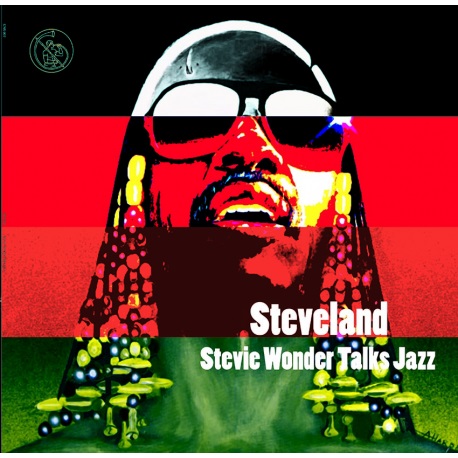 To complete my mini tour of the Gold Note phono experience (they also have some very appealing electronics), I played one of their own records. I had browsed the Gold Note record catalogue, spotting a number of great albums they have commissioned or reissued across a broad range of genres, and was curious to hear the Steveland album Stevie Wonder Talks Jazz. This was recorded in Italy to analogue tape and edited to digital HD master using Gold Note DSD/PCM D-A and A-D convertors. The nice people at Gold Note sent me both SACD and limited edition 180 g virgin vinyl versions. The latter was cut on an original Neumann VMS lathe and SX74 cutting head as a half speed analogue transfer. The album is a live recording with a very dynamic and clean sound, and deep and rich bass. This is very nicely reproduced with the Vasari Red. The music is a very creative interpretation of some Stevie Wonder songs, and is artistically played, and beautifully recorded and manufactured.
Steveland (also spelled Stevland) is a five-piece jazz rock band from Prato, near Florence, in Tuscany (they are neighbours of the Gold Note team). They are not a covers band, rather they publicly perform their interpretations of the socially-conscious art of Stevie Wonder's songs in homage. I believe they have made another album, or it may be this same one under another title. Discussion on the band's live work can be found in Facebook and MySpace postings. Stevie Wonder is today a Messenger of Peace for the United Nations, and Steveland seem inspired to bring his message to concert audiences in Italy and now the world of audiophiles. At 34 minutes, this vinyl album is way too short, leaving me wanting more, especially from such an engaging live performance. The SACD version has two further songs not available on the vinyl album. The packaging of the LP and CD is excellent.
Conclusion
The Gold Note company motto is "The Renaissance of Technology". Based on my experience in engaging with some of their people and a few of their products, this for me means engineering meets art. It seems they have worked hard and creatively to bring the entire phono playback process to music lovers with flair and at affordable prices. Located as they are in the Florence area of Italy, I can't help thinking that their artisan forebears would be proud.
I acknowledge the generous and friendly co-operation of Tommaso Dolfi and his team at Akamai Audio/Gold Note, Florence, Italy.

© Copyright 2016 Richard Varey - richard@tnt-audio.com - www.tnt-audio.com
[ Home | Staff & Contacts | HiFi Playground | Listening tests | DIY & Tweakings | Music & Books ]