[ Home | Staff & Contacts | HiFi Playground | Listening tests | DIY & Tweakings | Music & Books ]
Reel tape decks: The Holy Grail of Audio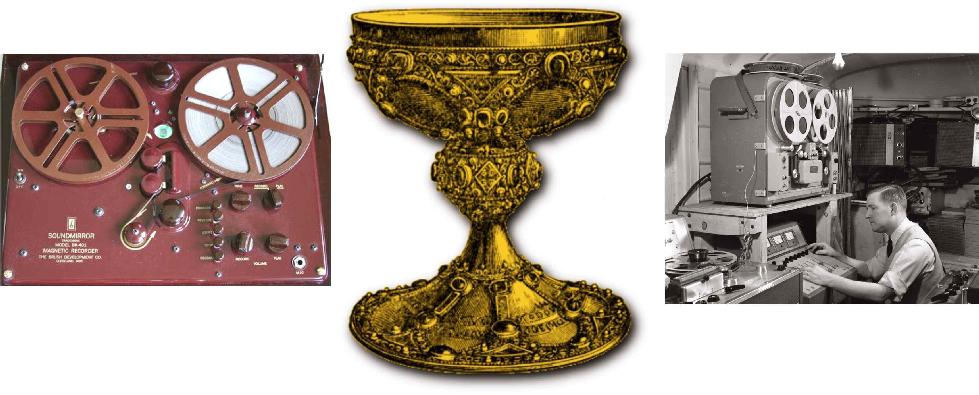 Brush Sound Mirror Mercury's Bob Eberenz - 35mm Westrex
[Click Here for a larger view]
[Click here for a larger view]
[Italian version]
Reviewer: Chris Templer - TNT South Africa
Reviewed: October, 2014
Introduction
I have been interested in audio from the time I was first exposed to what was then a good hifi. Apart from the Garrard turntable, Garrard GC8 cartridge, Mullard 5/10 amplifier and 12" Goodmans speaker the thing that sticks in my mind was the Brush Soundmirror tape recorder. The picture, above Left, shows a Brush Soundmirror of 1947 vintage. This machine was Mono and recorded full track. Originally designed to play paper tape it seemed to work well with later Cellulose Acetate tape of the 7 1/2" 1,200' type.
Tape stretch was a problem with longer and thinner tapes, also the machine got very hot and needed metal reels as the plastic types soon deformed. This machine was ex our National Broadcaster, the SABC. I still have a tape that was recorded in the 60's on one of these machines and it still plays well despite no abnormal effort in preserving the tape. The Brush machines were the inspiration for Willie Studer and his first efforts are due in part to the Soundmirror.
Just after WWII an enterprising American, J T Mullin, heard a AEG Magnetophon in Germany and brought a pair of them back to the States. AEG had discovered that a bias signal applied just before the record signal greatly enhanced the quality. Bing Crosby heard this and was so impressed that he funded the startup of the Ampex Corporation. The rest is, as they say, history.
Tape recorders have always held a fascination for me and in later years I did many live recordings and transfers from LP to tape. My first new tape deck was an Akai M9, a four track stereo machine which could operate up to 15 ips and use triple play tapes. At 15 ips a 3,600' tape would run for 48 minutes a side, a 1,200' one for 16 minutes. One of my first recordings was for a concert pianist friend which he used as a demo to get recital bookings in Europe and the UK. Since then many live recordings from organ to amateur theater to single instruments were done with excellent results.
After the Akai M9 died I tried various other means of recording with not much success. A Yamaha AWE 16 Workstation was purchased, tried out for while and sold, various computer sound cards (some supposedly high end) and a short trip with a DAT recorder left me feeling more than a bit let down and I neglected the recording scene for some years until the bug bit again.
Resurgence
For a relatively small sum of money you can experience the true analogue sound of a tape deck and when you record your first LP to tape or for that matter CD or wav or flac file, you may be surprised at how natural and smooth it sounds. If you value your LP's and only play them once in a while so that they don't degrade, then tape is for you. Also considering the price of a good cartridge, keeping the playing time down is another reason to use a tape deck. Converting to a digital format looses something and all that you really gain apart from portability, is not having to play your LP's. There are quite a few sources on the net for pre-recorded tapes albeit at rather high prices.
If you have an unlimited budget you can purchase a re-manufactured Tascam deck from United Home Audio (www.unitedhomeproducts.com/prices_and_features.htm) along with take up reels already reviewed on this web site although the standard and cheap one do the job. Many tape decks can be had at more reasonable prices second hand via eBay and with a bit of work and fun nirvarna awaits! I have owned and used range of decks including different Akai's, a Nagra (long forgotten), a pair of Revox G36's, for a very short time a Revox A77, a Brenell, a Ferrograph, the Brush Soundmirror mentioned above, Phillips N4506 and a much loved Otari MX5050 II.
When I decided to expand my tape collection recently, I found for sale and bought, the following. An Akai M9 for €50.00, another for €34.00, an Akai GX630 D for €170.00 and a Revox A700 also for €170.00. The GX630D and A700 are both near mint. Why so many? This is supposed to be a fun hobby and experience is never wasted. The first Akai needed no more than a good clean and service along with cleaning of the various pots and switches and a replacement pinch wheel. The Akai GX630D has a problem in the record circuit electronics which will soon be fixed and the Revox is fine other than one faulty meter and the rubber belt on the counter having turned to goo.
My existing Otari MX5050 II, is being cosmetically re-built and although having been well used, still works very well.

From left to right we have an Akai M9, Akai GX630D, Revox A700, and finally an Otari MX 5050 II [Click to enlarge]
Of the four the Akai's are the easiest to use and if I were to grade them: For sound the M9 and Otari come out in front, then the GX630D and then the Revox. Build quality the Otari and Revox are best. Record / Playback speeds - The M9 is four speed, The Otari also but for the lower two speed you have to delve into the inner works for the switch. The Revox is 3 speed and the GX630D 2 speed. The M9, Revox and Otari can run 15 ips. The Otari and Revox are 2 track machines although the Otari has an additional four track playback head, the Akai's are both 4 track. The M9 can use up to 7" reels, the others up to 10". The total cost of the four was under €430-00 excluding the second M9 (which may become a spares donor). Included in the price of the machines are a total of 60 off 7" reels of tape and 25 off 10" reels of tape plus a few empty ones for take up. I also acquired, very cheaply, two smaller Akai's one of them for the 15 ips adaptor used on the M9 and the other for an additional 30 off 5" reels of pre-recorded tape. From this it is obvious that starting down the tape route need not be very expensive.
I made up a demo tape at 7 1/2" ips on the M9 (1,800 ft tape @ 7 1/2 ips = 48 minutes per side) with input from CD, server and LP and took it along with the GX630D to an audiophile friend. His remarks included "startlingly good" and "nicer sounding than the digital originals". As this man is the South African valve expert and spends a lot of time sorting out failed high end valve amps for the various dealers, I take his word for it! There is much to be said on how much more natural and alive a recording sounds via tape. The GX630D now belongs to him and he gets to sort the record problem. I did another couple of test recordings this time using the Revox both at 7 1/2 and 15 ips with the same result - it sounds very good. Better at 15 ips but a 10" reel of tape, 1,800 foot long only lasts 24 minutes and only one side as it's 2 track.
Theory and logic means there must be some degradation of sound when recording from original to tape but all that is sometimes noticeable is some background noise or tape hiss at low signal level. The Revox is by far the worst for this. Whilst on the subject of the Revox the A700 has some of the issues that plague the A77, not thankfully as many!! These issues are mainly in the "logic" of the transport. Despite the manual maintaining that it is possible to switch from FF or Rev to Play you need to go via the Stop otherwise you risk snapping the tape. Before "Friends of the Revox" start to howl, this is a well known fault which was supposedly cured by modifications in models up to and including the A77. The man who developed the modification for Willie Studer now lives in Howick, KZN, South Africa and was instrumental in the setting up of the A700.
Another problem point is the optical sensor for end of tape signal. This sometimes has a mind of it's own and stops the machine in mid play. Blanking it off for a few seconds seems to "reset" it.
Much has been written on old tape degrading over time, print through and so on. This has not been my experience so far, the oldest tape I have is one recorded on the Brush in 1964 and it still plays well and does not shed oxide nor, despite it being kept in the rewound condition, does it have any sign of print through, the recording is the St. Saens 3rd or Organ Symphony which starts very softly so "print through" would stand out. That's 50 years!
Splices are another matter however, every one going through the machines has failed so far, luckily these splices are on the leader to tape join. The brand of tape that seems mostly to be at fault with shedding is Ampex. The M9 has a tape cleaner which is a felt pad that rests on the tape and shedding would be easy to see here. It also uses the Akai Cross Field Head system which has very light tape contact which promotes blocking of the head but very little head wear.
Later Akai models have glass covered heads which don't wear at all. The Revox and Otari have a much heavier tape contact. On this point when buying a secondhand machine do check for head wear which manifests as a groove on the head where the tape has worn a path into the metal. Also check any stationary rods in the path for wear and these can usually be rotated to present a new surface. Spares for the above machines are available via the net although the Akai's position there is not as good as the Otari. The Revox is best here. Sony, Pioneer, Teac all made up-class machines.
www.hifiengine.com is a very good source for manuals for hifi equipment.
Below are a couple of views of a Revox A700 including a view of the inside. Note the cast Aluminium frame. Build quality is very good and all parts are of the best quality. These pictures were taken without cleaning and the condition is obviously excellent and an example as to what is available if one looks.
| | |
| --- | --- |
| | |