Shanling CD-T80 CD Player
(Part One of a - hopefully - Two Part Saga)

[Italian version]
Product: Shanling CD-T80 CD Player
Manufacturer: Shanling - China
Sample supplied by: Real HiFi - UK
Approx. cost: 650 UKP (YMMV)
Reviewer: Alister Staniland - TNT UK
Reviewed: October, 2008
I've been suffering from one of those pesky "system-synergy" problems lately. Ever since I got my lovely Cadence Anina speakers actually. Turntable, tuner & computer all sound fine & wonderful; but the system is on the rich and luscious side (just how I like it) and so is my Meridian 508-24 CD player. Result: CDs were sounding over-rich generally and rather leaden in the bass region. The music-making stopped and I stopped using the CD player much - which is a crime for such a nice CD player...
I thought I might be able to tweak it with cables or something, but no the problem just wouldn't go away. So it was that my curiosity was piqued when I passed by the window of the local hi-fi shop a few weeks ago and spotted this Shanling player in the window, being sold as a commission sale for a customer of the shop and priced-up at £399. They know me in there, so I was able to borrow it for a day - thought it sounded pretty good and managed to negotiate it down to £380. The player appeared to be in virtually new condition and a brand new one normally costs around £650. Flogged the Meridian on eBay for similar money, so "job done" - a change of CD player for approximately a big fat zero! The question of course was: had I been too hasty and made too much of a snap decision (as I am prone to doing)?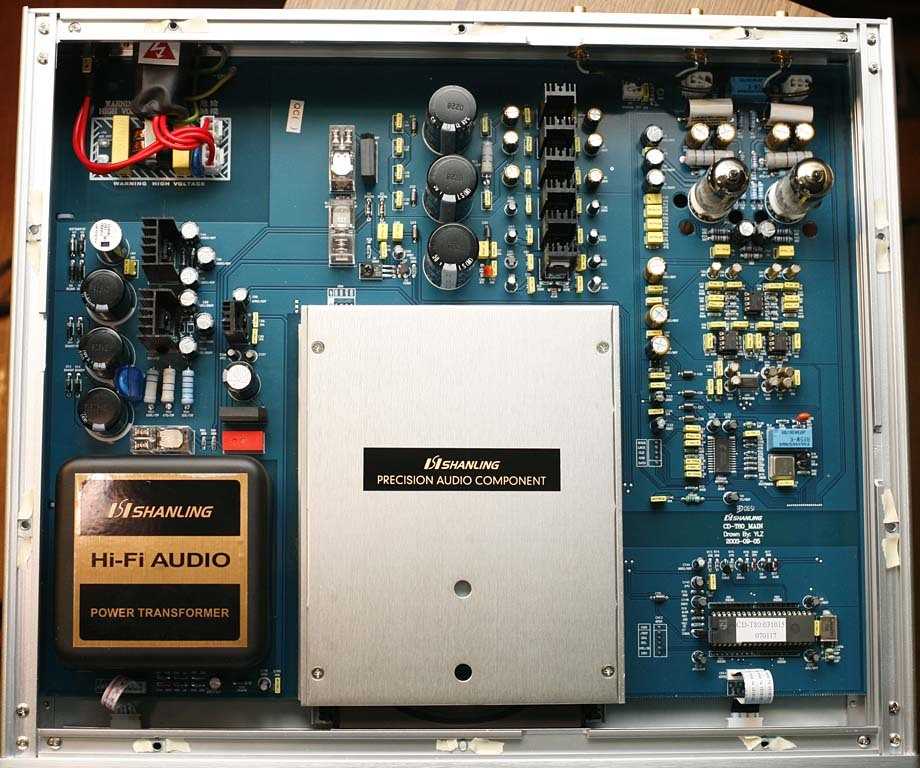 First impressions
On extracting this player from its packaging, the first impressions are overwhelmingly positive. What you get is a full width component, finished all over in very beautifully machined brushed aluminium. The slab of aluminium on the front panel is about a centimetre thick and the player feels heavy. The Chinese sure know how to do metal machining - the look and feel of the thing cannot be faulted. The remote is also aluminium and feels solid. This is not what we've been lead to expect for £650; it really could be mistaken for something costing £2000.
Of course we mustn't be fooled by a pretty box, must we - I mean what if it's just an Alba inside? Well luckily it isn't. There's a lot of metal for your money, but there's also a lot of sound for your money. This does not sound like any sub £1000 player I've ever heard - but more on that in a minute. It uses a Philips CDM-12.10 transport and CD7 II servo system. It upsamples to 24 bit/96khz (a feature which can be switched on or off from the remote) and the analogue output stage has a couple of 6N3P dual triode valves in the output stage, which are in circuit after the Burr-Brown op-amps. That's an unusual arrangement, but it seems to work and Shanling do the same in some of their more expensive players. Unlike some of the more expensive Shanling players, which have a choice of tube or solid state outputs, the tubes here are permanently in-circuit and cannot be bypassed. Not a problem for me!
Here's what happened when I connected it up. I put on Buddy Holly's "True Love Ways" from the CD Buddy Holly's Love Songs. Not a severe test, I must admit - this track is beautifully recorded and sounds great on any half-decent system. The intro to this track has the studio guys talking before the song gets started. Here, the studio reverb was clearer and more detail was being revealed than usual - a good start. When Buddy started singing, it was nice and lush as usual, but there was a sense of hearing further into the midrange textures than usual. Already it was starting to flow properly and make music in the system and was clearly going to be a better system match. It was not so rounded as the Meridian - a bit lighter on its feet, with leading edges more clearly revealed and subjectively "faster". Critically though, those clearer leading edges did not seem to go hand-in-hand with any harshness. There was an impression of musical liquid flow - something often associated with analogue sources and of course valves. Could that be the effect of the tube output stage? As the tubes cannot be switched out, there was no way of checking this. I did experiment with the switch-able upsampling though and it has to be said that much of the magic was lost when it was switched out - the player immediately sounded rather blander, pedestrian and ordinary (rather more like what you'd expect for a typical £650 player). So this lovely liquid analoguey effect appears to be largely down to the upsampling, but quite possibly in combination with the tubes.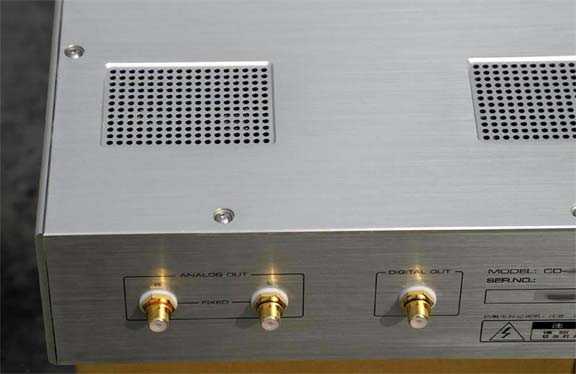 On further listening...
It was not all sweetness and light though. Yello's track "Move, Dance, Be Born" had satisfying, extended low bass, but revealed that there was a touch of stridency in the extreme upper treble. On certain tracks with strong treble, this proved to be quite distracting. You still had the easy musicality mentioned earlier, but with a slightly sizzly upper treble sitting on top of the music and sounding slightly detached from the rest of the spectrum. I felt that this would not be something I could live with long-term. I also found that on a few well-worn discs, the player skipped on tracks that played perfectly well in other players...
Time to break out IsoTek's excellent "System Enhancer & Rejuvenation" CD - which is superb to use as a running-in tool. I left this on repeat for 3 days. When I came back to player, the sound was transformed. It sweetened up all over, the musicality improved still further and the stridency in the extreme upper treble was now completely gone. I now had a lovely sweet extended pure-sounding top end, which was fully integrated with rest of the spectrum - just as it should be. Excellent! I then ran a brand new laser-cleaning disc through it, in an attempt to resolve the occasional skipping problem. After this, the sound sweetened slightly more and the skipping problem was reduced, but not 100% cured.
At this point, I'm starting to get slightly suspicious. The player had very clearly not been run in properly by its previous owner. Had he ditched it when he realised it had a skipping problem? Unfortunately, the skipping problem worsened and it started only playing pristine or near-pristine discs. I though about trying to return it to the shop, but the fact is I really love the sound of this player and I don't believe it's possible to do anywhere near as well elsewhere for similar money.
A phone conversation with Real Hi-fi, the very helpful UK distributor for Shanling, lead to the suggestion that it probably has a faulty laser assembly. They offered to arrange a courier to pick it up from my home address, fit a new laser assembly and return it for the all-in price of £120, which I considered to be a small price to pay to get this truly superb sounding (and looking) player working to its full potential.
Please see Part two for the conclusion of this story.
Copryright © 2008 Alister Staniland - www.tnt-audio.com