[ Home | Staff & Contacts | DIY & Tweaks | Listening tests | HiFi Playground | Music & Books ]
An April Shower:
Jimi, is there life after death?
It's Life Jim, but not as we know it
Love and Hurt? Try KY jelly
Eric's blues ring a bell

April heritage releases
[Italian version]
Artist: Jimi Hendrix: Valleys of Neptune
Label: Sony Legacy
Artist: Life: Cocoon, release April 2010
Artist: Darrell Bath: Love and Hurt, release April 2010
Artist: Eric Bell: Lonely Nights in London, release April 2010
Label: Angel Air Records
Reviewer: Mark Wheeler - TNT UK
Reviewed: April 2010

An April shower of new tunes
This month the much hyped Hendrix heritage release of Valleys of Neptune and 3 'new' CDs from self proclaimed heritage label Angel Air all claim to offer entirely new material. Not quite the dramatic change of direction it seems as all these recordings are by established guitarists of pedigree. Each arrives with expectations based on the artists' past histories but are these borne out in performance or sound quality?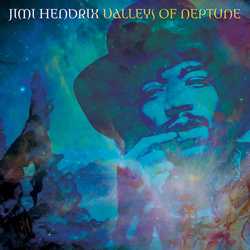 Jimi Hendrix: Valleys of Neptune
Released simultaneously on vinyl and CD; allegedly the vinyl transfer is straight from the CD master not a 24/192 master, but I cannot tell as the requested review copy never arrived; perhaps Sony Legacy have too much to fear from exposing their $24.95 (becomes £34 as it crosses the Atlantic) 180gm version of the $11.95 CD which should be a better transfer than the vinyl if they both come from the same 16/44 source. The Hendrix at Woodstock vinyl boxed set sounds slightly better than my old vinyl which was the second generation pressing. The CD also offers bonus features but these are mostly already available from the Hendrix website. When asked about the transfers none of those asked even gave the courtesy of a reply; this is so illustrative of the contempt in which listeners, who are paying customers after all, are held in by the major record companies. It ain't file sharing that damages their industry, it's the industry itself and their contemptuous attitude to artists and consumers alike. No wonder kids will go for free downloads if there's no incentive to pay in terms of product quality and customer service.
There are 12 tracks on the worldwide CD release but 2 additional tracks are available only if you shop at Target Stores, who are apparently a North American chain of supermarkets. The record industry might wonder why independant record stores are closing down; the indie stores were the lifeblood of the music industry, a two way traffic of breaking artists and their early recognition. No amount of emails has brought any response, let alone an answer to where else we might buy this version outside Target Stores or even outside North America. Another act of self harm by the old dinosaurs (Sony Entertainment in this instance) of the record industry; are they unaware of the psychological effect self harm has on those witnessing it?
Of the 12 tracks available to everyone's ears, two tracks are from 5th May 1967 and 23rd September 1969 respectively, but the other 10 tracks are all from February 16-17th '69 at Olympic in London (equipped by DAS founder familiar in these pages) and Record Plant NYC in April and May that year. The tracks are not in chronological order so the CD's much vaunted value as a historical document is well undermined by this and the dates give the lie to this being an explicit statement of a new direction hendrix would have taken had he lived longer. There are many recordings available made after these dates that better demonstrate hendrix's versatility and refusal to be tied down to any formula. Mitch Mitchell's jazz influenced drum style is almost the unifying feature on this set; the unique inclusion of Rocky Isaac on this recording of Elmore James' Bleedin Heart being an exception, bearing more resemblence to Band of Gypsies' funky drummer Buddy Miles than Mitchell. Likewise, Hendrix's old army band buddy (no not that Buddy, we've dealt with him and he's not on this one) Billy Cox plays on three of the tracks (including the title track) having more bass playing feel similar to hendrix's chittlin circuit roots with Curtis Knight rather than the rock bass feel of former guitarist Noel redding on the other 9 tracks.
"So what does this rambling intro tell us?" ask confused plebs, stage left, "The old scribes just showing off his dull encyclopaedic Hendrix arcane knowledge."
What it tells us even before we play the disc is that it is not a coherent collection of tracks carefully selected by the artist. Hendrix usually recorded all rehearsals for his own use in self critique and was obsessive about quality control of actual releases (hence only 4 LPs while alive). This cd includes posthumous retakes of Redding's and Mitchell's parts as late as 1987 under Chas Chandler's direction on 3 tracks here, which may go some way to bridging the gap between what Hendrix deemed not fit for release and the CD we have here. Hendrix treated the studio as another instrument and was reputed to be something of a control freak to the extent of allegedly adding his own drop-ins to bass and drum parts when everyone else had gone home. So there is a touch of the Crash Landing or Midnight Lightening 1975 posthumous reworkings. One of the tracks, Trashman available on the Target Stores version is also on Crash landing with an extra guitarist and disco stars Babbit and Maelen (mispelled on sleeve) added for good measure. Mr Bad Luck, the earliest 1967 cut being one of those reworked, whose composition dates from Hendrix's pre Experience days.
Valleys of Neptune ranks alongside other posthumous releases like War Heroes and The Cry of Love but does not do for this material what First Rays of the New rising Sun did for the Rainbow Bridge material.
The sound quality is strange. It has that odd disconnection from the music that comes from post processing like those electronically reprocessed stereo LPs. A different kind of stangeness than artificial stereo but strange nonetheless. It makes engagement with the music less immediate like a poorly set up audio system that is technically OK but just not right somehow. There is nothing the listener can discern and identify as the problem, just an opaque polish or sheen as inpenetrable as bright grey daylight refecting from the windscreen of an oncoming vehicle, obscuring its occupants. Those new to Hendrix should buy the 4 albums he released in his lifetime first, those whose collection has already gone beyond that will buy this anyway.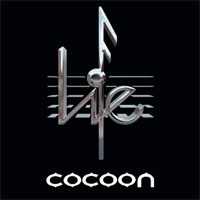 LIFE: Cocoon
With an album entitled Cocoon we might have expected the Life project to make their first release on the Crysalis label.
"Oh no!" groan plebs, stage left, "the old scribe's CD reviews are prompting punnilingus"

Robin George, the guitarist and driving force behind this project, has produced or remixed many of the Angel Air releases and notably played on the Damage Control supergroup project. A lifestyle more workaholic than rock and roll seems to have overcome middle aged rockers as their greater experience and increased skill makes possible those ideas they may have carried half-formed for years. naturally the psychological aesthetics of the middle aged writers and performers are more likely to strike a chord with middle aged listeners like your old scribe. This is good news for such performers as we're a disc buying public not a file sharing public and we tend to demand the higher quality that journeyman honed skill creates. Another winner is Angel Air Music who are a small independant record company not a multinational entertainment conglomerate who would be more intersted in the reality show quick buck.
In addition to being a skilled producer Robin is a versatile first call guitarist who seems to be able to produce any style and any tone at will. This is what has kept him earning and perhaps what has kept him safely away from becoming public property; guitarists with a one-trick sound often become more famous with the record buying public who recognise the style as a brand and dislike anything new or different. A public whose loyalty to those types of players is not unconditional; such superstar fan loyalty is 100% dependant on the artist sticking to familiar product, even to the extent of shouting 'Judas' in one famous Manchester Free Trade Hall incident incident suggesting religious mania seizing those who demand the same old stuff from performers. Robin George doesn't offer that at all; in 1988 I had the same reaction to Jeff Healey the first time I saw him perform (at Nottingham's Rock City) that he was too versatile to become a guitar hero and was more a music lover's musician than the potential object of a musical personality cult. The chameleons of sound, who can match their playing to any material sound fresh every tune but can't be predictable enough to inspire mindless worship. This rambling preamble is to prepare you not to expect the same as Damage Control or Robin's work with David Byron (hence nor of Uriah Heap), so what should audiophiles expect of this new CD?
Robin plays safe with the opener by using Dangerous Music, title track of his '85 album and possibly the least challenging track on this album, described as "a typical cheesy intro" by my 15 year old son. The second track guitar sounds like so like Free we have to ask what kind of deal Robin struck at the crossroads... and if Robin George has much of the deceased Koss about him, singer Nick tart is scarily comparable to the probably still alive Robert Plant, emphasised by Robin's production which does at time resort to emphasising this resemblance.
"This is a REAL STEREO website" challenge plebs, stage left, "Track by track obsessions are surely the province of Music Nerds and their ilk."
There are tracks equalling the best of Red hot Chilli Peppers (comment by 17 year old son) or Alice Cooper (ditto), but it's not that he's too generic; the opposite is true, Robin George is almost not generic enough (the 17 year old's view again). This is an album without fillers. While Cocoon lacks a consistent identity (perhaps your old scribe was brought up on too many concept albums) it also lacks fillers. Despite the handy remote control there's no temptation to skip.
This CD holds the listener's attention with consistent musicianship and sound quality until the closing track; perhaps too much compression on individual instruments for audiophile tastes, overall compression is much less than typical these days. The final The End of the Linetrack is well cranked up, relying on production skill for dynamic shading, and succeeding.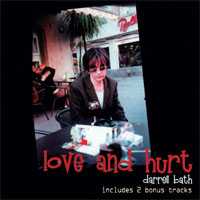 Darrell Bath: love and hurt
With a surname like Bath and an album entitled Love and Hurt it's gonna be a tough assignment to avoid puns like those of the old NME and todays tabloids. Bath had a late 80s stint with UK Subs and I'd always associated the UK Subs with the yobbier end of punk rock so I'm pleasantly surprised at the quality of this album. If I hadn't known the UK Subs connection I would, on first hearing have bet Darrell had emerged from a blues background or even hippy self indulgent narcisism! In a million years I'd never have guessed UK Subs, a band from Battersea (a district of London famous for a dog's home and for the power station on the front of Pink Floyd's Animals LP sleeve) who I only recall from the UK music press for the violence and vandalism that often followed their gigs. Their 1981 album Diminished Responsibility was described by Gavin Martin of NME as "UK Subs are the missing link in an existence which helplessly and needlessly goes from torturing animals and bullying younger kids, to beery wifebeating evenings by the fireside" and the band? "The UK Subs are a reactionary cess-pit.... I won't have to ban groups like the UK Subs, they'll die due to lack of interest". Darrell seems to have dropped in and out of UK Subs (1986 - 87 , 1989 - 91,1999) among a roster of about 20 (indeed every Subs position except lead singer has been held by about 20 occupants UK Subs are just like a yard brush that I've had for 15 years, which I've replaced the head a few times and the stave twice and it's lasted so well...
Fortunately little of this seems to have rubbed off on Darrell. So expectations of audiophiles might be the opposite of those for Life's Cocoon. Never allow preconceptions to colour your judgement of any art form, nor the weird colour EQ of the CD sleeve.
Musically this is a mature outing, demonstrating the strengths of the rest of Bath's CV. The openner, So Young So Wise wouldn't be out of place on a Tom Petty disc, others would pass as Dylan fillers (but he's NOT a new Dylan as such suggestions are the kiss of career death) but it's that mid-Atlantic ballad style, also reminiscent of one of his mentors Ian hunter (Mott The Hoople), a likely influence given the time they've spent playing together and whose bass man Paul Francis anchors the bottom end of love and hurt. There are two bonus covers that round out the set like a rousing encore.
"Not the Acid Bath Murders then?" enquire punning plebs, stage left.
So the plebs couldn't resist the old NME type puns and readers should forget the UK Subs connection and Bath's Croydon origins, home of worlds worst airport contender Gatwick (and of HiFi News publishers) and think more global. Darrell Bath must be a sponge like absorber of influences from the pantheon of post-war guitar music; from the Faces to the Travelling Willburys with even a subtle melancholy accordian on the last track Don't Go Waistin' My Heart.
"Did the old fool really say "subtle malancholy accordian?" demand astonished plebs, stage left, "He's lost it."
Yep, that's the nadir of my rock writing, I'll be drummed out of the union for this.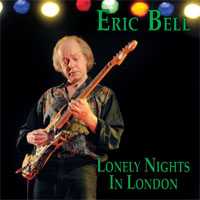 ERIC BELL: Lonely Nights in London
What is it about Northern Ireland that it produces such excellent hard drivin bluesmen? Rory Gallagher played the first ever gig at the NEC (now National Indoor Arena) with no seating it was that festival atmosphere without the British weather and Bell is so close to the same spirit that it has to be something in the water. Bell has the chutzpah to cover Hoochie Coochie Man faithfully to Willie Dixon but reminiscent too of Hendrix (available on Loose Ends, excellent out takes compilation) but 3 minute in Bell takes off on his own cadenza, his humbucker equipped Strat wandering into what sounds like La Marseillaise and a run of harmonics showcasing his versatility without descending into music shop chops. Bell's version of Johnny Winter's Dallas on slide acoustic (resonator perhaps?) is as good as it gets, indeed the album has no fillers. On The Road Blues could easily be Hendrix himself so Reddings Choice to work with Eric after Jimi's death is no surprise.
Eric Bell cut his teeth in Them with Van Morrison, was in Thin Lizzy for the first 3 albums, worked with Experience bassist Noel Redding and at The Ards International guitar Fest in Ireland he was presented with a lifetime achievement award. The self penned material on this outing reflects the concerns of a man his age which will keep his audience's atention longer than fantasies of still intact youthfull libido. Cleverly Bell pens songs that stay safely in his range and hence sung with confidence and skill. This is mature playing by a musician hwo has paid his dues. If you love blues guitar the content is worth the cover price.
Sound quality is a surprise sounding more live than December 2009 recording studio, and pub rock standard Shake Your Moneymaker almost brought with it the smell of stale beer.
Conclusion
The Angel Air CDs these are packaged in lousy plastic jewel cases with splendid LP style liner notes in neat little books, but the Hendrix Valleys of Neptune is packed in superior cardboard that doesn't fall apart, and a book too. Plastic jewel cases suck; they were cr*p with casstte tapes (which was fine as the cassettes were cr*p too) so will we be stick stuck with them until the demise of CD?
The massively hyped Jimi Hendrix Valleys of neptune is frankly for the committed offering little genuinely new to any enthusiast and an unpleasant glossy overproduced sound such that the unofficial predeccessors have more joie de vivre.
Life's Cocoon is immaculate and I'm beginning to suspect Robin George has OCD in the control room, an occasional mistake might roughen the texture like Viktor Schlovsky's Ostranene. Darrell Bath is a pleasant surprise and Eric bell's Lonely Nights in London, despite its title is a genuine joy.
Music enjoyed while writing this review
Jimi Hendrix: Valleys of Neptune

Life: Cocoon, release April 2010

Darrell Bath: Love and Hurt, release April 2010

Eric Bell: ******, release April 2010

"When are we going to hear about some minimalist audiophile recordings?", complain plebs, stage left
When some appear with some great music. If you're making them, then send them for review, clearly some labels don't have the chutzpah to submit their releases to this scrutiny, offers the old one in reply from his lofty mountaintop
if your recordings, cds, lps or hi-res downloads demonstrate above average sound quality or interesting performances,
Whether you're a recording studio, label or artist,
this page will plug good recordings mercilessly.
Great audio is pointless without great music!
Copyright © 2010 Mark Wheeler - mark@tnt-audio.com - www.tnt-audio.com
[ Home | Staff & Contacts | DIY & Tweaks | Listening tests | HiFi Playground | Music & Books ]