[ Home | Staff & Contacts | DIY & Tweaks | Listening tests | HiFi Playground | Music & Books ]
The Blue Nile - "Hats"
An audiophile-non-audiophile recording
[Italian version]
Band: The Blue Nile (unofficial website)
Album details: "Hats" - 1989 LKHCD2 - 0777 7 86470 27 by Linn Records (under license to Virgin Records)
Genre: classy pop music
Label: Linn Records (under license to Virgin)
Approx. cost: €/$ 10-15 (YMMV)
Reviewer: Lucio Cadeddu - TNT Italy
Published: March, 2004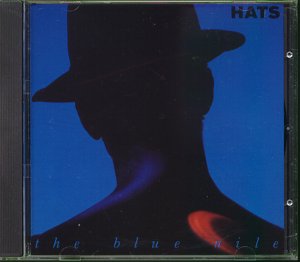 The Blue Nile - Hats
The Blue Nile are (were) mostly a two-men band (P. Buchanan & R. Bell) from Glasgow which, in the mid-Eighties, produced two stunningly good and awesomely recorded discs: "A walk across the rooftops", their debut album, and this "Hats". Both records were issued and mastered by Linn Records UK, not a surprise, considering the band came from Glasgow :-)
In 1998 they released what appears to be their last (latest?) album, "Peace at last".
"A walk across the rooftops" sold quite well (nearly 100,000 copies) and was something very innovative, considering we were living the "dark" early Eighties. This first album was issued on Linn vinyl too and let me say it was (and still is) one of the cleaner and best sounding Pop album I've ever listened to.
Their second album, "Hats", has been published on CD and I am not sure it ever made it to vinyl. The Linn Records site displays no trace of this. Anyway, I'm about to write a few notes on the CD release only.
From a purely musical point of view the album "Hats" is a mixture of slow-tempoed Pop Music, with very simple rythmic patterns. Imagine a standard Pop song, strip it down to its elementary skeleton, let it walk :-) and you get quite close. Just like a painter can use very few brush strokes to create a visual emotion, so this duo could create amazingly precious songs with just few things.
Back in 1989, this album sounded like something absolutely new. 15 years later it is still stunning and fresh, especially if you consider the Blue Nile peculiar composing style remained unique. In addiction to the composing duo (Buchanan & Bell) Paul Joseph Moore (keyboards) and (later) Nigel Thomas (drums) completed the band line-up.
From a merely "audiophile" point of view, this album, like the debut release, is very interesting. First of all, it is an ADD recording, this means the master tape was 100% analogue (Recording engineer: Calum Malcolm).
As audiophiles, we are used to mass-oriented, loudness-like recorded Pop music albums. They seem to be intended mainly for teenagers with over-distorted ghetto-blasters. Hence, this "Hats" came as a nice surprise: just 7 classy, elegant and intimate Pop songs that can fully exploit every good HiFi system potential.
First of all this CD is a very good test for male voice reproduction. Paul Buchanan sings with great control, pathos and clarity. His pauses and inflections should be reproduced with a natural sense of presence and warmth, with no trace of harshness or sibilants.
Being picked up quite close, Paul's voice should appear between the loudspeakers, in good evidence and very, very natural. No artificial electronic effects have been added to it (echoes aside) so if your system reproduces it somehow unnaturally, chances are there's something wrong...somewhere (speakers or amp).
Take, for example, "From a late night train", a delicate voice + piano slow ballad (with synths in the background): Paul's voice should be so "real" that your HiFi system should simply disappear in front of you.
The musical instruments are mostly electronic, including drums. This, normally, would lead to an artificial and "cold" listening sensation. Well, somehow The Blue Nile have been able to add a "soul" to these electronic sounds so that the final result is smooth as silk and warm as velvet.
Don't expect drivers-shaking dynamics though, this record is intended to make you think and relax. Anyway, given the extremely low level of distortion, you can play it as loud as your system can, though I'd recommend moderate (even intimate) listening levels to fully appreciate the musical content of this beautiful album.
While their debut album ("A walk across the rooftops") was more rythmic and dynamic, this "Hats" is more reflexive and delicate.
As for 3D imaging, of course, being completely "electronic", one should expect a kind of artificial virtual stage. For example, some synth and drum patterns always remain in the background, adding a great sense of "depth" to the Music. Anyway, don't expect to "see" the instruments in front of you :-)
Moreover, a good use of echoes helps creating a "dense" atmosphere that breathes and floats around the speakers. Your system should be able to create this kind of illusion.
My favourite tracks are "Over the hillside", "From a late night train" and "Headlights on the parade", released also on a mini-CD, remixed by Bob Clearmountain, in 1990 (LKSC 4 - Linn Records/Virgin).
Conclusion
A must for any Linn Records fan :-), The Blue Nile's "Hats" is another CD that can do justice to the money (and time) you spent on your HiFi system. Nowadays it should be easy to find it at very low prices at any online Music store. A search on the online catalog of Linn Records produced no results, but perhaps I've been unlucky. If you can, try to find the vinyl release of their debut album, too. After all, Linn records should be...vinyls :-)
© Copyright 2004 Lucio Cadeddu - www.tnt-audio.com
[ Home | Staff & Contacts | DIY & Tweaks | Listening tests | HiFi Playground | Music & Books ]