[ Home | Staff & Contacts | DIY & Tweaks | Listening tests | HiFi Playground | Music & Books ]
Ali Akbar Khan & Swapan Chaudhuri - "Indian Architexture"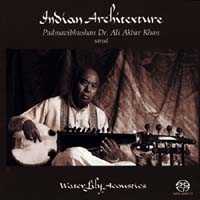 [Italian version]
Artist/s: Ali Akbar Khan, Swapan Chaudhuri
Genre: Indian Classical
Record label: Water Lily Acoustics
Serial #: WLA-ES-20-SACD
Year recorded / released: 2002
Format: SACD Hybrid, LP, Multi-format downloads - both 2 disc sets
Reviewer: Arvind Kohli - TNT USA
Reviewed: July 2009
I am writing this album review posthumously, as a tribute to the legendary Ali Akbar Khan. He passed away June 18th, 2009. I have been meaning to write this review for quite a while now, and had intended to interview the ustad as well. I never got around to it in time, and will live with that regret forever.
THE ARTISTS
To be quite honest, I feel disingenuous writing about Ali Akbar Khan. His life has been quite well documented by many who have followed him much more closely and understood his craft and talent at a level that I will perhaps never approach. So I must disclaim this article as a humble attempt.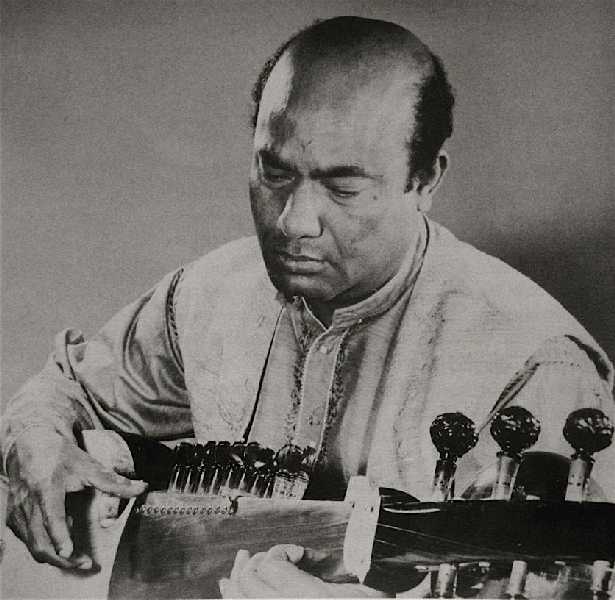 Born April 14, 1922 in what was then part of the Indian State of East Bengal, and today Bangladesh. He was the son of the legendary Allauddin Khan - who was the teacher of many of today's Indian classical stars including Ravi Shankar. Both father and son belong and are the subsequent heads of the Seni Maihar gharana, which translates as the Seni Maihar house or school or tradition - and is about 500 years old. Ali Akbar Khan was taught vocals and various instruments by his father, starting at the age of 3. His basic training lasted about 20 years and 18 hour days were not uncommon. - this may seem unusual and shocking to the layperson, but this is de rigueur to be an accomplished player in that genre. The complexity of the instruments and compositions would tolerate nothing less, not to mention his very demanding father. Beyond the first 20 years of schooling, Allauddin Khan kept teaching his son till he was past the age of 100.
Ali Akbar Khan gave his first recital at age of 13. Shortly thereafter he began touring and playing duets with masters such as Ravi Shankar, Nikhil Banerjee, L. Subramaniam, Vilayat Khan Alla Rakha, Yehudi Menuhin, Bola Sete, Julian Bream and John Handy. He also contributed to several soundtracks and established training schools to pass on the wealth of his gharana; in Kolkata, India and San Rafael, California and Basel, Switzerland. He was invited to play in the U.S. by Yehudi Menuhin in 1955 and eventually settled in California where he had been living for about the past 40 years.
His accomplishments and stature were recognized several times. He was awarded the title of Padma Vibhushan, which is India's second highest civilian honour. He also won the MacArthur Genius Grant and the National Endowment for the Arts' National Heritage Fellowship, and was nominated for 5 Grammy awards. And true to the traditions of the Indian Subcontinent, those of extraordinary accomplishment somehow are given informal titles by the general populous. Ali Akbar Khan is commonly referred to as Khansahib (Sir Khan) and Ustad (master or teacher)
The Ustad's weapon of choice is the Sarod. It is about a couple of centuries old and though it is alleged to have descended from Afghani Rabab, Ali Akbar Khan was decidedly against that rumour. It has a metal fingerboard and a brass resonator that were introduced to the instrument by Allauddin Khan. The instruments have no frets, and like a Sitar the Sarod has two sets of strings, most of which are generally not played - there are somewhere around 11 sympathetic strings that sit well below the 4 strings that are actually played.
Swapan Chaudhuri began his musical training when he was 5 years old, and belongs to the Lucknow Gharana. He holds a master's degree in music and a degree in economics.
He has played with the likes of Pandit Habib Khan, Pandit Ravi Shankar, Ustad Ali Akbar Khan, Nikhil Banerjee, Ustad Amir Khan, Ustad Vilayat Khan, Ustad Amjad Ali Khan and Pandit Bhimsen Joshi. He also teaches at the Ali Akbar College of Music in the U.S. and Switzerland, and at the California Institute of the Arts in Valencia.
THE MUSIC
The album has 4 Raags or compositions, each almost half an hour long. This is not the kind of music you shuffle off your iPod and bop to while vacumming the carpet, just as you wouldn't drink a fine Cognac mixed with cola. If you do, just don't tell me about it or I might be compelled to open you a can of whoop-ass.
Seriously though, this is very complex stuff. I would recommend that all Classical music be heard in solitude and with singular attention, especially the Indian stringed instrument variety. Each Raag has several stages, but they generally start with the Alaap (prelude). Wherein the musician will introduce the Raag by unfolding its structure in their own style. I have listened to this album dozens of times. And often I find myself exhausted just trying to keep up with the alaap; and almost never have I listened to the entire album in one sitting. To belabour the Cognac analogy, it is an extremely refined product and that is why you cannot consume it all at once. Believe me, you will not get this stuff the first time you listen to it, it certainly takes a few times to be able to follow the depth and complexity of those 500 years of tradition and decades of practice being unleashed on you.
If you need more depth and breadth on the musical content of this album, you will find the liner notes plenty satisfying. Kavi Alexander of Water Lily has set the mark for the best liner notes I have ever come across, they alone justify the cost of the album.
THE SOUND
As with all Water Lily recordings you can expect nothing but excellence. I probably could go on ad nauseum about the nuances and detail...but that nauseates me. I will simplify by saying, in my opinion the sound quality of this recording is outstanding.
A few weeks ago our beloved editor published an article on the Pleasurize Music Foundation, whose mission is to promote recordings of better sound quality. Their primary focus is to discourage dynamic compression, and to achieve this they have released a software that measures the dynamic range of a CD. The 2 discs in this album registered at a whopping DR19 and DR20! That I believe it the top of the scale! While, I have my quibbles with execution (but not the intent) of the Pleasurize Music Foundation, I think this measurement is an objective guide of one aspect of sound quality - i.e. dynamic range. While that result is also affected by the kind of music, and I would say Indian Classical music should inherently have a very high dynamic range, it is satisfying to know that this recording does the genre and artist full justice.
CONCLUSION
My highest recommendation.
NOTE - The LP and SACD-hybrid formats are currently awaiting reprint, but the album will shortly be available for download in MP3, Redbook and Hi-rez formats at HDtracks.com.

RELATED LINKS
Allauddin Khan
Ali Akbar Khan
Swapan Chaudhuri
© Copyright 2009 Arvind Kohli - www.tnt-audio.com
[ Home | Staff & Contacts | DIY & Tweaks | Listening tests | HiFi Playground | Music & Books ]