[ Home | Staff & Contacts | HiFi Playground | Listening tests | DIY & Tweakings | Music & Books ]
CDs reviewed: "Erich Kleiber conducts his last concert," Preiser 90751; "Kleiber-Mozart," mediciMasters MM011-2
Reviewer: David Hoehl - TNT USA
Reviewed: July, 2021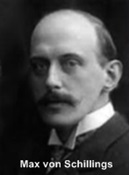 The music scene that prevailed in Nazi Germany poses a never-ending dilemma for those of us who collect historical recordings in the 21st Century: how do we reconcile some priceless music making with the dubious to downright scurrilous conduct of some music makers? As I write this, for example, I'm listening to a fine account (indifferently recorded) of Beethoven's 6th Symphony, the Pastoral, in a performance led by Max von Schillings. Doubtless many, if not most, of my readers are scratching their collective heads about now and saying, "Max von who???" Rest assured, in the period between the two World Wars, in Germany and probably in most countries abroad, no explanation would have been necessary: he then was a familiar figure on the international music scene, composer of the opera Mona Lisa (now obscure, but widely performed, including at the New York Met, in its day); noted conductor of Germany's leading orchestras and featured in that role in a number of early orchestral 78 sets; teacher of, among other distinguished figures, Wilhelm Furtwangler; Intendant, or theater manager, of the Berlin State Opera for a decade; and eventual President of the Prussian Academy of the Arts. He was also a vicious anti-Semite who in that presidential role was all too happy to purge Jewish members once the Nazis came to power. It has been said, only his untimely death in 1933 saved him from infamy and instead relegated him to mere obscurity.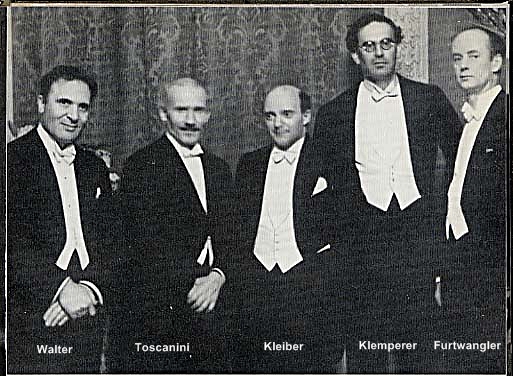 On the other hand, some musicians took principled stands, even at the cost of disrupted careers or personal danger. One such, our subject at hand, was conductor Erich Kleiber, who, although far less well remembered today, between the World Wars inhabited the same artistic stratum as present-day icons Arturo Toscanini, Wilhelm Furtwangler, Bruno Walter, and Otto Klemperer. Indeed, a not-infrequently reprinted photograph shows the five together as colleagues gathered for a 1929 banquet at the Italian Embassy in Berlin; much later, Toscanini, taking a month's vacation, would invite Kleiber to substitute for him with the NBC Symphony Orchestra. Although not himself Jewish, Kleiber objected to the Nazi government's anti-Semitic policies and practices, and rather than comply with them he resigned a leading position in German cultural life as general music director of the Berlin State Opera. Despite official blandishments to remain, he abandoned Germany, thumbing his nose at the authorities on the way out by programming a suite from Lulu, Alban Berg's newly composed opera which they had banned as "degenerate music." In 1939, when the Mussolini regime in Italy also passed anti-Semitic laws, Kleiber similarly repudiated his contract with Milan's La Scala, saying, "I hear that access to the Scala is denied to Jews. ...Both as a Christian and an artist, I can no longer cooperate." Kleiber would spend the war years conducting in South America--particularly at the Teatro Colon in Argentina, where he had already established a connection during the Weimar Republic years--and to a lesser degree in the United States, and after the war he resumed activity in Europe, but he never held a permanent position again. Alas, his own unexpected death in 1956, with no established base among the world's orchestras and a few years too early to benefit from the development of stereo LPs, left him languishing, if not exactly in obscurity like von Schillings, then certainly in the realm of the faintly remembered.
About now, you may be wondering why this article opens with musings on the disgraced if its subject is one who was of sterling word and deed. If you were watching closely above, you may have noticed a clue. Kleiber, who had been working his way up through provincial houses in the way that was traditional at the time, made his name as one of the foremost conductors in Germany when he assumed directorship of the Berlin State Opera, whose long-time prior director had recently resigned. How did he get there? A few days after an August 1923 guest appearance in which he led the company in a widely acclaimed performance of Beethoven's Fidelio, he was recruited by the theater's Intendant--who, you may recall, was none other than Max von Schillings. At the time, the two were both strictly musical figures focused on matters of art. Only after another decade would political developments lead them to opt for their divergent paths into history.
A Troublesome Lion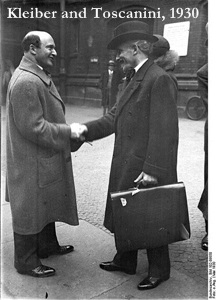 Aside from being the possessor of an unwavering moral compass, what sort of man was Erich Kleiber? Today, mentioning the name "Kleiber" most likely conjures thoughts of Carlos Kleiber, wizard of the podium noted for his intractable, uncompromising ways. Well, he came by it naturally: Erich was his father, and according to Harold Schonberg's The Great Conductors, the Intendant of one German opera house[1] said of him, "When [Erich] Kleiber comes into this theater, there's trouble with a capital T." Schonberg describes him as a "tough, stubborn, difficult disciplinarian" who once remarked, "A conductor must live in his house like a lion with its claws deep in its prey." As music director of the Berlin State Opera, he led numerous operatic premieres, most importantly that of Alban Berg's first opera, Wozzeck, on December 14, 1925, an undertaking that required some 34 full orchestra rehearsals. As orchestral and opera conductor, Kleiber had wide-ranging tastes, reviving old music long neglected and also making Berlin an international center of his day's avante garde. In the latter capacity he offered up works on the cutting edge of modernity by composers such as Milhaud, Janacek, Schoenberg, Stravinsky, Bartok, and Kurt Weill until continuing in that vein became impossible with the rise of fascism. As we have seen, Kleiber's response was to resign his post and go abroad in protest.
After the war, he eventually returned to Germany and agreed to resume leadership at the Berlin State Opera, then in the Eastern zone, despite opposition and pressure from the West German government. The Communists, however, upset him by, as he put it, injecting politics into art, and he resigned before leading a single performance. Characteristically, he refused to accept a permanent position in the Western zone either, because of his treatment by authorities there when he appeared to be taking up the position in the East. Instead, he continued the practice of making guest conducting appearances with various European orchestras. He also embarked on a series of recordings for English Decca.
As an interpreter, as in life, Kleiber was his own decisive man. (Supposedly, he proposed to his lifelong wife after a courtship of less than 24 hours.) Like Toscanini, he tended to favor brisk tempos and meticulous observance of the score, but he was no Toscanini clone; his recorded performances have their own brand of balance and tempo flexibility, perhaps a little admixture of Kleiber's Viennese heritage. Although his relatively sparse recorded legacy doesn't reflect this aspect of his art, Kleiber also was a committed advocate for 20th century music, the new music of his time. Toscanini had also been an advocate for new music of his day, but bear in mind he was born in 1867, almost a quarter century before Kleiber; for Toscanini, new music was by Verdi, Puccini, Wagner, and Debussy, and that of composers like Schoenberg and Berg held little appeal to him.
Das Lebewohl
As noted, Erich Kleiber left behind a relatively small official discography. Like other performing musicians who came up before records, or at least before the advent of electric recording in the mid-1920s, Kleiber found them frustrating to make, with the start-and-stop process required by four-minute 78 RPM record sides,[2] and at best a poor substitute for live performance; at one point, he likened listening to records to eating tinned asparagus. After World War II, he made mono LPs for Decca, with the introduction of recording tape greatly easing the frustrations. Supplementing these still not too numerous recordings, in recent years a reasonably extensive series of broadcast and concert recordings has emerged to flesh out the picture. Among them, we are fortunate to have on CD Kleiber's final concert, although, as we shall see, getting it entirely together takes a bit of doing. The performance took place on January 20, 1956, with the Kolner Rundfunk-Sinfonie-Orchestra, or Cologne Radio Symphony (today known as WDR Sinfonieorchester Koln), in Saal (concert hall) 1 of the recently completed Funkhaus, or radio broadcast house. The program was as follows:
Weber: Euryanthe Overture
Weber: Symphony no. 1 in C, op. 19
Mozart: Oboe Concerto in C, K. 314 (285d) (with soloist Lothar Faber)
Mozart: Symphony no. 39 in E-Flat, K. 543
Mozart: German Dances--Landler, K. 600 no. 1; "Der Kanarienvogel" ("The Canary"), K. 600 no. 5; "Der Leiermann" ("The Organ Grinder"), K. 602 no. 3, and "Schlittenfahrt" ("Sleighride"), K. 605 no. 3

The Mozart symphony featured frequently in Kleiber's programs over the years, and in fact it was one of the larger works he recorded complete, leading the Berlin State Opera Orchestra, not too long after the advent of electric recording, early in his career. (In the United States, the Victor Talking Machine Company, not yet RCA Victor, issued the symphony on records 9438-9440, Red Seals but single disks not included in the series of complete album sets assigned M numbers.) Kleiber also regularly programmed these dances, which had family significance: he had added the same ones to a concert on his not-yet-wife's birthday as a gift to her after their engagement, and he continued to perform them around her birthday every year thereafter.
The concert was quite the success, drawing excellent reviews. In the house, enthusiasm was such that Kleiber led an encore of the final dance, the musical sleighride. One week later, on January 27, 1956, Mozart's 200th birthday anniversary, Erich Kleiber died of a heart attack.
The Music Lives On
I've been an admirer of Kleiber since my earliest days as a collector, back in the 1970s, so when I saw a CD titled "Erich Kleiber conducts his last concert" the attraction was obvious, and I hastened to order a copy from one or another of the internet's legion of music vendors. (Photo below left.) The CD, Preiser 90751, arrived in due course, and I hastened to copy it to my server and give it a listen. As I waited for Exact Audio Copy to do its thing, I took some time to read the program notes, and I was dismayed to discover that the disc promises just a bit more than it delivers. Present are both Weber pieces and most of the Mozart, but it omits the oboe concerto. Not then, truly Kleiber's last concert, at least not complete. Not all is lost, however: as soon as I discovered Preiser's omission, I resorted to the web to see if the oboe concerto has appeared on other CDs, and pretty quickly I confirmed that indeed it has. As best I can tell, the one currently most accessible, which I hastened to order, is the one pictured below right.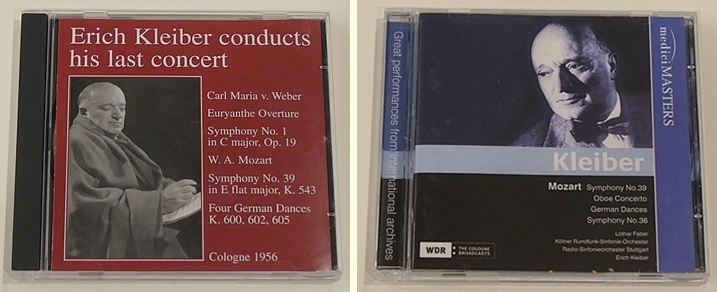 Just how to give the title of this second disc is not entirely clear, as the CD case carries a confusing array of candidates: just "Kleiber," or maybe "Kleiber-Mozart," on the cover; "Mozart Symphonies Nos. 36 & 39, Oboe Concerto, German Dances/Kleiber" on the case spine; nothing but a works list on the back cover; "mediciMasters Kleiber" on the disc itself. The label information is similarly superabundant, with candidates including "MediciMasters," "medici arts," and "WDR The Cologne Broadcasts." (This last may seem implausible, but the disc contains a notation "Produced by Westdeutscher Rundfunk Koln, broadcast in 1956, and Suddeutscher Rundfunk Stuttgart, broadcast in 1965.") Oh, and let us not omit the notation "From the Producers of BBC Legends." Well, I must call the disc something, and so I'm choosing to refer to it as Medici Masters MM011-2, Kleiber-Mozart.
With all that settled, then, here's one of those instances when a music server can prove its worth. From physical pressings, to play the concert as it was given would require changing discs midway, possibly twice depending on your mastering preference. (More on that shortly.) Copying the discs for computer playback and setting up a playlist for all the tracks neatly eliminates that annoyance; you can press play, sit down, and enjoy the concert without interruption, just as the audience did on that day in 1956. Score one for modern tech--even if it's simulating an experience from 65 years ago!
The Preiser disc, as noted, has all but one work from the Koln concert. Kleiber-Mozart has a smaller selection--as you'd guess, all the pieces by Mozart but neither of the ones by Weber--coupled with an account of Mozart's Symphony no. 36, the "Linz," from the previous year with the Symphony Orchestra of Radio Stuttgart. The discs, then, have a good bit of overlap, offering us the opportunity to compare masterings, and that exercise proves instructive.
At first blush, Kleiber-Mozart sounds fuller and richer than the Preiser "last concert" disc. Preiser's sound seems somewhat constricted, and on first hearing of the two issues, executed over speakers, I thought perhaps it suffered from injudicious application of noise reduction. Resort to headphones, however, told a different tale.
In a recent review of a Sweet Foot Pedals outboard stereo/mono switch, I discussed a CD unexpectedly offering a skeleton from audio's closet of bad old ideas, fake stereo. Well, folks, here we go again. Kleiber-Mozart, heard on headphones, turns out to be another example of that disreputable practice, albeit one far better executed than on the Music & Arts disc that I sampled in the earlier review. To be honest, it actually sounds pretty nice over speakers, with richer bass in particular than in Preiser's presentation. What can be heard over headphones, however, is that all that extra ambiance comes at a price: although it doesn't muddy/muddle the sound like Music & Arts's ham-handed application, it does impose a noticeably artificial reverberation and resonance on the sound of what was almost certainly a fairly dry hall designed for clarity in broadcast work. Preiser's sound picture may not be as attractive at first blush, but I'm fairly confident it offers the truer picture of how that orchestra sounded in that hall on that day.
Conclusion
For the sake of argument, let's assume you want to follow my example and assemble a complete traversal of Erich Kleiber's final concert from these two discs. In the two Weber pieces, you have no choice but to go with Preiser. In the Mozart 39th Symphony, however, if you have facility to play CDs in mono, like the Sweet Foot Pedals switch, you can significantly tame the artifacts of Kleiber-Mozart's modern processing, and you may prefer the richer bass it presents. For myself, I've decided that in the symphony, Preiser's less immediately striking sound is more honest and ultimately preferable. In the German dances, however, I think it's a closer question; for whatever reason, I found the fake stereo there less objectionable, particularly when passed through the mono switch, and in fact I prefer the processed sound of the final dance's sleigh bells. I can only guess the reason is that the dances are relatively less complicated works than the symphony.
If, on the other hand, you don't have facility to play CDs in mono, Preiser is the way to go whenever you have a choice, which is to say in everything except the oboe concerto. As such things go, Kleiber-Mozart's fake stereo processing is tastefully applied, but it is still fake stereo, and in the end it falsifies a historical document. Unfortunately, you won't have any choice in the oboe concerto, but at least everything else will match up in original mono sound.
Either way, I do encourage you to explore Kleiber's art. The discs under discussion here would be a fine starting point, and from there you can readily move on to Kleiber's studio recordings and the broadcast/concert issues that have emerged in recent years. Kleiber was not merely a voice of resistance in an era of evildoers; he was a compelling orchestra leader who made music still worth hearing today. He deserves better than to be left in the shadows of self-imposed wartime career disruption and post-War technological change.
___________________
[1] - Schonberg doesn't tell us whether the speaker was von Schillings.
[2] - Arturo Toscanini objected to this process strenuously, and being Toscanini, the highest-karat nugget in a golden age of conductors and possessor of a legendarily volcanic temper, he got special treatment: RCA took to setting up twin cutting lathes at his sessions and switching between them as blanks filled up, allowing for continuous performances instead of start-and-stop. Kleiber either never thought of demanding that approach or, if he did, lacked the clout to force the issue. (In fairness, Toscanini's recordings not infrequently derived from radio broadcast concerts, for which start-and-stop was not an option.) Note that in those pre-tape days, each recording was what today we call "direct to disk."
Attribution of Kleiber-Toscanini photo, 1930: This image was provided to Wikimedia Commons by the German Federal Archive (Deutsches Bundesarchiv) as part of a cooperation project. The German Federal Archive guarantees an authentic representation only using the originals (negative and/or positive), resp. the digitalization of the originals as provided by the Digital Image Archive.
DISCLAIMER. TNT-Audio is a 100% independent magazine that neither accepts advertising from companies nor requires readers to register or pay for subscriptions. After publication of reviews, the authors do not retain samples other than on long-term loan for further evaluation or comparison with later-received gear. Hence, all contents are written free of any "editorial" or "advertising" influence, and all reviews in this publication, positive or negative, reflect the independent opinions of their respective authors. TNT-Audio will publish all manufacturer responses, subject to the reviewer's right to reply in turn.

© Copyright 2021 David Hoehl - drh@tnt-audio.com - www.tnt-audio.com
[ Home | Staff & Contacts | HiFi Playground | Listening tests | DIY & Tweakings | Music & Books ]