[ Home | Staff & Contacts | DIY & Tweaks | Listening tests | HiFi Playground | Music & Books ]
Derrin Nauendorf
Live at the Boardwalk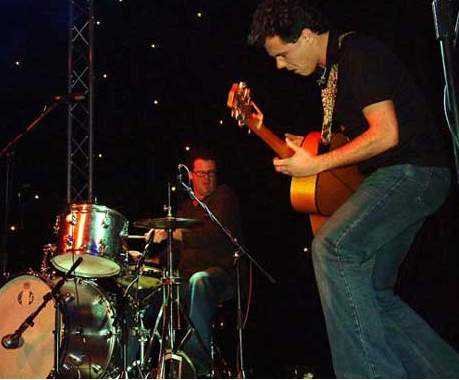 [Italian version]
Artist: Derrin Nauendorf
Album details: "Live at the Boardwalk"
Genre: acoustic blues
Label: Swingout productions
Reviewer: Mark Wheeler - TNT UK

Les Wolstenholme of Avondale Audio pressed this cd into my hand when I picked up his AAAA5 cd player for review. "You'll like this" quoth he.
He was so right. I like the recording, I like the songwriting, I like the live atmosphere, I like the playing...but I love the performance. I did not know these artists, Derrin Nauendorf (guitar & vocals) and David Downing (percussion), before. I have never visited "The Boardwalk" venue in Sheffield (45 miles up the road from me) and I didn't know Mansfield (where I ply my day job) hosted "Bandwagon Studios" where this cd was mixed.
I don't know how I missed them playing live in England. Apparently during a three year period they managed to play 500 shows in across Northern Europe, beginning by living in a van and playing anywhere in England in 2001. I don't understand why my friends haven't caught on to them and passed the word. Derrin (28) & David (34) returned to their native Australia (and we get plenty of hits to TNT from Oz) in December 2003. Despite their Southern Cross roots they seem to have absorbed musical influences from around the northern hemisphere. Derrin had toured North America at 21 and sounds like he absorbed some Canadian influences while there. David, though trained, eschews convention and played in many different acts before a chance meeting with Derrin at "a bush pub in Australia" heard them unite forces and to work hard at their oevre.
After listening to the cd I checked out Derrin's website and saw that other reviewers had compared him with an unlikely selection of troopers. Then I thought, how is it possible to describe something readers have not heard without comparisons? They blend diverse influences from roots folk, through urban blues with a dash of originality. Hey, I should be their copywriter already. I suppose I too will have to comply with the comparisons game, but here is a health warning:
CAVEAT EMPTOR: comparison contents may differ from illustration
Songwriting and vocal performance bear some similarities with Richard Thompson. Richard Thompson can sound so diverse in different songs that I expect this comparison does not help much. I have really enjoyed Richard Thompson live so many times that I now forget in which festival line-ups or small-venue gigs I heard him, but I have never quite "got him" recorded, and own not one of his cds or lps. Last week I heard Sheffield based master of traditional folk music Roy Bailey play in a church near Nottingham and there were some delivery similarities there too. The recorded sound of Derrin's guitar sometimes reminds me of hearing Roy Harper less than 2metres away, they're both percussive players at times who fuel the rhythm with pace and overlay with harmonics, but they're not the same. One reviewer compared Derrin with Gordon Giltrap who I used to hear unamplified in a Derby pub and that comparison just doesn't work for me. There were moments when I thought of Lightenin' Hopkins, but then I played a couple of his LPs and realised that isn't it either.
This really doesn't help you, dear reader, does it?
Part of the problem is that Derrin's playing hints at so many other performers I have heard live but don't enjoy as much recorded. I really do enjoy this recording though. There are eight Nauendorf compositions on Live at The boardwalk and one Hendrix cover. Oh yes, two words that usually act like a red rag to a bull to this hendrix fan. They take Voodoo Chile, that most difficult of challenges, and make it their own. In the same way that I enjoy some Hendrix versions of Dylan songs as much as Dylan's own (and even Dylan took to performing Like a Rolling Stone in the Hendrix style) I really do enjoy the Nauendorf Voodoo Chile in its own right. I've never said that about a Hendrix cover before.
Derrin's guitar style is deceptive. It seems sparse, superficially, but then you hear just how much is going on. Dexterity up there with the best, but delivered with a deceptive fluidity borne of long practice and a natural affinity with his natural instrument. Every note counts, and the snappy pulls; hammers-ons; limpid harmonics and slaps to the soundbox are no music-shop chops. This is one guitarist who knows exactly what he wants to hear and knows exactly how to deliver it. Exactly.
I've met some interesting people in pubs so it doesn't surprise me that this symbiotic partnership began in one. David Downing doesn't play drums in the conventional sense. Not only does he play a cut-down drum kit, he cuts his playing down too. It is hard to know how to describe what he does do, but much easier to describe what he doesn't. He does not lay down a regular rhythm upon which the song is built. He does not bore us with flashy superfluous fills whenever he imagines a gap to fill. There is a delicate but forceful interplay between his percussive contributions and those of his partner. I was trying to follow the rhythms each contribute and found it impossible to separate what each adds. I could mark-time to the pair of them with ease, but trying to keep up with either alone was beyond me. They either have ESP or practice a lot.
The sound is much like one would expect from a top quality PA system in a small venue. It sounds like there is no more compression than would be applied live at the PA crossover to protect speakers. It is quite unusual for even live recordings to allow sounds to decay into the acoustics and allow vocals to modulate a wide dynamic range. The sound has a nearfield quality reminiscent of a gig mixer feed straight to tape or hard-drive, with enough venue acoustic added for realism. The engineers Mark Nelson & Andy dawson deserve congratulating on keeping processing unintrusive. This cd will join my list of demos.
So why did I miss their gig just up the road in Matlock Bath this month? I'll see them, and possibly you, in Newark (Notts not NJ) in December.
Discography
"Natural" 1999: self-produced in Australia
"Live at the Boardwalk" 2002: Swingout Productions
"Wasteland" 2003: self-produced in England
© 2005 Copyright - Mark Wheeler - www.tnt-audio.com
[ Home | Staff & Contacts | DIY & Tweaks | Listening tests | HiFi Playground | Music & Books ]