[ Home | Staff & Contacts | DIY & Tweaks | Listening tests | HiFi Playground | Music & Books ]
Derrin Nauendorf
New History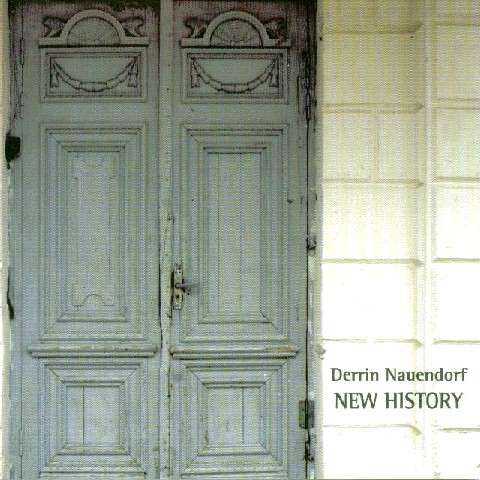 [Italian version]
Artist: Derrin Nauendorf
Album: "New History" 2005
Genre: Solo acoustic blues
Label: Derrin Nauendorf
Reviewer: Mark Wheeler - TNT UK

Track listing

Wasted in the city
Queensland
Careless hands
Let it go
If I were a winner
What I done to her
Shipwrecked
Shatter like stars
Get behind the mule
Derrin's website bills this as "The brand new flagship album from Derrin. It is the only album of his career that is a completely solo performance. It showcases his wonderful unique guitar work, evocative voice, and his powerful moving songwriting. It is also about as close as you will get to a live show without actually being there. Some have said this is his best album yet. This is a great introduction to Derrin's music. A stunning album."
Derrin's a nice self-effacing chap to meet so this hyperbole seems a little out of character with the man himself. We so enjoyed the live cd At The Board Walk that Heather & I determined to check out Derrin's live performance at The Mail Coach pub in Newark (Nottinghamshire, not New Jersey) in December 2004. Chatting to Derrin before the show, Derrin recalled that we had seen him at the Off The Tracks festival at Donnington last Summer, but my memory may have been clouded by attention to the real ale festival that is a simultaneous dimension of the Off The Tracks experience. His live performance really suited the scale of the pub venue and featured new material we were anxious to hear again.
That opportunity arrives with Derrin's new cd New History. This cd was recorded live on 1st December 2004 at Mr. Kyps in Poole on the south coast of England. Derrin perfoms alone on this cd, as he did at The mail Coach, providing all the rhythmic drive, and indeed percussion with his acoustic guitar.
The cd opens with Wasted In The City, one of Derrin's own compositions. Derrin's vocals carry those inflections that can raise the hairs on the back of your neck. The performance sounds like Derrin was not self-conscious of this gig's status as a permanent record on his next cd, it has the hallmarks of one absorbed in the moment of performance, uninhibited by the permanent record.
Derrin's performance is even more secure and confident than that recorded for At The Boardwalk. One might have anticipated a less adventurous performance without the added security of percussionist David Downing acting as a rhythmic safety-net, but Derrin continues to play right on the edges of complex rhythmic interplays between voice and instrument, maintaining tension between both.
Sound quality is the one area where this cd playes safer than At The boardwalk. That previous live recording exploded with dynamics without catastrophe, such that engineers Mark Nelson & Andy Dawson clearly displayed mastery & familiarity with the precise dimensions of the performance envelope of their equipment to create an illusion of unusually unprocessed sound. I described it as sounding like a direct feed from a top quality PA system in a small venue. That cd is closer to a live performance than this one despite the website claim.
New History is a softer and more playback system friendly recording. After enjoying the music for a couple of plays the safer sound is first technical aspect I notice with this recording, although the difference might not be as noticable in less transparent systems and At The Boardwalk's fiery dynamics might be too much for some. Digging out my copy of On The Boardwalk for direct comparison confirms the more polite presentation of New History. Whether this is due to engineering or mastering decisions or due to the equipment used I cannot tell. It is a competant, safe, live recording better than most, no doubt made under tricky conditions in Mr. Kyps, but it fails to startle with the warts-&-all you-are-there realism of Derrin's previous live recording. New History does succeed in conveying the increased sophistication and compexity of Derrin's most recent material.
After listenning to the cd it gets uploaded into the Zero One Ti48/Ar38 hard-drive archive. The Ti48 permutations of output setting allows play with the sampling rate and dithered noise settings to make the most of the available digital data to sharpen up the sound a little. I notice these fine tunings are particularly useful to make the best of average recordings, rather than great ones. Part of the different listening experience is also explained by the subtler, more assured material. Even after years on the road Derrin continues to hone his craft and this performance becomes more adventurous than the earlier recording. This is a more sparse performance, less in-your-face but ultimately very satisfying as a long term listen.
Careless Hands is a song with space to breathe, space for the listenner to make their own connections, before cadence punctuation redirects attention to Derrin's next words. Let it Go displays some of Derrin's trademark acoustic guitar fireworks that no doubt attracted his Yamaha Guitar sponsorship brave enough to indulge in this not-necessarily non-destructive testing. If I Were A Winner returns returns to dynamic contrasts and timing contrasts to test the PRaTability (Pace Rhythm & Timing) of the flattest-earth systems. The final chord bend tests the Yamaha's neck further than its builder ever anticipated.
Only two covers of other artists' songs appear on this recording, Tex Perkins What I Done To Her plumbs the depths of testosterone fuelled blues self-pity like an antipodean 21st century John Lee Hooker. Derrin's voice is on the cusp of blues-oldie, which has no connection with age or colour, just check Tom Waits or Don van Vliet (Captain Beefheart) with more inflection than his earlier recordings, now he's reached the better side of 30. In the finest blues traditions male listeners will feel that Derrin describes something of their own life, despite different origins & histories just as Muddy Waters or Bruce Springsteen can reach surburban boys in England. Despite Derrin's archaic use of the word "chick" (just once) the themes are universal enough for women too.
Tom Waits' composition Get Behind The Mule (from Mule Variations) closes the cd with a spirited and powerful performance. Derrin makes this song his own, as he did with Voodoo Chile. Derrin replaces 2 verses with guitar fireworks overlaying E-BOW-like drones & percusssive punishment to the Yamaha's timbers, and the song closes with the verse, spat with Waits-like vehemence:
Pin your ear to the wisdom post
Pin your eye to the line
Never let the weeds get higher
Than the garden
Always keep a sapphire in your mind
Always keep a diamond in your mind

Derrin has not let the grass grow or the weeds get higher with this recording, he keeps on moving on.
Discography
"Natural" 1999; self-produced in Australia
"Live at the Boardwalk" 2002; Swingout Productions
"Wasteland" 2003; self-produced in England
"New History" 2005; self-produced in England


© 2005 Copyright - Mark Wheeler - www.tnt-audio.com

[ Home | Staff & Contacts | DIY & Tweaks | Listening tests | HiFi Playground | Music & Books ]