[ Home | Staff & Contacts | HiFi Playground | Listening tests | Music & Books ]
On an Overgrown Pathé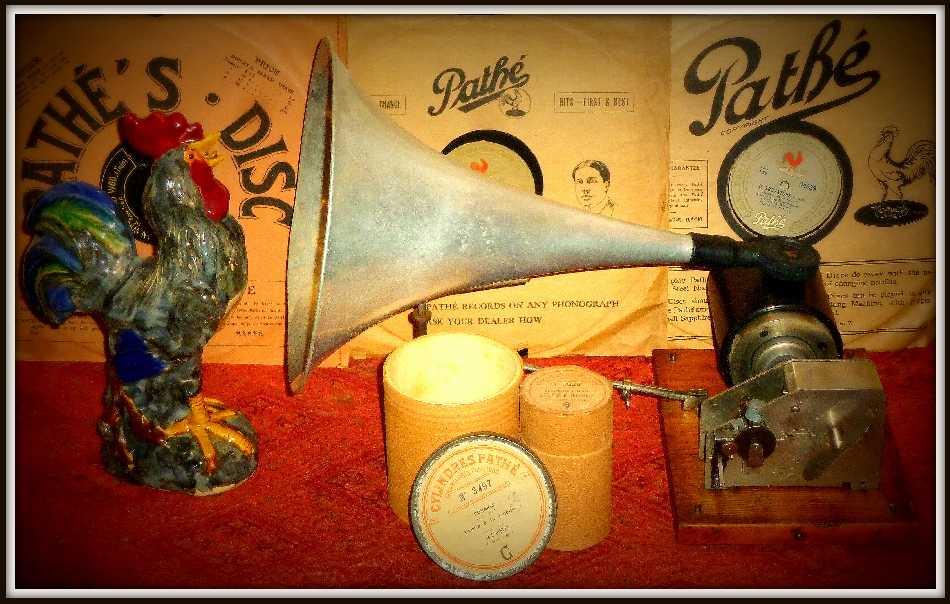 What Goes Around Comes Around--and Around!

(New Growth and Crabgrass in an Idealist's Garden of Delights)
[Italian version here]

Author: David Hoehl - TNT USA
Published: September 2019

In February of last year, as some of you may fondly recall, TNT ran a series of articles in which yr. hmbl. svt. regaled you with various turntable options that have been available through the years for playing 78 RPM records. "Oh, yeah, I remember those as fondly as I remember my first root canal," I hear someone mumble, bitingly. Uh, moving right along, the second detailed several that more or less closely approximated a list of ideal characteristics I'd outlined in the first. My present scribblings offer a couple of updates to that list.

Volare--It's not just an Old Plymouth

In 1976, $3,324 would have bought you a base Volare Sport Coupe Six, the entry level model in Chrysler Corporation's newly introduced lineup of what in those days were considered compact cars bearing the Plymouth marque. Today, the Plymouth automotive line is gone, but about 150 much-depreciated dollars more will buy you a Volare turntable with Origin tonearm, the newly introduced compact entry level model for Dr. Feickert Analogue's high-end line that extends up to the Firebird with DFA-12.0 arm, $14,500 (in 1976, that would have bought you better than three Pontiac Firebirds--list price $4,046--or, if you added in another $1,000, a Lotus Elite, supposedly then the world's most expensive four-cylinder car).

I mentioned the Feickert Firebird in my musings on last year's Capital Audiofest show, in particular noting, "[T]he current top-of-the-Feickert-line Firebird and at least a couple of other models feature a 78 speed with some adjustment and make provision for two arms, possibly a useful feature for those who want to play both LPs and 78s without swapping out cartridges (or perhaps who want to try their hands at playing the Cook dual-track stereo recordings from the early '50s). One can be up to 13" long, suggesting the turntable has promise for 14" and 16" pressings, assuming it has enough clearance between spindle and tonearm bases. ...Anyhow, here is a modern turntable of high end pretensions with a 78 speed and provision to vary it by some amount, albeit with no digital readout to assist in setting 'off' speeds." I then went on to lament that no information was available from the dealer or the manufacturer's website regarding how wide that variation might be. And so matters stood until late last month, when I attended a DC Hi Fi Group meeting at a Feickert dealer's establishment and, for once prepared, brought with me my trusty hand-held digital tachometer and a couple of modern, microgroove vinyl 78s.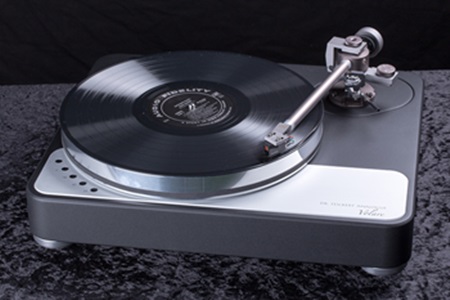 In answer to what you're probably wondering by this point, I did not get to try out a Firebird, and unfortunately I didn't get to play a record at all, as setting up a Feickert unit proved impractical with the meeting going on. I did, however, get a brief opportunity to test the speed control of a Volare (photo right from the Feickert website), and I have great news: we can add a modern, high-end model to last year's list of "Group 1" turntables, the ones that come reasonably close to what I listed as ideals.
The Volare is small by design, unlike the Firebird accommodating only a single tonearm. The Feickert product webpage goes to some length explaining that rather than being simply a downsized version of the Firebird, Blackbird, or Woodpecker, the Volare is an entirely new design. It will accept a tonearm of 9 to 10 inches effective length, with the Origin evidently being the standard option (another $500 will change it to a Jelco TK-850S). On the basis of my limited exposure, here's how I see it stacking up against the class-leading Strathclyde STD 305D.
Pros: Here's the big one, folks--the Volare's speed adjustment, as I measured it, spans a range from below 60 to more than 100 RPM, which is to say it covers the entire range of speeds you are likely, or even unlikely, to enounter with "78s" of any vintage. Such can be said of precious few turntables not aimed at the niche collector's market, and as in my Capital Audiofest article I'll express puzzlement that the company doesn't even aknowledge that capacity, much less promote it. As noted, I didn't get a chance to play a record on the Volare, but the arm is obviously of high quality, and I can't imagine it would have serious problems tracking 78s. As a modern, in-production turntable from something more than a boutique manufacturer (Dr. Feickert has been in the turntable business for nearly 20 years), it should be readily available, immune to the vagaries of the used-equipment market, and free of "time bomb" issues. Feickert claims a high-torque motor, desirable for overcoming the inertia and drag of heavy shellac pressings, and easy interchange of tonearms. I didn't check it, but eyeballing Feickert's stock photo I think the Volare might just have enough clearance to accept 14" records. Unlike, say, McIntosh and Dual's Golden Stone, Feickert avoids the silliness of selling its turntables with a 78 speed but non-readily-interchangeable moving coil cartridge. The Volare's pushbutton controls are less likely to give trouble than the Strathclyde's futuristic touch pads.
Cons: With all that said, in a few respects the Volare still falls short of the Strathclyde. Its lack of provision for centering eccentric pressings is a "minus," but the Strathclyde has the same failing. What the Strathclyde does have is a digital speed readout in RPM to aid in setting "off" speeds. The Volare lacks not only this feature but also even a strobe for setting the nominal center speeds. Whether, after having been adjusted to an "off" speed, it reverts to "standard" when turned off I don't know; that's a point to investigate further if you are interested in the table. I can say that the dealer had me reset the center speed manually at the end of our session. Strathclyde's speed variation controls, little knurled wheels that run left and right in slots and stick up slightly from the motorboard, are not what I'd call ergonomically optimal. The Volare's at first glance seem an improvement, a pair of little pushbuttons marked + and - more or less flush with the motorboard to the left of the platter. In practice, however, setting a speed much distant from center is a very slow process, requiring either lots of individual "clicks" of the appropriate button or a long wait holding it down as whatever speed control it's actuating gradually swells or fades through all the intervening speeds. A Fons CQ-30/International Mk. I has both beat in that regard. The Origin arm has a fixed headshell; for 78s, you'll want to opt for the Jelco, which has interchangeable headshells but adds $500 to the price of the package. Alternatively, you may want to investigate whether the Volare can accept the SME 3009, the proven performer for which the Strathclyde and Fons were designed. That final point raises one other disadvantage: while $3,000-$4,000 may not be an extravagant price in "audiophile gear" terms, it's still more than I'd count as meeting the "modest cost" ideal. Mind you, that's the most economical choice in the Feickert line, and a Strathclyde, if you can find one, probably won't set you back only pocket change, either, particularly if it ends up needing service (see below).
Conclusion: The Dr. Feickert Volare is a worthy contender for those whose interests span the full range of recording history. If you have $3K+ to spend and are looking for a turntable that can handle everything from the shellac age and still be a "high end" solution for modern LPs, this turntable must be on your short list to investigate.
So Near and Yet So Far
"I went about to fil your mouth with an empty spoone: That is, to seeme to teach, not to teach."
As I investigated the Pro-Ject Xtension 12 turntable, I was reminded of that statement, penned by Italian author, diplomat, and academic Stefano Guazzo in La civil conversatione: divisa en quattro libri (1574). I encountered it as a quotation in An Empty Spoon, one Sunny Decker's account of her dispiriting experiences as a young white teacher assigned to a poor black school in 1960s Philadelphia. Her book, which I was assigned to read in high school, has long since left me to inhabit some used bookstore afterlife, but, in what I suppose is a testament to the power of education, the quotation has stayed with me more than 40 years later. (I'll confess, tracking down the exact phrasing, the author, and the name of the book in which he penned it required a visit to the Land of Google. Why Ms. Decker presented this originally Italian statement in Ye Olde Quainte Englysshe rather than a translation into more modern phrasing is beyond me.)
What does all that have to do with turntables for 78 RPM records? I'll explain in a moment, but first let me say that when, viewing the results of a casual search for "78 RPM turntable" on an equipment sales site, I first spotted an image of the Pro-ject Xtension 12, I very quickly became excited. There, in the front corner to the right of the platter, were a digital speed display in RPM and +/- adjustment buttons to vary speed from the nominal fixed points. Thus, the Xtension 12 at first blush might be a new member of what I've called "group 1," turntables approximating my ideal, suited to play everything from the earliest 78 RPM disk to the most recent LP. And so began the usual cat-and-mouse search through reviews and sales sites trying to pin down the limits of those speed adjustments and to confirm that the speed display shows the adjusted speed, not just the base set point. Eventually, I stumbled across a .pdf of the user's manual and went straight to the specifications page. You can guess what's coming: the sound of hopes deflating and crests falling was deafening.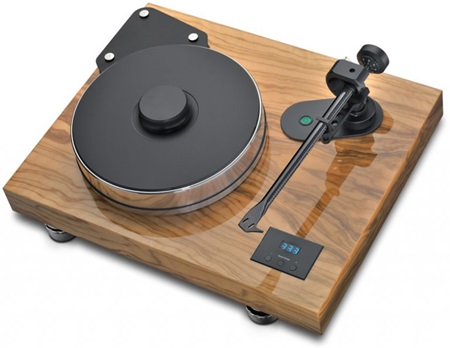 So here's where that "empty spoone" comes in. The Xtension 12 and its little brother the Xtension 10 appear to have key features, but those don't deliver in practice. On the positive side, they do feature a digital speed display purporting (foreshadowing here!) to show the actual rotational speed in RPM and provision to adjust the nominal speeds. Alas, the good news stops there. For a start, variation is limited to "20 steps of 0,1 r.p.m."--which is to say, plus or minus 2 RPM total. Our "group 1" candidate just dropped to join the Garrard 301/401, the Dual 10xx and 12xx series, and their friends in "group 2," the tables with enough flexibility to play electrically recorded 78s from the late '20s forward but only a fraction of acoustic recordings from earlier years. Admittedly, 2 RPM would be just enough to raise 78 up to the nominal 80 RPM of Pathe paper label outside start, Columbia, and Edison disks (bearing in mind only the Edisons are truly reliable in that regard) or to lower 78 to the upper fringes of the range for most later acoustic Victors. It would not, however, suffice for Marie Novello's 84 RPM Mendelssohn piano concerto recording on Edison Bell, the 90-to-100 RPM etched label Pathes, or the low 60s RPM earliest Carusos, just to return to my repeated examples in the earlier articles.
The bad news doesn't stop there. I'd seen on some of the sales sites that the Xtension 12 has "electronic" control of the 33 and 45 speeds but "mechanical" control of 78. The manual made clear just what was meant by that curious statement. To set 78, the owner must remove a cover plate to reveal the motor's belt pulley, which has sections of two different diameters, one for 50 Hz current and one for 60 Hz. Having removed the cover, the owner must apply a little supplied tool to move the belt from one section of the pulley to the other (yes, 50 Hz folks move it to the section for 60 Hz, and 60 Hz folks put it on the one for 50 Hz), then select 45 RPM on the speed control panel to get 78. Presumably returning to 33/45 duty would require reversing that procedure, which is reminiscent of the "group 3" Empire Troubadour's arrangement for speed adjustment. Moreover, to quote the old TV ads for Ginsu Knives, "But wait! There's more!" One might have thought that at least the digital readout would be an advantage, but according to the manual when the turntable is running at 78 the readout still will indicate 45 RPM! An empty spoon, indeed. Whether the speed adjustment still will yield .1 RPM per step I don't know.
The issues with selecting and controlling speed are so fundamental as to render other considerations largely irrelevant, but I will mention in passing that the stock arms for the Xtension tables also fall short of ideal for 78s. The design is a lightweight affair of advanced carbon fiber material and so undoubtedly can track difficult records spinning at high speed, but it has a fixed headshell, which, as noted in the original series of articles, is a hindrance to changing styli or cartridges to deal with the widely variable groove widths and wear patterns of records produced by dozens or hundreds of companies over the course of half a century. As I have not seen any photos of this table without a record clamp installed, I don't know if the spindle can be removed to allow for centering eccentric records (not to be confused with eccentric authors!).
To sum up, then, the Xtension may well be, indeed probably is, a fine turntable for LPs, and I always like to encourage manufacturers to include 78 capability in their designs. At a list price of approximately $4,000, however, for 78 collectors the Xtension 12 appears to be an empty spoon in a fancy pattern: a frustrating package of promising features negated by poor implementation. I'd counsel those whose budget for a 78-capable turntable extends that high to add a bit and look into the options offered by Sound Hi Fi (bearing in mind I still have no personal experience with that company's wares); explore the Dr. Feickert offering outlined above (ditto); or hunt down one of the turntables described in Part II of the original series of articles, most of which would leave lots of that hard-earned cash for buying records. After briefly hoping the Xtension would offer a current replacement, I can only conclude that some 40 years later the Strathclyde STD 305D remains the top choice as an all-purpose 78-capable production turntable.
The Fix Is In
Changing tack, in last year's article, as noted, my top recommendation among vintage turntables was the Strathclyde STD 305D, in no small part on the strength of its nearly unique built-in digital speed display reading in RPM, and I wrote of how I'd lucked into one on Canuck Audio Mart not long before starting the article. Over the following months nothing altered my opinion; the turntable got quite the workout, with the display my ever faithful guide in selecting and documenting playback speeds.
Ever faithful, that is, until last December 21, when, I suppose as an early Christmas present, the display went dim and showed only what amounts to a line of hyphens across the top and another across the bottom. No sign of the numerical readout. My usual sophisticated testing regimen (that is, turning the unit off and back on again) was ineffectual, and I quickly realized that a trip to the repair shop was the order of the day.
I suppose I should have been expecting something like that. Harkening back to my own article published months before, remarking on some fussiness in the controls, I'd pointed out that the Strathclyde had a potential Achilles heel:
Finally, the touchpad problem raises a matter that, while not exactly a flaw, is still a concern: the "time bomb" issue. Strathclyde 305D turntables are well into their fourth decade of service, laden with what were then pushing-the-envelope electronics, not widely distributed outside Europe (perhaps even outside the United Kingdom), and now orphans. When new, they seem not to have sold in large numbers, or at least they don't turn up all that frequently on the used equipment market.... If you want to buy one, be prepared to do some patient hunting and join me in hoping you never need to chase down spare parts!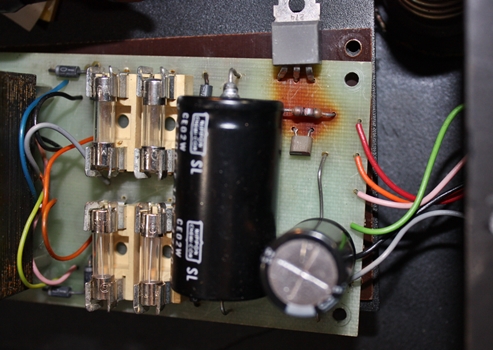 Now that "potential" had become "actual," I did some looking around on the Web, which revealed dysfunctional displays are a common failure in Strathclydes, or at least as "common" as is possible in such an uncommon model. Of maybe three that I've seen on eBay in the time since my article ran, the most recent was in that condition, and a senior member of the Lenco Heaven forum, who once maintained a website devoted to Strathclydes, wrote that it had afflicted his as well. He also indicated he never managed to determine what the problem was or how to fix it, leading him eventually to sell it and turn his affections to Lenco. Time for the obligatory "spoiler alert": after a good bit of detective work, Bill Thalmann, the technician to whom I entrusted my Strathclyde, managed to figure out the problem and bring my display back to life. Accordingly, schematics apparently being nonexistent and other maintenance information being nearly so, I'm writing this supplement to my earlier musings in hopes it will help some other Strathclyde owner in the future.
Briefly put, here's what Bill initially found upon inspecting the turntable's electronics: "There is a blown section of the power supply and there are two parts that are burned beyond recognition, so would need either a schematic or a donor unit to go further with it. The display itself (fluorescent) may be bad, but won't know for sure until supply is fixed." An adjacent photo shows the culprit.
I proceeded to check the a few sources for schematics with the same success rate as I'd had with my sophisticated testing regimen. Fortunately, a friend in England has a 305D and kindly opened it up to take a photo of the affected components. With that start and a bit of further detective work, Bill was able to determine the blown section was a 5 volt voltage regulator. He made short work of designing and installing a replacement, in his words much heavier duty than the original, and--voila!--the display was back in full function. Problem solved.
And they all lived happily ever after.
THE END
Except, as we all know, maintaining vintage audio gear is a...
Special thanks to Bill Thalmann of Music Technology in Springfield, Virginia, who kept whacking at my problem until it was solved, and to my modest English friend, who asks that he not be named but who is the proprietor of the excellent and entertaining blog Grumpy's Classics Cave, without whose help we would have been stuck at Charlie Chan's celebrated "stone wall" with no hope of "turning to find new path."
DISCLAIMER. TNT-Audio is a 100% independent magazine that neither accepts advertising from companies nor requires readers to register or pay for subscriptions. After publication of reviews, the authors do not retain samples other than on long-term loan for further evaluation or comparison with later-received gear. Hence, all contents are written free of any "editorial" or "advertising" influence, and all reviews in this publication, positive or negative, reflect the independent opinions of their respective authors. TNT-Audio will publish all manufacturer responses, subject to the reviewer's right to reply in turn.

© 2019 David Hoehl - drh@tnt-audio.com - www.tnt-audio.com
[ Home | Staff & Contacts | HiFi Playground | Listening tests | DIY & Tweakings | Music & Books ]