[ Home | Staff & Contacts | DIY & Tweaks | Listening tests | HiFi Playground | Music & Books ]
Leema Elements - phono stage
Effortlessly clean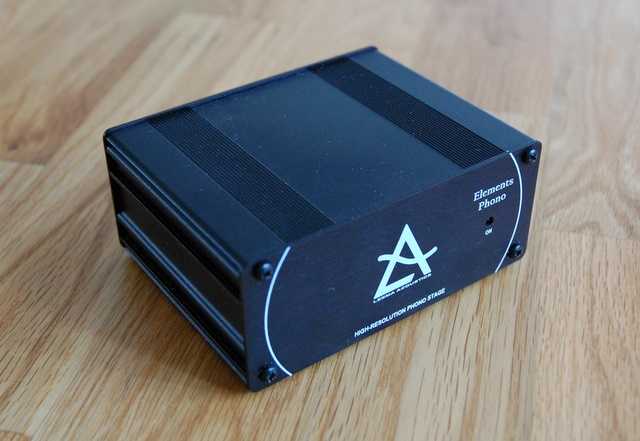 Product: Elements Phono stage
Manufacturer: Leema Acoustics - UK
Cost: £500 YMMV
Reviewer: Maarten van Casteren - TNT UK
Reviewed: June 2010
Introduction
Leema was founded in 1998 and has developed an excellent reputation for good sounding electronics and speakers since then. The name Leema is a combination of the names of the two founders of the company: Lee Taylor and Mallory Nicholls, both ex-BBC engineers. The Elements phono stage is based on the much more expensive Agena Reference Series phono stage. The Agena is a true high-end stage which allows complete adjustment for to up to six cartridges, single ended and balanced inputs and output, adjustable filters, a mono switch and even includes an analogue to digital converter. In comparison, the Elements phono stage is extremely basic. It is actually very compact, with a footprint smaller than a CD, and only contains a single PCB inside, mostly populated with surface mount components. The £500 asking price seems to be a bit steep when you're holding the actual unit, but who cares how big or heavy it is, the sound is the only thing of real importance after all. And that was precisely what Leema intended with this little box: performance approaching a real high-end phono stage, but executed in the most basic way possible to keep it affordable. Just the thing we like, here at TNT.
In use
The Elements Phono is powered by an external linear power supply that feels big and heavy enough to do a decent job. There's no on/off switch on the phono stage at all, so it will be switched on all the time. It doesn't run warm at all, so this should be fine. Gain is 36 dB for MM and 62 dB for MC. Headroom is a rather good 26 dB, and MC cartridge load is fixed at 90 Ohm. Thereís a ground connection at the back too, but this is very thin and fiddly and close to the RCA connectors, so not easy to fasten.
One of the potential shortcomings of this phono stage is the total lack of adjustments. If you like to fiddle, or have an odd cartridge that needs a very specific setting, you might struggle with this little box. There is only one input, and one output, both RCA, and the only two adjustments are to switch between MM and MC and to switch the subsonic filter on or off. That's it. It will give certain people sleepless nights, while others will feel liberated because of this. You know who you are. I've used it in my own system with a Denon DL-160 and in my brother's system with a Benz Ace SM cartridge and in both cases the match was very good, resulting in excellent, well balanced sound.
The only really annoying thing about the Elements Phono stage is the fact that it weighs less than most cables that will be used to hook it up with, so it is rather difficult to keep it in its place. It really needs to be a bit heavier, and I solved this by putting a jazz guide on top of it. There's nothing special about this: I'm sure a classical guide or a cookbook will sounds just as good, but one of my jazz guides happened to have the right dimensions. Of course, feel free to use exotic stones or other high-end tweaks for this. It might even work, although I don't think the little Leema needs much help to sound its best, but that's in the next chapter.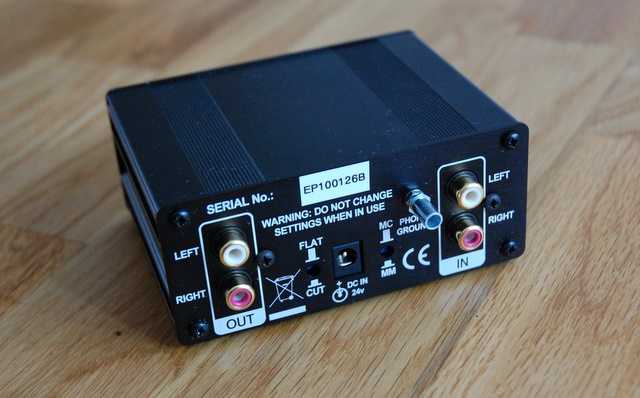 The Sound
I've been using the Leema phono stage with my vintage Micro Seiki DQX-500 turntable, equipped with the MA-707 arm and the CU-180 Gun Metal platter. The cartridge used was a Denon DL-160, which is perhaps a bit basic compared to real high end cartridges, but quite capable nevertheless. My normal phono stage is a Cambridge Audio 640P. The amplification was my Django transformer preamp and my Usher R1.5 power amp, and the speaker were my Dynaudio Contour 1.8mk2. My analogue setup seems a bit basic, perhaps, but it still quite easily equals my Astin Trew AT3500plus for musicality, if not completely for resolution and precision when using the Cambridge Audio phono stage.
My own 640P is about a fifth of the price of the Leema, so you would hope to hear an improvement when switching over, and this is indeed what happened. It is immediately clear that the Leema is in a different class, even driven by a modest cartridge like the Denon. The whole picture is more quiet and calm, but with an effortless capability to accurately reproduce even the highest peaks or the most complex bits. Where the Cambridge Audio becomes a bit congested and thick when the going gets tough, the Leema just sound as relaxed as ever, letting the music through seemingly without any restraint. It also sounds cleaner and crisper, and has noticeably better resolution. The only slight criticism could be the bass, which is a little bit lean, but it will depend on the rest of your system if this really is a problem or a blessing. Whatever bass is present is of very good quality, deep and nicely controlled. The Cambridge Audio just sounds a little bit fuller in the bass, but strangely enough a little bit thinner in the upper midrange. The whole midrange of the Leema is tonally more satisfying, with excellent portrayal of timbre and an uncanny ability to reproduce all the separate tones in a chord, while still making it sound as whole and as full and rich as only a good analogue source can, compared to CD that is.
The Leema really plays to vinyl's strengths, without any noticeable drawbacks. The top end is particularly silky and sweet while still having great clarity and a real natural openness that is so often lacking from CD. There is also a fluidity and flow to the music, making this phono stage sound as lyrical as anything else. And it doesn't sound soft and woolly either: with the right track this stage can have an amazing impact, sounding rock solid and unflappable with great dynamic control. The soundstage is truly excellent: deep, wide, perfectly proportioned and completely free of the speakers, this is as good as it gets, certainly for this sort of price. Voices especially are reproduced with excellent detail and enough warmth to be solid and convincing, not just floating somewhere in space. The same thing is true for pace and rhythm: the midbass has plenty of drive and the whole sound is lively and articulated, making an easy job of even the most rhythmically complicated music.
Good hifi is about adding nothing and leaving nothing out and this little phono stage is extremely good at both. You feel close to the action because of the transparent, engaging sound, but thereís no hint of grain or noise or any other form of electronic signature that could cause fatigue in the long run. Iím sure there are even better phono stages out there. If you see the prices of some high-end ones, they better be superior. But the point is that you would probably have to do a direct comparison before youíd find out, as the Leema gives you the impression it is doing a perfect job and makes it very easy for you to enjoy your music.
Going back to the Cambridge Audio really isnít an option anymore once youíve been exposed to the Leema. Donít get me wrong: the CA 640P is probably one of the bigger bargains in audio. For its price it is an exceptionally good phono stage, but it still is clearly outclassed by the Leema and sounds a bit harsh and grainy in comparison. Once youíve heard what is possible, the limitations of the Cambridge Audio simply become painfully clear.
So, is it actually justified to use a £500 phono stage with a £120 cartridge? I think it is, and that it actually makes more sense than the other way around. For starters, a phono stage is a much better investment than a cartridge, as the latter will wear out in about 1000 hours while the Leema could be with you for the rest of your life. But even ignoring this, I don't think that using a better cartridge with the Cambridge Audio could really give you the same enjoyable experience as upgrading to the Leema. The simple fact is that, even with my DL-160, the Cambridge Audio is already running into its limitations and this is clearly audible. A better cartridge cannot change that.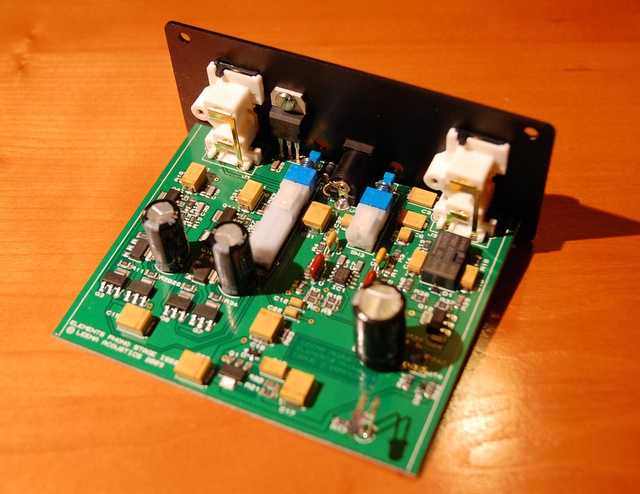 Conclusion
This is a truly enjoyable phono stage that makes the most of the natural advantages of vinyl, seemingly without introducing any limitations. It is utterly musical without becoming woolly or soft and brings out the best in virtually every recording. It has no obvious weak points and its strongest trait probably is the effortlessly clean and grain-free reproduction of complicated music, enabling a stress free and engaging sound that just makes you listen to more records. The only limitation is the total lack of adjustability, but it will depend on your cartridge and/or personality if this is a real problem. It certainly worked brilliantly in my system, and I'm very happy to say that it is going to stay as my new reference. Highly recommended.

© Copyright 2010 Maarten van Casteren - www.tnt-audio.com

[ Home | Staff & Contacts | DIY & Tweaks | Listening tests | HiFi Playground | Music & Books ]