[ Home | Staff & Contacts | HiFi Playground | Listening tests | DIY & Tweakings | Music & Books ]

When Two Scribes
Go to Wam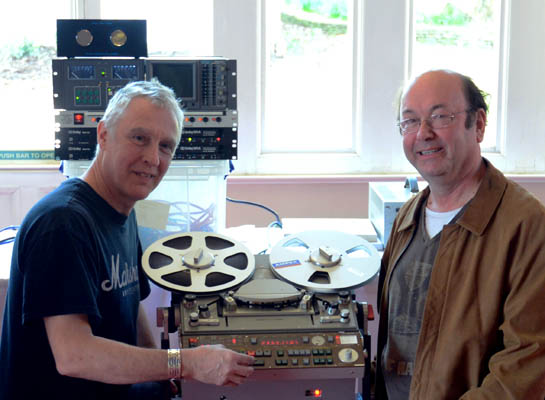 The show: HiFi Wigwam;
Venue: The Scalford Hotel, LE14 4UB;
Show review by: Mark Wheeler - TNT UK
Visited March 2016
Impressed by the warm welcome offered by the Wammers last year, two scribes made it from TNT-audio.com this year. It was the first face-to-face meeting of Mike and Mark, who were both impressed by the diversity and originality of the Wammers and their continued dedication to making better sound.
At HiFi Wigwam 2015, at the Scalford Hotel, most of the exhibitors were amateur (as in loving the subject) and those from the trade were there in the amateur capacity that had led them to turn a hobby into a small business, so there is no pressure to buy from them.
This year, to avoid lengthy walks from cars parked on roadside verges up to 1km away, the organisers had laid on a park-&-ride bus service from nearby Melton Mowbray. This left showgoers with no excuse to miss the delights of England's Rural Capital of Food described in last year's report.
Especially impressed by their warm welcome last year, your Old Scribe paid an early visit to the Lenco Heaven room. This year they were sharing with the Frickelfest DIY audio community. They were showing a variety of Lenco turntables, which they assured me were not hanging from any saggy MDF boards this year. Indeed the Lenco Heaven crew have not spent the intervening 12 months idly.
They had pulled out all the stops, presenting some glorious plinth constructions, a selection of DIY amplifiers and some gargantuan Klangfilm Bionor horn loudspeakers.
"The Old Scribe's offensive MDF remarks about last year's Lenco Heaven room even led the Lenco crew to point out the absence of MDF in the room this year," point out Plebs, stage left, continuing, "If he's not careful, he won't be allowed in next year!"
From the evidence at Scalford Hall, it would be easy to imagine that British audiophiles have abandoned the belt drive subchassis turntables that dominated in the 1980's and 1990's and returned en masse to the Italian and British idler drive turntables of the 1950's and 1960's. In the Somerby Room, Dom (not to be confused with that other idling Wammer, Dom of Northwest Analogue slate plinth makers) was showing his Garrard 401 (see photo below) in a beautiful wood plinth.
Wigwam handles 'bi-amp2' and 'Serge' were showing a 3-box modified Marantz CD63 using 3 Marantz carcasses to house outrageous levels of power supply isolation. This demonstrates again that all audio equipment since the acoustic phonograph is little more than a modulated power supply.
'Browellm' and 'JVS' showed a roll call of audiophile drool fodder, from the Bergmann Magne turntable, through the Allnic H1500 (their valve vibration isolators reviewed here. This and the Nagra CD player both fed a Kondo M7 pre-amp and Living Voice power amps, in turn feeding Acapella High Violin loudspeakers.
'Fatmarley MkII' and 'jandl100' once again presented unfashionable vintage gear and newly evolved home designed and built loudspeakers. This year the colour purple replaced last year's scarlet fever and bass divers have been added to the existing successful formula. Although the added octave is obvious, their builder isn't totally convinced yet.
The Marantz 4250 Stereo2+ Quadradial4 quadrophonic receiver was the stuff of legends, rare in the UK in its day and even rarer now. On the European side of the Atlantic Ocean 'receivers' were known as 'tuner-amps' and NOT to be taken seriously. UK audiophiles had 20 years of living with valve monoblocks, & separate pre-amplifiers, which meant that even integrated amplifiers were something people only owned until they could afford 'proper separates' (pre-amplifiers and power amplifiers in self-contained individual casework) and combining the tuner with the amplifier was for people only just progressing from a radiogram.
The high-end Marantz 5020 Stereo Cassette Deck was equally sneered at by the ageing, pipe-smoking HiFi enthusiasts in these lands of Ferrograph, Tandberg and Revox. However, to schoolboys in the 1970s (an apt description for many Wammers and TNT Scribes too) these Marantz marvels were objects of unrequited lust. To us in those days, old Leak, Rogers and Quad industrial design belonged in the pre 1970 world of furniture like Jacobsen, Wegner, Ercol and G-plan, while these exciting new products belonged in the glam-rock 1970's.
Sadly, so few people could afford them that they remained unseen in the flesh until recent archeological exploration has turned up rare examples like these.
'I_should_coco' and 'Hayward' in the Coleman room behind the arrivals desk had the most ambitious 5-way active horn loudspeaker system imaginable (without the assistance of any Electric Kool-Aid Orange Sunshine). This has been gradually assembled over a long period as resources and knowledge permitted and demonstrated the advantages of the slow-burn approach to system development, allowing the greatest level of development at each stage. A second enormous pair of horns sat across the other axis of the room, just in case one earth shattering horn system proved too prosaic for the punters.
TNT-Audio UK scribes, Mark and Mike met up in analogue reel-to-reel heaven. The classic Rogers BBC LS5/g active monitors (traditionally driven by a pair of Quad 405) sounding better than last time being in a more suitable room.
'Barney's Dad' Nottingham Hyperspace turntable (a local manufacturer, just up the A606) and Art Audio valves (nearly as local up the M1) driving Quad 2905 electrostatic (far from local now Quad are Chinese) sounding extraordinarily good for big panels hastily configured in a small room. The bass was especially impressive as it can be really challenging trying to achieve the Quad's specified 28Hz in real rooms.
'Htm_1968', 'Maverick' and '68Rednose' were comparing high and medium budget Linn analogue front ends, and a classic Meridian CD player, through revealing electronics. The Audio Research Corporation (ARC) Reference 5 pre-amp and SimAudio Moon W5 power amps driving Art Alnico 8 loudspeakers were taking no prisoners revealing whatever the front ends could provide.
Those Art Alnico 8 loudspeakers are housed in laminated cabinets to mitigate the problems of MDF
"The Old Scribe's droning on about the perils of MDF again...[sigh]," bemoan Plebs, stage left.
At least here this is an attempt to overcome MDF's shortcomings. More interesting is that some commentators attribute the benefits of many high sensitivity loudspeakers to alnico magnet material as much as to the dB/V output. Alnico adds a mix of aluminium, nickel and cobalt to the ferrite base. The ARC and SimAudio are zero global negative-feedback designs capable with balanced connections, these design features potentially offer better time domain and noise performance, enabling the speakers to give their maximum potential.
The sense of humour of exhibiting Wammers is exemplified by Ed & Phil's door notice announcing that they had selected equipment that is 'easy to carry up stairs' connected together with "massive cables in a range of exiting colours". They were accepting requests but making a surcharge for any requests for audio show clichés. Good for them. Your old scribe had already been forced rapidly from another room by one such Dire hifi show cliché.
Finally, just as the Wammer's temporary incarnation in the real world is starting to disassemble, your Old Scribe enters the room of luthier Wammer Malcom Williamson to find another classic 70's amplifier combination. His JVC Laboratory Series separate pre & power amplifiers are now rare as hen's teeth, being unfashionable in 1970's Britain. This is Malcolm's second system, surviving the sawdust of his workshop.
Despite this, a pair of Decca DK30 horn loaded ribbons, some of the most fragile tweeters on the planet provide the high end. The DK30 use the same motor assembly (massive war surplus magnets and delicate pleated ribbons) as the more famous Decca London horns. The larger horn mouth of the Decca London system allows them to operate down to 1500Hz, but the higher horn cut-off (2500Hz) of the Decca DK30 horn endows it with better system power handling and therefore permits gentler crossover slopes.
These are capable of the sweetest treble (like moving coil cartridges, distortion is mostly second harmonic) and an obvious choice for a man who makes a living out of making finely honed musical instruments.
So 2016 was another fine year for the HiFi Wigwam's regular posters to get out there and put their systems where their posts are. Petrolheads say that the boasting stops when the flag drops and the Wigwam show at Scalford has to be the audio equivalent.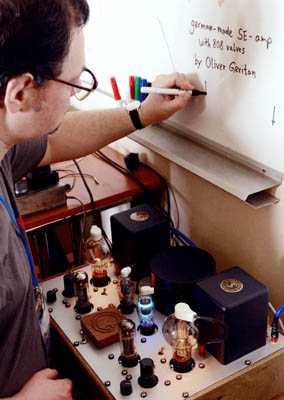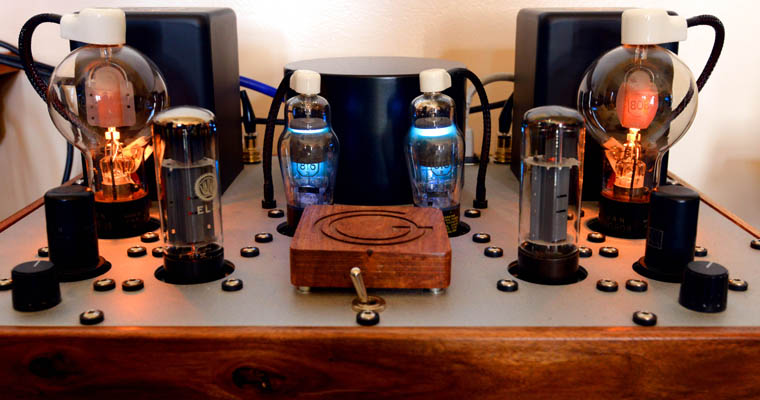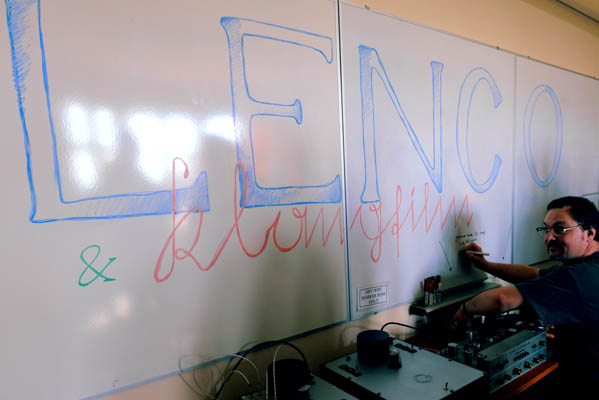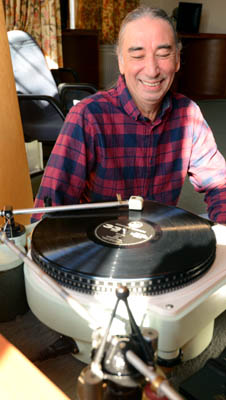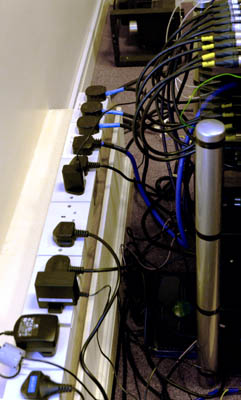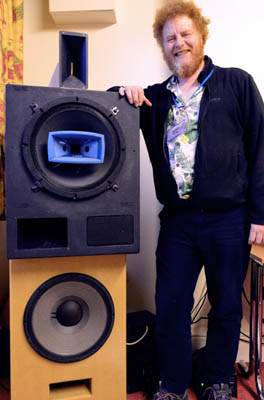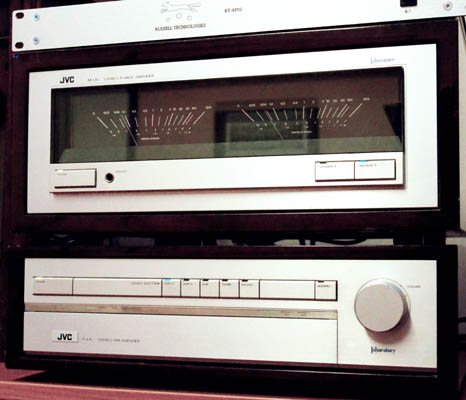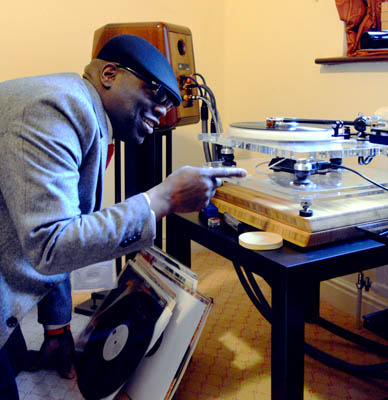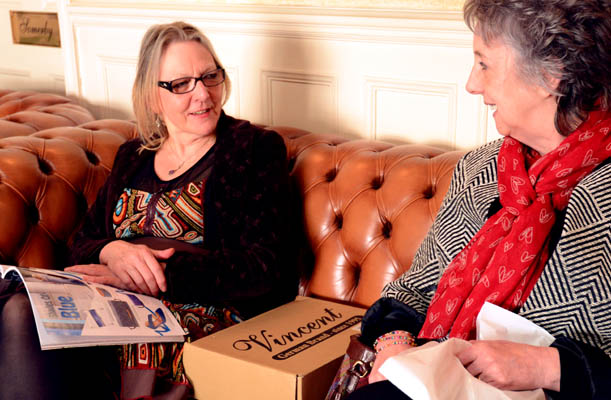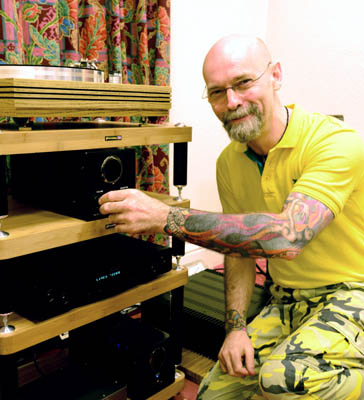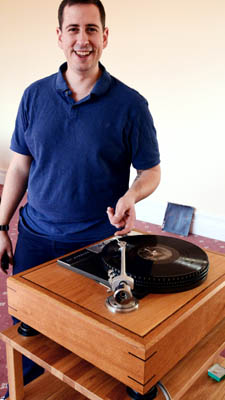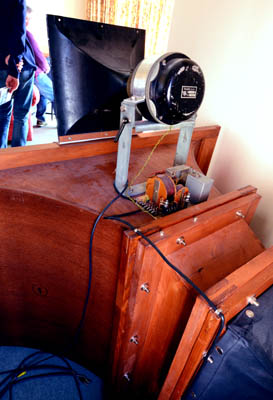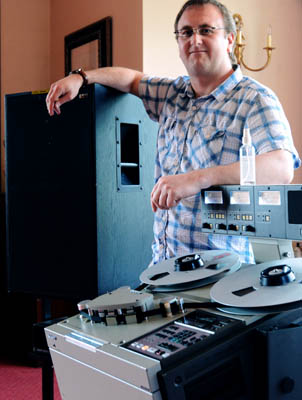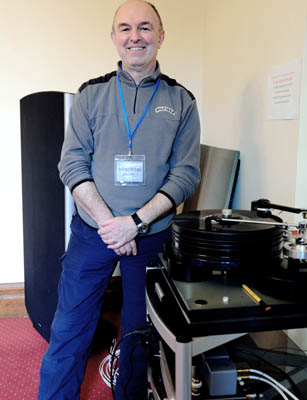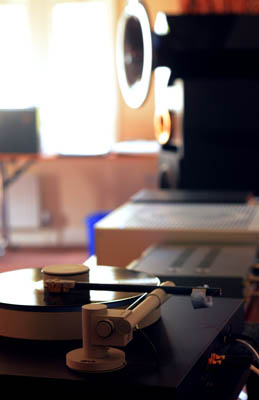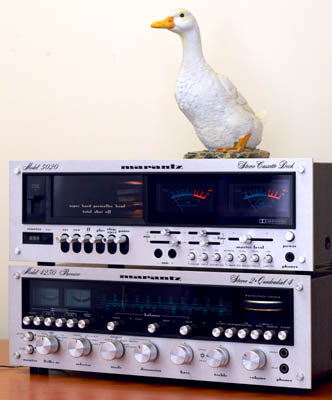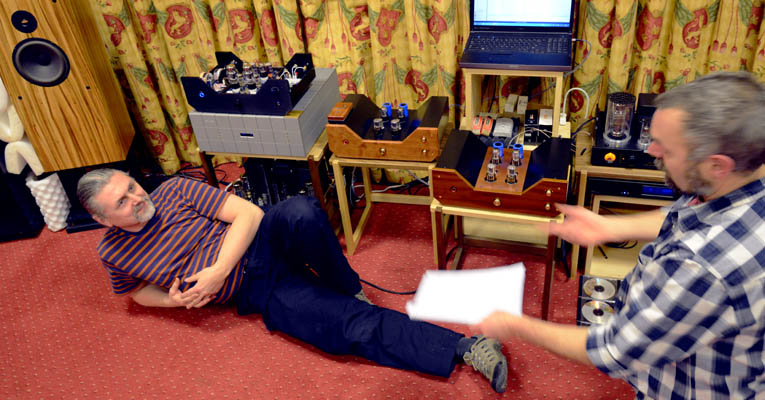 © Copyright 2016 The Old Scribe - mark@tnt-audio.com - www.tnt-audio.com

[ Home | Staff & Contacts | HiFi Playground | Listening tests | DIY & Tweakings | Music & Books ]