[ Home | Staff & Contacts | DIY & Tweaks | Listening tests | HiFi Playground | Music & Books ]
Yucca Flats
Garden of Weeds
[Italian version]
Band: Yucca Flats
Title: Garden of Weeds
Label: WILDCHILD!
Number: #10552
Studio: Mapleshade, online mail order possible
Producer: Pierre Sprey & Yucca Flats
Reviewer: Mark Wheeler - TNT UK
Reviewed: July, 2007

THE MUSIC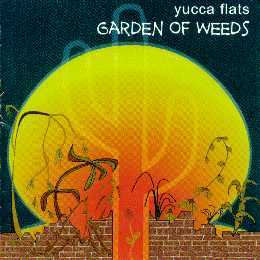 This has become my favourite disc of the moment. At home while relaxing, at home while reviewing audio gear and even in the car. The opener Working Class Poor kicks in with the energy of a good live set opener. It's political with a small p in the way Springsteen used to be in the seventies, rather than say Guthrie or Baez in the 60s.
Track 9, Katie H., would've made a perfect 'end of side 1' tune in the old lp days, when it'd have stirred the 'do I wanna listen to that track again before I flip the vinyl over?' question that used to plague us vinyl owners of Transformer or American Beauty etcetera. That good.
Their cover blurb describes them as "like no acoustic rock band you've heard. New York to the core", but this summons totally erroneous images of ancient MTV unplugged sessions of ageing rockers struggling to recapture their old magic without a wall of Marshall amps and 4x12s. Yucca Flats are an acoustic band playing in forms familiar in rock music. However, the term acoustic rock band underestimates their sophistication and craftsmanship.
Yucca Flats are excellent musicians who express themselves effectively in well-crafted songs, played note-perfect but without sounding mechanistic in this achievement. Yucca Flats do not indulge in the meandering solos and meaningless noodling of bludgeoning displays of ostentatious virtuosity so beloved of rock bands of pretentious intent. Yucca Flats do demonstrate that comfortable mastery of their instruments familiar to lovers of jazz, and indeed often borrow jazz figures in individual playing, Scott Thornton's occasional forays into high-register bass flurries being an enjoyable case in point.
"The old one's text is becoming more florrid and pretentious than ever, this time", yell plebs, with derision, stage left Yucca Flats' playing is neither florrid nor pretentious tho, the scribe retorts, ignoring the gibe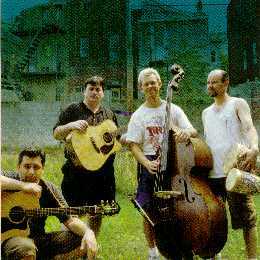 Garden of Weeds
Working Class Poor
Images
Garden of Weeds
No Return Address
Dear sweet Lorraine
True
June
Lizard Man
Katie H.
Alter of Broken Dreams
Washington
Light Blue
Love to Hate You
Help god See
Comparisons will have to be made just to imply a flavour to those of you not priviledged with the opportunity to try before you buy. Track 12 is so reminiscent of aspects of The Men They Couldn't Hang, or the Levellers or the Pogues that I just want to reach for a beer and break into the uncoordinated dancing we all love on the Friday night of an outdoor festival.
Some of the songwriting sometimes carries pathos and narrative slightly reminiscent of Lou Reed's Berlin, without being quite so wrist-slittingly depressing, or hints of song forms like those of Michelle Shocked, or of Lowell George or of Fairport Convention... but Yucca Flats are not at all derivative. Because they're writing and playing such original songs in such familiar idioms comparisons are seductive but then prove impossible. Their self-description of acoustic acid-folk band probably sums them up best.
Sound Quality
The acoustic has an original perspective. This recording does not suffer that sagging washing-line on which instruments are pan-pot-pegged, to dangle slackly between the speaker baffles like grey underwear between the upper windows of tenemant blocks. This recoding does not suffer the confusing early reflections of many live distant crossed-paired-mic efforts. This recording succeeds in combining one-take immediacy (despite inevitable but seemless dubs) with just enough ambience and just enough proximity.
Percussion does not have that close miked dead thwack-in-yer-face, nor the soggy-cardboard-flolf of a pair of omnis hung over the kit. The Pierre Sprey percussion miking method should be written in a textbook and a royalty sent to him every time it's used.
Scott Thornton's doghouse bass and occasional brass blast are appropriately sized and positioned, and the positions stay put whatever gets played. The guitars (2+ acoustic and 1 electric) are distinct, and distinctive, without excessive finger noise but with plenty of body. Voices are human too.
The recording chain is AAD, all analogue until cd mastering. Mapleshade make their own platforms for equipment supports, which reminded me of my experience trying the ERaudio SpaceHarmoniser platforms under guitar amps to good effect. Mapleshade make some of their own microphone and interconnect cables, togther with some from audiophile cablers Audioquest; the ironic reverse of my using Neumann microphone leads as audio interconnects before such things became commonly available! Instead of cramming the final mix through a compressor and cutting it in the top 21dB of cds' available range, Mapleshade plant the minimum signal at the toe of the cd range, enabling the maximum levels to soar uncompressed. The quiet bits are as quiet as can be so the loud bits are that much louder in comparison.
The result is a disc that sounds just like a performance in a small live venue. Perhaps a marquee at a festival with a good small PA system would be the best way of describing it. Now, where's the beer tent?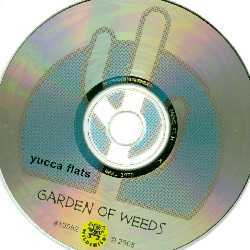 Conclusion
This is a really great cd. It won't sell millions; it won't be bought a grammy (did I say that?), but it will be played endlessly on my system and will join my armory of review tools because it sounds good and I can listen to it hundreds of times.
I do hope Yucca Flats come to the UK and play festivals like Off The Tracks (twice a year) or Womad or Morecombe; they'd go down really well. Their website calendar is completely empty, so either they're not getting much work or they haven't got the hang of having a website.
if you believe your recordings, cds or lps demonstrate above average sound quality or performances. Whether you're a recording studio, label or artist, I promise I will mercilessly promote your product if it stands above the woeful average output quality of the 21st century music industry. If it doesn't move me, I'll let you know privately. If you're serious about high quality music in the home you have nothing to lose and everything to gain, so email me now.
© Copyright 2007 Mark Wheeler - www.tnt-audio.com
[ Home | Staff & Contacts | DIY & Tweaks | Listening tests | HiFi Playground | Music & Books ]